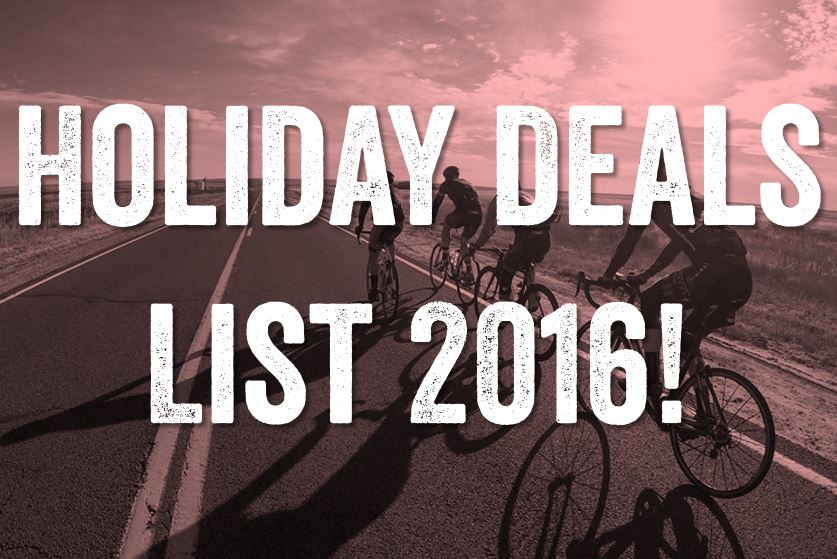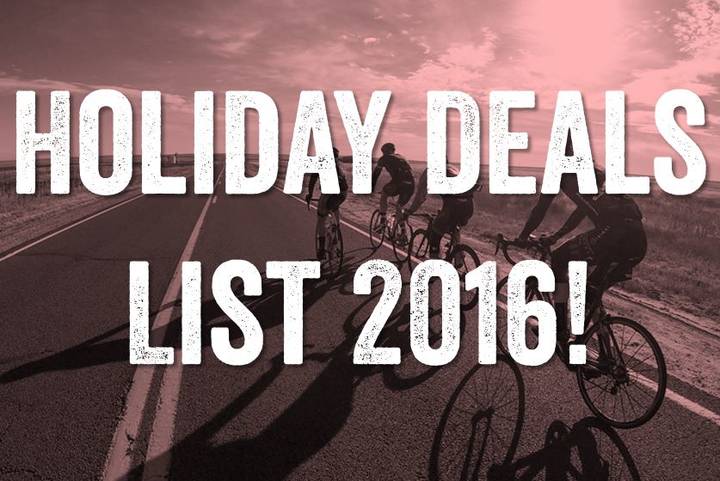 Updated Dec 24th, 2016: Last day for many sales, especially Garmin ones!

It's that time of year again when there are tons of sales on all sorts of sports technology items.  Everything this year is pointing to earlier sales than normal, as manufacturers and retailers alike try to lock in your dollars ahead of time.
The typical ebb and flow of this time period is:
Pre-Thanksgiving deals: These are everything ahead of the US Thanksgiving, on November 24th. These are and will be more pronounced this year than in past years.
Black Friday deals: These are tied to Black Friday (BF), on November 25th. Some span that weekend.  Generally speaking most retailers have access to the same major deals (i.e. Garmin, Fitbit, etc…).
Cyber Monday deals: These are on Monday, November 28th. Occasionally they spill into that Tuesday as well.
General December deals: We tend to see 'repeats' of some deals in the mid-December time-frame (usually around the 10th-15th). These are rarely better than BF deals, but usually quite good.
Most deals aren't announced until a few days prior, if any prior announcement at all.  Some deals have a specific quantity of items attached, which may be a few or a ton.  And others are very time-limited, like Amazon deals.  Note that while many deals are US-focused, in recent years we've seen Europe really get into the Black Friday/Cyber Monday side. So definitely good news there!
With that – let's get into it!  I'll update the list and cross things off as we move through the season:
Current Deals!


Here's what's currently active.  The ones I feel are the best bang for the buck, have a little * at the front of them.  Of course, many of these are great deals if you're in the market for it already.  It's just the ones with the stars are exceptionally unusual.
Garmin Deals:
You can also find all Garmin product deals here and all general Holiday Deals here.
Garmin 2016 Holiday Deals
Note I do not expect any further Garmin deals this season beyond these.  And obviously, don't expect any new product announcements from anyone at this point.  The time is over for new products.  The next time that train arrives at the station is CES 2017 (first week of January).
Here's my very brief notes on why you see some of these products and whether they make sense to purchase.
Forerunner series: With the FR230/235/630 only a year old, I don't see a near term replacement there.  This to me just seems like a typical Black Friday type sale of a 1yr+ old product.  With the FR920XT, that's two years old.  Given the FR735XT came out this past summer (not an exact replacement, but kinda close), I think we'll see Garmin continue to wait on a direct FR920XT replacement for the near-medium term.
Fenix3 series: Garmin has pretty much established a yearly cadence of Fenix series units.  2014 saw the Fenix2, 2015 saw the Fenix3, 2016 saw the Fenix3 HR, and I suspect 2017 will bring whatever is next. In all recent cases, these products were announced at CES in early January, but not available until the February-April timeframe (depending on exact product).
Vivo Series: These are Garmin's favorites to discount, since they have a much wider appeal.  I see these sales as 'simply keeping up with everyone else's sales', and by 'everyone else', I mean Fitbit.  I wouldn't read into these too much other than being good deals. Oh, and for Vivofit Jr, that was just announced last month – so these sales are just a vehicle to get more exposure there.
Edge Series: While the Edge 1000 may be due for an update, any release cycle there would likely be tied to late Spring (i.e. Sea Otter announcement), which Garmin has favored in recent years for announcing products.  In the meantime, it continues to get new features on a near monthly basis.  As for the Edge 20, not sure there, seems like it just came along for the ride.
TomTom Deals:
TomTom Runner – $69 (normally $129)
*TomTom Spark – $89 (normally $149)
TomTom Spark Music – $129 (normally $199)
*TomTom Spark Music + Cardio  – $174 (normally $249)
TomTom Spark Music + Cardio w/headphones – $224 (normally $299)
Note that the 'Cardio' version means it has optical HR in it.  My review of all these watches can be found here (Runner) and here (Spark).  Note, I see absolutely no logical reason why you'd get the older Runner vs the Multisport Spark, given they are the same price and the Spark has more features.
Everything else!
And then there's a ton more things:
Product

Sale Price

Amazon

Other site

Sale Notes

Apple Watch Series 8 - $60 off
$399/$499 (cellular)
$329
Amazon
This is pretty much the normal price, almost perpetually on-sale for this amount on Amazon.
Apple Watch Ultra - $98 off!
$701
Amazon
⚡This is the lowest price to date on the Apple Watch Ultra we've seen since launch!
Garmin HRM-DUAL (ANT+/Bluetooth Smart Strap) - 35% off!
$69
$45
Amazon
This is Garmin's ideal strap if you just want an affordable dual ANT+/Bluetooth Smart option, especially when it's on sale like this - it really becomes the best deal out there right now for a multi-connection strap.
Garmin Instinct 2 Series - $100 Off
From $249
Amazon
REI
⚡The Instinct 2 base is from $249 (on Amazon), a very solid deal - especially with all the major software updates it's had over the last year. A very strong deal.
Garmin Instinct Crossover - $100 cheaper now
$399
Amazon
While this watch just came out two months ago, it's now been price-reduced by $100. In fact, Garmin actually seemed to test the new lower price about a month ago in a temporary sale, and clearly the reduced price worked out. Thus, the official retail price is now $399 for the base, and $449 for the Solar.
Garmin Venu 2 Plus - $50 off!
$449
$399
Amazon
Garmin Venu 2/2S - $100 off
$299
Amazon
REI
Garmin Vivoactive 4 - $100 off
$299
$199
Amazon
REI
This watch is *well* past its prime, now coming up on 4 years old, but hey, I guess if you've decided it's the watch for you now - it's on-sale (again - apprixmately the 32nd time).
Samsung Galaxy Watch5 Pro - $100 off
$399
Amazon
This watch is somewhat always on sale, but hey, it's still on-sale.
Top Deals You Ordered Weekend:
I thought it'd be fun to list the Top 10 Sports Tech items people ordered over the weekend, using links from the site.  They are:
Fitbit Charge 2
Garmin Forerunner 920XT
Garmin Fenix3
Garmin Vivoactive HR
Garmin Vivofit Jr. (WTF?)
Garmin FR235
Garmin Vivosmart HR+
PowerTap P1s power meter pedals
PowerPod power sensor
Scosche Rhythm+ optical HR sensor
The major pattern was basically the most heavily discounted options.  The Vivofit Jr was definitely the surprise there, as was the P1s (which is the left-only one).  The others made sense, as they were all major discounts on things.  All of these are linked above, and all of them as of Monday, are still on-sale for quite a discount.
European Deals!


What's that? You're not in the US and still want a deal?  No problem!  First off, you should note that some retailers do send some items overseas.  For example, Clever Training can send many products overseas, and do so at a flat-rate $29USD shipping cost.  You'll want to check the individual item.  For some deals, that could be a huge savings!
Beyond that, I'll be tracking Euro-specific deals here.  These will include both Clever Training Europe (UK) as well as Amazon European deals.
Woot – important! The Clever Training Europe deals below can be combined with the DCR 10% discount coupon code DCR10BTF.  Boom! So yes, another 10% savings on top of these prices!  Plus free shipping in Europe for orders over 75EUR (almost everything in the list from CT).
Note: On Amazon Europe deals, generally speaking you can order from any Amazon European country site (i.e. Amazon France) and have it shipped within the EU (i.e. Spain). Thus, many times deals are duplicates across the sites.
European Deals
Didn't find what you wanted?


No worries, you can still save a bundle, or help support the site.  With Clever Training you can get 10% off everything they sell (except most sale/clearance items).  You'll just use the DCR coupon code DCR10BTF and boom, good to go!  Plus, you'll get free US shipping over $75.  For a handful of items you may need to use the DCR/CT VIP program to get points back instead, but it only takes a moment to sign-up.
In addition, you can support the site with purchases from any of the below three retailers – no matter if it's sports tech, or toilet paper.  Just click on the link and you're off!
Thanks for the support!
Expired Deals:


Clever Training 20% VIP Sale: In this sale, each CT VIP member is given a coupon code (GIVETHANKS) that's good for 20% off a single non-sale item.  It doesn't matter if that item is the Wahoo KICKR2, or gel packets.  Your choice, but it's only available to CT VIP members.  Sale through Nov 19th, 2016 – details here.
Product

Sale Price

Amazon

Other site

Sale Notes

Apple Watch Series 8 - $60 off
$399/$499 (cellular)
$329
Amazon
Note you'll need to check that box to apply the $60 off at checkout, but it's there!
Garmin HRM-PRO Plus - 23% off!
$129
$99
Amazon
⚡This is by far the lowest price we've seen on this strap, and is my daily driver alongside the Polar H10. Solid deal!
Samsung Galaxy Watch5 Pro - $50+ off!
$320
Amazon
Depending on which high-water mark you use, this is one of the lower prices we've seen it - down to $320.
Garmin Edge 830 Cycling GPS - $50 off
$399
$349
Amazon
REI
Obviously, Garmin just released the Edge 840, which starts at $449. Functionality-wise, the single biggest difference is the 840 has free-ride ClimbPro, and the 830 doesn't/won't get it. There's tons of other features, but that's realistically the main one worth paying for. And on the hardware side, the 840 has a better touchscreen in the rain, and added buttons.
Garmin Edge 530 Cycling GPS - $50 off!
$299
$249
Amazon
REI
Obviously, Garmin just released the Edge 540, which starts at $349. Functionality-wise, the single biggest difference is the 540 has free-ride ClimbPro, and the 530 doesn't/won't get it. There's tons of other features, but that's realistically the main one worth paying for.
Garmin Varia Radar (RTL515) - $50 off
Amazon
REI
This is Garmin's standalone radar+taillight option, and $149 is pretty much the standard sale-price.
Garmin Instinct Crossover - 20% off!
$399
Amazon
This is an oddly unexpected sale since this watch only just came out. But hey, take it and run!
Wahoo KICKR Core Smart Trainer - $200 off!
$899
$699
Amazon
REI
This has been the mainstay price on the KICKR CORE for a while. While the new Zwift Hub came out that's relatively similar and cheaper, the KICKR CORE is a better option if you want to combine it with the Wahoo CLIMB, or, if you need multichannel Bluetooth.
Wahoo KICKR 2022/V6 - 11% off
$1,299
$1,149
N/A
REI
This is for the current model Wahoo KICKR 2022/V6, which includes built-in WiFi. This has mostly been on sale for a while, which doesn't mean there's a new variant coming, but rather likely just trying to get people to buy into a trainer towards the end of the winter season.
Apple Watch Ultra - $70 off!
$730
Amazon
This is actually one of the lower prices we've seen for the Ultra. Note that there's a checkbox on the Amazon page to add another $50 discount to get it to the $730 price. This seems to work for most Apple Watch Ultra band editions.
Apple Watch SE (2022/2nd gen) - $30 off
$249/$299 (cellular)
$219
Amazon
Apple Watch Series 8 - $70 off
$399/$499 (cellular)
$329
Amazon
Elite Direto XR Smart Trainer- $400 off!
$1,000
$599
N/A
REI
DJI Mini 3 with RC-N1 Remote - 16% off!
$469
Amazon
DJI Mini 3 with DJI RC - 13% off
$609
Amazon
DJI Mini 3 Fly More Combo with DJI RC - 7% off
$798
Amazon
Wahoo POWRLINK ZERO (Single-sided) - $130 off!
$520
REI
⚡ This is a very solid deal that happens twice a year, if you were looking at the Wahoo power meter pedals, grab these before this disappears (and it usually disappears). As with the Garmin Rally pedals, I continue to use Wahoo power meter pedals for accuracy testing of other brands/units. This deal is via REI for REI members using the coupon code MEMBER23.
Wahoo POWRLINK ZERO (Dual-sided) - $200 off!
$649/$999
$800
REI
⚡ This is a very solid deal that happens twice a year, if you were looking at the Wahoo power meter pedals, grab these before this disappears (and it usually disappears). As with the Garmin Rally pedals, I continue to use Wahoo power meter pedals for accuracy testing of other brands/units. This deal is via REI for REI members using the coupon code MEMBER23.
Tacx NEO 2T Smart Trainer - $280 off!
$1,399
$1,120
N/A
REI
This is Tacx's current top-end trainer, and while sales have been more frequent the last year, this is still a solid deal for a solid trainer. This deal is via REI for REI members using the coupon code MEMBER23.
Garmin Rally RS200 (SPD-SL Dual sided) - $220 off!
$880
N/A
REI
⚡ This is a very solid deal that happens twice a year, if you were looking at the Shimano road SPD-SL Rally setup (which can be swapped between pedal types), grab these before this disappears (and it usually disappears). This deal is via REI for REI members using the coupon code MEMBER23.
Garmin Rally XC200 (SPD Dual Sided) - $240 off!
$959
N/A
REI
⚡ This is a very solid deal that happens twice a year, if you were looking at the Shimano MTB SPD Rally setup (which can be swapped between pedal types), grab these before this disappears (and it usually disappears). This deal is via REI for REI members using the coupon code MEMBER23.
Garmin Rally RK200 (LOOK KEO Dual Sided) - $220 off
$880
N/A
REI
⚡ This is a very solid deal that happens twice a year, if you were looking at the Look KEO Rally setup (which can be swapped between pedal types), grab these before this disappears (and it usually disappears). This deal is via REI for REI members using the coupon code MEMBER23.
Saris MP1 NFinity Motion Platform - $440 off!
$759
N/A
Competitive Cyclist
⚡This is by far the lowest normal sale price we've seen to date, save for their 'everything must go' clearance sale
Tacx NEO 2T Smart Trainer - $280 off!
$1,399
$1,120
Amazon
Competitive Cylicst
This is Tacx's current top-end trainer, and while sales have been more frequent the last year, this is still a solid deal for a solid trainer.
Garmin Edge 530 Cycling GPS - $50 off!
$299
$249
Amazon
REI
⚡ This matches last year's Black Friday sale, and is the lowest price to date on the Edge 530. This is one of the main units I use for my day-to-day riding and testing.
Wahoo KICKR SNAP - 40% off
$499
$299
N/A
Competitive Cyclist
This is lowest we've ever seen the KICKR SNAP priced. While the trend has moved towards wheel-off/direct drive trainers, this is still really solid deal if your budget it tight.
Wahoo KICKR Bike - $500 off!
$3,499
$1,999
N/A
Competitive Cyclist
⚡⚡⚡ This is an incredible deal, by far the lowest the KICKR Bike has ever been. Especially given the just-announced V2 bike is even more expensive now at $4,000. And frankly, aside from built-in WiFi, there's not much otherwise on the newer V2 bike. I plan to take advantage of this deal and finally buy one for myself, this is astounding.
Garmin Fenix 7 Series (All Models/Styles) - $100 off!
$699+
From $599
Amazon
REI
⚡This is the first time we've seen the Fenix 7 series on sale! This sale is $100 off all Fenix 7 series models, be it in the Fenix 7S/7/7X or any of the Sapphire/Solar variants.
Samsung T7 Portable SSD 1-2TB - 36% off
$89
Amazon
I use a small fleet of these T7 SSD's for various video projects, alongside the Sandisk SSD's. I literally have one of each color, just to keep things simple. They work great for quick storage. Note: Different colors have different sale prices - I don't understand why.
Beats PowerBeats Pro Wireless Sport Headphones - $100 off
$249
$149
Amazon
⚡ I like the PowerBeats Pro with the over-the-ear design, for more security in workouts, than my Beats Studio Buds. I use these as well as my Beats Studio Buds (and have used the PowerBeats Pro ones longer). $100 off is a solid deal.
2021 Apple 10.2-inch iPad (Wi-Fi, 64GB) - $70 off!
$269
Amazon
I use my iPad primarily for TrainerRoad as well as Zwift when not with a larger display. I also occasionally use it for other apps, namely Wahoo SYSTM, Rouvy, and Peloton. But I pretty much test every smart trainer app on it. For all these cycling apps, the graphics capabilities is really pretty irrelevant, so having the absolute top-end/latest model won't make any difference. I prefer the budget options.
Apple Airpods Pro (2nd Gen) - $50 off!
$249
$199
Amazon
Apple Airpods (2nd Gen) - $50 off!
$159
$79
Amazon
⚡These aren't the latest anymore, that's the newer 3rd gen units. But if budget is in mind, it's hard to beat these - seriously, at $79 it's the lowest price these have ever been.
Stages Bike SB20 - $700 off!
$2899
$1,799
N/A
Competitive Cyclist
⚡ A very solid deal, making it the least expensive smart bike out there, despite being probably the best built one. (Note: While this sale is marked as 43% off, the reality is most of the time the price hovers around $2,300-2,500) - still, by far the lowest price we've ever seen).
SanDisk 256GB Extreme PRO SD Cards - 18% off
$51
Amazon
I use the SanDisk Extreme Pro SD Cards exclusively for all my video/photo shooting on my Panasonic GH5 and Nikon cameras (video and stills), including up to 6K recording with the GH5. I've mostly used 128's, but more and more lately I'm filling up cards faster with higher bitrates, so this sale is gonna have me pickup a bunch of the 256GB ones instead. The 128GB/ 512GB/1TB ones are also on sale too viathe same link. Note that usually I wait till these are about $40-45, so this is a good, but not yet fantastic deal.
Scosche RHYTHM+ 2.0 - 44% off!
$79
$49
Amazon
Garmin Edge 1030 Plus - $200 off
$599
$391
Amazon
⚡While the newer Edge 1040 came out this past summer, the Edge 1030 Plus is still an incredibly solid bike computer - arguably the 2nd best bike computer (behind the Edge 1040).
Elite Tuo Smart Trainer - $233 off!
$580
$347
Amazon
REI
⚡This is by far the lowest price we've seen on the wheel-on Tuo. While most trainers have shifted towards direct drive, this is a good option at the lower end.
Garmin Fenix 7X Solar Sapphire - $150 off!
$849
Amazon
⚡⚡ While most of the Fenix 7 series is $100 off, this particular unit is $250 off, which is a massive savings!
Garmin Instinct 2/2S Surf - $100 Off
From $299
Amazon
REI
Nespresso Vertuo Next Coffee & Espresso Kit - 30% off
$118
Amazon
⚡ Let's be honest: This place runs on Nespresso (or, well, the knock-off pods we buy). But, the machine is Nespresso. Without it, reviews most definitely would not get done (and certainly not on time). This is a pretty sweet deal if you ask me!
DJI Mavic 3 - $150 off
$999
$2,049
Amazon
This is the second time we've seen the DJI Mavic 3 on sale (for a non-bundled deal). With all the firmware improvements since the fall, it's finally getting to a more stable place in terms of features. Of course, you can also now get the DJI Mavic 3 Classic for a fair bit cheaper, minus the zoom lens. Albeit, I personally think the zoom lens is handy (if used correctly).
Elite Sterzo Smart - 40% off
$74
Amazon
REI
This is Elite's steering block, for steering in apps like Zwift.
Skydio 2+ Starter Kit - $200 off!
$999/$1349
$899
N/A
Skydio Site
In terms of autonomy and self-following from a drone, nothing beats Skydio today.
Beats PowerBeats Studio Buds - $60 off
$149
$89
Amazon
⚡I've been using these since last summer (2021), primarily on my indoor workouts, but also on some of my runs (for example, in testing out most watches with music). I like them and they've become my go-to buds.
Suunto 9 Peak - $170 off
$569
$399
Amazon
While Suunto recently released the newer Suunto 9 Peak Pro, this existing model still benefits from many of the software updates.
Suunto 5 Peak - $60 off!
$299
$239
Amazon
This is Suunto's mid-range/budget multisport GPS unit, and at $239 it's a solid deal.
Saris H3 Bundle - $280 off!
$719
REI
While not quite as low as some of the crazy clearance deals this past summer, this is still a good deal overall. Bundle includes pre-installed cassette, sweat guard, and ANT+ USB stick.
Wahoo ELEMNT ROAM V1 - $200 off
$379
$199
Amazon
Competitive Cyclist
⚡This is the slightly older ROAM V1, which isn't quite as fancy as the new V2. Still, $200 off is a very solid deal, and it, recently got the new Wahoo Summit Segments feature, as well as other features - so it's still getting the majority (if not all) new firmware features.
Wahoo KICKR AXIS Feet - 40% off
$47
REI
This is the lowest price we've ever seen on the Wahoo KICKR AXIS feet, which, if on a hard surface like concrete, will give your KICKR bike slightly more movement side to side. Note these come built-in to the KICKR 2020/2022, but you can install the AXIS feet on all Wahoo KICKR units (not CORE/SNAP).
Elite Direto XR Smart Trainer- $400 off!
$1,000
$599
Amazon
REI
⚡This is by far the lowest price we've seen on this trainer to date!
Elite Suito-T Smart Trainer - $340 off!
$799 (incl cassette)
$509
Amazon
REI
This is by far the lowest price we've ever seen on the Elite Suito or Suito-T trainers. Note: The Suito-T is the same exact trainer as the Suito, except without the cassette pre-installed.
GoPro Hero 11 Black - $100 off
$499
$399
Amazon
⚡ Amazon now has the Hero 11 Black for $100 off the retail price of $499. This does *NOT* require the GoPro subscription (previously called GoPro Plus). The Hero 11 has become my daily action cam (well, actually, I bought two of them).
Apple Watch SE (2nd Gen/2022) - 8% off
$279
$229
Amazon
⚡This is the first time we've seen the new Apple Watch SE (2nd gen) on sale!
Apple Watch Series 8 - $50 off!
$399/$499 (cellular)
$349
Amazon
⚡This is only the 2nd time we've seen the new Apple Watch SE (2nd gen) on sale!
Saris H3 (Hammer 3) Smart Trainer - $260 off!
$1,099
$639
Amazon
Competitive Cyclist
While not quite as low as some of the crazy clearance deals this past summer, this is still a good deal overall.
Therabody Theragun Mini - 21% off
$159
Amazon
My wife uses the Theragun Elite, which is a bit larger than this Mini model, and also includes more tips. But, as noted - people seem happy with all these models.
Google Pixel Buds Pro - Noise Canceling Earbuds (All Colors) - $50 off!
$149
Amazon
⚡This is the first time we've seen a sale on these, given they were just announced about 5 weeks ago.
Quarq DZero DUB XX1 PM Spider - 40% off
$449
Amazon
Competitive Cyclist
⚡This is a major deal. SRAM has allowed retailers to put things on sale that were never allowed before, including power meters. This is the same exact model I use on my mountain bike. Works well.
Quarq DZero DUB (Road) PM Spider - 40% off
$250
Amazon
Competive Cyclist
⚡This is a major deal. SRAM has allowed retailers to put things on sale that were never allowed before, including power meters. This is the road/gravel variant of the MTB one I use (the XX1).
Polar Grit X - 17% off
$429
$357
Amazon
Polar Vantage M2 - 20% off!
$299
$240
Amazon
Polar Pacer - 15% off!
$170
Amazon
I believe this is the first time we've seen the Polar Pace (base unit) on sale. Note - specifically the black/grey people.
DJI Action 2 Dual-Screen Combo Edition - 31% off
$359
Amazon
Therabody Theragun Prime - 34% off
$198
Amazon
My wife uses the Theragun Elite, which is just slightly more expensive than this model at $299 on sale right now. But hey, I hear good things about all of these.
Google Pixel Watch - 15% off!
$299
Amazon
⚡This is the first time we've seen the (just released) Google Pixle Watch on sale!
Tacx NEO Bike Smart V1 - $470 off!
$3,199
$2,719
Amazon
Competitive Cyclist
This is the V1 version, whereas the new Tacx NEO Bike Plus came out this past week with some very minor tweaks, however, that bike is $3,999 ($1,300 more than this!). Thus, this kinda looks like a steal.
Apple Watch Ultra - $50 off!
$749
Amazon
⚡This is only the second time we've seen the Apple Watch Ultra on sale, and appears to be for all band styles as well! And it's not only in-stock, but even for same-day delivery in some areas.
Garmin Varia Radar (RTL515) - $50 off
$199
$149
Amazon
REI
This is Garmin's standalone radar/taillight option, and $149 is pretty much the standard sale-price. This product is universally loved, and works with Garmin/Wahoo/Stages/Hammerhead/Bryton, and other bike computers.
Garmin HRM-PRO Plus - 22% off
$129
$101
Amazon
⚡This is the first time we've seen this on sale - and so it's actually pretty notable. I don't even think it's supposed to be on sale, but this is just Amazon doing Amazon. This is one of the two main HR straps i use these days (alongside the Polar H10). Either way, definitely take this and run!
DJI FPV Combo - $300 off!
$899
Amazon
⚡This deal is on DJI's larger FPV drone, the original one. They've also got the smaller but less powerful one too - Avata, which isn't on sale. This is for the FPV combo deal, saving you $400. This includes the drone, FPV goggles, and controller.
Polar Ignite 2 - 22% off
$229
$179
Amazon
While the Polar Ignite 3 just came out, this is a reasonable deal on the older model.
Therabody Theragun Elite - $100 off
$299
Amazon
⚡ This is arguably my wife's favorite sports tech gadget. She uses it pretty much daily. Thus, I'd be remiss if I didn't mention this deal. Also, please don't tell her, she might just buy another one...
Little Tikes Pelican Explore & Fit Cycle - 38% off
$59
Amazon
⚡So, the Three Peanuts (girls ages 3/5/6) have used this for over a year now, abd they love it. It's silly simple (there's no real connectivity here), and the videos they ride with are also absurdly laughable. Yet, they love it. Seriously, they fight over it.
Garmin inReach 2 Mini Satellite Communicator (2-way) - $75 off
$327
Amazon
REI
This is the first time we've seen this unit on sale, as it only came out earlier this year. It's my defacto satellite communicator when out of coverage area, and I've used it on a number of major treks this year out of cell range already.
Tacx Flux S Smart Trainer - $150 off!
$749USD
$599
Amazon
Competitive Cyclist
Garmin Instinct 2 Series - $100 Off
From $249
Amazon
REI
⚡This is the first time we've seen the Garmin Instinct 2 series devices (all variants) on sale. The Instinct 2 base is from $249 (on Amazon), a very solid deal - especially with all the major software updates it's had over the last year.
Polar Pacer Pro - $80 off!
$299
$219
Amazon
⚡I believe this is the first time we've seen the Polar Pace Pro on sale. Note - specifically the red/white one is $219, the others are $230-$240.
Apple Watch Ultra - $50 off!
$749
Amazon
⚡This is only the second time we've seen the Apple Watch Ultra on sale, and appears to be for all band styles as well! And it's not only in-stock, but even for same-day delivery in some areas.
Samsung Galaxy Watch5 Pro - $100 off!
$399
Amazon
⚡This is the first time we've seen the new Galaxy Watch5 Pro on sale this low!
Polar H10 Chest Strap (Dual ANT+/Bluetooth Smart) - 40% off
$89
$54
Amazon
⚡So this has been fluctuating all day between $54 and $75. So it's a bit of luck of the draw. Either way- these are super low prices and great straps. This is one of my main chest straps I use as a reference device in testing. Works great!
Garmin Instinct 2/2S Solar - $50 Off
From $399
Amazon
REI
Garmin Varia RCT715 Camera Radar - $50 off
$349
Amazon
REI
This is the first time this product has been on sale, since announcement earlier this year.
Apple Watch SE (2022) - $30 off!
$249/$299 (cellular)
$349
Amazon
This is the first and biggest sale we've seen on the new Apple Watch Series SE (2022) since launch.
Tacx Flux 2 Smart Trainer - $180 off
$899
$719
Amazon
Competitive Cyclist
Garmin GPSMAP 66i with inReach - $100 off
$499
Amazon
REI
Garmin Fenix 7 Solar Sapphire - $250 off!
$751
Amazon
⚡⚡ While most of the Fenix 7 series is $100 off, this particular unit is $250 off, which is a massive savings!
Apple TV 4K (32GB) for Zwift - $50 off
$79
Amazon
⚡⚡ I use this for almost all my Zwifting. This is a fantastic deal, which runs Zwift, RGT, FulGaz, Rouvy, and more. While Apple just released their newest version (2022), virtually no cycling apps have taken advantage of it yet. And thus for now, the edition on sale for $79 seems like a steal.
Peloton Bike - $300 off!
$1,145
Amazon
This deal is direct with Amazon, rather than Peloton. It doesn't include the weights like the bundle from Peloton directly, though, it does offer basically next-day free delivery.
Panasonic LUMIX GH6 Digital Camera - $500 off!
$1,697
Amazon
I use two of the previous edition of this (the GH5) as the workhorses for all of the video production I do in the DCR Cave. One is my main camera (A-cam), and one is my overhead/b-roll camera (B-cam). I'm not quite ready to upgrade those cameras yet, but, the last time I did, I did it with a Black Friday sale. It was an expensive day.
RunScribe Red Gait Lab Footpods - 20% off
RunScribe Site
While RunScribe has transitioned from a consumer-focused running efficiency company to more of a pro/labs-focused company, consumers do still buy and use their products. They're offering 20% off for Black Friday. Use discount code RED20.
Garmin Fenix 6 Pro Solar - 49% off
$382
Amazon
Garmin Fenix 6S Pro - 43% off
$339
Amazon
Garmin Fenix 6X Pro Solar - 40% off
$538
Amazon
Garmin Venu 2 Plus - $100 off!
$449
$349
Amazon
REI
This is the first sale we've seen on the Venu 2 Plus since it launched earlier this year.
Garmin Forerunner 45/45S - $40 off
$199
$129
Amazon
FORM Swim Goggles (with heads-up display) - 20% off
$182
Form Site
This includes both the goggle, and a 1-year membership to their training/coaching platform.
Wahoo KICKR Core Smart Trainer - $200 off!
$899
$699
N/A
Competitive Cyclist
⚡This is the lowest price we've actually ever seen on the KICKR CORE. While the new Zwift Hub came out that's relatively similar and cheaper, the KICKR CORE is a better option if you want to combine it with the Wahoo CLIMB, or, if you need multichannel Bluetooth.
Withings ScanWatch - Hybrid Smartwatch & Activity Tracker - 20% off
$239
Amazon
Fitbit Inspire 3 - 33% off!
$69
Amazon
⚡⚡This is a really good deal. First, it's only like 2 months old. Second, it's actually a legit good product. Arguably the best product Fitbit has made in years, in terms of functionality/accuracy/etc... and 3rd, it's priced super well if you want all the features of a Fitbit, without the cost. Note - You don't need a subscription, I did my entire review without one, so you can see what that looks like.
Google Nest Cam Indoors - 30% off
$69
Amazon
We have more Nest cam's than I can count. No really, we have half a dozen at the DCR Cave alone, plus more at home. We love them. Nest Cam's really only go on sale about 1-2x per year.
Garmin Forerunner 245 Music - $100 off
$249
Amazon
Garmin Venu 2S - $100 off
$299
Amazon
REI
Garmin Vivofit Jr. 2 - Incl Disney/Avengers/Star Wars variants - 25% off
$79
$60
Amazon
These are Garmin's kids activity trackers, which all of our kids use (mostly our 5yo, the 6yo uses the Vivofit Jr. 3)
Garmin Fenix 6 Sapphire - $280 off
$470
Amazon
Fitbit Sense 2 - 33% off
199
Amazon
REI
Apple Watch Ultra - 8% off!
$739
Amazon
⚡This is the very first sale we've seen on the Apple Watch Ultra, and appears to be for all band styles as well! And it's not only in-stock, but even for same-day delivery in some areas.
Garmin Epix (Gen 2) - $100 off
$899/$999
$799
Amazon
REI
⚡This is the first time we've seen the Epix on sale! This is Garmin's AMOLED equivalent to the Fenix 7 series, and people continue to be super happy with it since it announced earlier this year.
Garmin Epix Sapphire White Titanium (Gen 2) - $100 Off
$899
Amazon
REI
⚡This is the first time we've seen the Epix on sale! This is Garmin's AMOLED equivalent to the Fenix 7 series, and people continue to be super happy with it since it announced earlier this year. This Sapphire edition includes multiband GPS, for higher levels of accuracy.
Garmin Venu 2 - $100 Off
$399
$299
Amazon
REI
Garmin Vivoactive 4 - $150 off
$299
From $176
Amazon
REI
Apple TV Elago R1 (2021 Edition) Remote Case- 64% off
from $6.39
Amazon
I use Apple TV for Zwift the vast majority of the time, but also just for watching YouTube/Netflix/etc on the trainer. The Apple TV remote sucks though. This $10 case fixes that, it's a silicone strap that makes it easy to grab, but also has a strap to easily place on the edge of your handlebars. Boom! Note: This one is for Apple TV 4K 2021 Edition!
Peloton Heart Rate Band - 30% off
$89
$63
Amazon
Previously, I'd have said the Peloton Heart Rate Band wasn't really worth it at $90 compared to most other options. But at $67 it's basically the same as others, except has the integration with Peloton's Heart Rate Zone (if you have the Peloton app/gear).
Garmin Vivoactive 4S - $150 off
From 176
Amazon
REI
Garmin Enduro 2 - $200 off!
$1,099
$901
Amazon
⚡⚡This is an incredible deal, since this watch just came out three months ago, and is basically the highest end Fenix 7X variant, but with even longer battery life. This is an Amazon-specific sale, not a Garmin one, so I don't expect this to last.
Garmin Quatix 7 Multisport Marine Smartwatch - all models- $100 off
From $596
Amazon
Garmin Venu SQ & Venu SQ Music - 40% off
$199/$249 with Music
From $119
Amazon
Garmin Edge 1040 Solar - $50 off
$695
Amazon
This is the first time we've seen the Edge 1040 Solar on sale, so while $50 isn't a huge amount off this device, it is notable. This is Garmin's top-end and just released this past summer, cycling GPS bike computer.
Garmin Epix Sapphire Black Titanium (Gen 2) - $130 Off
$869
Amazon
REI
⚡This is the first time we've seen the Epix on sale! This is Garmin's AMOLED equivalent to the Fenix 7 series, and people continue to be super happy with it since it announced earlier this year. This Sapphire edition includes multiband GPS, for higher levels of accuracy.
Garmin Forerunner 735XT - $220 off
$349
$129.99
Amazon
Lasko High Velocity Pro-Performance Fan (U15617) - 19% off
$77
Amazon
This is one of the most popular indoor trainer fans out there, which rivals the Wahoo Headwind fan but cost a fraction of the price. Of course, it lacks ANT+/Bluetooth integration, but realistically if you really want that you can add a smart outlet for $10 to toggle it on/off from your phone if need be. I've actually got this fan in the DCR Cave recently on advice of many people.
Garmin Forerunner 245 - $80 off
$299/$349
$220
Amazon
GoPro Hero 11 Black - $100 off
$449
Amazon
GoPro HERO11 Black Accessory Bundle - Includes Extra Enduro Battery (2 Total), The Handler (Floating Hand Grip), Headstrap + Quick Clip, and Carrying Case.
SAMSUNG Galaxy Buds 2 Pro Earbuds - $40 off!
$199
Amazon
Peak Designs Phone Case Tripod - 10% off
$71.95
Amazon
Peak Designs Phone Case - 30% off
$27
Amazon
⚡This is the phone case both my wife and I use for our phones, and it's got a bike-mount compatible system. I used to use the Quadlock cases, and those are fine, but I just like how slim these ones are, as well as the fact there's no rotation when unlock it from the handlebars. Plus, I like the cloth-look to it.
2021 Apple MacBook Pro (14", M1 Pro) - 20% off
From $1,599
Amazon
This is the exact model I have and use for almost all my video editing (2021 MacBook Pro with 1TB space,). I actually initially bought a 16" M1 Max variant, and then quickly realized it was totally overkill both in size and spec, so I went back and got the 14" M1 Pro and have been super happy with it - even while editing complex drone/action cam videos with 3-4 concurrently 4K streams in a multicam configuration, it has zero issues.
Peloton Bike Bundle - $600 off
$1,145
Peloton Site
This is the base Peloton Bike, plus some $600 in accessories. Even if you exclude the accessories, it's still about $300 cheaper than the bike by itself. The accessories include the shoes, water bottle, bike mat, workout mat, and two weights. I use the base Peloton Bike quite a bit, in fact, just an hour ago before adding this to the list.
Wahoo KICKR V5/2020 - $400 off!
$1,199
$799
Competitive Cyclist
⚡This is by far the lowest price any Wahoo KICKR has ever been (excluding CORE/SNAP obviously). If you don't care about built-in WiFi, there's little reason to spend $1,299 for the newer V6 unit that came out a few months ago.
DJI Mini 2 Fly More Combo - 20% off ($90 off)
$509
Amazon
This is a great little drone for quick shots that doesn't weigh much, or take up much space. While the Active Tracking capabilities (for sports) are fairly limited, you can make it follow briefly for creative shots. I've got an entire video on that in my review. Note: Ths is a one-day-only sale.
Saris H4 (Hammer 4) Smart Trainer - $200 off!
$999
$799
Amazon
This is their newest model that came out this past fall, though, I still don't have a unit to test, due to them having some issues with it. Thus, a bit of buyer beware.
Frontier X2 Smart Heart Monitor - 26% off
$405
Amazon
Note: I haven't reviewed this yet. It's on my eventual list.
Garmin Venu GPS Smartwatch - $100 off
$299
$199
Amazon
Officially this is 50% off, but realistically this is like $50-$100 off on a good day. It's now a few revisions behind, but it's still a solid little watch.
GoPro HERO11 Black Creator Edition - $150 off
$549
Amazon
Includes HERO11 Black, Volta (Battery Grip, Tripod, Remote), Media Mod, Light Mod, Enduro Battery, and Carrying Case.
Apple Watch Ultra - 8% off!
$739
Amazon
⚡This is the very first sale we've seen on the Apple Watch Ultra, and appears to be for all band styles as well! And it's not only in-stock, but even for same-day delivery in some areas.
Garmin HRM-DUAL (ANT+/Bluetooth Smart Strap) - 36% off!
$69
$45
Amazon
⚡ This is one of my go-to straps these days (ANT+ & two concurrent BLE connections). It's floated on and off being on sale, but this is about the lowest we've seen it.
Skydio 2+ Battery - Buy one/Get One Free (+$25 discount)
$90
Skydio Site
This is a pretty impressive deal. This is a $25 discount to $90, then it's buy one, get one free. So $45. Drone batteries are never $45. This is solid!
DJI Mavic Mini Fly More Combo Kit - 40% off
$299
Amazon
This is a very solid deal, albeit for an older product. Note the price seems to be fluctuating a bit between $299 an $399 - so just keep an eye out for it.
Nest Cam Outdoors - $60 off
$119
Amazon
We use one of these and so far after I think just about four years, it's working great for us. Love it, and works better than trying to stick a regular Nest Cam out the window (since it'll reflect both during daytime and at night with the IR sensor).
Indoor Cycling Desk - 14% off
$102
Amazon
This is one of my favorite trainer desks, easily beating the Wahoo KICKR Desk, because it's got wheel locks and water bottle holders. Simple things.
Withings Sleep Tracking Pad - 31% off
$89
Amazon
Fun tidbit: I actually use this. Well, more specifically, I use the far older bedside clock version, but, the sensor is essentially the same. Simply that the new sensor doesn't require a bedside clock anymore. But, if you don't like wearing a wearable to bed, then this will still track all your nighttime stats.
Peak Designs Universal Bar Mount - 10% off
$44
Amazon
⚡We use this as a floater bike mount for the Peak Designs case. Sometimes i use it on my road bike, mountain bike, and just commuter bikes.
Peak Designs Out-Front Bike Mount - 10% off
$62
Amazon
This i the out-front bike mount we use on our cargo bikes for the Peak Designs case.
Peloton Row - Bundle with $300 in accessories free
$3,320
Peloton Site
While the Peloton Row just started shipping last week, Peloton has already put a bundle on for sale, inclusive of about $300 in accessories. Well, technically speaking you have to pay $20 extra for those accessories, but hey...close enough.
Ooni Fyra 12 Wood Fired Outdoor Portable Pizza Oven - $70 off!
$279
Amazon
⚡ I know, I know, I still owe everyone a review. Nonetheless, more than a year later, I love this thing. We use it for more than pizza too, notably steaks (to get a really crispy sear). But a lot of pizza. It's completely portable, even easily fitting on our cargo bike. Note that I went with this model, the cheapest one they make, as I realized that buying the higher-end models that that support gas didn't make much sense for me. I have a gas grill already (and could easily just put a stone on it). Similarly, while a large 16" is appealing, realistically I've found this 12" more than enough for pretty substantial personal pizzas (and it makes it easier to handle). Full in-depth review pretty soon...probably.
SanDisk Extreme Pro 256GB MicroSD Card - 20% off!
$40
Amazon
⚡I use this card in both 128GB and 256GB variety (but mostly 256GB nowadays), and it's perfect for all my drones and action cams, easily recording 4K/60 and 5K/30, as well as 5.7K without trouble. I often pick up these cards when on sale like this, so I have them for later in the year when not on sale. // Update: Since this sale has begun, I've bought 6 of these cards to stockpile for future action cam/drone testing.
Garmin Edge 830 Cycling GPS - $50 off
$399
$349
Amazon
REI
⚡ While this isn't a big sale, it's actually the lowest price the unit has been offered in the 3 years since release - matching Black Friday from this past year.
Fitbit Charge 5 - 33% off
$149
$99
Amazon
Philips Hue Smart Lighting - 20% off
Varies
Amazon
Almost all Hue stuff is 20% off, and what's not seems to have the 15% coupon option offered. So this is a good deal. We use a surprising amount of Philips Hue lights - both at home and at the DCR Cave. Albeit, I'd say it's surgically 'strategic' in how we use them. At home, the entire outside garden is Hue, mainly because it's frankly the easiest way to control a bunch of lights illuminating specific areas/plants from inside our house. Inside the house, we mainly use them in a few rooms that are street-facing, to fake being away. The kids room also have a single color light too, for fun every once in a while. Meanwhile, at the DCR Cave, I use them for set lighting. Both a static set (the Gondola for the QC Corner Series), but also behind trainers for certain scenes, as well as behind various product shots. Again, not everything is Hue, it's highly strategic, and color-focused. White-only stuff is usually the cheaper Ikea. In any case, with this sale I picked up the Hue Go, and some 5-meters of lightstrip for a fun idea.
Garmin Fenix 6S Pro Solar - 43% off
$339
Amazon
⚡This is really an incredible deal. You've got a full mapping capable and everything-else unit for $339. When you compare that to their competitors, even their newest products - some of which cost $500-$600, it's not even close. Sure, this is last year's model, but man, it's insane.
Garmin Fenix 6S Sapphire - 53% off
$331
Amazon
Fitbit Versa 4 - 35% off
$149
Amazon
Fitbit Versa 2 - 34% off
$99
Amazon
Garmin Vivofit Jr. 3 - 22% off
$69
Amazon
My oldest daughter (6yo) uses this as her daily watch. She's happy with it.
Fitbit Ace 3 Activity - 38% off
$49
Amazon
Jackery Portable Power Station - $50 off
$299
Amazon
This is something I use frequently when shooting out and about and I need to re-charge a crapton of drone batteries, action cameras, or just cameras and such. I also use it on trips to Eurobike and elsewhere to keep equipment charged. I've even bought a solar panel to hook up to it (surprisingly effective). Heck, I've even powered a KICKR trainer ride from it!
4iiii Precision Ride-Ready Power Meters - 15-25% off
$242
4iiii Site
This includes the Shimano DuraAce, Ultegra, and 105 units, at between 15-25% off depending on which exact model you select.
Beats Fit Pro - 20% off
$159
Amazon
While I haven't used this myself, they are super popular, and realistically, it's the fitness-focused upgrade variant of my Beats Studio Buds I use.
CORE Body Temp Sensor - 20% off
$214
CORE Site
The CORE Body temp sensor measures your body core, and is used by numerous Pro Cycling teams. I haven't gotten a full review up, but have been using it on/off over the last year. It's pretty fascinating stuff. I believe this is the first sale they've had. On the sale side, they also have a bundle with a chest HRM as well that's on sale.
Cycliq Fly6 & Fly12 Sport (Bundle) - 25% off
$530
Cycliq Site
This is a bundle with both the Fly6 (2021 edition), and the Fly12 Sport (2022 edition), along with some cases/SD cards/etc... There is also single-unit bundles too.
Garmin Bounce LTE Kids Tracker - $10 off plus free book
$139
Garmin Site
This just came out, like, last week. So, $10 off isn't much, but hey, it does come with a free kids sports-focused book. While my review isn't quite out yet, we've been using the Garmin Bounce trackers for a few weeks now with our daughters, and overall it does the job super well. Also, we've been reading the book at night to our girls - they love it.
Favero Assioma Duo Power Meter Pedals - $200 off!
$459/$719 (single/dual)
$569
N/A
Favero Site
⚡ This is a strong deal from Favero, who is offering their Favero Assioma Duo pedals for $200 off.
InsideRide E-Flex Motion Accessory - $50 off
Varies
Inside Ride
All InsideRide Products are $50 off with DISC50 coupon code.
Stryd V2 Running Pod - $41 off
$228
Stryd Store
Stryd pretty much only puts their items on once a year at Black Friday, so if you're in the market for one, now's the time. This is their latest gen unit that just announced this past fall.
Wahoo KICKR 2022/V6 - 20% off!
$1,299
$1,040
REI
⚡This is the first, and currently best, deal we've seen to date on the Wahoo KICKR 2022/V6, which includes built-in WiFi. This deal is via REI for REI members using the coupon code GEARUP22 - and ends Nov 21st!
Wahoo POWRLINK ZERO (Single-sided) - $200 off!
$520
N/A
REI
⚡This is only the second time we've seen the POWRLINK Zero pedals on sale, and thus far, about 4-5 months since launch - people seem really happy with them. This deal is via REI for REI members using the coupon code GEARUP22 - and ends Nov 21st!
Garmin Rally RK100 (LOOK KEO Single Sided) - 20% off
$520
N/A
REI
⚡ This is a very solid deal, and only the third time we've seen it on sale since launch in spring 2021. If you were looking at the Rally setup (which can be swapped between pedal types), grab these before this disappears (and it will disappear). This deal is via REI for REI members using the coupon code GEARUP22 - and ends Nov 21st!
Garmin Rally XC200 (SPD Dual Sided) - $240 off!
$959
N/A
REI
⚡ This is what I use on my mountain bike. This is a very solid deal, and only the third time we've seen it on sale since launch in spring 2021. If you were looking at the Rally setup (which can be swapped between pedal types), grab these before this disappears (and it will disappear). This deal is via REI for REI members using the coupon code GEARUP22 - and ends Nov 21st!
Wahoo KICKR MAT - 20% off
$64
Amazon
REI
I mean, I guess, if you really wanted this specific mat, it's a perfectly functional KICKR-themed mat. This deal is via REI for REI members using the coupon code GEARUP22 - and ends Nov 21st!
Wahoo CLIMB Accessory - $140 off!
$599
$560
N/A
REI
This simulates the up and down motion on most KICKR trainers (including KICKR SNAP)., moving your bike up and down. This deal is via REI for REI members using the coupon code GEARUP22 - and ends Nov 21st!
Wahoo POWRLINK ZERO (Dual-sided) - $200 off!
$649/$999
$800
N/A
REI
⚡This is only the second time we've seen the POWRLINK Zero pedals on sale, and thus far, about 4-5 months since launch - people seem really happy with them (as am I, it's become part of my testing rotation due to strong accuracy). This deal is via REI for REI members using the coupon code GEARUP22 - and ends Nov 21st!
Garmin Rally RS100 (SPD-SL Single Sided) - 20% off
$520
N/A
REI
⚡ This is a very solid deal, and only the third time we've seen it on sale since launch in spring 2021. If you were looking at the Rally setup (which can be swapped between pedal types), grab these before this disappears (and it will disappear). This deal is via REI for REI members using the coupon code GEARUP22 - and ends Nov 21st!
Garmin Rally XC100 (Shimano SPD Single Sided) - 20% off
$560
N/A
REI
⚡ This is a very solid deal, and only the third time we've seen it on sale since launch in spring 2021. If you were looking at the Rally setup (which can be swapped between pedal types), grab these before this disappears (and it will disappear). This deal is via REI for REI members using the coupon code GEARUP22 - and ends Nov 21st!
Garmin Rally RK200 (LOOK KEO Dual Sided) - $220 off
$880
Amazon
REI
⚡ This is a very solid deal, and only the third time we've seen it on sale since launch in spring 2021. If you were looking at the Rally setup (which can be swapped between pedal types), grab these before this disappears (and it will disappear). This deal is via REI for REI members using the coupon code GEARUP22 - and ends Nov 21st!
Garmin Rally RS200 (SPD-SL Dual sided) - $220 off!
$880
N/A
REI
⚡ This is a very solid deal, and only the third time we've seen it on sale since launch in spring 2021. If you were looking at the Rally setup (which can be swapped between pedal types), grab these before this disappears (and it will disappear). This deal is via REI for REI members using the coupon code GEARUP22 - and ends Nov 21st!
Wahoo Headwind Fan - $60 off! (In Stock)
$249
$240
Amazon
REI
This deal is via REI for REI members using the coupon code GEARUP22 - and ends Nov 21st!
Peloton Row - Bundle with $300 in accessories free
$3,220
Peloton Site
While the Peloton Row just started shipping last week, Peloton has already put a bundle on for sale, inclusive of about $300 in accessories. Well, technically speaking you have to pay $20 extra for those accessories, but hey...close enough.
Ooni Fyra 12 Wood Fired Outdoor Portable Pizza Oven - 70% off!
$90
Amazon
⚡⚡⚡ Holy crap - $90??!?! - I know, I know, I still owe everyone a review. Nonetheess, more than a year later, I love this thing. We use it for more than pizza too, notably steaks (to get a really crispy sear). But a lot of pizza. It's completely portable, even easily fitting on our cargo bike. Note that I went with this model, the cheapest one they make, as I realized that buying the higher-end models that that support gas didn't make much sense for me. I have a gas grill already (and could easily just put a stone on it). Similarly, while a large 16" is appealing, realistically I've found this 12" more than enough for pretty substantial personal pizzas (and it makes it easier to handle). Full in-depth review pretty soon....maybe...perhaps.
GoPro Hero 11 Black - $50 off
$499
$449
Amazon
Amazon now has the Hero 11 Black for $50 off the retail price of $499. This does *NOT* require the GoPro subscription (previously called GoPro Plus). However, if you want to subscribe to that, then you can get the camera for $399 instead. Food for thought. Either way, the Hero 11 has become my daily action cam (well, actually, I bought two of them).
Apple Watch Series 8 - $50 off!
$399/$499 (cellular)
$349
Amazon
This is the first sale we've seen on the new Apple Watch Series 8, less than a month old!
Garmin Fenix 6 Pro Series - From $398
$549-$1,149
$398
Amazon
Obviously, the Fenix 6 isn't the latest anymore, but these are still very capable watches - and most recently got the new HRV Status as well as a smaller pile of features.
Polar H10 Chest Strap (Dual ANT+/Bluetooth Smart) - 25% off
$89
$75
Amazon
This is a great dual ANT+/Bluetooth Smart (with two Bluetooth Smart connections) chest strap that you'll often find me using as a reference strap in heart rate sensor testing. We only tend to see deals on it around Black Friday, always topping out around 20%. Note, the medium- size is the one on sale.
Polar Ignite 2 - 10% off
$229
$209
Amazon
Samsung T7 Portable SSD 1-2TB - 21% off
$94
Amazon
I use a small fleet of these T7 SSD's for various video projects, alongside the Sandisk SSD's. I literally have one of each color, just to keep things simple. They work great for quick storage.
Garmin Vivoactive 4 - $120 off
$299
$189
Amazon
⚡ This is Garmin's general-purpose sports/fitness watch, alongside the Garmin Venu 2 series. The Vivoactive 4 is getting a bit old now, but this is also the lowest price we've seen it to date. I've set it as $120 off, while Amazon says $140 off, but practically speaking it usually hovers around $300-$320
Peloton Guide - 15% off
$250
Amazon
I've been using this on and off since spring, and I actually kind of like it.
Polar Grit X Pro - 32% off
$499/$599
$338
Amazon
This is the lowest we've seen the Polar Grit X Pro to date, which is essentially Polar's top-end GPS watch.
Ooni Fyra 12 Wood Fired Outdoor Portable Pizza Oven - $70 off!
$279
Amazon
⚡ I know, I know, I still owe everyone a review. Nonetheess, more than a year later, I love this thing. We use it for more than pizza too, notably steaks (to get a really crispy sear). But a lot of pizza. It's completely portable, even easily fitting on our cargo bike. Note that I went with this model, the cheapest one they make, as I realized that buying the higher-end models that that support gas didn't make much sense for me. I have a gas grill already (and could easily just put a stone on it). Similarly, while a large 16" is appealing, realistically I've found this 12" more than enough for pretty substantial personal pizzas (and it makes it easier to handle). Full in-depth review pretty soon. (REI link at side seems to still have stock at the sale price)
Wahoo RIVAL GPS Watch - 25% off
$379
$247
Amazon
Apple Airpods Pro (2nd Gen) - 10% off
$249
$223
Amazon
Polar Ignite GPS 1 - 31% off
$229
$158
Amazon
Peloton Heart Rate Band - 25% off
$89
$67
Amazon
Previously, I'd have said the Peloton Heart Rate Band wasn't really worth it at $90 compared to most other options. But at $67 it's basically the same as others, except has the integration with Peloton's Heart Rate Zone (if you have the Peloton app/gear).
Garmin Vivofit Jr. 2 - Incl Disney/Avengers/Star Wars variants - 15% off
$79
$59
Amazon
Jackery Portable Power Station - $130 off
$209
Amazon
This is something I use frequently when shooting out and about and I need to re-charge a crapton of drone batteries, action cameras, or just cameras and such. I also use it on trips to Eurobike and elsewhere to keep equipment charged. I've even bought a solar panel to hook up to it (surprisingly effective). Heck, I've even powered a KICKR trainer ride from it!
Wahoo BOLT V1 - 25% off
$229
$169
Amazon
Despite being a 5 year old bike computer, it's a solid little choice that's still actually getting (some) firmware updates. This price seems about right to me.
Garmin Venu SQ - 40% off
$199/$249 with Music
$149
Amazon
This is a pretty solid price on this watch, almost matching last year's Black Friday sale at $129. The Venu SQ 2 came out a few weeks back, hence the lower price here.
SanDisk 256GB Extreme PRO SD Cards - 34% off
$42
Amazon
I use the SanDisk Extreme Pro SD Cards exclusively for all my video/photo shooting on my Panasonic GH5 and Nikon cameras (video and stills), including up to 6K recording with the GH5. I've mostly used 128's, but more and more lately I'm filling up cards faster with higher bitrates, so this sale is gonna have me pickup a bunch of the 256GB ones instead. The 128GB/512GB/1TB ones are also on sale too viathe same link.
Apple TV 4K (32GB) for Zwift - $70 off
$109
Amazon
⚡⚡ I use this for almost all my Zwifting. This is a fantastic deal for the latest edition, which runs Zwift, RGT, FulGaz, Rouvy, and more.
Peloton Bike - $215 off!
$1,230
Amazon
I believe this is the lowest price we've ever seen on the original/base Peloton Bike model. Or if not the exact lowest, then certainly very close. This is still a solid bike, and actually one that I use at home (I have the newer Peloton Bike+ at the office). Both my wife and I use these bikes interchangeably, and while the Bike+ has a bigger screen and better accuracy, there's very little difference in the core Peloton experience.
Beats PowerBeats Studio Buds - $50 off
$149
$99
Amazon
⚡I've been using these since last summer, primarily on my indoor workouts, but also on some of my runs (for example, in testing out most watches with music). I like them and they've become my go-to buds.
Apple Watch Series 7 (41mm) - $100 off
$399/$499 (cellular)
$299
Amazon
⚡This is a pretty solid deal. Obviously, we're probably less than a month from new Apple Watch units coming out (usually mid-September), but the Series 7 is getting all the new WatchOS 9 features, including the new triathlon mode and running power.
Apple TV 4K (32GB) for Zwift - $60 off
$119
Amazon
⚡⚡ I use this for almost all my Zwifting. This is a fantastic deal for the latest edition, which runs Zwift, RGT, FulGaz, Rouvy, and more.
DJI Mini 2 Fly More Combo - 20% off ($120 off)
$479
Amazon
This is a great little drone for quick shots that doesn't weigh much, or take up much space. While the Active Tracking capabilities (for sports) are fairly limited, you can make it follow briefly for creative shots. I've got an entire video on that in my review.
Apple Watch Series 7 (41mm) - $120 off
$399/$499 (cellular)
$279
Amazon
⚡⚡ This is now the lowest price we've seen on the unit, for Amazon Prime Day, down to $279
Garmin Varia RVR315 Radar - $50 off
$99
Amazon
⚡ This is the lowest price to date on this radar. This variant doesn't have a taillight, so it's a bit smaller as a result. Same radar tech though, and compatible with Garmin/Stages/Hammerhead/Wahoo bike computers.
Garmin Fenix 6 Pro Series - $150 off
$549-$1,149
$449
Amazon
This is for the Garmin Fenix 6 Pro variants, which means it has the full maps/music/wifi, which the base model doesn't. The Fenix 7 came out earlier this year, and the Forerunner 955 just last month.
Garmin Edge 1030 (with HR strap) - $200 off
$499
$449
Amazon
This really isn't that great of a deal. It's often far less than this, and this unit is now 2 generations behind (Edge 1030 Plus came out two years ago, and the Edge 1040 came out last month).
KOM Cycling Trainer Desk - 30% off
$69
Amazon
I bought and reviewed this desk a year ago, and really like it. In fact, it's still the one I've been using lately (I also like the other ones too, but for no particular reason I never swapped back). It's especially great if you've got a small space.
Garmin Fenix 6S Pro - $200 off
$399
Amazon
⚡This is for the Garmin Fenix 6S Pro (which is the smaller one), and has the full maps/music/wifi, which the base model doesn't. At $399, it's the lowest price we've seen it. Keep in mind the Fenix 7 came out earlier this year, and the Forerunner 955 just last month. Still, for $399 it's hard to beat.
Apple TV 4K (64GB) for Zwift - $70 off
$129
Amazon
⚡⚡ I use this for almost all my Zwifting. This is a fantastic deal for the latest edition (the lowest we've ever seen), which runs Zwift, RGT, FulGaz, Rouvy, and more. There's no real reason to get the 64GB for Zwift compared to the 32GB, however with the sale, it's still far cheaper to get the 64GB than the 32GB when it's not ons ale.
Suunto 9 Peak - $114 off
$569
$455
Amazon
This is one of the first times we've seen the Suunto 9 Peak on sale, which came out last summer.
Samsung T7 Portable SSD 1-2TB - 21% off
$109
Amazon
I use a small fleet of these T7 SSD's for various video projects, alongside the Sandisk SSD's. I literally have one of each color, just to keep things simple. They work great for quick storage.
SanDisk 256GB Extreme Pro microSD Card - 39% off
$39
$24
Amazon
This is one of the two variants I use in all my gear (the other being the 256GB version, which doesn't appear on sale quite yet, but if you click this link you can see both variants, often it goes on sale for a few hours at a time).
Garmin Vivoactive 4S - $120 off
$188
Amazon
⚡ This is Garmin's general-purpose sports/fitness watch, alongside the Garmin Venu 2 series. The Vivoactive 4 is getting a bit old now, but this is also the lowest price we've seen it to date. I've set it as $120 off, while Amazon says $140 off, but practically speaking it usually hovers around $300-$320
Garmin Vivoactive 4 - $120 off
$299
$188
Amazon
⚡ This is Garmin's general-purpose sports/fitness watch, alongside the Garmin Venu 2 series. The Vivoactive 4 is getting a bit old now, but this is also the lowest price we've seen it to date. I've set it as $120 off, while Amazon says $140 off, but practically speaking it usually hovers around $300-$320
Garmin Rally Power Meters - 10% off
$649/$1,099 (SINGLE/DUAL)
From $999
Amazon
This is a reasonably solid deal, since Garmin Rally isn't often on sale. This covers all the variants, so SPD, SPD-SL, and LOOK KEO compatible.
Apple Watch Series 7 (45mm) - $120 off
$399/$499 (cellular)
$309
Amazon
⚡⚡ This is now the lowest price we've seen on the unit, for Amazon Prime Day, down to $309
Apple Airpods (3rd Gen) - $40 off!
$140
Amazon
Garmin Venu 2 - $130 off
$269
Amazon
⚡⚡This is by far the lowest price we've seen on the Garmin Venu 2 series, which is Garmin's answer to the Apple Watch. The previous low is only $50 off. The Venu 2 Plus came out back in January, which adds voice/calling features, but otherwise the units are essentially the same.
Samsung Galaxy Watch 4 - $75 off
$179
Amazon
This is the latest edition that came out last fall, now on Wear OS, and this is the lowest price to date.
GoPro Hero 10 Black Battery Bundle - $150 off
$399
Amazon
This is $399 (without any GoPro subscription required), and includes not just an extra battery, but the dual battery charger. Solid little deal!
Polar Grit X Pro - $120 off
$499/$599
$379
Amazon
This is one of the first times we've seen the Polar Grit X Pro on sale, which came out last fall.
Garmin HRM-PRO - 23% off!
$129
$99
Amazon
The HRM-PRO is Garmin's top-end chest strap, which transmits Running Dynamics information, running power, as well as saves HR data during swims and other watch-less activities.
Beats PowerBeats Studio Buds - $50 off
$149
$99
Amazon
⚡I've been using these since this summer, primarily on my indoor workouts, but also on some of my runs (for example, in testing out most watches with music). I like them and they've become my go-to buds.
SanDisk 256GB Extreme PRO SD Cards - 52% off
$47
Amazon
I use the SanDisk Extreme Pro SD Cards exclusively for all my video/photo shooting on my Panasonic GH5 and Nikon cameras (video and stills), including up to 6K recording with the GH5. I've mostly used 128's, but more and more lately I'm filling up cards faster with higher bitrates, so this sale is gonna have me pickup a bunch of the 256GB ones instead. The 128GB/512GB/1TB ones are also on sale too viathe same link.
Beats PowerBeats Pro Wireless Sport Headphones - $50 off
$249
$199
Amazon
I like the PowerBeats Pro with the over-the-ear design, for more security in workouts. I use these as well as my Beats Studio Buds (and have used the PowerBeats Pro ones longer).
Jackery Portable Power Station - $124 off
$175
Amazon
This is something I use frequently when shooting out and about and I need to re-charge a crapton of drone batteries, action cameras, or just cameras and such. I also use it on trips to Eurobike and elsewhere to keep equipment charged. I've even bought a solar panel to hook up to it (surprisingly effective). Heck, I've even powered a KICKR trainer ride from it!
SanDisk 1-2TB Extreme PRO Portable External SSD - 60% off
$129-$180
Amazon
⚡This is one of the two the high speed drives I use to store the footage I'm actively video editing so that I can edit it on both my iMac at the office, and then my MacBook when traveling or at home. The 2TB version is $229 (50% off).
Anker PowerCore III 10K Wireless Portable Charger with18W USB-C - 20% off
$39
Amazon
I bought this unit this past spring and it's worked pretty well in my battery charging arsenal, especially for the summer season. Specifically, I went with this wireless charging bank because in the summer my phone often gets wet (and thus, the wired charging port needs to dry out a bit) - such as at the beach/lake/etc... This solves that, but can still fast-charge things wired too, for days my phone hasn't gone for a swim.
Garmin Venu 2 - $130 off
$399
$269
Amazon
⚡⚡This is by far the lowest price we've seen on the Garmin Venu 2 series, which is Garmin's answer to the Apple Watch. The previous low is only $50 off. The Venu 2 Plus came out back in January, which adds voice/calling features, but otherwise the units are essentially the same.
Saris H3 (Hammer 3) Smart Trainer - $405 off!
$1,099
$694
Amazon
This is a very solid deal for this trainer, especially for ERG (workout) mode. It's not quite as good of a deal as the $400 price back a month ago in the fire-sale event they did. But hey, can't win em all. Note that Saris did put themselves up for sale two weeks ago.
Apple Airpods Pro - $80 off
$249
$169
Amazon
Apple TV 4K (32GB) for Zwift - $70 off
$109
Amazon
⚡⚡ I use this for almost all my Zwifting. This is a fantastic deal for the latest edition (the lowest we've ever seen), which runs Zwift, RGT, FulGaz, Rouvy, and more.
Synology 4 bay NAS DiskStation DS920+ (Diskless) - $100 off
$449
Amazon
⚡ I use Synology NAS units for all my file storage at the DCR Cave. This unit is a slightly smaller variant of what I use (DS1817), but mainly just with less storage space. The DS920+ linked here is a solid deal at $110 off, though, keep in mind if just using for simple storage, the DS418 is cheaper (but doesn't support expansion units). Also, remember you'll need to add disks. I currently find 8TB units are the sweet spot on price vs capacity.
Wahoo ELEMNT ROAM - $100 off
$379
$299
Amazon
⚡This is by far the lowest price we've seen on the Wahoo ELEMNT ROAM, down to $299, from it's usual $399.
Samsung Galaxy Watch 4 Classic - $50 off
$299
Amazon
This is the latest edition that came out last fall, now on Wear OS. While the Watch 4 Classic has a few quirks, I'd argue it's the best wearable Samsung has made to date.
Fitbit Inspire 2 - 33% off
$99
$66
Amazon
Garmin Venu SQ - $30 off!
$199/$249 with Music
$159
Amazon
Garmin Forerunner 245 Music - $50 off
$239
Amazon
This is the lowest price we've seen to date on the FR245 music (the previous low was $249), though, keep in mind the Forerunner 255 just came out last month.
Garmin Enduro - $300 off
$799-$899
$499
Amazon
This is by far the lowest price we've seen on this watch. This is a watch purely focused on long battery life, at the expense of maps and music.
Garmin Instinct Solar - $150 off
$399/$449
$199
Amazon
⚡ This is the best deal we've seen on the original Instinct Solar edition. Keep in mind the newer Instinct 2 series came out this past February, but at a significantly higher price than this.
Garmin Forerunner 945 - $200 Off
$599/599EUR
$379
Amazon
⚡Officially this is $200 off, but realistically the FR945 (non-LTE) floats at about $520 most of the year, so it's really only about $140 off the norm. Still, it's a pretty solid deal. Keep in mind the FR955 came out last month at $499 though.
DJI Action 2 Dual-Screen Combo Edition - 45% off
$299
Amazon
Insta360 GO2 Action Cam - 15% off
$262
Amazon
Both the 32GB and newer 64GB versions are on sale, with the 32GB version being $262 as opposed to the usual $299.
Withings Sleep Tracking Pad - 30% off
$69
Amazon
Fun tidbit: I actually use this. Well, more specifically, I use the far older bedside clock version, but, the sensor is essentially the same. Simply that the new sensor doesn't require a bedside clock anymore. But, if you don't like wearing a wearable to bed, then this will still track all your nighttime stats.
DJI Air 2S Fly More Combo - $260 off
$1,039
Amazon
This is DJI's latest mid-range drone (the highest-end consumer drone being the Mavic 3, and then the Mini 3 being the budget option that just came out).
Withings Body+ WiFi Scale - 30% off
$69
Amazon
I've long been a fan of the Withings WiFi scales, especially since they can connect/push data to so many platforms, including Zwift! Note that the Body+ simply includes more data.
Fitbit Luxe - 30% off
$99
Amazon
Fitbit Charge 5 - $30 off
$149
$104
Amazon
This is the lowest price we've seen on the Fitbit Charge 5 to date (by far).
Adobe Creative Cloud (12 months) - $220 off
$479
Amazon
I use Adobe Creative Cloud daily in editing, both photos as well as tidbits of video. But mostly photos. For video I primarily use Final Cut Pro, but occasionally Premier Pro. Point is, if you use Adobe Creative Cloud, you know this is a very solid deal (note the checkbox on the product page for the Prime savings).
Garmin Epix Sapphire White Titanium - Actually in stock
$1,000
N/A
REI
This isn't on sale at all, however, it might feel like it. Cause this is the first time since launch the Sapphire Editions are actually in-stock and at list prices. Thus, I figured I'd mention it here. 🤣🤣🤣
Garmin Feinx 6 Base - Just $299!!!
$549-$1,149
$299
Amazon
⚡⚡⚡This is an insane price, and by far the lowest we've ever seen for the Fenix 6 series. In this case it's the base unit, so it lacks music/maps/WiFi, but has Garmin Pay and countless other features. Plus, it's still getting feature updates - even as of last week.
Garmin Forerunner 55 - $30 off
$199
$169
Amazon
REI
Oddly enough, this is actually the first record of a sale I have on the FR55. It's not a bad deal, but also not crazy either.
Garmin Forerunner 745 - $150 off
$499/499EUR
$349
Amazon
REI
⚡ This is a solid deal on a very capable watch. More notably, it's also the watch I've long used when I'm not testing other things (and still use to compare things). While it doesn't have the onboard maps of the FR945, since I'm not traveling as much, it doesn't bother me. Of course, keep in mind that with all the Garmin units on sale, the price differences to map-inclusive units aren't very much. It's also the lowest price we've seen on the FR745 ever.
Garmin Forerunner 945 - $200 Off
$599/599EUR
$399
Amazon
REI
⚡Officially this is $200 off, but realistically the FR945 (non-LTE) floats at about $520 most of the year, so it's really only about $120 off the norm. Still, a fantastic deal.
Garmin Forerunner 945 LTE - $200 off
$649
$449
Amazon
REI
⚡This is by far the lowest price we've seen on the FR945 LTE. The previous sale last Black Friday was only $100 off. So this is solid!
Garmin Varia Radar (RTL515) - $50 off
$149
Amazon
REI
This is Garmin's standalone radar+taillight option, and $149 is pretty much the standard sale-price. While Garmin just announced their new RCT715 radar that includes a camera and taillight, that's $399 (and not on sale).
Garmin Venu 2/2S - $50 off
$399
$349
Amazon
REI
Not too bad a deal. Nothing crazy, and not on the Venu 2 Plus with calling features.
Garmin Edge 1030 Plus - $150 off
$599
$449
Amazon
REI
⚡This is the lowest price we've seen to date on the Edge 1030 Plus, far surpassing last spring's $100 off sale. The Edge 1030 Plus came out June 2020, but has continued to receive numerous firmware updates/features, and is Garmin's top-end unit.
Garmin Epix Sapphire Black Titanium - Actually in stock
$1,000
N/A
REI
This isn't on sale at all, however, it might feel like it. Cause this is the first time since launch the Sapphire Editions are actually in-stock and at list prices. Thus, I figured I'd mention it here. 🤣🤣🤣
Garmin Forerunner 245 & 245 Music - $75 off
$299/$349
$225
Amazon
REI
Both the Forerunner 245 & 245 Music are on sale for $75 off. This is neither a huge sale, nor the lowest we've seen them (previous low was $199 last Black Friday).
Wahoo KICKR ROLLR - 20% off
$799
$800
N/A
REI
⚡ This is a solid deal, and the first time we've seen the ROLLR on sale. Requires REI membership, using coupon code with REI link here: ANNIV22
Wahoo POWRLINK ZERO (Dual-sided) - $200 off!
$649/$999
$800
N/A
REI
⚡This is the first time we've seen the POWRLINK Zero pedals on sale, and thus far, about 4-5 months since launch - people seem really happy with them (as am I, it's become part of my testing rotation due to strong accuracy). Requires REI membership, using coupon code with REI link here: ANNIV22
Ooni Fyra 12 Wood Fired Outdoor Portable Pizza Oven - $70 off!
$279
Amazon
REI
⚡ I know, I know, I still owe everyone a review. Nonetheess, almost a year later, I love this thing. We use it for more than pizza too, notably steaks (to get a really crispy sear). But a lot of pizza. It's completely portable, even easily fitting on our cargo bike. Note that I went with this model, the cheapest one they make, as I realized that buying the higher-end models that that support gas didn't make much sense for me. I have a gas grill already (and could easily just put a stone on it). Similarly, while a large 16" is appealing, realistically I've found this 12" more than enough for pretty substantial personal pizzas (and it makes it easier to handle). Full in-depth review pretty soon. (REI link at side seems to still have stock at the sale price)
Elite Direto XR Smart Trainer- $200 off!
$1,000
$800
Amazon
REI
REI 20% sale, REI members use ANNIV22 code with REI link here to support site.
Saris MP1 NFinity Motion Platform - $360 off! (In stock)
$839
N/A
REI
⚡This is by far the lowest price we've seen to date, aided by the 30% sale over the usual 20% sale.
Garmin Rally RK100 (LOOK KEO Single Sided) - 20% off
$520
N/A
REI
⚡ This is a very solid deal, and only the third time we've seen it on sale since launch in spring 2021. If you were looking at the Rally setup (which can be swapped between pedal types), grab these before this disappears (and it will disappear). This deal is via REI for REI members using the coupon code GEARUP22 - and ends Nov 21st!
Tacx NEO 2T Smart Trainer - $280 off!
$1,399
$1,120
N/A
REI
REI 20% sale, REI members use ANNIV22 code with REI link here to support site.
Tacx Flux S Smart Trainer - $150 off!
$749USD
$600
N/A
REI
REI 20% sale, REI members use ANNIV22 code with REI link here to support site.
Saris H3 (Hammer 3) Smart Trainer - $300 off!
$1,099
$769
N/A
REI
This is actually the lowest price to date on this trainer, with this 30% off sale. No membership required.
Elite Sterzo Smart - 20% off!
$100
N/A
REI
REI 20% sale, REI members use ANNIV22 code with REI link here to support site.
Garmin Rally RS200 (SPD-SL) - $220 off!
$880
N/A
REI
⚡ This is a very solid deal, and only the second time we've seen it on sale. If you were looking at the Rally setup (which can be swapped between pedal types), grab these before this disappears (and it will disappear). Requires REI membership, using coupon code with REI link here: ANNIV22
Garmin Rally XC200 (SPD) - $240 off!
$959
N/A
REI
⚡ This is a very solid deal, and only the second time we've seen it on sale. If you were looking at the Rally setup (which can be swapped between pedal types), grab these before this disappears (and it will disappear). Requires REI membership, using coupon code with REI link here: ANNIV22
Garmin Rally RK200 (LOOK KEO) - $220 off
$880
N/A
REI
⚡ This is a very solid deal, and only the second time we've seen it on sale. If you were looking at the Rally setup (which can be swapped between pedal types), grab these before this disappears (and it will disappear). Requires REI membership, using coupon code with REI link here: ANNIV22
Garmin Rally XC100 (Shimano SPD Single Sided) - 20% off
$560
N/A
REI
⚡ This is a very solid deal, and only the second time we've seen it on sale. If you were looking at the Rally setup (which can be swapped between pedal types), grab these before this disappears (and it will disappear). Requires REI membership, using coupon code with REI link here: ANNIV22
Garmin Rally RS100 (SPD-SL Single Sided) - 20% off
$520
N/A
REI
⚡ This is a very solid deal, and only the second time we've seen it on sale. If you were looking at the Rally setup (which can be swapped between pedal types), grab these before this disappears (and it will disappear). Requires REI membership, using coupon code with REI link here: ANNIV22
Wahoo KICKR V5/2020 - $240 off!
$1,199
$959
N/A
REI
REI 20% sale, REI members use ANNIV22 code with REI link here to support site.
Wahoo KICKR SNAP - $100 off!
$499
$400
N/A
REI
REI 20% sale, REI members use ANNIV22 code with REI link here to support site.
Wahoo KICKR Core Smart Trainer - $180 off! (In Stock)
$899
$719
N/A
REI
REI 20% sale, REI members use ANNIV22 code with REI link here to support site.
Elite Tuo Smart Trainer - $114 off
$580
$464
N/A
REI
REI 20% sale, REI members use ANNIV22 code with REI link here to support site.
Saris TD1 Trainer Desk - $109 off
$251
N/A
REI
This is the lowest price ever on this trainer desk with power, at 30% off.
Wahoo KICKR AXIS Feet - $16 off
$64
N/A
REI
REI 20% sale, REI members use ANNIV22 code with REI link here to support site.
Tacx Flow Smart Trainer - $75 off
$296
N/A
REI
REI 20% sale, REI members use ANNIV22 code with REI link here to support site.
Wahoo CLIMB Accessory - $140 off!
$599
$560
N/A
REI
REI 20% sale, REI members use ANNIV22 code with REI link here to support site.
Tacx Flux 2 Smart Trainer - $180 off
$899
$720
N/A
REI
REI 20% sale, REI members use ANNIV22 code with REI link here to support site.
Wahoo KICKR Bike - $270 off!
$3,499
$3,249
N/A
REI
This is a pretty solid deal on the KICKR Bike, if for no other reason than we haven't really seen much in the way of KICKR Bike sales (except Zwift's clearance event recently). Note officially it lists the retail price as $3,800, but I don't think that's actually the real retail price lately. It's always been $3,500
Most Suunto Watches 30-40% off!
$599 (non-baro is $499)
From $199+
Amazon
Suunto Site
Suunto is running a sale on a bunch of watches, though, which ones are on sale varies by region. In the US, it's only their older watches (non-Peak), whereas in Europe it includes the Peak watches. The older watches is pretty much normal everyday 30% off pricing for them (as has been the last 6-8 months). But the Peak ones are solid deals.
DJI Mavic 3 - $150 off
$999
$2,049
Amazon
⚡This is the first time we've seen the DJI Mavic 3 on sale (for a non-bundled deal). With all the firmware improvements since the fall, it's finally getting to a more stable place in terms of features.
DJI Mavic 3 Fly More Combo - $150 off
$2,849
Amazon
⚡This is the first time we've seen the DJI Mavic 3 on sale (for a non-bundled deal). With all the firmware improvements since the fall, it's finally getting to a more stable place in terms of features. This is for the full bundle, which includes extra batteries (3 total), ND filters, extra props, and the battery charging station. Note this does not include the RC Pro remote (but does include the base/normal remote).
DJI Action 2 Dual-Screen Combo Edition - $80 off
$439
Amazon
All of the DJI Action 2 kits are 15-20% off (depending on the variant you choose), which is the first time we've seen the Action 2 on sale since launch.
Elite Suito Smart Trainer - $170 off
$799 (incl cassette)
$680
N/A
REI
REI 20% sale, REI members use ANNIV22 code with REI link here to support site.
Fitbit Charge 5 - $30 off
$149
$129
Amazon
This is more or less a standard sale for the Fitbit Charge 5.
DJI FPV Combo - $300 off!
$999
Amazon
This is only the 2nd time we've seen the FPV combo on sale, saving you $300. This includes the drone, FPV goggles, and controller.
Garmin Forerunner 45/45S - $30 off
$199
$139
Amazon
This is a good deal, though, keep in mind that the Forerunner 55 came out two years ago. So the 'normal' list price of $199 for the FR45 isn't really true anymore (that's the newer FR55 list price). Thus this is roughly $30 off. In any case, it's a great running watch.
DJI Mavic Air 2 Fly More Combo - $200 off
$799
Amazon
This is a pretty solid deal, as we don't tend to see discounts this big on DJI drones except Black Friday-ish timeframe.
Apple Watch Series 7 - $70 off
$399/$499 (cellular)
$329
Amazon
⚡⚡ This is now the lowest price we've seen on the unit (as of April 4th), for a one-day sale down to $329.
Apple Watch SE - $30 off
$279
$249
Amazon
This isn't a super big deal, but hey, if you're in the market, a deal is a deal.
Garmin Edge 530 MTB Bundle - $50 off
$319
Amazon
Competitive Cyclist
⚡ This matches last year's Black Friday sale, and is the lowest price to date on the Edge 530 MTB Bundle. This is one of the main units I use for my day-to-day riding and testing.
Garmin Edge 830 Cycling GPS - $50 off
$399
$349
Amazon
Competitive Cyclist
⚡ While this isn't a big sale, it's actually the lowest price the unit has been offered in the 3 years since release - matching Black Friday from this past year.
Garmin Edge 530 Sensor Bundle - $50 off
$349
Amazon
Competitive Cyclist
⚡ This matches last year's Black Friday sale, and is the lowest price to date on the Edge 530 Sensor Bundle. This is one of the main units I use for my day-to-day riding and testing.
Garmin Edge 830 Sensor Bundle - $50 off
$419
Amazon
Competitive Cyclist
⚡ While this isn't a big sale, it's actually the lowest price the unit/bundle has been offered in the 3 years since release - matching Black Friday from this past year.
Garmin Edge 830 Sensor Bundle - $50 off
$449
Amazon
Competitive Cyclist
⚡ While this isn't a big sale, it's actually the lowest price the unit/bundle has been offered in the 3 years since release - matching Black Friday from this past year.
Garmin Varia RVR315 Radar - $50 off
$99
Amazon
Competitive Cyclist
⚡ This is the lowest price to date on this radar. This variant doesn't have a taillight, so it's a bit smaller as a result. Same radar tech though, and compatible with Garmin/Stages/Hammerhead/Wahoo bike computers.
Garmin Edge 530 Cycling GPS - $50 off!
$299
$249
Amazon
Competitive Cyclist
⚡ This matches last year's Black Friday sale, and is the lowest price to date on the Edge 530. This is one of the main units I use for my day-to-day riding and testing.
Suunto 5 GPS Multisport Watch - 40% off!
$329
$179
Amazon
⚡ A very strong deal for this complete multisport watch that I really like. Well nailed on price here.
Suunto 9 Baro Series - 40% off
$599 (non-baro is $499)
$369
Amazon
At this point the Suunto 9 Baro has been surpassed by the Suunto 9 Peak. Still, if you prefer a bigger watch, it got most of the firmware updates of the Suunto 9 Peak anyway.
Garmin Vivoactive 4 - $70 off
$299
$229
Amazon
Polar Grit X - $110 off
$429
$340
Amazon
This is for certain editions (namey the white ones at the moment). Keep in mind the Grit X Pro came out a month or so ago, so that may limit new features for the Grit X going forward.
Garmin Vivoactive 4S - $80 off
$219
Amazon
Little Tikes Pelican Explore & Fit Cycle - 38% off
$99
Amazon
So, the Three Peanuts (girls ages 2/4/5) have been testing this the last week, and so far, they love it. It's silly simple (there's no real connectivity here), and the videos they ride with are also absurdly laughable. Yet, they love it. Seriously, they fight over it. In-Depth review coming very very shortly. Until then, it's on sale (note: Add the 'Coupon' that shows up below the price to get the $99 price.
NordicTrack S22i Indoor Cycle Bike - $700 off
$1,499
Amazon
This is considered the primary competitor to Peloton, and is generally rated/reviewed very highly. Note that I have not reviewed this bike, or ridden it. But I figured I'd mention it here in case folks are looking for a deal on it. With Peloton's new pricing, the base prices are basically the same - $1,495 for the Peloton Bike. Sorta like politics, people prefer one brand or the other. Also like Peloton - it DOES NOT support any open standards for apps like Zwift, TrainerRoad, etc... Do NOT buy it (or Peloton) for that purpose.
SanDisk 1-2TB Extreme PRO Portable External SSD - 50% off
$129
Amazon
⚡This is one of the two the high speed drives I use to store the footage I'm actively video editing so that I can edit it on both my iMac at the office, and then my MacBook when traveling or at home. The 2TB version is $180 (50% off).
Fitbit Charge 5 - $50 off
$149
$129
Amazon
This is the first time we've seen the newly released Charge 5 on sale. Also of note is that just this week it got ECG support via a firmware update, and Fitbit Daily Readiness score via firmware update.
Samsung Galaxy Buds Plus Wireless Earbuds - 33% off
$99
Amazon
GoPro Hero 9 Black - $50 off
$399
$349
Amazon
REI
This price makes it a reasonably good deal, and about $100 cheaper than the lowest GoPro Hero 10 price (if you're not a GoPro subscriber). The changes between the Hero 9 and Hero 10 for most people are fairly minor. Whereas if you're pushing the limits (either spec-wise or sport-wise), then the Hero 10 can be worth it.
SanDisk Extreme Pro 256GB MicroSD Card - 39% off!
$43