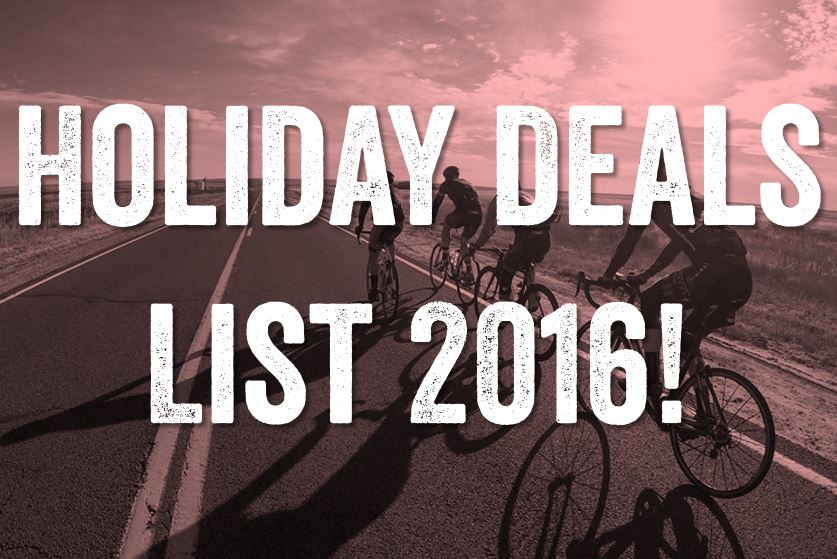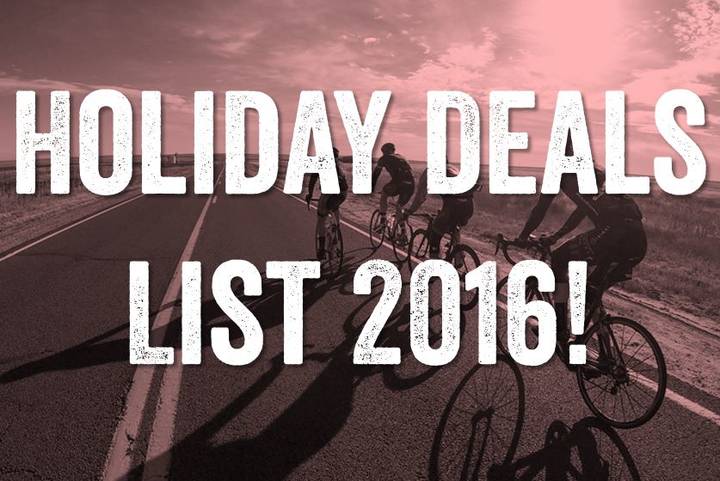 Updated Dec 24th, 2016: Last day for many sales, especially Garmin ones!

It's that time of year again when there are tons of sales on all sorts of sports technology items.  Everything this year is pointing to earlier sales than normal, as manufacturers and retailers alike try to lock in your dollars ahead of time.
The typical ebb and flow of this time period is:
Pre-Thanksgiving deals: These are everything ahead of the US Thanksgiving, on November 24th. These are and will be more pronounced this year than in past years.
Black Friday deals: These are tied to Black Friday (BF), on November 25th. Some span that weekend.  Generally speaking most retailers have access to the same major deals (i.e. Garmin, Fitbit, etc…).
Cyber Monday deals: These are on Monday, November 28th. Occasionally they spill into that Tuesday as well.
General December deals: We tend to see 'repeats' of some deals in the mid-December time-frame (usually around the 10th-15th). These are rarely better than BF deals, but usually quite good.
Most deals aren't announced until a few days prior, if any prior announcement at all.  Some deals have a specific quantity of items attached, which may be a few or a ton.  And others are very time-limited, like Amazon deals.  Note that while many deals are US-focused, in recent years we've seen Europe really get into the Black Friday/Cyber Monday side. So definitely good news there!
With that – let's get into it!  I'll update the list and cross things off as we move through the season:
Current Deals!


Here's what's currently active.  The ones I feel are the best bang for the buck, have a little * at the front of them.  Of course, many of these are great deals if you're in the market for it already.  It's just the ones with the stars are exceptionally unusual.
Garmin Deals:
You can also find all Garmin product deals here and all general Holiday Deals here.
Garmin 2016 Holiday Deals
Note I do not expect any further Garmin deals this season beyond these.  And obviously, don't expect any new product announcements from anyone at this point.  The time is over for new products.  The next time that train arrives at the station is CES 2017 (first week of January).
Here's my very brief notes on why you see some of these products and whether they make sense to purchase.
Forerunner series: With the FR230/235/630 only a year old, I don't see a near term replacement there.  This to me just seems like a typical Black Friday type sale of a 1yr+ old product.  With the FR920XT, that's two years old.  Given the FR735XT came out this past summer (not an exact replacement, but kinda close), I think we'll see Garmin continue to wait on a direct FR920XT replacement for the near-medium term.
Fenix3 series: Garmin has pretty much established a yearly cadence of Fenix series units.  2014 saw the Fenix2, 2015 saw the Fenix3, 2016 saw the Fenix3 HR, and I suspect 2017 will bring whatever is next. In all recent cases, these products were announced at CES in early January, but not available until the February-April timeframe (depending on exact product).
Vivo Series: These are Garmin's favorites to discount, since they have a much wider appeal.  I see these sales as 'simply keeping up with everyone else's sales', and by 'everyone else', I mean Fitbit.  I wouldn't read into these too much other than being good deals. Oh, and for Vivofit Jr, that was just announced last month – so these sales are just a vehicle to get more exposure there.
Edge Series: While the Edge 1000 may be due for an update, any release cycle there would likely be tied to late Spring (i.e. Sea Otter announcement), which Garmin has favored in recent years for announcing products.  In the meantime, it continues to get new features on a near monthly basis.  As for the Edge 20, not sure there, seems like it just came along for the ride.
TomTom Deals:
TomTom Runner – $69 (normally $129)
*TomTom Spark – $89 (normally $149)
TomTom Spark Music – $129 (normally $199)
*TomTom Spark Music + Cardio  – $174 (normally $249)
TomTom Spark Music + Cardio w/headphones – $224 (normally $299)
Note that the 'Cardio' version means it has optical HR in it.  My review of all these watches can be found here (Runner) and here (Spark).  Note, I see absolutely no logical reason why you'd get the older Runner vs the Multisport Spark, given they are the same price and the Spark has more features.
Everything else!
And then there's a ton more things:
Current Deals
Product

Sale Price

Amazon

Clever Training

Other site

Sale Notes

Copyright DC Rainmaker - Updated December 3rd, 2019 @ 9:10 am
4iiii Fliiiight Smart Trainer with Viiiiva dual ANT+/BLE HR strap bundle - Normally $599
$499
Clever Training
⚡ This is a solid deal. Normally the trainer (which doesn't even start shipping till next week) is $599, now it's $499 and includes the Viiiiva dual ANT+/BLE HR strap (which probably doesn't get as much street cred as it should for all the features it has). Note I've included both 4iiii Fliiight sale deals (the 20% deal you see next to this). This deal here ends Nov 27th.
Amazon Echo Dot - 56% off!
$22
Amazon
We've got a couple of these, both at home, and the office, and mostly just use it to play music for the kids. I don't have a specific need to pickup another one this year - but at
Apple Watch Series 3 (38mm)
$169
Amazon
N/A
⚡ This unit recently got reduced to $199, and now it's down to $169. Walmart is also offering it for $129 on Black Friday weekend.
Apple Watch Series 4 - $100 off!
$299
Amazon
N/A
⚡ This is a pretty darn strong deal. While the Series 4 doesn't have the always-on display of the Series 5, it has everything else, including a heck of a lot better battery performance/life.
Apple Watch Series 5 - $20 off
$379
Amazon
N/A
It's a note a huge deal, but I also don't think we're going to see any huge deals this season on the new Series 5.
BOB Revolution Pro Jogging Stroller - 20% off
$399
Amazon
There's just no competition in our minds on the best running stroller - it's what we use. In fact, we actually have two of them - one at home in Europe, and one with family in Canada that we picked up used. Go Bob Go!
Bose QuietComfort 25 Acoustic Noise Cancelling Headphones - $70 off!
$129
Amazon
These are my jam - and The Girl's too. I know, they're not the newest. Nor are they wireless. But that's why I love them. They just work, all the time.
Fitbit ACE 2 - $10 Off
$59
Amazon
Clever Training
Fitbit Inspire - $10 Off
$59
Amazon
Clever Training
Fitbit Inspire HR - $20 Off
$79
Amazon
Clever Training
Fitbit Versa - $50 Off
119
Amazon
N/A
Garmin Cadence Sensor Gen2 (Dual ANT+/Bluetooth) - $5 off
$35
Amazon
N/A
Note: This is a random Amazon deal that will probably disappear. But, it's a great sensor for Zwift usage as it's not just dual ANT+/BLE, but dual-BLE atop that (so it can do two concurrent Bluetooth connections and unlimited ANT+ connections).
Garmin Descent MK1 - $200 Off
$799
Amazon
Clever Training
Garmin Edge 530 Cycling GPS - 11% off!
$265
Amazon
N/A
⚡ ⚡ This is the first sale we've seen on this unit, which only came out this past spring. It's also an Amazon-specific sale and is highly unlikely to last long. This is one of the main units I use for my day to day riding and testing.
Garmin Fenix 5 Plus (5/5S/5X) - $150 Off
$449
Amazon
Clever Training
⚡This is a strong deal on the Fenix 5 Plus series. This is for all models/variants. Obviously, the Fenix 6 came out two months ago, so don't expect major new feature updates on the Fenix 5 Plus - but still, it's a strong option.
Garmin Fenix 5 Series - 50% off
$299 and up
Amazon
Clever Training
⚡ Down to $299 is a substantial deal for the Fenix 5S & 5X (non-Plus), so don't expect much in the way of major firmware updates. But still, at that price it's solid. Heck, the 5S for $299 is actually the exact rose gold version that The Girl has (and still wears to this day).
Garmin Forerunner 35 - $60 Off
$99
Amazon
Clever Training
Garmin Forerunner 735XT GPS Multisport Watch - Normally $349
$219-$236
Amazon
N/A
⚡ This is a fantastic deal right now. The price on Amazon is fluctuating a bit, but either way - by far the lowest we've seen. Awesome if you're looking to get into triathlon or just want a really capable running/cycling/swimming watch.
Garmin HRM-RUN (with Running Dynamics) - $20 off
$79
Amazon
N/A
N/A
This is the odd (and unheard of) Amazon sale. This strap includes Running Dynamics, but is ANT+ only. Honestly, unless you really want Running Dynamics, I'd recommend getting the HRM-DUAL instead (it's dual ANT+/BLE).
Garmin HRM-TRI/HRM-SWIM Bundle (30% off!)
$139
Amazon
N/A
Another rare Amazon sale on the HRM-TRI & HRM-SWIM straps. Also individually for 30% off too at same link.
Garmin Instinct - $100 Off
$199
Amazon
Clever Training
Garmin Instinct Tactical- $100 Off
$249
Amazon
Clever Training
Garmin RD Pod (Running Dynamics) - 17% off
$57
Amazon
N/A
Allows you to get not just Running Dynamics metrics, but also running power, on Garmin devices.
Garmin Speed Sensor Gen2 (Dual ANT+/Bluetooth) - $5 off
$35
Amazon
N/A
⚡ This isn't a huge deal per se, but it is my favorite speed sensor for a commuter bike as it just quietly tracks all your mileage in the background and syncs it to your phone. Also, this falls in the bucket of 'random Amazon deals that will probably disappear'.
Garmin Tactix Charlie- $150 Off
$599
Amazon
Clever Training
Garmin Vivoactive 3 - Normally $249
$126-$144
Amazon
Clever Training
⚡⚡⚡ This was as low as $99 over Black Friday weekend, which is absolutely crazy. However, even at sub-$150 it's still an incredible deal.
Garmin Vivoactive 3 Music - 30% off
$199
Amazon
Clever Training
⚡⚡ Very solid deal, and remember, this includes Spotify support too!
Garmin Vivoactive 4 First Avenger Smartwatch- $50 Off
$349
Amazon
Clever Training
Garmin Vivoactive 4 Legacy Saga Darth Vader - $50 Off
$349
Amazon
Clever Training
Garmin Vivofit Jr. 2 - $20 Off
$49
Amazon
Clever Training
Sale includes all Jr 2 Disney and non-Disney variants
Garmin Vivomove HR - $50 Off
$149
Amazon
Clever Training
Garmin Vivosmart 4 - $30 Off
$98
Amazon
Clever Training
** Amazon currently $98 ; Clever Training $109
GoPro Hero 7 Black with 32GB- $30 Off
$299
Amazon
Clever Training
Google Nest Mesh WiFi Router - 12% off
$149
Amazon
These are the WiFi mesh access points I use both at home and the DCR Cave. Love them - I don't need to dork with them, they just work.
Nest Cam Indoors - 20% off
$159
Amazon
We have more Nest cam's than I can count. No really, we have half a dozen at the DCR Cave alone, plus more at home. We love them. I'll be picking up another with this sale, mostly to replace some much older Dropcam's (Nest before Nest was renamed). Nest Cam's really only go on sale about once per year. Update: I bought three more of them this year.
Nest Cam Outdoors - 23% off
$228
Amazon
We use one of these and so far after I think just about two years, it's working great for us.
Panasonic LUMIX GH5 4K Digital Camera
$700 off
Amazon
I've often rented this camera (or stole friends) over the last year or so, but I finally bit the bullet on a variant of this sale last week. These are now my main shooting cameras for video (they make great stills too, but I mainly got this for video). $700 off is an awesome deal. In my case I got the kit. And in case it's even more of an endorsement, both GPLAMA & DesFit also use this camera too!
Polar OH1 Plus Optical Sensor - 14% off
$68
Amazon
N/A
⚡ This is one of my favorites, and I use it constantly for HR accuracy testing comparisons. Note that the CT VIP deal is a better deal, but since you can only redeem that for one product - this is handy if you still want a nice little deal. Deal varies based on which color you get.
Polar Vantage M GPS Multisport Watch - Normally $279
$167
Amazon
Clever Training
⚡⚡⚡ Woah - this is probably the deal of the year for wearable tech. This is a great little watch that includes full multisport mode (for triathletes), as well as things like full power meter support and more. Very very solid deal.
Polar Vantage V GPS Multisport Watch - 30% off
$349
Amazon
Clever Training
⚡ This is a reasonably good deal for the Vantage V, which has seen a number of updates over the last year (and more slated in December).
Power2Max NG Power Meter Sale - Free chainrings
N/A
N/A
Power2Max Site
Power2Max is running a sale on their site where if you buy one of their power meter units you'll get either free chainrings (which you'll need), or 25% off electronics they carry (such as the Wahoo GPS units or Cycliq units).
SanDisk SD & MicroSD Cards - 50% off
50% off
Amazon
Look, I have a storage problem. As in, I constantly buy SD & MicroSD cards. Mostly because I'm constantly sticking new MicroSD cards in new cameras/drones/etc to test. So when I see deals like this for 50% off - I jump. Generally speaking I use 128GB cards for action cameras, and a blend as 128GB & 256GB cards for my main DSLR/etc cameras. I almost exclusively use SanDisk cards, though you'll find a few other brands from time to time.
Tacx NEO Bike Smart - $700 off (brand new but scratched units)
$2,499
N/A
Clever Training
N/A
⚡⚡⚡ If you're in the market for one of these indoor bikes, this is a steal of a deal. Normally $3,199 - Garmin/Tacx are marking $700 off after a batch of them got sent (brand new) across the pond with some "cosmetic" scratches. You can see the pictures in the sale link, and honestly, I'd take that $700 for a couple of very minor scratches. Plus, they ship within a few days.
Wahoo KICKR + CLIMB Bundle - $200 off!
$1,599
N/A
Clever Training
This is a simple bundle of the Wahoo KICKR 2018 + the KICKR CLIMB, for $1,599.
Top Deals You Ordered Weekend:
I thought it'd be fun to list the Top 10 Sports Tech items people ordered over the weekend, using links from the site.  They are:
Fitbit Charge 2
Garmin Forerunner 920XT
Garmin Fenix3
Garmin Vivoactive HR
Garmin Vivofit Jr. (WTF?)
Garmin FR235
Garmin Vivosmart HR+
PowerTap P1s power meter pedals
PowerPod power sensor
Scosche Rhythm+ optical HR sensor
The major pattern was basically the most heavily discounted options.  The Vivofit Jr was definitely the surprise there, as was the P1s (which is the left-only one).  The others made sense, as they were all major discounts on things.  All of these are linked above, and all of them as of Monday, are still on-sale for quite a discount.
European Deals!


What's that? You're not in the US and still want a deal?  No problem!  First off, you should note that some retailers do send some items overseas.  For example, Clever Training can send many products overseas, and do so at a flat-rate $29USD shipping cost.  You'll want to check the individual item.  For some deals, that could be a huge savings!
Beyond that, I'll be tracking Euro-specific deals here.  These will include both Clever Training Europe (UK) as well as Amazon European deals.
Woot – important! The Clever Training Europe deals below can be combined with the DCR 10% discount coupon code DCR10BTF.  Boom! So yes, another 10% savings on top of these prices!  Plus free shipping in Europe for orders over 75EUR (almost everything in the list from CT).
Note: On Amazon Europe deals, generally speaking you can order from any Amazon European country site (i.e. Amazon France) and have it shipped within the EU (i.e. Spain). Thus, many times deals are duplicates across the sites.
European Deals
Didn't find what you wanted?


No worries, you can still save a bundle, or help support the site.  With Clever Training you can get 10% off everything they sell (except most sale/clearance items).  You'll just use the DCR coupon code DCR10BTF and boom, good to go!  Plus, you'll get free US shipping over $75.  For a handful of items you may need to use the DCR/CT VIP program to get points back instead, but it only takes a moment to sign-up.
In addition, you can support the site with purchases from any of the below three retailers – no matter if it's sports tech, or toilet paper.  Just click on the link and you're off!
Thanks for the support!
Expired Deals:


Clever Training 20% VIP Sale: In this sale, each CT VIP member is given a coupon code (GIVETHANKS) that's good for 20% off a single non-sale item.  It doesn't matter if that item is the Wahoo KICKR2, or gel packets.  Your choice, but it's only available to CT VIP members.  Sale through Nov 19th, 2016 – details here.
Past Deals
Product

Sale Price

Amazon

Clever Training

Other site

Sale Notes

Copyright DC Rainmaker - Updated December 5th, 2019 @ 5:19 am
*Garmin Varia UT800 Lights
$30 off
Amazon
Clever Training
I actually like this deal, mostly because I actually like these lights. Slim but powerful, and still controlled by your Garmin automatically (though, you don't have to have them controlled by it).
1BandID
25% off
N/A
N/A
1bandid
This is a small emergency ID bracelet that attaches to Garmin/GPS watch bands. Pretty cool stuff and I've used them previously. They've got 25% off their latest design.
2016 Gadget Recommendations: Running
2016 Recommendations: Triathlon
2016 Winter Gadget Recommendations: Drones
2016 Winter Recommendations: Action Cams
2016 Winter Recommendations: Cycling
2016 Winter Recommendations: Sensors
2016 Winter Recommendations: Swimming
2016 Winter Recommendations: Weight Scales
2016-2017 Trainer App Guide
2017 Gadget Recommendations: Running
2017 Giveaway Extravaganza
2017 Power Meter Guide
2017 Recommendations: Action Cams
2017 Recommendations: Cycling
2017 Recommendations: Drones
2017 Recommendations: Sensors and Mounts
2017 Recommendations: Sensors and Mounts
2017 Recommendations: Swimming
2017 Recommendations: Triathlon
2017 Recommendations: Weight Scales
2017-2018 Trainer Recommendations
2018 Gadget Recommendations: Running
2018 Giveaway Extravaganza
2018 Recommendations: Action Cams
2018 Recommendations: Cycling
2018 Recommendations: Drones
2018 Recommendations: Sensors and Mounts
2018 Recommendations: Swimming
2018 Recommendations: Triathlon
2018 Recommendations: Weight Scales
2018 Trainer Recommendations
2019-2020 Winter Trainer Recommendations
23andMe DNA/Health Testing Kit
$99 ($50 off)
Amazon
N/A
N/A
No doubt you've heard of this before. I actually did it a few years ago and find it occasionally interesting to look in on the account. Neat stuff.
360Fly 4K 360* Action Cam
$399
Amazon
Clever Training
This is a sweet little 4K camera 360* camera, see my review for the original non-4K variant (identical otherwise).
4iiii Fliiiight Smart Trainer - Normally $599
20% off
N/A
Clever Training
Note: I've just begun my testing on this device - I hope to have a review out the week of Nov 18th
4iiii Power Meters - From $399 Normally
20% off
N/A
Clever Training
4iiii Power Meters and Sensors - All Variants get free HR strap too!
20% off
N/A
https://www.clevertraining.com/holiday-deals/4iiii-deals?acc=1679091c5a880faf6fb5e6087eb1b2dc
N/A
Must also use coupon code: 20OFF4iiii
4iiii's Viiiiva ANT+ to Bluetooth Smart HR Strap & Bridge
Amazon
Clever Training
Aftershokz Trekz and Sportz Bluetooth Headphones
20% off
Amazon
Clever Training
Airdog
Amazon
Airdog (1st Gen)
Amazon
N/A
Airdog ADII (2nd Gen)
N/A
N/A
All Suunto gear!
25% off
Clever Training
Except Spartan Sport Wrist HR. But regular Spartan Ultra/Sport do work!
All Trainers and Power Meters - 20% off - 8 HOURS ONLY!
20% off
N/A
Clever Training
N/A
This is an awesome deal, and essentially a limited 8-hour repeat of the recent VIP-only deal. It requires being a CT/DCR VIP members. Note, this time it will exclude Wahoo trainers and Garmin Vector. Starts 8AM US EST, runs 8 hours will 4PM US EST. Full details at link (a repeat of that deal). Requires code: BFVIP
All Trainers!!! (Elite, Kinetic, Tacx, Bkool)
21% Off!
Dcra
Competitive Cyclist Only: With coupon code ITALY100. <<< Use 'other' link
Anker 20,000mAh Portable Battery Pack
60% off
Amazon
N/A
N/A
I use a very similar Anker model to this one and love it. I primarily use it for doing GoPro battery chargers out on a long day of shooting (skiing, hiking, etc...). Combined with a dual GoPro charger, it's super awesome. Note, the exact end date of this Amazon deal isn't super clear.
Anker Bluetooth Headphones
$19 (25% off)
Amazon
N/A
N/A
I just bought these today (Cyber Monday). If you click the coupon thingy it gives you an additional 25% off. I'm always looking for reasonably priced BT headphones to recommend, and given these have about 3,000 reviews at 4/5 stars, it could be a good option to pair with the Garmin music capable wearables, or Fitbit/Apple/Polar capable ones too.
Apple 15" Mac Late 2016 With Touch Bar
$800 off
N/A
N/A
Bhphotovideo
This is the 15" variant of the same laptop I use for all video editing. B&H is the only ones running this deal, which is really solid. Enjoy!
Apple Airpods (2nd Gen) - $20 off
$139
Amazon
N/A
I use AirPods primarily when I'm travelling just to listen in airports, planes, etc... I don't tend to use these for workouts due to them falling out.
Apple Airpods Pro - $15 off
$234
Amazon
N/A
Yup, these are the new noise-cancelling ones that don't fall out of your ears. I haven't tried them yet, but lots of people seem happy with them.
Apple Watch Series 2 & Nike+ Edition
N/A
N/A
Apple Watch Series 3 Cellular (38mm)
$299
Amazon
N/A
N/A
⚡ This is a very solid deal for the cellular version (US).
Apple Watch Series 3 Cellular (42mm)
$329
Amazon
N/A
n/A
⚡ This is a very solid deal for the cellular version (US).
Apple Watch Sport (Series 1)
$50 off
Amazon
BIKND Bike Travel Cases
20% off
N/A
Clever Training
N/A
BKOOL GO
Amazon
BOB Revolution Running Stroller
Amazon
BSX Lactate Threshold Sensor
Amazon
Clever Training
BSX Lactate Threshold Sensor: Gen 2
Amazon
Clever Training
Baby Activity Floor Mat
Amazon
Baby Doll Stroller
Amazon
If it's any indication of the popularity of these things, keep in mind we don't have a ton of space, there are now two of these doll strollers in our house. **Doesn't have to be fancy or expensive! As long as they can put their doll in it, it's a winner!
Baby Einstein- Neptune Turtle
Amazon
Lots of fun for babe as they start to coordinate their hands and get the cause and effect reaction. "I smack turtle, it plays music". Best of all this music won't drive you nuts!
Baby Jogger - City Select Stroller
Amazon
The famous double stroller that Ray hoofed along in a 5km race in Cape Town, SA. This stroller has been our work horse for the last 2 years. At the moment the stroller currently supports the baby bassinet, 2nd seat, scooter board for eldest, and Lucy (yes the dog) in the bottom basket. All 4 sisters in one mode of transportation! **Buy just the single stroller and then build on it as your family grows!
Baby Jogger City Select LUX Pram Kit (Bassinet)
Amazon
Baby Jogger Glider Board
Amazon
Barfly Prime Out-Front Mount
Amazon
N/A
Barfly Tate Labs Road Bike Handlebar Mount
Amazon
N/A
Barfly Tate Labs Timetrial/Triathlon Bike Mount
Amazon
N/A
Beats PowerBeats Pro Wireless Sport Headphones - $50 off
$199
Amazon
⚡ These are what I've been mostly using lately for workouts, primarily indoors. They're great, though, I'm not a huge fan of the charging case.
BestBikeSplit (online platform)
35% off
N/A
N/A
Bestbikesplit
Black Diamond Gear
10-25% off
N/A
Clever Training
N/A
10% off climbing gear, 25% off all the other goodness
Black and White Baby Cards
Amazon
I had no idea until I received these as a present, that infants can only see black and white! It takes about 5 months before they have a full spectrum of color. So these baby cards are a great way to get baby's attention and help them focus and track objects!
BlendTech Total Blender - One Day Deal Only
48% off!
Amazon
N/A
N/A
This is one of our favorite kitchen gadgets. I've had it 9 years according to Amazon, and still goes strong. Love it. Plus, if you've ever YouTube'd for 'Will it blend', you'll know it can blend phones and golf balls, among other things. We use it for making peanut butter, smoothies, and even pesto sauce.
Boppy Lounger
Amazon
We found the Boppy Lounger to be the best propping up vessel for the first few months. Gentle incline avoiding the dreaded chin to chest position. **Also great holding device for infant photos!
Bose QuietComfort 25 Noise Cancelling Headphones
$179 ($120 off)
Amazon
N/A
N/A
⚡ Love love love my Bose headphones. Seriously, don't touch my headphones. I'm likely to pickup this deal, since my existing headphones are going on about 7-8 years at least now. Note: This deal is definitely the 23rd/24th, but Amazon is also offering it on and off till then.
Bose QuietComfort 25 Noise Cancelling Headphones (One Day Only)
63% off
Amazon
N/A
N/A
⚡ Love love love my Bose headphones. Seriously, don't touch my headphones. I picked up a pair of these last year (2017), and now just bought another pair for The Girl for 2018 on sale today. They're not wireless, but I don't care. I use a tiny ziptie to attach an iOS Lightning adapter to the end of them, so I can use it with my phone when I need to, but otherwise works great for my computer.
Bose SoundSport Wireless Headphones
$99 (34% off)
Amazon
N/A
N/A
Bright Stars- Tummy Time Mirror
Amazon
This mirror was one of few things that would hold our daughters' attention for more than a few moments during tummy time. Call them vain, but baby's love looking in the mirror!
CEP Compression Gear
20% off
Clever Training
All CEP - All items 20% off
COROS APEX GPS Multisport Watch - Normally $299
20% off
N/A
Clever Training
COROS Pace Multisport GPS Watch
$239
Amazon
Clever Training
COROS Vertix GPS Multisport Watch - Normally $599
20% off
N/A
Clever Training
Canon 70-300mm f/4-5.6 DSLR Lens
Amazon
N/A
Canon EF 24-105mm f/4 L IS USM Lens
Amazon
N/A
Copy Me
Coros LINX Smart Helmet
$119
Amazon
Clever Training
⚡ Great deal at $119. FWIW: This is the helmet I use/wear/love daily.
Coros OMNI Smart Helmet
$159
Amazon
Clever Training
Crayola BathTime Crayons
Amazon
Yesssss. These super washable Crayons let your kiddos sit in the bath for a long time and be creative, and a little naughty coloring on the (bathtub) walls! I have spent many a Saturday mornings enjoying a quiet coffee as the littles become bath time Picassos!
CycleOps H2 (Hammer 2)
$947
Amazon
Clever Training
Dcra
Competitive Cyclist Only: With coupon code ITALY100. <<< Use 'other' link
CycleOps Hammer
$947
Amazon
Clever Training
Dcra
Competitive Cyclist Only: With coupon code ITALY100. <<< Use 'other' link
CycleOps PowerBeam Pro
$639
Amazon
Clever Training
All CycleOps Stuff 20% off, except Hammer/Magnus
CycleOps PowerSync
$575
Amazon
Clever Training
All CycleOps Stuff 20% off, except Hammer/Magnus
CycleOps Products - All 20% off!
20% off
N/A
Clever Training
This includes CycleOps Trainers, including the Hammer and Magnus!
CycleOps Products - All 20% off!
20% off
N/A
Clever Training
This includes CycleOps Trainers, including the Hammer and Magnus!
CycleOps Trainer Gear
20% off
Clever Training
All CycleOps 20% off (except Magnus/Hammer)
CycleOps Trainers
20% off!
Clever Training
Clevertraining
All CycleOps 20% off (except Magnus/Hammer)
CycleOps Trainers/Accessories
20% off
N/A
Clever Training
N/A
This is 20% on some trainers (mostly low-end ones, not the Hammer/Magnus).
Cycliq Fly12
Amazon
Clever Training
Cycliq Fly12 Bike Camera/Light
$199
Amazon
Clever Training
Cycliq Fly12 Bike Camera/Light
$279
Amazon
Clever Training
Cycliq Fly12 CE
20% off
Amazon
Clever Training
Cycliq
Cycliq Fly6 Bike Camera
Amazon
Clever Training
Cycliq Fly6 Bike Camera/Light
$97
Amazon
Clever Training
Cycliq Fly6 Bike Camera/Light
$149
Amazon
Clever Training
Cycliq Fly6 CE
20% off
N/A
Clever Training
Cycliq
Cycliq Fly6 CE
Amazon
Clever Training
DC Rainmaker Canon Lens List
DC Rainmaker DSLR Accessories Gear list
DC Rainmaker DSLR Gear list
DCR Action Cam Gear
DCR Analyzer!
30% off
N/A
N/A
Dcrainmaker
Yup folks, this one is on the house. Well, from the house. If you've been eyeing an annual subscription for the DCR Analyzer, it's 30% off for new users. Coupon code: dcrblackfriday2018
DCR Analyzer!
30% off
N/A
N/A
Dcrainmaker
Yup, you saw that right! I'm giving 30% off a Premium (aka annual) subscription to the DCR Analyzer tool (1-year). Just use coupon code: dcrblackfriday while creating your account.
DCR Drone Gear
DCR Photo Storage Gear
DJI Goggles (for DJI Drones)
$50 off
Amazon
N/A
DJI Mavic 2 Mavic 2 Pro - 20% off
$1,379
Amazon
N/A
This is a very solid drone, and realistically the best DJI has in terms of sports-focused active tracking (Active Track 2.0). Check my full review for complete details on how well it does.
DJI Mavic 2 Zoom
Amazon
N/A
DJI Mavic Air
$100 Off
Amazon
N/A
N/A
⚡⚡Love this drone, definitely my current favorite!
DJI Mavic Air
$120 off
Amazon
N/A
⚡Love this drone, definitely my current favorite for portability alongside the DJI Spark (but the Mavic Air has better resolution).
DJI Mavic Pro
$200 off!!!
Amazon
N/A
N/A
⚡ I love my Mavic and use it anytime I'm not using my DJI Spark. Simple line in the sand is quick vacations/cycling I'll take DJI Spark with me. Whereas for really cool destinations with lots of flying I'll take DJI Mavic Pro.
DJI Mavic Pro Fly More Combo
$100 off!
Amazon
N/A
Note: Unknown end date.
DJI Mavic Pro Fly More Combo
$100 off
Amazon
N/A
N/A
I love my Mavic and use it anytime I'm not using my DJI Spark. Simple line in the sand is quick vacations/cycling I'll take DJI Spark with me. Whereas for really cool destinations with lots of flying I'll take DJI Mavic Pro.
DJI OSMO Action
$319
Amazon
N/A
N/A
First time we've seen this on sale - $30 off
DJI OSMO Action (Action Cam) - Normally $329
$249
Amazon
⚡ This is the lowest price we've seen on the DJI OSMO Action, and it's a very strong first contender from DJI to compete with the Hero 7 Black (realistically, except for the dual-screen, it simply doesn't compete with the Hero 8). I really like a lot of elements on the OSMO Action, but especially the dual-screen. Check out my full review for comparative thoughts.
DJI OSMO Pocket - $100 off
$300
Amazon
This is the tiny little hand-held gimbal. I actually use this from time to time at tradeshows to shoot b-roll primarily.
DJI Phantom 3 Professional (with 4K camera)
$799
Amazon
N/A
DJI Phantom 4
$999
Amazon
N/A
DJI Spark
Almost 50% off
N/A
N/A
Target.com
⚡This is a good deal, if you can get it to work. Sent in by DCR Reader Tony: "Target is running a sale today where the Spark is $349 when you add it to your cart. On top of that Target is running a sale for $20 off every $100 spent, for additional $60 in savings. and if you have the red card you still get the 5%, so bringing it roughly to $275."
DJI Spark
$399 ($100 off!)
Amazon
N/A
N/A
⚡⚡⚡ LOVE MY SPARK! This deal is available upon checkout at Target. Else, for $399 at Amazon. When you check-out it'll automatically add a 15% coupon to your cart.
DJI Spark
$339 ($160 off!)
Amazon
N/A
Dcra
⚡⚡⚡ LOVE MY SPARK! This deal is available upon checkout at Target. Else, for $399 at Amazon. When you check-out it'll automatically add a 15% coupon to your cart.
DJI Spark Controller Combo
$359
Amazon
N/A
This is normally $399
DJI Spark Fly More Combo
$459
Amazon
N/A
This is normally $549
DO NOT DELETE ME
N/A
N/A
DON'T DELETE ME
N/A
N/A
N/A
Dock-a-Tot Deluxe
Amazon
This baby pod is a sleep miracle. With the bumpers on the side it helps calm those startle reflexes. As well a great way to ween off swaddles. Bonus, we traveled with this instead of a bulky travel cot up until four months or so!
Eero Mesh WiFi Router (3-pack)
$249 ($50 off)
Amazon
N/A
N/A
I can't decide which mesh network system to get for the DCR Cave...it's gonna be one of these three!
Elite Direto (2018)
Amazon
Clever Training
Elite Direto X Smart Trainer - Normally $899
$720
N/A
N/A
REI
⚡ Last day of the REI sale (Mon, Nov 25th)! Remember to apply the discount code. Also, you can get free shipping to your local REI store too! You won't see a better deal on this trainer this year.
Elite Direto X Smart Trainer - Normally $899
20% off
N/A
Clever Training
Elite Direto X Smart Trainer - Normally $899
$764
Amazon
Clever Training
⚡ This is a strong deal for a trainer that's pretty darn reliable these days.
Elite Drivo
$1,026
Amazon
Clever Training
Dcra
Competitive Cyclist Only: With coupon code ITALY100. <<< Use 'other' link
Elite Drivo II Smart Trainer - Normally $1,199
$1,085
Amazon
Clever Training
Elite Drivo II Smart Trainer - Normally $1,199
20% off
N/A
Clever Training
Elite Rampa
Amazon
Clever Training
Elite Suito Smart Trainer - Normally $799
$679
Amazon
Clever Training
Remember - this also includes the cassette pre-installed, which saves you another $50 in cassette costs, plus another $10-$20 in
Elite Suito Smart Trainer - Normally $799
$640
N/A
N/A
REI
⚡ Last day of the REI sale (Mon, Nov 25th)! Remember to apply the discount code. Also, you can get free shipping to your local REI store too! You won't see a better deal on this trainer this year.
Elite Suito Smart Trainer - Normally $799
20% off
N/A
Clever Training
Remember - this also includes the cassette pre-installed, which saves you another $50 in cassette costs, plus another $10-$20 in
Elite Tuo Smart Trainer - Normally $499
20% off
N/A
Clever Training
Note: I haven't gotten this trainer in to test yet. It's one I'm super excited about after trying it at Eurobike, but I have no idea on things like accuracy yet.
Elite Tuo Smart Trainer - Normally $499
$424
Clever Training
Note: I haven't gotten this trainer in to test yet. It's one I'm super excited about after trying it at Eurobike, but I have no idea on things like accuracy yet.
Elite Zumo
N/A
Clever Training
Epson ProSense 307
Amazon
N/A
Exploding Kittens Game
20% off
Amazon
Technically not a gadget, but technically just as good. If you ever wanted to know what we play around the DCR household when friends are over - this game is it. It's awesome, obviously.
FORM Swim Goggles (with heads-up display)
$20 off
Amazon
This is a pretty darn new product, and this is the first sale we've seen on it. Click coupon on Amazon right below the product price.
Favero Assioma Pedals
$649
Amazon
Clever Training
⚡⚡⚡Effective Nov 23rd, 2018 the Favero Assioma pedals will be effectively $649USD going forward (likely with the DCR discount). That's a pretty substantial price-drop. Note, it may take a few more hours for Clever Training to updating pricing.
Favero bePRO Pedals
Amazon
Clever Training
Feedback Sports Omnium Over-Drive Portable Trainer - Normally $399
20% off
N/A
Clever Training
Feedback Sports Travel Trainers and Tools
10% off
N/A
Clever Training
N/A
Feiyu Tech G5 Gimbal
Amazon
N/A
FeiyuTech WG2 PRO Wearable Gimbal
16% off
Amazon
N/A
N/A
This is the second gen unit of the one I tested previously. Good little one, valid on GoPro Hero 4/5/6, as well as Garmin VIRB Ultra 30.
First Toddler Slide
Amazon
A great first birthday present! Since it was raining the day it arrived I built it inside just for fun… it has since never left the living room. *** I specifically like this model because it has a bit of a "platform" area at the top of the stairs for the toddler to learn to transition from stairs to sitting and then swinging legs around to the slide. Makes for less falling backwards off the slide situations!
Fisher-Price Jumperoo
Amazon
If you have the space for a "Jumperoo" please please don't hesitate on this. You won't regret it! It's basically a built in babysitter.
Fisher-Price Poppity Pop Musical Dino
Amazon
a gift we received from a seasoned mom. Too much fun watching baby crawl after balls getting "bopped" out of the dinosaur and getting to throw them back into the bouncy pit!
Fisher-Price Sit-Me-Up Floor Seat
Amazon
It's a sit me up sling that is more developmentally appropriate than other prop-up seats to encourage baby in the sitting position. Our daughters loved this!
Fitbit ACE 2 - $20 Off
$49
Amazon
Clever Training
Fitbit Ace
$59
Amazon
Clever Training
Fitbit Ace
$79
Amazon
Clever Training
Fitbit Alta
$119
Amazon
Clever Training
Fitbit Alta
$30 off
Amazon
Clever Training
Fitbit Alta
$59
Amazon
Clever Training
Fitbit Alta
$79
Amazon
Clever Training
Fitbit Alta
$30 off!
Amazon
Clever Training
N/A
Fitbit Alta
$99
Amazon
Clever Training
Fitbit Alta
$30 off
Amazon
Clever Training
Fitbit Alta
$99
Amazon
Clever Training
Also - 50% off most Fitbit Alta Accessory bands!
Fitbit Alta
$30 off!
Amazon
Clever Training
Fitbit Alta
$79
Amazon
Clever Training
Fitbit Alta HR
$99
Amazon
Clever Training
⚡ Very solid deal for this relatively new Fitbit activity tracker with optical HR.
Fitbit Alta HR
$20 off!
Amazon
Clever Training
N/A
Fitbit Alta HR
$99
Amazon
Clever Training
Fitbit Alta HR
$99
Amazon
Clever Training
Fitbit Alta HR
$79
Amazon
Clever Training
Fitbit Alta HR
$30 off
Amazon
Clever Training
Fitbit Alta HR
$20 off
Amazon
Clever Training
Fitbit Alta HR
$30 off
Amazon
Clever Training
Fitbit Aria WiFi Weight Scale
$109
Amazon
Clever Training
Fitbit Aria WiFi Weight Scale
$99
Amazon
Clever Training
Fitbit Blaze
$50 off
Amazon
Clever Training
Fitbit Blaze
$50 off
Amazon
Clever Training
Fitbit Blaze
$50 off
Amazon
Clever Training
Fitbit Blaze
$149
Amazon
Clever Training
Amazon only - $50 off! Unknown end date
Fitbit Blaze
$50 off!
Amazon
Clever Training
N/A
⚡Not too shabby a deal on this unit. It requires your phone for GPS, but otherwise it's a good option for a more full featured Fitbit.
Fitbit Blaze
$129
Amazon
Clever Training
Fitbit Blaze
$149
Amazon
Clever Training
Also - 50% off most Fitbit Blaze Accessory bands!
Fitbit Charge
Amazon
Clever Training
Fitbit Charge 2
$30 off
Amazon
Clever Training
Fitbit Charge 2
$129
Amazon
Clever Training
Fitbit Charge 2
$20 off
Amazon
Clever Training
N/A
Fitbit Charge 2
$129
Amazon
Clever Training
Fitbit Charge 2
$30 off
Amazon
Clever Training
Fitbit Charge 2
$20 off
Amazon
Clever Training
Fitbit Charge 2
$99
Amazon
Clever Training
⚡ Very solid deal for this relatively new Fitbit activity tracker with optical HR.
Fitbit Charge 2
$129
Amazon
Clever Training
Fitbit Charge 3
$119
Amazon
Clever Training
⚡ This unit also just came out, and this is a great deal for it.
Fitbit Charge 3
$129
Amazon
Clever Training
⚡ This unit also just came out, and this is a great deal for it.
Fitbit Charge 3
$30 off
Amazon
Clever Training
This unit came out last summer, and hasn't been on sale since back last Black Friday.
Fitbit Charge 3 HR Fitness Band - $50 Off
$99
Amazon
Clever Training
Fitbit Charge HR
Amazon
Clever Training
Fitbit Flex 2
$79
Amazon
Clever Training
Fitbit Flex 2
$20 off
Amazon
Clever Training
Fitbit Flex 2
$69
Amazon
Clever Training
Amazon only - Unknown exact end date
Fitbit Flyer Headphones
$99
Amazon
Clever Training
Fitbit Inspire - $20 Off
$49
Amazon
Clever Training
Fitbit Inspire HR - $30 Off
$69
Amazon
Clever Training
Fitbit Ionic
$30 off!
Amazon
Clever Training
N/A
⚡About the best deal we'll likely see for a while on Ionic (it was down a bit more for Black Friday, but that's a rarity).
Fitbit Ionic
$229
Amazon
Clever Training
⚡ Remember this includes music, GPS, and contactless payments. Note technically this is $40 off, so higher end variants will be slightly more.
Fitbit Ionic
$199
Amazon
Clever Training
⚡ Remember this includes music, GPS, and contactless payments. Note technically this is $70 off, so higher end variants will be slightly more.
Fitbit Ionic
$50 gift card included
Amazon
N/A
N/A
Amazon and Best Buy only - see details on link on how to get. Good deal.
Fitbit Ionic
$30 off
Amazon
Clever Training
Fitbit Ionic
$50 off
Amazon
Clever Training
This isn't too shabby, and one of the best deals we've seen since Black Friday last year.
Fitbit Ionic
$30 off
Amazon
Clever Training
Fitbit Ionic
$50 off
Amazon
Clever Training
This is a solid price, and back down to the lowest sale prices we typically see here, and also matches the Garmin Vivoactive 3 as usual.
Fitbit Ionic - $50 Off
$199
Amazon
Clever Training
Fitbit Ionic Adidas Edition - $50 Off
$229
Amazon
Clever Training
Fitbit Surge
$50 off
Amazon
Clever Training
Fitbit Surge
$179
Amazon
Clever Training
Amazon Only - $70 off. Unknown end date
Fitbit Versa
$149
Amazon
Clever Training
⚡ This is a great deal on this unit. Remember, it supports offline music too! Note that technically this is $50 off, so special variants will be slightly more.
Fitbit Versa
$149
Amazon
Clever Training
⚡ This is a great deal on this unit. Remember, it supports offline music too! Note that technically this is $50 off, so special variants will be slightly more.
Fitbit Versa
$20 off
Amazon
Clever Training
Fitbit Versa 2 - $50 OFF!
$149
Amazon
Clever Training
Fitbit Versa 2 - $70 OFF!
$129
Amazon
Clever Training
⚡ *TODAY/ CYBER MONDAY ONLY*
Fitbit Versa Lite - $60 Off
$99
Amazon
Clever Training
Foam Safety Floor Mat
Amazon
Undoubtedly babe will tire of tummy time and whack their forehead on floor. So, having some foam below is a nice concussion avoidance tool! Also, keep in mind these foam mats are going to occupy your flooring for the better part of 3 years, so best to buy "nice looking" ones than the bargain buy.
Garmin ANT+ Footpod
Amazon
Clever Training
Garmin Charge (Edge Battery Pack)
Amazon
Clever Training
Garmin Edge 1000
Amazon
Clever Training
US Only: Edge 1000 has $100 rebate!
Garmin Edge 1000
Amazon
Clever Training
Europe Sale only: 18% off the Edge 1000 Bundle (not base)! See CT UK link at side.
Garmin Edge 1000
$374
Amazon
Clever Training
Edge 1000 Bundle On Sale - Normally $599
Garmin Edge 1030
$50 rebate
Amazon
Clever Training
Garmin.blogs
Rebate form under 'other' link.
Garmin Edge 1030
$100 mail in rebate
Amazon
Clever Training
While not as good a deal as $100 off, it's still cash back (eventually). Even better is that the Edge 1030 is slated to get the just released Edge 530/830 new firmware features (except the TrailForks bits). I don't expect to see the Edge 1030 replaced anytime soon.
Garmin Edge 1030 - $150 Off
$449
Amazon
Clever Training
Garmin Edge 1030 Bundle - $150 Off
$549
Amazon
Clever Training
Garmin Edge 1030 Bundle- $150 Off
$549
Amazon
Clever Training
Note: Includes Extended Mount, Standard Mount, Speed Sensor, Cadence Sensor, and Premium HRM
Garmin Edge 130 - $50 Off
$149
Amazon
Clever Training
Garmin Edge 130 Mountain Bike Bundle - $50 Off
$199
Amazon
Clever Training
Garmin Edge 130 Sensor Bundle - $50 Off
$199
Amazon
Clever Training
Garmin Edge 20
$99
Amazon
Clever Training
Garmin Edge 25
Amazon
Clever Training
Europe Sale only: 29% off either the Edge 25 or 24% off Edge 25 bundle. See CT UK link at side.
Garmin Edge 25
$50 off
Amazon
Clever Training
$50 off both base and bundle units. I suspect with the (far more functional) Edge 130 recently announced at $199, it makes the $169 Edge 25 a bit pricey looking.
Garmin Edge 25
$119
Amazon
Clever Training
30% off all Edge 25 variants, including both base and bundle
Garmin Edge 520
$50 off! (now $199)
Amazon
Clever Training
⚡Woah, this is the lowest price we've seen on this unit, which is now sub-$200. Obviously this is driven by the new Edge 520 Plus that was announced a month ago (at $279).
Garmin Edge 520
$50 rebate
Amazon
Clever Training
Rebate form: https://garmin.blogs.com/promotions/Give_an_Edge_Rebate_%28eng%29.pdf
Garmin Edge 520
Amazon
Clever Training
Europe Sale only: 29% off either the Edge 520 or 14% off Edge 520 bundle. See CT UK link at side.
Garmin Edge 520
$263
Amazon
Clever Training
Amazon only!
Garmin Edge 520
$219
Amazon
N/A
N/A
⚡ ⚡ Note: This has an unknown end date. Could be in 2 minutes, or in 2 weeks. No idea, it's an Amazon specific deal.
Garmin Edge 520 Plus
$50 rebate
Amazon
Clever Training
Garmin.blogs
Rebate form under 'other' link.
Garmin Edge 520 Plus Very Short Term Deal!
$179 all-in
Amazon
N/A
Garmin.blogs
⚡⚡⚡The price is $229 minus $50 mail-in rebate. Incredible deal right now on the new mapping-enabled Garmin Edge 520 Plus: $229, then minus a $50 rebate (so $179), normally $279. Only on Amazon.Once on that page linked here you have to then select 'Other sellers' and choose Amazon for $229 (ships in a week). Note: Unknown end time, whenever Amazon decides to kill it.
Garmin Edge 820
$299
Amazon
Clever Training
Incredible deal for this unit.
Garmin Edge 820
$50 rebate
Amazon
Clever Training
Garmin.blogs
Rebate form under 'other' link.
Garmin Edge 830 Cycling GPS - 10% off!
$361
Amazon
Clever Training
⚡ ⚡ This is the first sale we've seen on this unit, which only came out this past spring. It's also an Amazon-specific sale and is highly unlikely to last long. This is one of the main units I use for my day to day riding and testing.
Garmin Edge Explore
Amazon
Clever Training
Garmin Edge Explore 1000
$337
Amazon
Clever Training
Garmin FR235 - Permanent Price Drop
Now $249
Amazon
Clever Training
Was $329...which was horribly overpriced against the Vivoactive series. Still, while this is a 'OK price' for this running-specific unit, I feel like it's a bit old now, especially since the Vivoactive 3 is the same price and has contactless/NFC pavements and boatloads of other sports.
Garmin Fenix 5 (5/5S/5X)
$100 off
Amazon
Clever Training
⚡ Definitely the best deal you're going to see this year on this.
Garmin Fenix 5 (5/5S/5X)
Amazon
Clever Training
Garmin Fenix 5 (5/5S/5X)
$100 off
Amazon
Clever Training
⚡This is a strong deal on the Fenix 5 Plus series. This applies to both Fenix 5 and 5 Plus, all variants.
Garmin Fenix 5 (5/5S/5X)
$150 off
Amazon
Clever Training
⚡This is the best deal we've ever seen on the Fenix 5 series. This applies to both Fenix 5 and Fenix 5 Plus, all variants.
Garmin Fenix 5 (5/5S/5X)
$100 off
Amazon
Clever Training
⚡This first time we've seen the Fenix 5 on sale in 2018. The only other time it was on sale was for Black Friday.
Garmin Fenix 5 Plus (5/5S/5X)
$100 off
Amazon
Clever Training
⚡This is a strong deal on the Fenix 5 Plus series. This applies to both Fenix 5 and 5 Plus, all variants.
Garmin Fenix 5 Plus (5/5S/5X)
$150 off
Amazon
Clever Training
⚡This is the best deal we've ever seen on the Fenix 5 Plus series. This applies to both Fenix 5 and 5 Plus, all variants.
Garmin Fenix 5 Plus (5/5S/5X)
$150 off
Amazon
Clever Training
⚡This is a strong deal on the Fenix 5 Plus series. Things brings it down to $549 for certain variants. Pretty impressive.
Garmin Fenix3 HR
$299
Amazon
N/A
N/A
Really solid price. Note that I have no idea how long this deal will last.
Garmin Footpod
Amazon
Clever Training
Garmin Forerunner 10
Amazon
Clever Training
Garmin Forerunner 235
$50 off
Amazon
Clever Training
This brings the running-focused unit down to $199. That's a pretty solid price if you're looking for a running-focused watch that's still better than most of the competition (despite the newer FR245 coming out last month).
Garmin Forerunner 235
$50 off
Amazon
Clever Training
Garmin Forerunner 235
$30 off
Amazon
Clever Training
N/A
Garmin Forerunner 235
$249
Amazon
Clever Training
Garmin Forerunner 235
$199
Amazon
Clever Training
Garmin Forerunner 235
$269
Amazon
Clever Training
Amazon only deal - unknown end date, could end any moment.
Garmin Forerunner 245 Music - 12% off!
$304
Amazon
N/A
⚡ This is notable, as it's not on any approved sale list, so it's just Amazon going wild. Don't expect this to last long. Note this is specifically the music edition, that's normally $349
Garmin Forerunner 35
$139
Amazon
Clever Training
$20 off
Garmin Forerunner 35
$30 off!
Amazon
Clever Training
N/A
Garmin Forerunner 35
$139
Amazon
Clever Training
Garmin Forerunner 35
$149
Amazon
Clever Training
Garmin Forerunner 35
$169
Amazon
Clever Training
Garmin Forerunner 35 - Permanent Price Drop
Now $169
Amazon
Clever Training
Was previously $199, now $169. Seems mostly fair.
Garmin Forerunner 45 - $15 off
$185
Amazon
N/A
This isn't a huge sale, but it's also an unexpected one - it's not on any US sales lists for this holiday season. So hey, $15 is $15!
Garmin Forerunner 630
Amazon
Clever Training
Garmin Forerunner 645 and 645 Music - 45% off
$199/$245
Amazon
N/A
⚡⚡ This is a great deal for this watch. Sure, it's nearly 2 years old - but it's gotten a ton of updates since it was launched, including Spotify and Amazon Music support.
Garmin Forerunner 735XT
$315
Amazon
Clever Training
30% off all FR735 variants (including bundles and tri bundles)!
Garmin Forerunner 735XT
$50 off
Amazon
Clever Training
FYI: Formal price drop from $399 to $349 for the FR735XT. This is the new price going forward.
Garmin Forerunner 735XT
$299
Amazon
Clever Training
This is a pretty annual sale on multisport watches. I don't see it as a sign of a FR735XT replacement, as I think Garmin may be struggling on how to differentiate such a watch in the future since it's main difference was lack of baro altimeter, but that's standard on even the cheapest wearables these days.
Garmin Forerunner 735XT
$299
Amazon
Clever Training
⚡ Down to $299 for the base unit, $349 for the HRM-RUN strap bundle (it has an optical HR sensor though), and $399 for the triathlon bundle.
Garmin Forerunner 735XT
Amazon
Clever Training
FYI: Formal price drop from $449 to $399 for the FR735XT. This is the new price going forward. Update: From July 14th, 2017
Garmin Forerunner 735XT GPS Multisport Watch - Normally $349
20% off
N/A
Clever Training
Garmin Forerunner 920XT
$199
Amazon
Clever Training
⚡ Awesome deal. The FR920XT HR bundle is available for $249, and the full tri bundle for $349. !!!Clever Training Only!!!
Garmin Forerunner 935
10% off!
Amazon
Clever Training
This is a pretty annual sale on multisport watches, but is actually the first time the FR935 has officially been on sale in the US (ever). I don't see it as a sign of a FR935 replacement, since they typically operate on 2-3 year cycles and it's only been a year.
Garmin Forerunner 935
$449
Amazon
Clever Training
Only $50 off, blah. Keep in mind the Fenix 5 sits at $499 with the $150 sale off. Obviously, lots of slight nuances between the two.
Garmin Forerunner 935
$35 off
Amazon
N/A
N/A
This is essentially a mistake that a vendor on Amazon is listing. My guess is it won't last more than a few hours more. Not massive savings - but all the savings you're going to see on the FR935 this year.
Garmin Forerunner 935 - $100 Off
$399
Amazon
Clever Training
Garmin Forerunner 935 Tri Bundle- $100 Off
$549
Amazon
Clever Training
Garmin Forerunner 945 - $100 Off
$499
Amazon
Clever Training
⚡⚡ This is a super hot deal - first time we've seen the FR945 on sale.
Garmin Forerunner 945 Bundle- $100 Off
$649
Amazon
Clever Training
⚡⚡ This is a super hot deal - first time we've seen the FR945 on sale. Note: Includes HRM-SWIM, HRM-TRI, Quick Release Kit
Garmin HRM-DUAL (ANT+/Bluetooth Smart Strap)- $10 off
$59
Amazon
N/A
⚡ This is my favorite chest strap these days (ANT+ & two concurrent BLE connections). It's never on sale, so this is basically just Amazon offering it at a discount for fun. Take it and run - probably won't last long.
Garmin HRM-RUN/TRI
Amazon
Clever Training
Garmin Index WiFi Scale
99EUR (40% off!)
Amazon
N/A
N/A
Garmin Index WiFi Scale
$129
Amazon
Clever Training
Garmin Instinct
$50 off
Amazon
Clever Training
This is one of the first time we've seen the Garmin Instinct on sale, and down to $249 is really impressive for the featureset.
Garmin MARQ Athlete
N/A
N/A
Garmin Magnetless Sensors Cadence/Speed Gen2 (Dual ANT+/Bluetooth)
Amazon
Clever Training
Garmin RTL510 Varia Cycling Radar - $50 Off
$149
Amazon
Clever Training
⚡⚡ These days this isn't just a Garmin thing anymore. Wahoo and Hammerhead also support the radar, with Stages next week! Also, fun fact: This is *by far* the most ordered item on this page on the opening day (Friday, Nov 15th, 2019).
Garmin RTL510 Varia Radar
$150 rebate with Edge 1030
Amazon
Clever Training
If you buy the Edge 1030 and the Varia RTL510 radar, you'll get a $150 rebate (mail-in).
Garmin RTL510 Varia Radar Bundle (Radar + Display) - $50 Off
$249
Amazon
Clever Training
Garmin Swim 2
Amazon
Clever Training
Garmin Swim 2
Amazon
Clever Training
Garmin VIRB 360
$100 off
Amazon
Clever Training
N/A
⚡This is the first US sale we've seen on this unit, and likely done to edge you to purchase it over the GoPro Fusion or Rylo cameras. While Rylo is in a different (lesser) category, Fusion is similar, but not yet as mature as the VIRB 360.
Garmin VIRB 360
$100 off
Amazon
Clever Training
Not too shabby, last time this product was on sale was last December. Pretty rare to see sales on it.
Garmin VIRB 360 Action Cam
Amazon
Clever Training
Garmin VIRB Ultra 30
Amazon
Garmin VIRB Ultra 30
Amazon
Clever Training
Garmin Varia Bike Radar
$119
Amazon
Clever Training
Garmin Varia Cycling Radar RTL-510
Amazon
Clever Training
Garmin Varia Radar (both base and bundle)
$50 off either one
Amazon
Clever Training
This puts the base radar unit at $149, and the bundle at $249
Garmin Varia UT800
99GBP/111EUR
N/A
Clever Training
N/A
⚡ This is a great deal for this awesome little light, especially for 50GBP off!
Garmin Varia Vision
$100 off
Amazon
Clever Training
Thus making the price $299...still seems expensive to me.
Garmin Vector 2
Amazon
Clever Training
Europe Sale only: 10% off either the Garmin Vector 2, or 13% off Vector 2S. See CT UK link at side.
Garmin Vector 3 - $200 Off
$799
Amazon
Clever Training
⚡ This is the lowest price we've ever seen Garmin Vector 3 at. I don't expect a new version anytime soon - just a good holiday deal.
Garmin Vector 3S - $100 Off
$499
Amazon
Clever Training
Garmin Venu GPS Smartwatch - $100 off!
$299
Amazon
Clever Training
⚡⚡ This is a very good deal - and the first time we've seen the Venu on sale. I've been using it for more than two months now, and it's largely pretty stable for me at this point and working well. It's Garmin's first go at a high-end AMOLED display.
Garmin Vivoactive 3
$20 off
Amazon
Clever Training
$20 off the base unit (thus $279), or $30 off the Slate unit (thus $299).
Garmin Vivoactive 3
Amazon
Clever Training
Garmin Vivoactive 3
$20 off ($249 now)
Amazon
Clever Training
An oddly long duration period, but as usual matches the Fitbit Ionic on price. The two companies have virtually always matched each others sales since launch days apart last summer.
Garmin Vivoactive 3
Up to $30 off
Amazon
Clever Training
Prices start from $259, and depending on model go up to $30 off
Garmin Vivoactive 3
$199
Amazon
Clever Training
⚡ Great deal on this - aside from a one-day sale last year, this is the lowest we've seen this.
Garmin Vivoactive 3
$20 off
Amazon
Clever Training
Garmin Vivoactive 3
$50 off
Amazon
Clever Training
⚡ Awesome deal $50 off the base unit (thus $249), or $50 off the Slate unit (thus $279). The slate has an extra resistant coating on the band which his why it costs more. This is a superb deal for a unit that came out a mere 2 months ago.
Garmin Vivoactive 3 - Couple Hour Deal!!
$169
Amazon
N/A
N/A
⚡⚡⚡Amazon only, once on the page it'll tell you that it can "Save an extra $30.00 at checkout", which indeed it does. Very good deal, won't last more than a few hours likely.
Garmin Vivoactive 3 - Normally $249
20% off
N/A
Clever Training
Garmin Vivoactive 3 - One Day Sale
$199
N/A
N/A
Dcra
⚡⚡⚡This is likely a very short deal sale, with no known end date. Take advantage while you can!
Garmin Vivoactive 3 Music
$249
Amazon
Clever Training
Basically, you can now get the music variant for the same price you could have gotten the non-music variant.
Garmin Vivoactive 3 Music
$50 off
Amazon
Clever Training
This brings the running-focused unit down to $229. That's not a bad price, but we've also seen it lower ($200) as well.
Garmin Vivoactive 3 Music - Couple Hour Deal!!!
$211
Amazon
N/A
N/A
⚡⚡⚡Amazon only, once on the page it'll tell you that it can "Save an extra $30.00 at checkout", which indeed it does. Very good deal, won't last more than a few hours likely.
Garmin Vivoactive 4 - $50 off
$299
Amazon
Clever Training
⚡ This is the first discount we've seen on the Vivoactive 4 since it launched about two months ago - so definitely a solid deal.
Garmin Vivoactive 4 - Normally $349
20% off
N/A
Clever Training
⚡ This is the first discount we've seen on the Vivoactive 4 since it launched about two months ago - so definitely a hot deal!
Garmin Vivoactive HR
$199
Amazon
Clever Training
$50 off - The new Vivoactive 3 is the next version of this unit, so this is likely to be the new price on this once we get to/through the holidays.
Garmin Vivoactive HR
Amazon
Clever Training
Garmin Vivoactive HR
$199
Amazon
Clever Training
Garmin Vivoactive HR
$219
Amazon
Clever Training
Garmin Vivoactive HR
$50 off
Amazon
Clever Training
Garmin Vivoactive HR
$199
Amazon
Clever Training
Lowest price to date!
Garmin Vivoactive HR
$199
Amazon
Clever Training
Garmin Vivoactive HR
$119
Amazon
N/A
N/A
⚡⚡⚡⚡⚡⚡⚡⚡⚡⚡ This price is an AMAZING deal for the product. Not sure how long this will last, minutes...hours...not sure. Update: It seems to come and go, so keep tracking back on this one. It'll disappear for an hour or two, then refill, and so on.
Garmin Vivofit 3
$79
Amazon
Clever Training
Garmin Vivofit 3
$79
Amazon
Clever Training
Garmin Vivofit 3
$49
Amazon
Clever Training
This is the lowest price we've seen on this unit.
Garmin Vivofit 3
$69
Amazon
Clever Training
Garmin Vivofit 3
$30 off
Amazon
Clever Training
Garmin Vivofit 4
$59
Amazon
Clever Training
Garmin Vivofit Jr
$10 off
Amazon
Clever Training
Garmin Vivofit Jr
$20 off
Amazon
Clever Training
Garmin Vivofit Jr
$49
Amazon
Clever Training
The lowest we've seen this unit. Was super popular last year (the most popular item ordered via DCR actually).
Garmin Vivofit Jr
$69
Amazon
Clever Training
Garmin Vivofit Jr
$69
Amazon
Clever Training
Garmin Vivofit Jr
$49
Amazon
Clever Training
The lowest we've seen this unit. Was super popular the first year it this price point for Black Friday (the most popular item ordered via DCR actually).
Garmin Vivofit Jr
$10 off
Amazon
Clever Training
Garmin Vivofit Jr. 2
$30 off
Amazon
Clever Training
Garmin Vivofit Jr. 2
$69
Amazon
Clever Training
⚡ This just came out 5 weeks ago, and so this is a solid deal. Note: This price was dropped $10 further on Dec 5th.
Garmin Vivofit Jr. 2
$10 off
Amazon
Clever Training
Garmin Vivofit Jr. 2 - Incl Disney/Avengers/Star Wars variants
$59
Amazon
Clever Training
Garmin Vivofit Jr. 2 - Star Wars only
$20 off
Amazon
Clever Training
Garmin Vivomove
$99
Amazon
Clever Training
Note: Price varies by model/style
Garmin Vivomove HR
Amazon
Clever Training
$20 off
Garmin Vivomove HR
$30 off
Amazon
Clever Training
Garmin Vivosmart
Amazon
Clever Training
Garmin Vivosmart 3
$69
Amazon
Clever Training