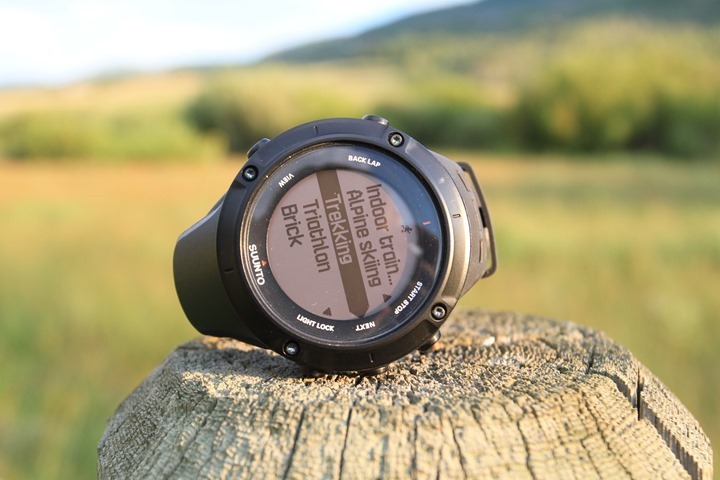 It's been nearly three months since Suunto announced the Ambit3, though considerably less time since the unit started making its way into the wild with final hardware and firmware.  Since well before either of those dates I've been testing the unit and putting it through its paces.
The product adds a number of new features like Bluetooth Smart sensor support, heart rate recording while underwater, mobile phone integration for wireless workout uploads and more.  With everything finalized on the software side it's time for me to release my final thoughts in my in-depth review.
To be clear, I've been using a Suunto provided Ambit3 to test with.  First a pre-production unit, and now a final unit with final software.  Like always, I'll be shipping that back to them in Finland in the next little bit and going out and getting my own via regular retail channels.  That's just the way I roll.
Lastly, at the end of the day keep in mind I'm just like any other regular athlete out there. I write these reviews because I'm inherently a curious person with a technology background, and thus I try and be as complete as I can. But, if I've missed something or if you spot something that doesn't quite jive – just let me know and I'll be happy to get it all sorted out. Also, because the technology world constantly changes, I try and go back and update these reviews as new features and functionality are added – or if bugs are fixed. So – with that intro, let's get into things.
The Executive Summary: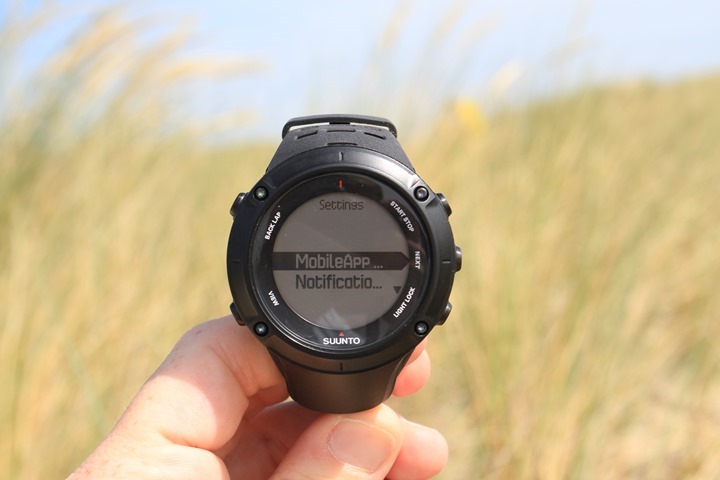 Earlier this summer Suunto announced the Ambit3, some 14ish months after releasing the Ambit2, continuing a roughly 12-14 month release cycle for the Ambit series.  The Ambit3 brought with it two specific new major feature areas: The ability to sync with a mobile phone using Bluetooth Smart, and the ability to record heart rate underwater while swimming.  It also brought a few other minor features like daily activity tracking and the ability to use your phone as a display for the watch.
In addition to new features, it also made one lateral shift feature change: It swapped out ANT+ sensor support for Bluetooth Smart sensor support.  This meant that it no longer connects to ANT+ sensors for things like heart rate straps, running,cycling speed/cadence sensors, and power meters.
Beyond that, the feature set pretty much remained the same.  It still contained top-notch recording of swimming, cycling and running, as well as a strong feature set for hiking, navigation and the outdoors.  They also maintained the two different variations when it comes to versions, a higher end model and a slightly less expensive model lacking the barometric altimeter.
In my testing over the past nearly four months (since early June) of using the device, I've found that when it comes to delivering on the core of what previous generation Ambit units did – the Ambit3 continues to rock there.  I've seen no issues at all in those departments.
In looking at the addition of the underwater heart rate recording, the strap and transmission seems to work well spec-wise, though it does have inherent limitations that all companies trying to use a strap underwater have (which is that for men it's tough to keep on the chest while pushing off the wall in a pool).  I'm not sure if that's a product problem or a 'me/men' problem.  But it does unfortunately limit usefulness for me.
When I look at smartphone integration, again, I found no issues from a 'does it work' standpoint.  It's very strong and seems to handle being apart from the phone and coming back in contact without issue (something that often challenges smart connected wearables that fail to remember their connections).  That said, the phone app while stable does seem to lack much of the configuration options I would have expected.  Further, the lack of Android support will no doubt be a significant disappointment for a number of people.
Next, while the unit added an activity tracker to the wrist, I've found its implementation 'blah' at best.  It lacks the ability to tell me steps, distance walked, or sleep.  And none of that information is sent/displayed on either the app or the website – a disappointment in the age where such information is quickly being ushered into channels like Apple Health Kit and others.  Now, on the flip side, I did like the recovery chart functionality and found that well implemented.
Finally, we look at sensor support.  In my opinion this is where the watch suffers dearly.  The support of 3rd party Bluetooth Smart sensors is painful to say the least.  This might not have been such a huge issue had Suunto had their own sensors such as cycling speed/cadence, power meters, and the like.  But given the lack of anything other than a heart rate strap their dependence on making these sensors work is critical for most triathletes.
Given all that, on one hand I think the Ambit3 is probably fine for folks in the outdoors hiking who don't need fully functional sensor support.  But for many triathletes looking for an alternative, I'm afraid until these kinks are worked out it's going to be hard to really recommend the unit.
Unboxing & Versions: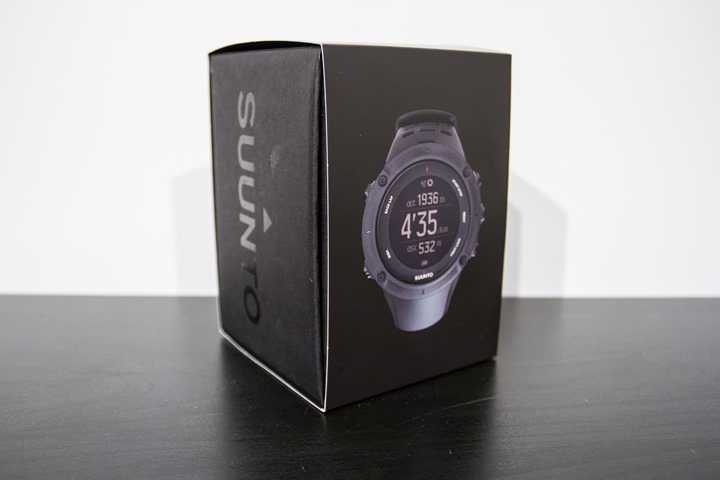 The Suunto Ambit3 comes in a number of colors/flavors, and two distinct model versions, the Peak and the Sport.
The Peak is the more expensive version that includes a barometric altimeter and longer battery life, whereas the Sport lacks the barometric altimeter and has a reduced battery life.  Beyond those two differences and a slight outer shell material change, the units are identical in software functionality and capabilities – thus, they'll be reviewed as one here.  In the rare cases where they differ I note that in that section.
To start, we'll unbox the Ambit3 Peak, inclusive of the heart rate strap.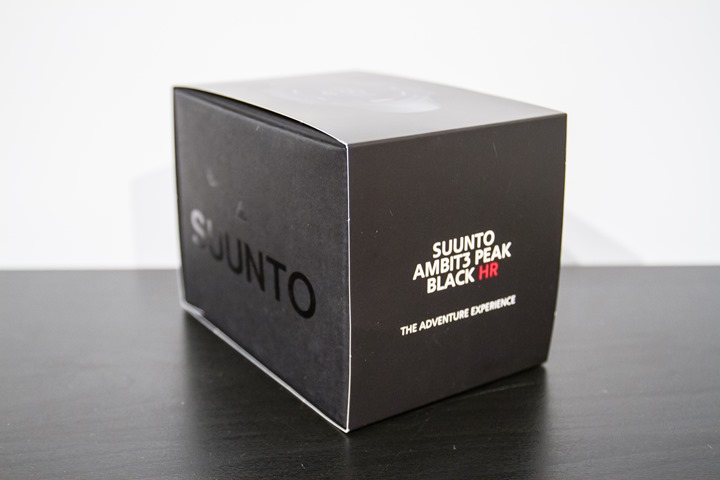 The unit includes four basic things inside the box: The manuals, the watch itself, the heart rate strap, and the USB charging/syncing cable: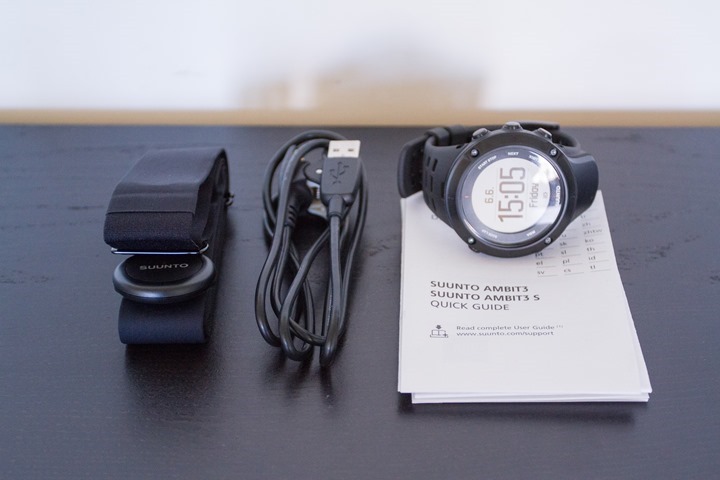 First up, the heart rate strap.  This Bluetooth Smart enabled strap is unique in that it also contains the ability to store and sync historical heart rate data after the fact, both to the Ambit3, but also in the future to the Movescount smart phone app.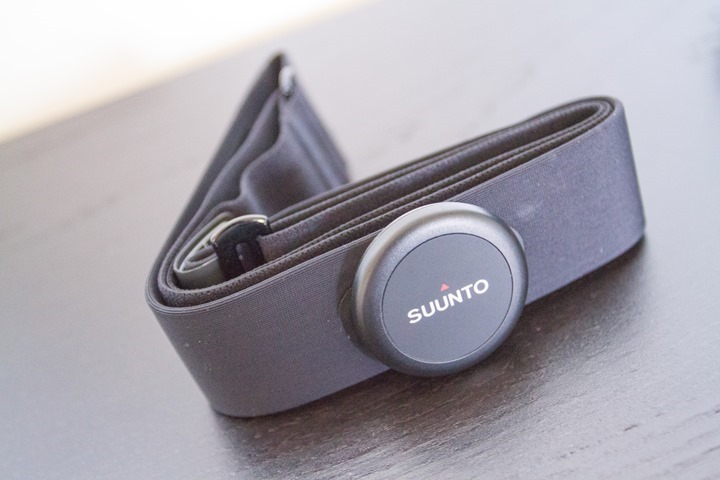 The strap pod is slightly smaller than previous straps, and also has a different connector than in the past, which is not compatible with other 3rd party straps: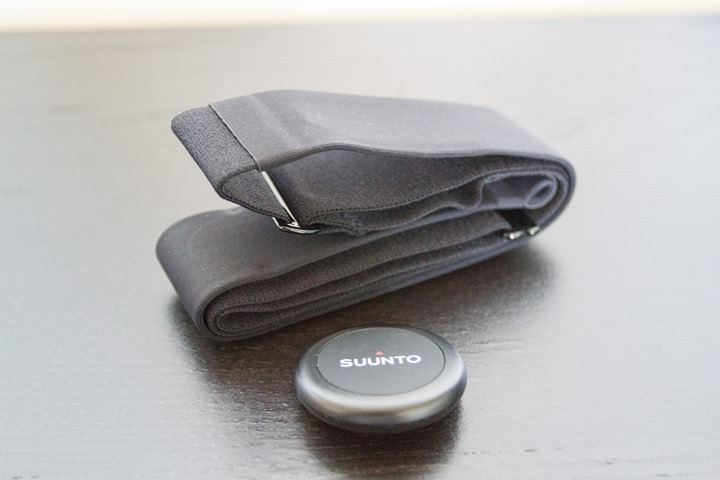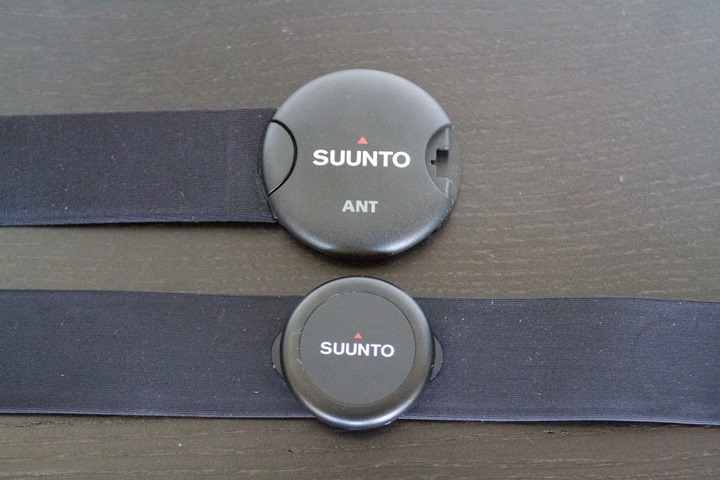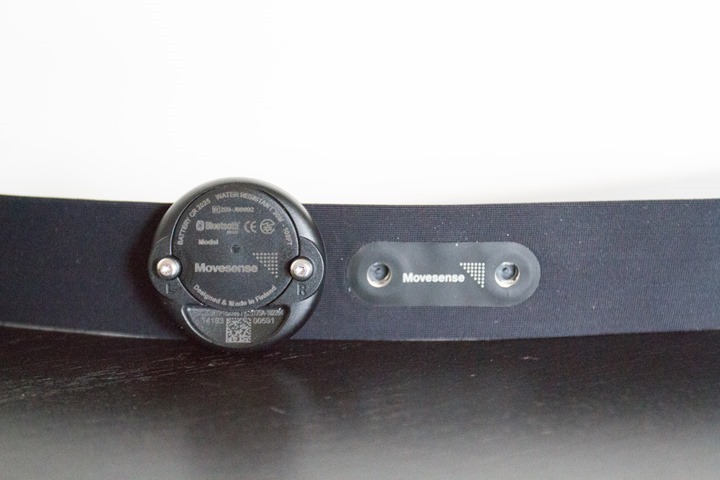 Next, you've got the USB charging cable.  This has not differed from the Ambit1 or Ambit2 charging cables.  It can be charged with any USB port you'll find on the planet, as well as to synchronize data from the Ambit3 on either PC or Mac.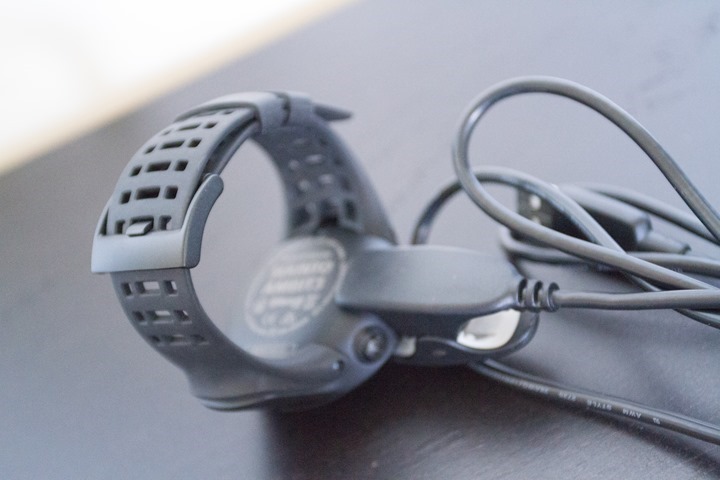 Finally, you've got the Ambit3 watch itself.  This looks nearly identical to the Ambit2 edition, with a few itty bitty cosmetic changes in that the edge of the watch is depressed 1mm instead of popped up 1mm.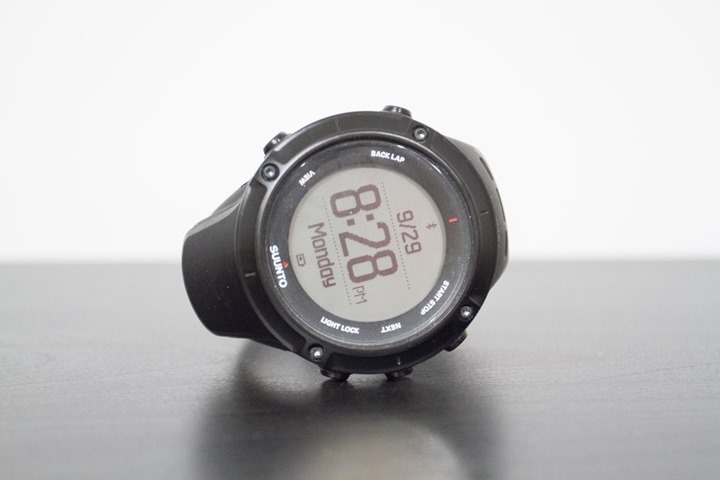 Oh, and there's a red mark at the top, whereas the Ambit2 uses a white mark.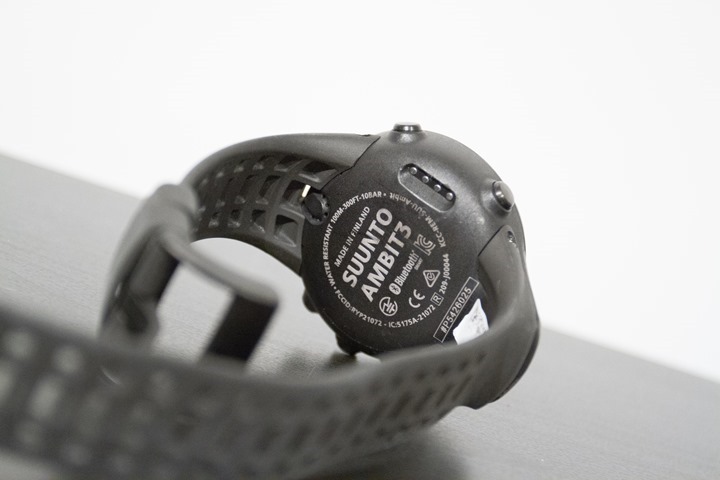 Yup, that's it.  But, since we're on comparisons, let's see how it sizes up to other units in its category (and past Ambit units).
Size & Weight Comparisons: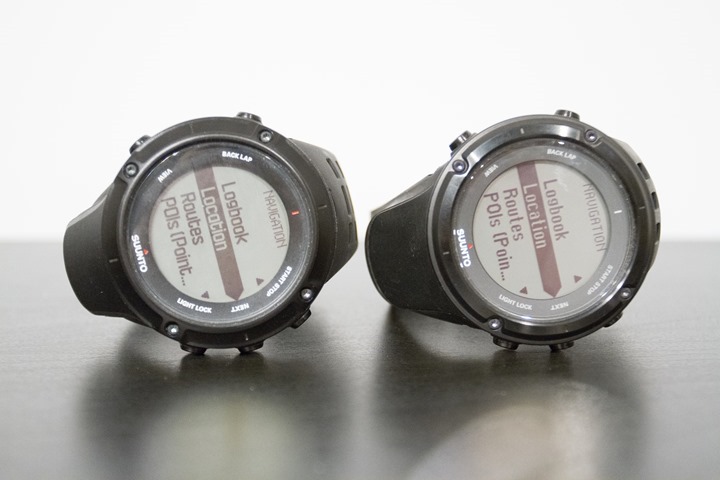 Next we'll take a crack at the the sizing of the Ambit3.  As you can see it's virtually of identical size to the Ambit2 (and even Ambit1), seen above next to each other (Ambit3 to the left, Ambit2 to the right).  They're rather difficult to tell apart from any distance.
Below, we've got the recent Ambit lineup: Ambit3 Peak, Ambit2, Ambit2 S, Ambit2 R: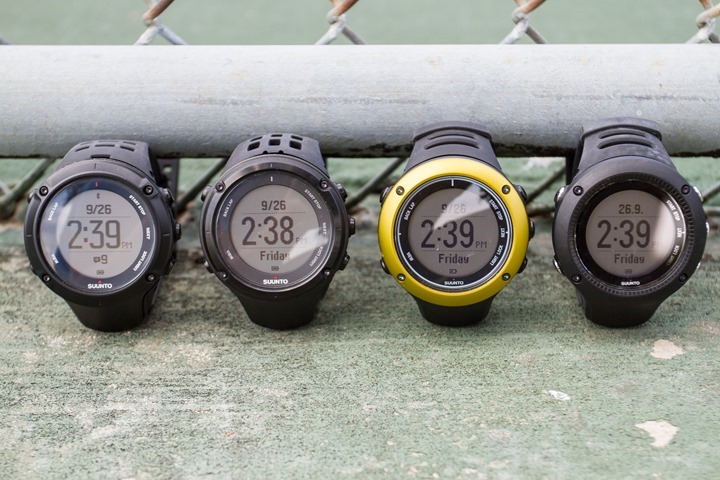 Here's how it compares to the Garmin Fenix2, to which it should most often be compared to: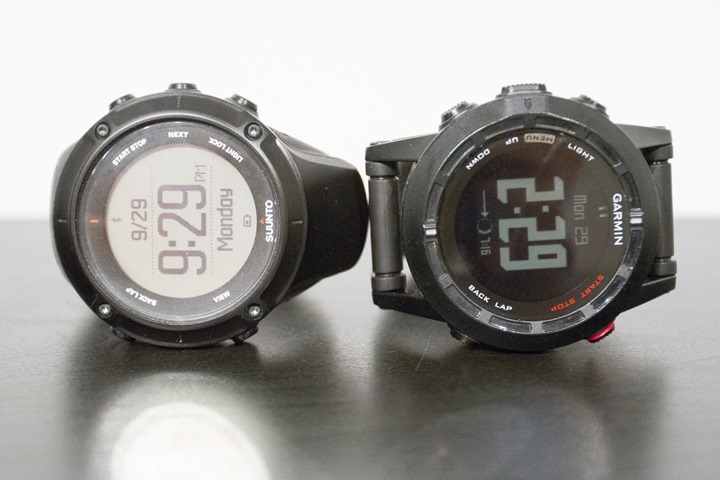 Next, looking at weight, I weighed it in at 87g: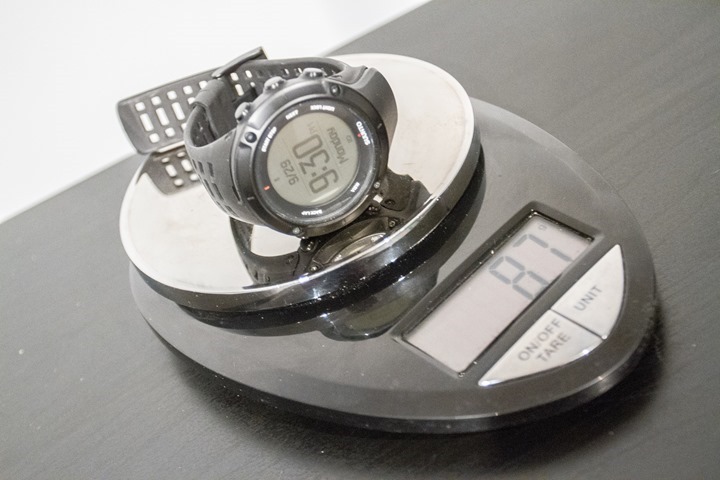 This is in comparison to the Ambit2 (of the same edition) at 89g: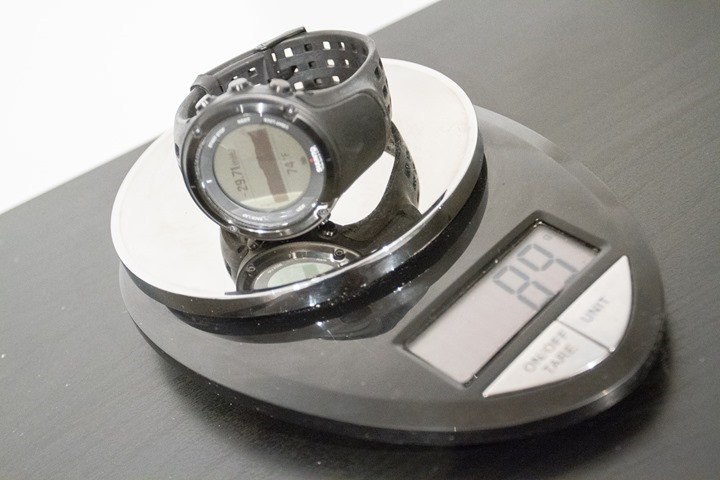 And the Fenix2 at 86g: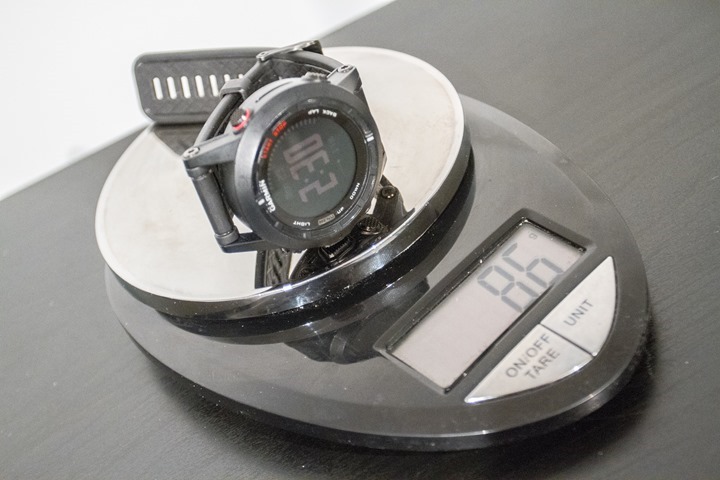 And finally, the Polar V800 at 81g: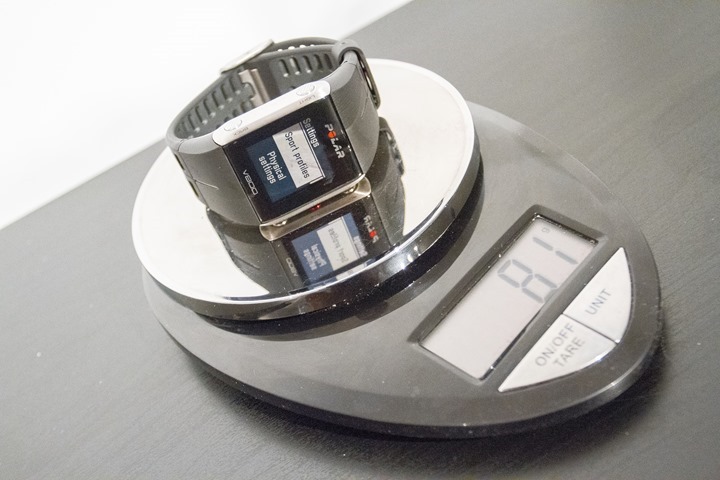 Lastly, as noted there are a few different editions/colors of the Ambit3 available, they are as follows:
Peak versions: Black, Sapphire
Sport version: Black, Sapphire, Blue, White
The Sapphire version doesn't refer to the color, but rather the glass used which is typically stronger.  Though, in reality I've never heard of anyone breaking/messing up a non-Sapphire Ambit unit's glass/display.  So at a premium of $100 over the Sport for the Sapphire, you best be planning to beat the crap out of the glass.
Here's a quick image of all the colors.  I lack the full Brady Bunch of colors at my disposal, so we'll have to do with this imagery from Suunto for now:

With that, let's get onto using it.
Running:
Let's start with one of the easiest sports to track, running.  This will give me a chance to also walk through some of the unit's basics that are common to all sports (like data fields, screens, pausing, etc…).
To begin, you'll go to start an activity via the upper right Start/Stop button.  This will get you into the sport/activity menu, it's here you'll pick your sport of choice.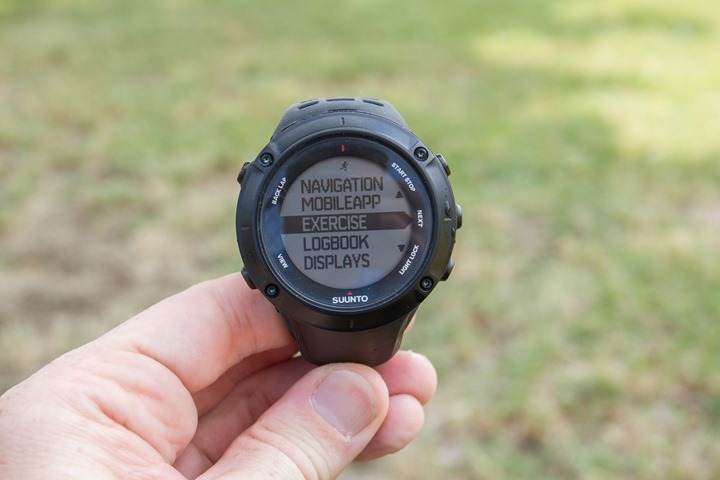 These sports are pre-populated from Movescount online. By default you'll have all the common ones, but if you want to add other sports you can add up to 10 sports online and have different settings/customizations for each one.  You can have sports profiles beyond 10 saved online on Movescount but not enabled in the watch state, in case you need them.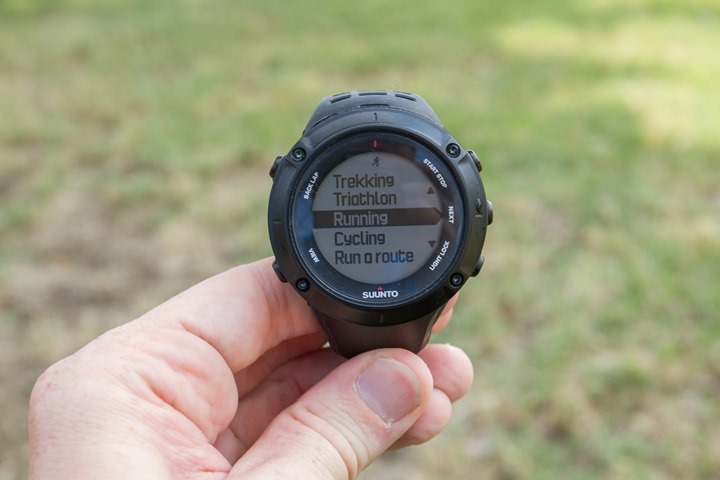 Next, after selecting a sport it'll start to find any sensors you have paired, so if you have a heart rate strap it'll start there, along with things like a running footpod or cycling sensors.
Finally, it'll trigger GPS searching to find satellites.  I find that it's generally quite quick as long as I've started back in the same place as before (within 10 seconds or sometimes much less), but I find that when I travel to a new place it's less quick than some of the other units on the market.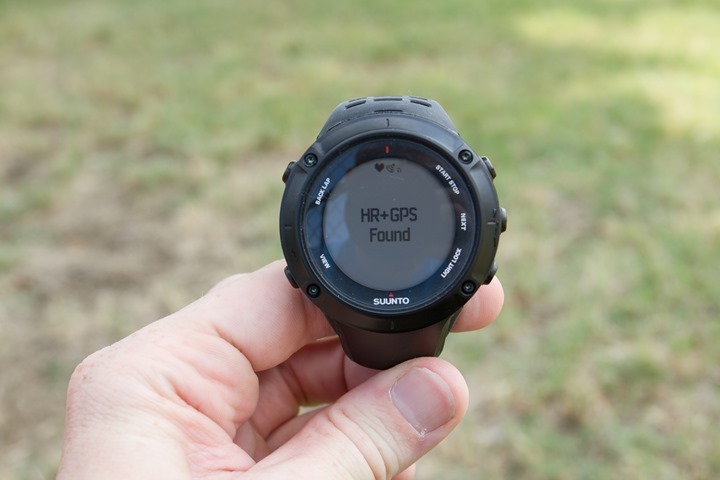 Once that's all done, it's time to start running.  To do so you'll want to start the timer, which will record the session for later access, as well as show you stats mid-run: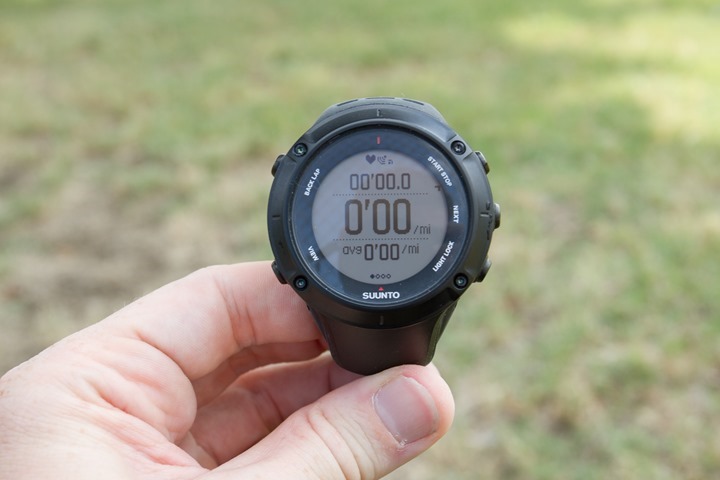 While running you can change data pages by pressing the "Next" and "View" buttons.  Additionally you can pause the session by pressing the Start/Stop button.  You can then resume anytime you'd like.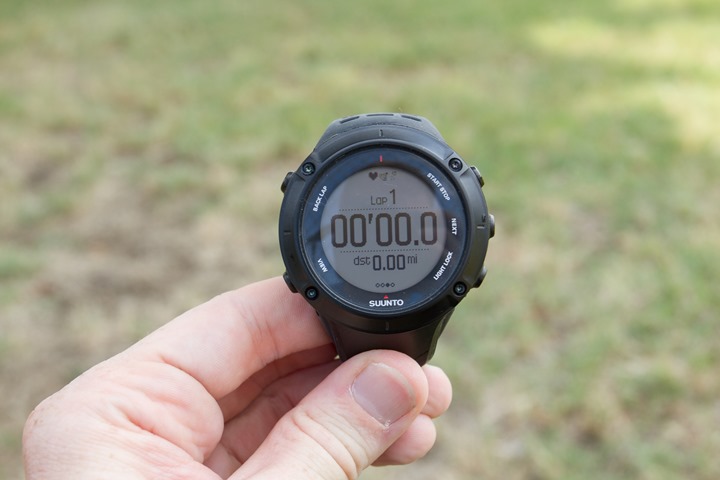 Next, you can create laps at any time by pressing the lap button (short press).  These laps will demark an interval on the unit for data display pages, as well as afterwards on Movescount online.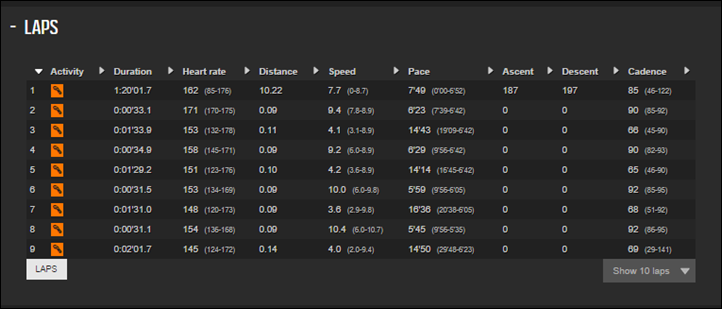 The Ambit3 supports Bluetooth Smart footpods, and I've tested it with a handful of sensors (ok, a lot of sensors), as noted in the Bluetooth Smart sensors section.  That said, there actually isn't a need to use a footpod in most situations.  That's because the Ambit3 (as well as all models of the Ambit2 via a software update last spring) now will derive cadence data from the wrist.  This is true both inside and outside.  This cadence data is then displayed on the unit as well as afterwards on Movescount:
The variations you see here are primarily driven by stoplights/signs, and then at the end I was doing different intervals.
In my testing, the cadence data is quite accurate, with the obvious exception that there can be slight blips if you hold onto a treadmill (indoors), or take an extended drink of water from a water bottle (outdoors).  This is because it depends on predictable wrist movements, and holding your hand to your head (or a bar), isn't one such movement.
Next, the unit also does wrist based pace detection.  It does this by using data from your past GPS runs outdoors, which it then applies indoors.
In my testing I found that it performed fairly well.  I'd give it a B+ rating actually, better than other units on the market.  It's not perfect, and I find that it tends to find the middle ground well (the paces I usually run), but struggles a little bit at the high end or low end of my normal pace range.  Below is a treadmill run I was doing.  In this case I was doing them at 1:27" per 400m, or about 5:48/mile.  Below you can see that it was over-estimating them at 5:09/mile.
Yet, earlier in the workout in the first 10 minutes it was much closer to the actual speed at about 7:00/mile and slightly below it.

Once you've completed your run you can go ahead and save the run.  As part of this it'll tell you how much recovery time you have 'built up' from the activity.  This is added to any existing recovery time outstanding (for example, from a 20-mile run yesterday compounded by other activities).  Now, this is the singular area you need to be aware of using an optical heart rate sensor like the Scosche or Mio products.  This is because those sensors don't yet measure heart rate variability terribly well, which can cause inflated numbers like the below.  This is true be it Suunto, Garmin, or Polar – the optical technology just isn't as refined for that specific metric: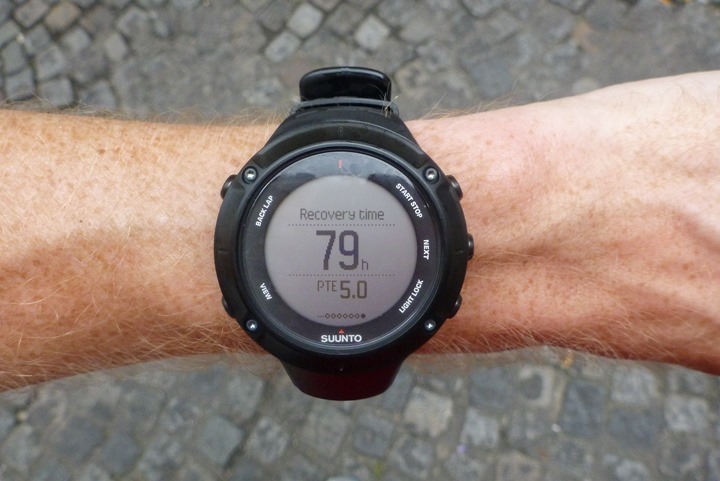 After you've connected your watch via Bluetooth Smart to the Suunto Movescount app, your workouts will end up subsequently online to Suunto Movescount the website.  You can decide whether or not that information is private or public via privacy settings on the site.  Once there you'll see your activities through your dashboard: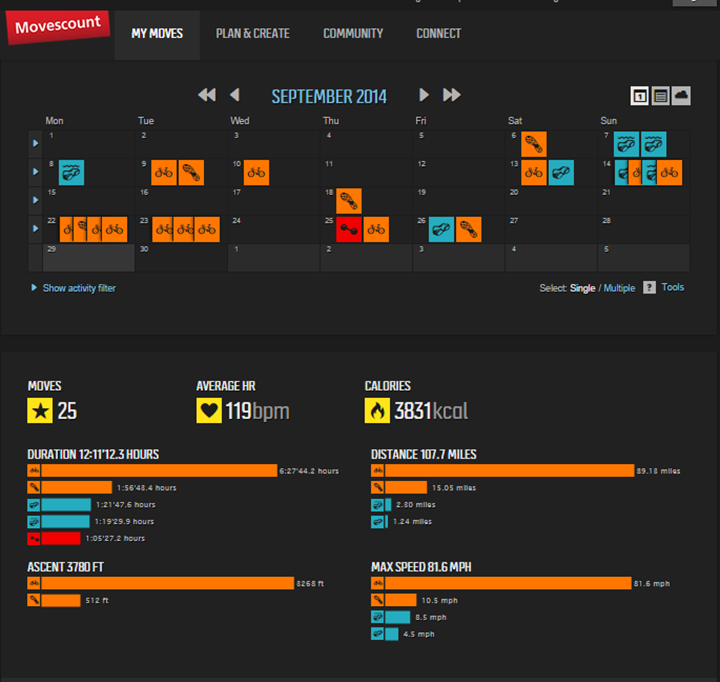 You can then click on a single activity to see data about it, start at the top with summary information: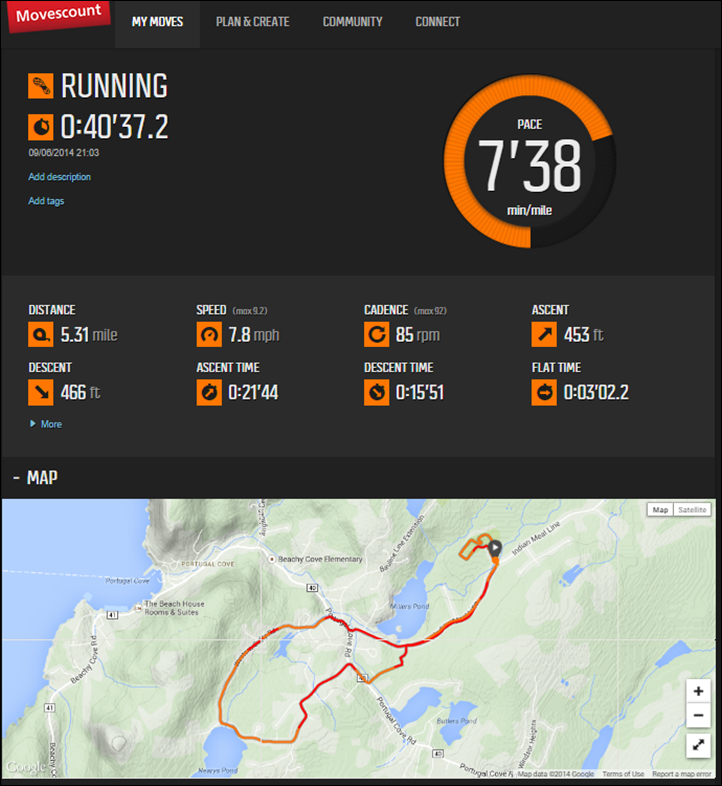 Then you can scroll down to get a map of where you went, and then graphs with paces and other sensor data: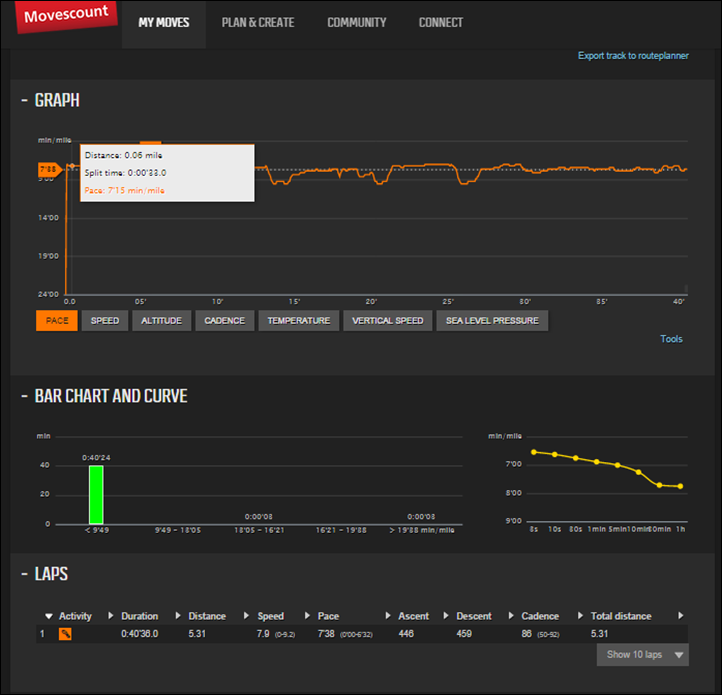 Further, you can dive into laps and splits, if you've configured those (either via auto lap, or manual splits).
Lastly, you can export out the data from Movescount to a variety of file formats which are universally used for sharing sports/fitness activity data: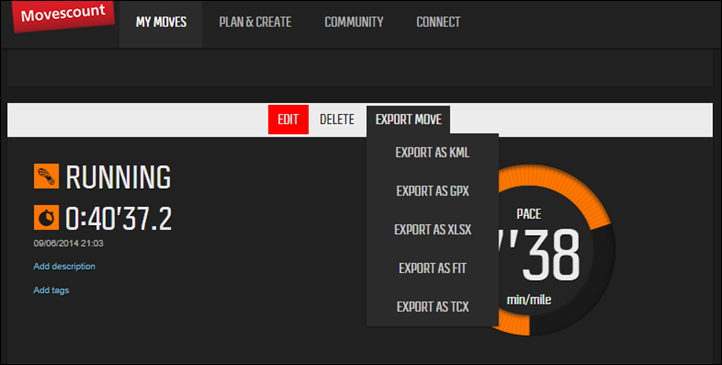 And, you can also setup Strava direct sync, as I've discussed in more detail in this post.
Cycling: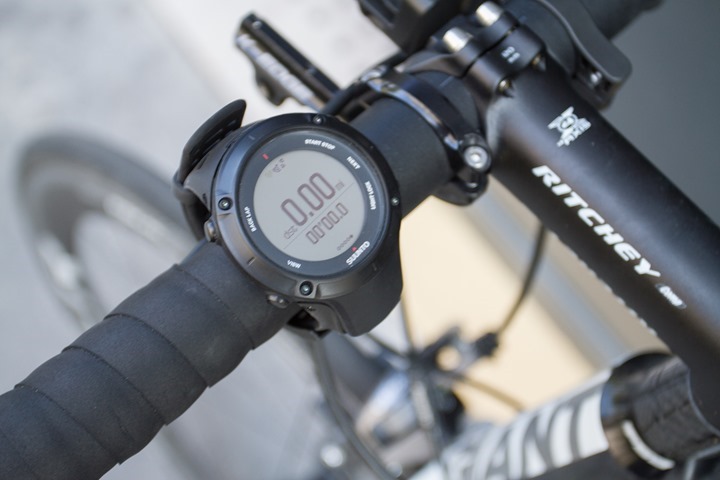 Next we've got cycling.  The Ambit3 supports a cycling mode that allows you to configure settings like speed to show in MPH/KPH, as well as to connect to cycling sensors including power meters.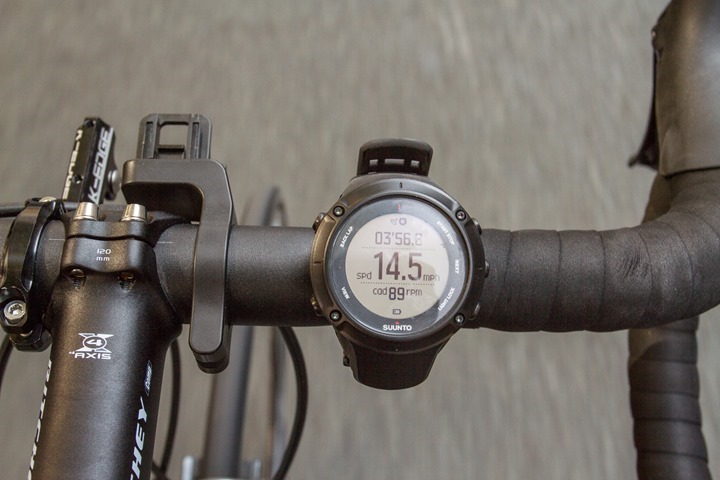 The cycling mode contains all the same base features and functionality as the running mode.  So stuff like pause/start/stop/etc all works the same.
When it comes to sensors, the unit supports four cycling-specific Bluetooth Smart sensors, which are:
– Bluetooth Smart Cycling Speed/Cadence combo sensor
– Bluetooth Smart Cycling Speed-only sensor
– Bluetooth Smart Cycling Cadence-only sensor
– Bluetooth Smart Cycling Power Meter
This can all be paired via the pairing menu in settings, such as below:
Once that's done, you can go ahead and have the unit search for them when in a cycling-specific mode: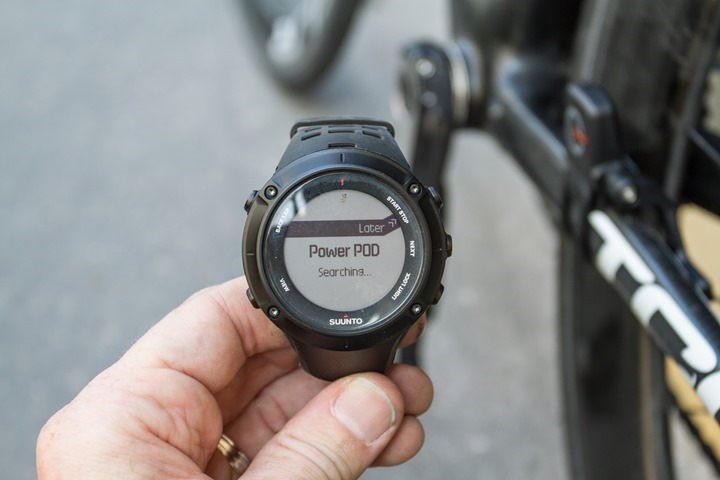 The Ambit3 supports three bike profiles of sorts, so you can save multiple sensors.  It's not quite a clear bike profile like some cycling-specific units, but it gets the job done by storing multiple sensors.
For the speed and cadence sensors things are fairly straight forward.  The speed sensor allows you to gather speed data in places where GPS data might be lacking, such as indoors or in a tunnel (or mountain biking where the GPS data might be fragmented/troublesome).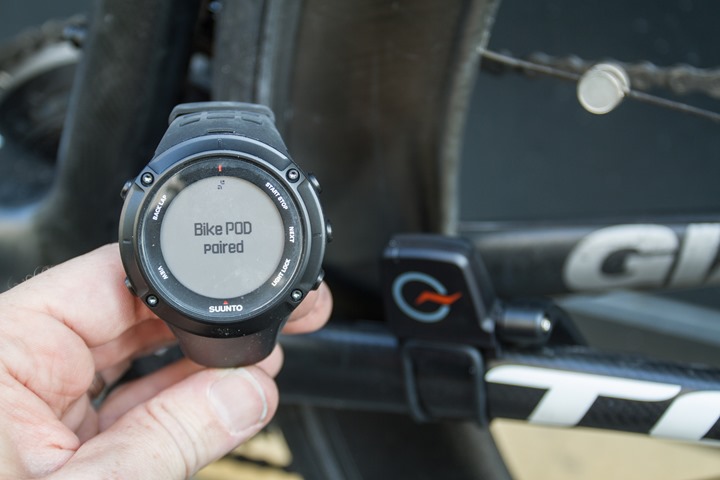 Meanwhile, the cadence sensor will give you cycling cadence.  That's how many RPM (revolutions per minute) your crank arm goes around.
And lastly, you've got power meter support.  Today, this is somewhat limited to a few Bluetooth Smart power meters, but I expect that to grow over the coming months and into next year, so I wouldn't fret about it too much as there's a good variety of options even today (PowerTap, Stages, Polar/Look pedals).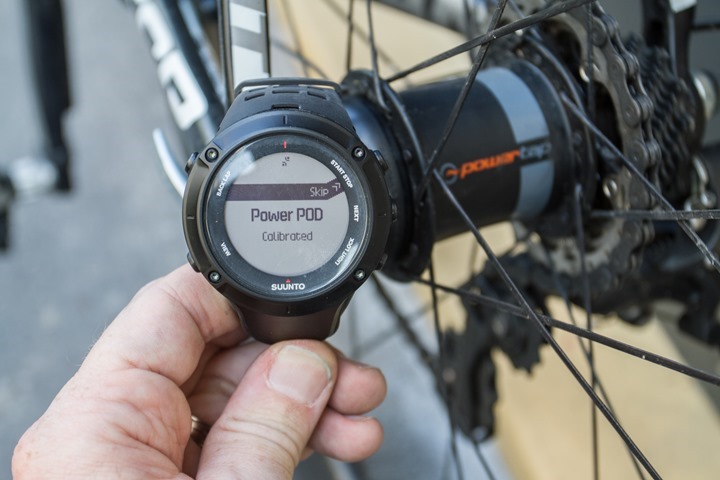 The only catch with the Ambit3 and power meters is it lacks some of the more advanced features found in many other cycling computers, including both Garmin and Polar, which includes things like TSS/NP/IF for power meter folks.  You can of course still get these metrics afterwards on platforms like Training Peaks, but they won't be shown mid-ride on the Ambit3, for that you're pretty much limited to base power averaged/instant power fields (though, I do very much appreciate the 30-second rolling power field):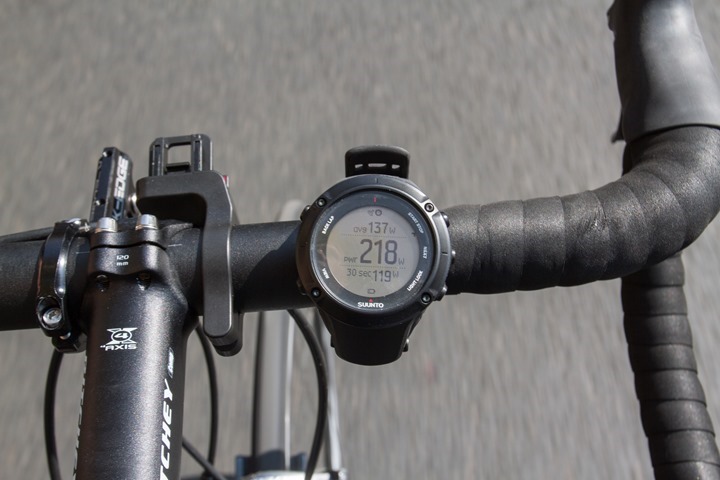 Lastly, for indoor cycling you'll want to use a mode which disables the GPS, which in turn will instead use the speed sensor (purchased separately) for speed and distance.
Swimming (Openwater & Pool):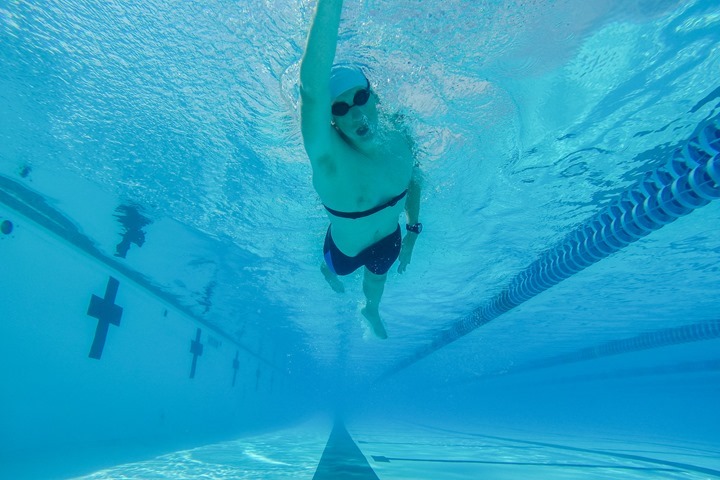 The Ambit3 is the first triathlon watch to support both the recording of heart rate data while swimming merged with actual swim metrics (stroke/laps/distance/etc…).  Previous efforts from companies like Polar have captured heart rate, but not metrics.  And other watches from Garmin have captured swim metrics but not heart rate.  Suunto combined the two together with the Ambit3.
To get heart rate metrics on the Ambit3, you'll need to wear Suunto's new heart rate strap.  This specific heart rate strap is required because it actually stores and synchronizes the data during the swim.  See the strap uses Bluetooth Smart, which can't transmit through water more than a few inches – so instead it will download the data when the watch is brought close to it, or above water.  That process takes only a few seconds and can be done during the paused state (or active timer).  Here's a short video of it updating the data:
Now again, this specific function requires the Suunto strap.  It will not work with other 3rd party straps that have memory, such as the Wahoo TICKR X, because the offload piece is proprietary to Suunto. Nor will it work underwater with Polar's H7, since that uses an analog frequency not found on the Ambit3.
The other limitation here is that the watch won't show your heart rate live while swimming.  Due to inability to transmit through water, you'll just get a null/empty value shown on the watch (see bottom value):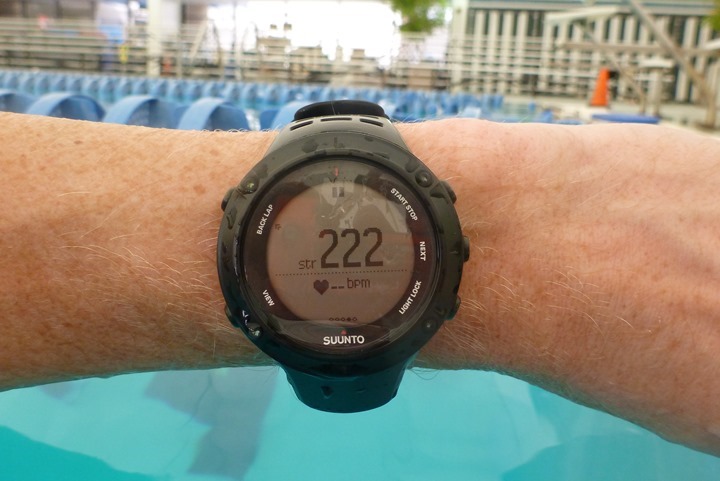 But fear not, afterwards it'll show you stats online for the entire session – seamlessly merging them together.  Just be sure you let the watch sync before you save the session.  The easiest way to do this is just pause the watch, then get out of the pool.  I add the graph page to my swim workout pages, because there's otherwise no way to tell that the sync has completed.
Now the challenge with the heart rate strap and swimming is just that – it's a strap.  For me while swimming in a pool the strap will often slide down my chest when I push off the wall.  I find I have to push off at about 60-70% my normal strength in order to get it to stay put.  I found that I can get it to stay put best a bit lower and with tightening the strap a bit, like below: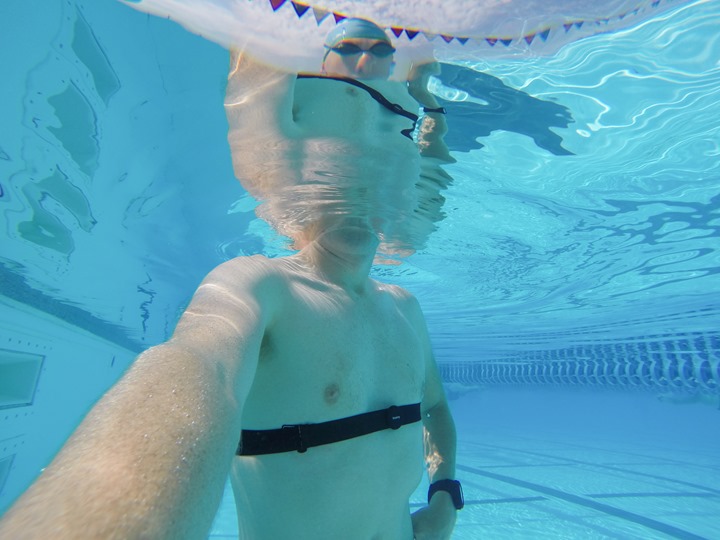 At the same time, any lower than this level I tend to see a bit less accuracy with the strap.  So it's sorta a crap-shoot.  For women, this isn't an issue at all, because most of you are wearing some sort of top while swimming – which the strap sits below and covers from water pressure.  If you're not wearing a top, I'd like to kindly be invited to your swim sessions.
Beyond heart rate, the Ambit3 tracks swim data for pool swims and outdoor swims.  While indoors, you'll get stroke/lap/length data for your different session:
Note that regardless of whether you're indoors or outdoors in a pool, you'll still use the pool mode.  This mode uses internal accelerometers to detect each time you reach one end of the pool or the other.  Said differently: Even for such a gorgeous outdoor pool as this, don't use the openwater swimming mode.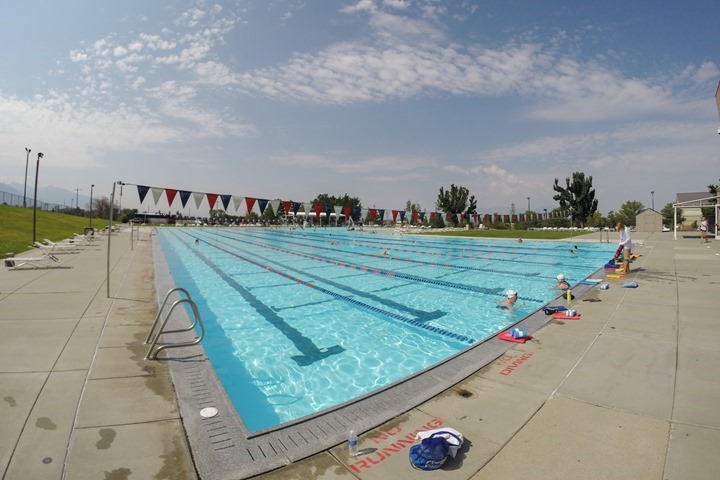 In addition, because it depends on accelerometers, it means that you'll want to refrain from doing the YMCA song while at the end of the pool waiting for your next step.  Similarly, if you see any of those mythical topless women swimmers referred to above mid-lane – you'll want to just keep on swimming past them.  That's because if you stop mid-lane with these types of watches it'll think that you've begun your next lap.  And nothing is worse than having messed up swim metrics.
All of this information is available in real-time on the watch, so you can create intervals as well, which are great for keeping track of which laps you're on and the time and pace of each set – and then you can get your HR data as well added on top: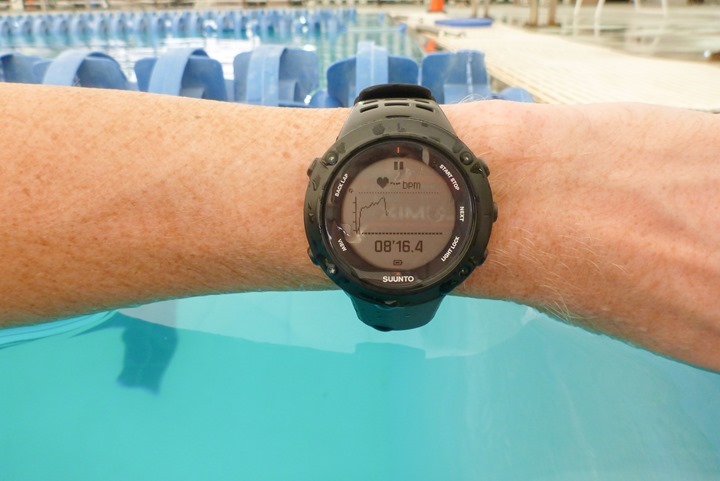 When I look at accuracy of the watch, it's overall quite solid.  Every few swim sessions I'll get an incorrect length counted, but that's not at all unusual.  The more careful you are with your turns (either flip or open turn is fine), the better.
Next, we can head outside for openwater swims.  For these, the unit uses a combination of GPS and accelerometer.  It uses the GPS for determining where and how far your went, and then it uses the accelerometer for determining how many strokes you're taking.  Again, for outdoor pools you'll want to just use regular pool mode, and not the openwater swim mode.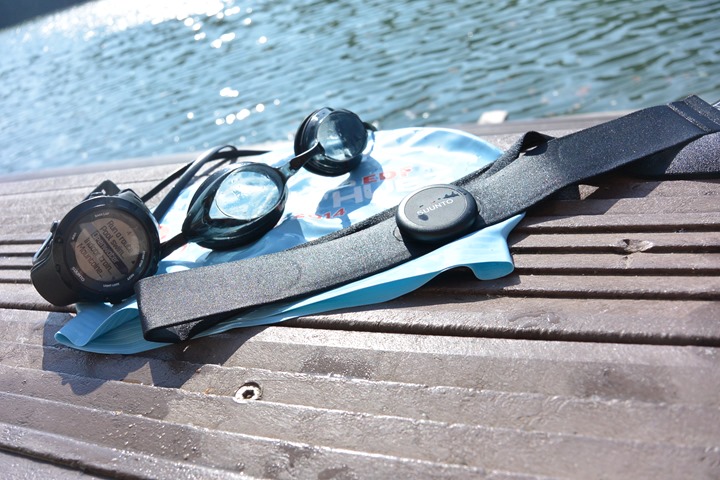 Like while indoors, you can also get heart rate data matched to the activity for afterwards.  Just ensure that it finds the strap before the activity starts.  It's best to do this above the water.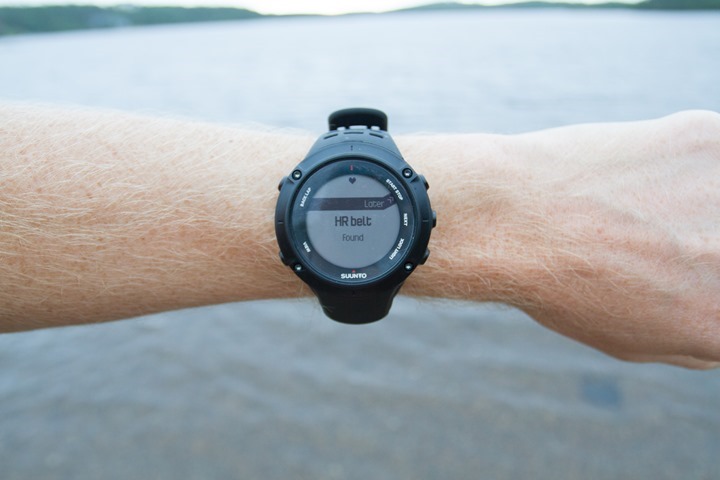 Next, you'll go ahead and go for your swim.  The unit will track distance in real-time, as well as time and intervals if you'd like and display that on the unit.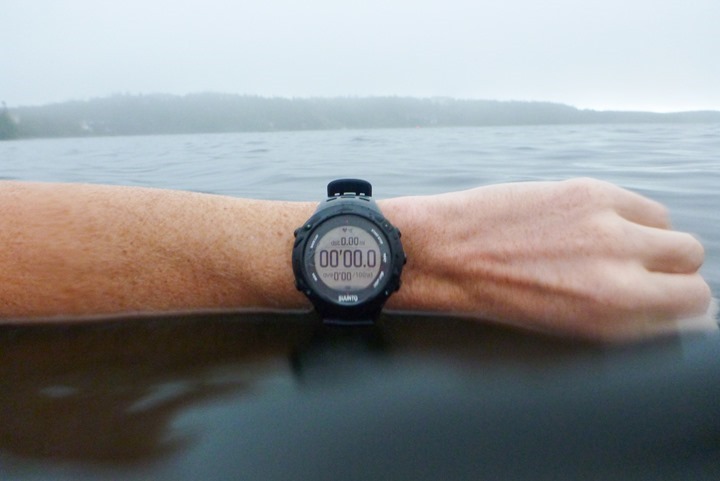 Afterwards, you'll get a map of where you went.  In my testing this is generally in the ballpark of where I went: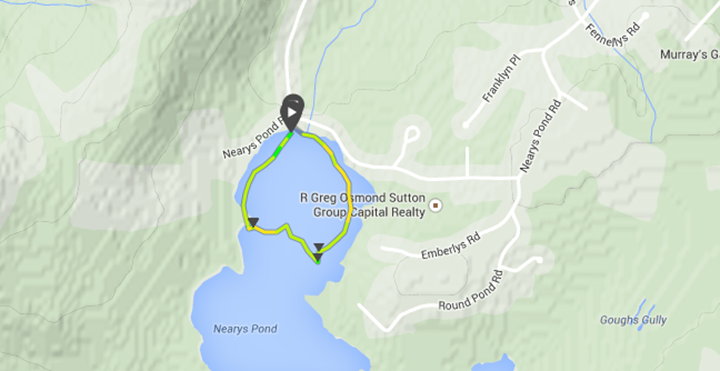 But at the same time, it's not likely to be perfect.  None of the watches on the market are.  Don't expect the same level of GPS accuracy that you'd get on land, while swimming openwater.  The challenge there is that GPS reception is lost every stroke and has to be regained every stroke.  This means that approximately every second this happens, and when re-gaining GPS signal there's usually a reduced level of accuracy (i.e. +/-35yds).  So what companies do is take trending to try and figure out where you're going.

In the case of Suunto, I'd actually say they're probably in the realm of one of the better ones here.  In my testing of the Ambit3, it was always the closest to the actual distance measured (with a GPS on my head), and in some cases matched it precisely.
Finally, while openwater swimming it's completely normal and accepted to wear the heart rate strap below your wetsuit or trisuit.  The unit will transmit the data through that without issue once above water.
Multisport Mode: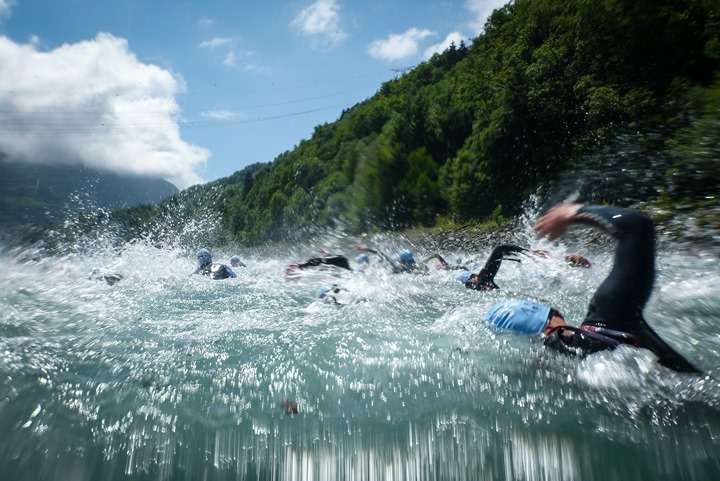 Next we've got the great combination of all the previous individual sport modes: Multisport mode.
This mode allows you to link up back to back individual sport modes to form a multisport activity, aka, a triathlon.  Or a duathlon, biathlon, or any other sort of thing involving thlon (note, not thon, that's French for tuna).
What's cool is you have two options with multisport mode.  The first is is an automated variant where you've preconfigured the sports and order of said sports.  This is perfect for a triathlon where it's clearly going to be swim, bike, run and you want to include transitions.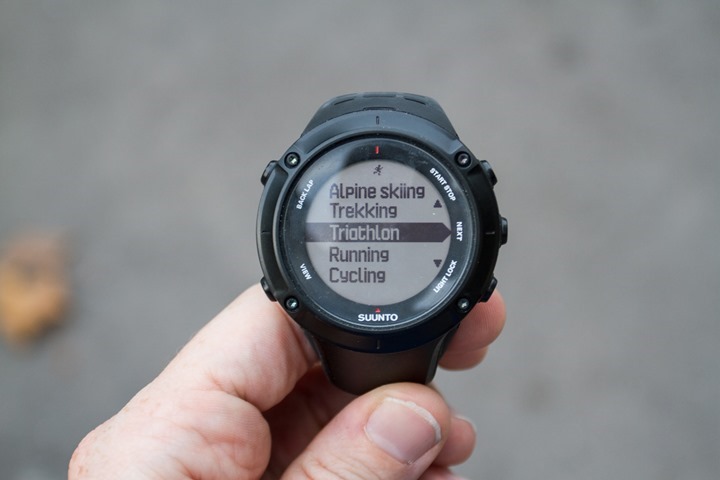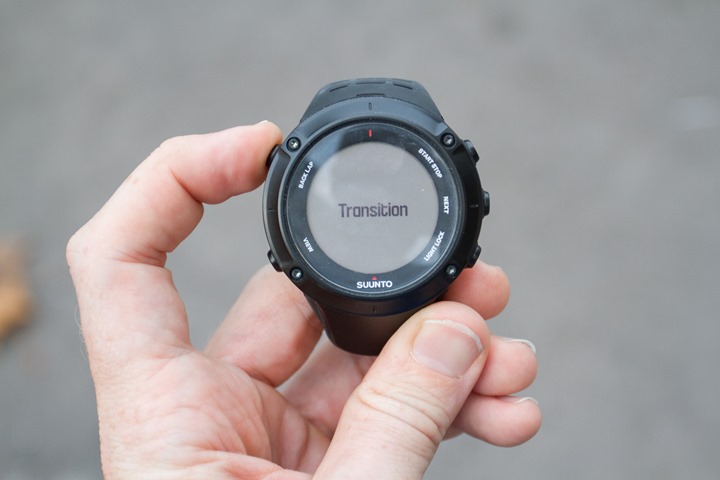 Otherwise, you can do an adhoc multisport activity anytime you'd like by holding the 'Back/Lap' button, which will then prompt you for a sport of your choosing.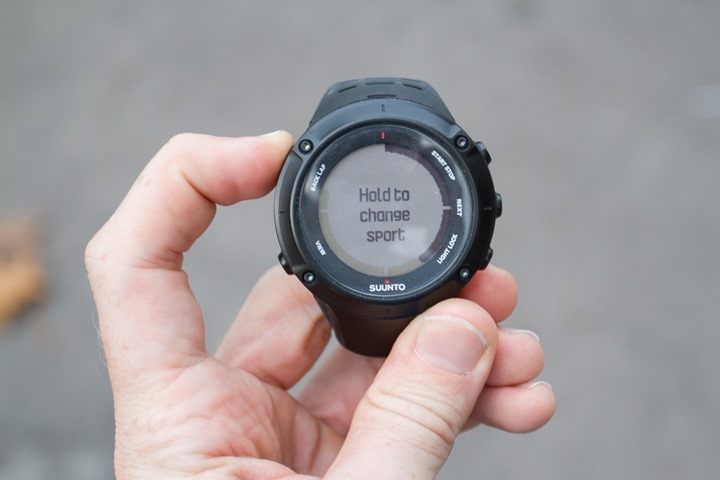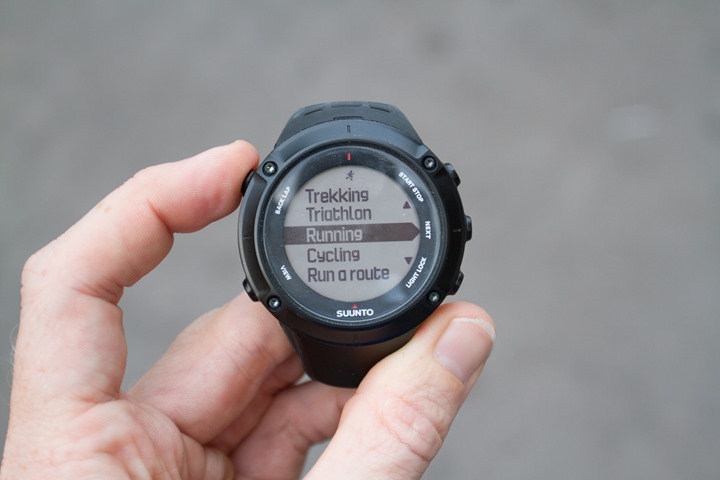 After the activity, you'll get a multisport activity displayed on Suunto Movescount, which will show you the different sport segments as part of a full single activity: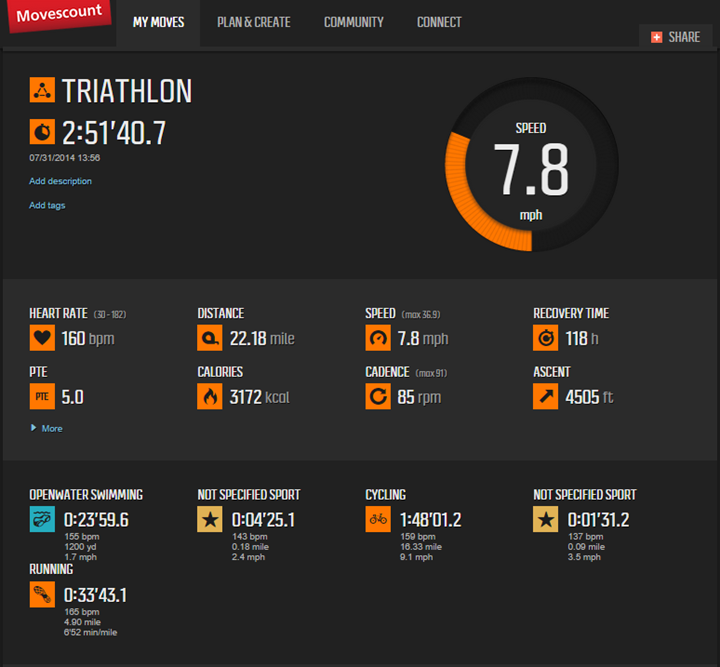 Overall this works fairly well, but I did see one issue where the altitude coming out of the water wasn't quite correct (it was calibrated about –3000ft (negative).  I haven't done any other races since then, so I'm not quite sure it's fixed or not.  Historically speaking others have reported similar activity in events.
Suunto Apps:
Back about two years ago this fall Suunto introduced the concept of Suunto Apps.  These apps allowed developers (or, people that wanted to act like developers) to create basic apps for the Ambit series.  Initially these apps just simply did calculations in real time and couldn't store data.  Then Suunto expanded the scope to allow you to download multiple apps to the Ambit as well as allowing you to store data in the apps, which could then be further stored/displayed on Movescount.
These apps have a variety of functions, from useful to useless.  For example, there are apps that act as a virtual pacer, and others that allow you to create data fields for functions that Suunto left out.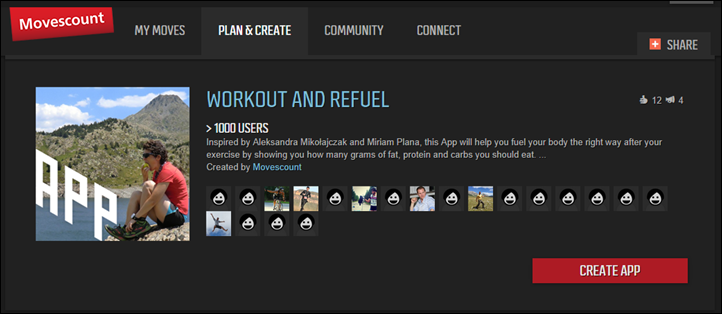 The apps can be browsed via the Suunto App Zone, which has a filter of sorts.  As is the case on other app stores, I'd look a little bit towards those with many downloads, which Suunto has recently started making a little bit easier to find versus the swath of sorta crappy apps.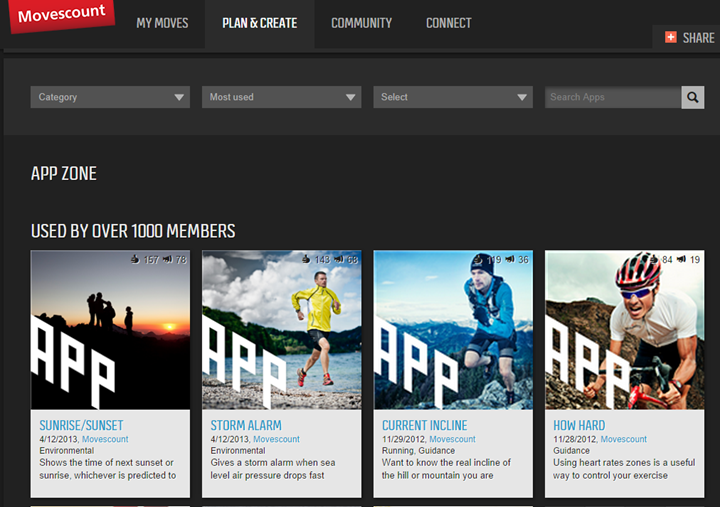 Once you've got an app you can add it to your collection and then you can go into your sport profiles and add it as a data page to a given sport profile.  Consider these as extra data pages in your data page rotation while flipping through pages on the unit.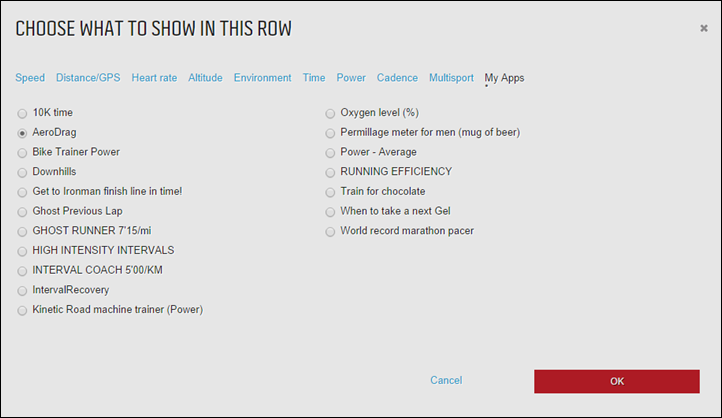 The only challenge with the app implementation is that Suunto has somewhat substituted new features natively in the watch for just writing quick apps.  While I think it's great that Suunto is fostering app development, I feel like some features need to be natively in the unit and accessible at any time (such as a proper interval platform, or a virtual pacer function).
Further, while I think Suunto Apps are great, they are at the same time a bit limited.  For example, they can't connect to the internet, nor can they have multiple layers on them.  Garmin just last week announced Garmin Connect IQ, which are apps with far greater flexibility and functionality – closing in on what is found on other smart watches and even some basic phone app functionality.  Now, obviously these new apps significantly surpass Suunto, but at the same time, keep in mind they aren't out yet.  And as of today (September 29th), there aren't any watches available to use them.  So like most things, the future always looks brighter – but sometimes the present is more functional if the future isn't here yet.
Data Fields and Data Pages:
The Ambit3 supports the same basic page and data field structure as the Ambit2.  For this, you can create numerous data pages, each containing a variety of data fields.  The exact number of data fields varies from 1 to 3, depending on which exact data page types you use.  For example, data pages that take up an entire page to give you bigger numbers means only one field: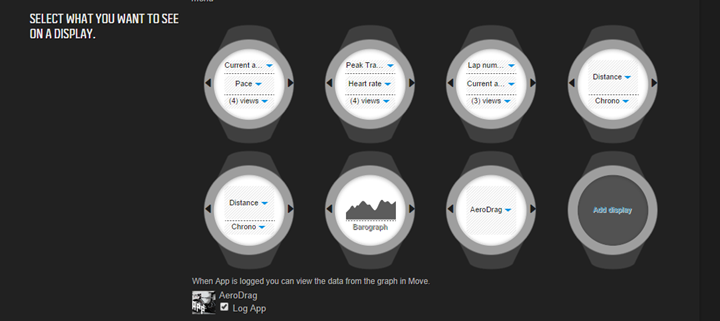 Whereas pages with more fields will give you smaller numbers but more metrics.  And then there are graph pages, which allows you to graph things like heart rate and barometric altimeter data.
Each of these data fields gets pulled from a given category:

You can have a total of 8 data pages per sport profile, and up to 10 active sport profiles on your device enabled at any one point and time.  You can create your own sport modes, both as a single mode as well as a multisport mode: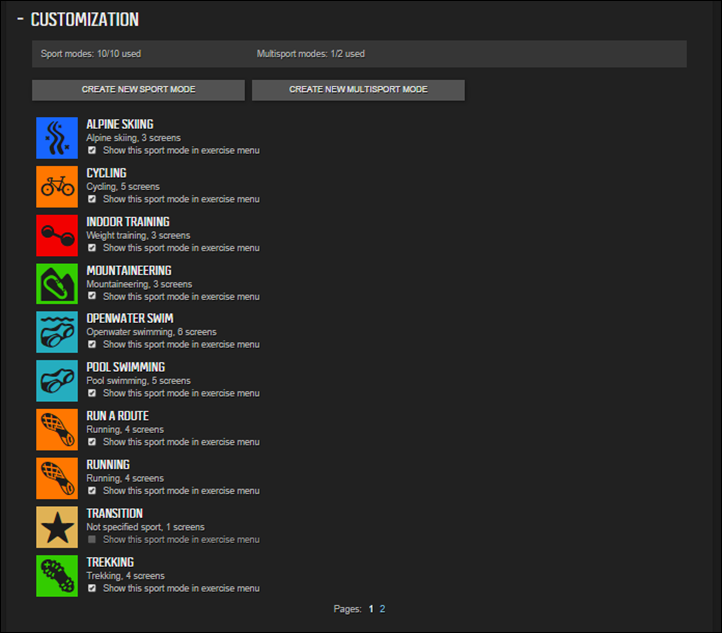 It's also here that you can configure non-data page settings like recording rate and sensor types to search for, allowing to further tweak and customize each sport profile.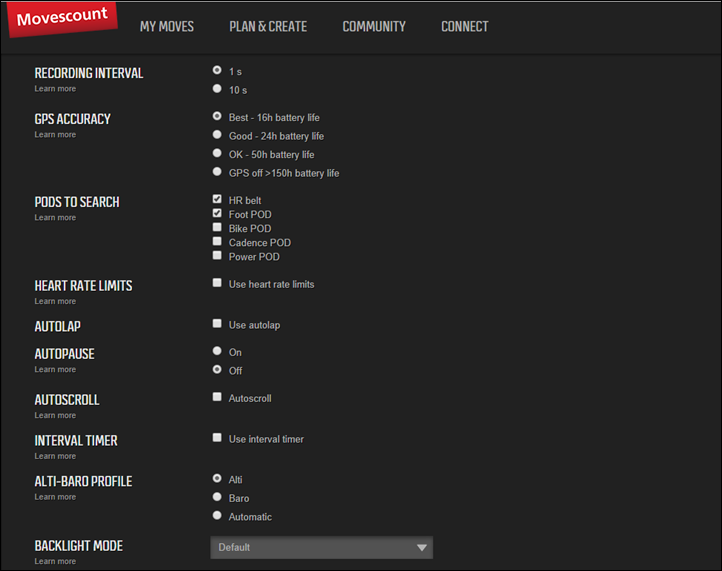 The flexibility of configuring these modes is a major advantage over some of the competitors.  While Polar would be the next closest, Garmin is a bit further behind in terms of being able to configure these online (you can't at all).  On the flip side however, with Suunto/Polar, you can't configure the data fields on the watch or phone apps itself.  Perhaps some day all three vendors will offer both methods.
Navigation and Routing, Hiking: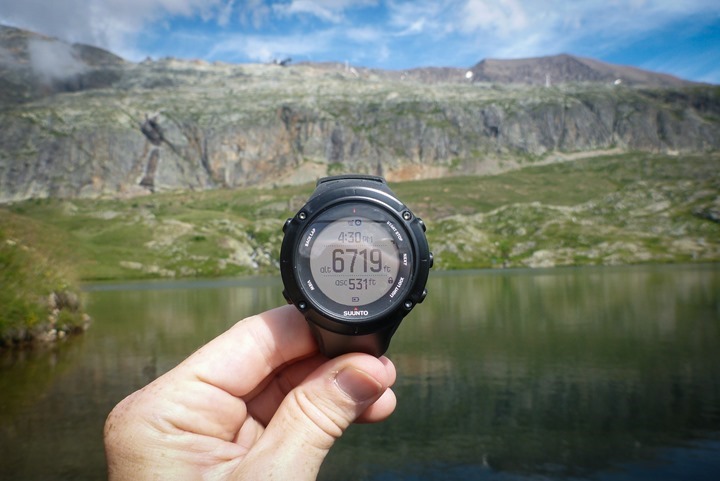 Next up is the unit's navigation and routing capabilities.  The Ambit3, like previous generation Ambit's, is able to store waypoints and routes, which you can then save and follow.  To start, you'll likely use the Suunto Route Planner, available on Suunto's Movescount website.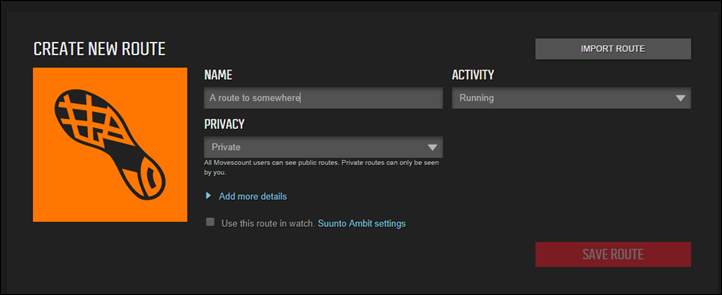 As you create the route you can create waypoints as well for a variety of categories: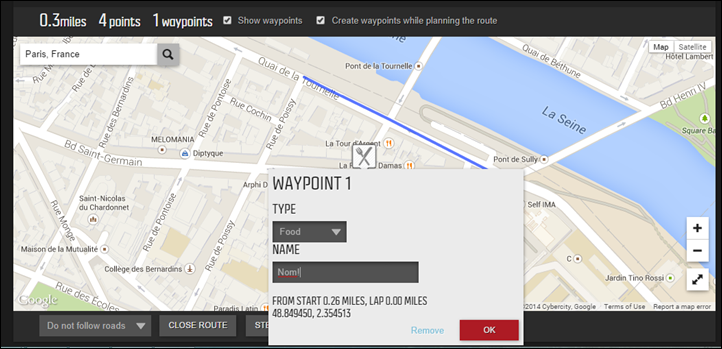 Next, you'll want to send this route to your watch the next time you synchronize the unit.  To do that check the 'Use this route in watch' box, which will show you how many POI's, Routes and Waypoints you have remaining to save.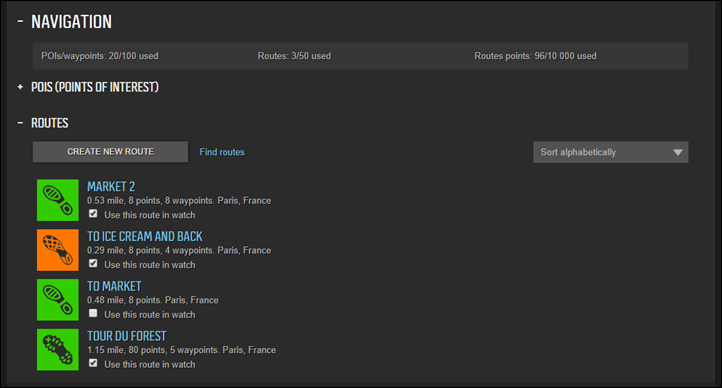 Once that's all done and sync'd, you'll then dive into your watch to start navigation.  You can trigger navigation at any time from any activity, which is handy.  To do so, just hold down the 'Next' button for a few moments.  Alternatively you can start navigation from the main menu.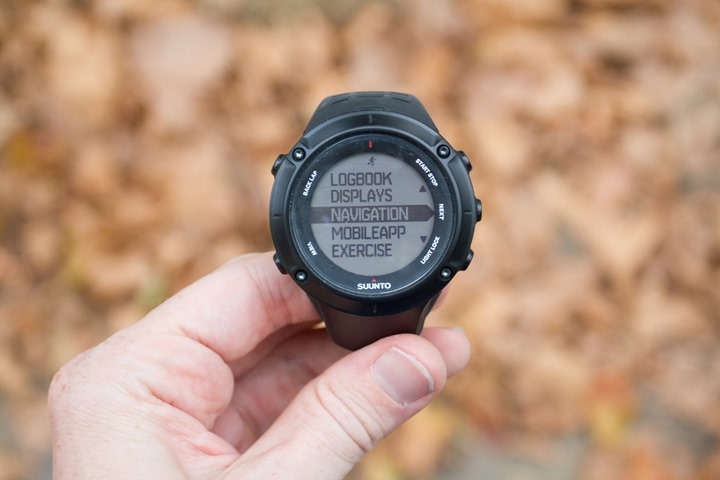 From there you can choose how to navigate, for example by navigating to a POI (point of interest), or along a route.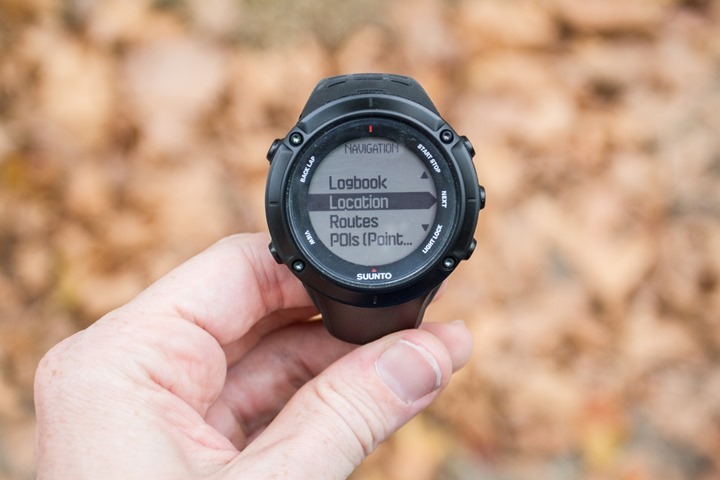 Once you've selected one (I'll go with route, since it's the most complex and really covers both POI's and waypoints), then it'll show you directions and distance to the next waypoint: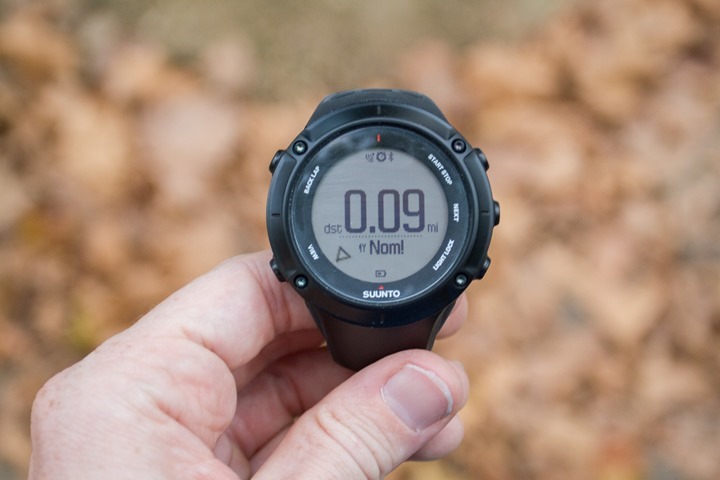 Note that you won't get a map on the screen, rather, just pointy directions as to where to go via a little arrow at the edge of the unit.  Like a kid riding training wheels on the bike, you'll want to keep the little digital arrow between the digital lines: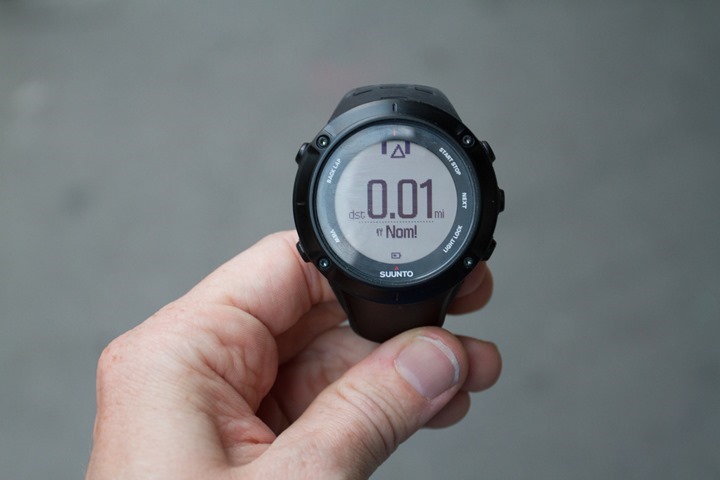 As you arrive at a waypoint, you'll get notified: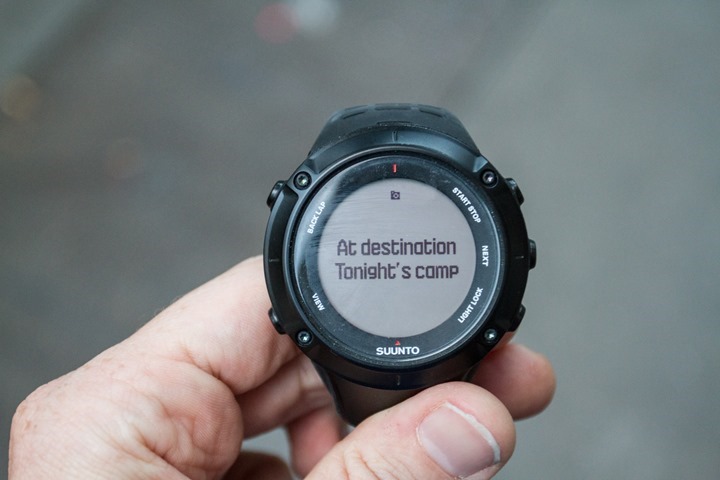 Note that at this time you can't create routes from the phone app itself, which is a bit of a limitation (and something that the Fenix series allows).  Hopefully Suunto will open up such capabilities soon.
Next, we'll look briefly at elevation tracking with the Ambit3, given this is the hiking section.  For that I did some testing in the Alps on a handful of hikes.  I was primarily looking at how well the unit matched up to signage on the mountain.  I figured it was fairly likely at a well known place like Alpe d'Huez that these signs were probably correct.  Here's how things faired: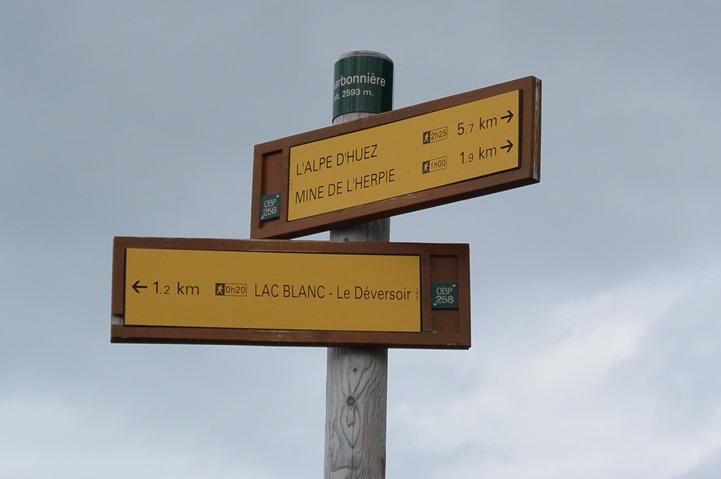 Above, you see the sign for 2,593m, which equals 8,507ft.  Below, you've got the Ambit2 at 8,471ft, a difference of about 36 feet.  I'm not clear if the reference point is measured as of the top of the pole or the bottom, logic dictates bottom…but, ya never know.  In any event, this is one half of one percent away accuracy-wise.  Or, .5%.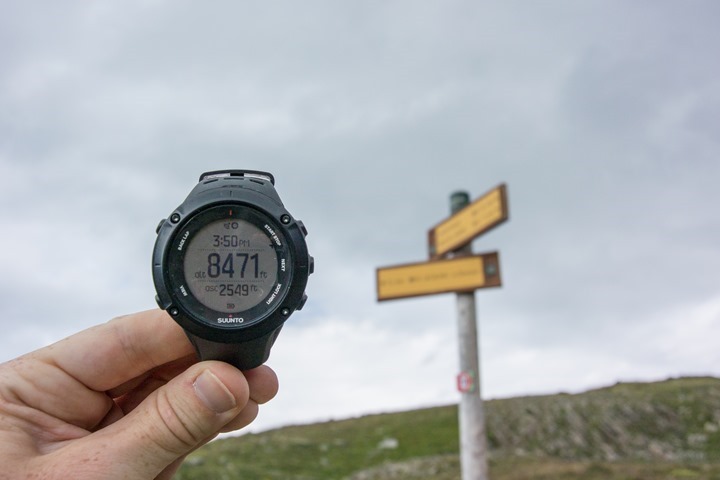 In this case, I let everything be completely automatic.  Meaning that I let it automatically determine my base altitude using GPS and then it blends that with barometric altimeter data from there.  I figured that's most like how many real-world folks would use it (unless you had altitude information at a trailhead).  Looking at the altitude track, I didn't see any issues there at all with how it looked, as it perfectly matched our route: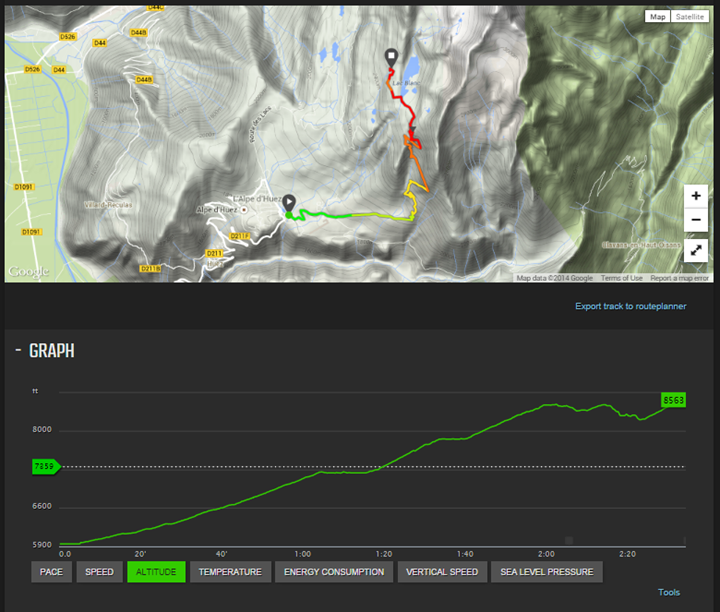 Now, deep in that canyon of sorts I did see one point where GPS lock had some minor issues.  But, at the same time I also saw a similar error in nearly the same spot from the Garmin Fenix2.  Ultimately, it just had really horrible GPS signal in that portion and minor errors are a bit of a fact of life with GPS today.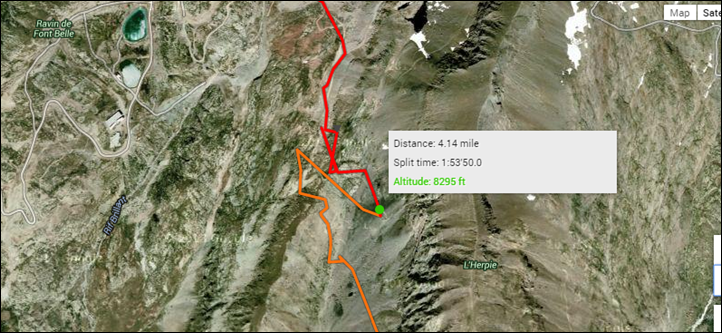 Still, the watch otherwise worked and tracked perfectly on a suite of weekend hikes in the Alps.  Further, beyond the minor variations seen in the mountains, my day to day GPS tracks in the city while running were all within 1-2% of other units, which is normal for GPS accuracy (usually it was 1% at most).

Of course, from a hiking/trekking standpoint nobody has ever argued that the Ambit series doesn't do a solid job there, it generally is seen as one of the more dependable units on the market consistently.
Finally, do note that there are two specific settings of use in the hiking realm, which are around the recording and GPS update rate.  These rates impact how often the unit grabs GPS data and updates it.  It also reduces the update rate significantly, so be aware that if you turn on 60s mode, you'll really want to do so only when you plan to go beyond the base limits of the 1-second battery update mode (for example, a 24-hour walk).
Daily Activity Tracker: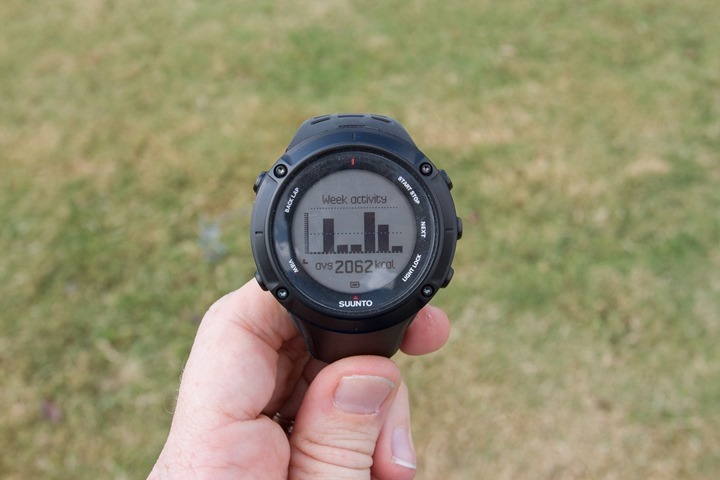 The Suunto Ambit3 includes a variant of a daily activity tracker.  I say a 'variant' because at this stage (and perhaps it'll change) it's more of a reduced activity tracker.  The unit tracks movement throughout the day, but doesn't actually track steps per se, nor does it track things like sleep.  Instead it's looking at things more holistically, so it looks at total amount of movement each day, as seen below and then also gives some general text guidance at the bottom of how active it thinks you are.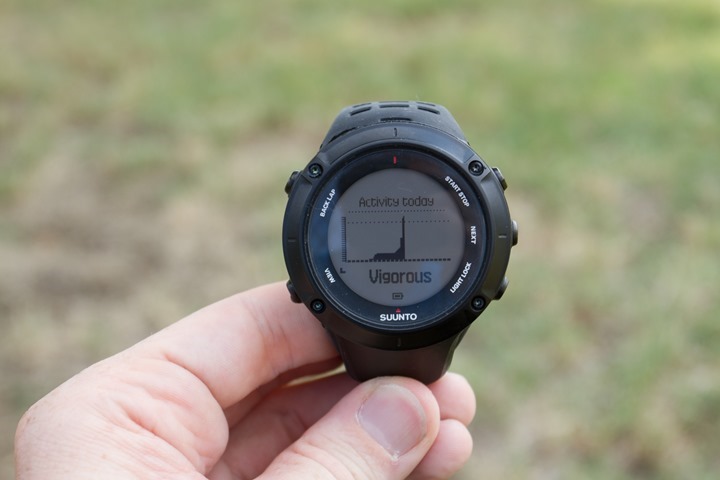 This data is then taken into account when looking at recovery time.  Think of recovery time as a little sand-filled hourglass that slowly decreases overtime.  Yet if you go out and do a run or other activity, it'll climb back up again.  Within your training program you can then decide what type of workouts to do based on how much recovery you might need.  Below, is what it looked like before I went for a swim: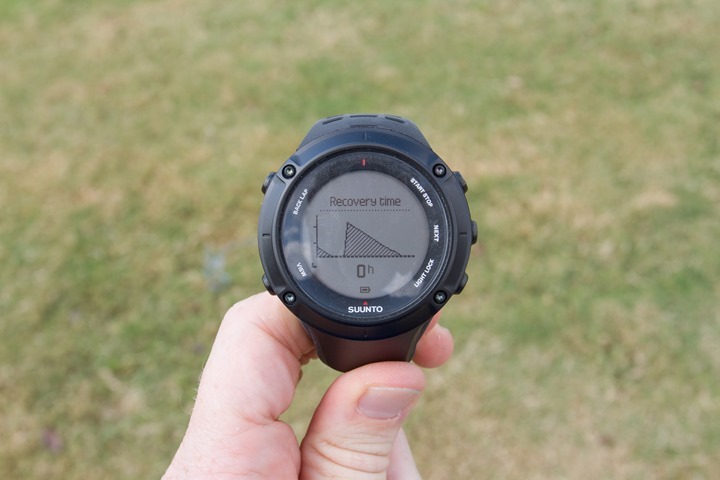 And then after the swim: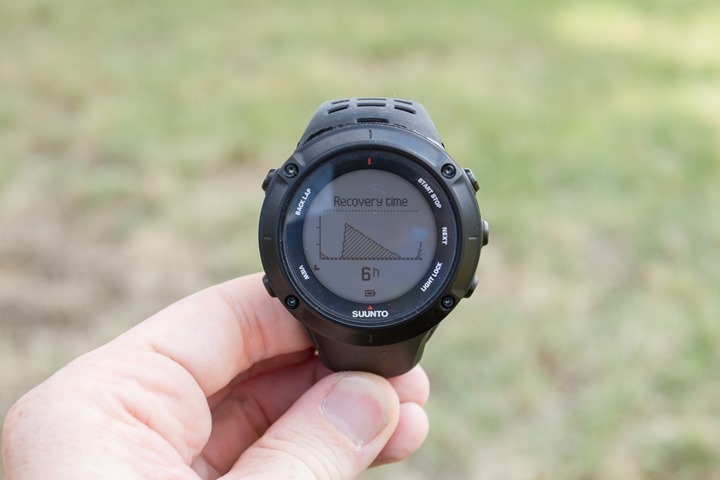 As you can see, it increased the recovery time needed.  Because it was a relatively short swim of only about 2,200yds, it only requires 6 hours of recovery time.
Now back in July in the first look post I offered some thoughts on this, where I noted that I thought the step counter was largely useless.  And to that end, I still believe that.  I can't actually figure out how many steps nor how far (distance) I've walked.  Nor does it track my sleep.  All three of the 'basics' that are covered by even $50 activity monitors.
When I look at other products like the Polar V800, they initially started out without providing exact steps/distance on the device itself, but then Polar noted in a recent meeting with me that they underestimated how much people wanted that information – and thus have gone and added it in via firmware update coming in the next few days.  Of course, in Polar's case they've always provided it both online and via the phone app.
Adding injury to insult in the case of the Ambit3, none of this information is available online via Movescount nor in the connected app.  I can only hope Suunto will follow the rest of the industry here and add this information in that consumers clearly want, especially since I actually rather like their recovery graph seen above – I think it's one of the more clear implementations of training versus recovery.
Smartphone Integration – Workout Sync: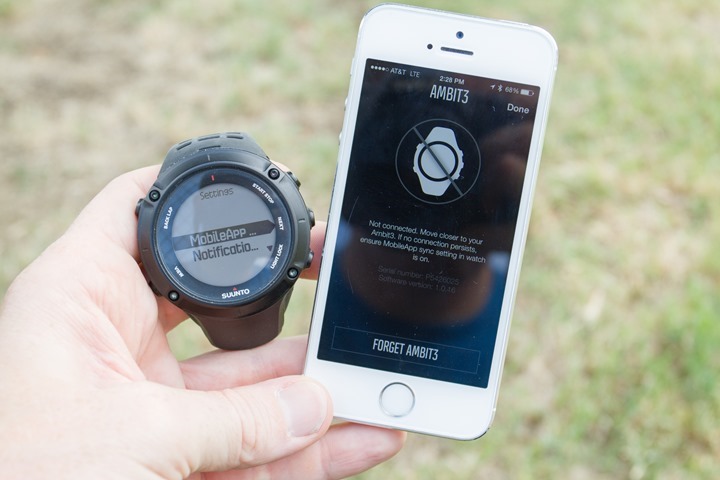 The Ambit3 gains smartphone integration on a number of fronts.  We'll start with the workout sync capabilities, along with that of modifying settings from the phone.  You'll set these up after downloading the Movescount app from the app store.  At present, it's only supported for iOS, with Android set for early 2015.
(Update Feb 1st, 2015: Suunto says that Android support will arrive in April 2015: "Please be informed that Suunto Movescount App for Android will be released this April. Since many customers have been asking for broader Android support than just Lollipop (Android 5.0). We are glad to announce support for Android Jelly Bean (4.3) and KitKat (4.4).")
(Update May 5th, 2015: Suunto has now rolled out their Android App.  Note that you'll need to update the firmware on your Ambit3 first to ensure compatibility.  Full details can be found on their dedicated Android beta site here.)
The app is what enables you to go ahead and sync to the watch, as you can't just wander into the Bluetooth Control panel and set it up there without the app to finalize pieces.  So once you've installed it, go ahead and crack open the Movescount app and get the watch all paired up, and signed into your account.  It only takes a moment.
Once that's done you'll see the details from your Movescount app populate.  Next, let's dive into the Ambit3 by pressing the little gear/settings icon and then selecting Ambit3, which brings you here: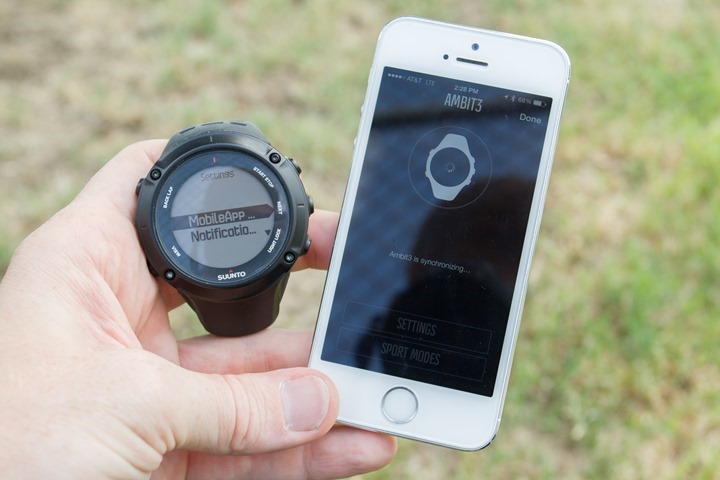 This will begin to connect to the watch and start to download activities.  Like most Bluetooth Smart file transfers (be it Garmin, Polar, or Suunto), the process isn't terribly fast.  But eventually the file will get across.
Once that does so it'll immediately show up in your activity history on the device as well as online on Movescount.  Additionally, if you've configured sync to services like Strava using Movescount, it'll show up in Strava a short bit later too:

Next, you can do some customization of the sport modes.  Specifically, you can change the watch views from the app:
This is handy because you can't do it on the watch itself, just via the phone or your desktop computer.
Once you make a change here it's copied back to the watch the next time you sync the watch (which should happen near immediately after exiting this menu).
Now, the catch is you can't change any other sport mode settings.  Meaning, you can remove/disable sport modes from the device, and you can rename them…and that's it.
And you can edit some generic watch settings like backlight, formatting and the like:
You can't however edit sport mode things like recording rates or such.  However, there is a workaround there.  Instead, you can use the Movescount Mobile website to make these changes (outside the app), and then if you open the app again and sync the watch, it'll actually pull those changes from the website straight to the watch.
This is handy when you realize you've forgotten a setting and are nowhere near your computer.  Of course, at the same time, I'm optimistic Suunto will continue to expand the app to include further configuration settings, thus requiring less reliance on the browser to change functions.
Lastly, I do want to briefly mention a feature I can't quite seem to get working correctly – which is the ability to use the GPS on the Ambit3 in place of the phone's GPS, and then have the phone serve as the primary display.  In my case, no matter how hard I try the phone app just continues to show me in Finland, ironically at the Suunto headquarters by the looks of things.  I suspect it's a new bug, as it's not an issue I saw earlier this summer.
Smartphone Integration – Notifications: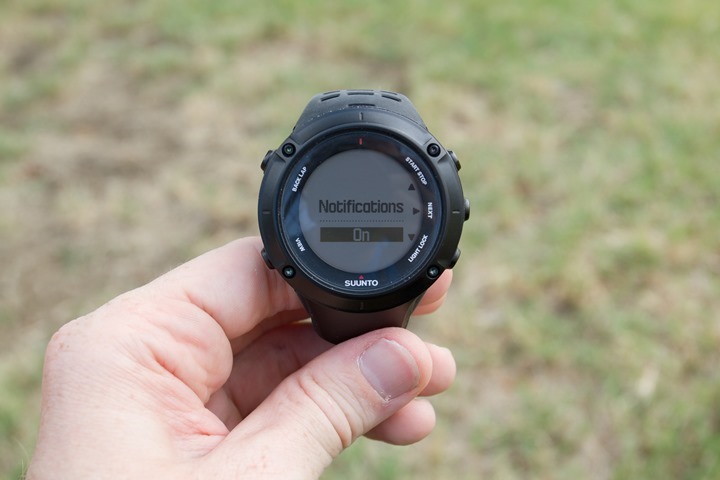 Next up we've got another smartphone feature, notifications.  This allows you to get notifications on your wrist from the notification center.  Again, like the previous feature this is only available on iOS devices, at least until early 2015 when it'll come to Android.
In the case of iOS, the feature partly depends on your notification center settings while at the same time depending on the app, and finally partly depending on your watch.  First, you'll need to configure apps in your notifications center to display alerts.  Obviously choose carefully here since anything you enable for a notification will chirp on your watch.  For example, I don't have e-mail notifications enabled, but do have text messages and Twitter Direct Messages.
Next, you'll need to enable notifications on your Ambit3.  This is done via Options > Connectivity > Notifications = On.
Finally, you'll need to have the Suunto Movescount app running on your phone, with Bluetooth enabled as well.  Again, the app must be running somewhere in the background for notifications to work, and Bluetooth must also be enabled (that part is pretty normal).
This is slightly different than other apps that channel the notifications piece through the iOS notifications center without the need for the app to be running.  I'm not sure it's that big of a deal, but more of an awareness thing.
Assuming that's all setup, then notifications will appear on your device in real-time as soon as they show up on your phone: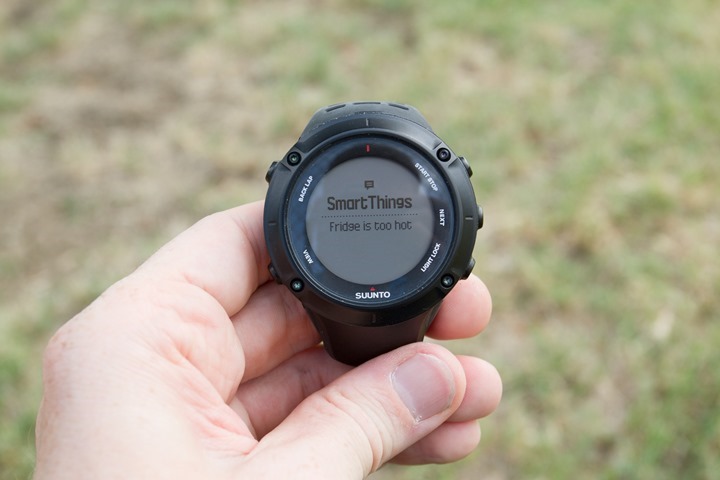 Oddly enough, I actually found this really useful recently while driving and using the iOS Google Maps app, as the directions appeared on my wrist and were quicker to glance at than the Google Maps' screen.
Of course, for many others you'll just want to use this in a day to day mode.  Note that the notifications can queue up, and you can iterate through them – but there isn't any sort of response function.  For example you can't respond to a text message.  Still, I found it quite useful in my day to day life to be able to glance at incoming texts without having to take my phone out of my pocket.
Bluetooth Smart Sensor Support: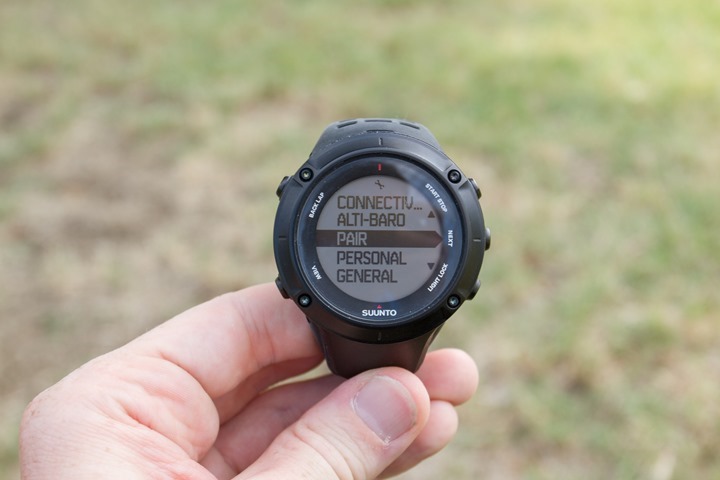 The Ambit3 has adopted Bluetooth Smart as its wireless sensor protocol, replacing ANT+ found on the Ambit1 and Ambit2.  Thus, the Ambit3 supports the following types of sensors:
– Bluetooth Smart Heart Rate Straps
– Bluetooth Smart Cadence-only Cycling Sensors
– Bluetooth Smart Speed-only Cycling Sensors
– Bluetooth Smart Speed/Cadence Only Cycling Sensors
– Bluetooth Smart Power Meters
– Bluetooth Smart Running Footpods
At this point, there are product makers of all of those types of devices, only one of which includes Suunto (the heart rate strap), so the remainder will require purchase of 3rd party sensors (which I'll get to in a moment).  The following sensor types are NOT supported:
– ANT+ sensors (of any type)
– Bluetooth legacy sensors (of any type)
– Nike sensors (of any type)
– Polar WIND sensors (of any type)
– Previous generation Suunto sensors (of any type)
All of these earlier written supported Bluetooth Smart sensor types can then be displayed during the activity itself.  You'll need to remember to configure your data pages to show the type of data from the sensor your using.  For example, if using a power meter remember to configure power meter sensors online using the website and then sync'ing it to the watch:

Once that's done you can see the data on the data pages on the watch.  Similarly, afterwards you'll get sensor data displayed on your charts within Movescount (either on the phone or website):

Now, there's a lot of 3rd party Bluetooth Smart sensors on the market today, mostly in the heart rate category – but also in the cycling speed/cadence sensor world as well as the running stride sensor world.  I've been doing a lot of testing over the past few months with different sensors, but in order to ensure I was up to date I went back this past weekend through a large swath of sensors and did some testing on them with the Ambit3.  Here's the results:

As you can see, things are pretty rough.  In some cases it may be the sensor's fault, and in others it may be Suunto's fault.  I believe most of the heart rate ones are actually Suunto's fault, because they appear to be enforcing the use of RR/HRV on the heart rate strap – which isn't required to be transmitted per the Bluetooth Smart specifications.  Whereas I think some of the zero-value speed ones on cadence sensors are a combination of fault.  In those cases those companies are transmitting zero-value speeds which overrides GPS speed.  While companies like Garmin and soon Polar will simply ignore this and use the correct speed value, Suunto isn't doing that here.
Of course, I expect the results of the chart to change and update over time.  For example, Wahoo will be pushing out a firmware update any day now that disables the zero-value speed on the Wahoo RPM, so that might fix that.  And Suunto says they're working on an update as well from their side.  I'll continue to try and update the above chart for a bit, but would be happy for readers to provide sensor compatibility notes in the comments, which I'll update above.  That's because it's simply not feasible for me to validate all those sensors every time Suunto releases a new firmware update.
At this point, I think Suunto would have been better off going with a dual ANT+/Bluetooth Smart strategy.  That would have put them in the premier position when it comes to protocol support, since nobody else supports both in a triathlon watch today.  Further, because the unit is so heavily triathlon focused and because so much of the existing triathlon sensor world is on ANT+ today (especially cycling), I think they may have jumped ship just a bit too soon.
It's one thing to jump ship when the ship your landing on is better, but at this point Suunto's support of 3rd party sensors leaves much to be desired.
Product Comparisons:
I've added the Ambit3 to the Product Comparison Tool, which means you can mix and match it against any other watch's/unit's that I've ever reviewed for feature comparisons.
For the sake of simplicity, I've just selected the Suunto Ambit3, Ambit2, Polar V800, Garmin Fenix2.  However, you can easily make your own chart with any device you want here at this link.
Function/Feature

Suunto Ambit3 Peak
Suunto Ambit2
Garmin Fenix2/Fenix2 SE
Polar V800
Copyright DC Rainmaker - Updated April 29th, 2021 @ 5:01 am New Window
Price
$499
$319
$399
$449
Product Announcement Date
July 10th, 2014
APR 29, 2013
Feb 20, 2014
Jan 6th, 2014
Actual Availability/Shipping Date
Sept 2014
May 2013
March 2014
May 2014
GPS Recording Functionality
Yes
Yes
Yes
Yes
Data Transfer
USB & Bluetooth Smart
USB
USB/Bluetooth Smart
USB, BLUETOOTH SMART
Waterproofing
Yes - 100m
Yes - 100m
Yes - 50m
Yes - 30m
Battery Life (GPS)
Up to 200 Hours
50 hours
50 Hours
Up to 50 hours
Recording Interval
Variable
Variable
1S to Variable
1s
Alerts
Sound/Visual
Sound/Visual
Vibrate/Sound/Visual
Vibrate/Sound/Visual
Backlight Greatness
Great
Great
Great
Great
Ability to download custom apps to unit/device
Yes
Yes
No
No
Acts as daily activity monitor (steps, etc...)
Minimal
No
No
Yes

Music

Suunto Ambit3 Peak
Suunto Ambit2
Garmin Fenix2/Fenix2 SE
Polar V800
Can control phone music
No
No
Has music storage and playback
No
No
Streaming Services
No

Payments

Suunto Ambit3 Peak
Suunto Ambit2
Garmin Fenix2/Fenix2 SE
Polar V800
Contactless-NFC Payments
No

Connectivity

Suunto Ambit3 Peak
Suunto Ambit2
Garmin Fenix2/Fenix2 SE
Polar V800
Bluetooth Smart to Phone Uploading
Yes
No
Yes
Yes
Phone Notifications to unit (i.e. texts/calls/etc...)
Yes
No
Yes
Yes
Live Tracking (streaming location to website)
No
No
Yes
No
Group tracking
No
No
Emergency/SOS Message Notification (from watch to contacts)
No
No
No
No
Built-in cellular chip (no phone required)
No
No
No
No

Cycling

Suunto Ambit3 Peak
Suunto Ambit2
Garmin Fenix2/Fenix2 SE
Polar V800
Designed for cycling
Yes
Yes
Yes
Yes
Power Meter Capable
Yes
Yes
Yes
Yes
Power Meter Configuration/Calibration Options
Yes
Yes
Yes
Yes
Power Meter TSS/NP/IF
No
No
Yes
NP
Speed/Cadence Sensor Capable
Yes
Yes
Yes
Yes
Strava segments live on device
No
Yes
Crash detection
No
No

Running

Suunto Ambit3 Peak
Suunto Ambit2
Garmin Fenix2/Fenix2 SE
Polar V800
Designed for running
Yes
Yes
Yes
Yes
Footpod Capable (For treadmills)
Yes
Yes (internal accelerometer)
Yes
Yes
Running Dynamics (vertical oscillation, ground contact time, etc...)
No
No
Yes
No
Running Power
With extra sensor
VO2Max Estimation
Yes
Yes
Yes
Yes
Race Predictor
No
No
Yes
Yes, via Race Pace
Recovery Advisor
Yes
Yes
Yes
Yes
Run/Walk Mode
No
No
Yes (Added June 13th, 2014)
Yes, via timers

Swimming

Suunto Ambit3 Peak
Suunto Ambit2
Garmin Fenix2/Fenix2 SE
Polar V800
Designed for swimming
Yes
Yes
Yes
Yes
Openwater swimming mode
Yes
Yes
Yes
Yes
Lap/Indoor Distance Tracking
Yes
Yes
Yes
Yes
Record HR underwater
Yes
No
No
With Certain Polar Straps
Openwater Metrics (Stroke/etc.)
Yes
Yes
Yes
Yes
Indoor Metrics (Stroke/etc.)
Yes
Yes
Yes
Yes
Indoor Drill Mode
Yes
Yes
Yes
No
Indoor auto-pause feature
No
No
No
Yes
Change pool size
Yes
Yes
Yes
Yes
Indoor Min/Max Pool Lengths
15m/y to 1,200m/y
15m/y to 1,200m/y
18m/20y to 150y/m
20M/Y to 250 m/y
Ability to customize data fields
Yes
Yes
Yes
Yes
Captures per length data - indoors
Yes
Yes
Yes
Yes
Indoor Alerts
No
No
Yes
N/A

Triathlon

Suunto Ambit3 Peak
Suunto Ambit2
Garmin Fenix2/Fenix2 SE
Polar V800
Designed for triathlon
Yes
Yes
Yes
Yes
Multisport mode
Yes
Yes
Yes
Yes

Workouts

Suunto Ambit3 Peak
Suunto Ambit2
Garmin Fenix2/Fenix2 SE
Polar V800
Create/Follow custom workouts
No
No
Yes
Yes
On-unit interval Feature
Barely
Barely
Yes
Yes
Training Calendar Functionality
No
No
Yes (Added June 13th, 2014)
Yes

Functions

Suunto Ambit3 Peak
Suunto Ambit2
Garmin Fenix2/Fenix2 SE
Polar V800
Auto Start/Stop
Yes
Yes
Yes
Yes
Virtual Partner Feature
No
No
Yes
Yes
Virtual Racer Feature
No
No
No
No
Records PR's - Personal Records (diff than history)
No
No
No
No
Tidal Tables (Tide Information)
No
No
No
No
Weather Display (live data)
No
No
No
No

Navigate

Suunto Ambit3 Peak
Suunto Ambit2
Garmin Fenix2/Fenix2 SE
Polar V800
Follow GPS Track (Courses/Waypoints)
Yes
Yes
Yes
Yes
Markers/Waypoint Direction
Yes
Yes
Yes
Yes
Routable/Visual Maps (like car GPS)
No
No
No
No
Back to start
Yes
Yes (added Aug 30, 2013)
Yes
Yes
Impromptu Round Trip Route Creation
No
No
No
No
Download courses/routes from phone to unit
Yes
No
Yes
Yes

Sensors

Suunto Ambit3 Peak
Suunto Ambit2
Garmin Fenix2/Fenix2 SE
Polar V800
Altimeter Type
Barometric
Barometric, GPS (FusedAlti)
Barometric
Barometric
Compass Type
Magnetic
Magnetic
Magnetic
Magnetic
Optical Heart Rate Sensor internally
No
No
Heart Rate Strap Compatible
Yes
Yes
Yes
Yes
ANT+ Heart Rate Strap Capable
No
Yes
Yes
No
ANT+ Speed/Cadence Capable
No
Yes
Yes
No
ANT+ Footpod Capable
No
Yes
Yes
No
ANT+ Power Meter Capable
No
Yes
Yes
No
ANT+ Lighting Control
No
No
ANT+ Bike Radar Integration
No
No
ANT+ Trainer Control (FE-C)
No
No
ANT+ Remote Control
No
No
No (can control VIRB though)
no (but can control GoPro)
ANT+ eBike Compatibility
No
No
No
No
ANT+ Gear Shifting (i.e. SRAM ETAP)
No
No
Shimano Di2 Shifting
No
No
No
No
Bluetooth Smart HR Strap Capable
Yes
No
No
Yes
Bluetooth Smart Speed/Cadence Capable
Yes
No
No
Yes
Bluetooth Smart Footpod Capable
Yes
No
No
Yes
Bluetooth Smart Power Meter Capable
Yes
No
No
Yes
Temp Recording (internal sensor)
Yes
Yes
Yes
Yes
Temp Recording (external sensor)
No
No
Yes
No

Software

Suunto Ambit3 Peak
Suunto Ambit2
Garmin Fenix2/Fenix2 SE
Polar V800
PC Application
Moveslink Agent
Moveslink Agent
Garmin Express
Polar Flowsync - Windows/Mac
Web Application
Suunto Movescount
Movescount
Garmin Connect
Polar Flow
Phone App
iOS/Android
Suunto Movescount
iOS/Android
iOS/Android
Ability to Export Settings
No
Yes (online)
No
No

Purchase

Suunto Ambit3 Peak
Suunto Ambit2
Garmin Fenix2/Fenix2 SE
Polar V800
Amazon
Link
Link
Link
Link

DCRainmaker

Suunto Ambit3 Peak
Suunto Ambit2
Garmin Fenix2/Fenix2 SE
Polar V800
Review Link
Link
Link
Link
Link
The tables are updated dynamically and thus if/when things change that's represented automatically in this section.  And again, remember you can create your own charts easily here with any product you'd like.
Summary: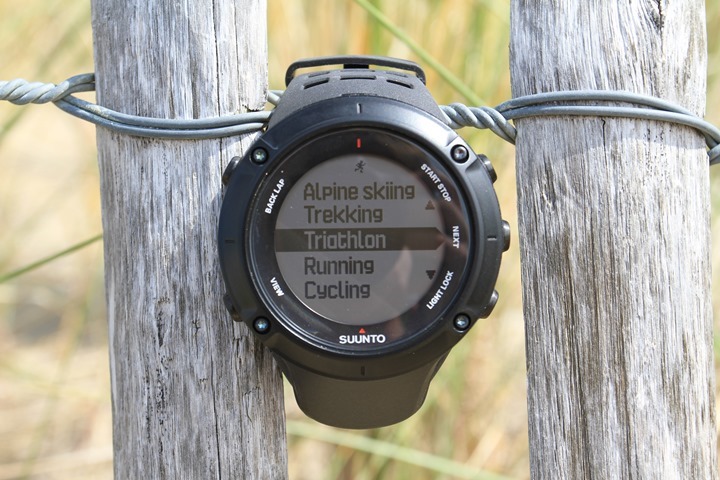 Overall, this is a 'complicated' one.  On one hand Suunto's incremental upgrades of the Ambit3 over the Ambit2 are largely well executed without impacting previous functionality.  So in many ways the greatness of the Ambit2 is still there, just with a small layer of the new stuff on top – such as heart rate while swimming.  Or the doubling of the internal storage.
Yet on the other hand they also seem to fall short of what others are doing and/or expected to do.  For example, the activity tracker lacks actual activity tracker stats.  And then there's pieces that many Suunto users had really hoped would be implemented, such as vibration alerts, that didn't make the cut and would require a hardware change – which certainly won't happen in this edition.
Of course, for the triathlete the Bluetooth Smart sensor implementation may be the most challenging to swallow.  It's not actually the shift from ANT+ that's the bottleneck here, but rather, the implementation of so many 3rd party Bluetooth Smart sensors in the market that simply don't work properly on the Ambit3.
In many ways, I do wonder a little bit if Suunto jumped the gun on a release here with the Ambit3.  Meaning that while releasing the Ambit3 this summer on roughly their annual schedule, I'm not sure it was really necessary.  They had a very solid product in the marketplace already, and it seems like it may have been wiser to wait and to see how the competition worked itself out over the fall to then leapfrog it early next spring.  I feel like at this point the hardware might not really really be suitable for leapfrogging competitors, no matter how many software improvements are there.  But then again, perhaps I'll be wrong.
Found this review useful? Or just wanna save a bundle of cash? Here's how:
Hopefully you found this review useful. At the end of the day, I'm an athlete just like you looking for the most detail possible on a new purchase – so my review is written from the standpoint of how I used the device. The reviews generally take a lot of hours to put together, so it's a fair bit of work (and labor of love). As you probably noticed by looking below, I also take time to answer all the questions posted in the comments – and there's quite a bit of detail in there as well.
I've partnered with Clever Training to offer all DC Rainmaker readers an exclusive 10% discount across the board on all products (except clearance items). You can pickup the Suunto Ambit3 variants below. Then receive 10% off of everything in your cart by adding code DCR10BTF at checkout. By doing so, you not only support the site (and all the work I do here) – but you also get a sweet discount. And, since this item is more than $75, you get free US shipping as well.
Suunto Ambit3 Sport (select dropdown for HR strap/colors)
Suunto Ambit3 Peak (select dropdown for HR strap/colors)
Additionally, you can also use Amazon to purchase the Suunto Ambit3 and accessories (though, no discount). Or, anything else you pickup on Amazon helps support the site as well (socks, laundry detergent, cowbells). If you're outside the US, I've got links to all of the major individual country Amazon stores on the sidebar towards the top.
Thanks for reading! And as always, feel free to post comments or questions in the comments section below, I'll be happy to try and answer them as quickly as possible.