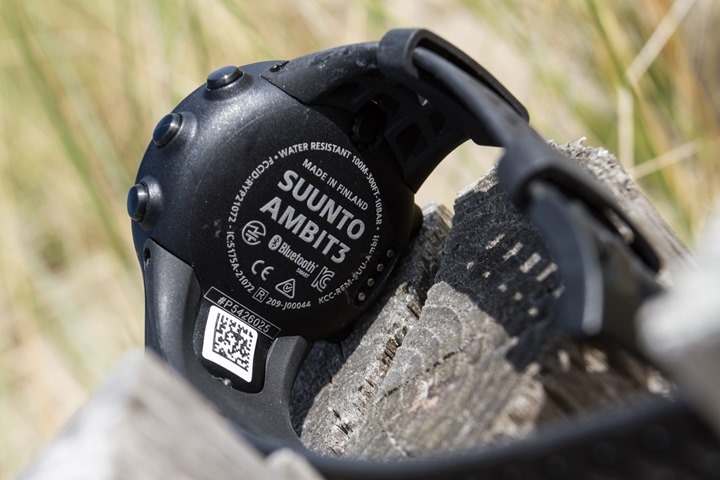 (My Ambit3 Full In-Depth Review is now published!  Swing on over to that post for all the full details and analysis!)
This morning Suunto has announced their latest endurance and multisport watch, the Suunto Ambit3.  The watch incrementally builds on previous generations of the Ambit in what has been a roughly 12-16 month release cycle for the company.  The Ambit3 when it's available in September 2014 will add mobile phone integration such as workout uploading and smartphone notifications, while also including support for Bluetooth Smart sensors and heart rate while swimming.
I've been using a few beta units of the Ambit3 for a fair bit of time now and thus have a good understanding of many of the new areas.  But because the watch and the mobile app experience are still very much beta (almost two months until public availability), please do understand this isn't a review.  It's more of a 'preview of new things' coming.  As such, things could change.  They could get better, or, they could get worse – that's the nature of beta.  Historically speaking however Suunto actually is one of the stronger companies when it comes to releasing relatively bug-free software.  Further, they have a nearly perfect record for releasing products and firmware updates on time per the dates they've set (unlike most all of their competitors).  Thus, I remain optimistic on their ability to execute here.
With that said, let's dive into what's new and notable.  In my final In-Depth Review (which would be in early September), I'll cover all the regular stuff that's not new.  But as a general rule of thumb everything from the Ambit2 is available in the Ambit3 (unless noted below).
The Hardware & New HR Strap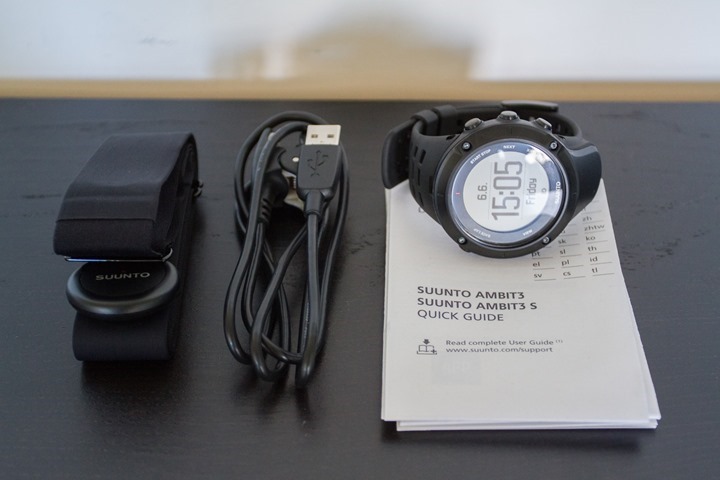 At first glance you may be wondering if I mistakenly took photos of an older Ambit and not the Ambit3.  But in reality the external hardware is actually virtually indistinguishable from past units.  It's the internals that have been tweaked.  Most notably, the addition of a Bluetooth Smart chipset to replace the ANT+ chipset that was in there.  Further, they have roughly doubled the internal storage capacity.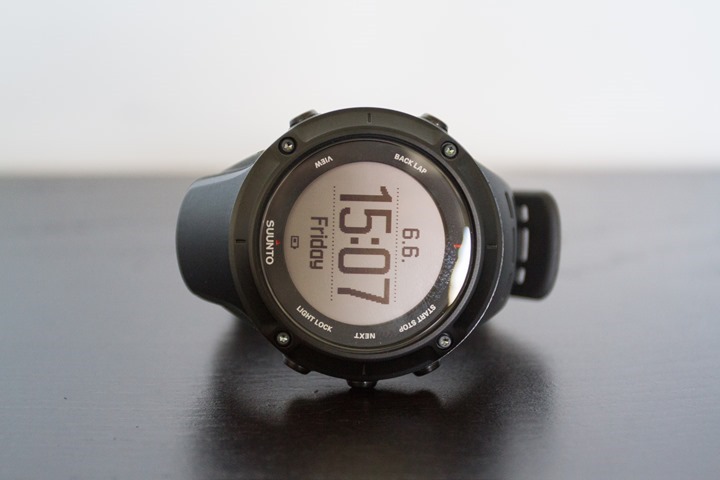 It's this Bluetooth Smart chipset that enables connectivity to the phone, as well as Bluetooth Smart sensors.  Though, that does come at the cost of lack of connectivity to ANT+ accessories.
Beyond that the unit is identical to past units.  For example, there is no new vibration motor (for vibrating alerts), nor shifts in storage capacity (Update: Suunto has corrected to say it's roughly a doubling of capacity in the Ambit3) – both common complaints about both first and second generation Ambit units.
In addition to the Ambit3 watch, Suunto is also releasing a new heart rate strap, which is substantially smaller in the pod-department than their previous strap: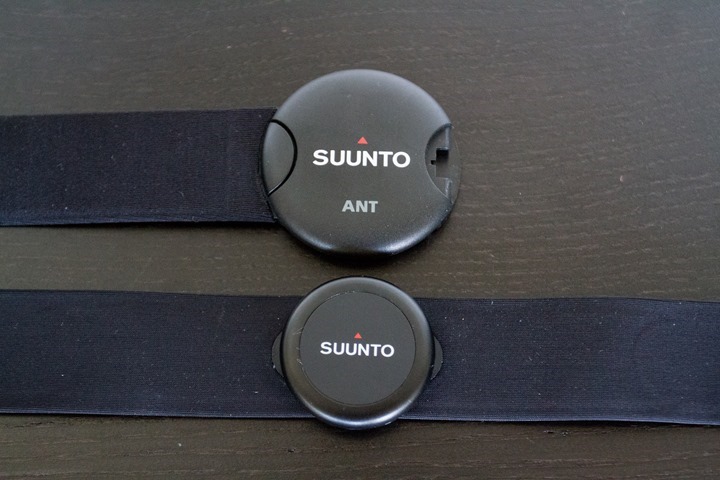 This new strap is different in a few ways.  First is that it's Bluetooth Smart (rather than Suunto ANT like previous straps).  This means it can connect to Bluetooth Smart capable devices (including the Ambit3), such as phone apps or 3rd party devices.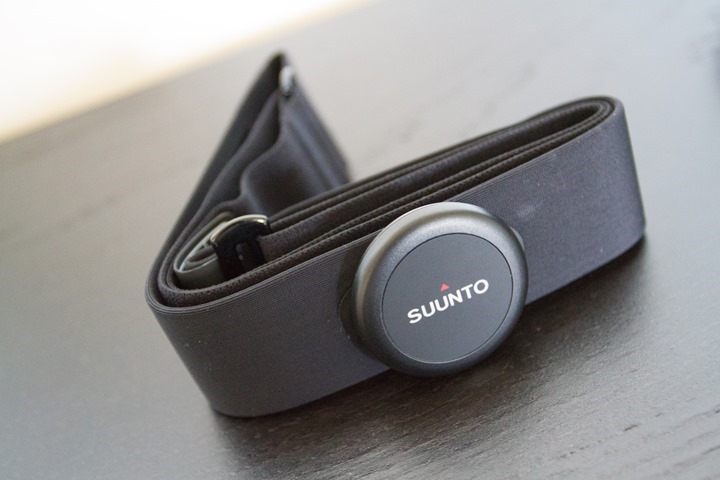 Second, the strap has a totally new connection design between the pod and the strap.  Suunto hopes to make this a bit of an industry standard.  Though, at the moment it appears to be just them (everyone else is using a slightly different standard with wider connection points).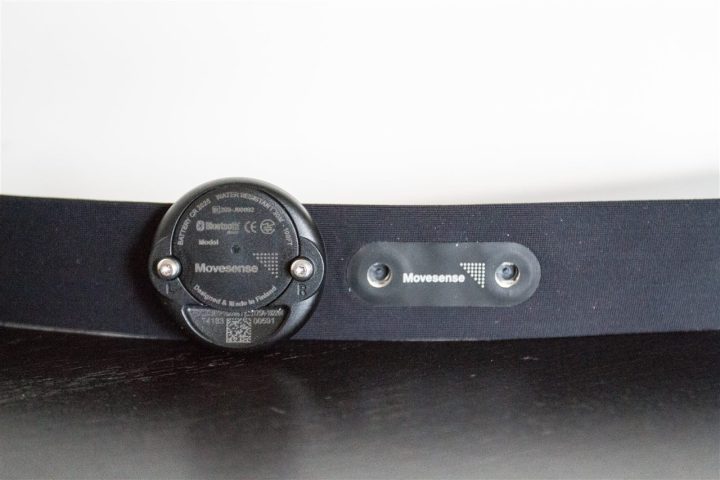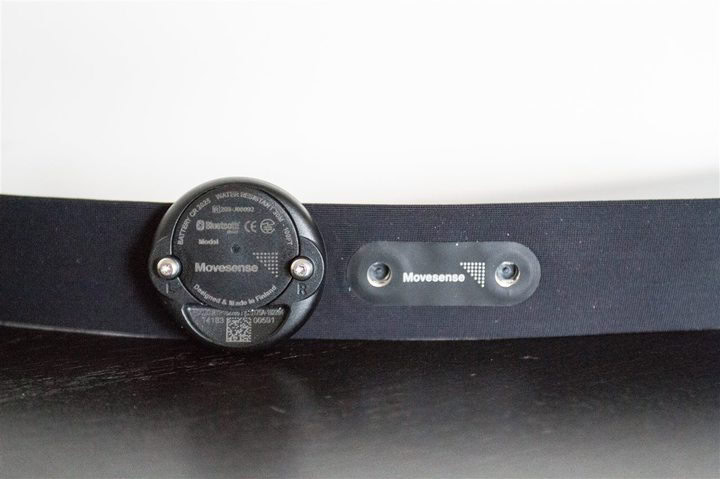 But the real secret to the strap is that it's able to store data while you're swimming.  I'll dive into this capability later in the swimming section, but the unit is able to store heart rate data while swimming and then automatically re-sync that data in a few seconds when it comes back within range of the watch.
The New Features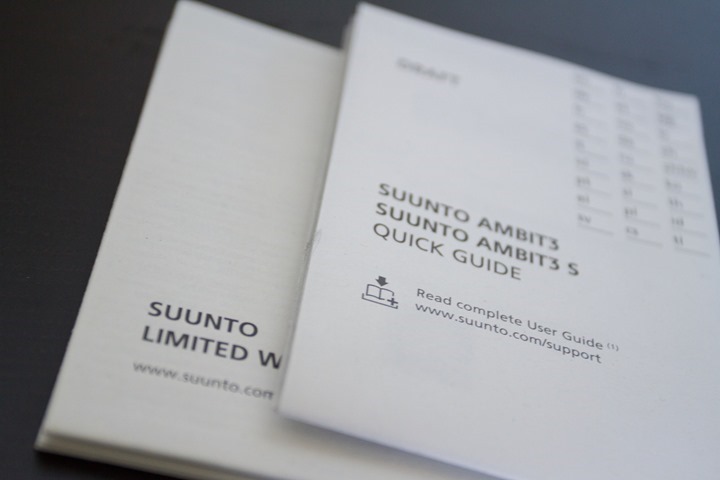 Now that we've covered the hardware side, let's talk on the software pieces.  As you'll see – that's where all the new goodness hangs out.  In order to keep things simple I'm going to provide a bulleted list here, and then I'll walk through these features in more detailed sections below.
– Heart Rate While Swimming
– Bluetooth Smart Sensor Support (Power/Speed/Cadence/Heart Rate)
– Daily Activity Monitoring (aka activity tracker)
– Smartphone Workout Uploads
– Smart Phone Notifications (i.e. calls/texts/Facebook/etc…)
– Ability to use Ambit3 GPS as source for phone display (i.e. on bike handlebars)
As you can see, lots there – but especially lots on the mobile side.
The singular item that was removed however is ANT+ sensor support.  The unit does not include ANT+ support.  They decided that for the modes they were looking to utilize it would have required two chips being in the unit (a separate one for ANT+ and one for Bluetooth Smart) – which would have required additional architecture/battery considerations.  I'll cover some of my sensor thoughts in the Bluetooth Smart section below though on this.
While there's a ton of new features coming, it isn't however a complete overhaul of the watch.  Areas like the display/screen, look and feel, and core functionality of the watch actually don't shift dramatically from the Ambit2.  It's in many ways easiest to think of it as an Ambit2 with Bluetooth Smart and a whole bunch of cool phone-connected features.  Well, except heart rate while swimming – that's device-centric, new, and cool.
Swimming Heart Rate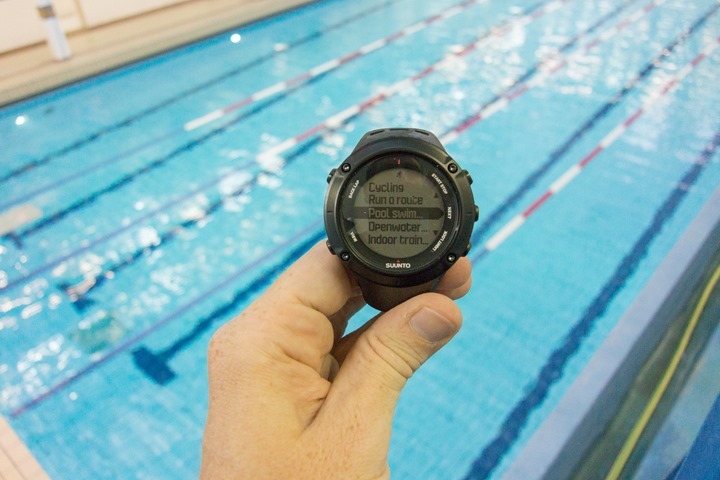 The Ambit3 introduces the ability to track heart rate while swimming.  It does this in conjunction with the new Suunto heart rate strap that enables storage of your heart rate while underwater.  The strap then will burst transmit the stored data to the watch when it can get back in range.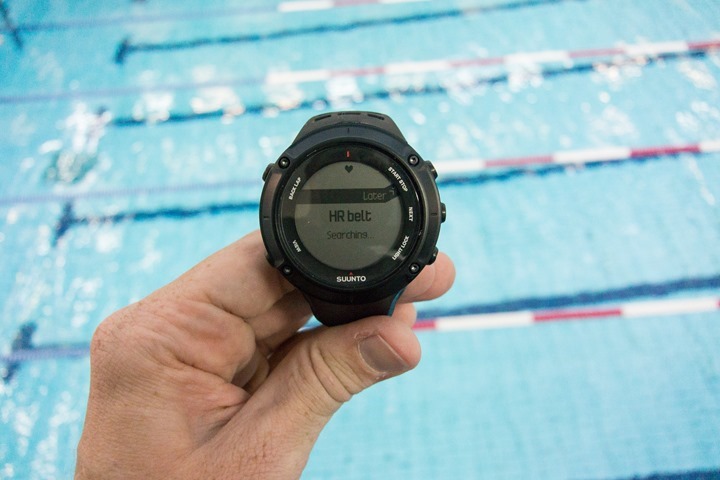 See, neither ANT+ nor Bluetooth Smart can transmit more than a few centimeters (an inch or so) underwater.  The signal simply doesn't work (unlike older analog signals used in some products).  So by Suunto moving to a store and forward method it can catch-up your heart rate data anytime you come back to the wall of a pool (such as below).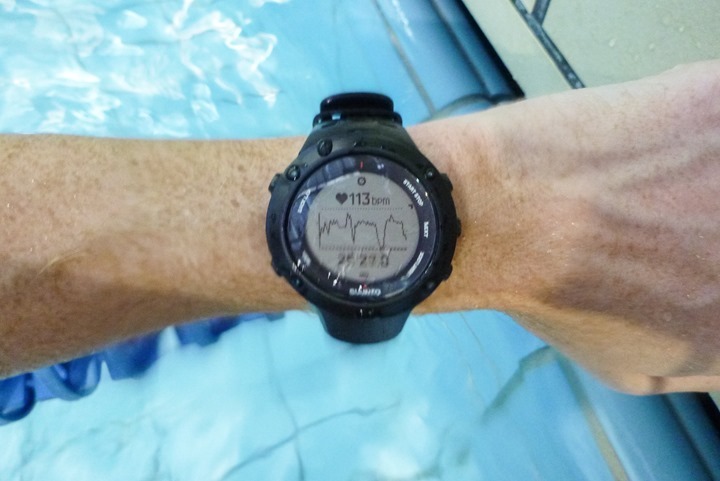 While swimming the data generally won't be up to date, it'll just show your last heart rate value on the watch.  I found that sometimes I'd get lucky and if I placed the unit slightly to the left on my chest it'd actually catch-up every few laps (not stopping) and I'd get an updated heart rate value.  But for the most part it only caught up at the end of the set when I stopped and put the two close together (either above or below water).
What's cool is it then actually draws out your heart rate (if you have the graph view enabled) on the watch – just like an etch-a-sketch.  It takes about 1 second per 1-minute of heart rate data to draw.  Here's a fun little video I shot last night of it.  Sorry it's fuzzy, the pool lady was yelling at me to hurry up and get out of the pool at closing time.
This data is then available post-swim on Movescount, where it'll show up just like heart rate on any other activity: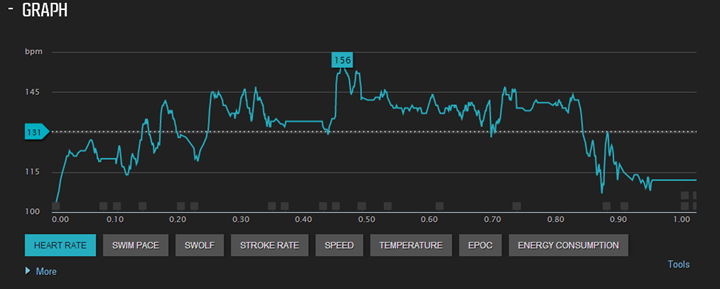 (Note: You'll see a few cases of where the data dropped and it flat-lines, that's where I didn't realize the HR strap had flipped over due to water pressure as discussed in a moment.)
And all of that it time-sync'd to your actual swim lap metrics as well.  Thus making the Ambit3 the only watch on the market today that can do both swim lap/distance/stroke metrics and heart rate recording.  Down the road the Polar V800 will also do the same as well once they implement swim lap/distance/stroke tracking metrics.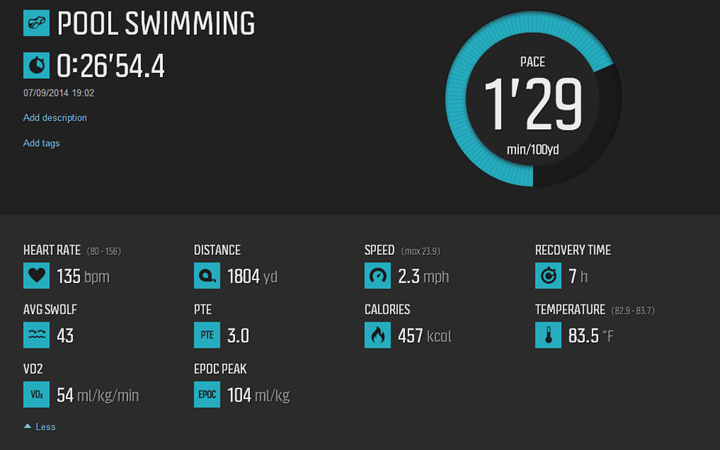 Now, the only catch here remains the actual heart rate strap.  I've always had issues with keeping the heart rate strap on my chest while swimming.  In particular when I push off the wall, it often ends up down by my waist.  No matter how hard I tighten it.  I've tried putting it on my back, twisting the fabric, all the usual tricks.  In the case of the above swim I was fixing it every few laps and pushing off very gently (not realistic).
For women that's not a problem because your swimsuit top tends to keep it in place, but for guys it can be tough. And no, I refuse to wear a top at the pool while swimming – there's enough antics in my usual pool as it is without me adding to it.
Finally, note that the swim support will work just the same in openwater.  Except there you won't get a HR 'update' mid-swim unless you stop to let it sync.  Still, it'll easily record everything from your outdoor swim (including a map) for later access online.
Bluetooth Smart Sensor Support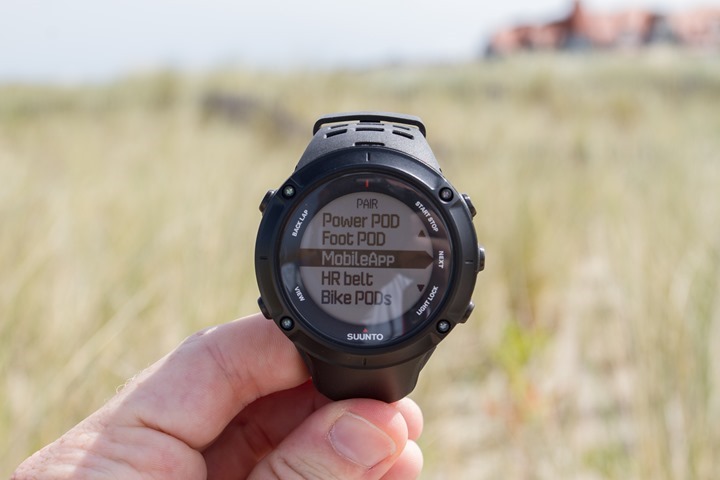 The Ambit3 swaps out the ANT+ sensor of the Ambit1/Ambit2 for a Bluetooth chipset, enabling it to connect to Bluetooth Smart sensors that adhere to the Bluetooth Smart standardized device profiles for sensors.  This means that it can connect to the following Bluetooth Smart sensors/accessories:
– Bluetooth Smart Heart Rate Straps
– Bluetooth Smart Cadence-Only Cycling Sensors
– Bluetooth Smart Speed/Cadence Only Cycling Sensors
– Bluetooth Smart Power Meters
– Bluetooth Smart Running Footpods
There are a number of companies that make devices in each of these categories, from Wahoo Fitness to Stages to PowerTap to Mio, Scosche and many more.  As part of my in-depth review I'll include a compatibility chart for what I've tested myself as far as 3rd party sensors go.  To date I've done testing with the Wahoo cadence sensors and a variety of heart rate straps.  And my updated PowerTap cap with Bluetooth Smart just arrived in, so I'll be trying that out soon too.
Below for example is a workout showing cadence (upper portion in white) using the Wahoo RPM2 with the Suunto Ambit3, all via Bluetooth Smart.  The workout was a brick, hence why I've just selected the first portion that was bike-specific.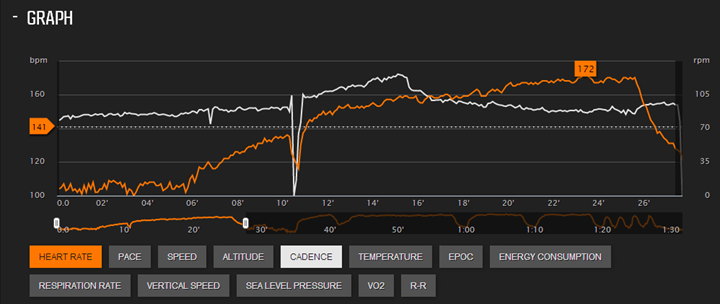 Of course, those with ANT+ will be left out in the cold here.  The Ambit3 doesn't contain ANT+ support for sensors, which means neither your existing ANT+ (3rd party) sensors nor even existing Suunto-ANT sensors will work.  Said differently: No previous Suunto sensors will work with the Ambit3.
Now in my discussions with Suunto I made it clear that this was a pretty big deal – especially for triathletes.  And in theory they have two paths to address this.  The first is to partner with someone like 4iiii's and ensure that Viiiiva compatibility will solve the problem.  The Viiiiva can act as a bridge between ANT+ devices and Bluetooth Smart watches like this.  It sorta-works for certain combinations today with the Bluetooth Smart-only Polar V800.  But it's not perfect and there are many holes.  That requires both companies to work together to address at least the most common scenarios.
The second option is that Suunto could do something similar themselves using the heart rate strap they will ship with the Ambit3, which contains the latest chipsets that are capable of running dual ANT+/Bluetooth Smart (to be clear, the heart rate strap is capable, not the watch).  Thus they could build that capability into their own strap, which would instantly give them complete control over compatibility and also give them without question the most versatile triathlon watch combination on the market that appeals to the broadest possible audience.  I know what I would do if I was in their shoes…
Smartphone Integration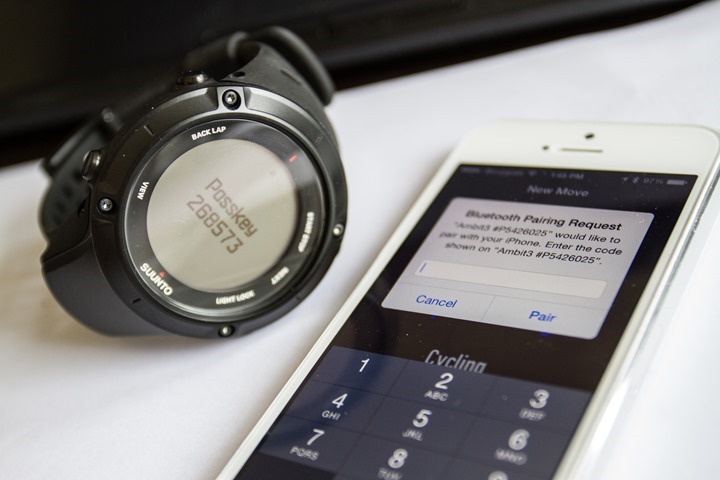 With the addition of Bluetooth Smart to the unit the Ambit3 gains connectivity straight to your phone.  In doing so they've opened up a number of different scenarios for phone integration with the Ambit3.  Some of these areas are 'common' to what we've seen in other watches (such as uploading workouts), yet others are entirely new takes on ideas, like using the GPS from the device and the phone as the data screen.  In order to cover all the concepts I've divided them up into a few sub-sections below.
Note: As of July 2014, Suunto will be making the iOS app available upon release for compatible Bluetooth 4.0 devices (iPhone 4S and higher).  For Android, they are targeting "2015", but haven't specified at this point if it'll be January 2015 or December 2015.
Uploading Completed Workouts/Settings Configuration: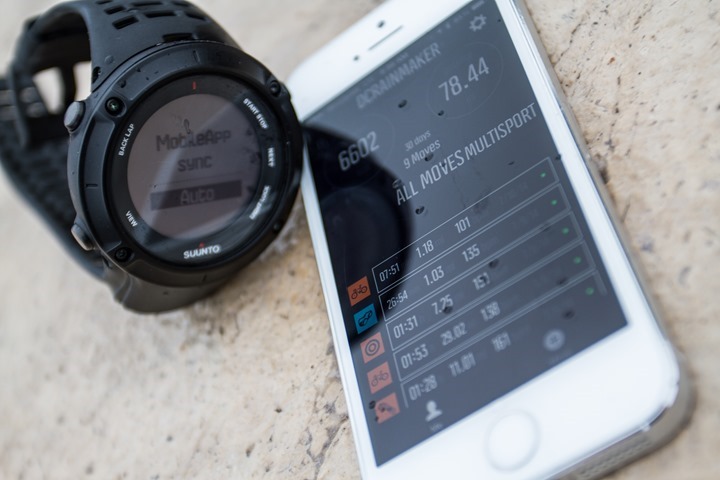 (Preemptive note: All these screenshots are BETA level, and unfinished.  Think of it like a strawman without the clothes.  They haven't added the layer of 'pretty' yet.)
First up is the most common of tasks, which is the automatic uploading of completed workouts via Bluetooth Smart to your phone (and then onwards to Movescount online).  Like numerous other watches on the market the unit will transfer completed workouts via Bluetooth Smart from the watch to the phone.  The length of time it takes for this to complete varies a bit, but usually about 30-60 seconds depending on how many sensors you might have paired and the length of the ride.
A few moments later this information then shows up on Movescount, the online site from Suunto that acts as your training log.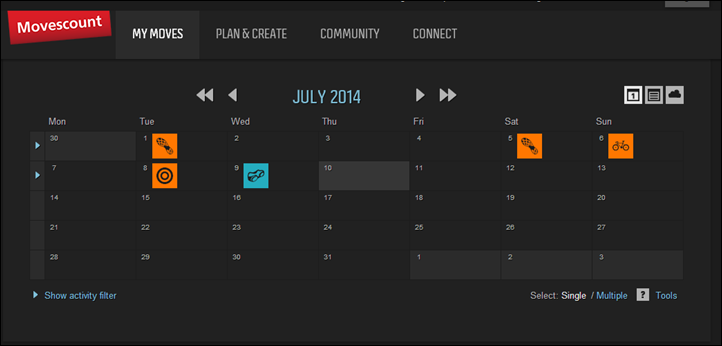 And because Suunto recently added automatic synchronization to Strava, your workouts will near-immediately show up on Strava as well:

Next, you can configure sport profiles and settings from the app.  This allows you to decide which sports show up on the Ambit3, and the settings for those different sports.  Further, you can configure global watch settings like languages as well in here.
Even better is that you can also tweak display field settings directly from the app.  So I can configure and change data pages and what metrics are shown on any of the sport profiles:
Because the app isn't quite finished yet it's unclear how deep the settings will go in terms of sports configuration on the app itself (for example things like recording time).  However, what's cool is that you can actually use the Movescount mobile version of the website to tweak any 'non-included' settings – and then that gets immediately pushed back to your Ambit3 as soon as you press sync again (all wirelessly via your phone).  I actually just did that tonight standing poolside at the swimming pool after I remembered I needed to change a setting.  Took all of a few seconds.
Smartphone Notifications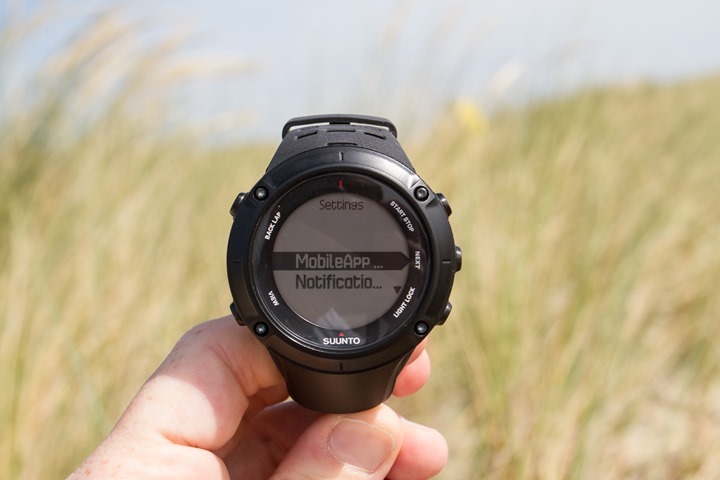 Next the Ambit3 will display smartphone notifications when within range of your phone.  These notifications can include text message notifications, incoming phone call notifications and anything else that uses the notification center.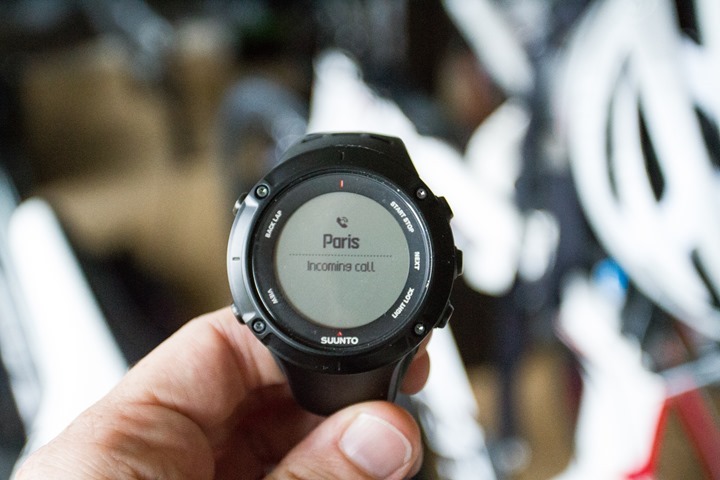 For example, here's a notification that an incoming message just arrived: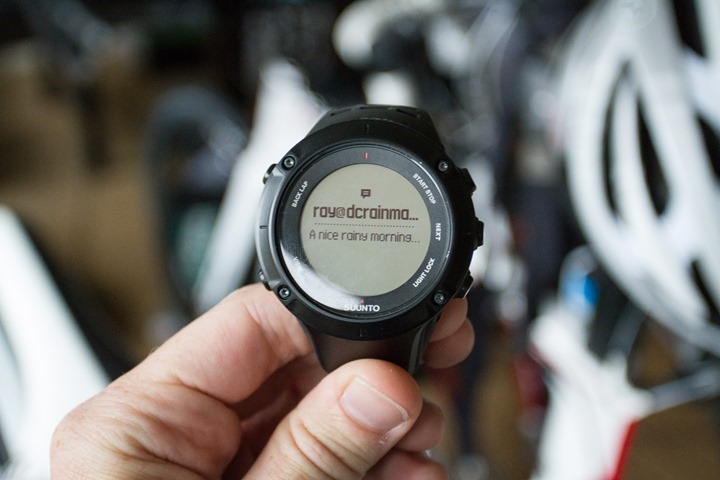 Now the notifications are just that – notifications – they aren't actionable other than dismissing them.  Meaning you can't answer the phone call or do anything from there.
The notifications can be set to 'On' or 'Off', and will simply chirp (if audio alerts are enabled) when a new notification comes in.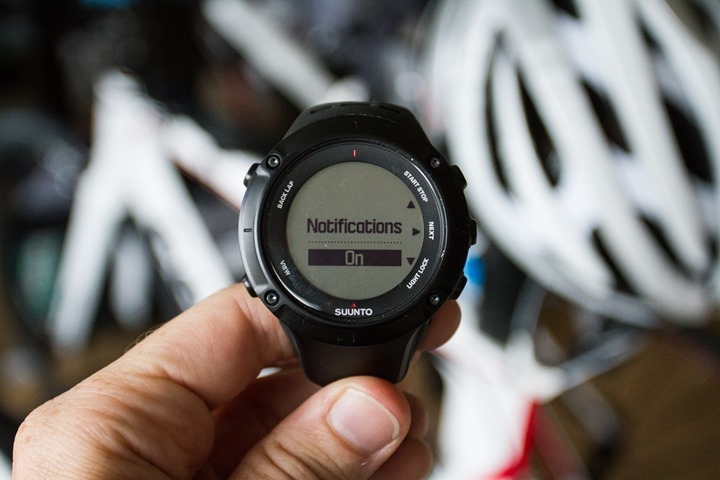 This is similar to how the Fenix2 works, with the only difference being that this doesn't impact one's ability to record sensor data.  Note that I don't yet have a clear idea of the battery life impact here.  I'll be doing some testing as they get closer to final release.  But it definitely appears far better than the Fenix/Fenix2 in terms of me having left notifications enabled on one unit that's been sitting off to the side of my desk for days now with notifications enabled and it doesn't seem upset in the battery department.
Using the phone as a display: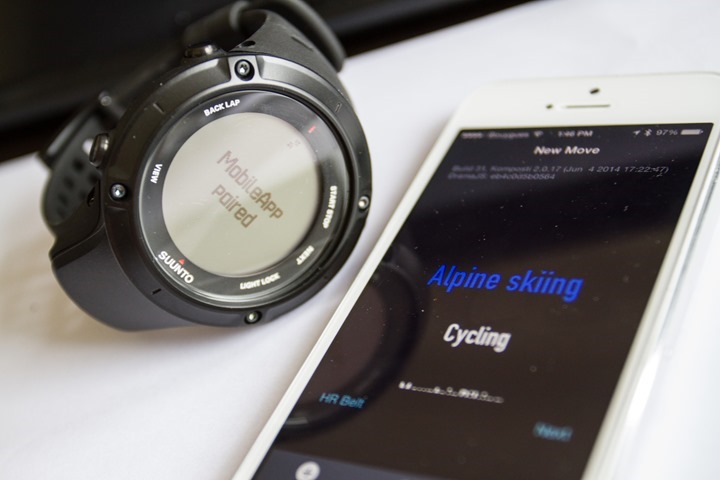 Next we have one of the most 'unique' features on the Ambit3, which is the ability to link it to a smart phone and have the phone act as the display.  This is actually the exact opposite of what most companies are doing with smart watches, where the watch displays what the phone wants.  And actually, Suunto is doing both.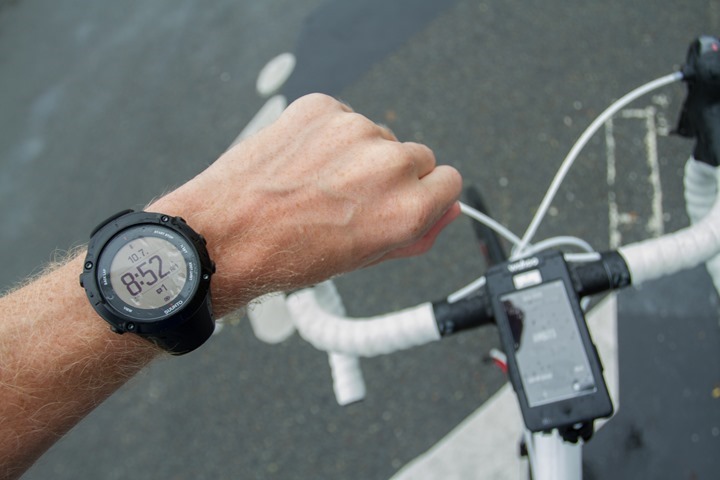 So why is this useful?  Well, it allows you a much bigger screen than the Ambit3 is, which can be useful for something like cycling if you put your phone on your handlebars.  In this case your watch will act as the GPS receiver and the phone will be the display.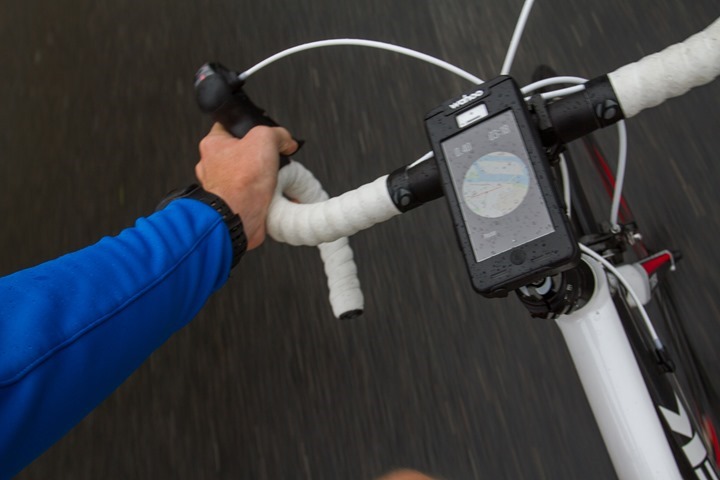 This is better because it reduces battery drain on the phone since GPS is off (albeit the screen is on, which burns even more).  Still, I think it's an interesting twist and I suspect folks might have some cool scenarios here.
Finally, it should be noted that the app can also simply record activities without the Ambit3.  In doing so it'll allow you to pair with sensors and you'll get standard metrics like speed/distance/etc…  But, for most people there's a million other apps that can do that – so the interest is primarily in connectivity to the Ambit3.
Photo Integration, Movies and Data Overlay
Last up in the phone integration feature is the ability to do data overlay photos with data from the watch or phone.  This is sorta like the action cam videos you see, but with data coming directly from the Ambit3 and then using your phone's camera:
Afterwards the photo has some activity metrics overlaid onto it.
From there it will get associated to a given activity in Movescount, which means that it can then get pulled into a gallery based on your ride.  Now, these photos can then end up in automatically generated 'movies' that showcase your ride.  I saw a couple of early alpha-version clips created when I met with Suunto and it as a pretty good start to things.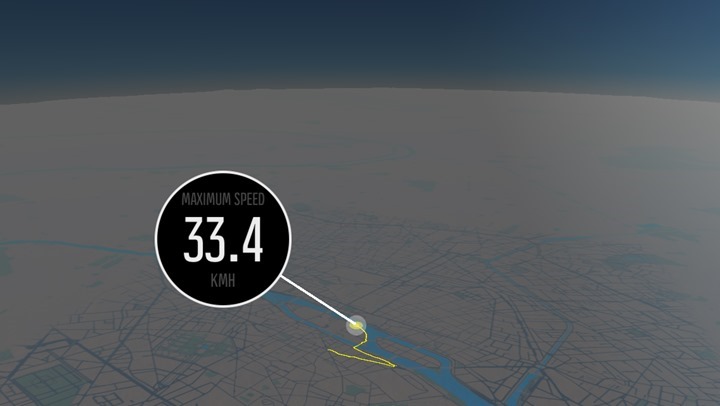 It would show your route being played back in real-time on Google Earth and then show included photos along the way that you took – all geostamped to the correct location.
At present the beta app build I have isn't quite building my movie, so I'm left with what might be possibly be the funniest/best error message I've ever seen.  Normally I don't share too many error messages from beta stuff because that's the nature of beta – but this  is awesome enough that I don't think (hope) they mind:
In any case, drama aside, I'll try and see if I can get a movie to share/post of what it looks like.
Daily Activity Tracker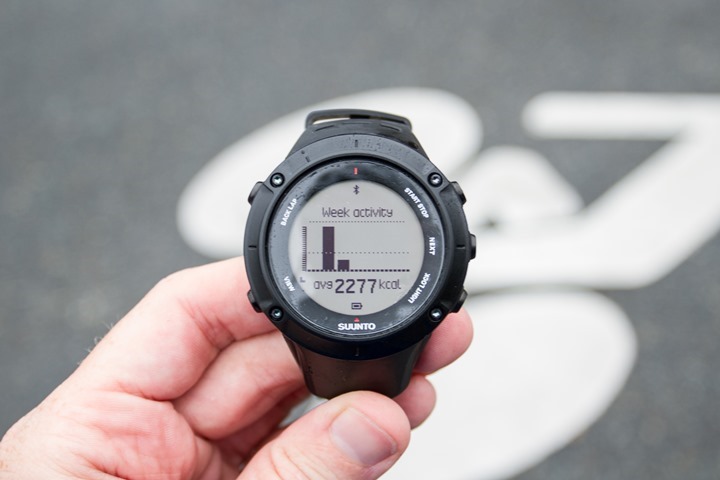 Next up we've got an included daily activity tracker.  This is effectively taking a FitBit and stuffing it into the Ambit3.  But more than that though, it takes into account your total activity including exercise.  It's actually very much like the Polar V800 in this respect.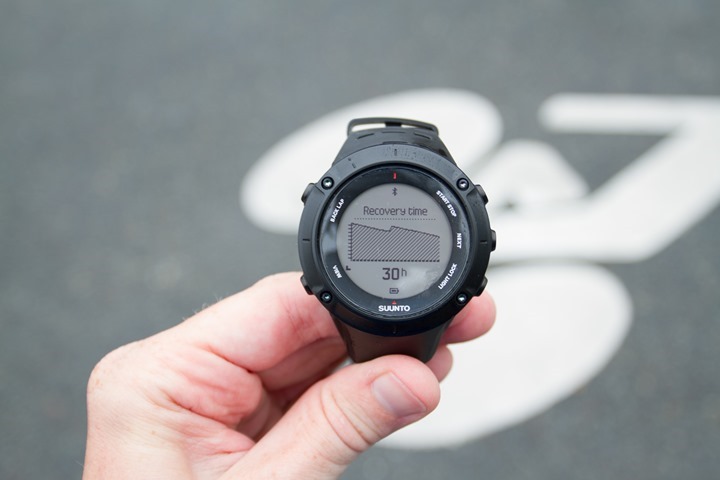 Though, also like the Polar V800 at this point it (frustratingly) doesn't display your exact steps or walked distance – but rather just displays a bit of a bar graph and chart.  We had some good discussions about it though, so I'm optimistic they'll see the light in terms of being the perfect blend of activity tracker and sport tracker (and that said blend is best executed with steps listed).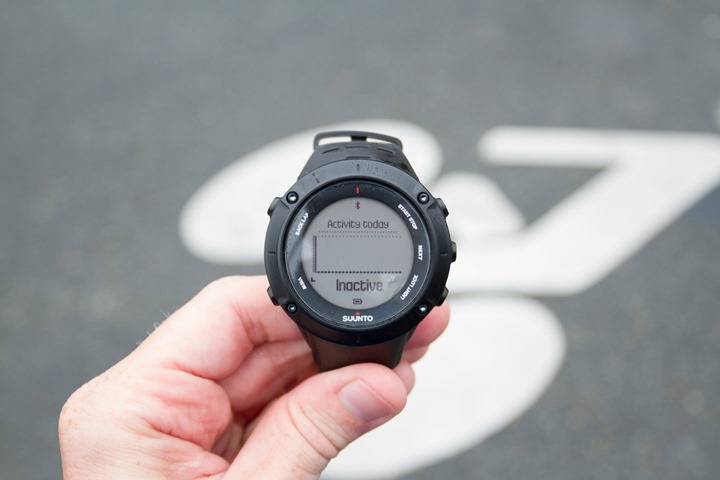 (Above would show a graph identical to that of the recovery chart two photos above, with the day's activity, it's just that I took the photo in the morning.)
These displays are easily accessed by just tapping the 'Next' button on the right of the screen, and are one tap away from the regular time screen.  Ideally I'd be able to just press 'view' though and see my total steps for the day at all times along the bottom (just like the Garmin FR15 can).
As you can see though – without question the merging of daily activity tracker and full endurance sports watch is most definitely the future (or rather, the present).  I don't expect we'll see any more major sport/running devices being made that don't include both sides of the equation.
Models, Versions & Availability:
The Ambit3 is much like the Ambit2 in that it comes in a few flavors and versions.  The two fundamental versions are:
Ambit3 Sport: Everything the Peak has except the barometric altimeter
Ambit3 Peak: Top of the line unit with a barometric altimeter
So basically, it's just like Ambit2 and Ambit2 S.  There is no 'R' version at this point for the Ambit3 (that was the cheaper running edition).
Price-wise, things remain in the same ballpark as before with the exception that there's a Sapphire edition offered which just swaps out the glass for a different sapphire mineral glass:
Ambit3 Sport: $400 (+$50 for HR strap)
Ambit3 Sport Sapphire: $500 (+$50 for HR strap)
Ambit3 Peak: $500 (+$50 for HR strap)
Ambit3 Peak Sapphire: $600 (+$50 for HR strap)
As with my thoughts on previous Ambit versions, no, I don't think it's worthwhile to buy the Sapphire edition – but that's just me.  I've never heard of anyone actually hosing up the glass on their Ambit1 or Ambit2 because they didn't have the Sapphire edition.  Just keepin' it real.
Finally, Suunto is saying September 1st for availability of the editions above.
My Thoughts: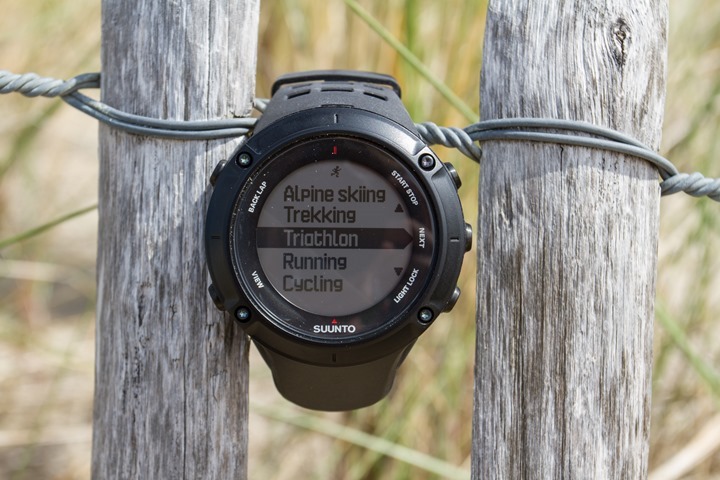 On the whole the Ambit3 is hardware-wise an incremental upgrade over past models, however, software-wise it's just starting to crack the door open a bit.  Their work on the mobile phone app could end up being really impressive (it's still a bit early to tell).  I'm loving the fact that I can quickly and easily change data fields from the phone, versus past units requiring me to be at my computer.  On the flip side, competitors' units allow you to change that directly on the device.
The implementation of smart notifications and mobile uploads brings it inline with functionality found on Garmin's Fenix2 multisport watch, and the reverse usage of having the phone use the unit to capture metrics is definitely a unique Suunto feature.  And lastly, the heart rate while still having swim metrics makes them the only one in that camp – at least for a short while.
It'll be interesting to see how the activity monitoring piece plays out, both from Suunto and Polar.  I think they're both half-way there with what people want (or at least, what 348 people seem to ask for in the comments every day on the Fenix2 review), but the inclusion of steps and related metrics is the end-goal there – both on the device but also on Movescount (online and app).
There are however some areas that I think Suunto overlooked in the Ambit3, that I suspect may hurt them medium and long term.  First is the lack of vibration alerts – which has been commonly requested.  Second is that the app as of today doesn't have live tracking, nor is that in the immediate plans.  It remains to be seen whether areas like course/navigational transfer via phone will make the app cut.  Lastly, the on-unit capabilities in custom workout creation and virtual partner remain sorely behind both Garmin and Polar (among others) these days.  I had really hoped to see some improvement in those areas.
Given that the unit won't be available until September, that's probably a better time to see what the final competitive picture looks like for triathlon watches for the year ahead (since this season will basically be over by then).  I suspect by the end of the year Garmin will have announced/released their FR910XT successor, and Polar will have made progress against their planned firmware updates.  Thus my guidance largely remains the same as it was just 2-3 weeks ago in my 2014 Summer Recommendations: See how the landscape evolves over the next few months.
With that – thanks for reading and feel free to drop any questions below.
Found this first look useful? Or just wanna save 10%? Here's how:
Hopefully you found this first look useful. At the end of the day, I'm an athlete just like you looking for the most detail possible on a new purchase – so my thoughts are written from the standpoint of how I use the device. The posts generally take a lot of hours to put together, so it's a fair bit of work (and labor of love). As you probably noticed by looking below, I also take time to answer all the questions posted in the comments – and there's quite a bit of detail in there as well.
I've partnered with Clever Training to offer all DC Rainmaker readers exclusive benefits on all products purchased. You can read more about the benefits of this partnership here. You can order the Ambit3 or accessories through Clever Training using the link below. By doing so, you not only support the site (and all the work I do here) – but you also get to enjoy the significant partnership benefits that are just for DC Rainmaker readers. And, since this item is more than $75, you get free US shipping as well.  Note of course since it's a pre-order, the timelines might change depending on when Suunto releases.
Ambit3 Sport (Heart rate bundle variant just select drop-down)
Ambit3 Sport Sapphire (Heart rate bundle variant just select drop-down)
Ambit3 Peak (Heart rate bundle variant just select drop-down)
Ambit3 Peak Sapphire (Heart rate bundle variant just select drop-down)
Thanks for reading! And as always, feel free to post comments or questions in the comments section below, I'll be happy to try and answer them as quickly as possible.