(Updated Aug 2018)
I often get asked about places to swim, bike, or run in Paris.  I made such a resource a long while ago for Washington DC when I lived there, so I figured I'd do the same here.
Keeping in mind I've only lived here about a year, so my view is somewhat narrow on the full potential of swim/bike/run in the city.  That said, below are the places I routinely use  to get my workouts in across all three sports.
Additionally, I've added in locations for rental bikes (legit road bikes that you can get in real training time on) – that's in the bike section.  I'll add to this post over time as I find new places that I use repeatedly.  Of course, feel free to add in the comments section additional ones.  My only ask is that you include a link to some site that shows the actual route (i.e. Garmin Connect, Strava, MapMyRide, etc…) – as that helps out of town folks understand the exact route.  Otherwise, it's sorta all French. 🙂  Finally I've tried to use the simplified terms for different areas, simply because that's what most out of town folks are going to know them by.  For example, 'Eiffel Tower Park', instead of Champ de Mars.
Running:
Running is the easiest, there are plenty of places to run around Paris.  Before I talk routes, let's talk general running hotspots for me. Here's an overview of central Paris (click to zoom):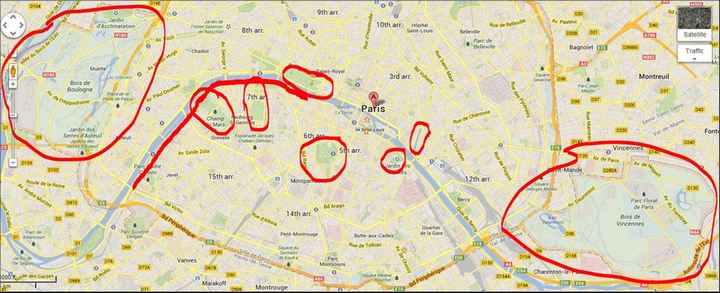 Longchamp: This has a 2.2ish mile loop that's aimed at cyclists (around the horse track – Hippodrome de Longchamp), but you can run inside of that.  It's slightly rolling.  Outside of the actual loop within the Bois de Boulonge, there's the vast park itself, which has endless running options both paved and unpaved.  The loop is essentially closed to traffic, making it perfect.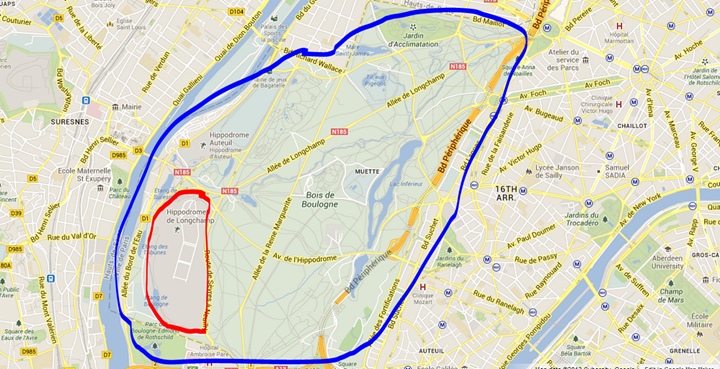 Bois de Vincennes: Hands down the best overall running location in Paris if you want to get away from the crowds.  Think Central Park in NYC, except literally about three times bigger.  I can do entire 2-3 hour long runs in there and not repeat myself.  Tons of both paved and well as offroad running.  Especially in the inner and northern edges (off-road).  There's also a triangle loop that's closed to traffic for runners and cyclists.  Your best option here is to just 'get lost' and enjoy wandering around.  There's signs on all the trails with little arrows and distance to the next point.  Oh, and check out the Chateau (castle-like) at the northern edge.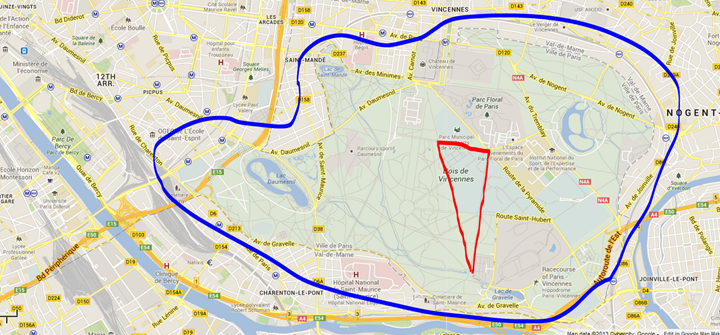 In the Parks: There's a number of parks that are great for doing intervals or loops of.  These are each outlined below.  I personally love Bastille because it's a paved dual pedestrian and bike path around it, awesome for almost perfectly 1-mile looped intervals, and it's reasonably flat and very few crowds (has a free bathroom at North end).  In front of the Louvre at Tuileries is also great (paid bathroom on Northern side).  Jardin des Plantes is about 8/10ths of a mile around, but isn't paved, so it's a bit of a softer ride and is pancake flat (free bathroom on Western side).  Luxembourg is very scenic, but you'll dodge a fair number of people there, just like at the Eiffel Tower (free bathrooms at Eastern most leg of tower, underground).  Invalides is awesome for intervals – almost perfectly a mile around, and without any crowds that get in your way.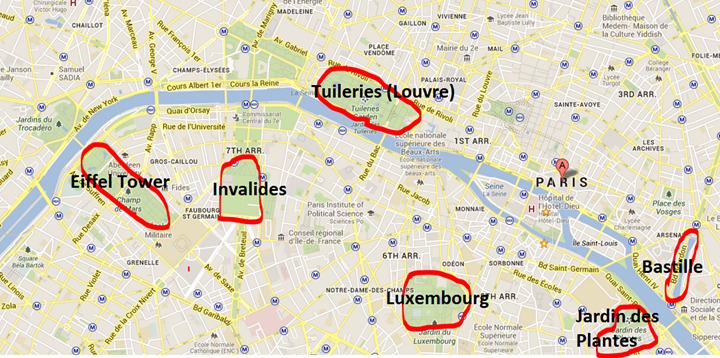 Les Berges: This is a portion of the next section where I discuss the river more generally.  But it's worth calling out this specific car/crossing free stretch.  Up until two summers ago, this area was a highway. Now, it's been torn up and replaced by a beautiful pedestrian area for running and cycling…and in the summer outdoor restaurants.  This has become one of our favorites for winter running, specifically for doing any form of interval training. It's nearly 3KM long and almost perfectly flat. It also has a bathroom about half-way too (up on a wall oddly enough).  Don't however bother trying to run anything hard/fast here after about 4PM on a weekend in the summer, or any nice night in the summer for that matter.  Jam packed with people out drinking rose wine.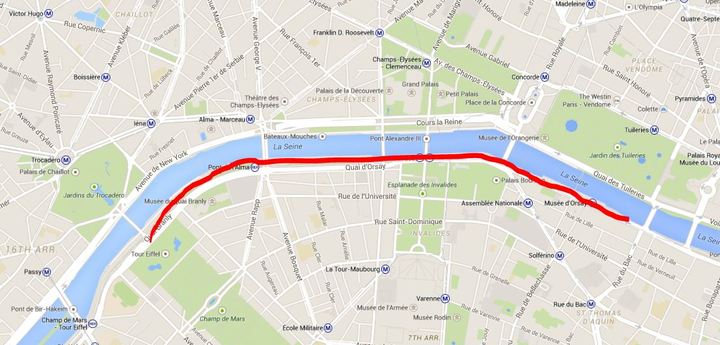 Along the river:  Finally, along the river as a whole.  I tend to run along the river for most of my long runs.  It's really complex to say which side of the river is better, as it really depends on the season and weather.  If it's rained a lot recently then it floods over some of the sections.  In general though, the Southern Bank is less crowded until you get to the islands.  At the islands, it's actually best from a running standpoint to hop across the bridge to the islands and run on them (wide/empty streets).
In the winter 2017 they also made the entire north portion of the roadway between Concorde (so the center of the map below) and the far right edge of the red line pedestrian only. It's fantastic and is a great place to run, especially on quiet weeknights in the winter (it's a horrible place on a busy summer weekend mid-afternoon, but fine in the morning).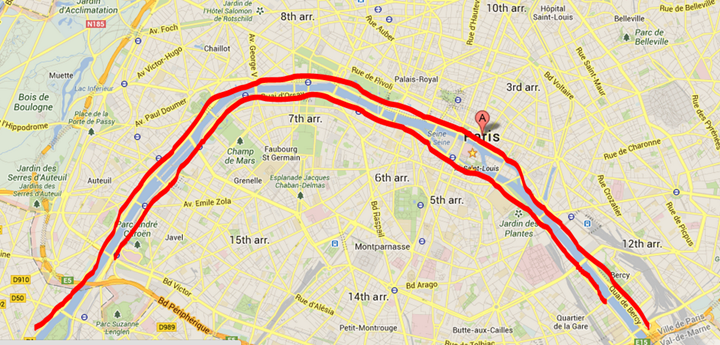 Running really long: For really long runs if you don't want the park, you can follow a route out along the river for some 50 miles.  It's pretty easy to follow too.  Just go along the river until you see a double-span pedestrian bridge that meets in the middle but has an upper and lower entrance at each side and then from there on, ensure you're on the Northern Side of the river on a bike path.  Go forever.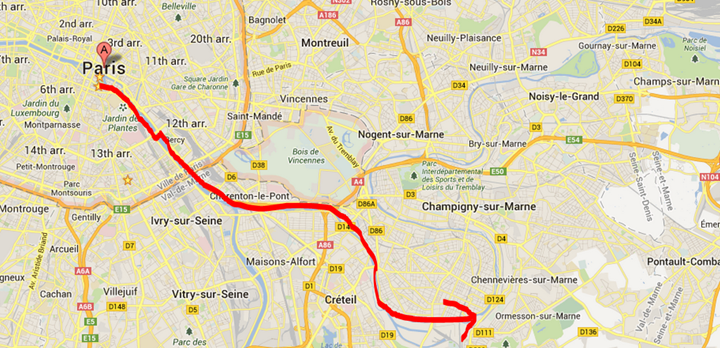 My favorite route:  As you can see, I run all over the place here in Paris.  Usually mixing and matching together the above areas – which are all connected via sidewalks, mostly via the river.  However, if you're looking for a nice route that hits all the major sites, here's my favorite.  It starts from Notre Dame – simply because that's where I am, but you can 'hop on' anywhere.
As you can see, it starts from Notre Dame and then goes down to the end of the next island before heading back up the river, where you'll dip through the Louvre (past the glass pyramid) and then across the gardens before heading up to the Arc and then back down again to Concorde (big pointy statue in the middle of a giant traffic intersection).  Then I head over to the river and run along the northern bank until the Eiffel tower. At which point I do a half-loop around the Eiffel Tower and then short-cut across to Invalides.  If you want a touch bit of extra distance, don't shortcut over but instead run back to the river and then along the river until you get to Invalides (it's obvious, it's a gigantic green lawn with a gold domed building half a mile down it).
Once done at Invalides (you can add tons of time there), then I head back up along the river and back to Notre Dame.
Here's the Garmin Connect profile.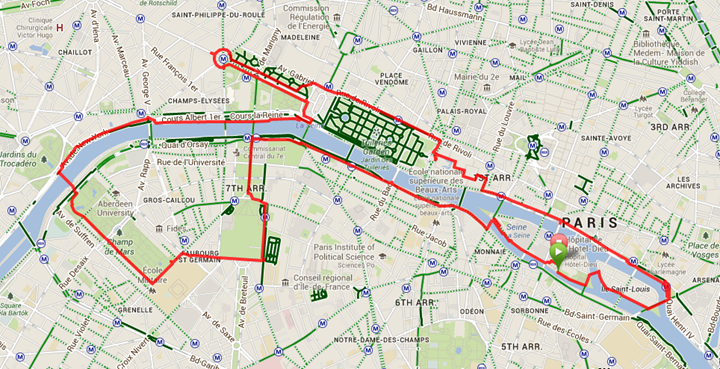 Ways to add extra distance: Once back at Notre Dame, continue down the river 8/10ths of a mile on the southern river bank, you'll go through a nice park along the water. When the park ends at a bridge, go up onto the road and you'll see the entrance to the Gardens (across street, gold gate), you can wander in there, each loop is about 8/10ths of a mile.  Alternatively, at the other end, do loops around either Eiffel Tower or Invalides (or both).  Each loop is 1-1.2 miles.  Same goes for the gardens in front of the Louvre.
Ways to decrease distance: Don't go up/back to the Arc, instead, just leave the gardens near the Louvre and then head along the river.  Also, to save distance, don't go down the park at Eiffel Tower or Invalides, just brush through them.
Cycling & Bike Rentals:
Given Paris is a city, your cycling options for legit training are somewhat limited.  I define legit training as training where you can cycle more or less continuously at an intense effort without many stops or concern.  There's plenty of rides outside the city, but I'm going to cover the main ones inside the city.  These essentially boil down to Longchamp and Bois de Vincennes: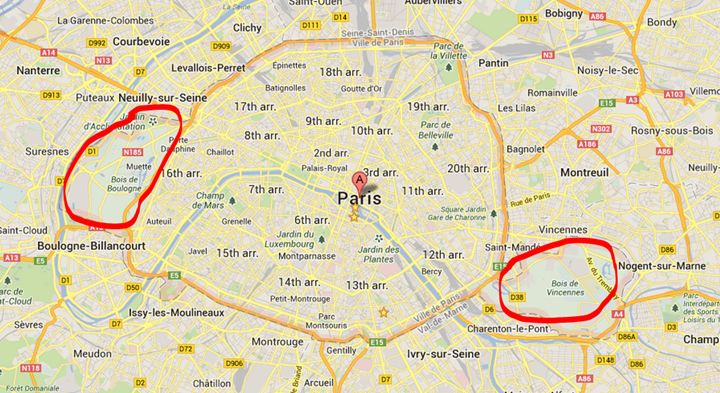 Longchamp: The red area is where you want to be, the Hippodrome.  This is the cycling mecca on the weekends here, with hundreds and hundreds of people cycling around it.  Even a nice summer weekday will be packed.  It's a 2+ lane road that's largely closed down and cyclists all go in the same direction.  Think of it like a giant 1.2 mile roller rink for cyclist.  The larger park is good for casual cycling, but not intense riding.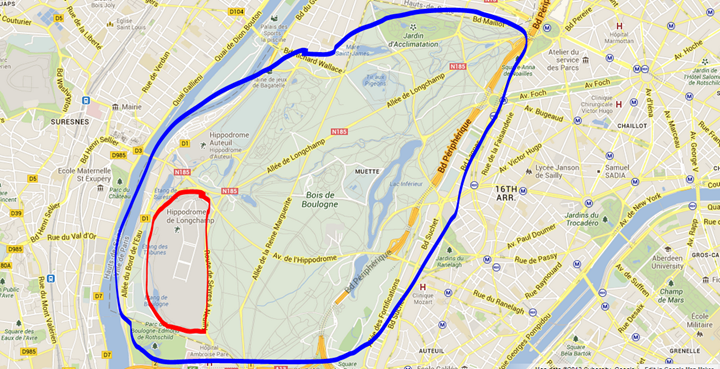 Bois de Vincennes: At the complete opposite end of the city is the Bois de Vincennes.  This is much quieter than Longchamp from a cycling standpoint.  The road quality is good, but not as perfect as Longchamp.  Inside of it is the triangle, which is completely closed to traffic (no cars anywhere near there).  And is split most of the way around between 1-2 full lanes for cyclists, and 1 lane for pedestrians (with hard barriers).  Beware of leaves on the ground in the fall on a wet day.
The second option is on the road around the horse track there.  I use this a fair bit as it has a nice hill in the middle of it, so it keeps things mixed up.  This isn't closed to traffic, but if you keep with going clockwise, you'll never have to stop, and the traffic here is fairly sparse.
Finally, along the southern side is a perimeter road that has some traffic at peak times, but is otherwise fairly quiet.  It's about 1-2 miles, but has beautiful new pavement, so you can do back and forths there, and if you're creative enough you can cut through the park and make a big loop out of it.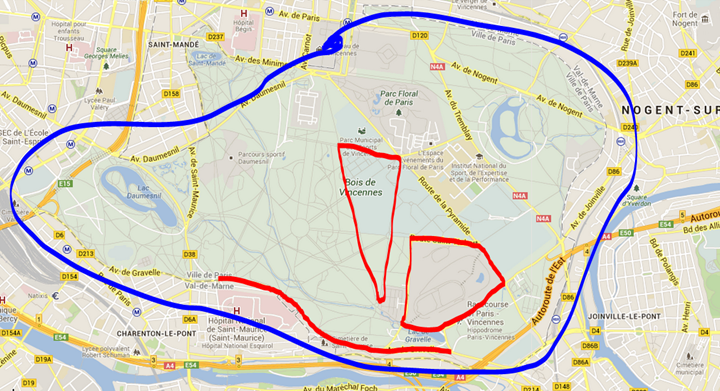 Looking for longer routes? Yeah, I've gotta update this list with some of my favorites.  However, I can say that Strava's list of Top 10 Paris cycling routes is very close to what many Parisians will use for routes out of the city.  I routinely ride #1/#2/#8/#9 on their list (or variants of them).  So definitely check that out.  Plus, they have a running list too!
Bikes and Trains/Subways: Note that you can take your bike on the RER trains, but cannot take them on the standard subway/metro.  Read this post here for all the details on where and when you can and cannot take them.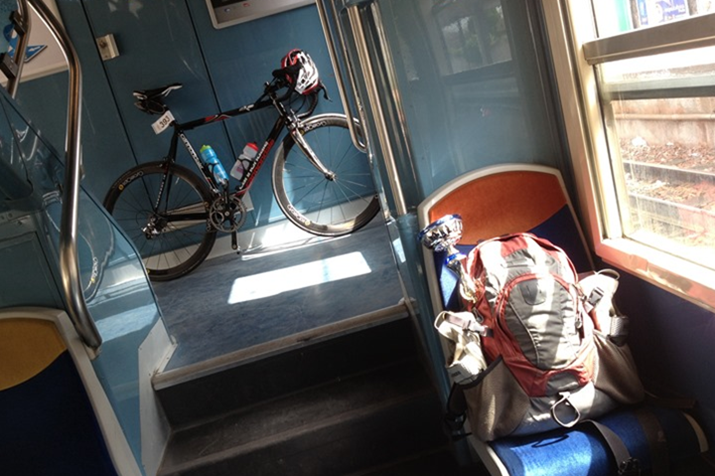 Rentals: There's two shops I've rented from before.  Both are good.  In fact, the bike you see above is actually a rental bike (with my wheelset on them).
Paris Bike Co.: This company is run by an American who's moved over here.  Both his wife and him race triathlons and road races, and his bikes are awesome.  I rented the bike you see above from him for the Versailles Triathlon.  They also do pickup and drop-off.  I'll definitely be renting from them again when I need a bike rental (i.e. friends/family in town).
Allo Velo: This is the first shop I used in Paris for bike rental.  It's easy to get to and they have a lot of selection.  You can see some of the photos from the bikes both The Girl and I rented for a ride last spring in this post.
Day Bikes (Velib): Finally, there's the Velib system.  It's AWESOME.  As residents, we just pay $35 bucks a year to use it, and I can pickup my bike for 45 minutes at a time and drop it off on almost any street corner.  As of this past spring, they've updated almost all of the machines to take credit cards.  The day rate is about $1.70, and you get 30 minutes per ride (but unlimited rides in that 24 hour period).  Note that the machines are finicky for credit cards without chips.  So I'd recommend simply buying the pass online.  There's no difference between the two, as all you get is an ID and PIN number to type in, so this will save you time standing in front of the machine frustrated.  Here's a few posts on the Velib.
Update 2018: Since the beginning of 2018 the Velib system changed operational hands to a new vendor. Since then it's been more or less a complete cluster.  It's gotten better this summer, but can still be a bit of a mess sometimes. It's more frustrating for residents than tourists, because usually residents have very specific timelines – like commuting to the start of a workday, than tourists which are a bit more flexible in finding a station.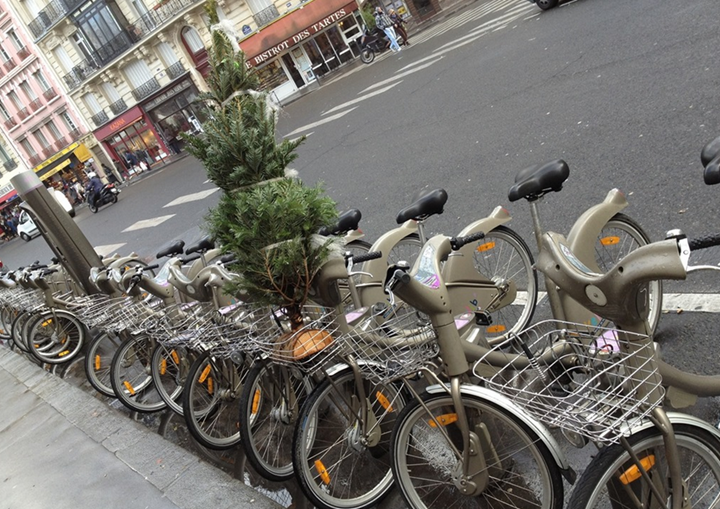 Pools/Swimming:
Oh swimming, the bane of my existence in Paris.  First, you should understand that swimming in Paris is unlike anything I've seen elsewhere in the world.  Think of it more as an 'experience' than as real training.  I say this again, you won't get in good training here.  The reason is the public pools all tend to have 15-20 people per lane at all times.  Yes, really, 15-20 – PER LANE.  While there is signage for fast/slow lanes at some pools, it's generally ignored.  So you'll have someone backstroking down the fast lane with a pull buoy and an upside-down snorkel.  Seriously, I've seen it.
Here's the full listing of pools from the city.  And here's the map making it easy to zoom in to where you are.  Note, 'Piscine' means pool.  Also, most all pools require swim caps.  Read my Paris Pool Post to understand the 'rules' of the pool (primarily on getting in).
That said, I really only swim in a handful of pools – simply because I don't generally want to wander all the way across town for a swim.  Here's the two I tend to use most often:
Piscine Pontoise: This is probably one of the more unique pools in Paris.  It's the one I highlighted in the post above.  It's got fairly wonky hours, but the late-night hours (till midnight) make it slightly more accessible.  The only challenge is just that it's always so packed that timing your workouts to available lane time is pretty much near impossible.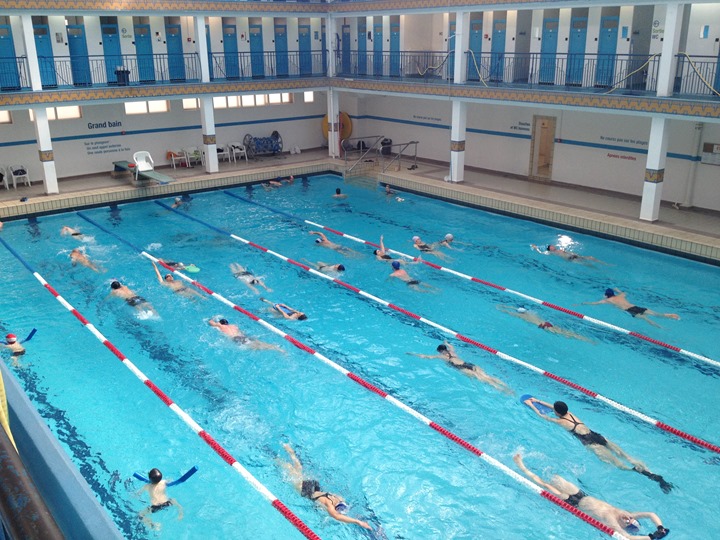 Piscine Baker: This pool is actually on a barge on the river, and the glass roof opens up during the summer.  It's a bit out of the way for most, but they do have a Velib station out front – making it easy to combine cycling with running.

Openwater Swimming:
Just to be clear, there are no legal openwater swimming locations in Paris.  Sorry!
Sports Stores:
In the event you need to pickup something, here's the places I head to.  Note, most of these  stores are in French. If you're trying to browse foreign language websites, I just use Chrome (browser) with automatic translation.  Works perfect.
Triathlon focused stores aren't exactly plentiful here in Paris. Nonetheless, here are your options in a pinch:
Triathlon Store: This place just opened this winter, and is mostly focused on high-end items. They're in the heart of Paris, and easily accessible. This would be my first stop for tri-specific needs.

La Boutique du Triathlon: These guys are southwest outside of the city, so not really in the city center. But they have a good selection of odds and ends that you might need. They also speak a little bit of English.
For cycling, there's three shops that I'd use:
Bike in Paris: This is primarily where I go when I need to get my bike fixed or something ordered. Good folks, and they speak English quite well. Also Trek dealer in case you need something from them.

Bicycle Store: This is from the same guys as the 'Triathlon Store' above, prior to them opening the triathlon store. It's also where we bought The Girl's most recent bike from.

Giant Store: This is the Giant bicycle company operated store, but they speak English, and near to me (Notre Dame).  They sell almost only all Giant branded stuff, so it tends to be slightly more expensive, but they have a good variety of stuff.
For running there's tons of options. I'll keep adding to this section as I remember them all.
Boutique Marathon: Definitely a specialty running store. A bit higher end, but good selection and focused on running specifically.

Decathlon: This is a major chain store across Europe, and thus they carry running stuff (as well as some crossover into swimming and cycling). There's a number of locations in Paris.
For everything else sports related, here's another option:
Au Vieux Campeur: This is sorta like REI for France. In Paris the store is spread out over a number of city blocks, with tiny storefronts for different topics (i.e. one store for skis, one for running shoes, etc…).  If you lost a Garmin charger or need a GoPro mount – they'll have it (and mounts/chargers for most other cameras/action cams).  In fact, they've got a surprising selection of accessories and items, and usually almost immediately at initial retail availability of a product.  Far better than your average REI or Best Buy in the US.  The specific store that has all the goods is at 28 Rue des Écoles, 75005.  All the other stores are within 2-4 blocks of it.

Decathlon: This is a large chain sporting good store across Europe, similar to a Dicks Sporting Goods in the US.  They have a ton of selection (and stores), though very rarely anything beyond what the average person might want fitness-wise.  So you won't generally find higher end items here (though they do have a wide selection of sports technology stuff).  They also have a fairly good selection of gels/nutrition.  There are many stores around Paris/France/Europe to select from.
(Thanks to the Expatries Triathlon team for the Marathon and Triathlon Boutique ones)
Races in France/Paris:
Looking to try your hand at racing against the French? Here's a few resources for finding races in France/Paris:
From reader HollyOak: http://www.crchsidf.org then "Affichage calendriers"/"Hors stade – Cross" and click on "Exécuter".
From reader Julien: http://topchrono.biz/ & http://www.le-sportif.com/ (The first one wins for being easiest to use – the second for being the most complete)
If you're looking to see what I've been racing, check out my race reports section.  In general most major races will easily accommodate non-French speakers and you can almost always find someone to help you translate.  Do note that virtually all races require a medical certificate.  This can be printed out from the race's site and then taken to a doctor (or, someone pretending to be one) and then it's best to ensure the office/etc have ink-stamped it.  Races here are very serious about no-go without a certificate, though they don't much care what's on them, as long as it says medical at the top.
Add your own suggestions!
I'm all for hearing about new places, routes or otherwise.  My ONLY REQUEST is that you please include a link to the route (again, it's easy to create for free on Garmin Connect, MapMyRide or plenty of other apps).  Or, if it's a facility (i.e. an awesome pool), then please include the link to the facility.
Also, I'll try and clean things up as best as possible over time (i.e. duplicates/etc…) so that it's easy to find items.
Thanks!