Last Friday night The Girl and I walked a few short minutes away to 'our' new pool.  By 'our', I mean the closest one to us, and the one we'll likely end up getting an annual pass at.  Given it's all of a few hundred yards away – it makes complete and total sense.
We had stopped by a few times before to check it out – but hadn't quite yet had the time in the schedule to go swim there.  It's been a rather busy summer thus far with more time out of Paris than in.  So, with a rainy Friday night we decided it was time for a workout.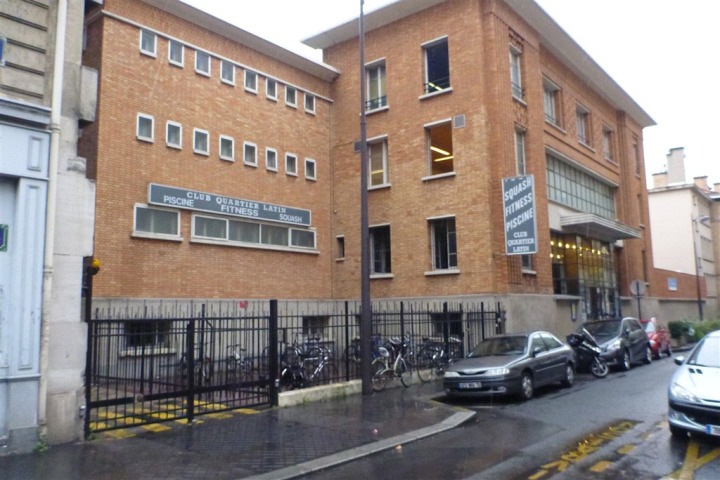 At this point in the day, the fee for entry was €4.50 – so about on par with a typical rec center in the US.  Interestingly at night the fee doubles to close to €10 – but that does allow you to swim till basically midnight.  That's pretty sweet.  It's like cosmic bowling…but for swimming.  Disco music was on one night we stopped by to check it out.  Mostly serious.
After paying our toll we received our receipt.  Do not lose your receipt.  Instead, walk upstairs and past the below sign.  Take note of the sign and ensure to adhere to it.  Notably, the removal of shoes and sandals/flip-flops.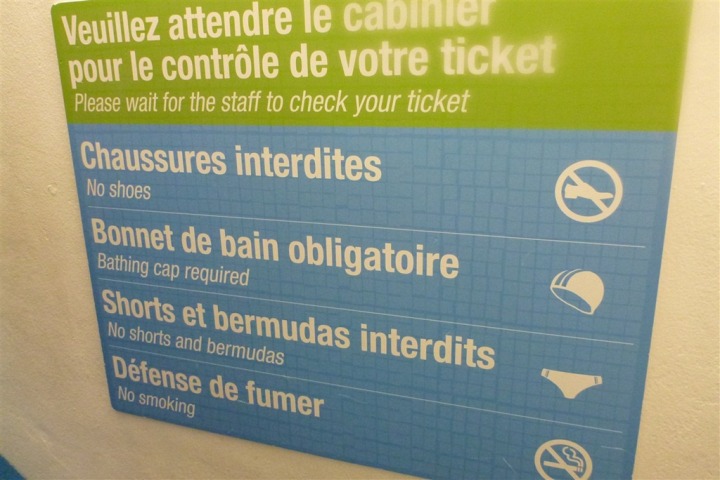 Once you meet the ticket taker man, he'll take you around the outer perimeter to one of the two levels of bathroom changing stalls – you can see them all the way around the perimeter of the pool below.  You pick out the open (literally, opened) stall of your choosing, and go ahead and go inside and change.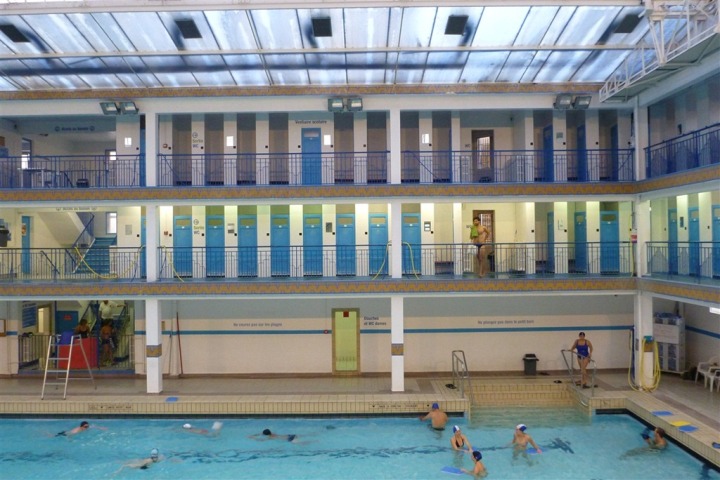 Interestingly, the doors do not have exterior handles – or locks that you control.  Instead, he controls them.  When you're done changing pre-swim, you simply close the door behind you and it automatically locks.  You have no key.
Also of note is that the doors all have about 1" holes in them at about my shoulder level, so you can see inside (or outside).  Could be kinda awkward.  Just sayin'.
(Side note: In France there are many pools/gyms which have shared changing rooms for men and women – no doors.  This pool is not one of them.  I'm sure at some point I'll encounter such a pool.  I'll let you know how it works out.  Should that happen I can only hope I don't choose to go at the same time as elderly water aerobics.)
In order to unlock the door when you're done , you find the man.  The man in turn takes his key out and unlocks it.  I assume he remembers who's stuff is who's.
With all that settled, you wander downstairs via the staircase which forces you through the (gender separated) shower rooms and across the foot pool.  The 6" deep foot pool washes your feet before you go in/out of the pool deck.  It's all very systematic, and actually, somewhat logical.
With that – we're on the pool deck and ready to roll.
First up though is understanding the lane system.  The right half of the pool (left half in first picture below) is apparently dedicated for general unstructured wandering.  Mostly this includes people with kickboards and others doing drills.  Or those wishing to chat in a circle.  To be fair, this does make it somewhat easy to do drills in that you're not really in anyone's way – because everyone is in everyone's way.  There's no lane dividers on this side.  Just a free for all.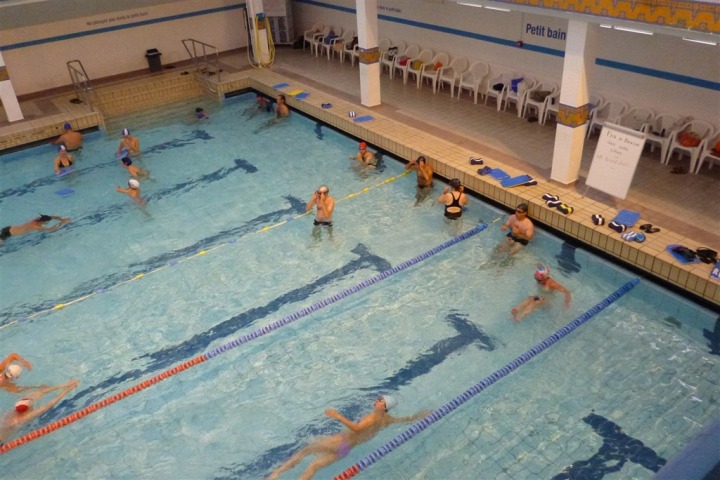 Then you've got the three main lanes.  These lanes are filled with folks doing laps back and forth – like any lap pool would have.
At the time of the picture below, the pool was starting to empty out a bit (taken after our swim), but we peaked at about 12 people in our lane at one point.  It was pretty much like rush hour traffic leaving the city.
Except, it reminded me of Thailand – where two sides of the lane (road) really means three lanes.  There's a magical unmarked center corridor that's where passing occurs.  Same here, except, sometimes it would be two magical center lanes – with two outer lanes.  More like express lanes.  Really, all you can really do is hope and pray nobody fails on a pass.  Or goes all butterfly on you (happened).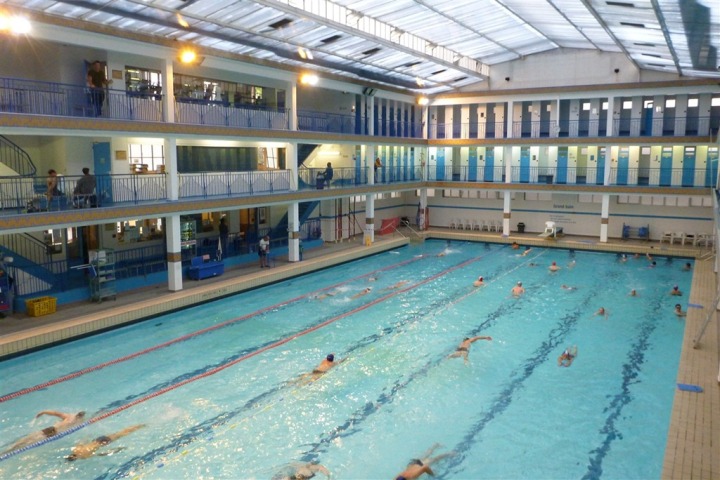 I've observed that folks in this particular pool love to breaststroke.  So much so in fact that there's a sign at the end of one lane indicating it is a breaststroke free lane.  The other lanes allow all the breastroking you want however.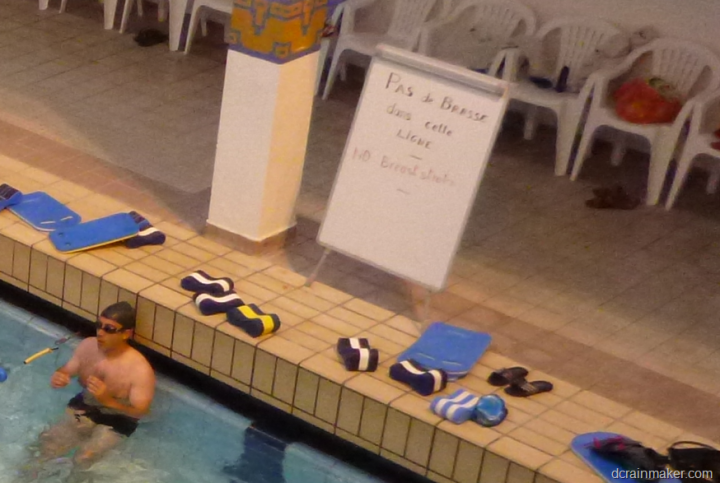 Regrettably, some folks didn't follow the sign.
Thankfully, one of the swim building peoples yelled at them.
Problem resolved.
I also observed that there's no apparent understanding of where to stand at the end of the lane while taking your rest.  In general, folks lined up as if they were preventing a penalty kick in soccer (football) – blocking the entire wall from lane divider to lane divider.  So the turns at the shallow end often ended up being rather lazy since you sorta stopped, hit ground, and then turned around.
Now – the cool part of all this is that the whole swim was pretty much a battleground – so it wasn't all that different than a triathlon.  You were constantly sighting to avoid swimming over someone, or having someone swim into you, or any combination thereof.  So my sighting skills will dramatically increase in time.
Further, if you were timid about whacks/splashes/etc – this would be the place to train.  It doesn't bother me, but for newer triathletes, it might help.
One other interesting difference we both noticed is that in the US folks would tap your toes if they wanted to pass you.  Here, they gave me a lower leg feel-up.  Like a mini-massage.  Perhaps they just like my legs though.  It's happened before.
Ok…it's never happened – but maybe it's happening now.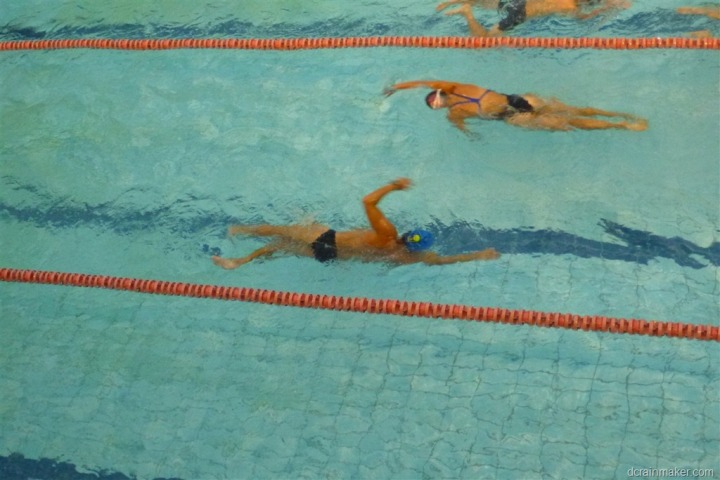 Finally – one last thing I found cool.  I noticed someone using one of the swim products (Nabaiji Waterproof MP3 Player/Distance Counter) I reviewed last fall as part of the great Swimming MP3 Player Shootout.  That in and of itself is very normal – but since I reviewed a European-only product – I'd never seen anyone using it in the US.  But sure enough here's my first swim and someone's out there using it.  You can see the little green blob attached to the swimmers head above (lower swimmer).  That's it there!
With that, we did the whole foot pool, shower, go upstairs, find the man to unlock the door, change in the room with the peep hole, walk out but not wearing your shoes and go back down the stairs routine in reverse.  And then get a baguette for the way home.  First swim, a success!
Of course – this is just my first swim, so it's possible that this particular pool is either totally off the wall or completely the norm.  I've gotta say though – the pool facility itself is pretty sweet.  I'd love to hear from other Paris/France folks on how this compares.
As always, thanks for reading!