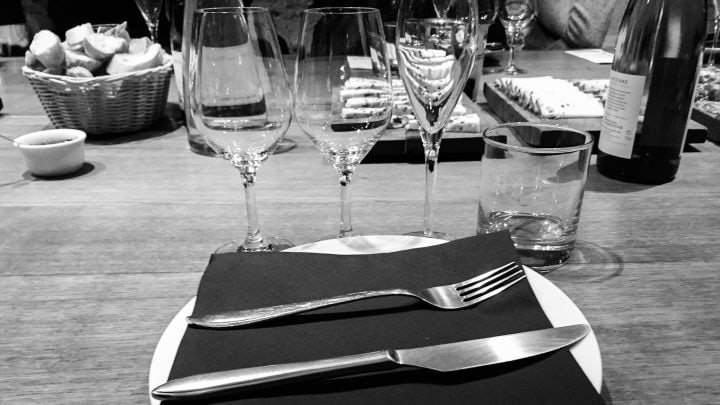 Here's a quick and dirty list of our favorite restaurants around Paris.  These are mostly ones that we eat at often and/or frequently.  There are no doubt many super-high end restaurants in the city to pick from.  But you can't eat at those places every night.  Nor do we eat at the super-touristy spots either (at least not often).  So these are our go-to locations across a variety of cuisines where we and anyone else can get in and be treated like locals.  Since we live in the 5th (near Notre Dame), many of these are within that area, or, easily accessible to there.  All of them can speak English without issue if you don't speak French.  And all are friendly.
If you're from out of town, and dialing from a local phone, simply skip the 33 part, but include the 0.  Such as 01.46.34.66.12.  If dialing from an international phone, skip the zero, but include everything else: +33.1.46.34.66.12.  Finally, note that most Paris restaurants you'll want a reservation for on a weekend night.  But, you can usually do so just a few hours in advance for all but the most popular places.  Some places also have a few tables reserved for walk-ins (such as Comme Chai Toi below), but usually only later in the evening.
Finally, when looking at addresses, the zip code tells you what arrondissement the location is in, by the last two digits.  Thus, 75005 is the 5th, and 75012 is the 12th.  You can use this map to figure out what's closest to you – though, for dinner all of these are easily accessible with at 10-15 minute Metro or Taxi/Uber ride from pretty much anywhere in the city.  Uber will always be cheaper than a taxi in Paris, and far friendly.  Meanwhile, the Metro is usually faster and cheaper than both.
French:
Comme Chai Toi
Location: Across street/river from Notre Dame
Address: 13 Quai de Montebello, Paris 75005
Phone: +33 (0)1.46.34.66.12
Web: http://www.commechaitoi.fr
Notables: If there any restaurant in the city that we go to the most, it's this one.  Awesome local French food, super friendly staff/owners, but not too pretentious and not super-expensive.  You'll often find us here late at night, asking for the filet with the Camembert sauce & frites.
La Véraison
Location: Near Palais-Royal (just north of Louvre)
Address: 64 Rue Croix Nivert, Paris 75015
Phone: +33 (0)1.45.32.39.39
Web: http://laveraison.com/site/
Notables: This place has slowly become one of our favorite spots to bring out of town guests to.  It's an amazing deal price-wise for what is great food that has its roots somewhat in France, but ventures out a bit to make for some interesting dishes.  There's a few photos here in this post from one of our more recent meals.
Cezembre
Location: Sorta near Notre Dame
Address:17 rue grégoire de tours, Paris 75006
Phone: +33 (0)1.42.38.25.08
Web: http://www.cezembrerestaurant.com/
Notables: Holy balls, so awesome.  We discovered this place this past fall (2017) and have been back a few times and sent many of our friends there. Everyone has come away with the same impression: Holy balls, you need to go.  It's contemporary 'French' per se, but in reality it's just modern food done awesome.
Verjus
Location: Near Palais-Royal (just north of Louvre)
Address: 52 rue de Richelieu, Paris 75001
Phone: +33 (0)1.42.97.54.40
Web: http://verjusparis.com/
Notables: A great modern French restaurant for an awesome 9 course meal in Paris.  Note that the entire menu is pre-set (changes constantly).  But a really good option if you're looking to cap off your trip with awesome 'foodie' style goods and super-friendly service.
Odyssey:
Location: Across street/river from Notre Dame
Address: 6 rue Dante, Paris 75005
Phone: +33 (0)1.77.12.06.70
Web: http://www.restaurant-odyssey.fr/en
Notables: This is our favorite crepe place in all of Paris.  We mainly go here for savory crepes, which are awesome.  Now, if you've visited their site you may notice it has a rather unique decor. So if you love that – great, if not, go anyway. They're super-friendly and the crepes are our Saturday lunch favorite!
Itinéraires (UPDATE – CLOSED NOW):
Location: A few blocks from Notre Dame…or half a block from the DCR Cave 🙂
Address: 5 Rue de Pontoise, Paris 75005
Phone: +33 (0)1.46.33.60.11
Web: http://restaurant-itineraires.fr/
Notables: This is our favorite Michelin starred restaurant (despite having three of them within one block of the DCR Cave). Going for lunch is the best deal, as you'll get a multi-course meal for 32EUR (with wine) or 49EUR. Plus, these restaurants always give you in-between courses not listed.  If you're looking to go to a high-end but not pretentious place in Paris, this is where we'd take you.  Note that we specifically like the 1-star restaurants over the higher ranked ones, because they are still willing to experiment, and usually the price is more reasonable.  We find at the 3-star restaurants things are very locked-down menu-wise and the pricing is insane for what you get. Rarely are 3-star restaurants worth it. 2-star places are a complete mixed bag, some great, some overpriced.
Italian:
da Zavola
Location: Near Saint-Germain Boulevard/Notre Dame
Address: 24 rue des Bernadins, Paris 75005
Phone: +33 (0)1.46.34.66.97
Web: http://www.dazavola.com/
Notables: We go here for one thing: The risotto.  They have a new variant on the menu each night, and it ranges from incredible to amazing.  Flavors and variations that you haven't seen elsewhere.  Note that two people do have to order the risotto, but, it's worth it. Minor warning: Their hours have gotten all wonky lately.  Their food is still awesome, but we can't for the life of us figure out which days they're open till we walk into their spot for dinner.  Luckily, being only a block and a half away, it's easy for us.
Breakfast:
Holy Belly
Location: Near Gare de l'Est
Address: 5 rue Lucien Sampaix, Paris 75010
Phone: (No reservations)
Web: http://holybel.ly/
Notables: Hands down one of the best breakfast spots you'll find in the world.  It isn't French food, but, just really damn good food.  Try the pancake/egg/bacon stack with the bourbon butter.  Just trust me.  Note, you'll usually find a bit of a line here – generally 15-30 minutes.  But so worth it.
Treize (13 – A baker's Dozen)
Location: Near Museum d'Orsay
Address: 16 Rue des Saints Peres, Paris 75004
Phone:  +33 (0)1 73 77 27 89
Web: https://www.facebook.com/treizeis13isthirteen
Notables: This is our go-to when we want good comfort food that's not too far away and without the lines of Holy Belly.  It's sorta a blend of Southern US with French.  Super good, try the Chicken Fried French Toast.  I'd recommend reservations for weekends, but just calling the morning off is usually fine.
Zia
Location: Near the Eiffel Tower
Address: 22 Avenue de Tourville, 75007 Paris
Phone:  +33 (0)1 44 18 90 71
Web: https://www.ziaparis.com/
Notables: Our friends opened this brunch-focused spot last winter, and it's one of our favorites to pick up breakfast burritos and other goodness.  If you're over near the Eiffel Tower, it's a perfect getaway for lunch or a weekend breakfast, especially since the food options in general near the tower itself sucks.
Cafes:
Strada Cafe
Location: Near the Panthéon
Address: 24 rue Monge, Paris 75005
Phone:  +33 (0)9 72 45 12 87
Web: http://www.stradacafe.fr/rue-monge.html
Notables: This is our go-to cafe for anything from a coffee (or hot chocolate as it may be) to a simple and relatively healthy lunch.  It isn't so much a 'French cafe' as it is more of just a friendly place that locals hang out in, with a bit of an Australian/British influence.
Asian:
Kadoya (Japanese Noodles)
Location: Near Palais-Royal (just north of Louvre)
Address: 28 rue Sainte-Anne, Paris 75001
Phone: +33 (0)1.49.26.09.82
Web: http://www.kadoya.fr/
Notables: Go here for awesome hand-made Japanese noodles.  It's also a very quick and very cheap dinner at $12-$14 per person for the set-menu.  We get the 'menu' option that includes for each person a small appetizer of dumplings, then a teriyaki rice/chicken dish, and then finally a huge bowl of noodles (soup).  No need for a reservation (not even sure if they take them), but you might wait a couple minutes (5-10) for a seat with a bigger party.  Fastest service you'll find in Paris.  Note: We take almost every out of town guest here if they're staying with us for a week, and virtually everyone has said it's their favorite place we've taken them.