Here's a complete rundown (or, in this case, swim/bike/rundown) of what was happening this past weekend in my little world.
1) Did a bit of a rush hour triathlon of sorts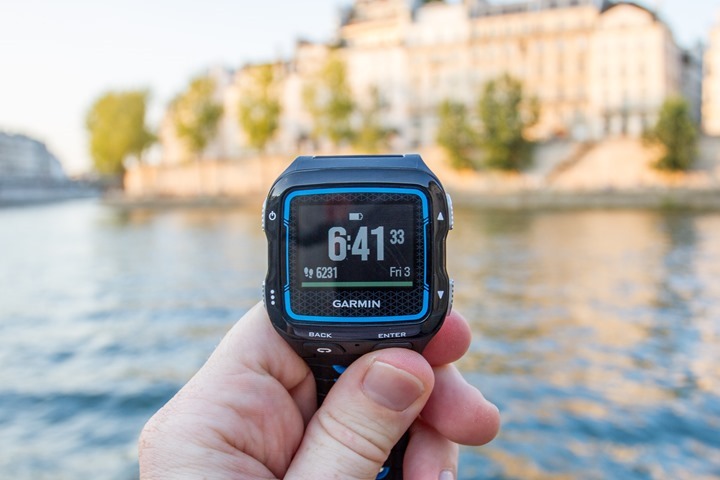 With a final Garmin FR920XT unit in hand, I set out to test out all three sports in a real-world triathlon.  Lacking a proper race, I just made up my own.  Though, oddly, I didn't actually take any photos of it.  Don't ask, I don't know why.  I just didn't.  Complete brain fart.
But, I did publish a bit of a video with all the results and how it worked, you can find that here on YouTube.  I simply started off outside the city at a swimming spot, and then biked back to home before heading out on a 5K run.  Basically, a sprint triathlon…done at 5PM on a Friday.  Thankfully I could stay off the busy city roads for all but the last mile or so, and even then there's bike lanes.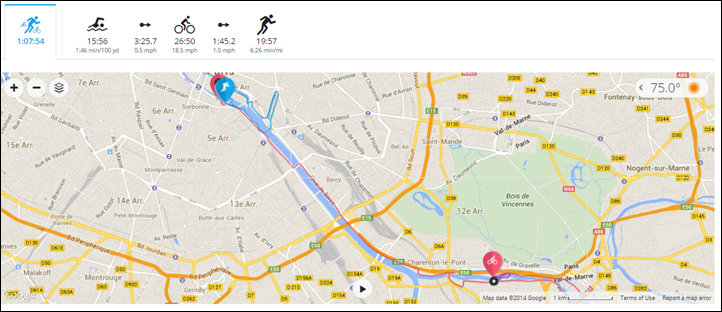 More importantly than the FR920XT test data was that my route worked out exceedingly well.  As in 'why the heck didn't I ever think of that before' kind of well.  Figures I'd realize it now at the end of the tri season.  Sigh.
2) Helped The Girl Celebrate 2 Years of Bertie's CupCakery!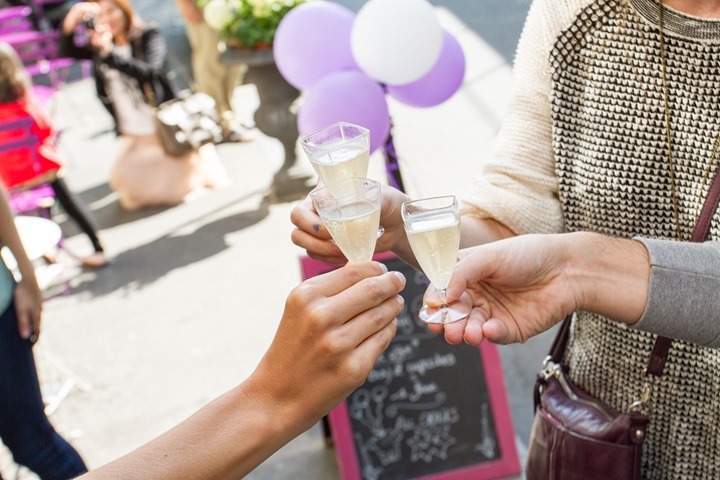 This weekend was the 2nd anniversary/birthday of the CupCakery that The Girl opened up in October 2012.  It's hard to believe two years have gone by that quickly, but I'm incredibly proud of what she's built in that time.
Like last year we had a bit of a celebration at the shop, where anyone could come by and get free Champagne and cupcakes.  Obviously, that makes people pretty happy.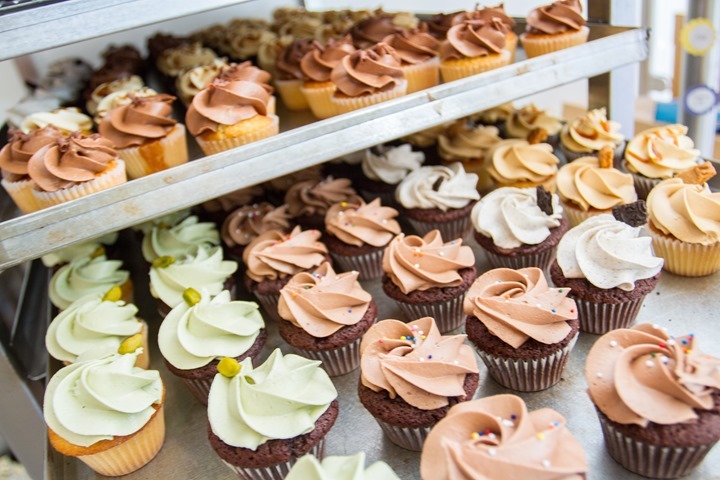 And as is almost never case – we briefly had all the employees there at the same time (for about 10 minutes of overlap).  Our employees are amazingly awesome, and we couldn't do it without them.  So, we used that 10 minutes to get a group photo: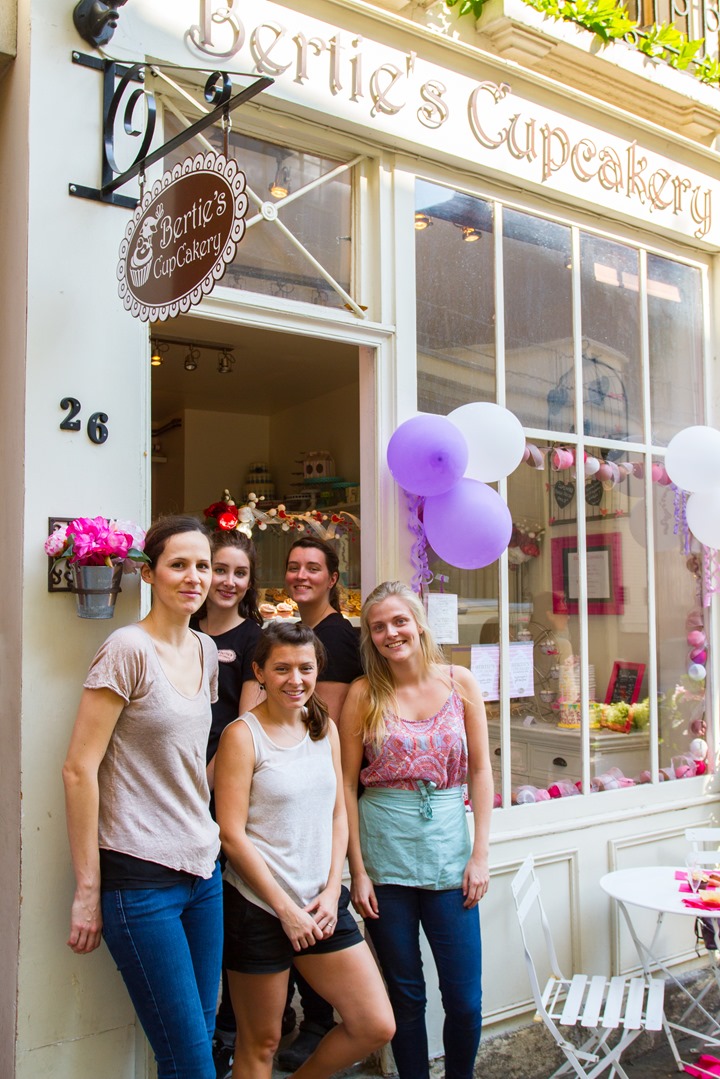 Well, I suppose we only used about 20 seconds of that 10 minutes, because then people pushed through to get more cupcakes.  Which I suppose is a fair response to free cupcakes and bubbly.
And don't worry, we've still got lots of goodness coming up on the CupCakery front…so hang tight!
3) A little bit of Nuit Blanche: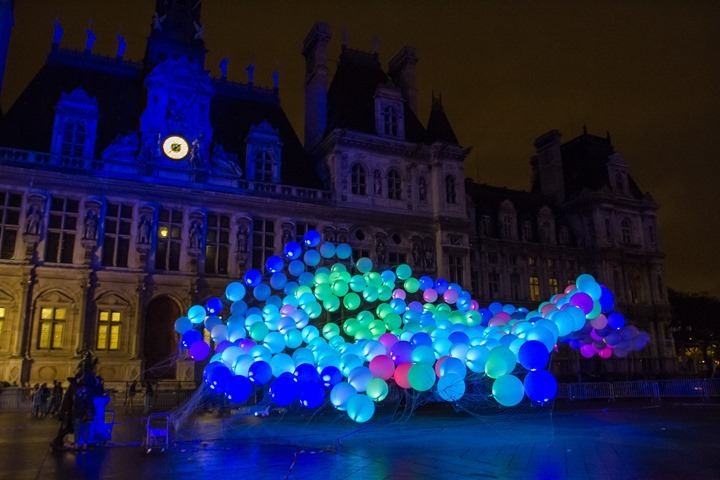 After wrapping up things at the CupCakery on Saturday night, we headed out on the town with a group of friends.  That night was the annual Nuit Blanche (White Night), where art installations are scattered across the city on routes that you can follow.  These art installations are one-night stands, and start at 8PM and go till around sunrise the next morning.  Additionally, various buildings will stay illuminated as well later than normal.
For example, the above balloon exhibit in front of the city hall had individual lights in each of the balloons.  Those balloons were then controlled by tablets, and I believe each person/tablet could control a single string of balloon colors (all instantly).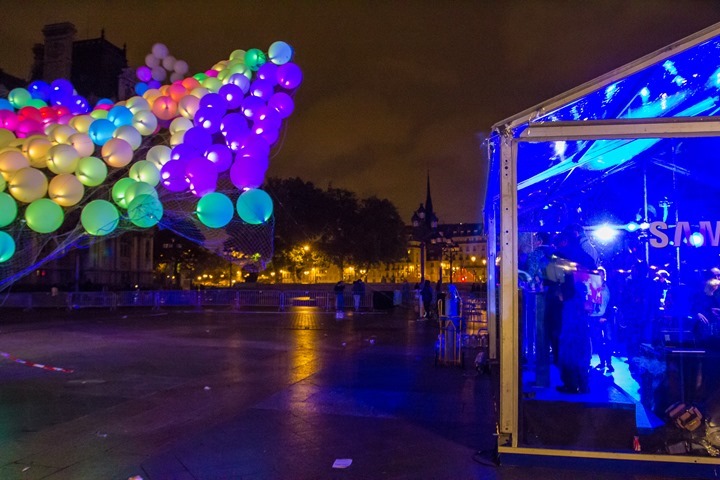 This year was different in that they actually painted a blue line on several routes across the city, making it easy to walk from section to section simply following the blue line.  I believe there were three core routes – all ending at city hall.  Each one many miles in length.  I suspect if you ran them all it'd probably be 20 miles of blue line.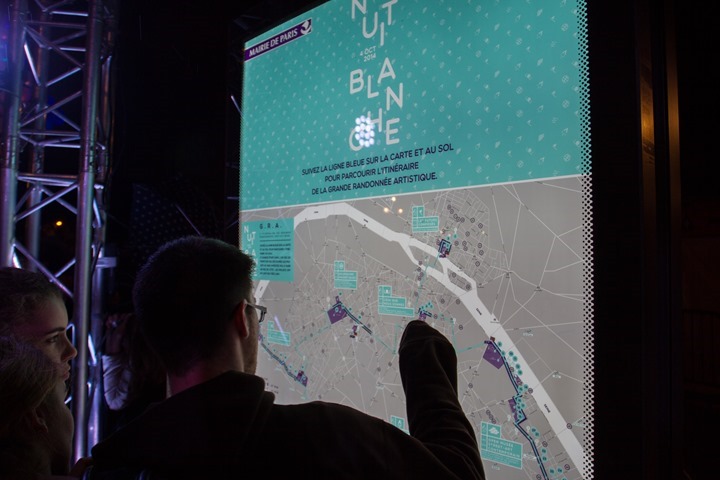 In our case we headed up the hill and stumbled into a library that was opened at night.  The scene inside was completely unreal.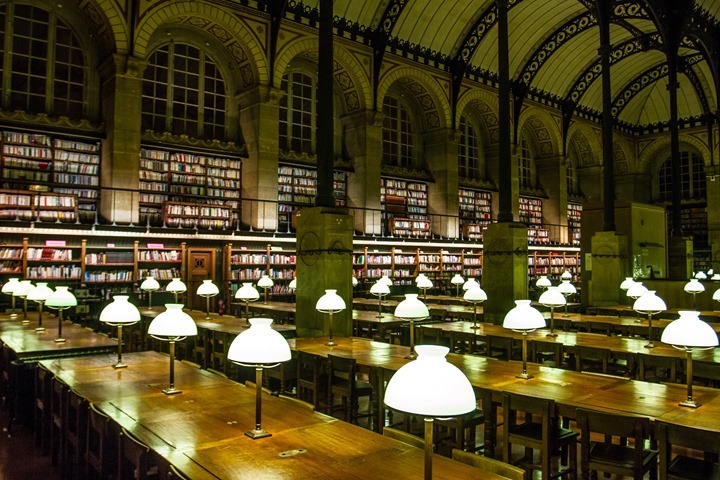 More so though when at one end there was a gigantic pile of crumpled up paper, which you could add to by grabbing a free poster and then throwing it up there.  This person made a paper airplane.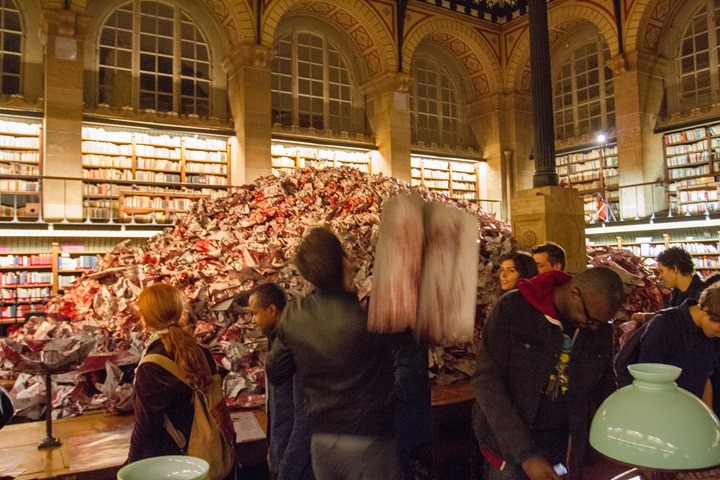 Yes, it looks sorta like blood.  Don't disagree there.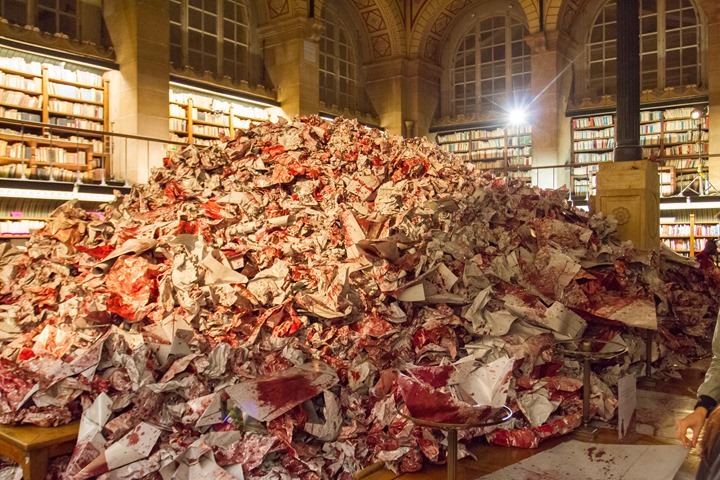 Outside of that there was this gigantic moving statue.  It looked like an insect and was slowly creeping in a loop around the Pantheon.  They'd remove the wood pieces from the end of it (it was perhaps 75 meters long), and then add them to the front, where it'd slowly be moving forward.  We watched for about 10 minutes and it was pretty impressive.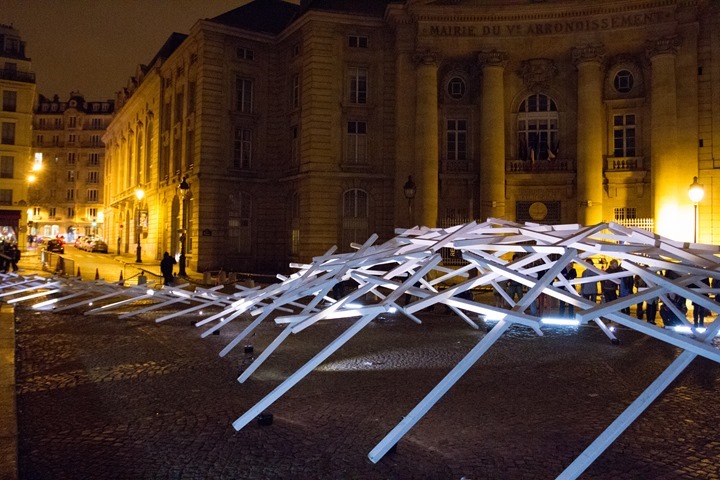 There were a few other things that we saw, but none of them quite came out well on camera unfortunately.  Still, pretty cool, especially in that it's totally free and all over the city.
4) Breakfast at Holy Belly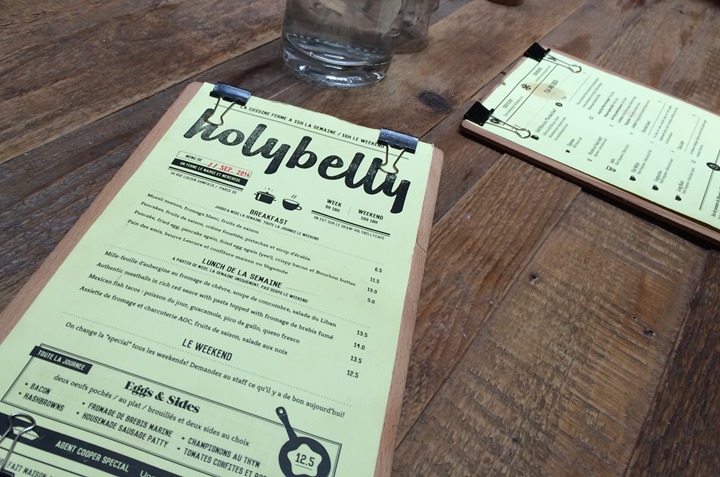 By 'having breakfast', I mean at lunchtime.  Actually, more like early dinner time.  We got there for a bit of a brunch with the same group of friends from the night before, but due to the crowds we had to wait a bit.  Turns out, according to their Instagram feed this was the busiest day in history for them.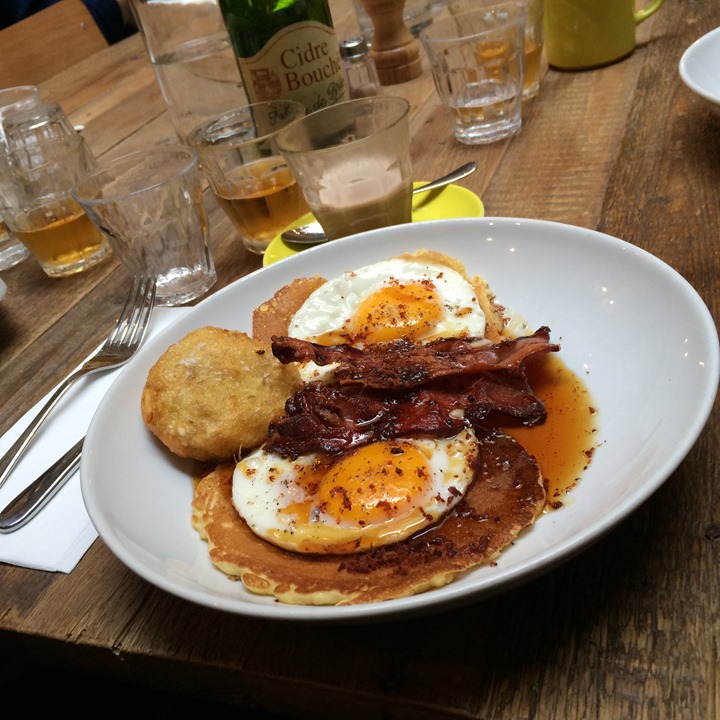 No worries though, we just enjoyed hanging out.  Oh, and yes, it was awesome – like it always is.  Bourbon butter on pancakes and fried eggs with bacon always is.  Always.
5) A 10-mile run testing our courses.
After breakfast lunch I did a bit of a loop on (or rather next to) the peripherique, which is the ring road around Paris.  In general, it's not super-scenic in terms of gorgeous Parisian monuments. Rather, it mostly looks like this: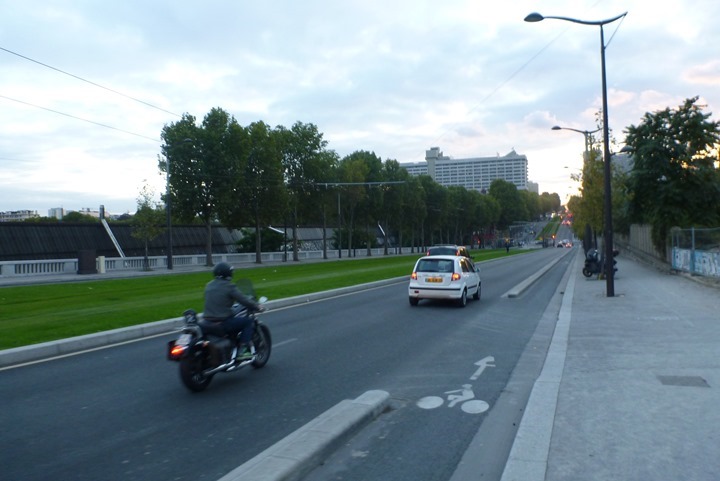 However, it is quite functional from a running standpoint since it has a bike/pedestrian path all the way around it – making it super easy to run with few people.  Plus, it's got some really nice rollers (hills), thus it keeps the terrain shifting a bit.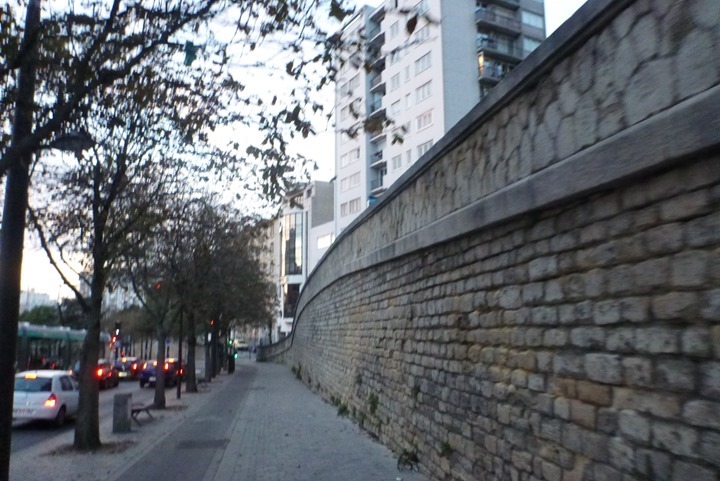 The primary goal of my run, aside from getting in a run, was actually to test out the courses feature.  Thus, about halfway through the ring road I created a route that crossed back over the city through all assortment of buildings zigzagging down through different areas.  The idea here being that I'd never run in this area previously and simply would have to depend on the watch to get back home.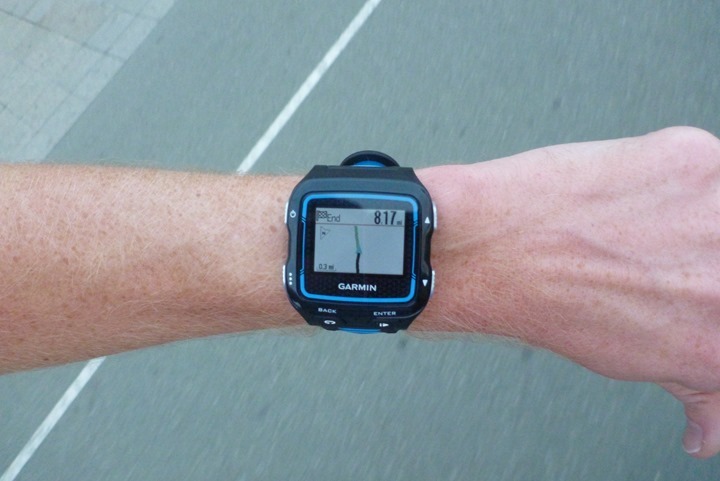 For the most part, that worked fairly well.  The only challenge is with the FR920XT you can't zoom in manually within an activity.  The unit will auto-zoom in while you're moving, which means you see the above view, which is about a .60-.75mi view.  This works fine for places where you have major avenues and you know where you're going.
When you stop however, it zooms back to show you the entire route (which, I'd say is useless).  But, ignoring that, the challenge with the .75mi zoomed view is that in a city environment when I approach a 6-way intersection I can't actually figure out which tangent I'm supposed to run down.  So to that end, I had one error running down the wrong street about 50 meters before it told me I was off course and I had to change directions.
Thus, I'd give navigation with courses about a B+ there.  I got home successfully, and only had one error, but, it wasn't perfect.  It was interesting to see how precise it was on the completion of the course – down to within a few feet of the specified stopping point.  I actually had to cross the street to finish the route since that's exactly where the finishing point was, as I was still 24ft short on the wrong side of the street.  Kinda neat.
As for outside the courses functionality, I continue to be impressed there – it's working well.  Oh, and aside from the FR920XT, I was also running with the women's focused Bia Watch on a few runs this weekend.  So that's in the 'active' queue now also.
Bia's done a bunch of firmware/site updates over the past year, so I've been working my way through those.  Of course, the watch is in many ways the complete opposite of the FR920XT.  Different strokes for different folks.
With that – hope everyone has a great week ahead!  Thanks for reading!