This past weekend SportTracks enabled support for automatic sync with Garmin Connect.  This rounds out the 'big three' when it comes to endurance athlete sites and Garmin Connect Auto Sync (including Training Peaks and Strava).  There are of course other more fitness-focused sites out there that are equal or larger in size, but none of them focus on the endurance athlete as much as the three noted.
This automatic sync means that as soon as your Garmin device workout syncs to Garmin Connect, it'll show up a few seconds later on SportTracks.  This uses the same backend functionality that was introduced this past summer for the other sites.  Note that while this is Garmin device focused, SportTracks told me they're eager to get such setups in place with Polar and Suunto once those companies are ready to do so.
Finally, note that there are some differences here from other sites that have enabled sync.  Specifically that SportTracks can sync your entire history (not just 30 days), as well as showing advanced Garmin-specific metrics like Running Dynamics – which are found on the Garmin FR920XT, FR620 and Fenix2.
Setting it up:
With that introduction out of the way, let's get things cooking.
1) To start, you'll go ahead and begin by clicking up top in the upper right where the bell is and select 'My account', then choosing 'Sharing', which should take you here.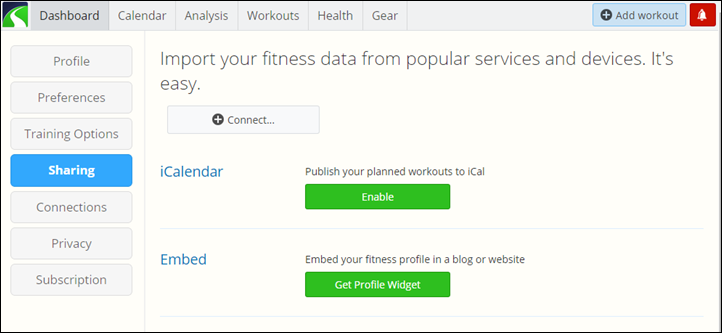 2) Next, you'll see the option to connect to Garmin Connect.  You'll want to click that little logo.
3) From there it'll zip you over to Garmin Connect for you to authorize that you want to allow SportTracks access.  Clicking 'Yes' would be a prerequisite to success.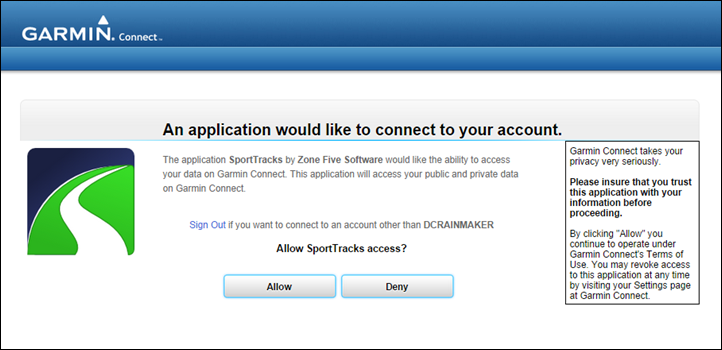 4) Then you're given the option to import your entire Garmin Connect history to SportTracks.  To do so, you'll click the little checkbox.  There's some duplicate detection logic, which I'll cover in a moment.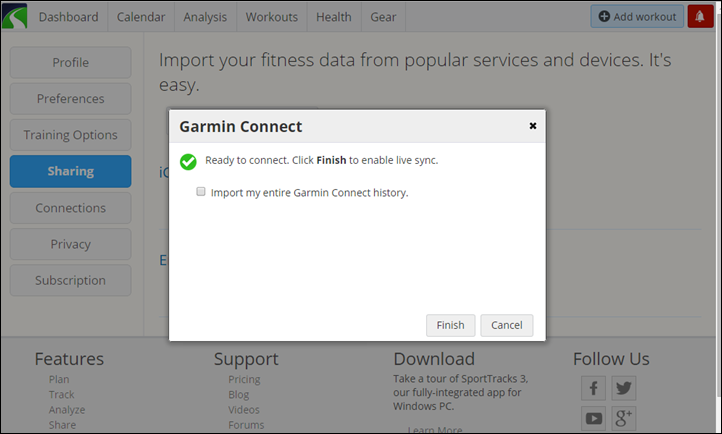 5) In my case, I figured 'Why the heck not', and went for it.  It'll then prompt you for your Garmin Connect username and password.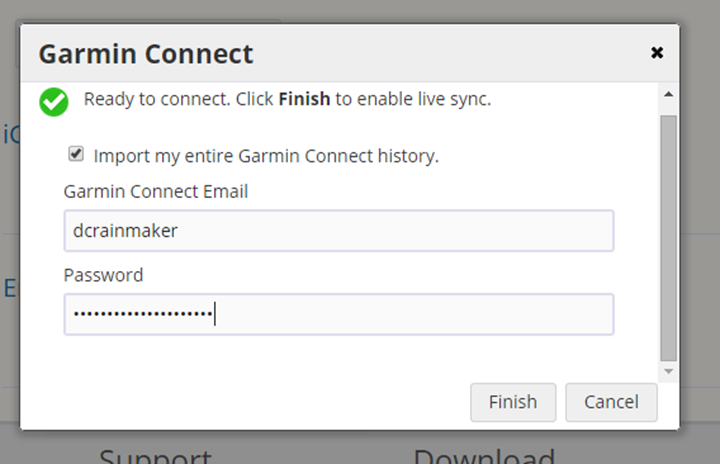 6) With that, it's now connected.  It'll show you the last time it accessed your account below that.

7) From there, a few minutes later it'll start syncing your old workouts in the background – working backwards from today.  As a general statement, this will take a heck of a long time.  Approximately forever.  Don't worry, you can go about your life until it completes.

How long it'll take to complete will depend on how many activities you have in Garmin Connect.  Note that they have a duplicate detection feature that prevents duplicates if an activity start time is +/- 3 seconds.  This will prevent activities they you already have in SportTracks from getting copied over again from Garmin Connect.  So while that's good, it's always possible a few might slip through.
Finally, note that it's a one-way sync, it does not send activities from SportTracks to Garmin Connect.
Doing an activity:
Next, you'll go out and do an activity.  This part is pretty much the usual.  It supports any Garmin device that uploads to Garmin Connect, so you can use a Garmin Forerunner watch, or a Garmin Edge device – or the Garmin Fenix lineup.  Doesn't matter really.
For those devices where you have Bluetooth Smart or WiFi, that's where things shine though, because it's all automagic once you sync.
That means that after I completed my run and walked into the house, I immediately found my run already on SportTracks, due to the automated WiFi upload.  In this case, I was using the FR920XT, but the same would have been true of the FR620 too.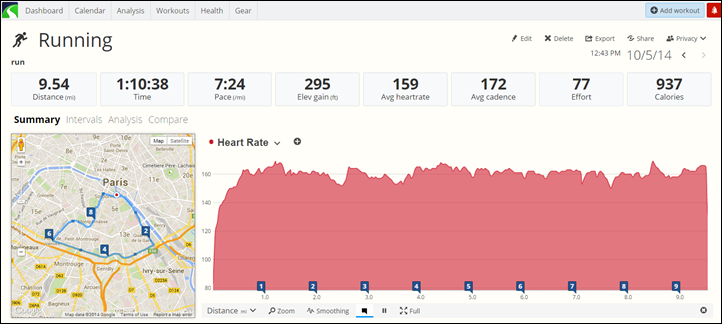 Now interestingly, and this is where SportTracks shines a bit, they actually do enumerate the various new Running Dynamics metrics – something that virtually none of the other big sites do.  So for example, you'll see my Ground Contact Time there (that's offered on the FR620, Fenix2, and FR920XT):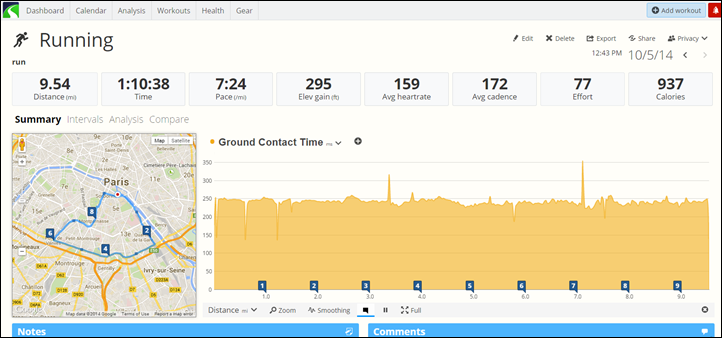 And of course all of this data gets pulled into your various summary analytics data.  For example, here you've got the last few years of my Garmin history that was pulled over – all now visible.

And if you look at features for the multisport athlete, they have a much cleaner interface for swimming support, such as pool swims as seen below.  Something that Strava simply doesn't support at all.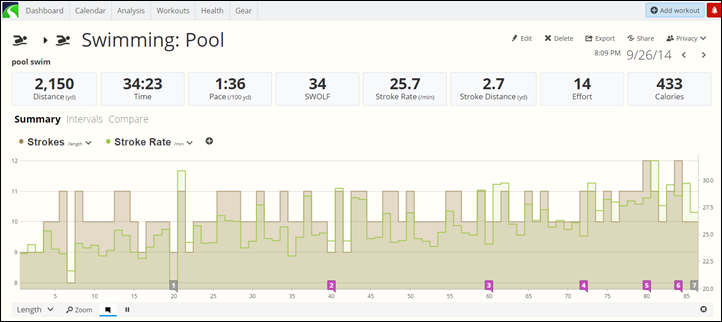 Note that like other Garmin Connect sync services there are some limitations here.  For example, sites like SportTracks are unable to actually see any tweaking of activity names on Garmin Connect or any other settings there for new incoming workouts.  This is because they simply get sent the raw .FIT file straight from Garmin Connect.  So you'll have to manually update the activity name on SportTracks if you change that.
Desktop Sync Option:
Now SportTracks also has a desktop app, in fact, it's what initially drove me to using them years ago.  As a desktop app, it's pretty much the king of customization and devices with plugin offerings and all sorts of ways to show unique data for athletes.
With that in mind, you can actually sync directly to their online option and thus in turn get your workouts from Garmin Connect as well.  To set that up, go into Settings > CloudSync.

Then click the 'Get Started' option, which starts a wizard to access your online account (or create one if you don't have one):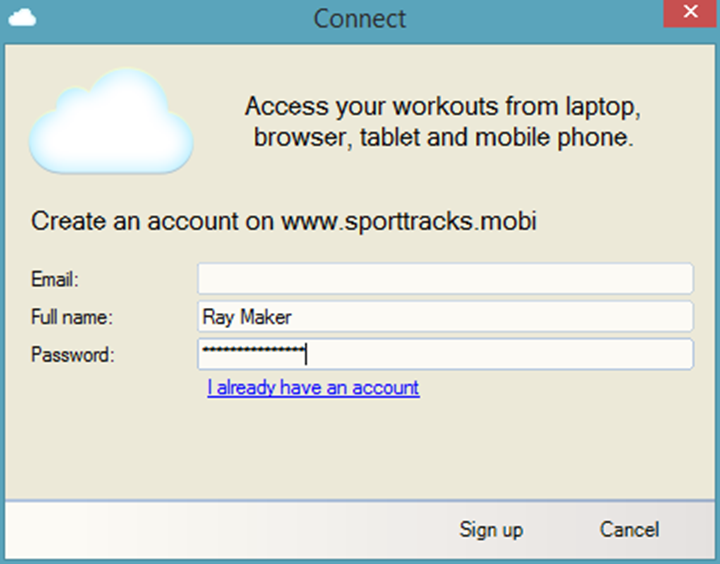 Next, you can 'align' categories from the different categories on SportTracks online versus desktop.  Think of this as mapping the workout types: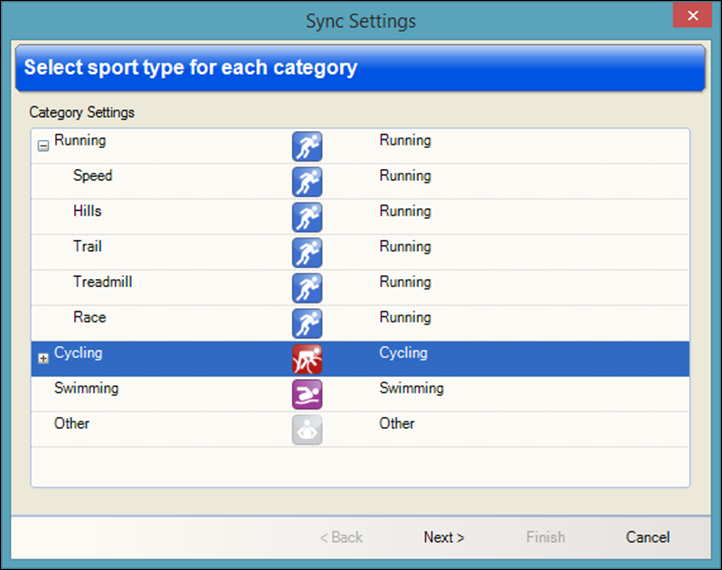 Then, you'll see a 'Start Sync' button, which will begin the sync process from their online site.  This will go about its business for some time, depending on your interweb speed and total number of activities.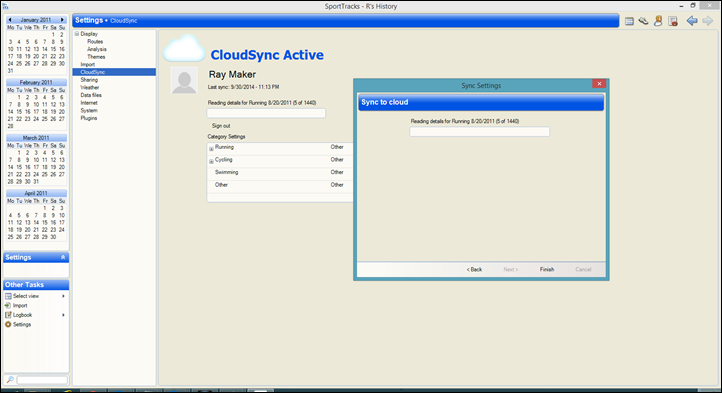 Once that's complete, you'll see all your workouts just like normal in the desktop app: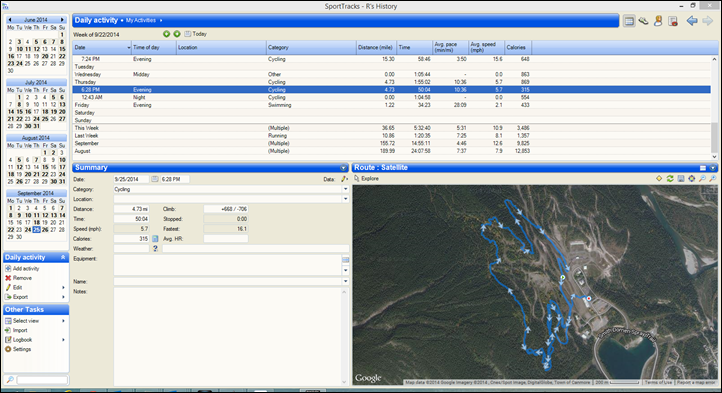 And just like before you can work offline without any issues since everything is copied locally.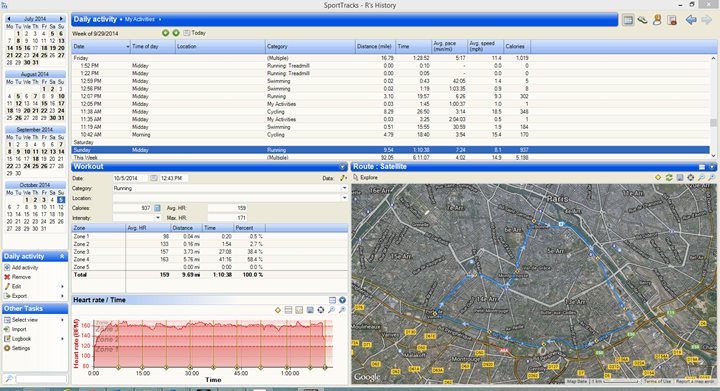 With that, go forth and sync.  Note that this will be the last post I do on the Garmin Connect sync relationships – mostly because I've covered all the major ones.  For example, Endomondo recently went live (I don't use the service though, so I can't comment there too much), and then MapMyFitness should go live within the next week.  Of course, this is in addition to Strava and Training Peaks back this summer.
Thanks for reading!