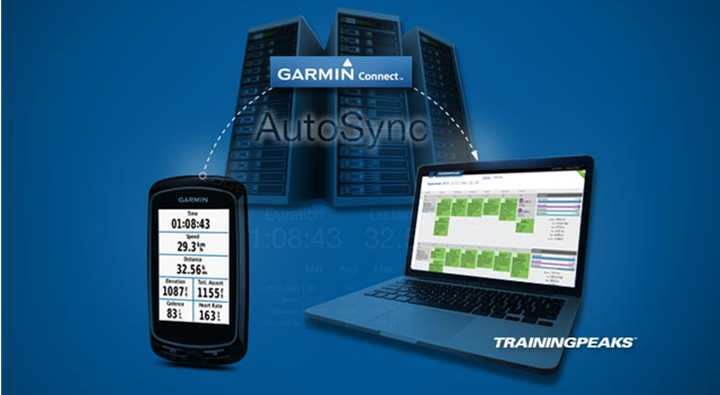 Today, Training Peaks has announced and enabled the ability for your Garmin workouts to automatically appear in Training Peaks within about 10-seconds of you completing the workout.  This means that for any Bluetooth/WiFi enabled Garmin devices, you'll be able to get the workouts to Training Peaks without being near your computer.  And, for those with older devices like the FR310XT/910XT that use the ANT Agent (or Garmin Express) software, it'll still get your workouts to Training Peaks without the need for the Training Peaks Device Agent.
Let's go for a bit of a walkthrough on how it works:
Setup in under 30 seconds:
To start, you'll head over to this link on the Training Peaks site to enable the sync to Garmin Connect.  You're given the option to sync the last 30 days of workouts.  In my case, I decided against it since that would potentially introduce duplicates.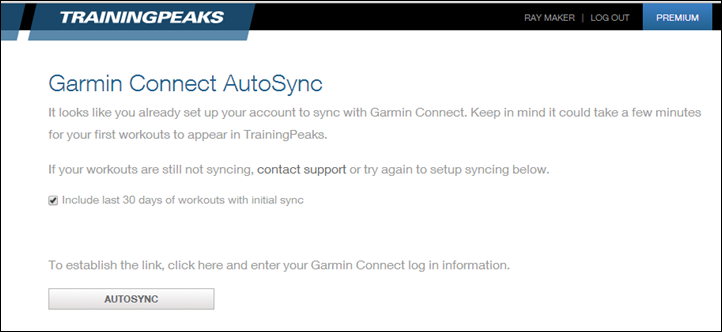 Once there, simply press the 'Connect!' button to get things started.  This will then transfer you to a Garmin Connect page which will ensure that you you know what you're doing.  You'll want to click the 'Allow' button if you want to succeed.  Clicking Deny will likely result in loss of limbs.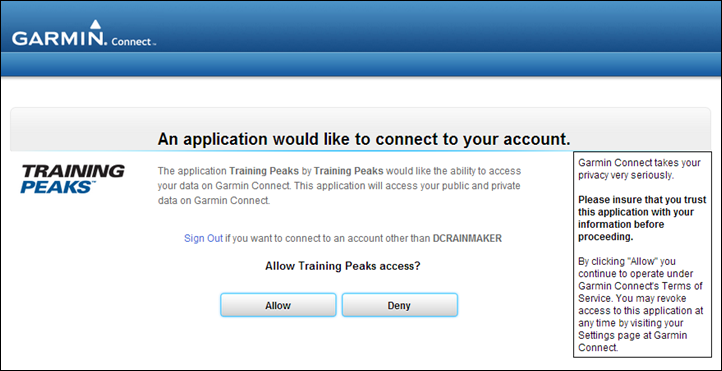 From there you'll get a confirmation page from Training Peaks that life is grand:

With that, your setup is complete.
From here on out all new workouts will be synchronized.  Really, it's as simple as that on the setup front.
Daily Usage:
Having been using the service for the past month – it's pretty darn sweet.  The way it works is that within about 10 seconds (yes, seconds) of your uploading your workout Garmin Connect will push it over to Training Peaks automatically.  This is especially nice if you have a device with wireless sync – such as those Forerunner and Edge units that sync over the phone with Bluetooth Smart, or units that use WiFi.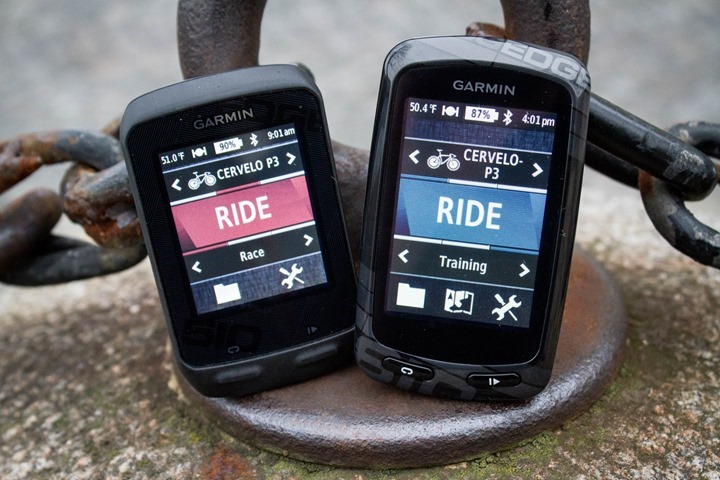 You'll still see an uploaded workout in Garmin Connect as normal: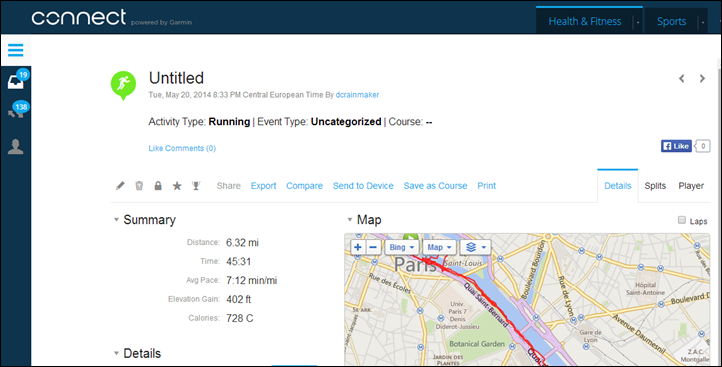 But you'll also see one over in Training Peaks as well: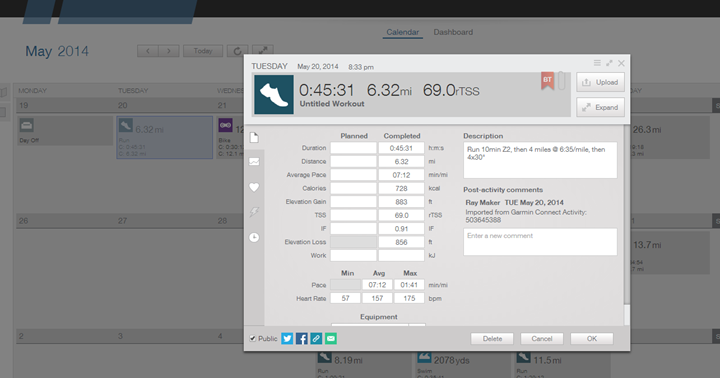 If you're on the go you can use the newly revamped Training Peaks app to tweak and add comments (i.e. to a coach, or just for yourself):
And then as normal a handful of minutes later your coach would get notified of a newly uploaded workout.  I've been using it with my coach during the beta period and saw no issues.  Well, no issues outside of me forgetting about the fact that it auto-uploaded as soon as I walked in the front door…and then remembering hours later to put in comments.  But, I suppose that's probably more of a 'me' problem than one I can blame the awesome new functionality for.
Finally, note that Training Peaks does get the full .FIT file sent to them – which means that longer term they'll be able to potentially add some of the newer metrics being stored/saved in the .FIT file from Garmin devices (i.e. Running Dynamics, Di2, etc…).  They don't have any timelines or specific commitments there, but being the entire raw/original file is sent over, it makes it easy long term.
Overall, I can't be happier with something that has a very high 'just works' factor.  Simple to setup, and simple to use.  Can't really ask for anything more.
One last thing…
Now, there is always a catch.  And in this case, the catch actually has nothing to do with what Training Peaks did, or how the service works – that piece is all awesome.
Rather, it has to do with what Garmin has done that allows this to be implemented.  I've been wanting to write about this for some time, but felt it made sense to write about it once I could explain the other side to why Garmin made some changes (that enabled Training Peaks and soon others to do automatic sync).  But, I don't think it's entirely fair to Training Peaks to muddy up this post with my thoughts on that.
Thus, I've put together a bit of a 'companion' post.  Sorta like a 'counterpoint' to why the changes Garmin has made are not all roses and butterflies.  To read that, swing over to this just published post here.