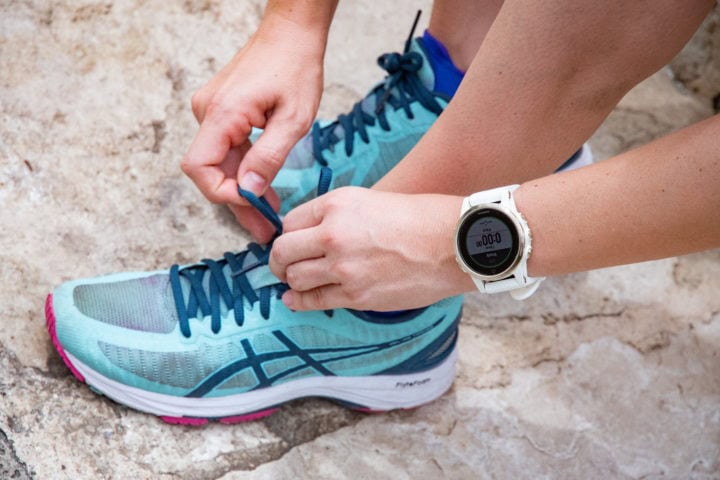 Hey there, this is The Girl writing to you today. As promised, I have put together an updated Gear I Use Post for you. So, if you are interested, take a moment to scan the lists of all of the things I love and keep on my team to keep me training and fit!
Many of you have shown interest in what gear I'm using these days, as I am now (finally) back on the road to logging miles, pushing weights, and trying to throw down on two wheels.
Please note, many things have changed since my last "Gear I use Post". Mainly, as it's been 3 years since I took a stab at this, I've been pregnant twice, and now I spend my days chasing a toddler and a baby around.
So, I apologize if this is a bit of step down for some of you who have followed me since the Great Triathlon Adventures of Ray and "The Girl". I hope to get back to that level someday. But for the moment, this is an honest list of what is keeping me movin' and groovin'!
If instead you find it more interesting to see the list of what's keeping my household together, you can check out the "Gear I Use: Kids Post". I've tried to keep that one updated as the kiddos grow, and keep it narrowed down to the more critical pieces! I'm aiming to have a sort of "Santa's Wish List" done before the start of the holiday season in case anyone out there is looking for ideas for their tiny hoomans too!
Back to this list, it is broken down into Running, Cycling, Swimming, and Weight Room/ Gym Accessories. So you can scroll past sections as they may or may not pertain to you. I'll do my best to keep an eye on the comment section as well in case anyone has questions or of course better suggestions!
Running: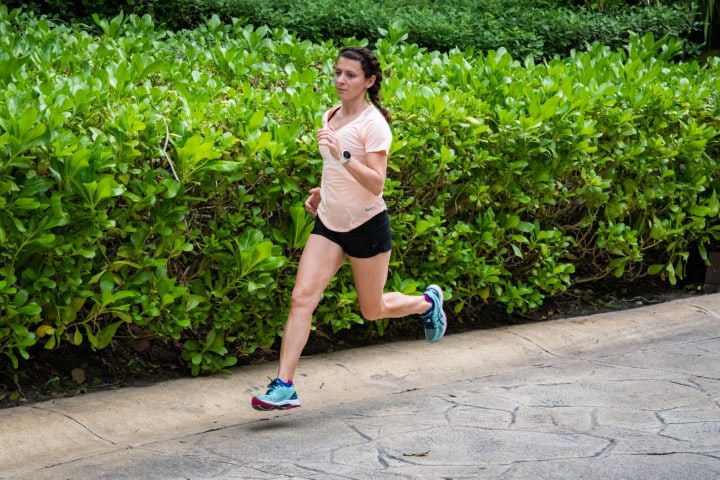 Shoes: Asics Gel-DS Trainer 23 – These have been my go to running shoes for years. I have a pesky metatarsal that likes to pop in and out of joint thanks to my good old NCAA Soccer days. Somehow these shoes are the only ones I've discovered that doesn't irritate the injury.
GPS Watch: Garmin Fenix 5S – This has been hands down my favorite watch to date. I am certainly not the tech guru in our house, so some of my likes include the look along with the functions. Being able to switch the watch straps out depending on work or play, no longer needing to wear a HR Strap, and all day activity monitoring are just a few of the selling points for me.
Running Shorts – These are the latest update to my favorite New Balance split shorts. I have found these shorts to be the best all-around shorts for both long distance and track workouts. I think it has to do with the wider elastic waistband not letting them slide and bunch, but I don't over think it! No wedgies and no chafing for the win! If you prefer a longer short, but same concept, they come in 4" & 5" as well.
Running Shirts- Honestly, I'm still schlepping around in old race dry fits? Or, sometimes I find good buys at TJ Maxx!
Running Socks– Feetures brand socks are the only thing you'll see me in for everyday training. I LOVE these socks. Santa can stick them in my stocking and Cupid can attach them to a box of chocolates any day. These are my jam! I love both the really thin ones and the thicker cushion ones depending on the season; both varieties have amazing arch support!
Compression Socks– These are the only exception to my love for Feetures running socks- CEP compression socks. I used to get calf cramps and tightness that would last days and these were the best thing for both training and recovery. I raced in them. Recovered in them. I wore them all day long. And, they also proved SOOOO good during the last few weeks of both pregnancies!
Sports Bra – Undoubtedly this is too much information for some of you, sorry about that. I'm a huge fan of not spending $80 on a sports bra. Some of the prices I see on the Nike and Lululemon brands are insane, and that does not guarantee you they are "good" bras, nor will they make you magically faster. I'm the first to admit that I am also not super wealthy in the chest department either, so I don't need the extreme support others might. Anyways, I have two absolute favorites, with about 3-4 of each! Ooops. First is this Champion bra, you can also find them at Target! Second is this Nike one! For Comfort, support, and price these are no-brainers.
Anti-Chafing Products– So, even with the best-found shorts, there are days that for whatever reason I'll still get some inner thigh chafing. I like and own both of these products, so you choose what's best for you. Skin Strong is my preference hands down, but since it's a liquid in a plastic spray bottle I prefer not to put it in my gym bag. So, if my run is starting from anywhere other than at home I'll use Glide. I have a small stick of Glide that has been kicking around for YEARS!!! Both products realistically last you forever and are inexpensive. When considering the prospect of having to shower post run with open wounds on wherever it is you might chafe, I'm happy to have several of these products handy!
Hair Restraint System – Oh the things nobody told me about being a mom. Or, I guess more specifically postpartum. All your freaking hair falls out!?!?! Now I have these tiny fine regrowth hairs coming back and it looks like I have horns growing from my head!! This is my current hair strategy, and best of all no hairband headaches!
Cold Weather Running Gear:
As I am writing this post, it is not yet cold, and I can only hope that Ray will take us away for the winter again this year! Somewhere warm with a beach, please!!!! However, if staying in Europe for this winter is what we must do, then these three pieces are my go-to products. And they are OLD! Or a nicer way of saying it, these three products have been a fantastic investment and have lasted way beyond their life expectancy!
Gore Mythos Windstopper Running Vest – I like layers, and I don't like to overheat. So this vest is the perfect piece! Keeps my chest and back toasty as it is windproof and has a very light microfleece lining. I have seriously been wearing this vest for over 6 years! (Doubles for on the bike too!)
Sugoi Midzero Running Tights – This must be the most "up to date" version Sugoi has out now as mine are just plain black. Like I said, my stuff is old. And not that it's from a lack of use. I have had these tights since 2010 for sure, and I still love them! They have held up over the years, and live up to the price tag. You might be best going to your local running store once the weather starts to change to try on (and purchase), as the sizes for running tights can be tricky!
Ice and Snow insurance: Finally, the last piece of winter running gear that I have on the shelf is the all mighty YakTraks. I have used these puppies during the Snow-Zilla winter running season in Virginia in 2010, in the Zermatt, Switzerland ski village, and even at the North Pole (well almost) while on a trip chasing the northern lights. This one pair has hundreds of miles on them. The gift that keeps on giving!
Cycling: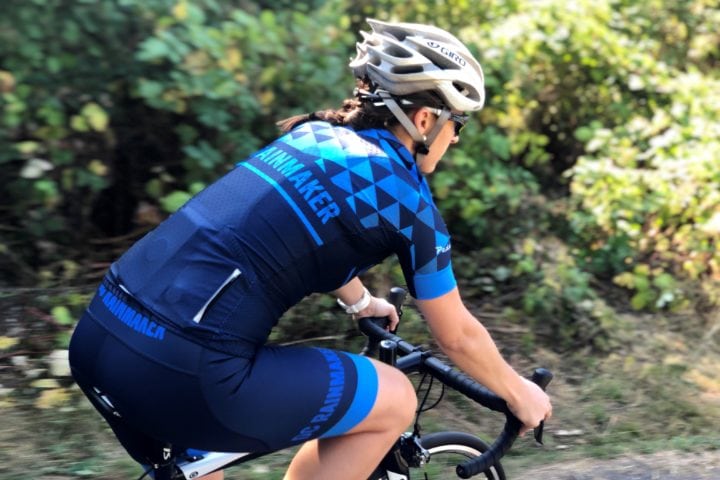 Wow. This section has changed a lot from back in the day!! Honestly, I haven't ridden my triathlon bike in what seems like a lifetime. Poor girl is sitting there all loyal wondering when she'll hit the pavement again. Adding insult to injury, I just purchased my first "real" road bike (opposed to my first Walmart-esq road bike from 10 years ago). So if you want to know what I USED to ride with, you can check out my last "Gear I Use" post… updated 2015. If you want to know what I'm using now, it's basically just the bones of the operation as we haven't built up the new bike yet. You can keep checking back as I fill in the blanks.
Road Bike – Isaac Graviton We have a great local bike shop nearby our house, and the owner helped me pick it out. He knew my budget wasn't huge, and that I didn't NEED a carbon frame. So we checked out several different frame sizes, and finally decided this was a great bike to get me back on the road again. I definitely don't know a lot about bike frame comparisons, so all I can say is for me personally, this was a great choice!
Indoor Smart Trainer – Wahoo KICKR Core and KICKR Climb. Let's be honest, I'm going to ride on whatever Ray sets up for me. But at the moment I have just started using Zwift, and I like the combo of these two, and the "realness" of the ride.
Pedals – Much like any bike technology you will see here, these were chosen by Ray. I like them, they connect with everything they are supposed to. Better said, these pedals "Just Work"!
Power meter – The power meter and the pedals are one and the same. So see above for info.
Bike Computer – I've always been a Garmin girl. The Edge 520 Plus just does the job. I like that it has some mapping features, so when Ray drops me on a ride I'll know how to get home again!
Lights – Still researching. On my commuter bike it's just whatever the bike shop man put on there, but for my road bike…I haven't decided yet. Does that mean I have to ride at night?
Helmet – I've been using this Giro Atmos helmet for many years now. Maybe I should check if it expires? I like it because I apparently have a knobby head and most helmets give me headaches or sore spots. But I think helmets are much like other items (shoes, bras, socks), you have to try a bunch to see what fits your body best. This one just happens to work for me.
Cycling Shoes- These girls are OAF!!! But what an investment! I officially purchased these Shimano triathlon shoes on the same day I bought my original TT Bike. I believe that was 10 years ago now. Admittedly, I need new shoes. But I'll be sticking to this same brand/style if it still exists! Maybe Santa can make a note of it!
Cycling Kit – How could I wear anything else?
Bike shorts –If I'm feeling like an indoor training ride and not wanting to don an entire kit, or am feeling nostalgic of my triathlon days, these are my go-to bike short.
Jersey – Like I said above, if I'm just knocking out a trainer ride, I'm likely just sporting a dry fit, sports bra, or whatever t-shirt is handy at the DCR Cave. I'm not super fancy!
Cold Weather Top- Currently doing some research on this. Everything from Washington, DC was likely donated by now!
Cold Weather Bottom– I purchased these pants a long long time ago, and just dug them out of the closet the other day! I thought they were expensive as a 20-something-year-old, new to cycling. But had I known they would last this long, I wouldn't have hesitated.
Swimming: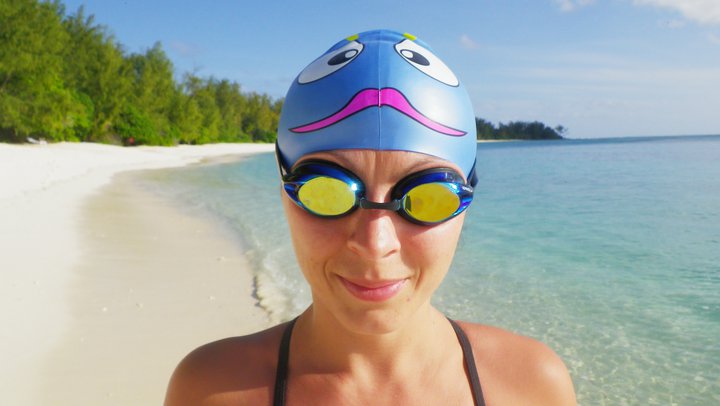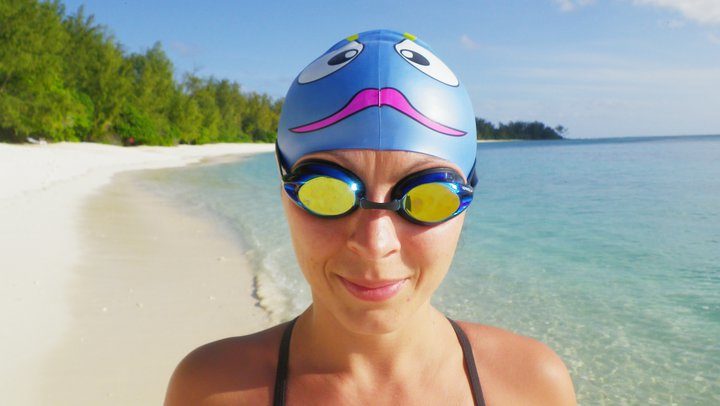 This section is even more super abbreviated than the last. Most of my swimming activities these days involve baby floaties, helping blow bubbles, and trying to fully comprehend the fear of all the child water safety measures. I swam a few times while pregnant and it felt so gooooood, but I haven't found/ looked for a pool here in Amsterdam yet. So, the swim gear that is mostly gathering dust in my closet goes like this:
Swim Suit – TYR brand just fits really well for me. Great quality, the suits survive the abuse of time spent in the chlorine and saltwater pools. While I currently wear the diamond back suits, if I actually dragged my butt to warrant the purchase of a new one, I would likely go with this new ValleyFit suit. It looks super cool!
Goggles – The last pair I had, according to Amazon purchase history, are these Speedo Woman's Vanquisher Mirrored googles.
Swim cap – Mostly I wear old race swim caps. Sadly, it's been so long since my last triathlon, a lot of those swim caps are now deteriorating? So, I'm back to wearing the fishy classic from the photo above! Made by Water Gear, the silicone they use in these caps is awesome. Doesn't pull your hair out, and after 7+ years this cap is still going strong!
Swim Watch – Because the Shark died, or the batteries died? Either way, I'm now just making use of Fenix 5s.
Pull Buoy – This is the only piece of swim training equipment I have left in the arsenal. If I was to hit the pool today, this would be the only piece of equipment that I'd drag along with me. So if you wanted to see what gear I used to use as a competitive triathlete, you can check it out here.
Weight Room / Gym Equipment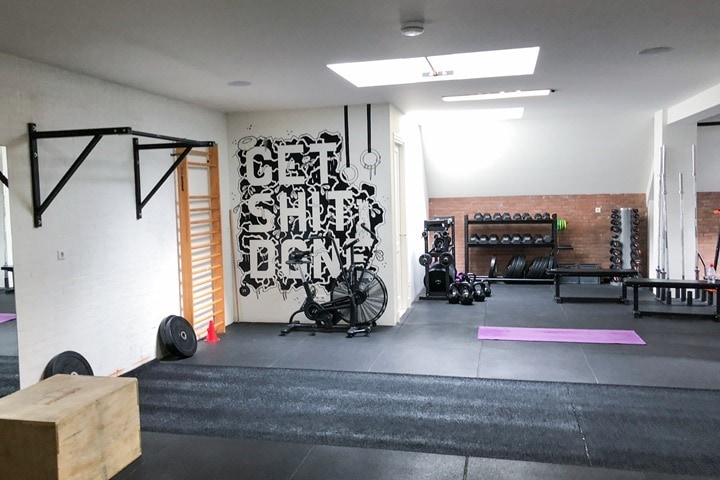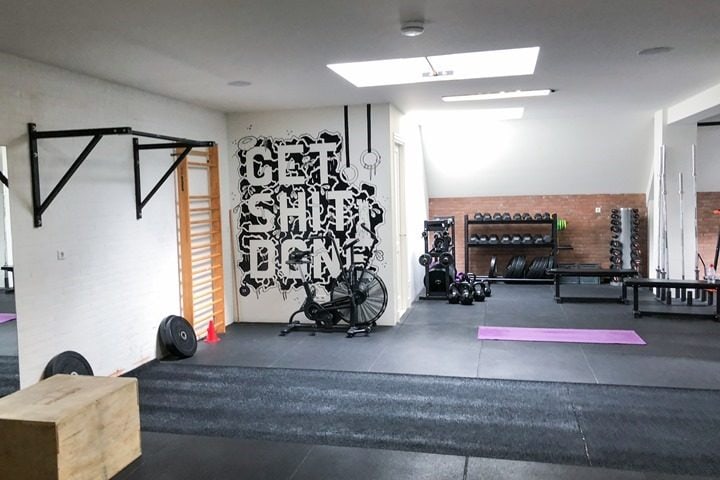 I am finally back on the wagon of strength training. I am secretly a bit of a lifting fanatic. Cough, as you can probably tell by the size of my absent biceps! I have been away from it for far too long, likely five or six years now, and thus it's time to get back at it. So here's the few things that I'm using each trip to the gym to keep me motivated.
Wireless headphones – The problem is, my brain knows what to do, but my muscles are not up to speed! Thus, I am currently a bit self-conscious at the gym and need to block out the rest of the world to get it done! I love these headphones. Period. They just do their thing, they don't get in the way, fall out, or impede my workout in any way. They are wireless so they aren't even a consideration during the workout. I put them in and forget about them and the rest of the world. ***Edit*** I was just informed Ray killed my headphones on Friday. If you don't hear from Ray for a while, I returned the favor to him…
Lacrosse Balls for Micro-facial release – No strength workout starts without a warm-up and 10+ minutes of IT Band and Glute Medius torture. I want something I can stick in my gym bag and forget about. I'm not a big fan of sharing foam rollers with the rest of the gym population… So this is my go to.
That's it. I'm out of money to spend on stuff. Now, just get out there and "GET SHIT DONE"! Good luck with whatever your exercise goals might be!
Support the site!
As always, if you would like to support the blog, you can do all of your shopping, even for the most random of items on Amazon. By making your purchases through the provided links you are helping us keep it all going.  Your support is always appreciated around these parts, good luck in your training endeavors!
—
Oh – and want to read more from The Girl? Then sign-up for the weekly DCR Newsletter (see lower portion), which is actually written by The Girl each and every week!