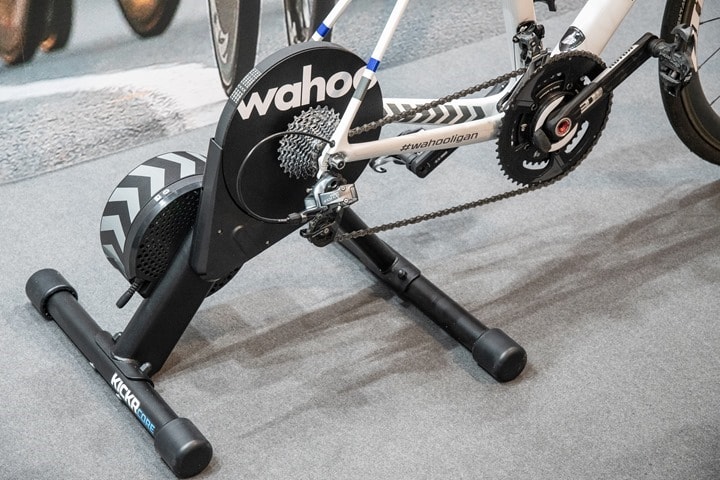 Update note: This is an older post, swing over and check out my full in-depth review of the Wahoo KICKR CORE, complete with tons of testing and data.
Wahoo was busy today announcing a full slate of three new products, including the new full high-end Wahoo KICKR 2018 edition, Wahoo Headwind, and what this post is about, the Wahoo KICKR Core.  You can click on the Headwind post shortly, and later today you'll find my complete In-Depth Review of the full KICKR 2018.  Until then though, here's what's new on the less expensive KICKR CORE trainer.
This new trainer from Wahoo is designed to sit in the 'middle-ground' of trainers from a price and features/functionality standpoint.  Here's the quick version of the lineup:
Wahoo KICKR 2018: $1,199 direct drive trainer with larger flywheel, includes cassette
Wahoo KICKR CORE: $899 direct drive trainer with medium flywheel, no cassette included
Wahoo KICKR SNAP 2017: $599 wheel-on trainer with good but not great road-feel
The new KICKR Core is designed to compete directly with the Tacx Flux and the Elite Direto, both of which have done extremely well in the last two years at the $899 price point, easily undercutting Wahoo's KICKR lineup (and likely costing them a lot of money).  Of course, in the last few weeks Tacx went ahead and applied the pressure again by cutting the price down of the Flux to $799 (while also announcing the new Tacx Flux 2 today at $899-$949 – exact price TBD).
Either way, this new option will definitely be appealing to those that were looking at the Wahoo KICKR CLIMB, which is finally shipping, but didn't quite want to fork out as much as Wahoo was charging for their other direct drive trainer, the full KICKR (yes, the Wahoo SNAP 2017 was also compatible…but some folks just want a direct drive unit).
The Tech Specs: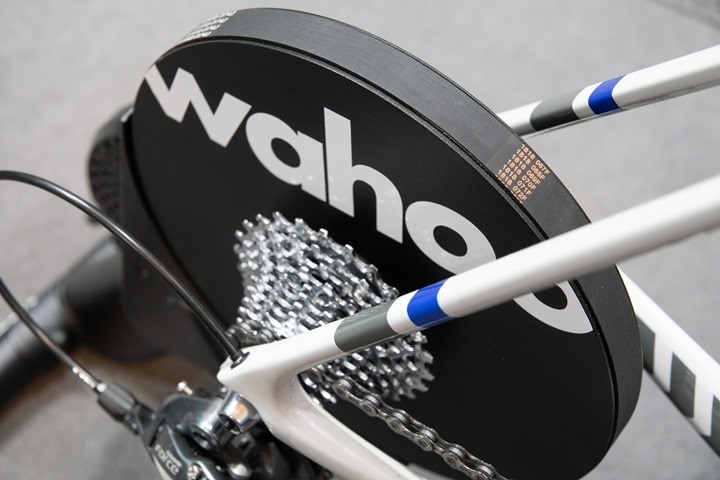 Unlike the Wahoo KICKR 2018 and Wahoo Headwind, the KICKR CORE is a little bit behind the production curve.  Those two units start shipping this week, and as such, I've had them for a while and can have reviews ready to go.  Whereas with the KICKR CORE I just got my first hands-on look at it yesterday, and haven't had the chance to put any riding time on it yet.  Hopefully at some point over the next few days I will (and then I'll add a new 'First Test Ride' section down below once so – UPDATE: Added below.).
Still, let's dive into the core tech specs in a bulleted fashion:
– Direct drive trainer: This means you remove your rear wheel just like a regular KICKR
– Flywheel: It has a 12lb flywheel, which is slightly less than the 12.5lb KICKR 2017 flywheel and the 16lb KICKR 2018 flywheel
– Legs: The unit can't adjust height like a full KICKR can for different bike sizes, it is what it is
– Cassette: Unlike a regular KICKR, this unit doesn't include a cassette, which will set you back $50-$60, plus $10-$20 in tools to install
– Sound: This uses the new KICKR 2018's belt system, so it's silent as well – a huge difference to competitors
– Handle: This unit lacks a handle compared to newer KICKR units, still, it's not too bad to move around as I found out for taking photos
– Protocol Compatibility: ANT+ FE-C, ANT+ Power, Bluetooth Smart FTMS, Bluetooth Smart Power
– App Compatibility: Every app out there basically (Zwift, TrainerRoad, Rouvy, Road Grand Tours, SufferFest, Kinomap, etc…)
– Compatibility: 130/135 QR, 12×142 & 12×148 Thru-Axle
– Max Incline: 18% simulated grade
– Max Wattage: 1,800 watts resistance
– Stated Accuracy: +/- 2%
– Wahoo CLIMB Compatibility: Yes. Simply yes.
As you can see, this is more or less the KICKR that most people have been asking for at least the last year, if not two years, since the Tacx Flux came out.  In doing so Wahoo will likely end up cannibalizing their higher end KICKR sales, as this model will meet the requirements of the vast majority of people.  From a max incline/wattage/accuracy standpoint that's more than true.  And then it really comes down to flywheel and trainer legs.  Given most people were quite happy with the 'older' KICKR (pre-2018), this has virtually the same flywheel weight.  And the legs? Hmm, shrug, like most other trainers anyway.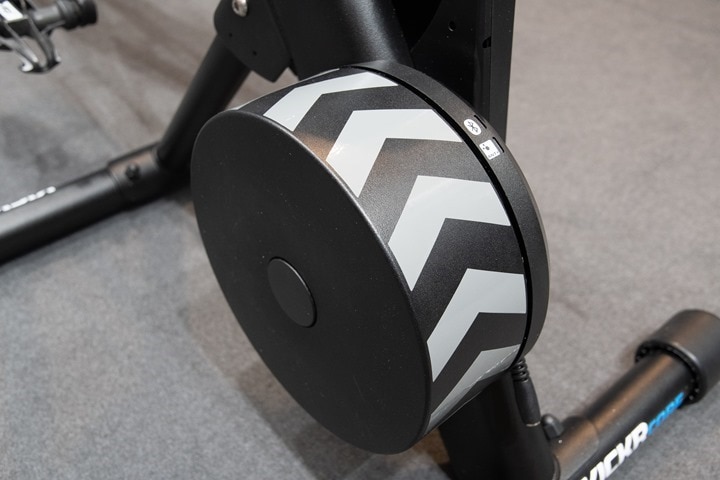 Of course, the legs in many ways look like the Magene Gravat/Gravat II trainer that I tested earlier this year.  And that trainer inversely looked like an exact replica of the upper portion of the KICKR.  So they kinda both probably borrowed from each other here.
When it comes to sound, I can't realistically test that on the show-floor, there's just too much ambient noise.  But perhaps I can steal the CORE for the evening one night and put together a nice video showing how quiet it is in a room somewhere onsite.  The company went with a new silent belt system just like the higher end KICKR 2018 that was also introduced today.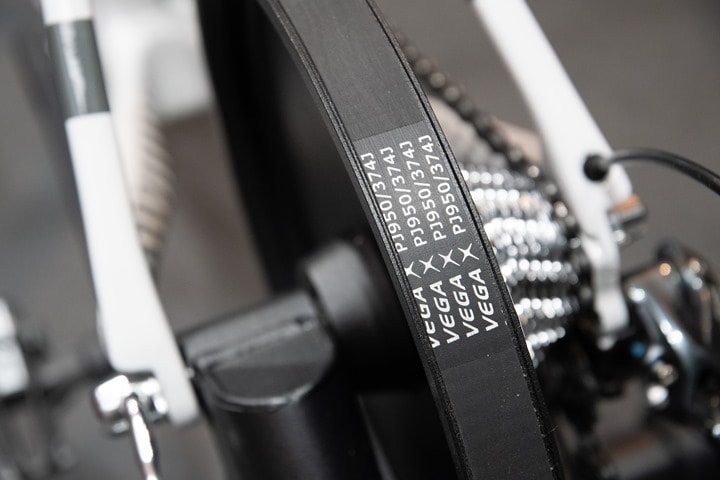 And that's ultimately what this comes down to – testing it. I simply haven't had the opportunity to put it through its paces yet.  This is merely a quick trade-show first look post.  Once it's ready, likely in August, I'll definitely be doing that – no doubt about it!
After the show closes I'll try and put together a bit of an interim roundup of trainers, especially in this mid-range pricing bucket.  Though, I'd caution that some trainers didn't make the cut for announcement here at Eurobike (including a few that were last minute pulls from the show).  So the story won't quite be as complete as we typically like it post-Eurobike.
First Ride Details:
(Added in later)
I got a chance to steal a Wahoo KICKR CORE for the evening here at Eurobike and put it through its paces.  This included both Zwift (workout and simulation modes) and TrainerRoad (ERG mode for 30×30).  It also includes noise/volume testing as well as digging into accuracy too.  All of which I've wrapped up into a single video.  I'll put more text around this in the morning, but it's 3:03AM and the video covers everything super cleanly.
Update 2 – And here's another video I shot now that I have a unit to test. This one is all about the sound:
How it compares:
I've added the Wahoo KICKR CORE into the product comparison database so you can see how it compares against other units on the market. For the purpose of this particular comparison, I've decided to rank it up against the similarly priced Elite Direto and Tacx Flux. However, if you want to see how it ranks against the less expensive $599 trainers or the more expensive $1000+ trainers, you can do so in the full product comparison tool here.
In any event, here's the details:
Remember, you can mix and match the products within the product comparison tool here, comparing whichever trainers you want.
Wrap-Up: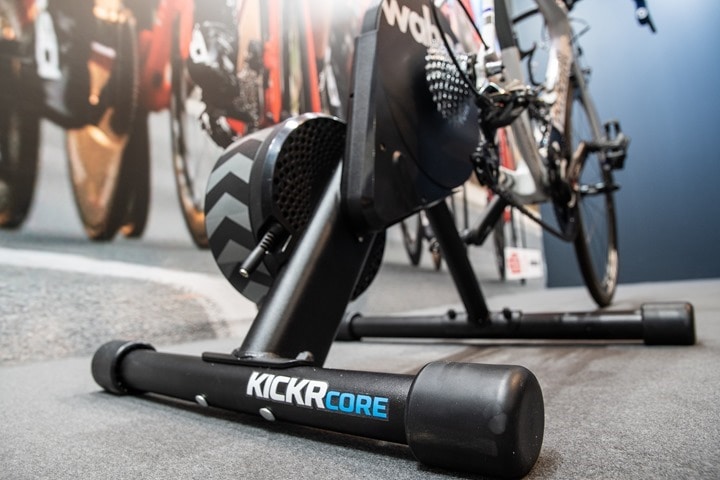 As I noted above, the Wahoo KICKR CORE is essentially what's been missing from Wahoo's lineup the last two years.  And to add more essentiality to it, it's basically just a Wahoo KICKR 2017 without its lower base. Instead, it got gifted inexpensive trainer legs and had its cassette removed.  But in doing so they shaved off $300 on the price. Probably a fair trade-off for the vast majority of people.
Sure, it doesn't have the bigger flywheel weight of the KICKR 2018, but I'd mostly shrug at that.  After all, it did gain the quiet trainer aspects, which is likely more important to most as it does away with the infamous KICKR whine.
The question is how it'll compete with the likes of the Elite Direto and the Tacx Flux.  With the original Flux now dropped in price to $799, and the new Flux 2 coming in with at the same price (perhaps $50 more, that's TBD) but with a dramatically bigger flywheel (32KG simulated), that's a huge difference in feel. Unfortunately, the Flux 2 wasn't ridable yet either (soon…soon).  Thus, it's hard to know for absolute certain.  Other specs on those two trainers are pretty similar, but the Wahoo has the edge on noise, as the Flux/Flux 2 isn't silent.
In any event, it's clear that more companies are paying attention to this sweet-spot of trainer pricing.  The $799-$899 price point now represents what the $1,199 trainers had a mere couple years ago (if not last season for that matter).  This year will, without question, be the best year ever in terms of trainer choice and value for your money.  The only real question will be figuring out exactly which one to buy.
With that – thanks for reading!
Found this review useful? Or just wanna save a bundle? Here's how:
Hopefully you found this review useful. At the end of the day, I'm an athlete just like you looking for the most detail possible on a new purchase – so my review is written from the standpoint of how I used the device. The reviews generally take a lot of hours to put together, so it's a fair bit of work (a labor of love). As you probably noticed by looking below, I also take the time to answer all the questions posted in the comments – and there's quite a bit of detail in there as well.
the details here
.  By joining, you not only support the site (and all the work I do here) – but you also get to enjoy the significant partnership benefits that are just for DC Rainmaker readers.  And, since this item is more than $49, you get free 3-day (or less) US shipping as well.
Wahoo KICKR CORE
Wahoo CLIMB
Wahoo KICKR DESK
Wahoo Headwind Fan
For European/Australian/New Zealand readers, you can also pickup the unit via Wiggle at the links below, which helps support the site too! With Wiggle new customers get 10GBP (or equivalent in other currencies) off their first order for anything over 50GBP by using code [Currently Disabled] at check-out after clicking the links below.
Wahoo KICKR CORE (EU/UK/AU/NZ – Wiggle)
Wahoo CLIMB (EU/UK/AU/NZ – Wiggle)
Wahoo KICKR DESK (EU/UK/AU/NZ – Wiggle)
Wahoo Headwind Fan (EU/UK/AU/NZ – Wiggle)
And finally, here's a handy list of accessories that most folks getting a trainer for the first time might not have already:
| | Product | Amazon Link | Note |
| --- | --- | --- | --- |
| | Basic Trainer Mat | Amazon | This is a super basic trainer mat, which is exactly what you'll see me use. All it does is stop sweat for getting places it shouldn't (it also helps with vibrations too). |
| | Cassette Installation/Removal Tools | Amazon | There are *many* variations of cassette removal tools, this is the best bang for your buck. Don't overthink this. You'll likely only use this tool once every 2-3 years. |
| | Front Wheel Riser Block | Amazon | Here's the thing, some people like front wheel blocks, some don't. I'm one of the ones that do. I like my front wheel to stay put and not aimlessly wiggle around. For $8, this solves that problem. Note some trainers do come with them. Also note, I use a riser block with *every* trainer. |
| | Honeywell HT-900 Fan | Amazon | I've got three of these $12 fans floating around the DCR Cave, and I frequently use them on rides. They work just fine. Sure, they're not as powerful as a Wahoo Headwind, but I could literally buy 20 of them for the same price. |
| | RAD/Lifeline Cycle Trainer Desk | Amazon | This desk is both a knock-off of the original KICKR Desk, but yet also better than it. First, it's got wheel locks (so the darn thing stays put), and second, it has two water bottle holders (also useful for putting other things like remotes). I've been using it as my main trainer desk for a long time now and love it. Cheaper is better apparently. Note: Branding varies by country, exact same desk. |
| | Shimano R7000 105 Cassette (11-speed) | Amazon | This is a Shimano 105 cassette (thus, slightly more budget compared to the Ultegra), in most cases, you probably won't notice the difference. Ensure that the number of speeds matches your bike (e.g. 11-speed, 10-speed, 9-speed, etc...). |
| | Shimano R8000 Ultegra Cassette (11-speed) | Amazon | This is a Ultegra cassette, you can save about $10-$15 by picking up a Shimano 105 instead. Ensure that the number of speeds matches your bike (e.g. 11-speed, 10-speed, 9-speed, etc...). |
| | Tacx Tablet Bike Mount | Amazon | I've had this for years, and use it in places where I don't have a big screen or desk, but just an iPad or tablet on my road bike bars. |
Additionally, you can also use Amazon to purchase the unit (though, no discount/points). Or, anything else you pickup on Amazon helps support the site as well (socks, laundry detergent, cowbells). If you're outside the US, I've got links to all of the major individual country Amazon stores on the sidebar towards the top.
Thanks for reading!