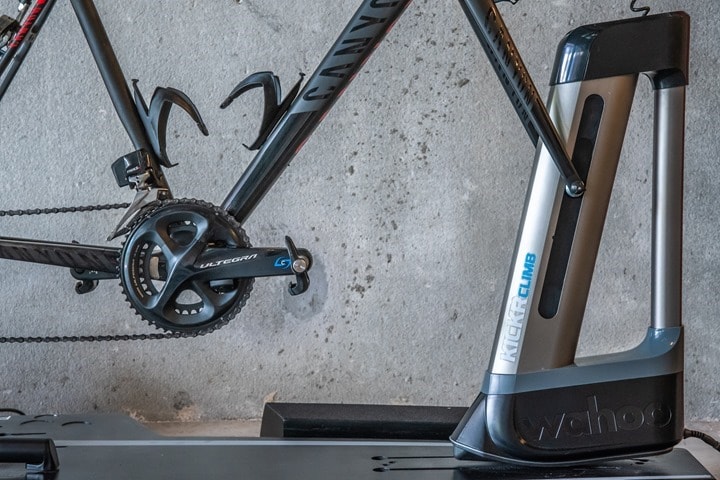 After nearly a year, Wahoo has finally started shipping the Wahoo CLIMB to customers. Real-life, actual paying customers. For those not familiar, Wahoo's CLIMB is a 'grade simulator', which basically means it makes the front of your bike go up and down, replicating the climbs and descents of your nearby hills (or in my case living in Amsterdam now, the meanest of canal bridges).
Of course, given the $599 price tag of such a product, opinions roughly fall into one of two camps: 'Holy crap that's cool', or 'Stupidest waste of money ever'.  Regardless of where you stand on that scale, there's certainly more than enough pent-up interest for the product.  One only need to look at either my or Lama's YouTube video view stats for our respective early preview CLIMB videos last summer – easily the most 'popular' product out of Eurobike 2017.
In any event, I've been using a loaner CLIMB unit now since February (it's final hardware, with now final software). Which, for those keeping track – was one of the many planned shipping dates along the way.  I decided to wait on writing and releasing this review until Wahoo had finally shipped a unit to a normal human. Not a media person, nor an industry person, nor a celebrity. A real-person somewhere. And today is finally that day.
Thus, here are my thoughts on this after a really long time with it.
What's in the box: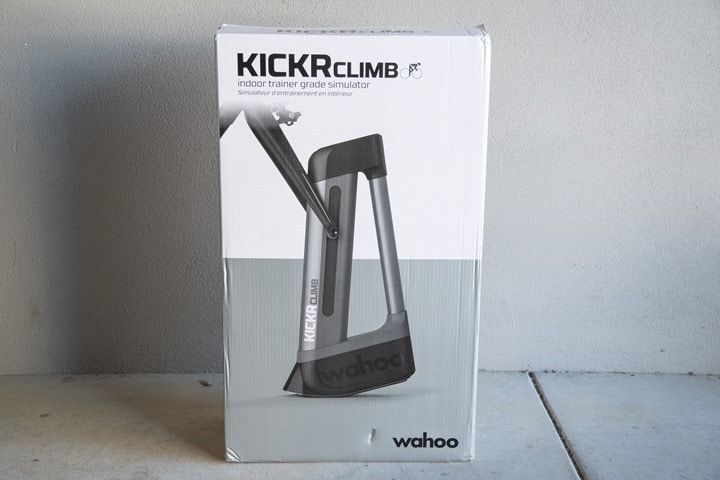 The CLIMB arrives in a relatively tall box – which of course makes sense given the unit itself is tall.  And that's before we talk about the significant quantities of packing foam and plastic bags to keep it safe – enough to keep it safe from any zombie apocalyptic event: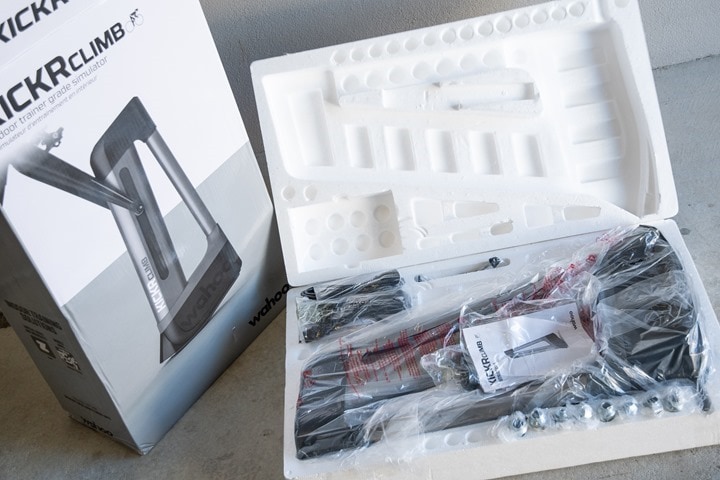 Inside you'll find a pile of parts, summarized they are:
A) The CLIMB (one single piece/unit)
B) A crapton of metal axle adapters
C) Power brick + power cord
D) Quick release skewer
E) Manual
It's pretty straightforward really…once you dig out all the parts from under all that plastic.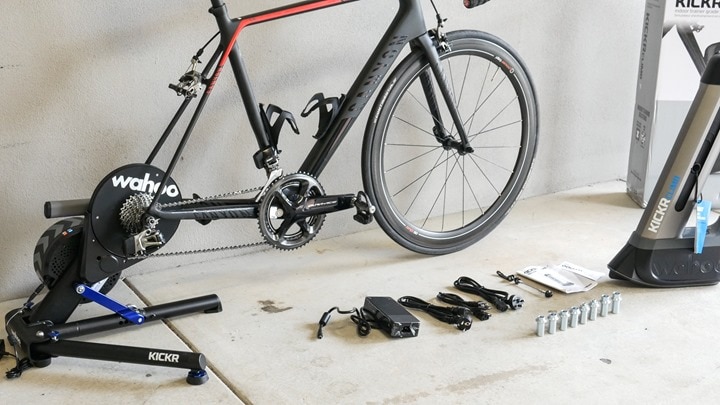 In fact, the main CLIMB device is just barely small enough that you could probably toss it in your (large) suitcase and it would just barely fit. You know, just in case you always wanted to travel with it.
In any case, let's get to setting it up.
How it works: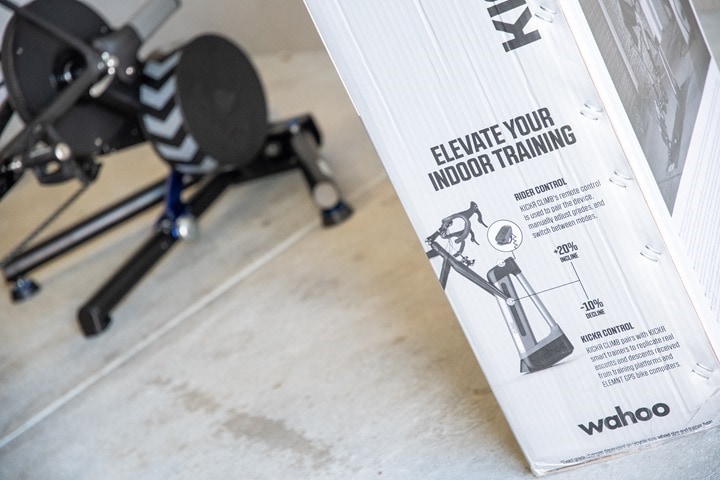 After you've unboxed it, about the only work you'll need to do is figuring which of the 98 pieces of metal in the box are the right ones for you.  See, those small bits of metal are the various adapters for your front fork. Roughly they're divided into two camps: Thru-axle and standard quick-release skewer.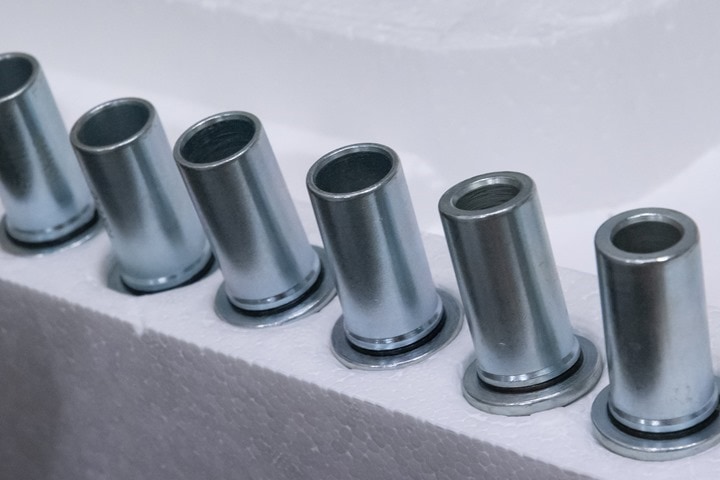 In my case, I've used both.  I use the quick-release variant on my road and tri bikes, as seen below: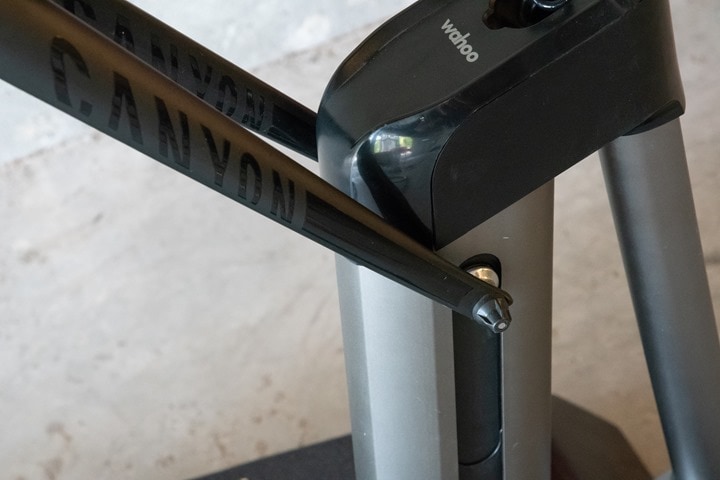 But I also used the thru-axle variant on a loaner bike I was testing the Specialized power meter on: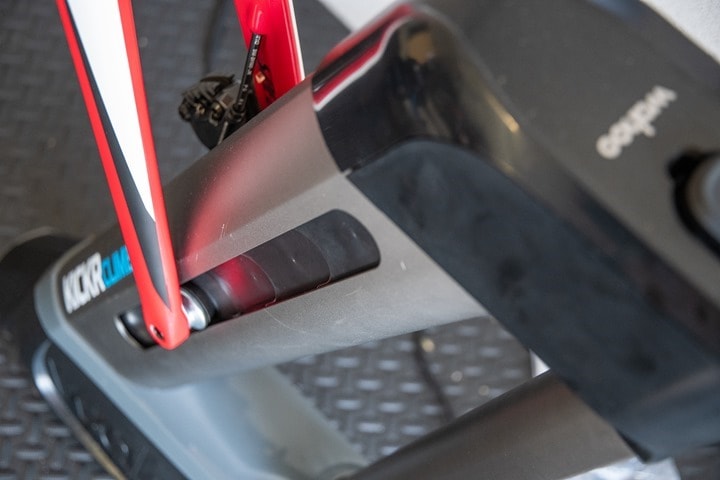 No matter which ones you're using, they come in Noah's Ark like pairs. Each adapter has two adapters, since you need it for both sides of the CLIMB: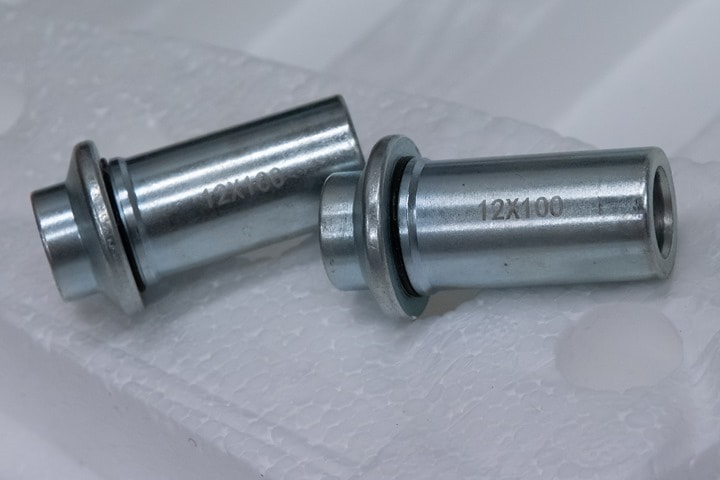 The challenge then becomes what the heck to do with all the other parts. Meaning that now I'm back to just the quick-release variants. Where do I stash all the thru-axle ones so when I successfully convince The Girl I need another bike, that I haven't lost the parts by then. James Huang of Cycling Tips noted that it'd have been ideal if the CLIMB had a little drawer to stash the parts inside of it somewhere for safe keeping.
Next, we've got the power adapter. This thing is a beast. It's like your KICKR power adapter got fat and lazy over the winter and had a few too many donuts. As in, a box of donuts every day. A GoPro for size comparison.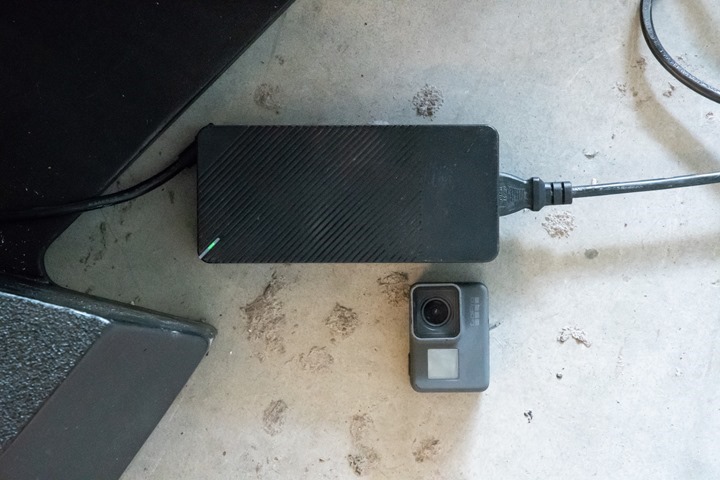 My bike almost weighs less than this power adapter. Definitely does once we add the cord.  No matter, this dual voltage power beast gets plugged into the wall. Without it, you're not going anywhere.  The other end gets plugged into the CLIMB itself.  It's got a nice flexi cord on it so if you trip over it there's a moderate chance it'll just pull the cable out.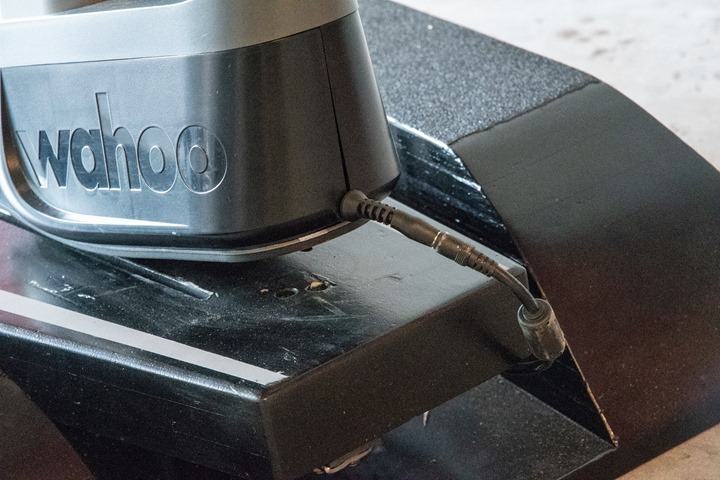 I'd note that as an experienced tripper over this cable, my tests reveal two things:
A) If a bike is on the CLIMB: Nothing exciting will happen. The weight of the bike keeps the CLIMB in place, and the cable departs cleanly from the CLIMB.
B) If there is no bike on the CLIMB: Depending on the speed of your pedestrian activity – the CLIMB will likely go for a flight. Not a very high one, more like just toppling a giant. It'll happen in slow-mo as you think the CLIMB might right itself, but in most cases it'll go toppling down. Thankfully, despite doing it a bunch of times – it hasn't broken anything.
In fact, for the most part, the KICKR CLIMB acts a bit like one of those silly punching bag dolls. It'll mostly just rock itself back to center and stay upright. There are limits of course, but it's not as tipsy as a 21-year-old after five shots.
Note that if you're trying to find the 'optimal' placement for the base, there's a quick trick: After attaching your fork to the CLIMB, simply lift up your handlebars and let the CLIMB balance itself and place it back down again.  Note though, you'll want to ensure that the CLIMB is at the zero-point, which is marked by the little notch you can see below (thus in the below photo it's at a much higher gradient):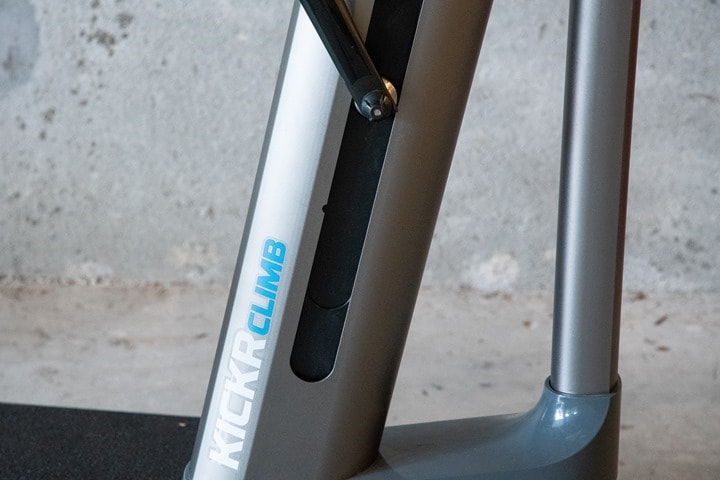 Now with it plugged in and mounted, we'll talk about that remote control. It's got a mere three buttons on it, and it is tethered via a 1980's style spiral cable to the CLIMB itself.  It attaches to your handlebar via a stretchy band: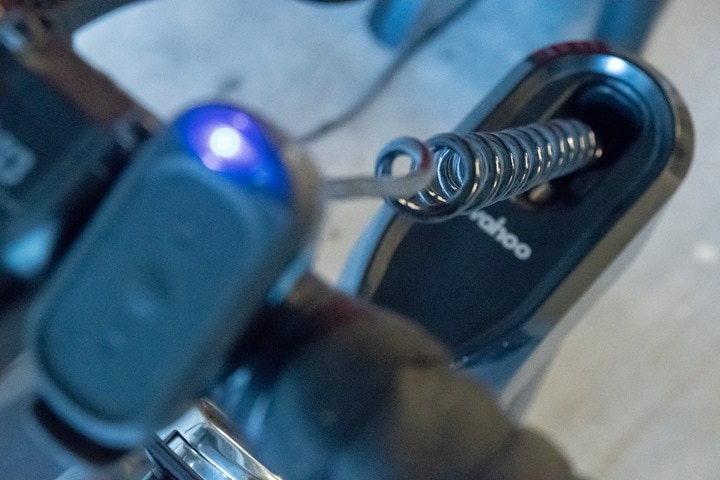 While at first it seems kinda silly to use a wired remote – I actually kinda like it. Mostly because it's one less thing to lose and charge. Old-school for the win.
The remote allows you to override the motor and simply lock it into any position you like.  The main reasons for doing so are:
A) You want to simulate grade (or more grade) where there is none in your app (such as an ERG mode app)
B) You want to un-simulate grade when there's too much of it (you're tired of going up and down)
C) Your partner bought 'this awesome thing' and you just want 'this stupid thing' turned off
No matter the reason, the lock option overrides the app immediately and stays that way until you manually unlock it via the button again.  Meanwhile, the up/down buttons are used for increasing or decreasing grade.  The KICKR CLIMB can simulate grades of up to +20% and declines of –10%.
The remote is also used for pairing your unit to the Wahoo KICKR, KICKR SNAP, and KICKR CORE.  This is required in order for the CLIMB to do anything meaningful. See, as I'll explain in painful detail in the next section, the trainer itself is actually what controls the CLIMB – not the app directly to the CLIMB.  So you have to pair it to a KICKR variant (end of story).  To do so, you simply hold down the middle button till it starts flashing, and then wait for a quick double-blink to indicate it's paired up.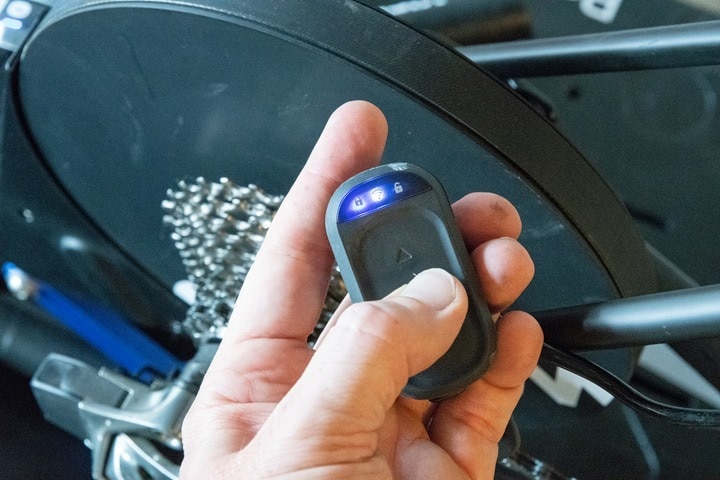 So with everything done, let's say you're in Zwift and riding along.  How does it work? You'll pair your Wahoo trainer as normal to Zwift – in either of the controllable modes (ANT+ or Bluetooth Smart):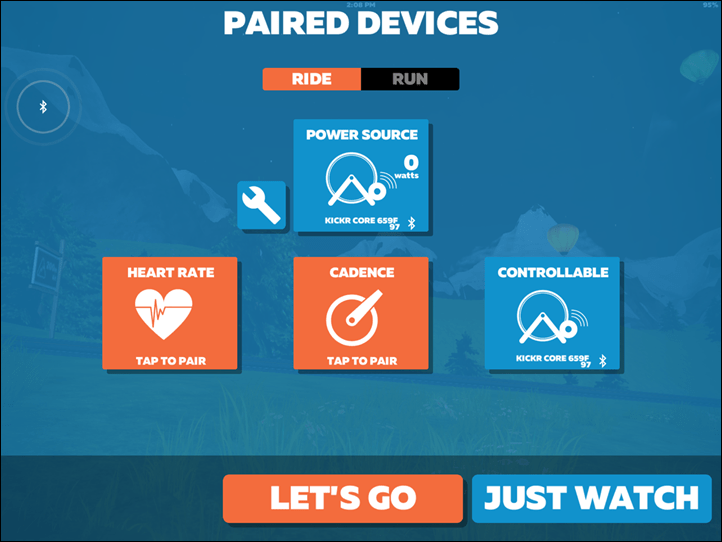 Then, you'll just ride. The KICKR takes care of controlling the CLIMB. There's zero pairing or configuration from within Zwift that you can do to the CLIMB (Nitpickers corner: There are some minor things via some hacks I talk about later in the post).  The unit will automatically go up and down based on the grade displayed in Zwift (or any other app):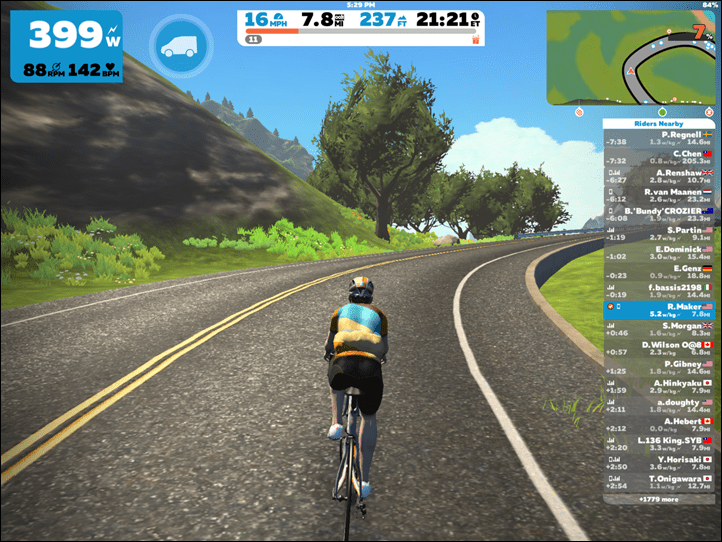 In fact, the unit initially went so fast that Wahoo had to tame it down over the course of the development cycle.  Meaning that this isn't a super-slow up and down like a merry-go-round horse. This thing can change gradient as fast as the course throws it at it.
In fact, that's actually the one criticism I have of it: There are sometimes odd disconnects between what the trainer is doing and what the CLIMB does. You'd likely never notice these in 98% of Zwift or other apps, but in one spot in particular – you probably will: Zwift's Richmond course. Specifically, the 'wall' – aka – the only climb in Richmond.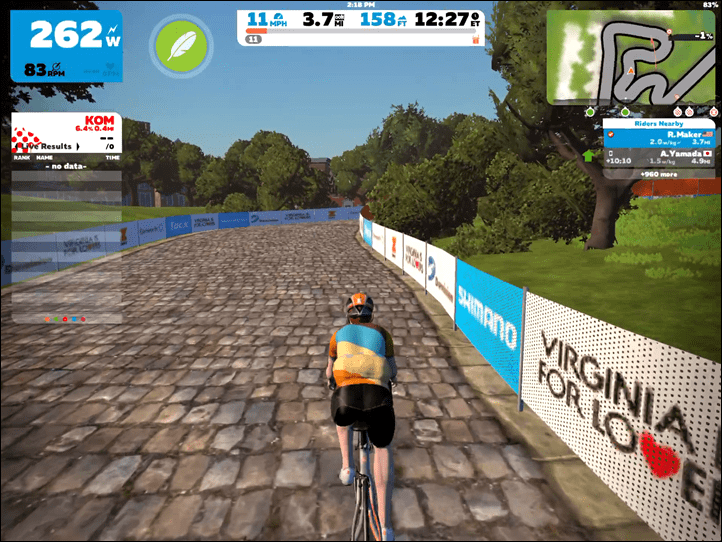 It's here that due to a nuance of the roadway gradients, the CLIMB will very briefly (for about 1-1.5 seconds) dip down to –1% mid-climb (from 3-6%). Meanwhile, the KICKR doesn't appear to react as quickly. It might technically be reacting, but you wouldn't notice it like you notice the entire front of your bike randomly kissing the ground.
I've talked to both Zwift and Wahoo about it, and there isn't an easy fix here. In the case of Zwift, they note that the grade does that in real-life. It's a bit hard for me to entirely validate that. There might be a momentary flat section in real-life, but I'm not sure about a negative dip. Meanwhile, Wahoo notes that technically Zwift could use their underlying API to actually send slightly different commands to the CLIMB to address these sorts of oddities.
Beyond this one second of Richmond Zwift course crapiness, I've not had any other questionable situations – it does exactly what I want it to. It goes up when the course goes up, and it goes down when the course goes down: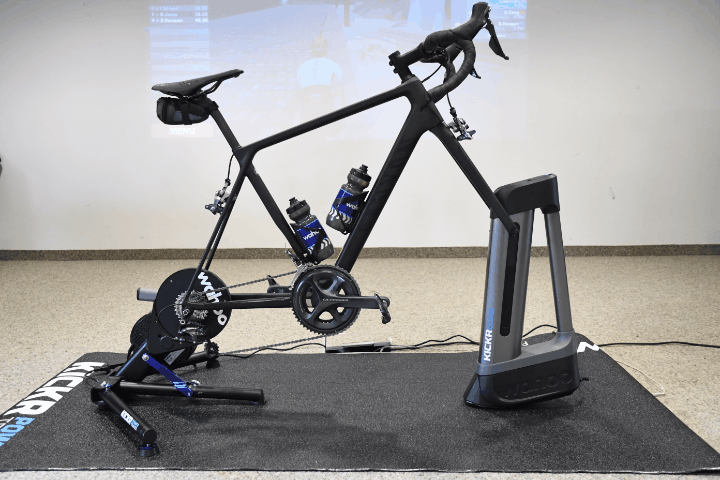 One minor thing to be aware of though is that if you've set/left the Zwift default of 50% trainer difficulty (in your Zwift settings menu), then the CLIMB will also only emulate 50% as well. So a 14% climb becomes a 7% climb.  And more meaningfully, a 6% grade becomes 3%. Just keep this in mind if you haven't changed it to 100%.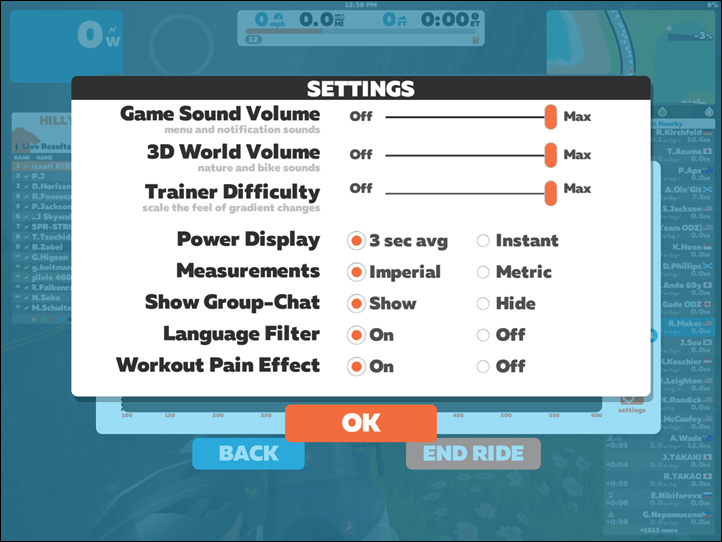 As for the noise? There's a slight engine motor sound that you might notice if you go from +20% to –10% in one shot.  But when you're just going from 1% to 2%, it's unlikely you'll notice it after accounting for your drivetrain/trainer/fan noise.
Now what makes the Wahoo KICKR CLIMB so simple is in some ways the very thing that limits its sales: It only works with recent Wahoo trainers, not 3rd party trainers.  See, that gets to the nuances of how it all works. Which definitely requires you read onto the next section. Cause we need an entire section for it…trust me.
Apps and Compatibility: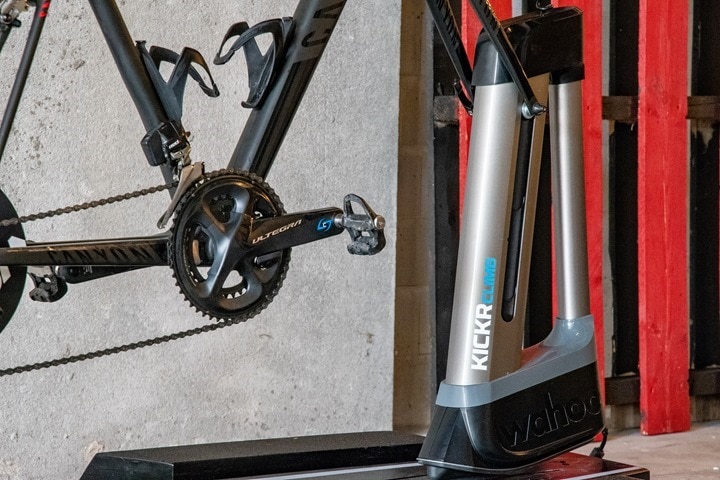 While I briefly discussed this in the previous section, I wanted to highlight this a bit more here so that it's super clear. When it comes to other hardware and software companies, the Wahoo CLIMB is compatible with nobody and everybody all at once.  Here, let me explain.
From a hardware compatibility standpoint, the KICKR CLIMB requires one of Wahoo's latest trainers.  That's only the following:
– Wahoo KICKR 2017 and 2018
– Wahoo KICKR CORE
– Wahoo KICKR SNAP 2017
Previous trainers won't work because Wahoo cites hardware compatibility concerns. In the instance of the full KICKR trainers, those concerns appear valid, since the rotation of your (likely carbon) bike frame would hit the metal frame of the trainer, and could break it due to force on it. So that's valid.  But no such limitation seems to exist on older KICKR SNAP trainers, which structurally have an identical frame.  Even Wahoo admitted last summer that on the older KICKR SNAP units, at worst you might see some scratching of the paint on your dropout.
Note there are at least one or two bikes that aren't compatible at all, mainly due to the front disc brakes hitting the casing of the CLIMB in the most extreme upwards gradients. Wahoo doesn't have a list of these yet, but it sounds like Giant Propel Advanced 2018 Disc is on the list, and possibly one other bike someone e-mailed me a few months back that they tried at an event, though, I can't seem to find that e-mail in the fray.
And as for 3rd party trainers, that's also a non-starter.  See, Wahoo's pairing process is only to their trainers.  So the KICKR CLIMB pairs specifically to the trainer itself, rather than an app.  That allows it to work out of the box with any app, as the app doesn't even 'know' about the CLIMB.  Instead, the app talks to the KICKR like it always has for years, sending it grade commands (i.e. 5% incline, or –2% decline).  The KICKR/SNAP trainer simulates that grade and then wirelessly passes along that command to the CLIMB at the same time.
From a development standpoint, it's actually stunningly beautiful and simple. It eliminates apps from having to code anything different, as it 'just works' using all the same protocols as before (ANT+ FE-C and Bluetooth Smart FTMS, as well as Wahoo's own ANT and BLE protocols).  You could even take a trainer app that hasn't been updated in three years, and it'll work with CLIMB today. Cool stuff.
Now, there is an interesting exception to this.  See, after launch Wahoo realized there was a use case in apps that may only send wattage, but might want the bike to go up/down anyway.  For example, Sufferfest. It only sends commands making things more or less difficult, it doesn't replicate an outside course. But there are elements of certain videos where the user is supposed to pretend they are climbing.  This solves that, as now the trainer can actually climb even when there's no climbing in the video itself.
Finally, some people have asked about ways you can have the CLIMB simulate more grade than Zwift sends out. Specifically, if you've reduced your trainer difficulty setting on Zwift to a lower value than 100% (by default it's 50%, but some people that do a lot of racing want it in the 10%-25% range for competitive reasons).  In this case you wouldn't get much movement on CLIMB because it'd be reduced by a significant amount.
But, one DCR reader (Motti) found a workaround on it, which he listed in the comments section a few weeks back.  Here's the condensed version of what he recommends doing:
"In the Wahoo Fitness [Smartphone] App under the KICKR configuration (once you have paired your CLIMB) there is a field for you to enter your wheelbase. A bike with a shorter wheelbase will require slightly less travel from the CLIMB to produce the same slope than a longer bike. Thankfully the engineers/coders did not limit the number of digits in this field! Therefore it can be used as the "correct for trainer difficulty multiplier" and wheelbase simultaneously. This makes me VERY happy!

Three steps:
1. Look up your wheelbase (mine is about 1000mm)
2. Divide your wheelbase by your trainer difficulty setting from the perfs xml file
3. put the result in the wheelbase field

So for my bike and setting it shakes out like this:
1. 1000mm
2. My difficulty is set at 20% so : 1000m / 0.20 = 5000
3. Enter 5000mm in the "wheelbase field" in the Wahoo fitness app KICKR setting

Now the CLIMB will simulate the full slope (accurately enough for our purposes) regardless of the trainer difficulty setting!! You just need to remember to adjust this number if you ever change you trainer difficulty setting in Zwift."
It's not likely to be a solution for everyone (and Zwift could technically solve it quite easily natively by using the Wahoo API noted above), but I wanted to include it in here nonetheless. Also note there's some additional background bits detailed in that link.
Ultimately, while Wahoo has limited it to their own trainers, it's that very thing that's also made the 'just works' factor very high – the apps don't have to do anything by default and everything just works.  Wahoo has occasionally chatted more informally about the idea of opening it up to other trainers. But I don't really get the feeling that'll happen anytime soon (if ever).
Wrap-Up: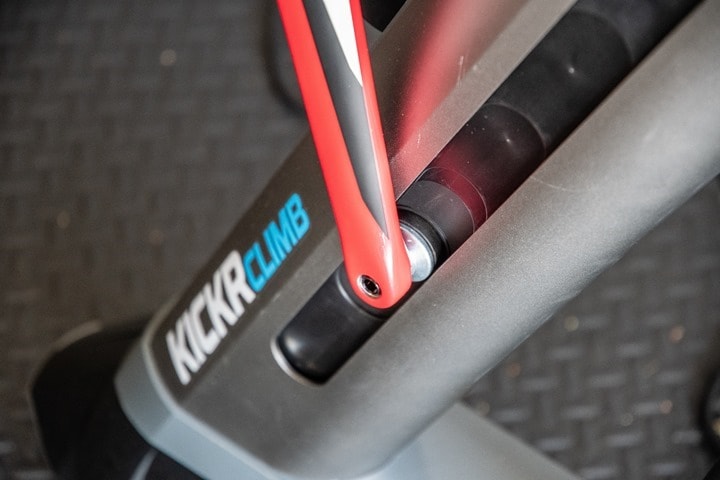 As I started this review, you're either in one of two camps: Either you think it's super cool or super stupid. Nothing I write will likely change your mind.  You probably came here if you were in the super cool camp simply to know whether there were any major issues.  And to date, I don't believe there are.  I've been using my unit since February without issue (aside from my Richmond hill quirk).  I like it, and it works well.  Also, I've beaten the crap out of it.
It's flown from Asia to the US, then to Australia, then back to Europe. Then bounced around all sorts of moving trucks and cargo bikes, all while being dropped a few times not in a box. It still works just fine.
While I think it's expensive, it doesn't sound like there's a ton of room in this generation of product to reduce that much. Wahoo says the components required to make a unit that meets safety goals (both for the rider and little kids that may want to stick their fingers in while nearby) increase the cost substantially. I can't realistically confirm or dispute that.  For now, I expect the price to stay there and the competition for an up and down gizmo to remain zero.
I would say though that the addition of the KICKR CORE means that you can essentially 'save' $300 on the CLIMB though by getting the CORE instead of the main KICKR (it has the same resistance/etc as the 2017 KICKR but it's silent now).  So if you justify it that way, it's 'only' $300 instead of $600. At least…that's how I'd pitch it to my significant other.  If you've already bought a KICKR, then I can't help you pitch it to your 'Boss'. Sorry.
With that – thanks for reading, and feel free to drop any questions down below!

Found This Post Useful? Support The Site!
Hopefully you found this review useful. At the end of the day, I'm an athlete just like you looking for the most detail possible on a new purchase – so my review is written from the standpoint of how I used the device. The reviews generally take a lot of hours to put together, so it's a fair bit of work (and labor of love). As you probably noticed by looking below, I also take time to answer all the questions posted in the comments – and there's quite a bit of detail in there as well.
If you're shopping for the Wahoo CLIMB or any other accessory items, please consider using the affiliate links below! As an Amazon Associate I earn from qualifying purchases. It doesn't cost you anything extra, but your purchases help support this website a lot. Even more, if you use Backcountry.com or Competitive Cyclist with coupon code DCRAINMAKER, first time users save 15% on applicable products!
Here's a few other variants or sibling products that are worth considering:
And finally, here's a handy list of trainer accessories that most folks getting a smart trainer for the first time might not have already:
And of course – you can always sign-up to be a DCR Supporter! That gets you an ad-free DCR, access to the DCR Quarantine Corner video series packed with behind the scenes tidbits...and it also makes you awesome. And being awesome is what it's all about!
Thanks for reading! And as always, feel free to post comments or questions in the comments section below, I'll be happy to try and answer them as quickly as possible. And lastly, if you felt this review was useful – I always appreciate feedback in the comments below. Thanks!