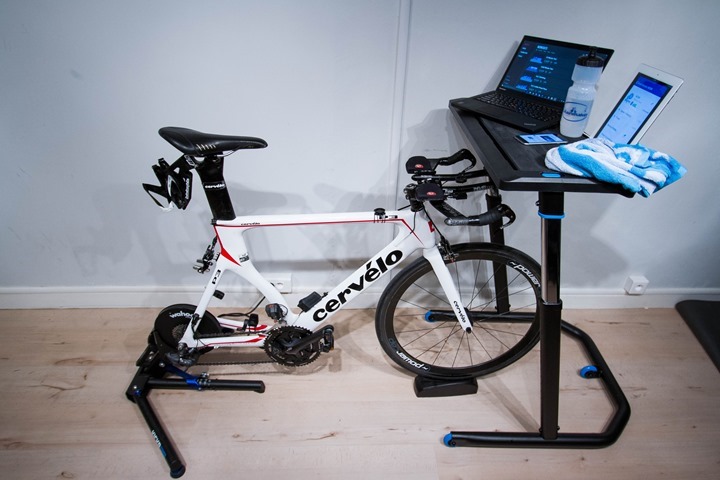 It's been over 5 years since Wahoo's first product, the Wahoo Fisica ANT+ adapter for the iPhone.  That was later renamed to the Wahoo Fitness Key.  Then came the BlueHR, a Bluetooth Smart heart rate strap.  But their 'breakout' product was likely the Wahoo KICKR, the first dual ANT+/Bluetooth Smart trainer, and the first trainer to provide an open interface for any 3rd party app to develop against it.  Now, all of those features are commonplace.
But silly as it may be, as any trainer user knows – one of most befuddling things about using a trainer for a long winter workout is where to stash various essentials.  Extra water bottles for those multi-hour sessions, or a laptop to watch movies on.  Or even just a safe place for your phone to be charging while riding in between tweets or Snapchat selfies.
And thus, Wahoo's back at it – with the Wahoo KICKR…Desk.
Now, this desk shouldn't be a surprise product.  You'll remember I showed a super-early prototype about 18 months ago, in this 'behind the scenes' post at the Wahoo HQ.  It's neat to see how much it's evolved from that.
The Unboxing:
Back in early November the company sent me out the KICKR desk to poke at for a while until announcement.  Somewhat amusingly, it was delivered to the bar/restaurant next to the CupCakery (where we ship almost everything).  While this occasionally occurs, this is definitely the most obtuse box to grace their dining room.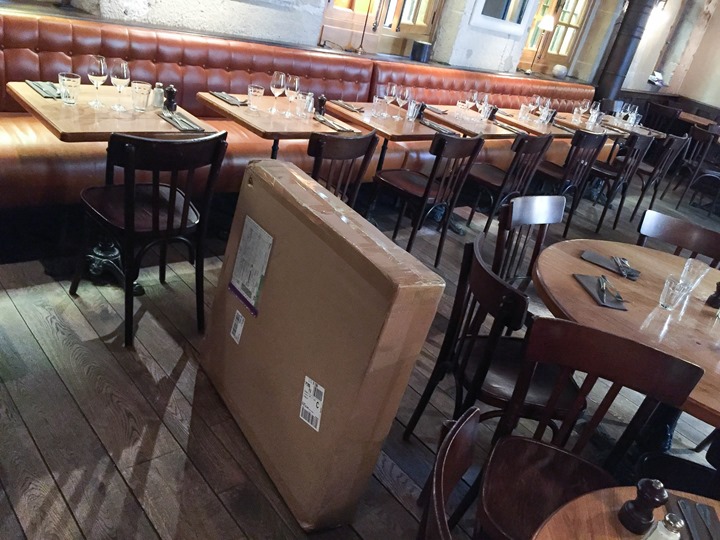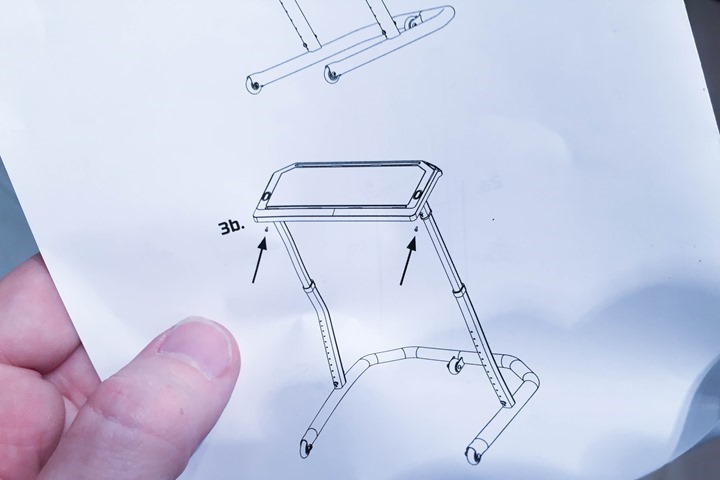 I then dragged it a few blocks away to the DCR Cave to get started: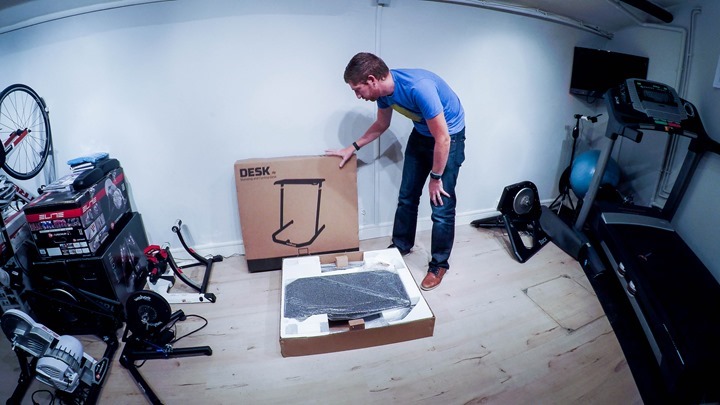 The box doesn't have a ton of parts, so this isn't some sort of complex endeavor requiring your cycling buddies' assist.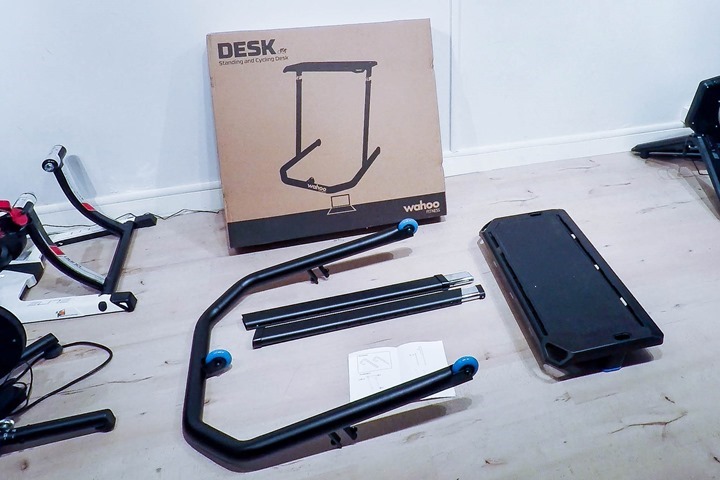 For fun, I decided to simply create a quick time-lapse in setting it up and the basics of it, which, you can enjoy here:
The whole install only took a few minutes, so pretty quick and easy.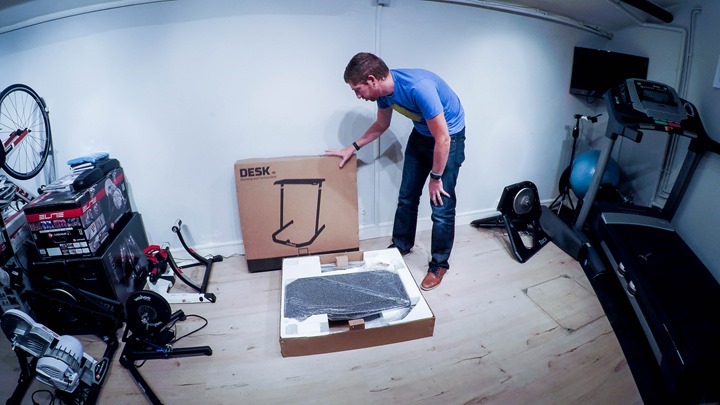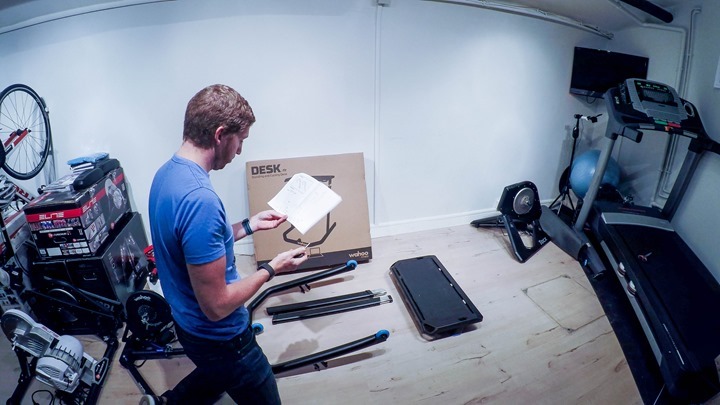 It probably would have been quicker if I wasn't trying to ensure I wasn't getting in the way of the camera.
Desk Features: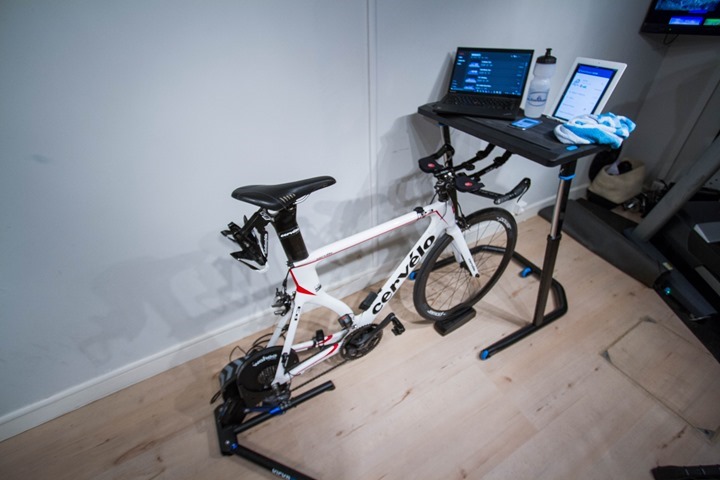 The desk, as simple as it may appear at a glance, actually has quite a few features built into it.  Let's run through them.
First up, is that the thing rolls.  So it's easily slid out of the way (or closer), as you see fit: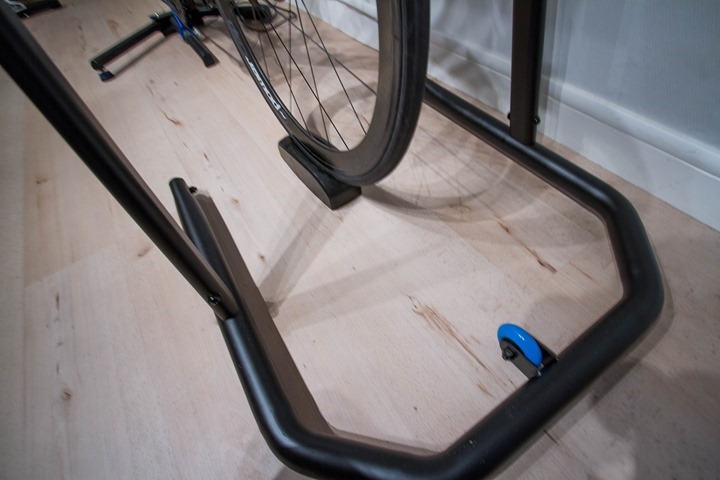 Though, there's no lock on any of the three wheels, which I'll talk about in the next section.
Next up is that the table portion is non-slip, and has a gripping rubber surface.  This ensures that a simple nudge won't send your rose-gold iPhone 6s flying off onto your garage's concrete floor.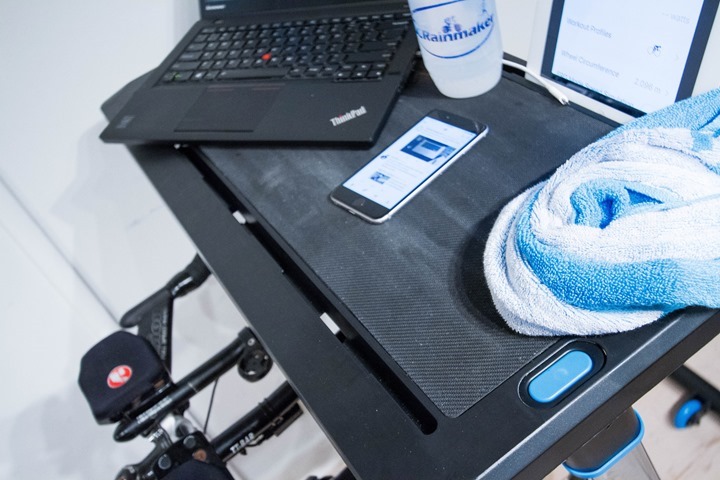 Along both the front and back edges of the desk are small channels.  These channels allow you to slide a tablet or phone into the groove to keep it held upright.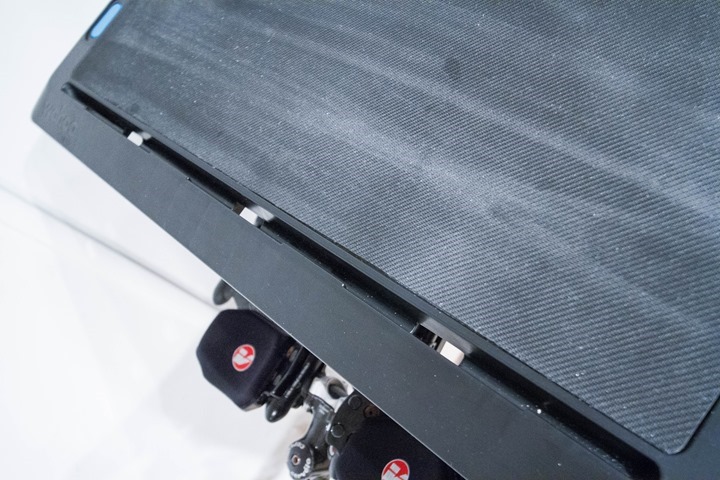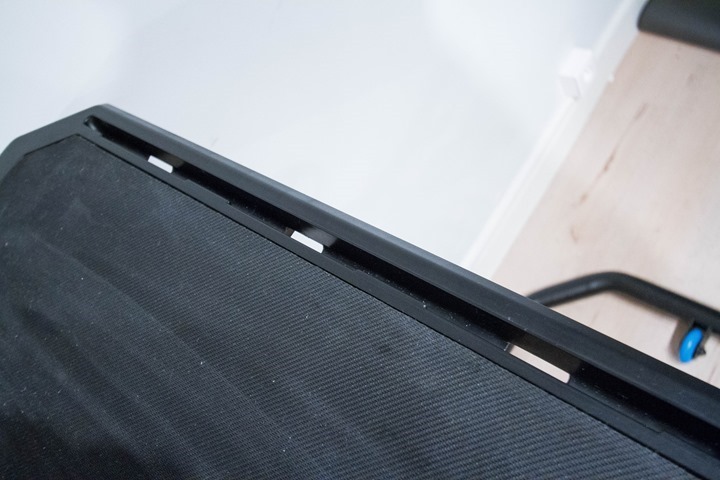 Here it is with an iPad placed in there: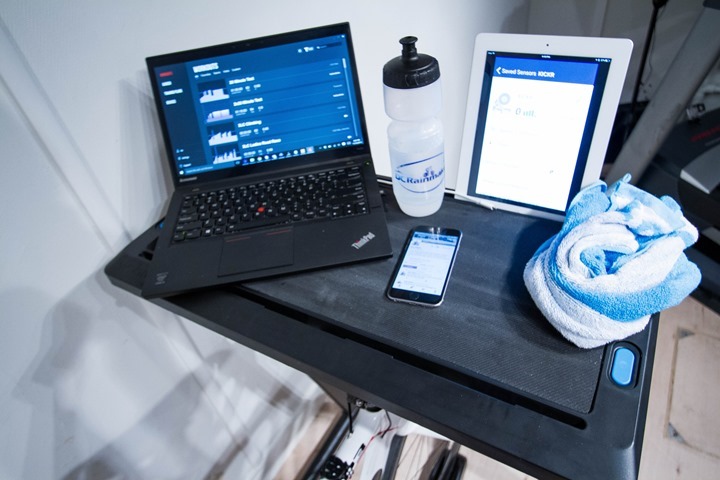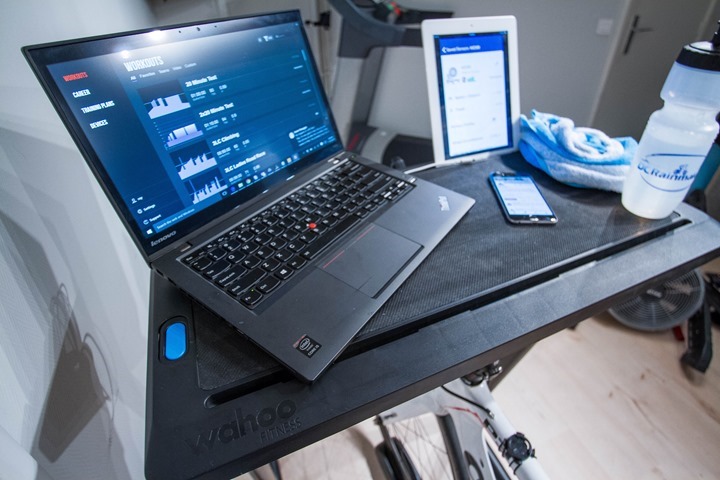 In addition, you'll see small holes in the bottom of the grooves.  This permits charging cables to pass through, allowing the tablet/phone/etc…to remain plugged into juice while in the tray.  You can see one such charging cable running down below it.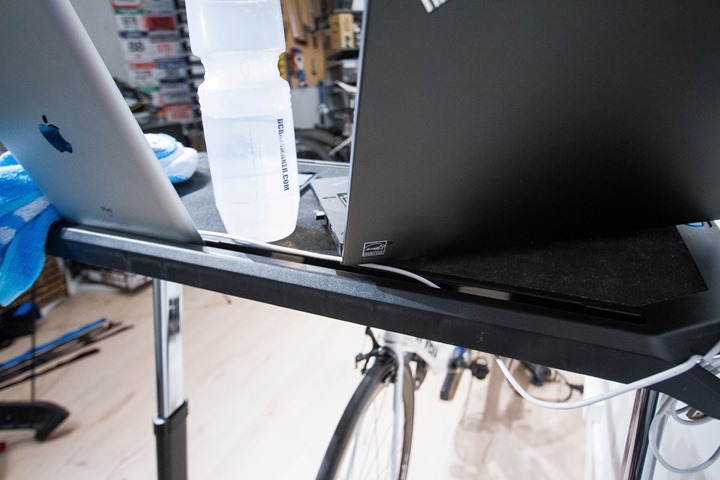 The channels also allow for cable organization too.
(Side note: I think I'm going to affix a small USB hub like this one to the bottom of my desk, thus enabling a single power cable to the wall outlet, but allowing me to charge multiple devices on the desk: Phone, tablet, USB powered beer can fridge, etc…)
Additionally, on the two far corners are two larger holes, that you can loop a towel into: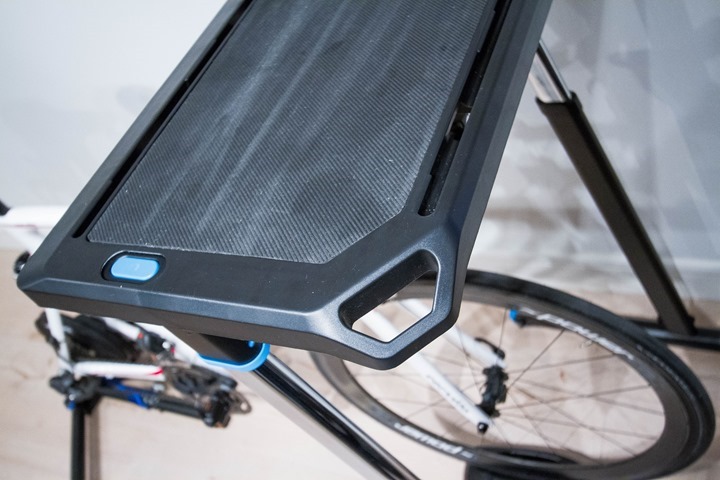 Finally, the whole thing adjusts in height up/down using these two blue buttons (one on each side).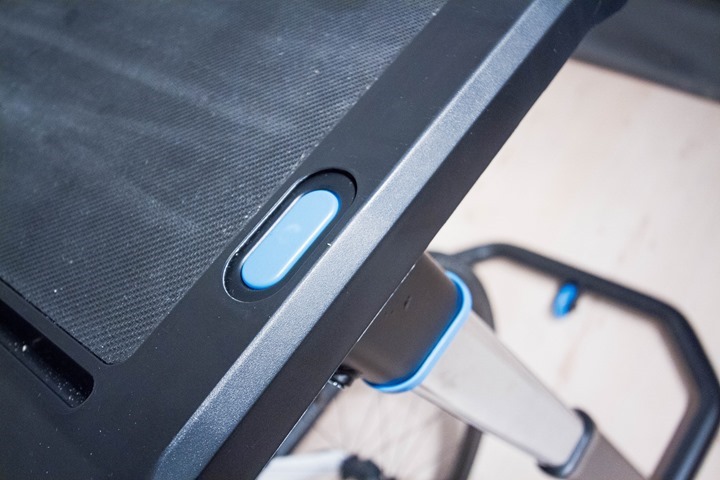 The unit locks across a variety of heights every inch or so, from 33" to 48" high (84cm to 122cm). You can see that adjustment up/down in the video earlier on – it's pretty thrilling.
You can see that it easily clears my aerobars, which point upwards.  Of course, in this configuration you wouldn't ride in the bars.  But you need only give it a light shove to push the desk forward of the bars. You could even lower it below the bars – making your laptop directly out in front of your head.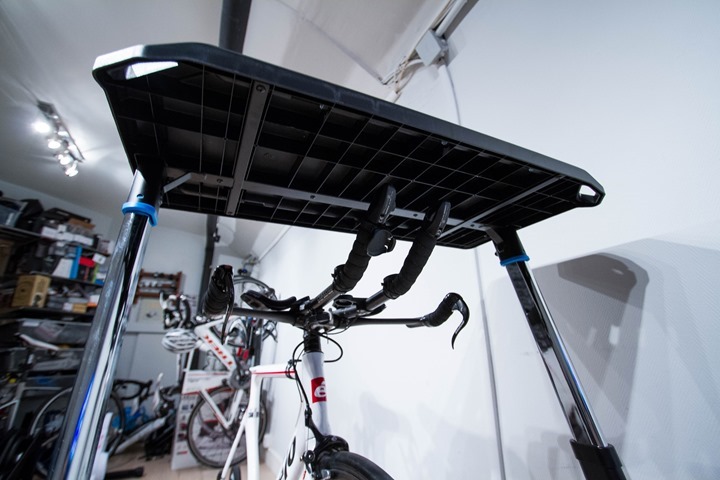 I haven't tested the total 'load capacity' of the table, though I wouldn't be surprised if I could sit on it.  The steel frame is pretty beastly (sorta like the KICKR itself).  I wouldn't want to use it repeatedly for any other body-weight bearing activities, but you'd be hard-pressed to put more on it than it could hold.
Desk Accuracy: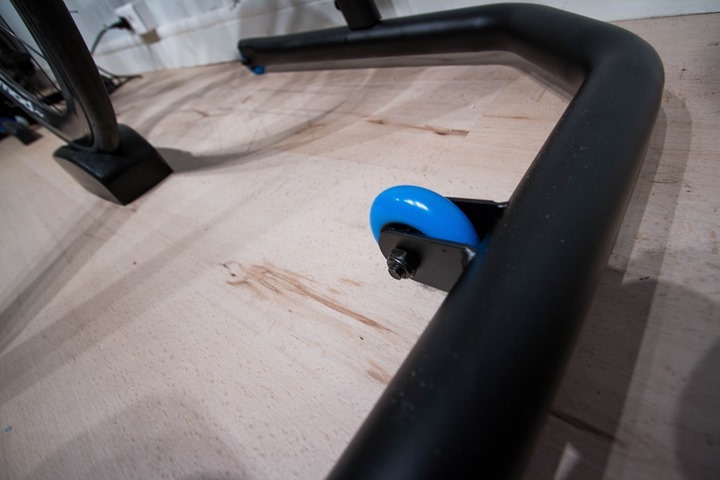 Within the robust confines of my desk accuracy testing system, I have validated that the desk goes both up, and down.  It's able to do this repeatedly, and reliably.  Further, all holes are usable.  Additionally, the desk rolls forward and backward, also repeatedly.  And sometimes too robustly.
The only accuracy issues I've seen are due to my testing platform.  Specifically, that the floors in my building – which were built some 230 years ago, aren't flat.  As a result, while testing the ability to zero-offset the desk, it will roll away by itself.  Typically this results in a rider to desk collision, as the floors decline towards the rider in the DCR cave.
The cause of this unexpected rolling (aside from the non-level floors) is that the KICKR Desk includes surprisingly low-rolling resistance wheels.  So it easily slides out of the way…or in this case, in the way.
However, I have found that by placing any non-rolling object found on earth, in front of the wheels of the KICKR desk, that it won't roll downhill.  Examples of objects I've used are: Random single screw (Philips head), one USB charging cable (coiled), one water bottle (DCR branded), one small dog (until it moved), and a single 9V battery (used).
Thus given the confines of the testing rig, I'm not seeing any accuracy issues with the KICKR Desk.
Frequently Asked Questions: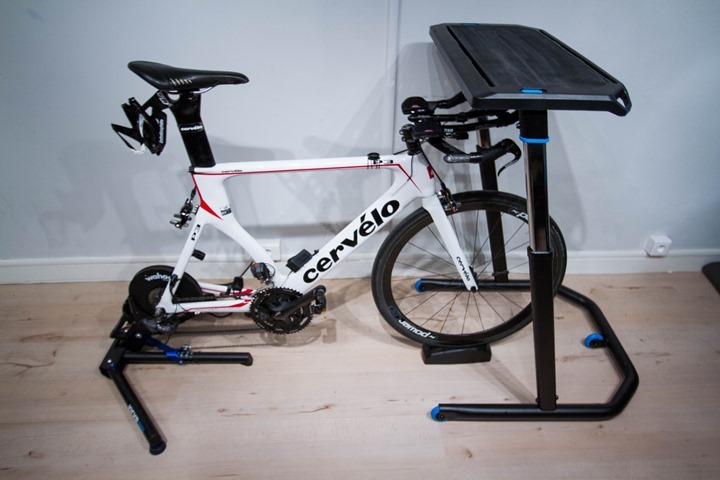 In an attempt to stem the massive tide of complex questions for the KICKR Desk, I've put together a small FAQ section:
Is the KICKR Desk compatible with a tandem bike?
The KICKR desk would be supported for the first rider, however the second rider would be unable to utilize the desk – given the placement of the body of the first rider.
Is the KICKR Desk compatible with the KICKR SNAP?
Yes, it has KICKR in the title, right?
Is the KICKR Desk compatible with non-Wahoo trainers?
Assuming the trainer involves a bike, then yes, it's compatible with it*.
*Except as noted for secondary rear rider on a tandem bike.
What is the price of the KICKR Desk?
$229USD.  Or approximately 229 gel packets.  Shipping is free (zero gel packets).
Is it available in Spain?
No, Wahoo hates Spain – after all, Spain's Movistar team bested Wahoo sponsored Team Sky in the Tour de France this year.  As a result, no desk for you.
However, Wahoo says that for now the KICKR Desk will only be available in the US while they sort through demand for other markets.
Does the KICKR Desk work with bikes with aerobars?
I assume you skipped the pictures in this review to read the riveting text, right?
How many devices can the KICKR Desk hold?
My current record is 9: 1xLaptop, 2xPhones (Android & iOS), 5xEdge bike computers (4xEdge 520, 1xEdge 810), 1xiPad.  Plus one water bottle.
I don't believe I've reached the maximum allowable devices. Further architectural placement could result in increased devices per desk arrangement.
How many water bottles can the KICKR Desk hold?
The KICKR Desk table-top has dimensions of 28"x14", or 392 sq. inches.  The average water bottle has a footprint of 8.27 sq in.  As a result, the unit should mathematically hold 47 water bottles in a non-staggered configuration.  Note, if you have chubby water bottles, you'll need to adjust your capacity estimates accordingly.  You should also re-evaluate why you have chubby water bottles.
Summary: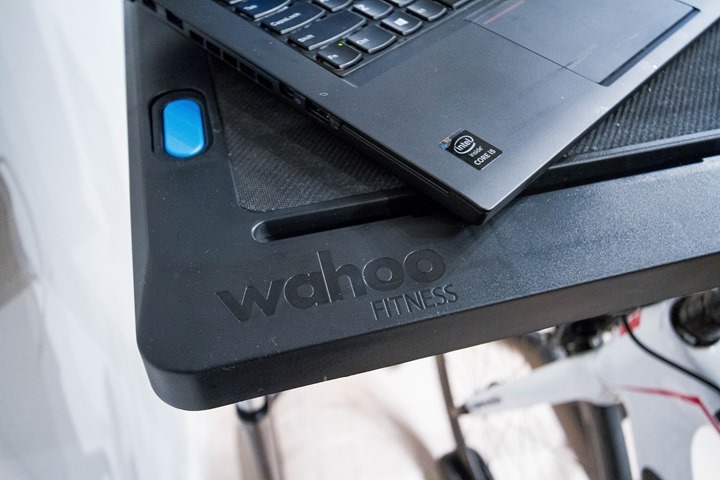 It's funny, over the many years I've been on trainers, I've never really found a great 'desk' solution for the trainer.  Not that I needed a desk per se, but rather, I needed a solid holding system.  In the past I've used a simple 4-cup OXO kitchen measuring cup, which clips beautifully on my aerobars to hold a remote control and my phone.  But, that also wasn't super-scalable.  For example, it couldn't hold a laptop or a tablet.
All of which the KICKR Desk can hold.  And – it does so really well.  Heck, I've even started using the desk when I'm not riding the trainer and just working downstairs in the cave (my regular desk/office is upstairs).  It makes for a perfect work station too.
But, at the end of the day – it's expensive.  There's no getting around that.  It's quite a bit more expensive than I expected it to be (or than more simplistic options for $50).  In talking with Wahoo about that, part of the challenge is that it's a low-volume item.  And one that's also a bit trickier to ship and store, being bulkier and more sturdy.  Hopefully they'll be able to see high-demand for the KICKR Desk, and get the price down.
Because for me, the solution is so much more elegant and cleaner than the stack of random cardboard boxes that I often use.  And I'm guessing – most folks are in a similar boat.
With that – thanks for reading!

Found This Post Useful? Support The Site!
Hopefully you found this review useful. At the end of the day, I'm an athlete just like you looking for the most detail possible on a new purchase – so my review is written from the standpoint of how I used the device. The reviews generally take a lot of hours to put together, so it's a fair bit of work (and labor of love). As you probably noticed by looking below, I also take time to answer all the questions posted in the comments – and there's quite a bit of detail in there as well.
If you're shopping for the Wahoo KICKR Desk or any other accessory items, please consider using the affiliate links below! As an Amazon Associate I earn from qualifying purchases. It doesn't cost you anything extra, but your purchases help support this website a lot. Even more, if you shop with TPC (The Pro's Closet), you'll save $40 on purchases over $200 with coupon code DCRAIN40! The Pro's Closet has been a long-time partner of the site here - including sponsoring videos like my cargo bike race, as well as just being an awesome Colorado-based company full of good humans. Check them out with the links below and the DCRAIN40 coupon!
Here's a few other variants or sibling products that are worth considering:
And finally, here's a handy list of trainer accessories that most folks getting a smart trainer for the first time might not have already:
And of course – you can always sign-up to be a DCR Supporter! That gets you an ad-free DCR, access to the DCR Quarantine Corner video series packed with behind the scenes tidbits...and it also makes you awesome. And being awesome is what it's all about!
Thanks for reading! And as always, feel free to post comments or questions in the comments section below, I'll be happy to try and answer them as quickly as possible. And lastly, if you felt this review was useful – I always appreciate feedback in the comments below. Thanks!