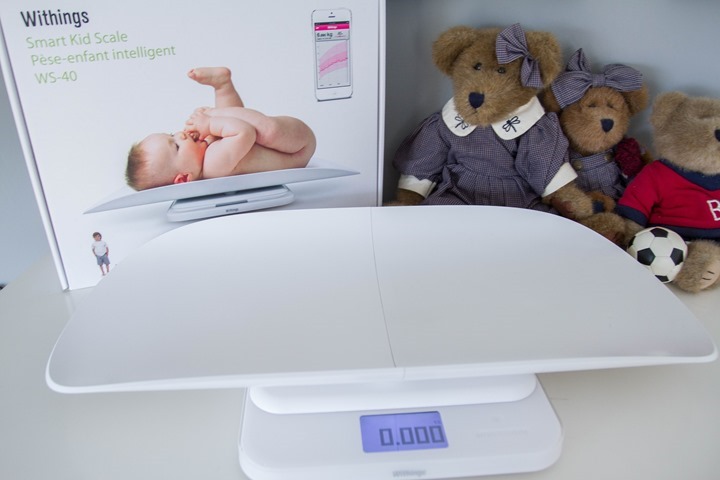 Now that our little peanut has graced us with her presence I am finding myself answering a lot of emails regarding general baby questions. While I find myself doing a lot of diapers, burping, and lullabies these days, I tend to leave the buying of products up to The Girl. So with that I am going to turn this page over to her to comment and maintain. -Ray
–
Hey there, I hear you're interested in baby stuff? I am going to make the disclaimer right out of the gate that I am not a baby expert. Certainly not a pediatrician. And, I am nowhere near being a seasoned baby whisperer… yet! So, this page is simply giving you the insider view on what we are using. I'll list the stuff we love, and even stuff that we might have tried and don't get much love out of. I will continue to update the page as our little one gets older, and possibly as we add more peanuts to the family.  Please don't ask me to write a Ray-style in depth review on a pacifier, that would just be silly! And I'm sure if you're a parent reading this you know that no two babies are alike, so what my baby likes yours very well might detest – so please keep that in mind! As always, I'm more than happy to hear from those of you who ARE seasoned baby whisperers! Please feel encouraged to leave me all of your good baby lovin' advice in the comment section below, I thank you in advance!
-The Girl
Maternity Stuffs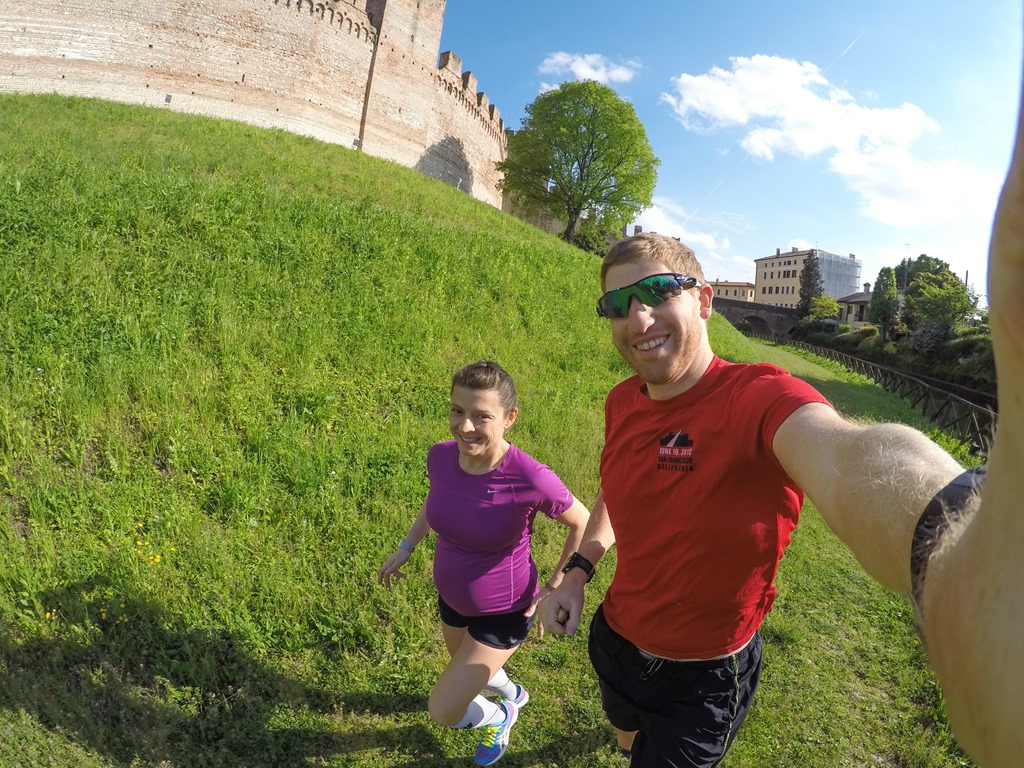 During pregnancy I just tried my best to get on with life as usual, but there were a few little things that made the changes a little easier. Here's what I found.
Tummy Drops: These little candies kept me from tossing my cupcakes each morning at the bakery. They used to also sell them in peppermint which I also enjoyed, but the ginger ones were good too. A little spicy!
Bellaband: This had to be one of my best purchases! This band went around the top of my regular skinny jeans and allowed me to wear non-maternity jeans pretty close to the 7 month mark! This actually works, I bought it in black and it just looked like I had layered my shirts. Way way better than shelling out for multiple pairs of maternity pants.
Belly Butter: Now I know a lot of people believe that stretch marks are hereditary, and I really don't know the science behind it all. What I will say, is that my belly was so freaking itchy for about a month before I ponied up and bought a pot of this stuff! It soothed the skin instantly, I about cried with satisfaction the first time I put it on, and in the end, after having a 9lb baby I had Z.E.R.O. stretch marks. Take that as you will. I'll be buying it again for the next additions!
Belly Support Belt (Running belt): I was one of the lucky ones. Running felt great for me from the get go. In fact, my knees and IT bands had not felt that good since I was like 12 years old, so I ran 10km every other day for 33 weeks! Why sport scientists have not bottled the hormone prolactin and sold it on the black market is beyond me; I'd be paying top dollar for it! Annnnyways, this belly support band helped me out during the latter weeks of the pregnancy while running. More specifically it helped the bladder keep from getting beat up from the pounding of running/babies head bouncing off it! Poor bladder. I was likely going to call it quits on running due to pelvic discomfort, but I bought this belt on a whim and ended up getting another 6-7 weeks out of it. Bonus: it washed really well in the machine, just be sure to put it in a mesh bag or secure the Velcro somehow so you don't destroy your favorite dry-fit…
Prenatal: This brand specifically was recommended to me by my nutritionist. All the good stuff, 100% food based vitamins, super easy on my stomach. I'm still taking them while breastfeeding. Skin, hair, and nails have never looked so good.
Prenatal DHA: All the good oils for the baby! No oily after taste. Super easy on the belly!
Baby Carrying Systems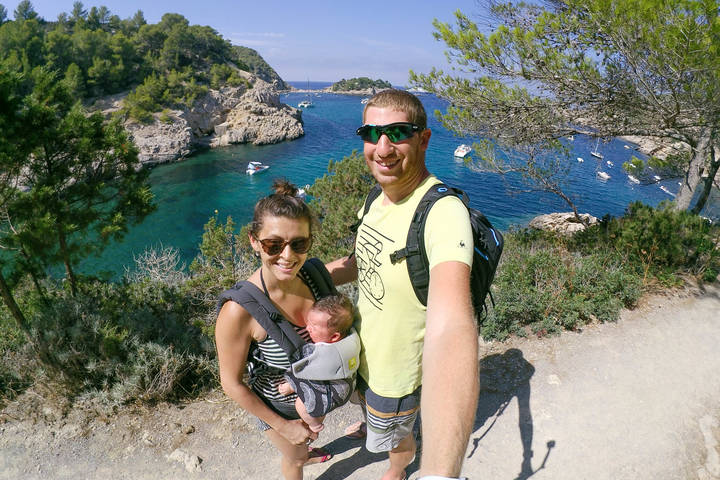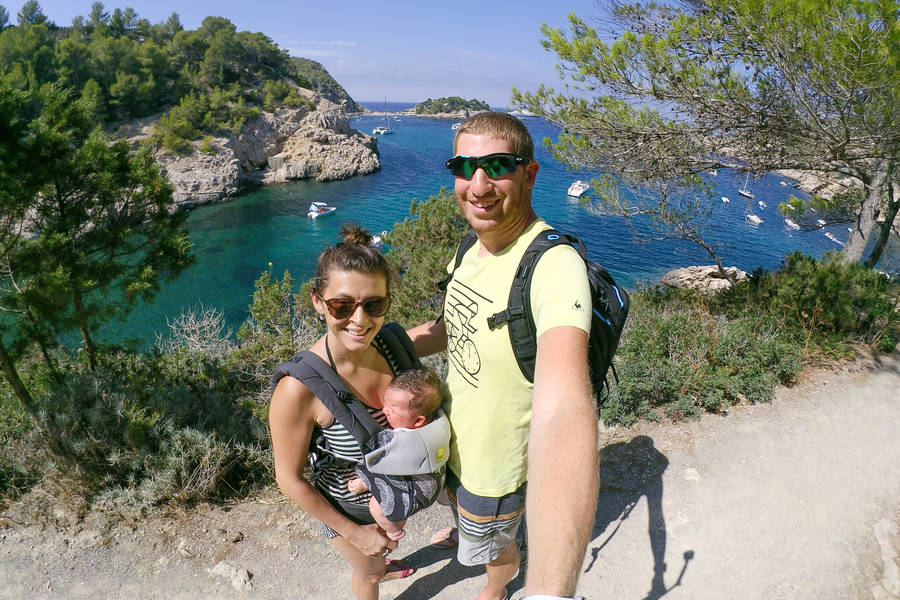 This section is dedicated to all things used to carry the little peanut.
Everyday Stroller: This is the Britax travel system. We absolutely love love this entire setup. For city living purposes it's fantastic, we can pop the car seat onto the stroller making it one sturdy piece, and any time we get tired of walking around and want to grab a cab or our city share car (Autolib), we now have our car safety seat readily available. This whole system is crazy easy to assemble, super durable, and the wheels are big for cobblestone shock absorption. I'm sure there are a thousand more reasons why I love it, but I think you get the point.
Car Seat: This is the same link as the one above. You can definitely buy the stroller and the car seat as separate pieces, but we needed them both and it came with all of the parts to make it one, so this was a no brainer. We love the car seat, which is lovingly referred to as the cow-seat.
Stroller Rain Jacket: Since we are car-less city dwellers, I am constantly running errands with baby in tow via the stroller. I didn't even open the packaging on this one until October when we started the Paris rainy season. This rain cover is perfect. Easy to just roll up and stuff under the stroller or in my diaper bag. Doesn't take a PhD to figure out while caught off guard in the middle of a downpour without any awning to cling to for cover.
Lille Baby Carrier: This is one of my all-time favorite baby accessories. Our babe loves hanging out in here, makes my life really easy for getting around, especially in crowded areas where a stroller would be a disaster. Love love love.
Infant Baby Carrier: This is the K-Tan baby carrier/soft sling. Personally I wish I hadn't put this on the baby registry. Not sure if it was just a bad combo of small mom, big baby, and Paris summers being sweltering, but I used this twice… maximum. Reality is the Lille Baby Carrier has an adjustable seating size, so I popped our little one in that from the get go and felt a lot more confident with that carrier. Just my experience.
Bob Running Stroller: We have this Bob, but we don't run with it yet because I don't think our babe is quite strong enough yet. I'll get back to this section in a few months. We chose this one because other runners and triathletes told us to!
Baby Entertainment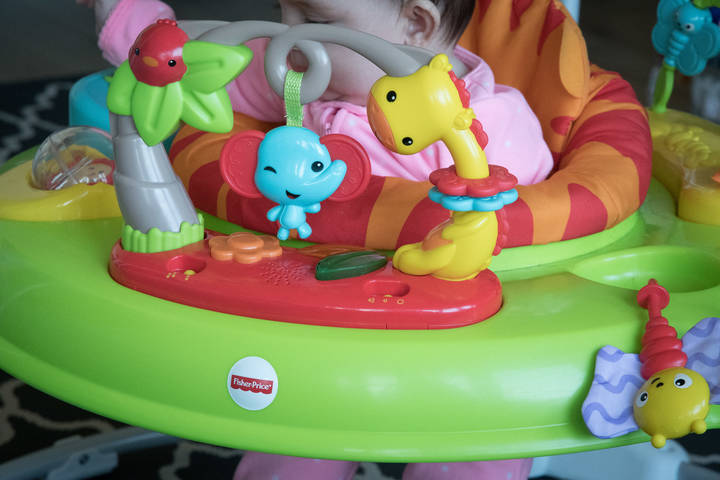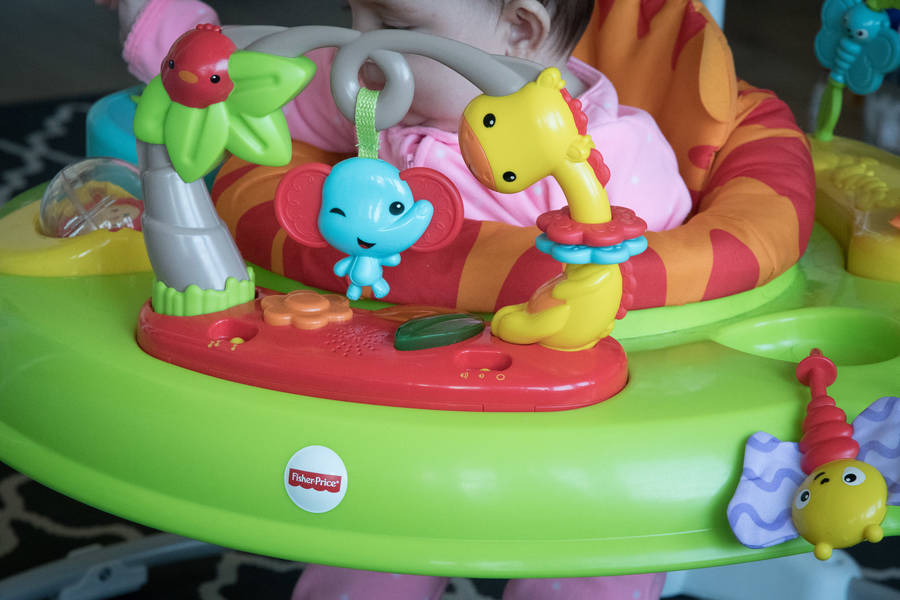 There have been some play items that we have come to love, some of which keep baby engaged for long enough for me to get this "Baby Gear" page created!
Play Mat: I have been a big fan so far of the Skip Hop brand. I am sure there are a hundred different styles and brands of play mats, but this one is really doing the trick for us.
Play Mat Foam: We just have this little pack of 9 foam squares. It goes under the Skip Hop mat from above and just creates a little more head-banging safety against our hardwood floors. Nothing fancy, and does its job perfectly!
Jumperoo Play Station: This thing… oh man where do I start? Worth. Every. Penny!
Bumbo: A friend of ours just gave this chair to us. She said her baby hated it and never sat in the for more than a few minutes. Our little one sits in it for 20+ min no problem. I (personally) think it helps her with her core strength as she can sit up for longer and longer now. But again I'm not a baby expert. Just goes to show every baby likes and disliked different things.
Baby Einstein Turtle: This was the first baby toy that we bought, and she love love loves this thing! She's become very efficient at giving the buttons a solid whack and gets a good kick out of it every time! I would say this toy really encouraged her/motivated her to stay on her tummy longer.
Muffin the Moose: I am Canadian (and so is she), so how could I not get this fantastic teether and activity toy?? It's awesome!
Manhattan Toy Company Sensory Ball: This has been a great toy addition for us. It doubles as a teether and a sensory ball. With all of the little loops to manipulate her hands can double grab the ball and shake. There's a really soft sounding rattle in the middle piece as well, which is stimulating but not annoying.
Baby Nursery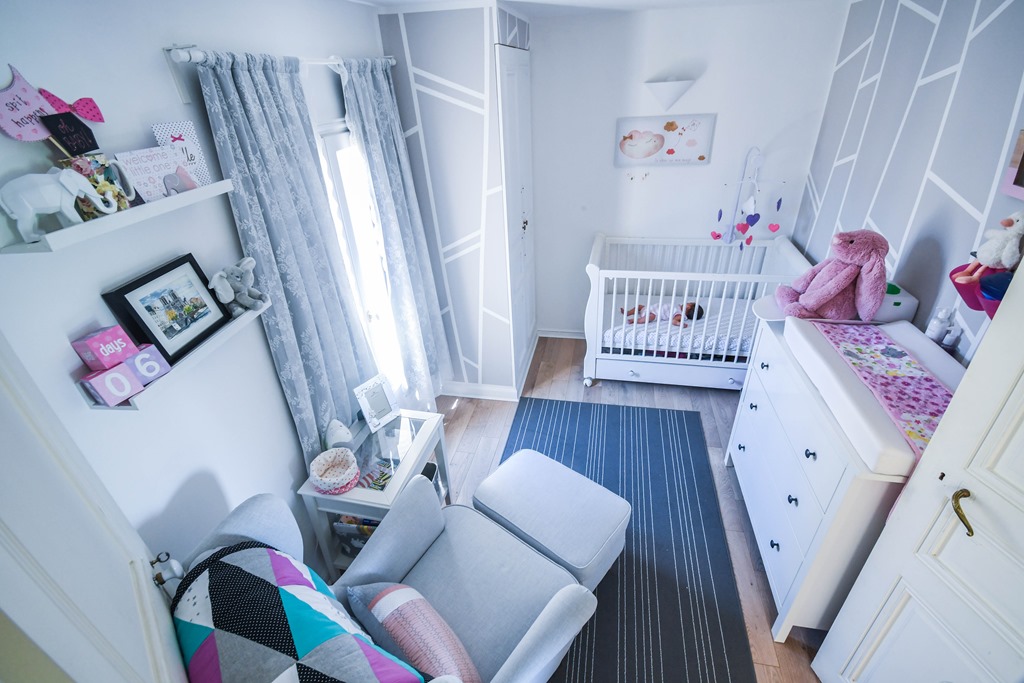 European living has made my life so nice over here. I feel like we have really pared down on the amount of "stuff" we have; our nursery is little and we only have the things we need! It's great! In addition to this list I also highly recommend cruising through your nearest IKEA to see all of their great baby furniture and stuffs!
Noise Machine: I love this noise machine for so many reasons. I definitely initially picked it because of looks – pretty little owl. But now that we use it everyday for 3 naps and throughout the night I realize I really lucked out! It has two different light options (soft glow light, and star projector), and the "noise" selection is everything from songs to rolling beach waves! All of the different options can be controlled individually from one another so your options are endless! We love it; if you are still deciding on buying a noise machine or not, PLEASE do yourself a favor and buy one! You might not want this one, but you DO want one!
Mobile Motor/ Music Box: I really wanted to make our mobile decorations as a project with my mom. So originally I purchased this mobile and it was total crap! Music played for a whopping 2 minutes… But the arm and attachment pieces were fine. So I made my decorations and it looks pretty, and eventually upgraded the sound box. The Shiloh music box is perfect. Music plays for 30 minutes or so, you can control the volume, you can skip a song or even find one song that you like and put it on repeat. We use this a few times a day as well!
Change Pad: This thing is great. I'm really not sure how different these products can really be from one another, but this seemed to be the most reasonably priced and I like it! We didn't buy change pad covers, we have a surplus of bath towels so I use those and toss them in the wash every few days.
Wipe Warmer: I thought this was a little silly at first, but it was a gift we received so I gave it a shot! Ummmmm do you want a cold wet towel on your squiggly bits in the middle of the night while you're half asleep? No? Well neither does baby! hahaha I am a wipe warmer convert now. Think of me as you want :)
Diaper Genie: This was another present we received. At the moment our little one is on a liquid diet, so her poop really doesn't have that much of a smell, and this thing seems like overkill? I have been told that will change when she starts eating fruits and veggies and I will be happy to have a smell guard. I'll keep you posted!
Boppy Nursing Pillow: Everyone and their grandma told me I "NEEEEDED" one for the best breastfeeding experience… Our babe has been exclusively breastfed now for 5 months and I have used that thing one time and flung it across the room out of frustration 2 minutes in. I used it more for letting the baby prop herself up, but I could take it or leave it to be honest.
Baby/Child Weight Scale: The Withings weight scale is pretty great. I am sure you tech focused people out there might have some choice words for their current version of the pairing app, but for me non-techie I like it. The scale chats with the phone, and keeps track of everything for me. I used to use the app for tracking feeding and napping schedules as well, but now I manage that daily in my head. We even get cool graphs for our Peanuts weight gain and percentiles.
Baby Feeding Equipment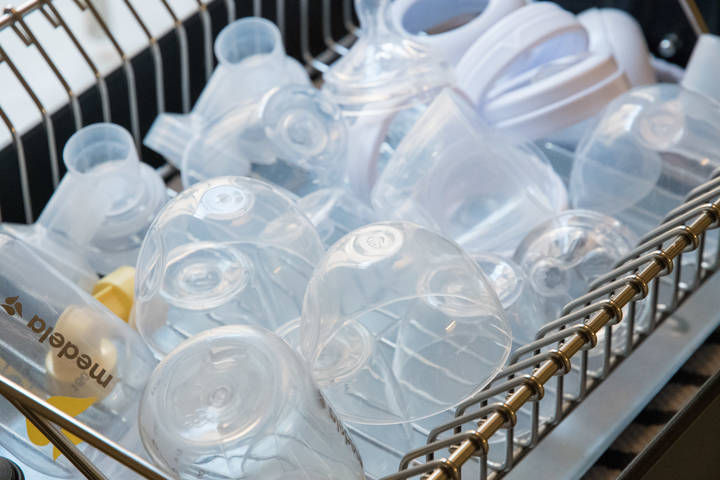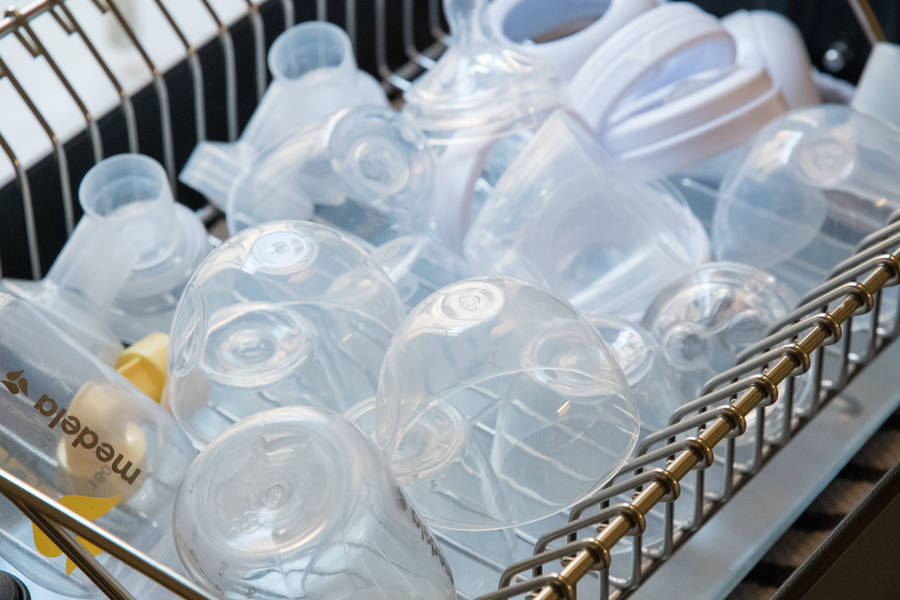 The different bottles, spoons, heaters, etc. are endless! Up until now things have been fairly straightforward – translation: I've been a walking vending machine. But we do have a few things, and our little one is finally (back to) accepting a bottle again, so somehow our kitchen has exploded with silicone!
Milk Pumps! : I think the general consensus is that Medela is the brand of choice. I chose this specific model because it seemed to be the most travel friendly one. It does a great job, isn't super loud, and it's easy to assemble and operate. I don't have any experience comparing this to other brands/models, however I'm super happy with this one and would not be looking for a different option.
Baby Bottles: I chose this brand specifically because my mom told me to! haha, it's what my parents used with 4 kiddos without any issues, so it's what I bought too. Our little one has no problems latching on to this tip, we started with the 0-3month "slow" tip, and now we have moved up to the 3+ month "medium" flow. If you go with this type of bottle, please don't forget you need to buy these "drop ins" to go inside.
Color Changing Spoons: I think this is the coolest thing! The spoon tip changes color if the food is too hot! I know, I know, you can just stick your pinky in the bowl and you'll know if it's too hot, but I like it.
—
Stay tuned over time as the little peanut grows, and so does the list!