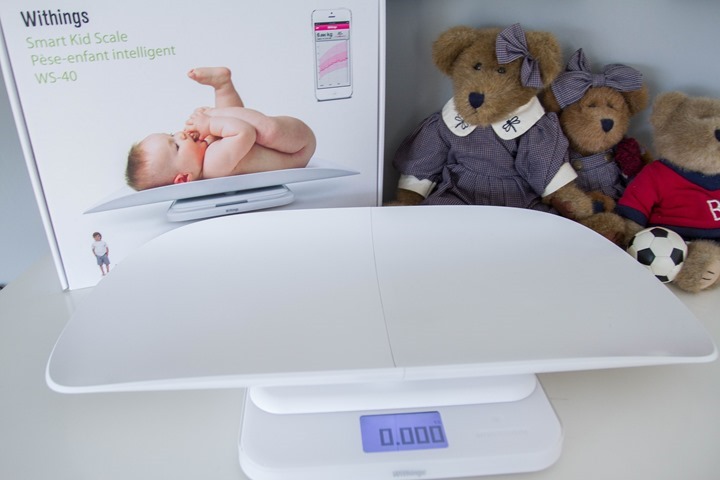 Now that both The Peanut and P2 have arrived, I am finding myself answering a lot of emails regarding general baby questions. While I find myself doing a lot of diapers, burping, and lullabies these days, I tend to leave the buying of products up to The Girl. So with that, I am going to turn this page over to her to comment and maintain. -Ray
–
Hey there, I hear you're interested in baby stuff? I am going to make the disclaimer right out of the gate that I am not a baby expert. Certainly not a pediatrician. And, I am nowhere near being a seasoned baby whisperer… yet! So, this page is simply giving you the insider view on what we are using. I'll list the stuff we love, and even stuff that we might have tried and don't get much love out of. I will continue to update the page as our little one gets older, and possibly as we add more peanuts to the family.  Please don't ask me to write a Ray-style in-depth review on a pacifier, that would just be silly! And I'm sure if you're a parent reading this you know that no two babies are alike, so what my baby likes yours very well might detest – so please keep that in mind! As always, I'm more than happy to hear from those of you who ARE seasoned baby whisperers! Please feel encouraged to leave me all of your good baby lovin' advice in the comment section below, I thank you in advance!
-The Girl
Maternity Stuffs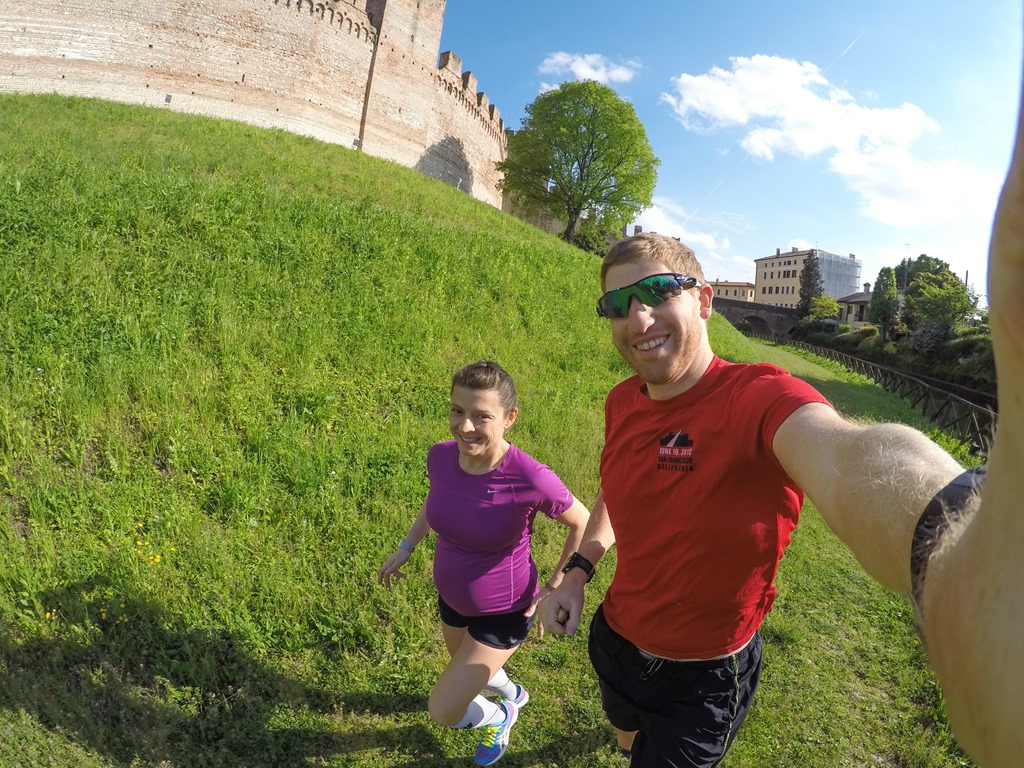 During pregnancy I just tried my best to get on with life as usual, but there were a few little things that made the changes a little easier. Here's what I found.
Tummy Drops: These little candies kept me from tossing my cupcakes each morning at the bakery. They used to also sell them in peppermint which I also enjoyed, but the ginger ones were good too. A little spicy!
Bellaband: This had to be one of my best purchases! This band went around the top of my regular skinny jeans and allowed me to wear non-maternity jeans pretty close to the 7 month mark! This actually works, I bought it in black and it just looked like I had layered my shirts. Way way better than shelling out for multiple pairs of maternity pants.
Belly Butter: Now I know a lot of people believe that stretch marks are hereditary, and I really don't know the science behind it all. What I will say, is that my belly was so freaking itchy for about a month before I ponied up and bought a pot of this stuff! It soothed the skin instantly, I about cried with satisfaction the first time I put it on, and in the end, after having a 9lb baby I had Z.E.R.O. stretch marks. Take that as you will. I'll be buying it again for the next additions!
Belly Support Belt (Running belt): I was one of the lucky ones. Running felt great for me from the get go. In fact, my knees and IT bands had not felt that good since I was like 12 years old, so I ran 10km every other day for 33 weeks! Why sport scientists have not bottled the hormone prolactin and sold it on the black market is beyond me; I'd be paying top dollar for it! Annnnyways, this belly support band helped me out during the latter weeks of the pregnancy while running. More specifically it helped the bladder keep from getting beat up from the pounding of running/babies head bouncing off it! Poor bladder. I was likely going to call it quits on running due to pelvic discomfort, but I bought this belt on a whim and ended up getting another 6-7 weeks out of it. Bonus: it washed really well in the machine, just be sure to put it in a mesh bag or secure the Velcro somehow so you don't destroy your favorite dry-fit…
Prenatal: This brand specifically was recommended to me by my nutritionist. All the good stuff, 100% food-based vitamins, super easy on my stomach. I'm still taking them while breastfeeding. Skin, hair, and nails have never looked so good.
Prenatal DHA: All the good oils for the baby! No oily aftertaste. Super easy on the belly!
Baby Carrying Systems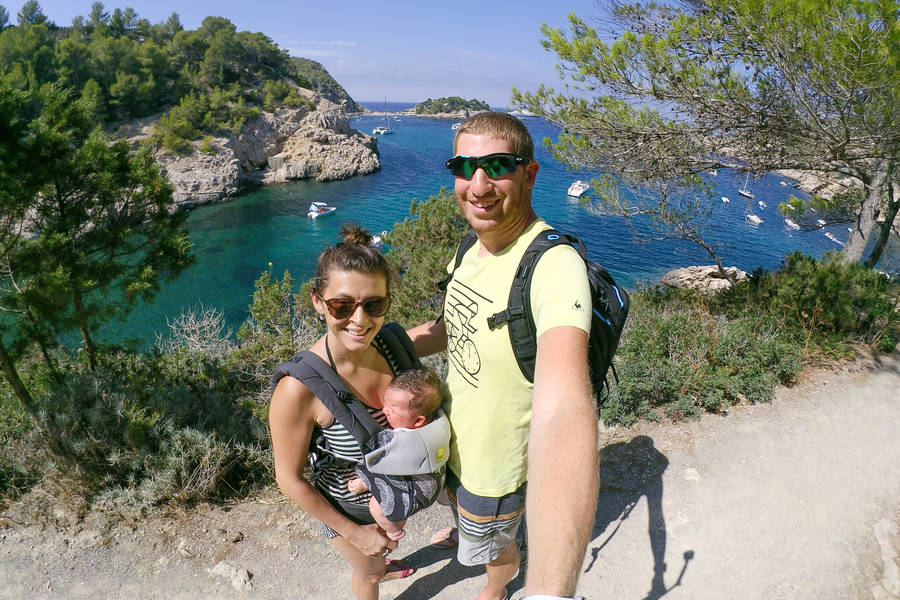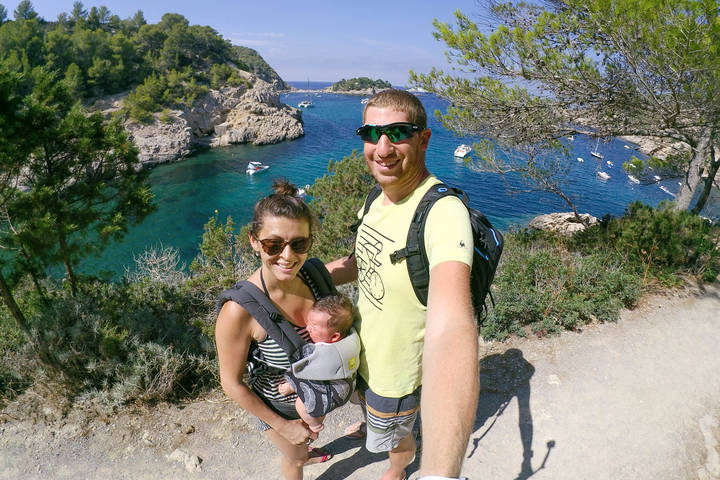 This section is dedicated to all things used to carry the little peanut.
Everyday Stroller: This is the Britax travel system. We absolutely love love this entire setup. For city living purposes it's fantastic, we can pop the car seat onto the stroller making it one sturdy piece, and any time we get tired of walking around and want to grab a cab or our city share car (Autolib), we now have our car safety seat readily available. This whole system is crazy easy to assemble, super durable, and the wheels are big for cobblestone shock absorption. I'm sure there are a thousand more reasons why I love it, but I think you get the point.
Car Seat: This is the same link as the one above. You can definitely buy the stroller and the car seat as separate pieces, but we needed them both and it came with all of the parts to make it one, so this was a no brainer. We love the car seat, which is lovingly referred to as the cow-seat.
Stroller Rain Jacket: Since we are car-less city dwellers, I am constantly running errands with baby in tow via the stroller. I didn't even open the packaging on this one until October when we started the Paris rainy season. This rain cover is perfect. Easy to just roll up and stuff under the stroller or in my diaper bag. Doesn't take a PhD to figure out while caught off guard in the middle of a downpour without any awning to cling to for cover.
Lille Baby Carrier: This is one of my all-time favorite baby accessories. Our babe loves hanging out in here, makes my life really easy for getting around, especially in crowded areas where a stroller would be a disaster. Love love love.
Infant Baby Carrier: This is the K-Tan baby carrier/soft sling. Personally I wish I hadn't put this on the baby registry. Not sure if it was just a bad combo of small mom, big baby, and Paris summers being sweltering, but I used this twice… maximum. Reality is the Lille Baby Carrier has an adjustable seating size, so I popped our little one in that from the get go and felt a lot more confident with that carrier. Just my experience.
Bob Running Stroller: We have this Bob, but we don't run with it yet because I don't think our babe is quite strong enough yet. I'll get back to this section in a few months. We chose this one because other runners and triathletes told us to!
Stroller Sun Shade: So we use this brand "Dookey", it's European. So for North Americans clicking I'm sure that's absurdly expensive for what it is. Normally €12 or so. But this link is similar to the Dookey. Anyways, I like this product specifically because it is SPF material ANNNND allows air flow. I've read too many stories on people accidentally cooking their kiddo by just flopping blankets over the whole stroller or car-seat, and that's super scary and sad. So this thing is like a shower curtain for the sun and still allows air to blow through for temperature control! Phhhhewww
Stroller Carabiners: Since we are living without a car, I am also without a vehicle trunk! Thus, the carabiners are my mode of transporting goods. Yes, I know that what the shopper-basket on the bottom is for, but normally the dog is in the bottom of the stroller. (I know, eyeball roll, but please imagine the stroller, filled with 20+ lbs kid, 20+ lbs groceries, and whatever other errand I've done that day… and then push said stroller one handed on cobblestones while holding the leash for the puppers… Nope. Dog goes in basket, and we have a European Minivan!). Now you understand the importance of these gadgets! I'm not sure the brand really matters as long as you aim for ones with leather Velcro straps and metal carabiners… plastic isn't going to last, I promise.
Foam Stroller Fans: These little gems are just that! Gems. Foam and battery powered! As a little little baby the peanut was just transfixed on the fans, not to mention kept cool! And now almost 15 months later she still loves the feeling of the breeze on her face! Since the blades are foam it's no biggie if it whacks her in the face or she grabs with her hands, it doesn't hurt at all. As well, she has given the blades a run for their money with pulling and tearing at them… all three are still attached. I will admit I bought this as a single last Christmas before our trip to Australia, but I can only find them now in the two pack, so twice the price. I'll buy them again this Christmas before we head to the Land of Oz once again!
Baby Entertainment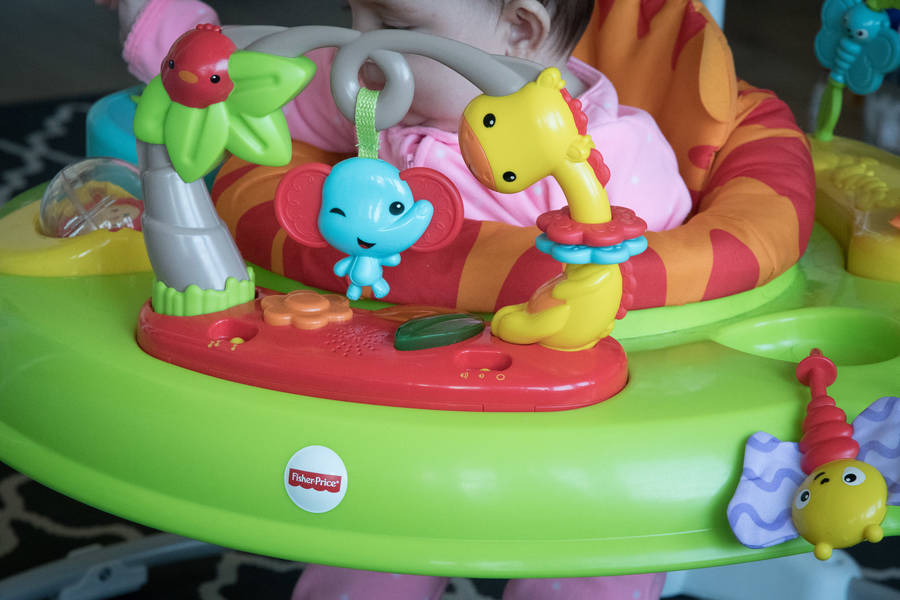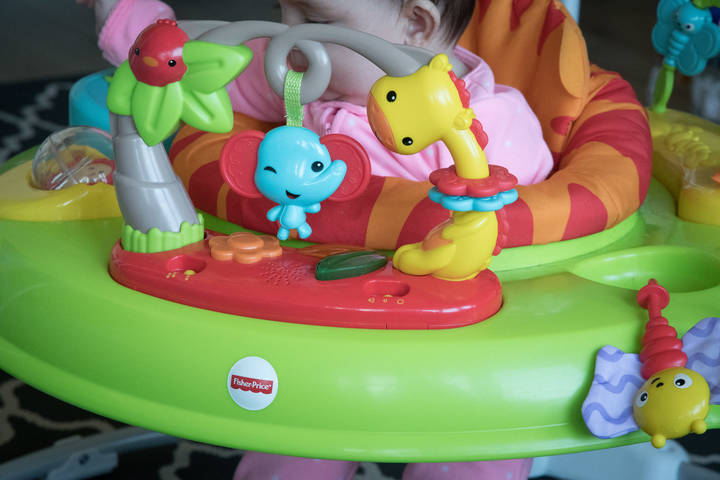 There have been some play items that we have come to love, some of which keep baby engaged for long enough for me to get this "Baby Gear" page created! As always, if YOU have suggestions of "must haves" please let us know, we are new at this too!
From Birth – 6 months:
For this portion of our parenting lives, it felt like time blew by, for both kiddos! Like time was in warp speed! So, I'm sure this is not a "complete list", but since P2 has come along I have tried to edit this list for the things BOTH kiddos utilized to the max!
Play Mat: I have been a big fan so far of the Skip Hop brand. I am sure there are a hundred different styles and brands of play mats, but this one is really doing the trick for us.
Play Mat Foam: We just have this little pack of 9 foam squares. It goes under the Skip Hop mat from above and just creates a little more head-banging safety against our hardwood floors. Nothing fancy, and does its job perfectly!
Jumperoo Play Station: This thing… oh man where do I start? Worth. Every. Penny!
Bumbo: A friend of ours just gave this chair to us. She said her baby hated it and never sat in the for more than a few minutes. Our little one sits in it for 20+ min no problem. I (personally) think it helps her with her core strength as she can sit up for longer and longer now. But again I'm not a baby expert. Just goes to show every baby likes and disliked different things.
Baby Einstein Turtle: This was the first baby toy that we bought, and she love love loves this thing! She's become very efficient at giving the buttons a solid whack and gets a good kick out of it every time! I would say this toy really encouraged her/motivated her to stay on her tummy longer.
Muffin the Moose: I am Canadian (and so is the Peanut), so how could I not get this fantastic teether and activity toy?? It's awesome! Patriotic duties complete!
Manhattan Toy Company Sensory Ball: This has been a great toy addition for us. It doubles as a teether and a sensory ball. With all of the little loops to manipulate her hands can double grab the ball and shake. There's a really soft sounding rattle in the middle piece as well, which is stimulating but not annoying.
Bright Stars Floor Mirror: From the beginning we noticed The Peanut liked mirrors. She was enchanted by them, and more often than not, when mid melt down, they provided as a distraction to whatever it was that ailed her. She received this mirror as a present around 5 months, and it was awesome, made tummy time an enhanced experience! Wish we had had it a few months earlier!
From 6 months – 12 months:
Ray and I have tried to be very aware of the amount of stuff we collect for The Peanuts. I would like to say we are sticking to a conservative amount of stuff, and as well "purposeful" purchases. It's incredible how quickly toys, presents, and knick-knacks pile up, and we simply do not have the space in our European living spaces. We have found going to friends' homes with similarly aged kiddos is the best way to figure out what the girls are interested in playing with. Also, mom's with slightly older kids than you will likely know what actually works for feeding, cleaning, and organizing! As always, if YOU have suggestions of "must haves" please let us know, we are new at this too!
VTech Sit to Stand Activity Walker: We love this activity toy. We got it for her when she was just getting used to sitting on her own. There are spinners and toys low enough on the front that if the baby is still doing tummy time they can still reach things to do. But it was the first toy that actually motived The Peanut to sit up for longer periods of time (without any supports) and smack around at all the buttons, spinners, pull tags, etc. Now, on the verge of walking, she can use it as a push support walker, and the wheels have two different degrees of resistance… like a bike trainer with the screw down flywheel!
Leap Frog, Peak-a-Boo, Talking Octopus: You're going to be super sad, but we received this gal second hand, and it looks like Amazon now outsources this toy to expensive sellers. I can't suggest paying $100+ for it, but if you happen to find it in your country for less, second hand, or maybe eBay, BUY IT!! Oh, my gooooodness. This Little Octopus is great. Teaches looking under things, coordination dropping balls into two different openings, numbers 1-8 and colors! Plus there is a music button on her belt that plays different songs that will inevitably haunt your dreams. But your kid will love it, sit there clapping to the songs, and stay engaged for a long time! If nothing else, take a peek so you know what it looks like and can keep an eye out for it. But please don't drop a paycheck on it.
Poppity-Pop Musical Dino: To be honest, The Peanut received this at Christmas from my best friend, and at 6 months-ish, it sort of scared the crap out of her… and the Dog! Now at 13 months she's coming around to it (the Peanut, not the dog) and it's a lot of fun!! I only drop that honesty bomb on you because she really didn't like it at first, maybe too animated? But I have hosted several "mommy play groups" and I've had some kids as old as 4-5 years old still playing with it. So I think it's great and will last a long time, compared to some toys the babes outgrow as their motor skills improve.
Fisher Price Classic Infant Trio: Here's a set of three toys, stacking rings, shape box, and Xylophone. She's been using this for months, and at first most items were just chewed on. Now she plays the xylophone, and is starting to figure out putting the shapes into the correct holes. The stacking rings… well they mostly get thrown. She'll get there! Ha
Buggly Wuggly Ride-On Snail: A birthday present from Ray's Parents, and what a ride it is. Although the Peanut's legs are quite long enough to touch the ground and push yet, she loves sitting up on the snail and hanging onto its eyeballs… which honk! Yes, you read that right. The eyeballs honk and light up. There is a storage compartment which sometimes stores blocks, other times leftover Cheerios, you choose. Pushing her around the apartment is hilarious.
Box Buliding Blocks: I can't find these anywhere on Amazon, (sorry, that's literally how most of my shopping happens). Ray and I bought these for The Peanut's birthday and she loves them. If you don't have access to this brand in particular, I would look for a type of block that is semi-flexible and has smooth edges. She climbs and crawls all over these things and it doesn't scratch her, and she can chew on them no prob. I think the semi flexibility in the blocks allows for a little more success (and thus motivation) in creating stacks.
Bubble Machine: I bought this for The Peanut's first birthday party, and it was a wild success! Ours is Little Mermaid branded, but the same toy manufacturer… different stickers. We love it. Loads and loads of bubbles, the kiddos went nuts trying to catch and poke them. Worth every penny. We use it all the time for entertainment and some beautiful pictures as well.
10 Little Bears Book: A present from her Aunty, this has proved a favorite book! It's a "board book", which means the pages are as thick as the cover. As the story progresses, one squishy bear disappears after each turn of the page. And finally, you can read the entire story in the tune of "Bah Bah Black Sheep", which is a lot of fun. We read it pretty much daily.
Sesame Street Waterproof Bath Books: These are great for bath time. We love reading books, and the bath is no exception. I find them easier to clean and they last longer than the squirt toys that inevitably get moldy inside. I think you can even find these at your local dollar store! I wouldn't spend more than a dollar or two per book, they can't really improve that much in quality! Haha
Munchkin Bath Squirt Toys: We love bath time, and having toys in the bath is a great addition. I personally love the squirt toys because it raises the level of fun, and our Dog Lucy LOOOOVES being squirted. So it's a whole family gathering around the bathtub with these things! A word of warning however, squirt toys are a mess to try to clean… and thus once the squirt toys start adding algae to the bath, just chuck them. Please! You will get maybe 2-3 months per toy, so if I have a 9-10 pack of toys I only unload 3 or so of them at a time (plus a bath book). That is more than enough, and then it doesn't seem so wasteful to be tossing toys in the bin. Also, the Munchkin brand is our favorite, and we often get these as add ons to presents (I told you, you will accumulate a lot of stuff), but if I had to buy these myself, I would maybe check out a TJ Maxx/ discount-y type store and see if I can't get them for cheap? Or, again, check out your local dollar store for something similar!
"Chewelry": Get it? Chew-elry… like chewable jewelry? I wasn't sure if this should go in toys or the eating category? But basically the Peanut goes nuts for this. I have several, she chews, pulls, plays, you name it, with these necklaces. It keeps her from pulling and chewing on my hair, and they are actually really cute jewelry pieces so you can still wear a necklace that your kiddo won't destroy or choke on. Honestly these were a lifesaver on the airplanes as well!
Sassy Suction Cup Wheel: So we just recently had former expat friends in town with their 20 month old, and they had this creation in tow! Winner winner! The suction cup could use a little more "umph" but in general this is great for entertaining babe at a restaurant or anytime you're sitting and waiting… and not totally on board with sticking an iPhone/iPad in the kiddo's hands. Good find! It's always good to have older baby-friends! They have all the good finds!
Baby Nursery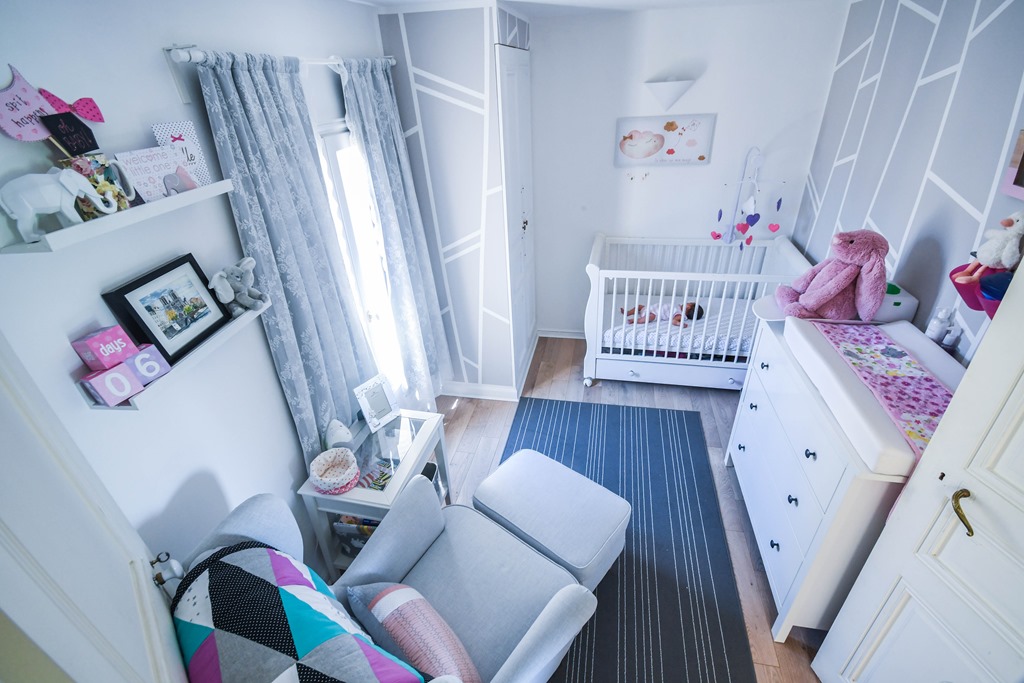 European living has made my life so nice over here. I feel like we have really pared down on the amount of "stuff" we have; our nursery is little and we only have the things we need! It's great! In addition to this list I also highly recommend cruising through your nearest IKEA to see all of their great baby furniture and stuffs!
Noise Machine: I love this noise machine for so many reasons. I definitely initially picked it because of looks – pretty little owl. But now that we use it every day for 3 naps and throughout the night I realize I really lucked out! It has two different light options (soft glow light, and star projector), and the "noise" selection is everything from songs to rolling beach waves! All of the different options can be controlled individually from one another so your options are endless! We love it; if you are still deciding on buying a noise machine or not, PLEASE do yourself a favor and buy one! You might not want this one, but you DO want one!
Mobile Motor/ Music Box: I really wanted to make our mobile decorations as a project with my mom. So originally I purchased this mobile and it was total crap! Music played for a whopping 2 minutes… But the arm and attachment pieces were fine. So I made my decorations and it looks pretty, and eventually upgraded the sound box. The Shiloh music box is perfect. Music plays for 30 minutes or so, you can control the volume, you can skip a song or even find one song that you like and put it on repeat. We use this a few times a day as well!
Change Pad: This thing is great. I'm really not sure how different these products can really be from one another, but this seemed to be the most reasonably priced and I like it! We didn't buy change pad covers, we have a surplus of bath towels so I use those and toss them in the wash every few days.
Wipe Warmer: I thought this was a little silly at first, but it was a gift we received so I gave it a shot! Ummmmm do you want a cold wet towel on your squiggly bits in the middle of the night while you're half asleep? No? Well, neither does baby! hahaha I am a wipe warmer convert now. Think of me as you want 🙂
Boppy Nursing Pillow: Everyone and their grandma told me I "NEEEEDED" one for the best breastfeeding experience… Both our babes were been exclusively breastfed 6+ months and I used that thing one time and flung it across the room out of frustration 2 minutes in. The reason I recommend it is because we actually used it a lot for photos and propping up the girls. Lay a nice blanket over it and voila!
Baby/Child Weight Scale: The Withings weight scale is pretty great. I am sure you tech-focused people out there might have some choice words for their current version of the pairing app, but for me non-techie I like it. The scale chats with the phone, and keeps track of everything for me. I used to use the app for tracking feeding and napping schedules as well, but now I manage that daily in my head. We even get cool graphs for our Peanuts' weight gain and percentiles.
Baby Feeding Equipment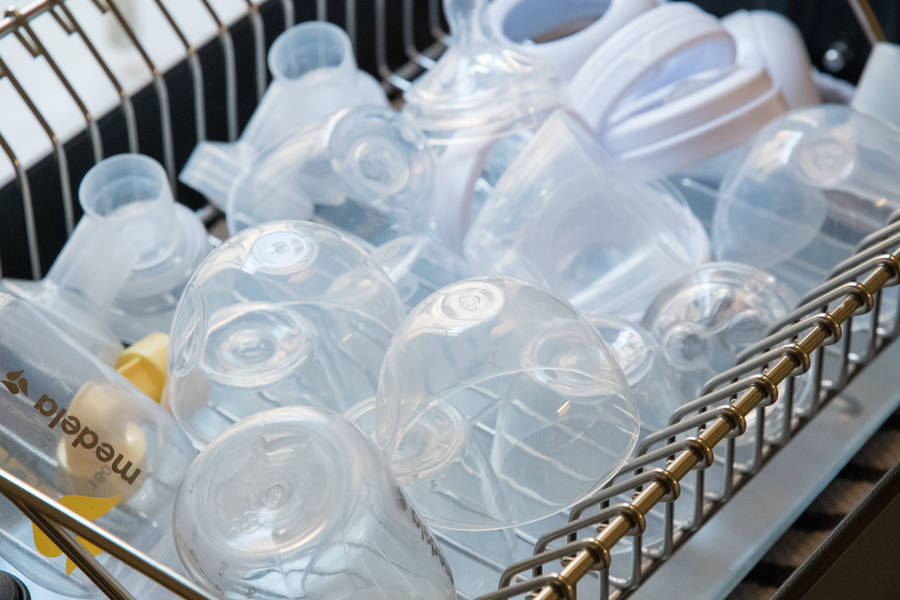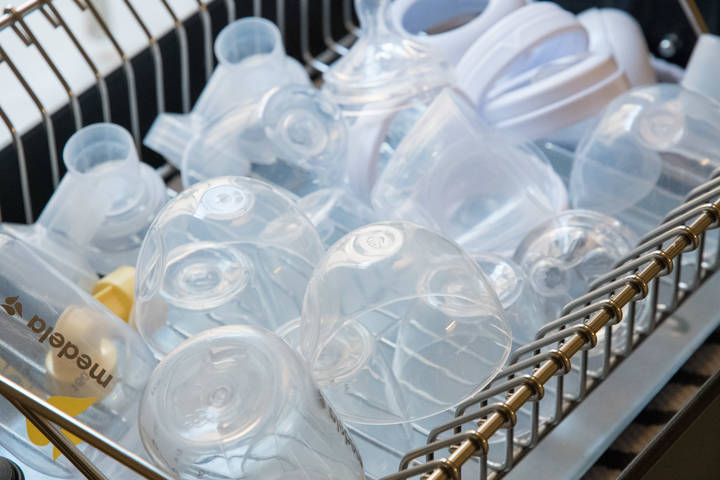 The different types of bottles, spoons, heaters, etc. are endless! It can be overwhelming! I since learned that in America, and most of Canada, you can go into big box baby stores and get a "sample box" when you register for a registry or something. I know lots of moms who un-apologetically went to every store possible to get a variety of samples. I say Kudos to them! You DO NOT need to have your bottles fully stocked before the baby comes. Some babies are super picky on tip shape etc. Even go borrow some different bottle brands from other moms if you want. Don't rush it and spend your hard earned money on silly things… believe me, you'll be spending enough dough as you go!
Milk Pumps! : I think the general consensus is that Medela is the brand of choice. I chose this specific model because it seemed to be the most travel-friendly one. It does a great job, isn't super loud, and it's easy to assemble and operate. I don't have any experience comparing this to other brands/models, however I'm super happy with this one and would not be looking for a different option.
Baby Bottles: I chose this brand specifically because my mom told me to! haha, it's what my parents used with 4 kiddos without any issues, so it's what I bought too. Our little one has no problems latching on to this tip, we started with the 0-3month "slow" tip, and now we have moved up to the 3+ month "medium" flow. If you go with this type of bottle, please don't forget you need to buy these "drop ins" to go inside.
Color Changing Spoons: I think this is the coolest thing! The spoon tip changes color if the food is too hot! I know, I know, you can just stick your pinky in the bowl and you'll know if it's too hot, but I like it.
Munchkin Snack Catcher: We discovered these nifty contraptions on our road trip in California back in April (2017). The Peanut has only spent limited time in cars, so the whole "magic" of putting a kid in a car- soothing/ sleeping trick… yeah that didn't happen for us! She did not appreciate the car as much as was promised by our North American parent-friends. However, she really appreciated these containers. I could only sit in the back seat entertaining her and feeding her Cheerios for so long before I would be car sick, so this gave her something to do, figure out, and also have a reward at the end of the rainbow! Probably saved our wallets as I was threating to buy plane tickets for the rest of the legs of our West Coast travels!
Munchkin Spoons: Earlier we exclusively used the Munchkin color changing spoons, and they were great for learning how to eat off of a spoon (I know that sounds crazy). But these earlier spoons were much shallower, more like a paddle, and that was perfect. But now The Peanut is eating bigger spoonful's of sloppier foods, and thus we have graduated to this deeper spoon. I know… it sounds bananas. But it changes the stress level and success level of dinner time, in my opinion and experience. Maybe my kid is just a pain in the bum.
Clip On High Chair: This chair is great for apartment living. She's just hanging out with us at the table during meals, and we can all enjoy eating together. This material is great and has been through a lot! Including the wash many many times. Super easy to disassemble, store, wash, you name it!
Advent Bottles: We have recently added these bottles to our arsenal. I love love love the disposable liners when Peanuts were really little and could have 5-6+ bottles a day or when we are traveling! They are perfect for in and out of hotels, airplanes, etc. not having to sanitize the bottles. But, these are more environmentally friendly, it's the brand they use at the daycare, etc. Our girls had zero problems switching back and forth between brands, so we pick and choose as the situation dictates.
Universal Bottle Handle: Some bottle brands have brand specific handles you can clip on, or screw into the top, but Playtex didn't have that. So I have to say this might have been one of my favorite baby finds! It took maybe 3-4 days of propping the girls up on a pillow and they became self-feeding pros! And mommy could take a gloriously long shower while the kiddo was in a bouncy chair, content with her very own milk bottle! #MomWin!
—
Stay tuned over time as the Peanuts grow, so will the list!