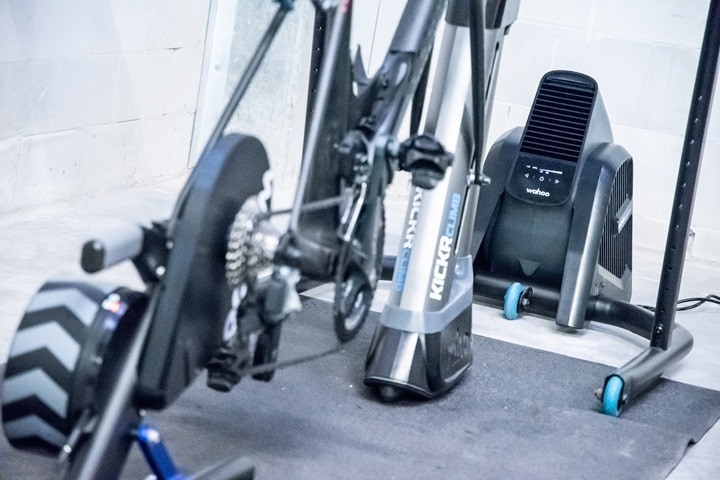 I've written many in-depth reviews over the years. Trainers, GPS watches, action cams, drones…and yes, even a blender once (I still have the blender, it's awesome). But, never a fan. But there's a first time for everything, and today is that day.  A review of a fan.  And to be more precise, a really expensive fan. But, a fan that's connected via ANT+, Bluetooth Smart, home automation tie-ins (soon), and even the good ole fashioned power button.  All while blowing a super precise stream of air at exactly your body and nothing more.
Given this is a new category for me, I'm going to do my best to redefine it. Which essentially means I'm going to try and keep it nice and tidy. I mean, obviously I'll have to buy a fancy smoke machine and compare things at the hardware store. Plus I bought like 5 gallons of fake smoke.  But those are all baseline for any sort of fan in-depth review.
In the case of the Wahoo Headwind, they sent over a media loaner unit to blow…err…try. So, that I did.  In fact, it's even been with us here at the DCR Eurobike RV to keep things cool. It does a really good job at circulating air, as the air very much does not.  After we're done with it here moving hot air around the RV, I'll ship it back to Wahoo like everything else I do.  If you found this review useful, hit up the links at the bottom to help support the site here. Even if it's just buying a smoke machine.
Speaking of which, if you've only got a few minutes – check out my full Headwind fan video here first…complete with that smoke machine:
With that – onto the complete in-depth review!
What's in the box: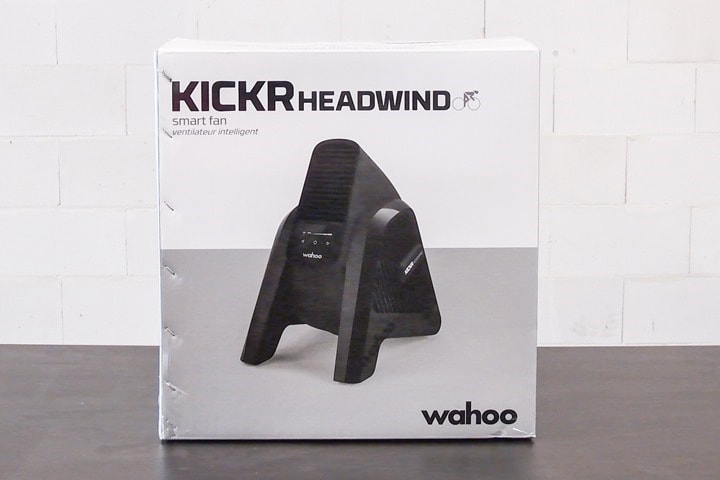 This may be the most simplistic unboxing I've done to date.  Above, you can see the box. It's pretty enough. More or less a standard designed box from Wahoo.
Inside the box is the fan: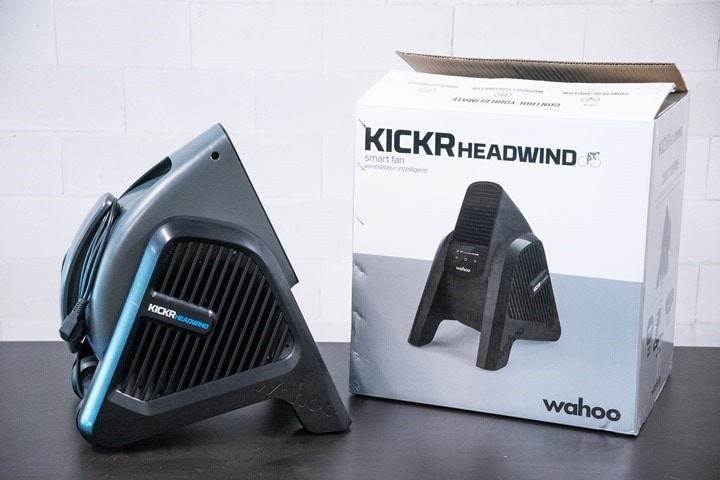 And that's it.
In my case, the manual wasn't inside the box since I expect it wasn't ready yet when the boxes left the factory. Don't worry, you don't really need one – especially after you read this post.
Thus my unboxing section is complete.
How it works: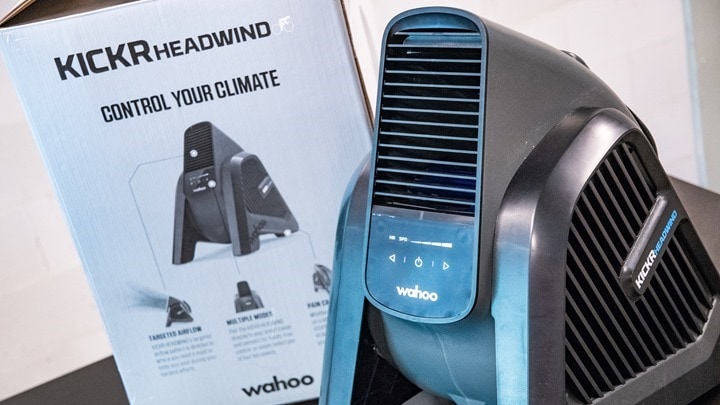 Keeping in mind this is 'only a fan' (even if a really nifty one), I'm going to try and keep things as quick and straightforward as possible. 'Try', being the operative word.  First up, let's talk hardware.  The fan has two air inlets on either side.  This is actually an interesting advantage for small trainer rooms.  It allows you to set the fan right up against a wall facing you, because the air comes from the sides rather than from behind the fan.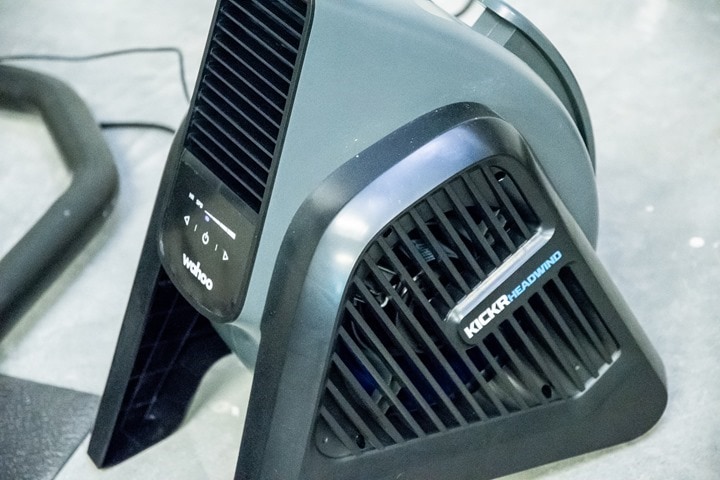 Next, the fan has two small legs that can be pulled out of the back These legs act as a bit of a prop to lift the back and make the fan level. This is ideal if you put it on a table rather than the ground.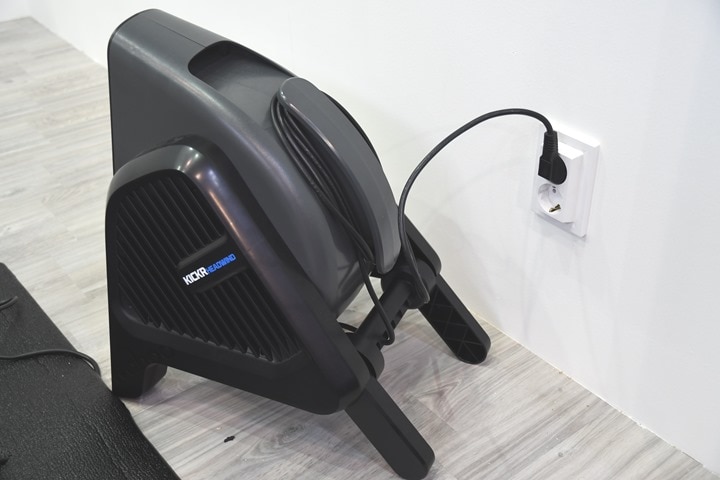 Whereas when placed on the ground the fan will naturally point up at you in terms of the air channel.  Which is actually super interesting.  The Fan doesn't have much bleed of air beyond a very narrow channel.  The air is entirely funneled at a width roughly equivalent to that of your handlebars.  You can see/hear this in my video where I can easily step into/out of the air stream by just shifting my body a little bit.
The fan has a small cutout to rest atop the Wahoo KICKR Desk, so when you push the KICKR desk around, this will go for a ride as well.
The only downside to this is that using it with the KICKR Desk means that you really only get supreme crotch ventilation. That's because the desk blocks the airflow to your chest and head.  Thus while I do appreciate having my crotch well ventilated, I generally prefer airflow higher up on my person.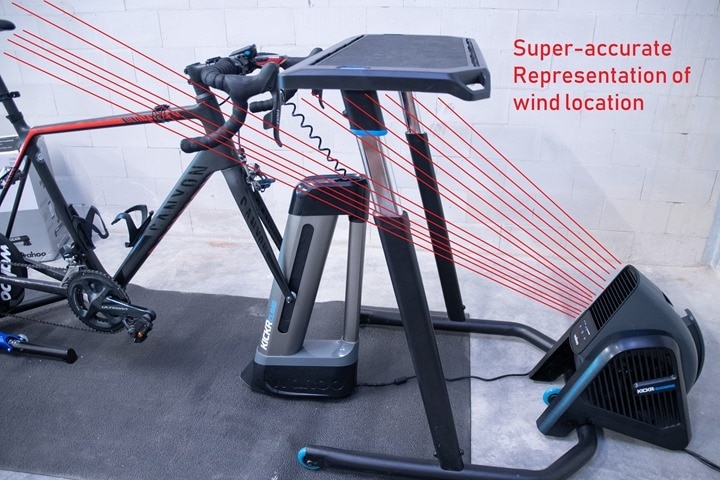 So for that reason I'd recommend placing your fan off to the side of the KICKR Desk instead. This works perfectly and you still get the full blowing force of the fan without the crotch concentration.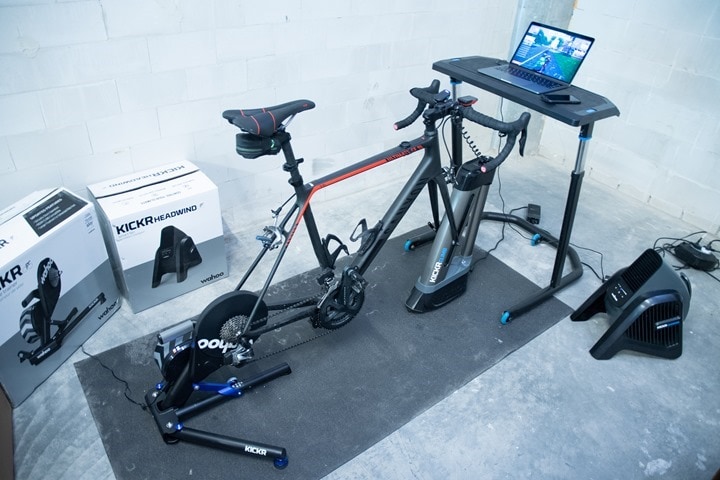 On the fan is the power cord. It's got a nifty vacuum-cleaner style cord wrapper, which I rather appreciate. Kinda logical actually.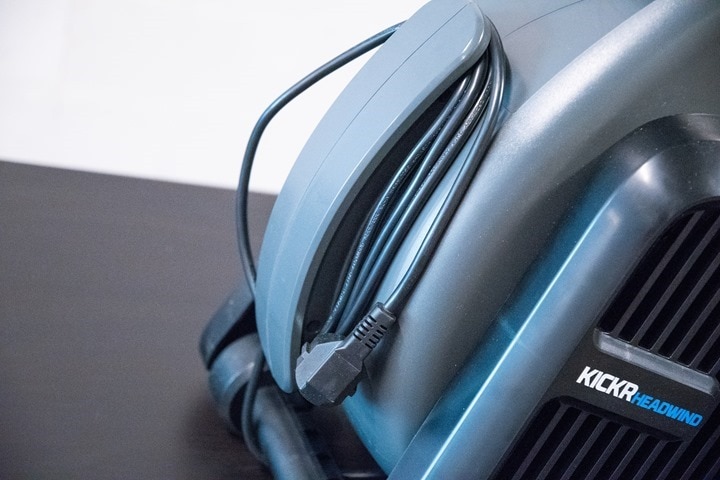 And thus we're ready to talk about controls.  You've got exactly five ways you can control the Headwind fan:
1) Manual speed control on the front
2) Paired to a heart rate strap using BPM
3) Paired to a trainer using speed
4) Using the Wahoo Fitness app
5) With Apple HomeKit (soonish)
Looking at each of the options individually, first is the manual control pad on the front of the fan.  This has buttons for powering it on as well as increasing the fan speed in four steps.  Also, it allows you to change it to HR/Speed mode.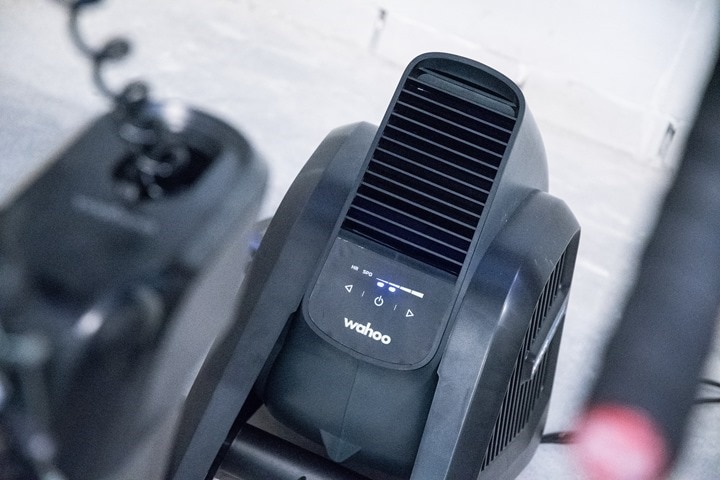 All that works fine and dandy. Really, it's just buttons. They do their thing.
More interesting is the pairing pieces though.  When you switch over to either of the two sensor control modes the fan will start doing a proximity pairing to the nearest heart rate or trainer sensor (depending on which mode you're in).  Thus you can essentially tap your heart rate strap to it, or bring your fan close to your trainer to ensure it connects to the right one.  Or, if there's only one sensor of those types around, it'll find it by itself.  When it does so it'll stop blinking the blue light and show it as paired.
This does NOT require any Wahoo sensors. It works with any ANT+ heart rate strap, any ANT+ speed sensor, or any ANT+ FE-C trainer. Why not BLE sensors? Well, that channel is reserved for the headwind to talk to your phone.  Then you might ask, why not multichannel? The answer there: Soon.
Wahoo will be the very first fitness company to flippin' finally implement the ability to multi-channel BLE sensors so that it can concurrently connect to Bluetooth Smart HR sensors and your phone (since it's the lower power side).  Even more, Wahoo will soon be adding that to their other products (it's unclear if that'll be on new hardware or older hardware). Either way, that's awesome news for consumers.
Once you've got it paired you can specify the min/max values within the Wahoo Fitness app.  It'll do a simple 0% to 100% spread based on those values.  You've got one set of values for HR, and one for speed.  You can only select to be in one mode or the other at any one point in time, but it'll save the settings for whichever mode you're in.
All of this works quite well enough, though, Wahoo gave me a small tip which I'd echo: Don't set your actual max HR value here.  Meaning, let's say your max HR value is 185BPM.  If you set that as your max HR value, you'll never get 100% fan speed, even if you're still dying at 170BPM up Alpe du Zwift.  Instead, set the max fan HR speed for whatever point you actually want it to be.  In my case, I'd put that towards the edge of Z2/Z3 HR.
Meanwhile, the idea behind the speed/trainer pairing is that you can replicate going faster into a headwind (get it?), by pairing it to the speed of the trainer.  As you go down a hill you'll feel the wind in your face (or crotch), and vice-versa going uphill.  Of course, most of us work harder going uphill, so most of us want that cooling there instead – real world realities be damned.
Next, that app also allows you to control the fan speed without any sensors at all by just using the little slider to set a specific value.  This is actually the mode I've used most.  Simple and effective.
And finally, as seen above, the app allows you to update the firmware as well.  Because, of course, your fan has firmware.
Note that while the unit has planned HomeKit functionality, it's not quite ready to be released (the actual fan itself will however be released this week and then firmware later will enable HomeKit).  I'll put an addendum in this post later down the road on the HomeKit bits once it's ready.  While some units will ship this week, the vast majority will go out in a few weeks starting in August.
There's really not much more to say about the Headwind – frankly it works perfectly.  The app reconnects exactly as expected each time I come near it to start riding, and it responds without issue.  From a technology standpoint, Wahoo has nailed this.  That's not super surprising from Wahoo, but it's worth noting that Wahoo actually partners with a company that has deep fan/cooling experience for the manufacturing of this.  Thus with that manufacturer having many years in this space, that'll hopefully reduce any hiccups that might come from a bike company trying to make a cooling device.
Actually, there is one more thing to say: Be sure to watch the video up above. We broke out a smoke machine: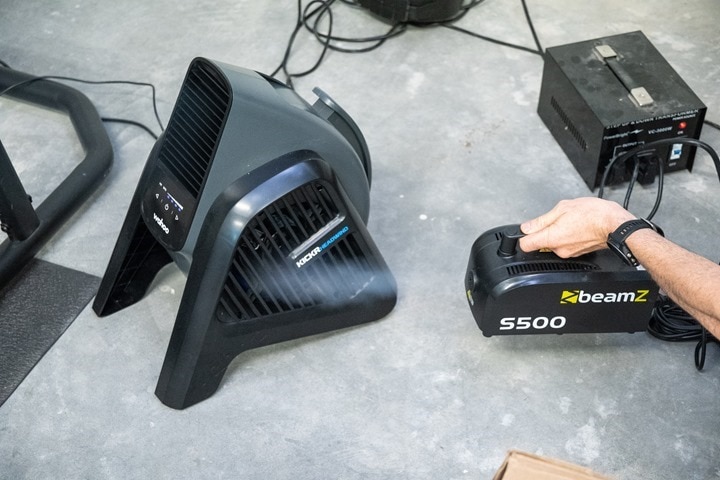 Yup, that's worthwhile.
Fan Market Offerings:
Despite my substantial collection of trainers, I have a very minimal fan collection.  I'm just not an experienced collector in that genre.  The last time I bought a fan for my trainer was a decade ago (seen here).  I got it at the end of summer in the clearance section at Target. It's unlikely I paid more than tens of dollars for it.  It's lasted me until just a few weeks ago, when I tripped on a trainer and then fell onto the base and snapped the plastic frame that holds the metal legs. This was like the 3rd time I've done that, and this time I re-broke it in a bad way.
Thus, in many ways, I've always been pretty happy with my fan – even though I had to use a transformer with it when I moved from the US to Europe, due to voltage differences.  But given its untimely death, this got me thinking about fans.  So I headed to the hardware store to see what one could buy for the same $250USD that the Wahoo Fan would cost.  Well, actually, it's 229EUR in Europe, so we'll roughly use that instead.
And what I found was that fans in the ballpark of that were massive.  Like, blow me down kinda massive.  Check out this one: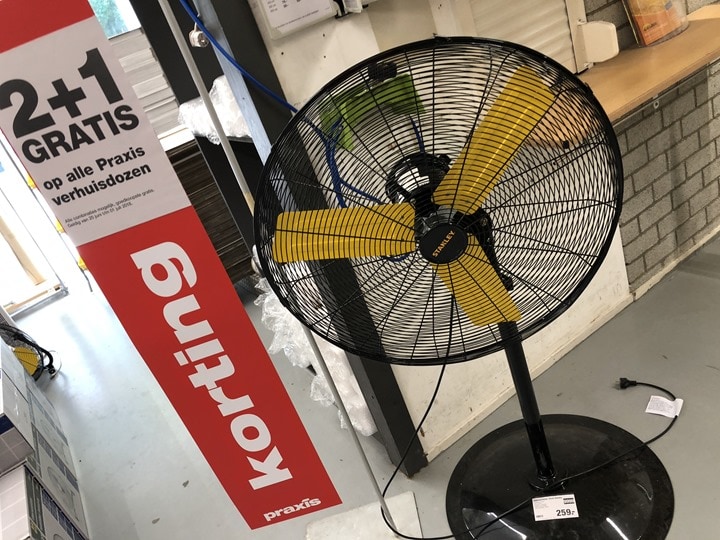 Or, I could get a crap-ton of fans for 20EUR-40EUR.  Heck, there was even a buy 2 get one 1 free deal going.  I could create an entire three-way fan setup.  I could almost simulate cross-winds if I wanted to.  And still do so for a fraction the cost.  Want to make that fan smart? I could buy an Alexa and Google Home enabled power strip that I could individually control each of my massive fan array with for a mere $19USD.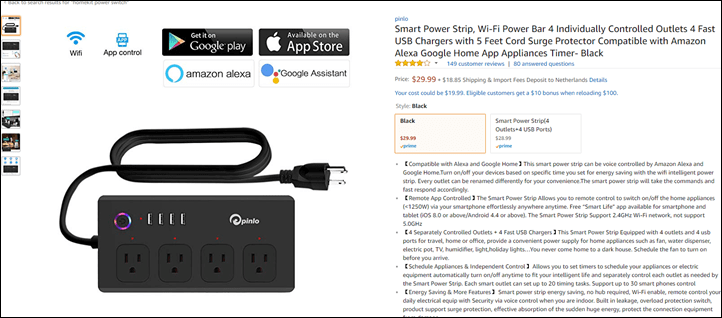 Note that in the above setup you can't control the fan speed, so that is technically a point win for the Wahoo.  But, on the flip side it has Alexa and Google support, which Wahoo lacks.
But I could get even cheaper as a total setup. I could buy a $39 fan from Costco that includes a remote control and has six settings.  This means I could just rubber band it to my bike and I'd be good to go – no need to mess with my phone (which, to be fair, with SIRI I don't technically have to touch my phone either).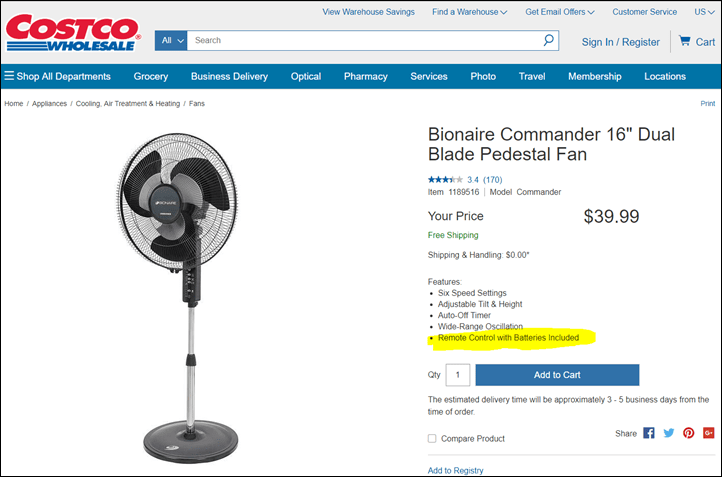 Of course, there are a million options here.  But I'm getting odd stares from people here in the Eurobike media center as to why I'm looking at the Costco and Amazon pages for fans.  You get the point (as a side note, I'm actually excited about that power strip above. Going to find the Amazon EU version of it and have some fun…).
On the flip side, people did this same sort of comparison to the Wahoo KICKR desk.  They weren't wrong, but they also weren't right.  In some ways I actually think the desk is a better value than the fan – because it's far more specific to cycling than repurposing a hospital bedside table.  And, I've yet to hear anyone who bought a Wahoo KICKR Desk be upset with their purchase. I love the one I bought – it just works perfectly.  I do very much wish though it had power outlets/USB ports on it and wheel locks. But otherwise I'm good.
And I suspect trying to compare fans here is kinda the same.  There's always a portion of the population that creates a DIY setup.  I could easily create the 'ultimate pain cave' bundle using all Wahoo stuff that would resonate well with certain folks, while I could do the same thing with nifty Amazon power strips and cheap fans that would resonate well with other folks. To each their own.
Summary: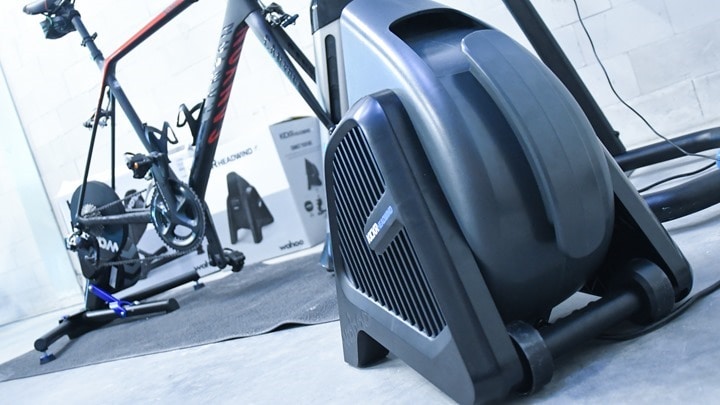 If for a brief moment we set aside the price of the Headwind, the unit is well designed and well functioning.  It fell off the table the other night down onto the ground and kept on ticking (well, fanning).  And the app control of the fan speeds is indeed awesome for when you inevitably get on the trainer, start pedaling and then realize a few minutes later you forgot to turn the fan on.  We've all been there.  The point you decide whether or not to interrupt your visually perfect file on Zwift/TrainerRoad to get off the bike and hit that button or not.
Not only that, but the integration to trainer speed and heart rate may appeal to some.  I think that's probably going to be one of those features you use once before you realize you just want the darn fan on all the time at a high level.  Whereas the ability to change said levels remotely is useful, especially to have granular control when trying to balance volume against a TV show or such.
Still: Dat price.
For me, $250 is just super pricey for a…wait for it…fan.  Had they priced it at $125, I think it'd sell far better, and I could swallow the price a bit more.  To me that also seems like a fair price given everything it has going for it (since it would fit into the entire aesthetic design better than that Costco fan).
Of course, as I said above – to each their own.  If you get the fan, I have no doubt you'll enjoy it (I liked using it too).  But if you just buy that crazy power strip and four smaller fans…I suspect you'll be pretty happy with that too.  Whatever floats your boat.
With that – thanks for reading!
Found this review useful? Support the Site!
I've partnered with Backcountry & Competitive Cyclist, which help support this website when you purchase through the links below.
Wahoo KICKR 2020
Wahoo CLIMB
Wahoo KICKR DESK
Wahoo Headwind Fan
For European/Australian/New Zealand readers, you can also pickup the unit via Wiggle at the links below, which helps support the site too! With Wiggle new customers get 10GBP (or equivalent in other currencies) off their first order for anything over 50GBP by using code [Currently Disabled] at check-out after clicking the links below.
Wahoo KICKR 2020 (EU/UK/AU/NZ – Wiggle)
Wahoo CLIMB (EU/UK/AU/NZ – Wiggle)
Wahoo KICKR DESK (EU/UK/AU/NZ – Wiggle)
Wahoo Headwind Fan (EU/UK/AU/NZ – Wiggle)
And finally, here's a handy list of accessories that most folks getting a trainer for the first time might not have already:
| | Product | Amazon | Note |
| --- | --- | --- | --- |
| | Basic Trainer Mat | Amazon | This is a super basic trainer mat, which is exactly what you'll see me use. All it does is stop sweat for getting places it shouldn't (it also helps with vibrations too). |
| | Front Wheel Riser Block | Amazon | Here's the thing, some people like front wheel blocks, some don't. I'm one of the ones that do. I like my front wheel to stay put and not aimlessly wiggle around. For $8, this solves that problem. Note some trainers do come with them. Also note, I use a riser block with *every* trainer. |
| | Honeywell HT-900 Fan | Amazon | I've got three of these $12 fans floating around the DCR Cave, and I frequently use them on rides. They work just fine. Sure, they're not as powerful as a Wahoo Headwind, but I could literally buy 20 of them for the same price. |
| | RAD/Lifeline Cycle Trainer Desk | Amazon | This desk is both a knock-off of the original KICKR Desk, but yet also better than it. First, it's got wheel locks (so the darn thing stays put), and second, it has two water bottle holders (also useful for putting other things like remotes). I've been using it as my main trainer desk for a long time now and love it. Cheaper is better apparently. Note: Branding varies by country, exact same desk. |
| | Tacx Tablet Bike Mount | Amazon | I've had this for years, and use it in places where I don't have a big screen or desk, but just an iPad or tablet on my road bike bars. |
Additionally, you can also use Amazon to purchase the unit (though, no discount/points). Or, anything else you pickup on Amazon helps support the site as well (socks, laundry detergent, cowbells). If you're outside the US, I've got links to all of the major individual country Amazon stores on the sidebar towards the top.
Thanks for reading!