Alternate Title: Will it Blend…Damn right it will!
Back a month or so ago I was blending a smoothie and decided that my poor little blender just wasn't cutting the mustard…err…pineapple. Of course it didn't help that I'd been eyeing a certain blender for over a year now (yes…I eye blenders). But let's be honest – your eyes would stray too if you saw a blender that could blend an iPhone or a hockey puck.
What? You don't believe me? Ok…here ya go – a YouTube video from their site (which, btw – if you want endless entertainment, check it out).
So….it was decided, I needed this the BlendTec Home blender. A quick virtual credit card swipe later and it arrived the next day courtesy Amazon.com.
I'll save you the process of putting it together – it was pretty complex…ya know, two pieces and all. And I had to plug it in all by myself! So the first thing I set out to do was to create a quick smoothie using all fresh fruit that I froze myself.
Which brings me to a little trick about smoothies. The way to make them taste like the good smoothie places is to NOT use ice or any water. Simply use fruit and fruit juice. This is because water/ice offers no flavor (duh), and only serves to chill. Whereas using frozen fruit and then cold fruit juice is perfect and packed with flavor – plus – no sugar added.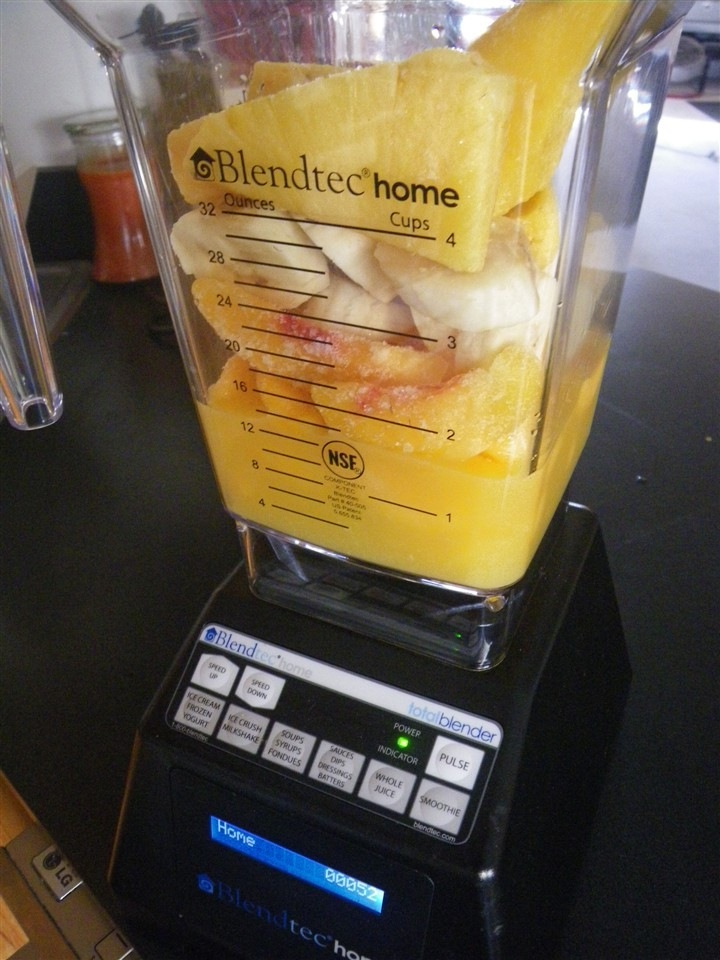 So in goes some orange juice, a bit of apple juice (both great bases) and then some bananas I froze a few days before, plus some peaches I picked earlier in the summer and froze, as well as some pineapple I also chopped up and froze. Then ya hit the smoothie button. Or really any other button that you see fit.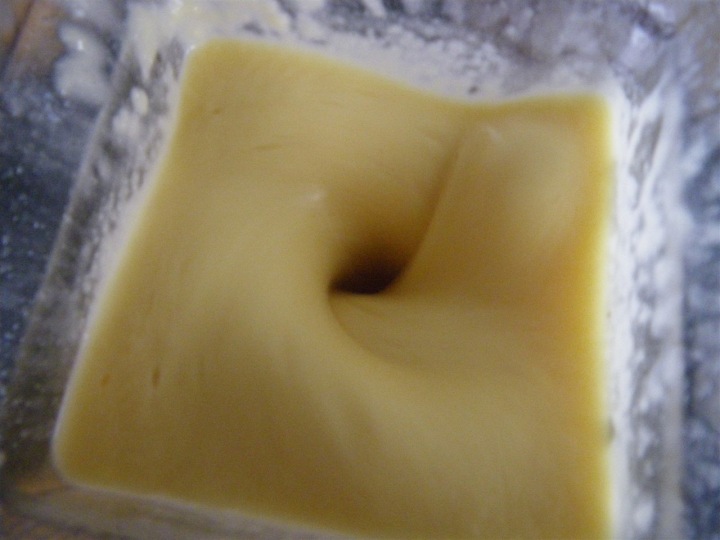 And it swirls. Then you drink it. Pretty simple ehh?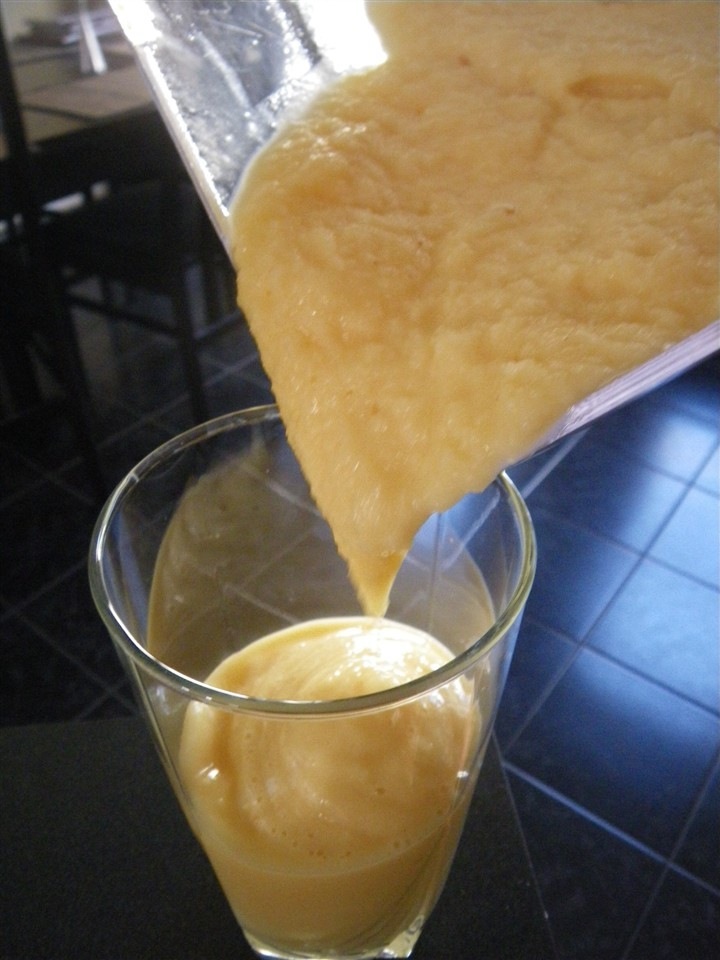 So after the smoothie it was time to up the ante. What about an Oreo milkshake?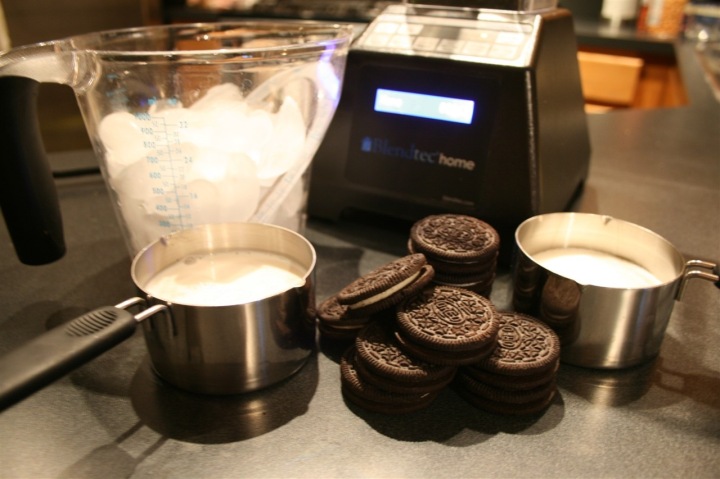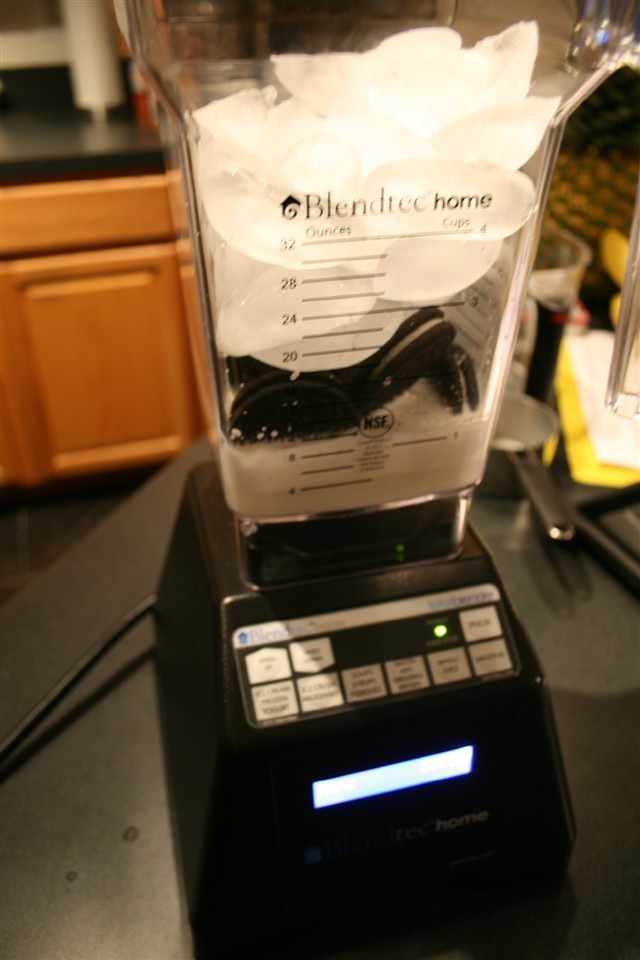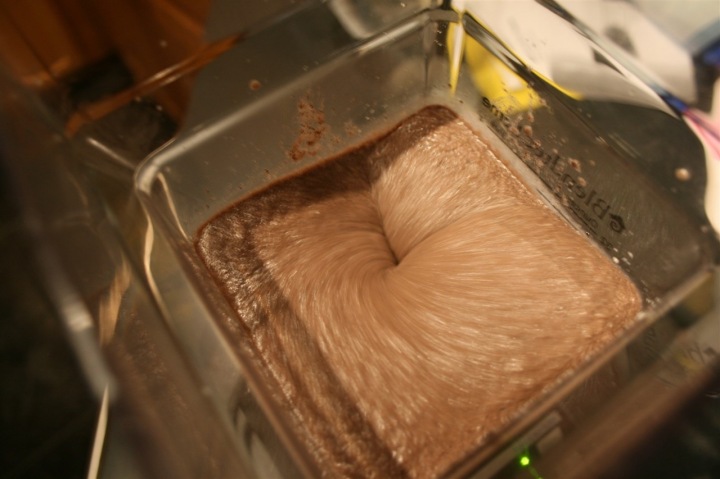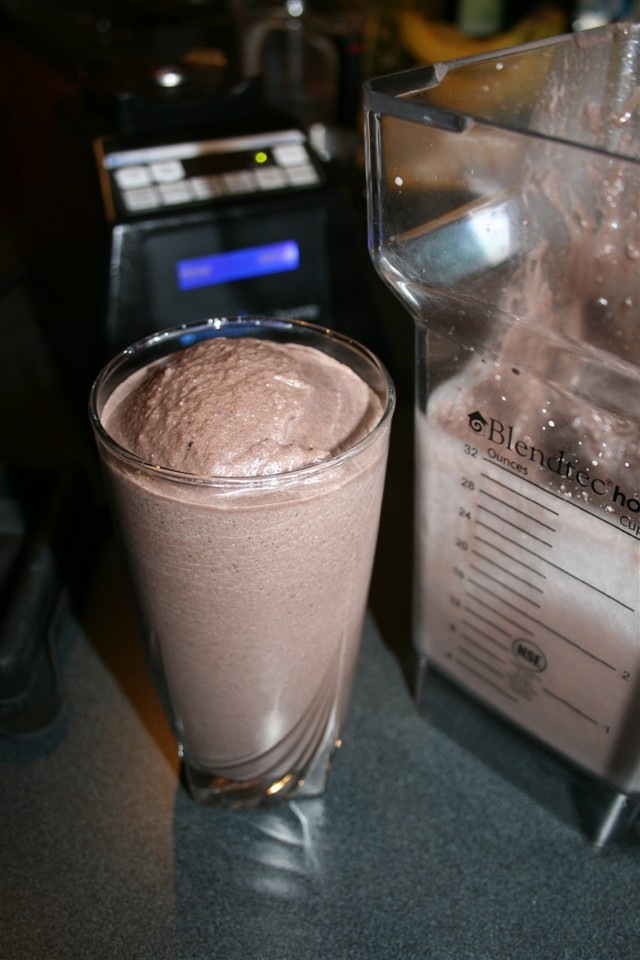 Ok…so it can make a milkshake. Time to kick it up another notch. How about peanut butter?
Yup, just straight peanuts. Nothing added, no oils, no funky ingredients – just simple peanuts.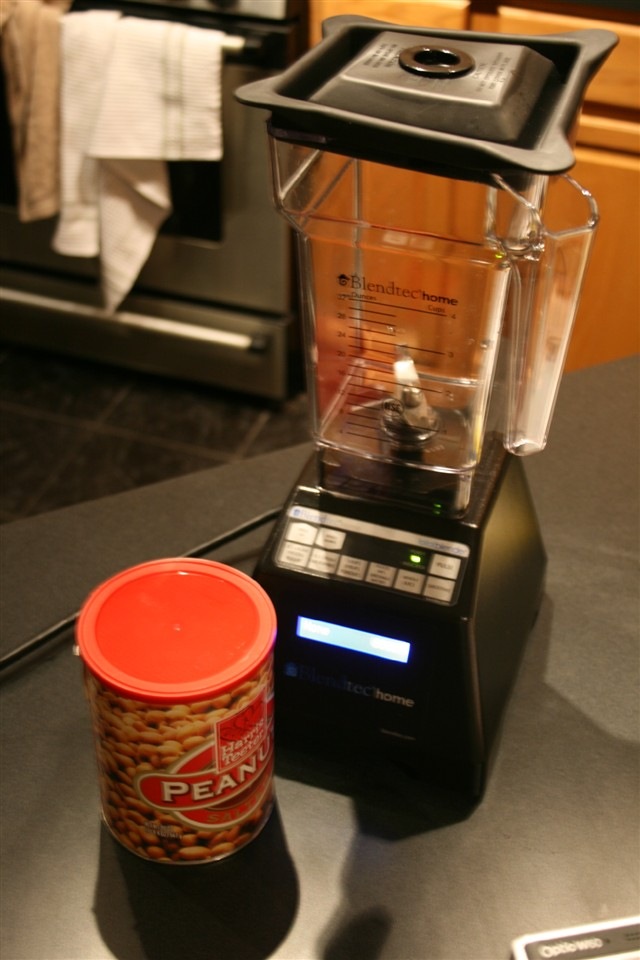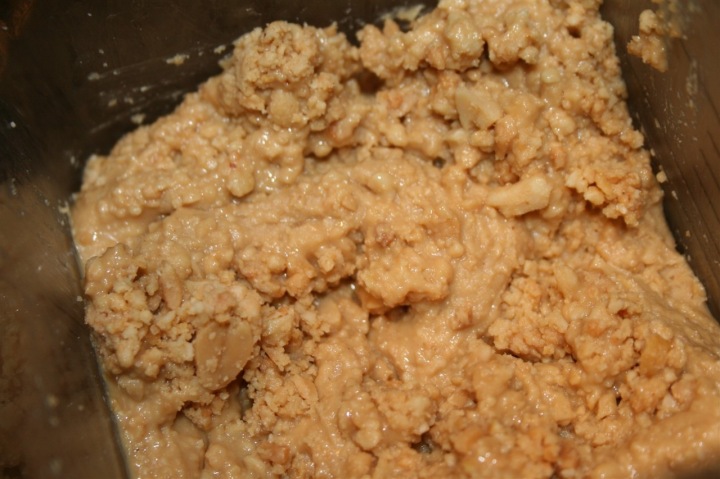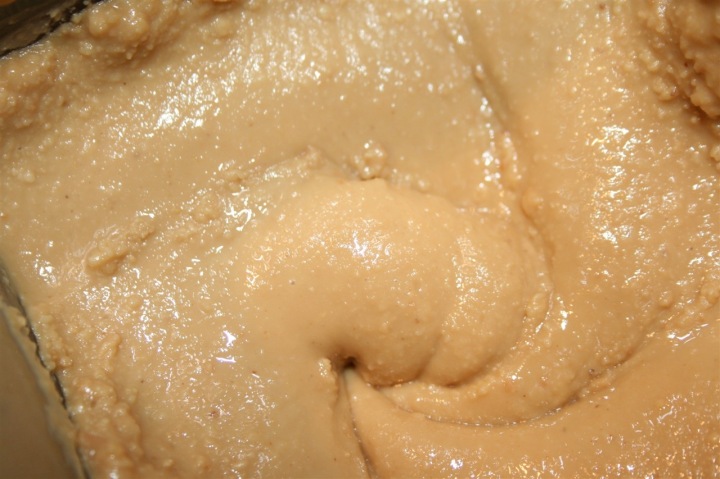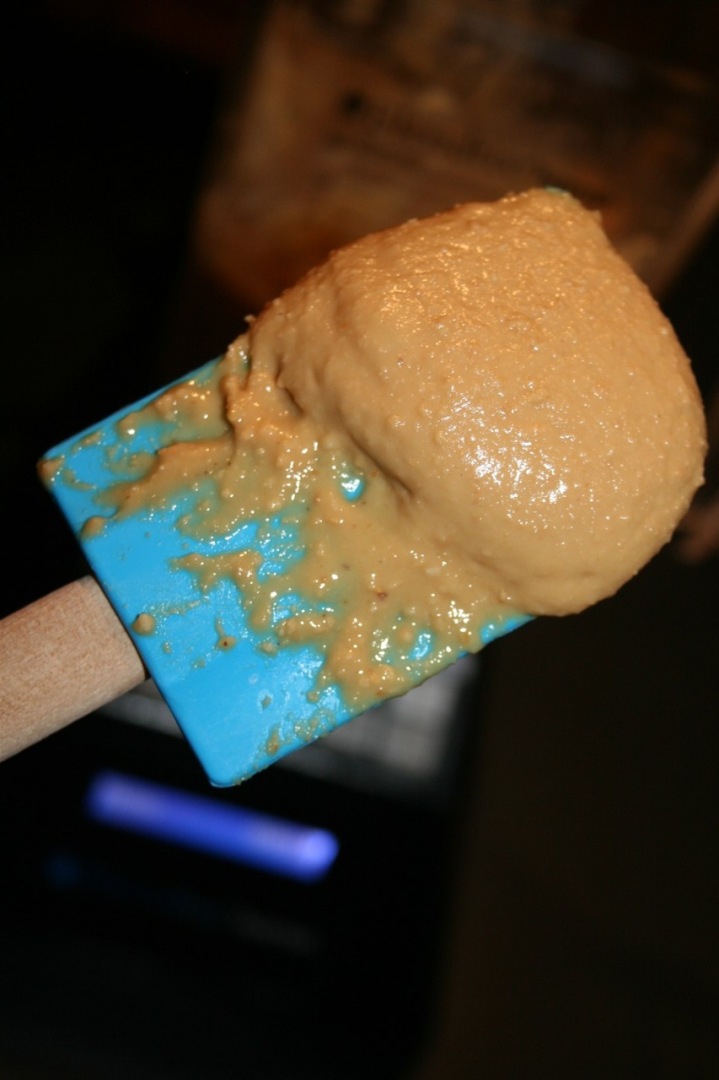 You can of course stop it along the way and make any consistency peanut butter. I prefer chunky, so my next batch I made chunky instead. And then a few days later I also made almond butter (just using straight almonds). Good stuff! Oh, and there's no weird oil sitting on top of the peanut butter after a few days – just nice clean peanut butter.
Of course, the problem you quickly find is that you buy a lot of fruit. I end up buying as much fresh fruit as possible and then cutting it up myself and freezing it. Like bananas for instance. When the bananas on my counter aren't getting loved fast enough, I'll just peel, cut and freeze them on sheets. Then once frozen individually I toss them into plastic containers. They taste great in smoothies!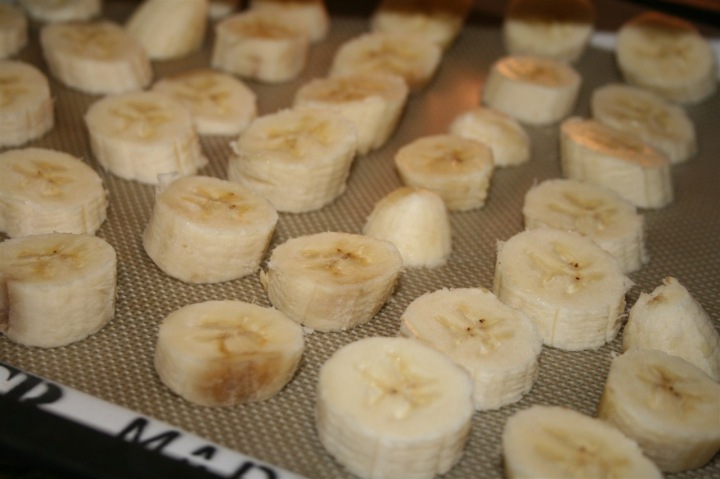 But now that it's fall and nearly winter, some fresh fruits are more expensive than I want them to be. So I go to a nearby Restaurant Depot and pickup boxes of frozen fruit. Each box costs me only $10 – so it's incredibly cheap that way at a dollar per pound – similar to Costco. Plus, it's all just pure fresh fruit – NOTHING added.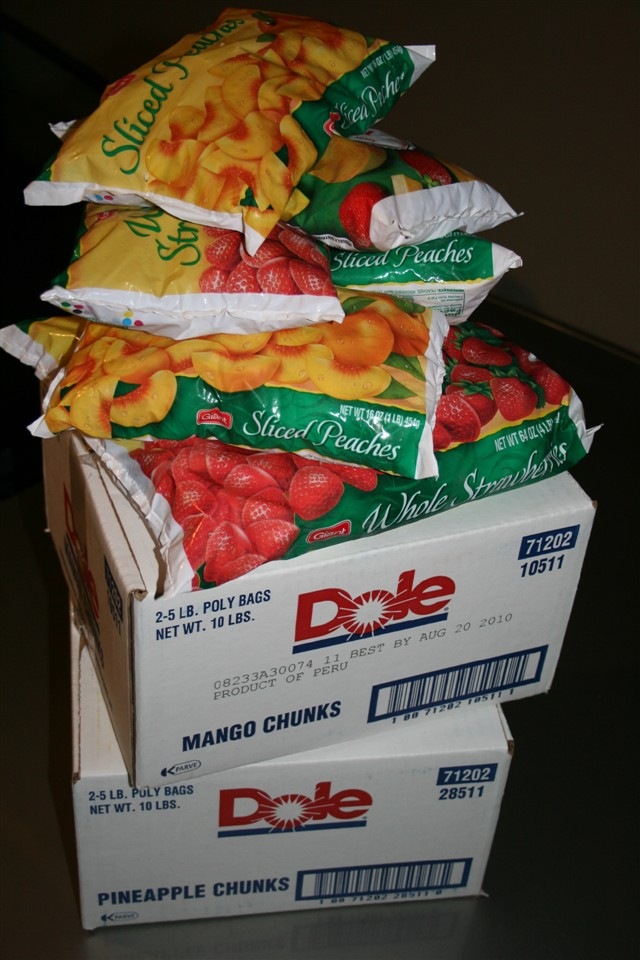 Two cool features are an easy to read ounce level on the jar, plus a nifty odometer (that you can see in above photos) as to how many times I've used it. Of course, it's a bit off because each 'cycle' counts as one use, whereas something like peanut butter can take a few cycles.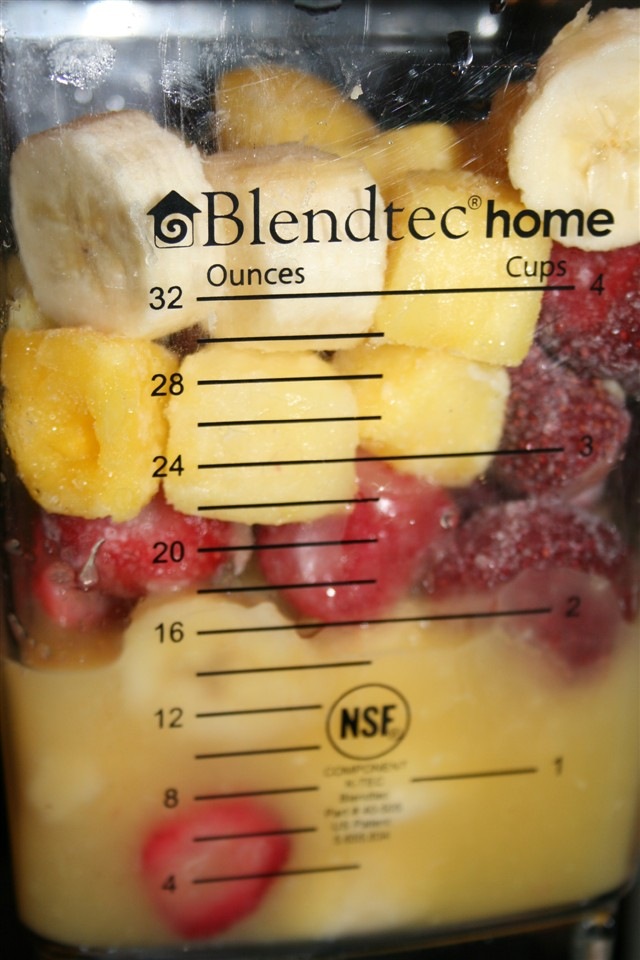 However, perhaps the best part of the BlendTec is the MASSIVE cookbook that it comes with. Recipes for everything you can imagine from salsas to breads to soups. I've made quite a few things thus far in the blender, my current list is:
Peanut Butter

Almond Butter

Countless Smoothies

Pancake Batter

Raspberry Syrup (to put on pancakes)

Milkshakes
I haven't yet blended any sneakers though, so someone will have to try that one out themselves! In short, I love this blender and it's earned it's keep and a place on my counter since arrival. Yup, it's a bit expensive, but at least it lasts and it blends the crap out of everything I throw at it.
As always, if ya have any questions – just post them below and I'll respond in the comments.