As I alluded to a week or so ago, the Girl and I were a bit busy transforming an unused room in the townhouse.
See, when I bought the place some 6 years ago, there was always this room downstairs on the first floor that had little use.  In townhouses, the structures are tall, but thin.  So while I have four floors – it's only 19' wide.  And in the case of this room, being on the first floor basically wedged between two entrances, it didn't really flow well from a logistics standpoint
So it sat largely empty:

But empty soon gave way to bike room/random junk room.  Bikes would sit there, or workout stuffs, or just general stuffs.  I think a bunch of seals may have been hanging out there at one point.  It was basically just getting out of hand.
Meanwhile, upstairs, the bikes would duel away day in and day out on the CompuTrainer or regular trainer.  But this also required a trip up the first flight of steep stairs.  Occasionally during this trip the bikes would make-out with the wall – leaving skid marks on the wall.  Further enhancing things were the inevitable grease stains that would need to be carpet cleaned out every few months.
So we set out to resolve both problems.  We decided on a joint training room/chillin' room.  By forcing the 'chillin' angle, it'd ensure it just didn't because another place overrun with training junk.  In other words, it would force it to look nice.
First, we cleared the space.  Which, meant finding homes for bike bags, bikes, and those pesky seals.
Then, we went to the mall to West Elm and picked up a bunch of comfy couches.  And with the help of the Home Depot truck, we got things all back to the pad successfully.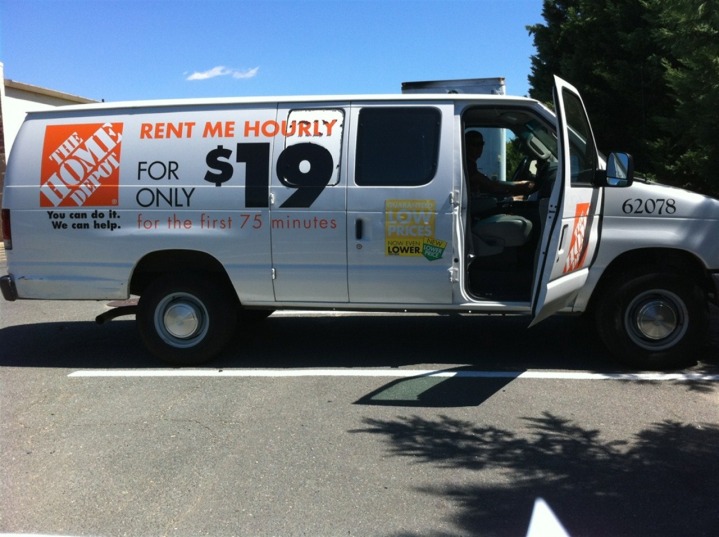 Even with the new arrangement, we'd still have the issue of similar workouts at the same time and one trainer.  So for months I've been watching Craigslist and eBay for another CompuTrainer.  Except, this is difficult because the CompuTrainer's hold value really really really well.  With a retail price of $1,500, even a model 3-4 years old will still fetch $1,000+.
Now, I had a few things going for me.  CT's haven't changed much in the last decade – so basically anything made after around 1950 or so would work (just kidding…I mean 1960), and might only need minor (if any) updates.  Plus, they're built like a brick.  And, I was aiming that someone might simply want to offload it at whatever they could fetch without doing research.
But…my secret arsenal?  The Craigslist RSS feed button.  This would deliver anything with the word 'CompuTrainer' into my Inbox mere moments after posting – allowing me to quickly jump on it.  Over the course of the summer we had a few failed attempts where I'd miss cheaply listed ones, or the seller wouldn't respond.  But back a few weeks ago I finally got the deal I was looking for: $695.  Sweet!  Oh – and if you're looking for a used CompuTrainer, read this very recent thread on what to look for in a used CT.
Patience does eventually win.
It arrived last week, and was packed perfectly – almost like new (and in fact, looked barely used).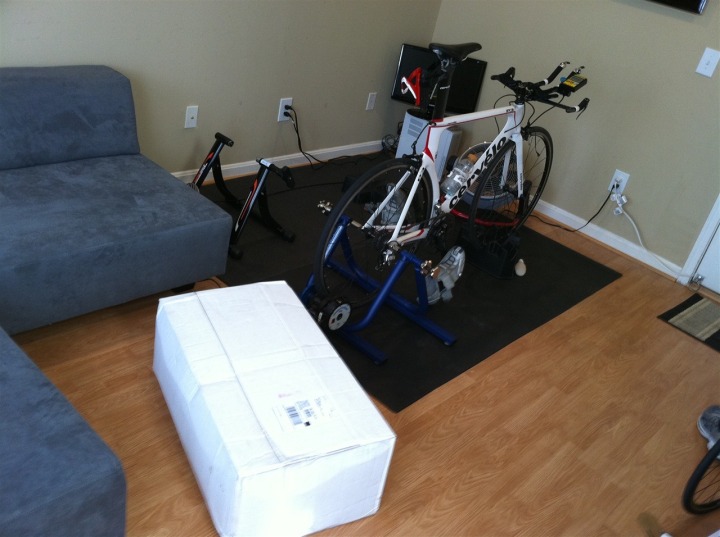 Finally, I had one missing piece.  A TV.  Naturally, the way I looked at things – this gave me complete and full permission to go buy a new flat screen TV.  Right?  Good, I agree.
So I did.  And dang…these things are thin these days.  Crazy thin: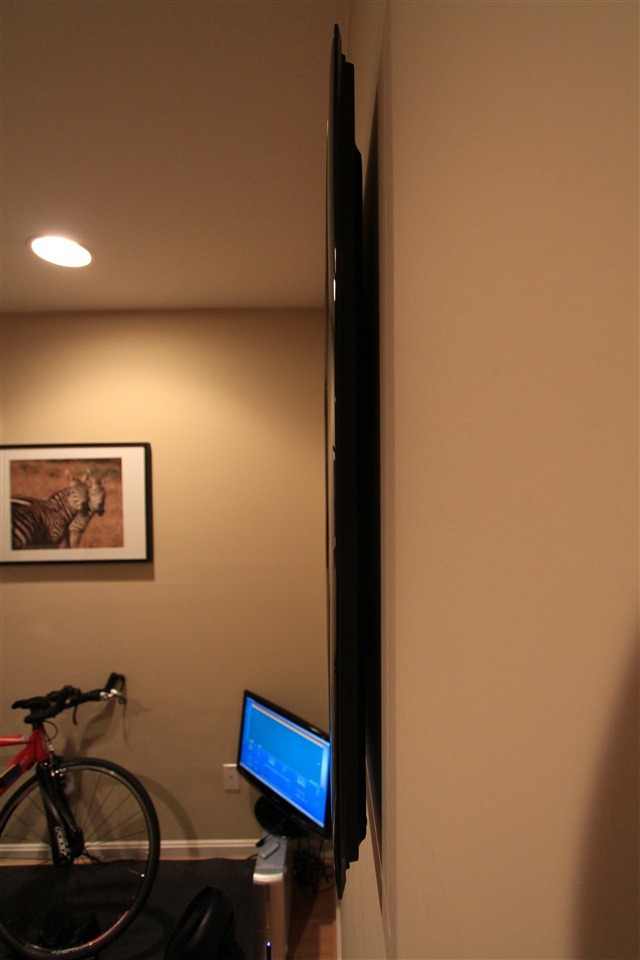 Oh…and how does the whole room look now?  Pretty freakin' awesome.  There's still some nice detail touches we need to add – like a small coffee table and some wall stuffs.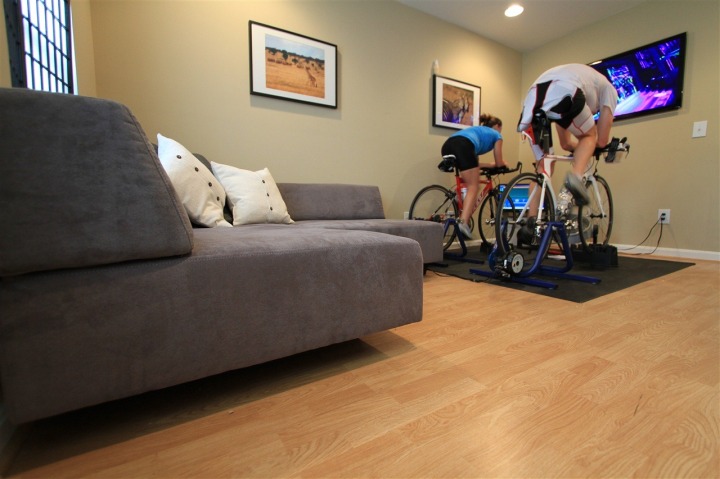 Yes, the trainers may seem close to the wall, but it's really not that close…it's just the wide angle lens.
I also picked up the twofer CompuTrainer handlebar mount stand from them to hold them both.  Now it looks all pretty: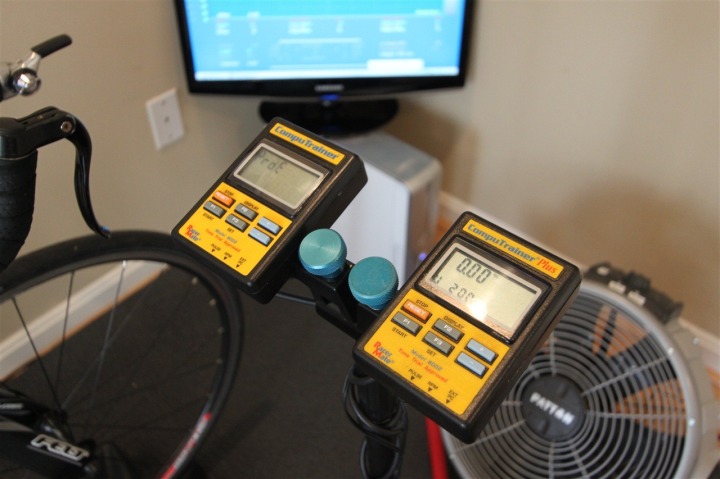 Finally, one trick I have is using a OXO 4C Measuring cup to hold remotes/gel bottles, etc… It easily holds onto either handlebars or aerobars.  Brilliant…yet simple.
And for those curious, the TV is a Samsung LED LCD which is running Windows 7 Media Center (like TiVo, only better).  The little TV is the CompuTrainer, though I can switch it to the big TV if I want.  We primarily use the Coaching Mode software, over any of the real course stuff.  But perhaps with the newer RacerMate One software suite coming out, it'll improve things.  And, all the photos in the room are ones I've taken at some point.
Ironically, just as I finish this, I'm off for weeks of travel.  Such a nice room…and not there to use it. 🙁