Over 18 months ago (September 07), I bought a CompuTrainer as my primary indoor trainer.  All last winter I meant to write up a review of it.  But alas, it never happened.  Until now.
The CompuTrainer is like most other trainers, except for a few key important twists.  First, it generates load (wattage) via a computerized interface.  This is done via the little control panel or via a computer (a computer is not required though).  Secondly, it connects to a computer if you want to take advantage of significant features like tracking of HR/pace/speed…and power (watts).  So in some ways it's like combining a power meter with a trainer (from a cost standpoint).
And the last major difference is that you can ride virtualized courses of anything in the world (if there's a GPS track (gpx file), a course can be made).  In addition you can ride 'real video' versions of actual courses (like Ironman Hawaii for example).  But more about that later…
It's often said that from a cycling standpoint the CompuTrainer is the best training device you can buy.  The list of pro's who use one is long, but would it make a difference for an age-grouper like me?  Well, after more than a year of using it…I think I have the answer.
So, here's the in depth skinny on this (albeit very expensive) training utility.
The hardware
A few days after ordering the CompuTrainer (hereafter referred to as 'CT'), a rather heavy white box arrives.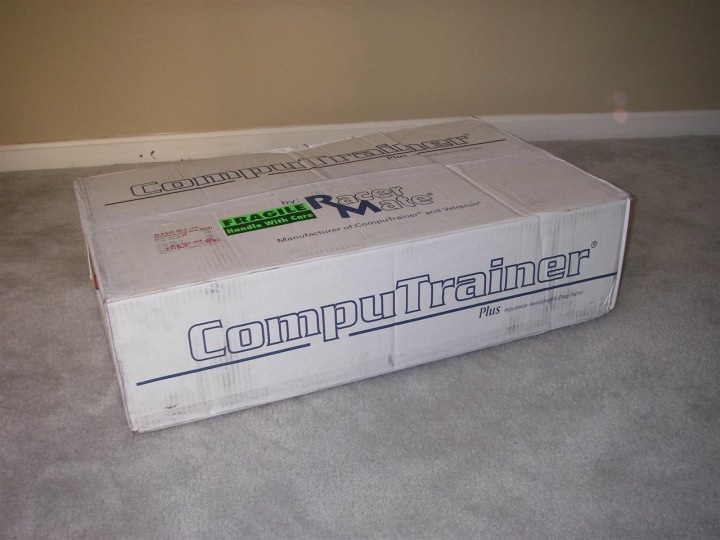 Inside the white box is a whole flotilla of parts, papers and instructions.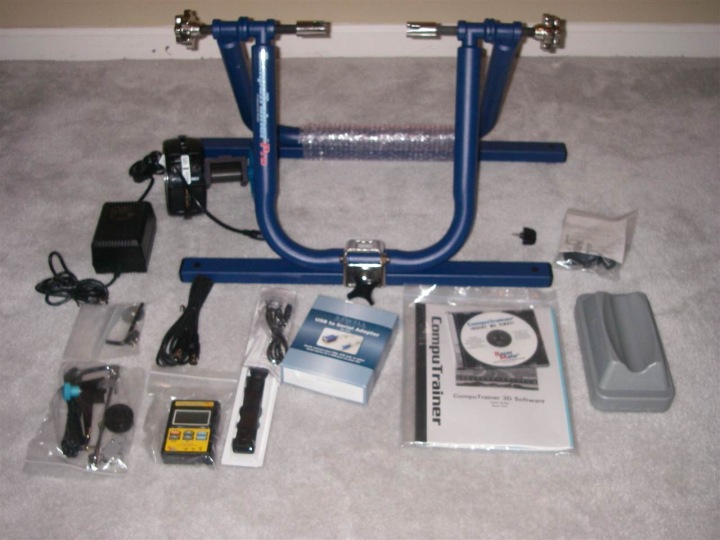 The key pieces here is the load generator (black round thing to the left of the blue piece), the console (yellow device), and the stand (blue metal frame).  There's also a HRM strap and then the wireless receiver for that.  Everything else simply connects all the pieces together in just a minute or two.
Here's a closer shot of the 'control panel', which allows you to stop/start the session, and controls resistance (load).  Note that you have to do the pedaling, just like a stationary bike.  Stop and start merely controls the timer aspects.  It comes with little clips to hook onto your handlebars and/or aerobars (you can do it both ways).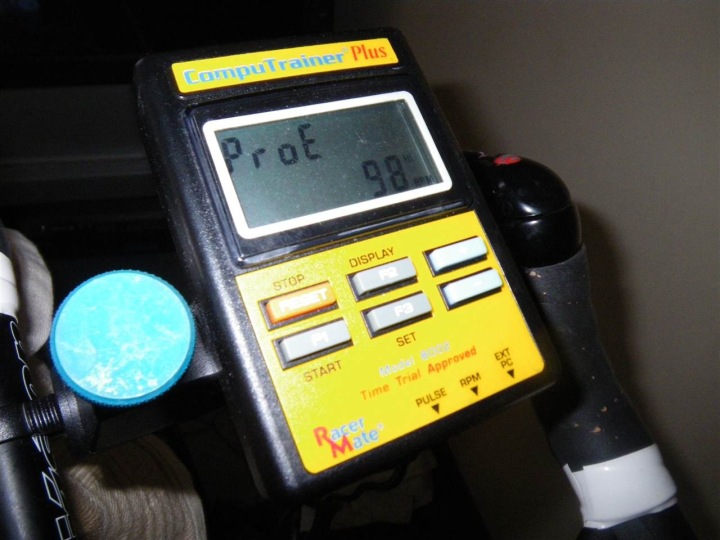 Putting together all the hardware parts only takes a couple of minutes.  In all honestly, the stacks upon stacks of paper actually make the situation worse and more complex than it needs to be.  There's numerous "Read me 1st" sheets.  A 'super-quick' setup guide would be appreciated.
Next comes installing all the software pieces.  If you weren't confused before, you'll be confused now.  And I'm a software engineer.  The best way to approach this task is to simply walk piece by piece through all of the papers.  This whole process may take a long time.  And if you do it right, you'll finally be ready to go.
Running standalone mode
Before we get into the nifty CompuTrainer software that makes the whole thing worthwhile, I briefly want to cover the straight standalone mode.
In standalone mode, you don't have it hooked up to a computer.  You simply have the console on your handlebar and control the resistance that way.  A timer keeps track of your workout, and it will also show you MPH, HR, RPM's, and distance.  The reason folks would use this is for cases where recording data wasn't important.  For example – during a bike fit, or if you have a secondary data capture device (like a Garmin).
Generally though, you're not going to be using standalone mode too much.
Software Section: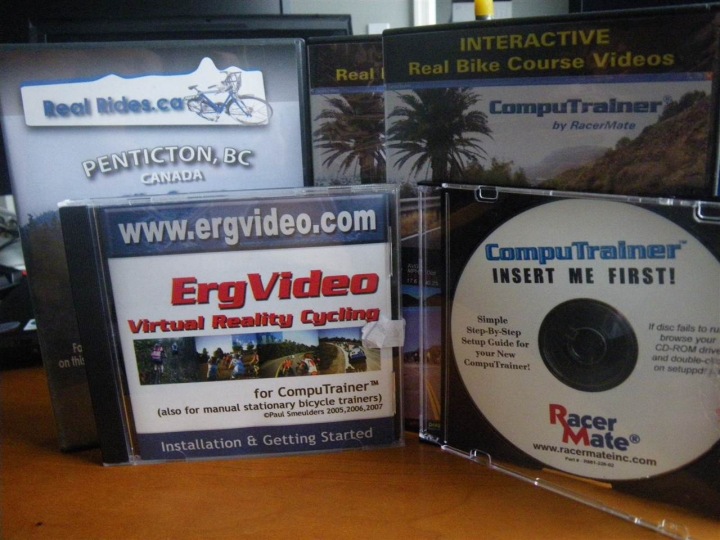 (Note that in the above picture, I combined non-RacerMate software on the left, with RaceMate (official software) on the right).
There's a number of pieces of software that are included within the CompuTrainer purchase.  I'll detail them all here, one by one.  Here's a link to a list from there web page as well.
CompuTrainer 3D
First up…is the man.  Yes, the little silver man.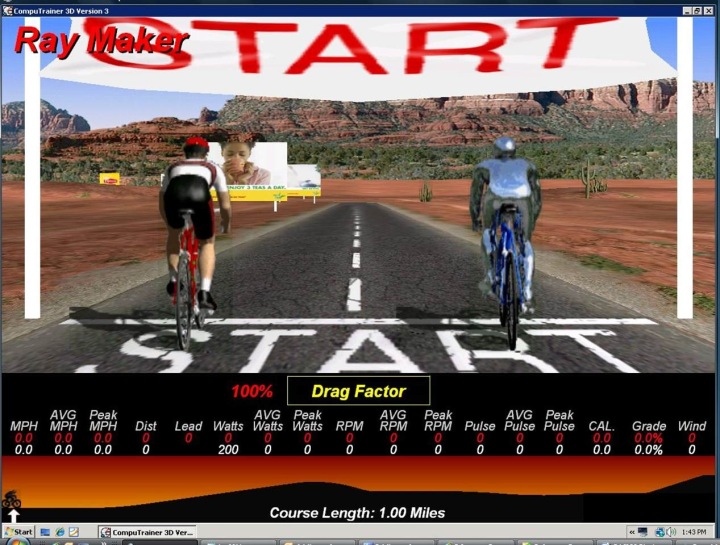 The man is what CT 3D is all about.  He owns you.  Or rather, in some cases – you own him.  Essentially you race against the little dude on 3D courses you select.  There are TONS – and I mean TONS – of courses available to ride.  Virtually every major and minor triathlon and cycling race is available for download – for free.  And if you can't find the course you want, you can always make it yourself using any GPS file of a course or route (using this software).  You can also download GPS files for basically every place on earth from Motion Based (for free).
The software automatically adjusts resistance depending on whether or not you're going uphill or downhill.  And it feels amazingly realistic.  When you sail downhill it feels like you're actually going downhill.  And combined with the sorta-realistic graphics, it successfully tricks your mind into believing that.  Regrettably, the same with going uphill.  And just like being outside, you have to shift to attain the speeds/RPM's that you would outdoors.  And also just like outside, if you fail to shift correctly on a steep uphill section you'll find yourself stopped and sorta stuck.  The only difference being you didn't fall off the bike (well…most of the time anyway…).
While the majority of my CompuTrainer time now is spent in the "Coaching Mode" application, I have spent considerable time chasing the little man.  You can adjust the wattage of the little man.  Meaning, you specify what wattage he is going to ride.  The default is 200w.  And then you try and beat him.  You of course can ride alone as well.  But beating him provides incentive.  It's incredibly addicting.
Like a game console racing game – you're told how far ahead or behind the little man is.  You can see the two lines of numbers along the button.  The red line is my numbers, the white line is his numbers.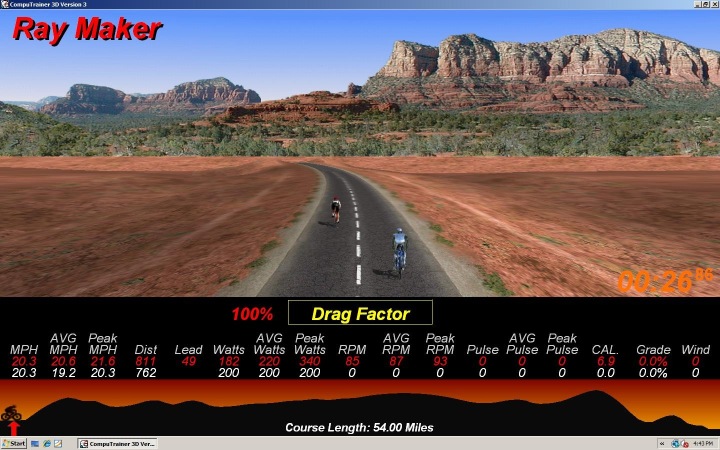 Even better is that after you've beaten him, you can race against yourself.  Each time you use the CT, it saves your performance files – so you can keep trying to beat yourself each time.  Or a friends file if they send it to ya.  The little man then represents your last time riding it exactly as your rode it.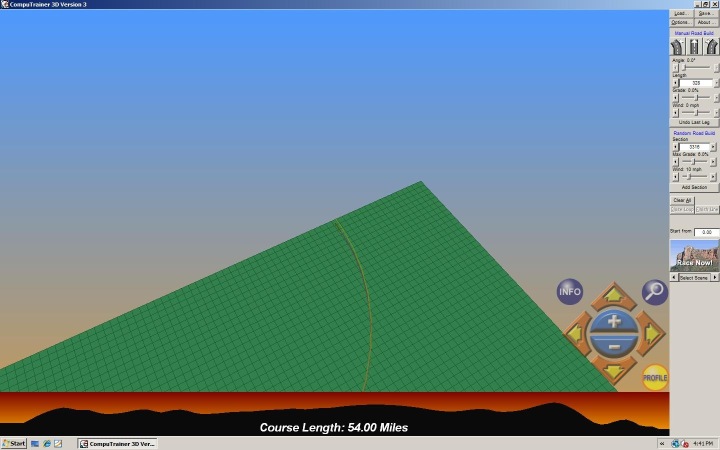 Finally, you can also edit and create your own courses if you want to – using this graphical based editor that comes with CT 3D.
Coaching Software
The CompuTrainer Coaching Software (CS) is the bane of my existence.  It's where I spend hours each week.  My coach specifies workouts using wattages and heart-rates and then I complete them in CS.  This is of course the most boring way to use the CT – but for my situation it's the most effective.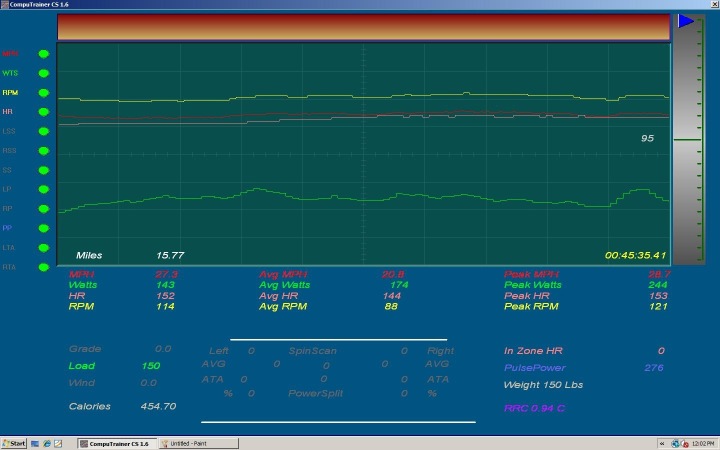 When using CS mode, it's not terribly different than a normal trainer – except that resistance and data collection is fully automatic.
You can load in any of the courses from the 3D mode (such as a download of any route or ride), but you just don't see the 3D portion.  Instead you see a continually moving line graph.  You can graph all sorts of things, and it will show you current/avg/max as well for that ride.  At the end you can save your performance files.  In my case I save them and then upload them to Training Peaks where my coach tells me what I did right or wrong.  You can also import them straight into Sports Tracks using a little plugin available (for free).

The coaching software is ideal for cases where you want to ride a given HR/wattage/etc and also want to watch a movie.  Think of it much like a normal trainer ride – except the ability to control how much pain the trainer inflicts on you, while at the same time recording it all for posterity.
Challenge PC
I don't have a lot of experience with Challenge PC – one of the applications that's included in the suit.  Essentially though Challenge PC allows you to race against yourself, a pacer – or another CompuTrainer user.  So in the event you know someone else with a CompuTrainer and want to get together and have a trainer hammer-fest together on that cold wintery day – you can do so.  But you have to be physically in the same place/room.  Not across the internet (that'd be cool).
You can also adjust the pacers' options by configuring what type of wattage the pacer will output.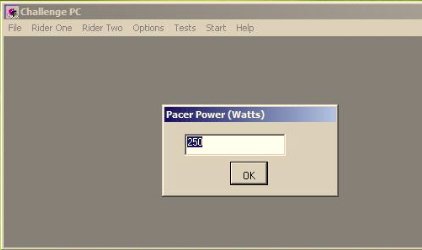 Spin Scan
Spin Scan is a feature available in a few of the different CompuTrainer software applications.  Spin Scan tracks how efficient your stroke (pedal stroke guys…) is.  It's mind-boggling how it works.  But it's also really fascinating to see how efficient (or not very efficient) one's stroke is.  And it analyzes in real time each leg.  So you sit there and spin away (either just standalone, or while racing a course) and at the same time it shows you this blob-like graph that fluctuates depending on any dead spots in your pedal stroke.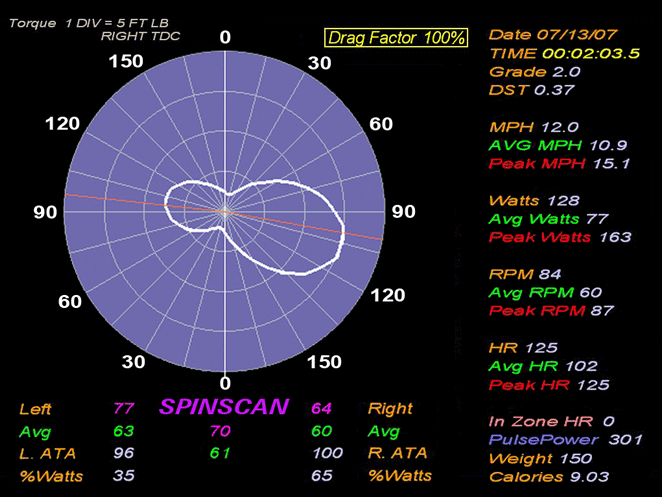 You can also use a standard graph mode as well if ink-blobs aren't your thing.
It's really pretty cool to tweak your pedal stroke and watch your effective power shift.  It helps me to see where all my dead spots are.  Dead spots are places where you're not driving the pedal on both sides, but instead letting one leg do the work (for example, on the upstroke).
Reports
One cool – but admittedly rarely used – feature of virtually all the CompuTrainer software pieces it the ability to spit out nifty printable reports showing you key stats from your workout.  I'm guessing this feature is more useful for coaches or shared-use facilities where someone is going home with a printed report of their workout and/or progress.  You can customize the logo's, text and data shown.  Here's a sample from last year sometime, while racing the Wildflower Oly Course.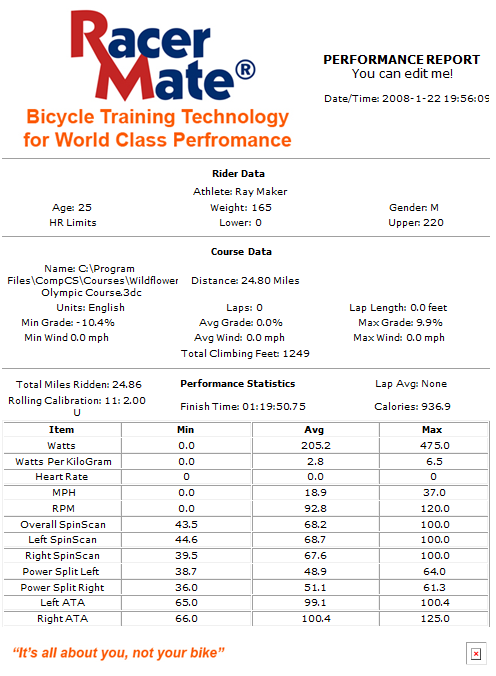 Real Course Video
I wrote-up a big ol' thing on this piece last winter.  So check that out!  Of course, this is the one piece that EVERYONE is super-excited about, so I figure I'd at least mention it here.  Real Course Videos are fairly new to CompuTrainer, only introduced about a year ago.  They offer the ability to bike through actual video of a course – on raceday.  They go out and record the the entire course in high quality video and then the CompuTrainer software synchronizes your speed to the video.  So if you go faster, the video goes faster.  They record it at speeds such that it looks natural though when you ride it (unless you fall off your bike or something).  It's very cool and makes time fly by.
Here's a screenshot on the CDA course in town.  I have both the CDA and Kona courses, but there's many more courses.  There's a full list of all the courses available here.
Again, for more information and a detailed write-up on this – check out my earlier review.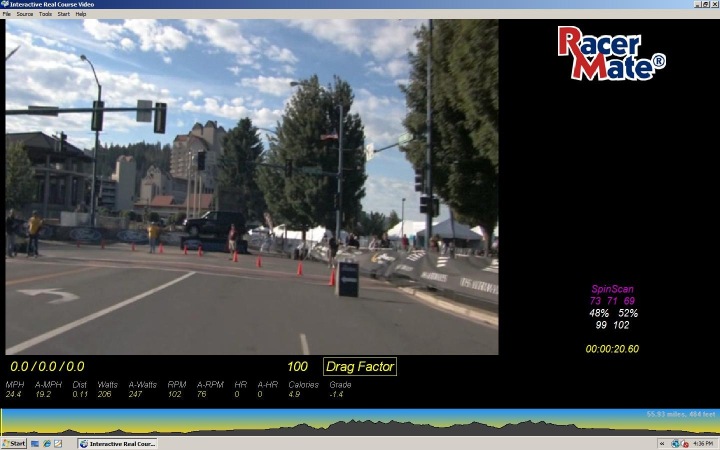 My overall experiences with the CompuTrainer:
Since January 1st, 2008 (about a year ago) – I've put over 1,800 miles on my CompuTrainer covering slightly more than 100 hours.  Thus I think I've ridden it enough to be able to write-up a pretty comprehensive review.  So – did it help my cycling?
In a word: Absolutely.
Without doubt it is the most effective cycling training tool you can buy aside from a heart rate monitor.  If used correctly, you can develop very focused and specific workouts to address cycling weaknesses.  It ensures that I'm not just 'spinning away mindlessly' on my trainer – but rather getting a solid workout.  The thing that makes trainers so effective is there are no breaks.  The CT is the same way.  If I do a multi-hour Zone 2 (Z2) heart rate session I don't get a downhill break.  I don't get a stoplight break.  A Z2 pace may not sound hard, but maintaining a perfect cadence without a single second of break for two hours is rather tiring.
With using it twice a week from May 1st to July 12th last year I took my half-iron bike time from 2:57 to 2:27.  Or from 19 MPH to 22.8 MPH.  Now, obviously some of that also comes from long painful mountain rides every weekend.  But two hour tough trainer sessions made a big difference.
Comparison Chart, Pros/Cons & Summary
[Updated] Although this is a bit of an older post, here's a dynamic chart looking at what's available out there in the same functionality range as the CompuTrainer:
Function/Feature

Racermate CompuTrainer
Elite Drivo II
CycleOps PowerBeam Pro
Wahoo Fitness KICKR V1/2013
Tacx Genius
Copyright DC Rainmaker - Updated May 11th, 2021 @ 4:01 am New Window
Price for trainer
$1,629
$1,199
$799
$1,199
$1,340
Trainer Type
Wheel-on
Direct Drive (no wheel)
Wheel-on
Direct Drive (no wheel)
Wheel-on
Available today (for sale)
Yes
Yes
Yes
Yes
Available today
Availability regions
Global
Global
Global
Global
Global
Wired or Wireless data transmission/control
Wired/Soon WiFi
Wireless
Wireless
Wireless
Wireless
Power cord required
Yes
Yes for broadcast, no for general use
Yes
Yes
Yes
Flywheel weight
13.2lbs/6kg
12.5lbs/5.7kgs
Includes cassette
No
Yes (11 Speed SRAM/Shimano)

Resistance

Racermate CompuTrainer
Elite Drivo II
CycleOps PowerBeam Pro
Wahoo Fitness KICKR V1/2013
Tacx Genius
Can electronically control resistance (i.e. 200w)
Yes
Yes
Yes
Yes
Yes
Includes motor to drive speed (simulate downhill)
No
No
No
No
Yes
Maximum wattage capability
1,500w
2,296w @ 40KPH / 3,600w @ 60KPH
1,000w+
2500W @ 30mph
-
Maximum simulated hill incline
24%
15%

Features

Racermate CompuTrainer
Elite Drivo II
CycleOps PowerBeam Pro
Wahoo Fitness KICKR V1/2013
Tacx Genius
Ability to update unit firmware
No
Yes
No
Yes
Yes
Measures/Estimates Left/Right Power
Yes
9EUR one-time fee
No
No
No
Whole-bike physical gradient simulation
No
Can directionally steer trainer (left/right)
No
No
No
No
Yes
Can rock side to side (significantly)
No
Can simulate road patterns/shaking (i.e. cobblestones)
No
No
No

Accuracy

Racermate CompuTrainer
Elite Drivo II
CycleOps PowerBeam Pro
Wahoo Fitness KICKR V1/2013
Tacx Genius
Includes temperature compensation
-
N/A
-
Yes
-
Support rolldown procedure (for wheel based)
Yes
Yes
Yes
Yes
Yes
Supported accuracy level
+/- 2.5%
+/- 0.5%
+/- 5%
+/- 3%
-

Trainer Control

Racermate CompuTrainer
Elite Drivo II
CycleOps PowerBeam Pro
Wahoo Fitness KICKR V1/2013
Tacx Genius
Allows 3rd party trainer control
Yes
Yes
Yes
Yes
No
Supports ANT+ FE-C (Trainer Control Standard)
No
Yes
No
Yes
No
Supports Bluetooth Smart FTMS (Trainer Control Standard)
No
Yes
Yes (depends on version)
Yes
No

Data Broadcast

Racermate CompuTrainer
Elite Drivo II
CycleOps PowerBeam Pro
Wahoo Fitness KICKR V1/2013
Tacx Genius
Transmits power via ANT+
3rd Party Required
Yes
Yes and No (see review notes)
Yes
No
Transmits power via Bluetooth Smart
No
Yes
No
Yes
No
Supports Multiple Concurrent Bluetooth connections
No, just one
No, just one
Transmits cadence data
Yes
No

Purchase

Racermate CompuTrainer
Elite Drivo II
CycleOps PowerBeam Pro
Wahoo Fitness KICKR V1/2013
Tacx Genius
Amazon
N/A
Link
Link
Link
Link
Backcountry.com
Link
Link
Link
Link
Link
Chain Reaction Cycles
Link
Link
Link
Link
Link
Competitive Cyclist
Link
Link
Link
Link
Link
REI
Link
Link
Link
Link
Link
Wiggle
Link
Link
Link
Link
Link

DCRainmaker

Racermate CompuTrainer
Elite Drivo II
CycleOps PowerBeam Pro
Wahoo Fitness KICKR V1/2013
Tacx Genius
Review Link
Link
Link
Link
Link
Link
Finally, here's a brief list of pros and cons:
Pros:

Keeps you engaged on the trainer – not just sitting and spinning

Allows you to have incredibly effective and specific workouts

Lets you pre-race your races via 3D mode

For major races, also can pre-race using the Real Course Videos – very effective at making you familiar with the course

Essentially gives you a power meter for your bike (while indoors obviously)

Will make you a stronger cyclist
Cons:

Damn expensive

The software is fairly 'old school' and needs a serious revamping across the entire suite.  The graphical user interface is very 1995-esque, and

I experience occasional and very frustrating crashes with the software every once in a while (thus losing that workouts data)

Did I mention it's damn expensive?
In summary I'd highly recommend it if you're looking at trainers in that category.  Without a doubt its made my cycling faster and more efficient, and much faster than a pair of race wheels for the same price could do.
Hope this helps!  As with all my reviews, if you have questions – feel free to post below or e-mail me.  I generally will respond (and post here) any questions within about 24 hours.  Thanks for reading!