Remember yesterday's post about how the Oceanside area is beautiful?  Well, it is – that's still true.  Except, I probably should have withheld a bit of judgement until AFTER I had to cycle over 56 miles of hills.  In.the.wind.
With that, here's the run down.
Swim:
I'm slowly starting to get down the whole art of arrival into transition area at a reasonable time.  I used to get in WAY to early and was standing around bored.  Now I'm getting it a bit closer.  The organizers here clearly have their stuff together.  There were no lines for anything such as body marking or entry into transition area (despite having 2,000 people milling about).  Well, there were short lines for the bathrooms right before start.  But umm…cold water..wetsuit warmer?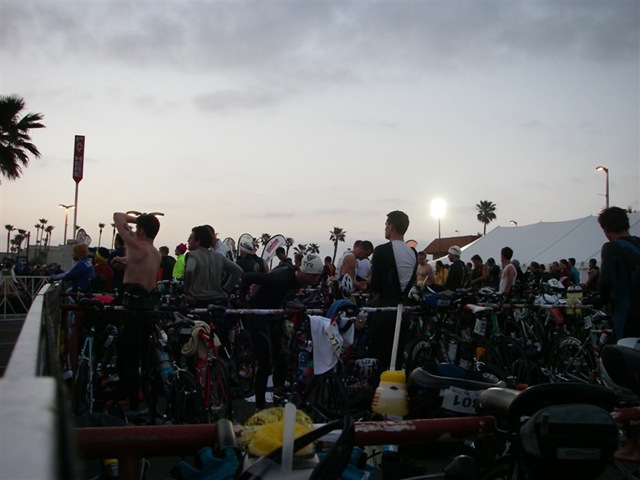 (Moments before the pro's started, the singing of the National Anthem)
I got setup pretty quickly in what clearly the most ghetto pre-determined slot available.  There were actually garbage cans in my slot (which we moved).  The good part of having a slot up against the fence is you can just lean your bike there instead of battling with the bar trying to get it out/in.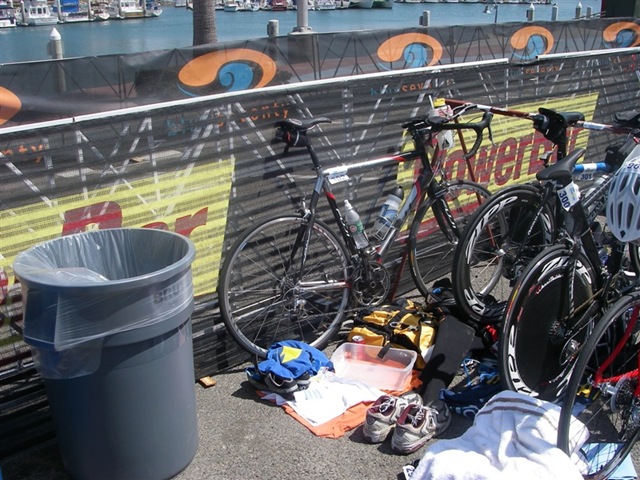 (My bike spot's sprawling estate – taken afterwards)
Oh right…the swim…
I swam. Really, how much more can you say about the swim?  Ok, I guess I can say more.  The swim is in a protected harbor/channel, the 'start' is about 100 yards from where you get in the water.  THAT WAS AWESOME!  You get a short warm-up, and your body adjusts to the 59* water.  Once you got there, you had about a minute to chill. 
I stared off on the front edge and then slowly drifted in behind once the local swim-boys got out and about.  I didn't have too many issues with sighting, the buoys were plentiful and colorful.  As we made the turn back there's a section that's fairly exposed to some of the inbound waves.  This created some fun rollers.  Although, judging by the 'carnage' out there, most people didn't find it fun.  Many swimmers littered about looking confused, tired and seasick (it was a bit tricky sighting over the rollers).  I just pressed on.  The last 100 yards or so into arriving back was a bit messy.  It was like being at the start again, lots of kicking/pushing/etc… Oh well.
T1 was relatively uneventful.  It's a long run, maybe 2 minutes.  I started off from the water running what had to have been a 4/min sprint pace down the carpet.  Not sure why, my body was just thrilled to be running and not a fish anymore.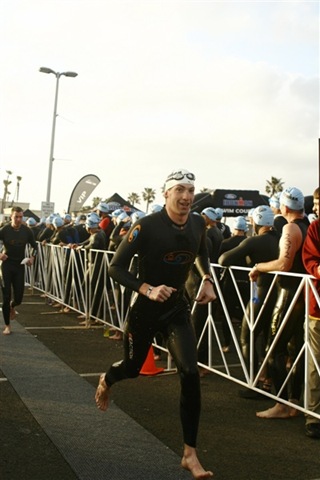 (Photo from Monica, it's kinda funny the expression I have on my face.)
The Bike:
The bike course is incredibly scenic.  It wanders up the coast for a while, and then eventually turns into Camp Pendleton (Marine Corps Base) and up into 'the hills'.
(From ASI photo, somewhere near the start)
The first part of the course I was cruising, averaging in the 20-21MPH range, and easily 22+ on the flats.  Down in aero and life was grand.  Well, except for the fact that my stomach was staging a strike for the first 30 miles.  That's fine, I brought in scab labor instead (water bottles from the Marines).  Stomach: 0 Me: 1.
At around the 30 mile marker it occurred to me that I was slowly working me way along a bit of a valley floor, and that the only way out was up via a big ass hill.  The kinda hill you see little 'ants' in the distance slowly going up.  The kinda hill where your top speed is 6.2MPH.  The kinda hill that…I actually enjoyed.  Why?  Because my back and stomach were much happier with me standing up.  So I got 6-8 minutes to stand up.  And then you got to go down the backside hill, at 35MPH. Woohoo!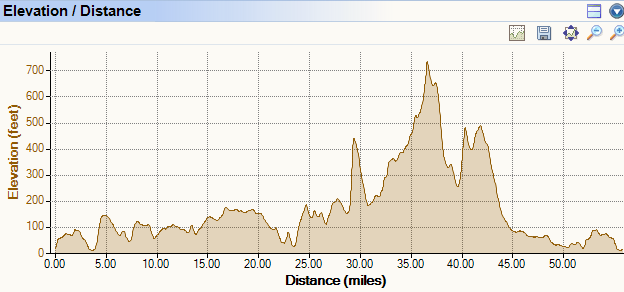 The woohoo was short lived.  There was another hill.  And another…and another.  Ok, note do self – I need more hill work.  But more than hill work – I need more aero work.  Like hours upon hours of straight hour.  My back was the single biggest limiter after about 90-120 minutes of aero.
People were complaining about the high winds…but honestly, I didn't notice.  After the last two weeks's worth of cycling training rides – this wind was nothing (although it clearly slowed me down on course, Mr. GPS tells me that).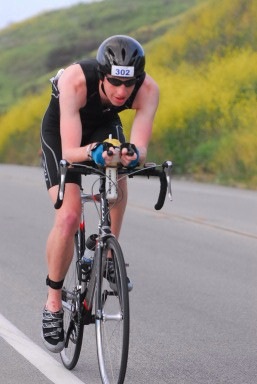 (Photo courtesy ASI photography, at around the 15-20 mile marker)
Oh…I almost forgot.  I got an aero water bottle for Christmas, and got it all hooked up last night before the race.  Except I never quite tried it out before hand.  Which was too bad really.  Cause I would have realized that the straw (even using the long one) was too short, thus I couldn't extract any liquid from said bottle – defeating the whole purpose of having an easy to access water bottle.  Doh, lesson learned.
After 56 miles of joyful time spent with my trusty Fuji (and no flat tires this time!), it was off to the run.
Run
Sure, like everyone I have a big checklist of things that I pack – all separated out by sport.  On that list was race belt.  And don't worry, the race belt was with me when I departed transition.  Except for whatever reason the strap on it had expanded to support that of a water buffalo.  And have you ever tried adjusting one of those things while running? 
It took me a full mile to get it so it would actually stay around my waist.  But that kept me occupied.  And the first mile was knocked out at a 6:26 pace (actually, slightly faster since I forgot to start my watch the first tenth).  From there, it was a slow descending spiral of mile splits.  Not one of my best run performance by any means (sure, best PR in a HIM – but over 10 minutes off my half-marathon PR).  Note the below graph.

So you may be asking yourself what happened at mile 9?  Well, two things.  Actually three.  I took off my HRM.  It was so tight it was actually starting to hurt, really distracting me.  I took a bit of cola.  And…I walked for 45 seconds to drink said cola.  After all three things (primarily the HRM removal), I felt much better.  And you can see splits slowly get faster from there on out.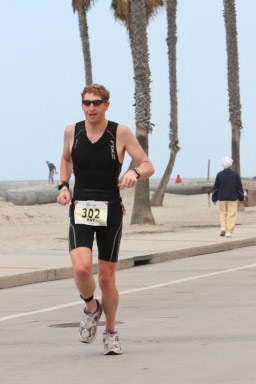 (Another photo from ASI, not exactly stylish looking though)
I'm definitely NOT a fan of the multi-lap run courses.  I'm clearly an out and back kinda guy.  Heading out on the second lap of the run course was depressing.  Especially since it was slowly rolling elevation changes (I can't call them hills, they weren't – they were just annoying).
In summary
Swim: 33:31 (1:41/100 yards)
T1: 2:52
Bike: 2:57:43 (19 MPH)
T2: 2:09
Run: 1:36:21 (7:22/mile)

Overall: 5:12:36
I finished with an overall PR – by about 10 minutes.  But I didn't finish where I wanted.  I was about 12 minutes slower than I had anticipated.  Mostly the fault of my bike performance, but also a breakdown on the run.  The direct sun/heat certainly played a part in the run.  But I'm not concerned about that – another few weeks in DC and it will be much warmer and I'll acclimate to that and get the run back to where it was in November.  And I did only start running 6 weeks ago after 3 months off due to knee injury, so I'm guessing that played into it some.
Most of all I really need to get my aero position sorted out.  That was the major differentiator today in my overall time.  It honestly should have been 15-20 minutes lower.  This is simply a matter of HTFU and do longer aero rides where it's truly nonstop aero.
But…despite that – it was a good & fun day.  A bit of a learning day.  And in many ways, that's why I flew all the way out to San Diego for this race.  I wanted an early season half-iron race to both force me to train all winter, but also to provide a bit of a early season litmus test about 5 months out from Ironman.  And that I did.  I have a huge list (click here to see my shorthand version) of things that I can work on/did right.  I write up one after every race and make it a point to review them all before each race – attempting to avoid making the same mistakes twice.
After I was done hobbling around the food tent, I took a quick dip in the water.  Damn, it was seriously not that cold in the morning (although with a wetsuit).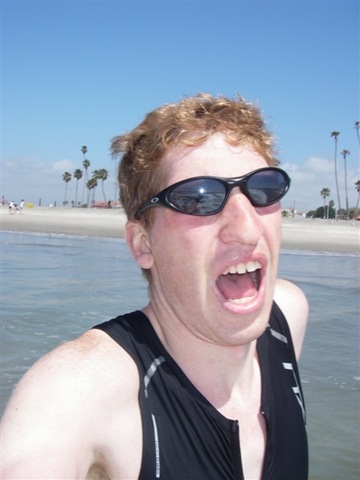 (An unexpected wave hit me right as I took the photo, and the freezing cold water went to a location where the sun don't shine)
Oh, and I had one of the many SPECATACULAR & AMAZING volunteers take my photo before I packed everything up.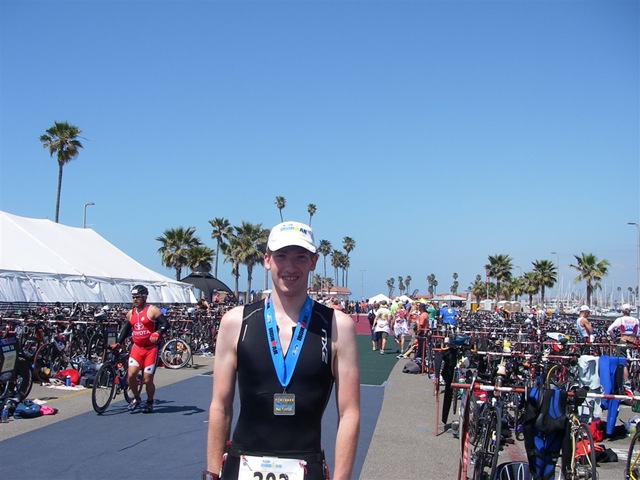 Last…but certainly not least – let me give a huge shoutout to Monica and Ryan – both of which came out and watched the race, and shouted much needed encouragement.  There was also others that I knew, but couldn't remember their names from the lunch the day before that were out there helping out.  Thanks for coming out!
Next up – Wildflower 70.3 in a month!
(P.S. – I'll be adding some more photos from the race in here as I get them, so if you're reading this in a reader, click the link to see if any new photos are there)