Many of us 'retire' from open water swimming for the winter.  Some of us have the excuse that our dear little puddle of water is frozen over.  And then there are those of us that simply turn off the thought of open water swimming until both the air and water temperatures warm up.
A recent post by "The Science of Sport" discusses some of the science behind cold water swimming.  In addition, a recent document discussing cold water swimming from USMS – included swimming at the North Pole.
What the Science of Sport folks say is that basically as long as you keep moving – you'll be fine.  Now, do caveat that with the usual always swim with a buddy, etc… – but by and large if you keep moving and keep it to about 30 minutes you're in the safe zone.  Here's a little snippet from their site:
"Perhaps the first, and maybe the most surprising fact about cold water physiology, is that your body has too much heat to become hypothermic within about 30 minutes, no matter how cold the water is! In other words, it is not possible to get so cold that you're in danger unless you are in the water for more than about 30 minutes."
And here's the chart showing that.  The vertical axis is time in water (in hours) and the horizontal axis is water temperature.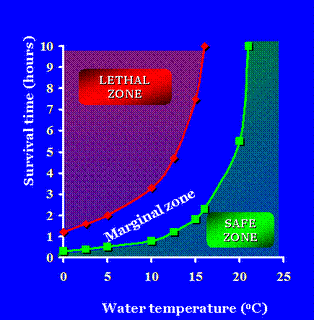 But now you say – wait, what about people who freeze to death in water in a matter of minutes?  Well… it turns out just 'being cold' is not really your biggest problemo.  What is actually your problem is one of two things – the shock your body gets with respect to breathing, where you breathing rate skyrockets temporarily – which in turn causes many people to actually drown from consumption of water.  The second, is simply a heart attack.
The below graph shows your breathing rate.  The horizontal axis is time in seconds, and the vertical is breaths/minute.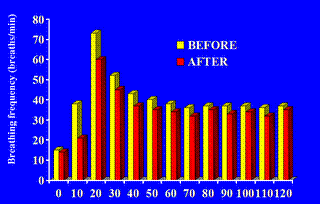 The real purpose of my post
So where am I going with all of this?  Probably not where you think.  No, I'm not recommending you go out in your partially frozen lake and go for a dip.
I'm actually about to share a little secret for triathlon's that some first timers may not realize (well, they will after their first time).  You know how before the swim leg you see all of those folks out there in the cold water doing short laps and warm up?  That's not all about warming your muscles up and looking special.  It's about getting your breathing calmed down. 
Why does it it matter?  Take a look at the above graph.  This is just if you drop someone into the water – no active swimming or battling that occurs during the first 1-2 minutes of a tri.  Note that it takes 40-50 seconds to 'compose yourself' with respect to breathing in the above graph.  In effect you're breathing will be MORE THAN DOUBLE what it needs to be before you add the tri madness.
Try it sometime.  Go into an open water swim (race or training) and swim for about 30-60 seconds first.  Then stop, let your body calm down.   And now go out and swim for 'real'.  Feels a lot better, doesn't it?
If I had one recommendation for first time open water swimmers – it would be to take advantage of those few minutes to get accustomed to the water and let your breathing calm down – even if it means just sitting in the water.  That way you're not out of breath and drowning 90 seconds into your tri.
And remember the rule of open water swims – if you EVER get in trouble, simply roll over on your back and just float until you're calmed down.  You'll feel fine within 10-15 seconds and be ready to continue on.
As an aside, a surprising number of folks have e-mailed me about open water swimming in the DC area over the past few months.  I did make one post a while back about it – but I'll revisit it with a comprehensive guide in late March once the weather warms up a bit.  As always, feel free to e-mail me with any questions – I'm more than happy to help.