I've been meaning to post this forever, mostly cause I have these totally awesome photos sitting in a folder.
As some of you may know – you're not allowed to swim in the Potomac river in the waters of the city of the District of Columbia.  You are allowed to swim in it upriver of DC a bit – where the water is 'cleaner' (actually, it's quite nice about 50-60 miles upriver near Harpers Ferry).  And you are allowed to swim in a bit further south as there are a few 'beaches' that allow it.  But in the city itself…nope.
It has to do with the National Park Service and water quality or something.  Buuuuuuuttt – there is one day a year were you can swim in the Potomac.  And that's the Nation's Triathlon held in mid-September.
So how is swimming in the Potomac?  Not as bad as everyone thinks actually.  It tastes and seems just like every other river.  You can't see very far underwater, but that doesn't mean anything really – as a perfectly clean river could just be more silty than others (not that the river is clean of course).  There were no floating toilets, and none of those funky mutated fish attacked me.
So I have to go by the only metric I know – the quality of water leaving my wetsuit after the race (no, not during – that could be sketchy).  Last year during the race I took my wetsuit off during transition, threw it over the bike rack bar and then left it there in the sun for an untold number of hours before collecting it and bringing it home.  Once home, I hung it up in my shower and left it there.  I didn't run any water, and the wetsuit wasn't wet per se, but slightly damp.  I wrote a post about it here.
Well (in 2007), about six hours later I went to check on the suit…and found this below it: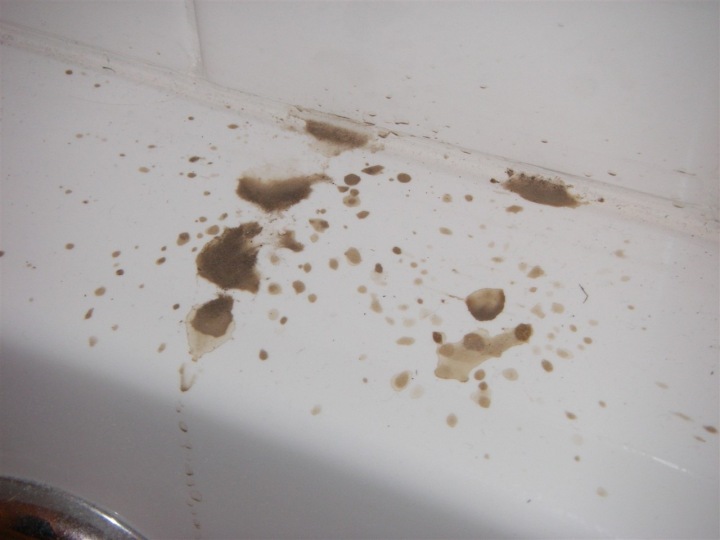 (2007 photo)
Those are muck droplets (technical term).  The funny thing is that they were actually kinda lumpy.  I'm nt sure what thier deal is – but they were fairly dark.  It then took five whole minutes of washing my wetsuit before the brown water turned a clear color.  Not.so.good.
So…let's fast forward to 2008.  I did the same thing this time as well, and how did it look?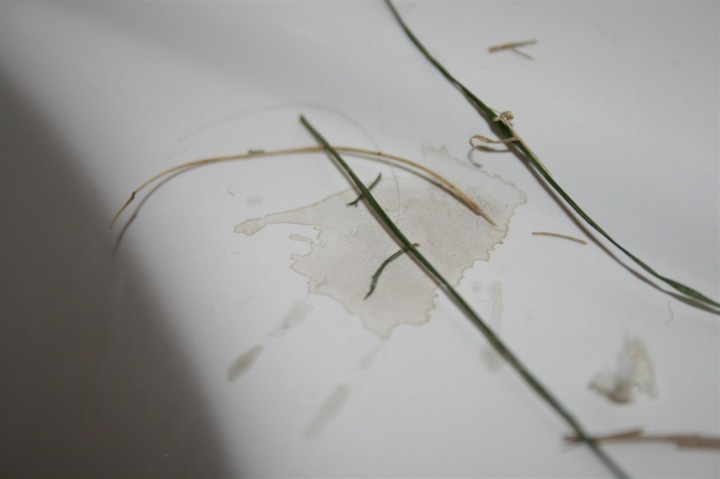 Actually…MUCH better!   You have to ignore the grass, it just came along for the ride.  But, the muck droplets were actually pretty clear this time – not an icky brown lumpy thing.
So there ya go – my extremely scientific analysis says the Potomac river is getting cleaner.  There may be some truth to that however, as in 2007 the race directors sent many e-mails basically saying "Swim pending water tests", whereas in 2008 there wasn't a single e-mail that mentioned "Pending testing".
So…go signup – it's the coolest race around (signup began Monday – Dec 1st, and will likely sell out very quickly).  I'm already signed up to play in the Potomac again.  🙂
(Oh, and yes, that's a rubber elephant in the photo above)