After purchasing the Garmin Forerunner, I was determined to use it as much as possible to get the most out of my money.  On an average day I have two training runs/rides/swims, and I use the GPS for every outdoor workout I do.  One of the more challenging uses though is swimming with it when doing an open water swim.  Once configured you're all set, but getting a good configuration can be a bit tricky.  So after using it a number of times this past summer during open water swims (salt and freshwater), I can offer the following little tidbits of advice.  Keep in mind that this is based on my use of the Garmin Forerunner 305 device, but most devices will be similar.  I also take no responsibility for breakage to the device, although everything described below is within the allowed operating limits of the device.
To start with – here's what the manual says on page 53 regarding its aquatic functionality:
Water Immersion:
The Forerunner is waterproof to IEC Standard 60529 IPX7.  It can withstand immersion in 1 meter of water for 30 minutes.  Prolonged submersion can cause damage to the unit.  After submersion, be certain to wipe dry and air dry the unit before using or charging.  NOTE: This product is not intended to be used while swimming.
Let's take apart this paragraph.  You shouldn't go deeper than 3 feet.  But that shouldn't be an issue unless you've got some whacky submersion swim style (or you're drowning, in which case you should probably concentrate on rectifying that issue first).  You should ensure that if you do go longer than 30 minutes, you keep the unit dry – or that it's not actually fully submerged.  Typically the reason for most devices having time limits is that it's dependent on how long the seals can withstand the pressure of water (which is 800 times more dense than air).  The last line is there primarily because my guess is that they don't want you putting it on your arm (which would be very bad as you'd constantly be whacking it against the water).
Before we talk about placement, let's talk about protecting the device.  While I've gone swimming with the device straight in the water, I prefer to put it in a small Ziploc bag under my swim cap.  The best size of Ziploc bags are the small little 'snack' sized ones, they fit the device perfectly.  Also – it's easiest if you remove the device from the armband.  One of the best ways to do this is to buy the quick release kit, which makes it really easy to pop the device off and on (such as onto a bike as well).  Either way, I find the Ziploc bag makes me feel 'safer'
With all of that said, let's address the issue of placement of the GPS.  The best place to place the GPS is on your head.  If you place it in your pocket (assume you had a pocket), it won't get signal.  Been there, tried that.  If you place it under your wetsuit on your back – you might get signal (I haven't tried that) – but then how would you easily push the buttons or review it if you had to?
With placing it on your head, you have easy access to it for button pressing.  The key is exactly where you place it on your head.  The best place to put it is roughly where a ponytail would normally be if you had one.  If you were to put it directly on the top of your head when you put your head in the water (horizontal), the GPS would actually be lower in the water.  By placing it essentially on the back of your head, when you put your face in the water it will be pointed towards the sky.  I found some random photo on the Internet and doctored it up a bit, here's an example.  The orange square is the GPS.  Obviously the real thing is much smaller and rounder.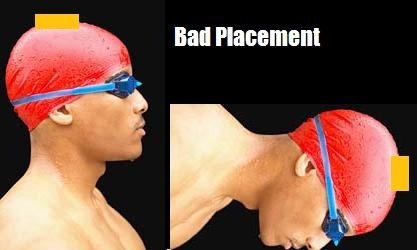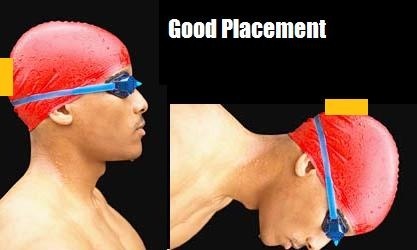 As you can see by the above photos, once you go horizontal, you want the device as close to the sky as possible.
Ok, so we've got the device in a bag, and you're read to place it under the swim cap.  This is where the trickery comes in.  The easiest way I've found is to simply place the device on your head first – and then put the swim cap on.  Also – I've found that by always placing the front of the GPS in the same direction as the front of your head, you can remember the button layout (start is simply the lower right hand corner).  And to state what may be obvious – turn on the device and get it ready to go BEFORE you put it on your head.  The only remaining task will be pressing the start button and ensuring you hear the little start beeps.  Make sure that it's firmly under the swim cap and won't slip out (that would suck), if you do it right – it shouldn't go anywhere.  If you're really concerned about losing the device to the deep blue, just get a small piece of string (maybe even a shoelace) and tie it to the zipper on your wetsuit.
So now the device is 'mounted' and you've pressed the start button.  This would be a good time to start swimming.  There really isn't anything more to do than swim.  Once your done swimming simply hit the stop button (also lower right on the face).  If you forgot, don't worry – you can easily edit the track later to remove the offending portions.
After you're done swimming you'll want to use a program to see how far you went.  I use Sport Tracks, which is where the below screen shots come from.  It's a free application with a very active user community – available here.  Either version 1.3 (current non-beta) or version 2.0 (beta) will work great (including working great with Vista).
Regarding the heart rate strap – I've had varied results with it.  I haven't had much of an issue without the wetsuit, but while wearing a wetsuit I seem to get intermittent to no signal.
Here's a couple of examples of what the different placement locations will do.
Good Placement (distance and swim direction consistent with reality):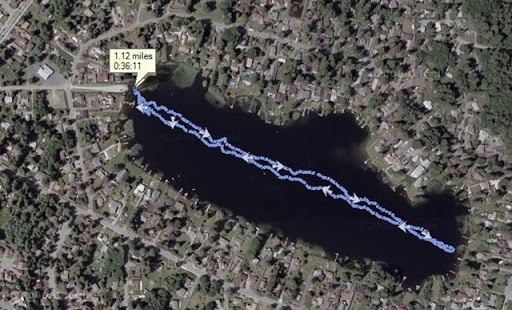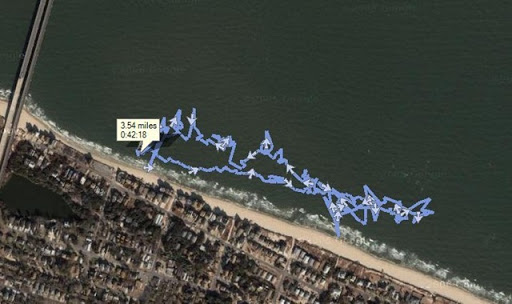 Bad Placement (plus moderate waves – ocean swim) – the distance way off due to the bad signal: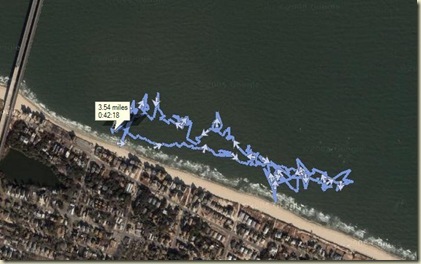 Hopefully this helps.  If you have any questions – I'm more than happy to answer any questions!