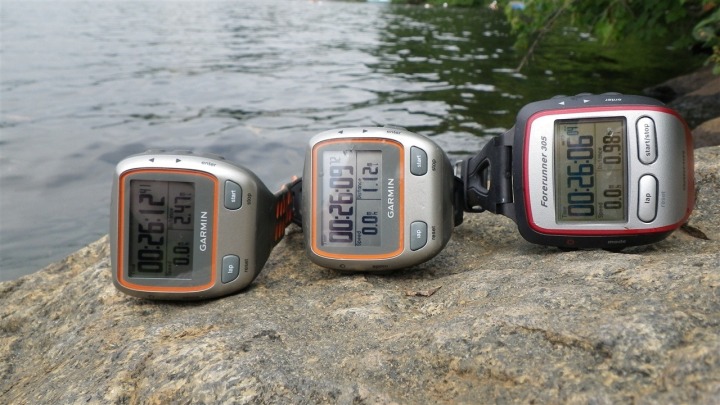 Last week Garmin quietly introduced a new upgrade to the Garmin Forerunner 310XT watch that now enables an open water swim mode.  This new feature aims to allow you to get accurate distance in the water while using the watch on your wrist (instead of the tried and true swim cap method).  Shortly after release the update I had a chance to 'sit down' with a team of Garmin Engineers, including – Jay Dee Krull, David Downey (Software Engineering Team leader),  and Jake Jacobson.   I had some of the top dogs on the line – Jay Dee has more GPS related patents to his name than lights on a Christmas tree, and stated off as Garmin employee #5.  There are now 8,500 employees at Garmin.
The conference call lasted an hour and covered all sorts of details around the new swim mode, as well as a slew of other topics around the Garmin fitness device line.  Look for more tidbits from that call sprinkled about in the future…
Let's get on with the upgrade!
Upgrade/Enablement:
Like most updates, this upgrade is super-easy to get.  Simply go visit the Garmin Update site and in a matter of minutes, it'll float its way on down.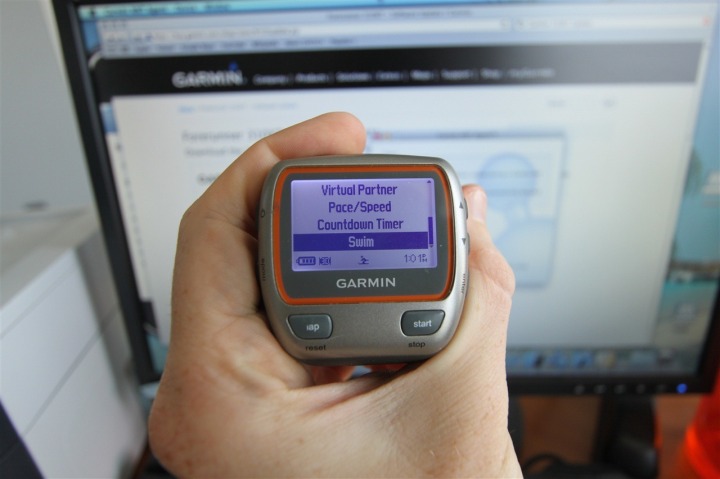 Once completed, you need to change the sport to 'Other':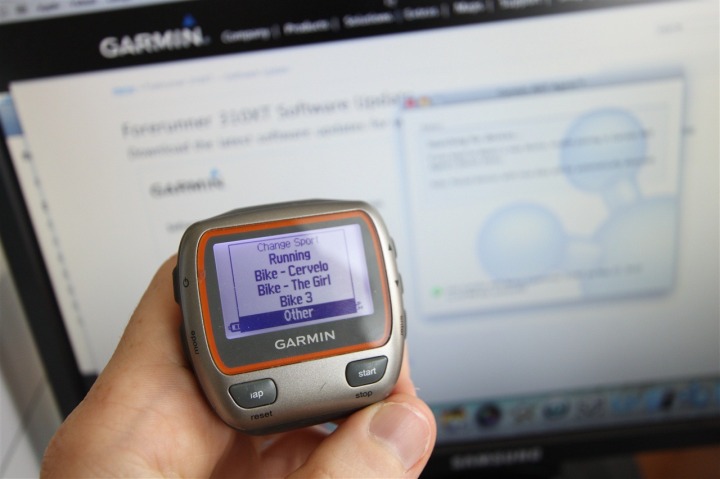 And then go under settings and set the Swim setting enablement to 'Yes'
At which point, you're ready to roll!  Do note however, that in swim mode, all ANT+ sensor data (incoming) is disabled, so if you were to run/bike with it later, you wouldn't have things like heart rate, cadence or power.  It's a one-button press back to run/bike mode, but just something to be aware of.  The Garmin folks made this even a bit more easy to recognize, as in swim mode the current distance data field will show a zero.
So now that the watch is all upgraded, let's get onto the tests.
The Map Won't Change
Well almost…I wanted to call this out specifically before we get into the tests.  The Garmin engineers really wanted to get the word out that the map won't change.  This is all about the distance displayed, not about the pretty picture displayed.  We'll talk about why later.
Ok…now onto the tests!
Test #1 – One Mile Swim:
My first test of the new firmware would be on a measured swim course that was open to swimmers the day prior to the actual race (a swim race, not a triathlon). This was beneficial for a number of reasons, but primarily because the organizers were/are super detail-oriented on measuring, re-measuring and re-measuring again using GPS on the swim course.  Similar to how a certified 5K or 10K road race would be.  So Saturday afforded me the chance to get one loop in on the multi-turn course.
In order to ensure I had pretty much all the bases covered I started with a Garmin 305 in my swim-cap to use as the baseline test.  This would be the tried and true method, one that I've used for years with spot-on accuracy.  I've previously shown that in the swimcap, the 305 and 310XT are identical – I just used a 305 in the swimcap because I don't have three 310XT's sitting around to use.
Next, I'd have on my left wrist a Garmin 310XT that did not yet have the firmware updated on it, and thus was kicking it 'old school'.
And finally, on my right wrist, I'd have another Garmin 310XT that did have the firmware updated, and the mode was set to 'Other' with the open water Swim being enabled.  With everything set, I was ready to tackle the water with more measuring equipment than my entire swim wave combined.
The actual loop around the course was pretty uneventful.  Because it was a nice day without any chop it was easy for me to not only sight, but swim a really perfect line.  I started off pretty easy and built into a harder push about a quarter of the way into the swim.  About 26 minutes later I found bottom and stopped all three Garmin Forerunners.
The first track to look at was the one in the swimcap – which showed a beautiful route and a measurement of .98 miles – pretty darn close to the 1.00 miles the course was measured at.  That's well within an acceptable margin of error for GPS given the conditions.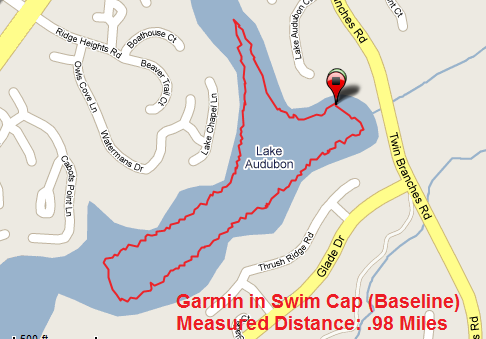 (Garmin in Swim Cap: Raw data file/route available here)
Next up would be the 310XT that hadn't been updated yet, on my left wrist.  Using the old-school firmware in simple 'Other' mode, without any swim enablement it routed out a rather sketchy course at 2.47 miles – or more than double the actual distance.  This however, is par for the course with what most folks see today when using the 305 or 310XT on their wrists during the swim, usually a 2X increase in distance.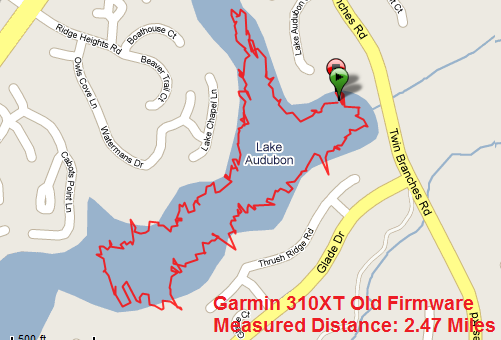 (Garmin 310XT old firmware on wrist: Raw data file/route available here)
And finally, up last would be the 310XT that had been both updated, and with the Swim setting enabled.  This one was on my right wrist.  And after pressing stop, it processed the data and came up with a total of 1.12 miles – or slightly long.  But, the map was still pretty whacky (actually, whackier than before interestingly enough).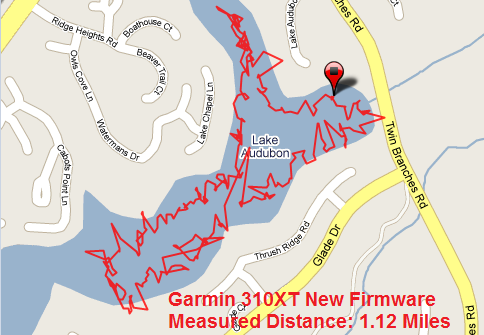 (Garmin 310XT new firmware on wrist: Raw data file/route available here)
In talking with Forerunner Software Engineers they explained that the goal is to give accurate distance – not to try and re-work the map.  And this makes sense when you look at the technical challenge.  'Simply' recalculating your projected best guess of a path based upon a series of dots is one thing (math fun), but re-writing those dots on a map is a whole different ball of wax.  Once you start doing that you start getting into the issue of how to re-write data files (FIT/TCX, and thus in effect GPX) to make an imaginary route – or put more simply: Faking data points on a map.  While I think in time this issue will be solved, I think it's wise to take baby steps.  We've seen in the past how vulnerable Garmin data files can be to corruption, and I'd much rather have accurate data and a bad map, then no data at all.
With that, it seems that after the first test there's some pretty clear evidence that the algorithm is pretty close to the actual distance.  A bit long, but if I figure that there's a margin of error in the GPS itself, we're probably only looking at being off .05-.08ish – which isn't horrible.
Here's the three side-by-side:

With that, let's get onto the next day.
Test #2 – Two Mile Swim:
Sunday came along and this time I'd be swimming the same loop twice, for a 2-mile continuous swim.  Would the additional mileage increase the margin of error, or decrease it? Plus, I'd be in a large group of folks – just like a normal triathlon – all fighting it out.
Obviously, had this been a race that I truly cared about posting a solid time, I wouldn't have taken all this stuff 'onboard'.  But, for me, this race was more about just getting open water time than anything else.  So with that, I armed myself again with a ton of gizmos and got underway.

(Raw Data: Swim Cap, 310XT Old Firmware, 310XT New Firmware)
As you can see, the test data showed a fair bit different results for the 2-mile swim than the 1-mile swim.  While the swimcap distance was spot-on (Woot to my swimming abilities!), the wrist method showed a decrease in accuracy.
Previously it was about 10% off, but now it was closer to 22% off.  In doing a bit of watching of various forums over the past weekend, it seems folk's results are varied as well.  Sometimes it's spot-on, and yet others it stays a fair bit.  I would have assumed that was related to the difference in people strokes, but given my own stroke doesn't likely change from one day to the next, I was surprised to see such a large swing.
Pool Tests:
Because I've seen a few folks ask, I went ahead and asked the Garmin Engineers what the experience would be in an outdoor pool.  Across the board they said that the number of data points, and the fact that they'd be clustered too close together meant that they didn't have a high degree of success in the pool.  This is logical – given the algorithm assumes that you're making some level of forward progress on a scale greater than every 25 yards or so.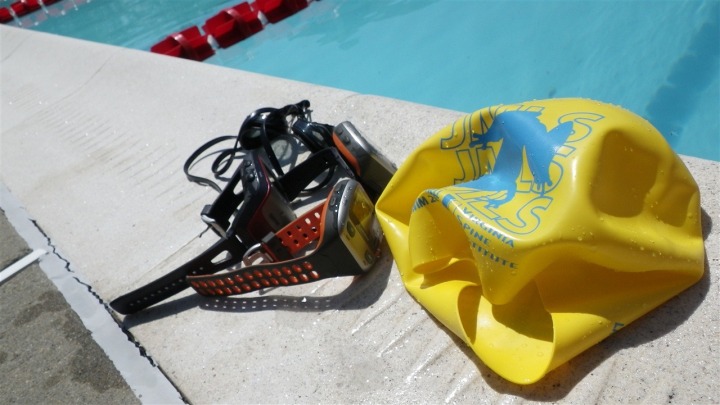 Nonetheless…I was curious.  And since the event had an outdoor pool next to it, I gave it a whirl.
I did two separate tests – one with open turns, and one with flip turns.  The reason being the engineers said that the flip at the end of the lane was the most problematic part of the whole thing, as the prolonged loss of data would cause even more issues.  For my tests I did two simple 250m sets, at a VERY easy pace – which in turn would have probably given a bit more 'air time' during the stroke recovery.
Test 1 – Open turns (no flip)
This was a 25m (meter, not yard) short course pool, that I did 250m in.  On the first test I did no flip turns, all open:
Swim Cap: 241m
Old Firmware on wrist: 789m
New Firmware on wrist: 193m
Test 2 – Flip Turns
Swim Cap: 225m
Old Firmware on wrist: 515m
New Firmware on wrist: 145m
As you can see, not terribly accurate on the wrist – but as expected.  I was impressed though with the swim cap distance, especially in open turns.  Again, this was just a curiosity thing, and since I know some folks will ask, I figured I'd give it a whirl.
| | | | |
| --- | --- | --- | --- |
| Turn Type | Swim Cap | 310XT New | 310XT Old |
| Open Turns | 241m | 193m | 789m |
| Flip Turns | 225m | 145m | 515m |
(Reference distance was 250m in short course outdoor pool)
Now, I have seen some posts that with slightly longer pools the accuracy does get a bit better, and probably would if you went to a 50m pool as well.  Unfortunately, I don't have access to an outdoor 50m pool. 🙁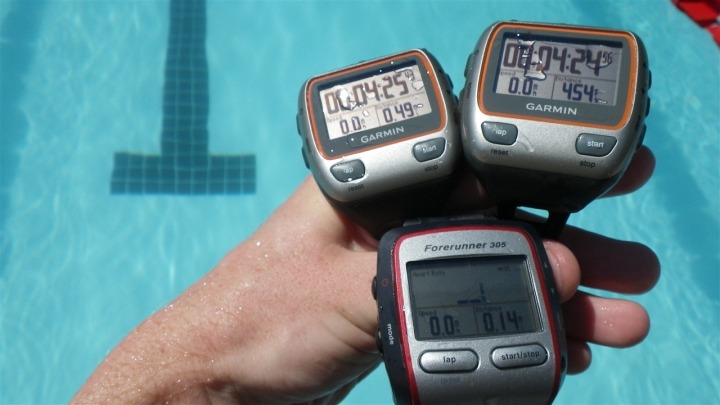 Nonetheless, just an interesting data point.  But again – both Garmin (and I) don't recommend you depend on the 310XT for swim distance in a pool.
Pins, Wrists and Caps:
So while we may in certain circumstances be able to gather data semi-accurately now – the bigger question is whether it's best to use the swim cap method or the wrist method.
First, let's address the pins.  There's an issue on the 310XT where the pins can pop-out using the standard orange wrist strap that comes with it.  This can be done with a moderate amount of force being exerted on the strap itself.  Should this occur in water deeper than your bathtub, you probably won't see your little orange friend again.  Garmin has admitted there is an issue here and will replace your pins with some new sturdier pins for free if you call up support.
However, what they (and I) both strongly recommend is that you use the quick release kit.  The reason for this is the quick release kit fundamentally changes how the pins support the band structure to using a flush mounted system on the back of the watch.  This means in the event of significant force against the watch, the load is distributed not only against first the quarter-turn release, but the against the entire backplane of the watch, as opposed to just a single pin hole measuring approximately 1 millimeter in width.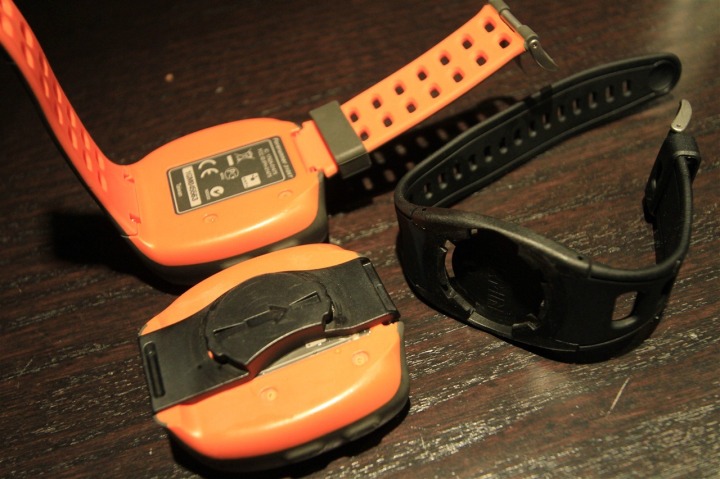 (Above: Upper is without quick release, lower is with quick release kit)
Given the cost of the quick release kit is only about $17 – it seems a heck of a lot cheaper than replacing a $325 watch.
Of course, back to the main issue of whether to use swim cap or wrist.  In my opinion – the swim cap still gives more accurate results reliably and (perhaps more importantly) a really pretty picture.  Further, while there's there is certainly potential to have your swim cap ripped off during a race – that's in my opinion less than that of a competitor whacking your wrist during a swim start in a race.  Further, some folks use a simple piece of string/floss/anything to tie their goggles to their 310XT/305, thus solving the problem.  Personally though, I don't generally use mine in the water in a race, just in training due to concerns about loss.
Just my two cents…
The fine print:
During my hour, I asked a ton of questions of the team around the feature. These were the ones that didn't fit anywhere else above, but I figured they'd be useful to post nonetheless.  Answers are paraphrased/shortened unless quoted.
1) Does the swim mode use 'Smart recording' or 1-second recording?
Answer: Smart recording
2) What triggers the post-processing of the data, and how long does it take?
Answer: Pressing Lap or Stop, and the process usually takes less than a second.
3) Does the distance show during the swim?
Answer: No, zero distance is present during the swim, and the distance is displayed at lap/stop.
4) Does auto lap work in swim mode?  Do alarms work in swim mode?
Answer: No, auto lap is disabled once in swim mode, as the distance is an unknown until post-processing.  Same for alarms.
5) Can multi-sport mode be used?
Answer: Yes, absolutely!  It works just as it normally would.
6) Is there a minimum turn radius/angle, or are there issues with courses with lots of turns?
Answer: No.  No issues seen in testing with turns being cutoff, or not recognized.
7) Any thought to simply changing 'Other' to 'Swim', or just adding a 'Swim' mode to the watch sport list to reduce consumer confusion?
Answer: It's on the list to do at some point, just a matter of getting it prioritized.  Previously, it didn't make much sense, but given the change it makes more sense.
8) Does it work on other strokes besides freestyle?
Answer: We specifically recommend 'For freestyle open water swimming' – because freestyle is the only chance you get to see GPS satellite.  Breast-stroke 'mileage may vary', as well as other strokes.
9) Any impact on battery life?
Answer: No measureable impact/none.
10) Is this the only watch you're aware of that supports open water swimming via GPS?
Answer: Yes, to our knowledge.
11) Given that the current ANT+ heart rate straps don't work in the water, but the Polar T-31 coded ones do (not compatible with Garmin devices).  Any plans to address this issue?
Answer: (Silence)  "We're always trying to improve our products"
Summary:
To wrap things up, I think this is a great new feature – especially with a bit more fine tuning.  To me, it shows they are clearly looking at how to improve the Forerunner 310XT for existing customers, and increase its appeal for potential customers.
Perhaps more importantly though, I think it also gives them a chance to gather a ton of data over the next 5-6 months around openwater swimming.  Data that's then automatically uploaded to Garmin Connect.  Data that could then be analyzed to improve the accuracy of the algorithm for both the 310XT and future 310XT replacement watches.  I'd be amazed if we don't see further improvements in the algorithm to fix some of the inconsistencies testing is showing now.
I want to again thank Jake, Jay Dee, David at Garmin for their time in both answering tons of questions, but also listening and discussing some of the issues I see (and hear from others) today with current watches.  I'm looking forward to seeing how that conversation shakes out long term.
So with that – go forth and enjoy the swim!
—-
P.S. – And as a reminder, if you buy it through any of the Amazon links on this page, you help support the site.  Thanks!