Just a quick training update (see, I can be quick on occasion).
Yesterday I did a nice brick in the mountains, starting from Luray.  Luray is a town in the shadow of Skyline drive, where I usually do my long rides on.  It's also the site of a sprint/Oly race here in two weeks (one the Girl is doing).  So she's been training there lately, and I've been training nearby.
My schedule for the day was:
– 30 minute swim
– 50 mile bike ride
– 60 minute run
So let's start with the swim (logically).  It's a rather small lake (man made I think), so I decided to see exactly how long it was all the way around.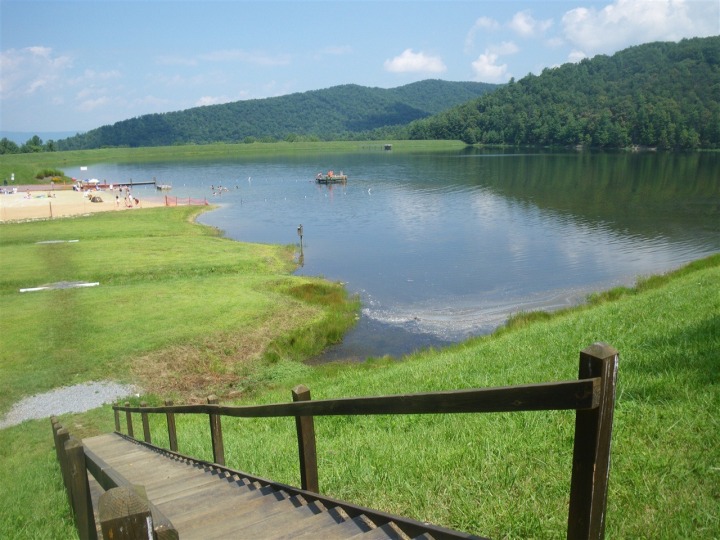 My swim called for 30 minutes at 'moderate' effort.  So into the water I went.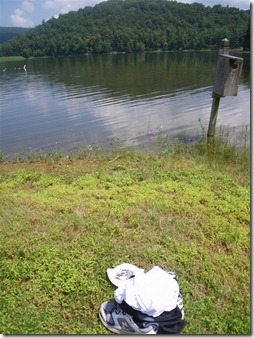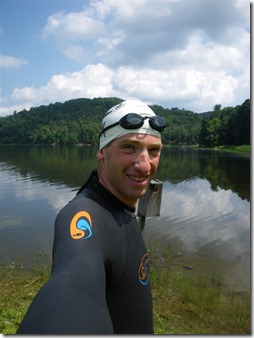 I plopped out of the water 30 minutes later with one complete lap of the lake (plus a tiny bit extra to get to the boat ramp).  Turns out it would be 1.05 miles, though I swam a bit extra around a fishing canoe (on the right side below in the image), so the actual perimeter is probably closer to 1.00 miles.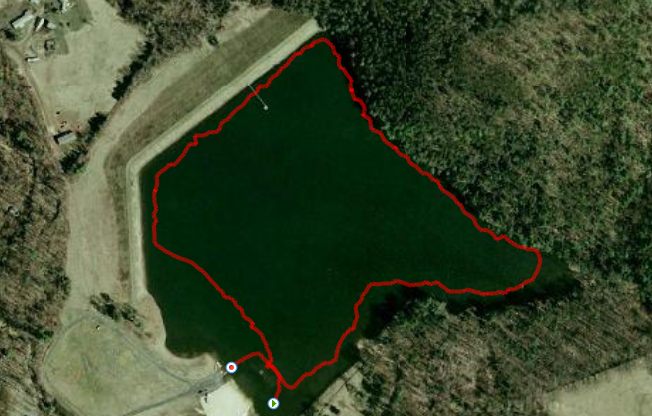 (Route as seen using my Garmin 305 in my swim cap)
From there I joined forces with my bike and headed out for a loop on the Oly Luray course (17 miles worth, skipping the secondary loop).   I printed off the handy cue sheet from the races website, and off I went.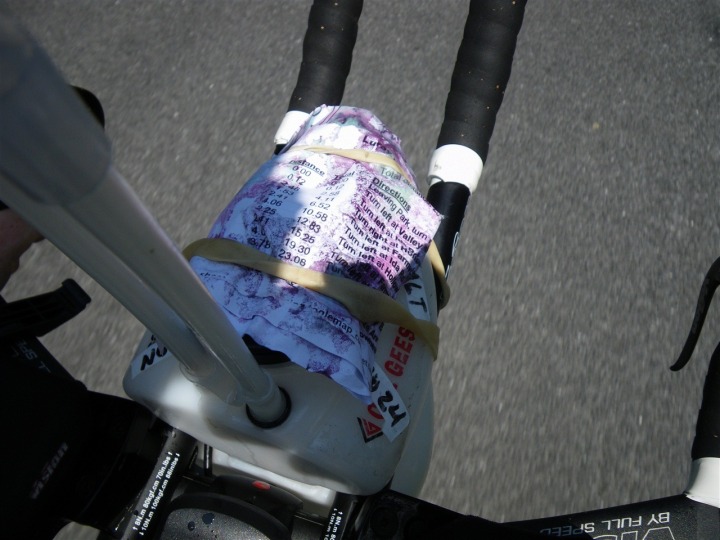 It's actually a really fun course if you like climbing and descending…and cows.  Lots of cows.  And corn.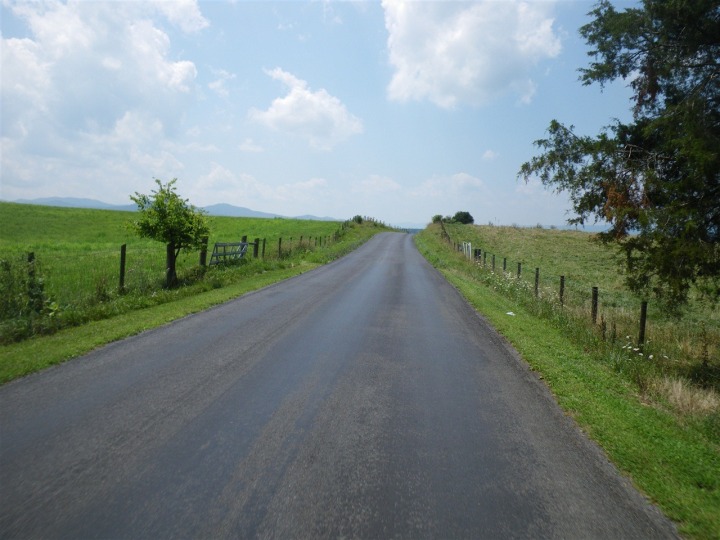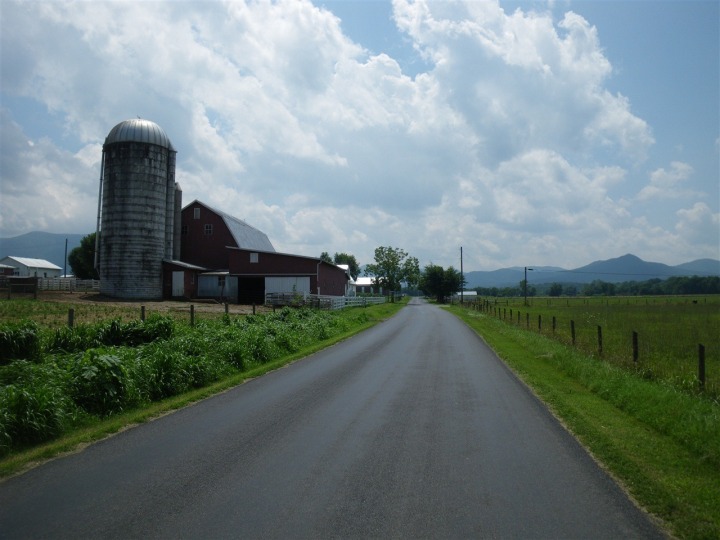 The mountain you see in the distance below, that's where I'd eventually be climbing up to.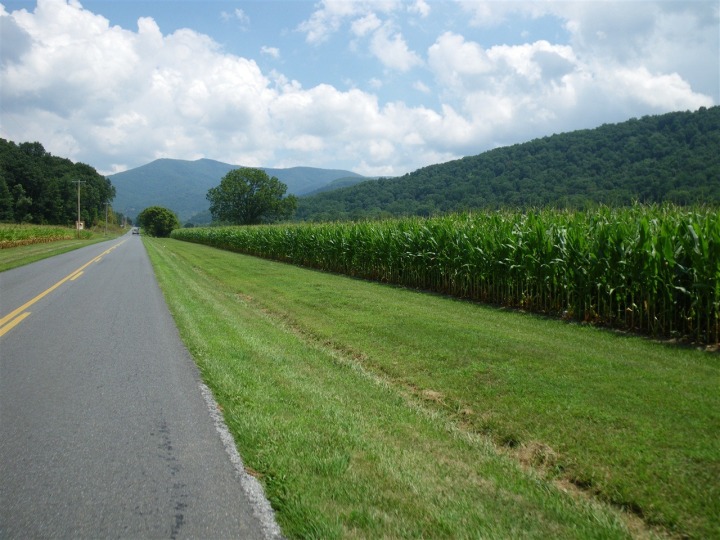 From there I climbed up a sweet 12% grade hill and then across a bit of an unexpected dirt/gravel road to get to the main road leading to Skyline drive.  Mountain biking with a time trial bike…now that's style!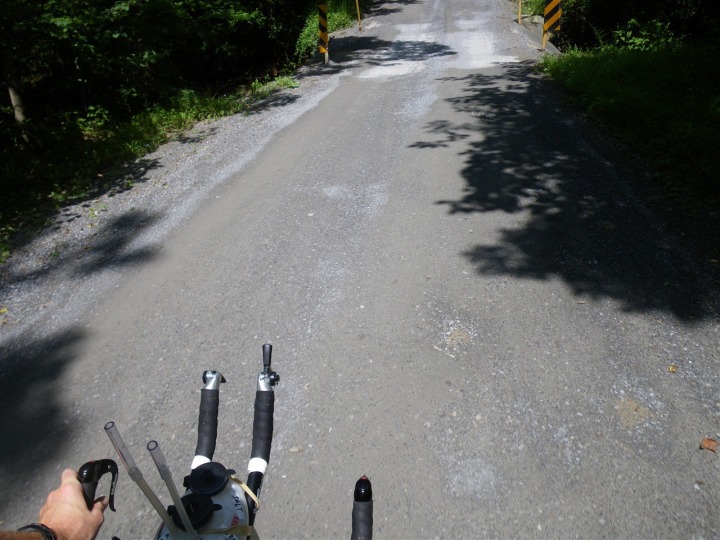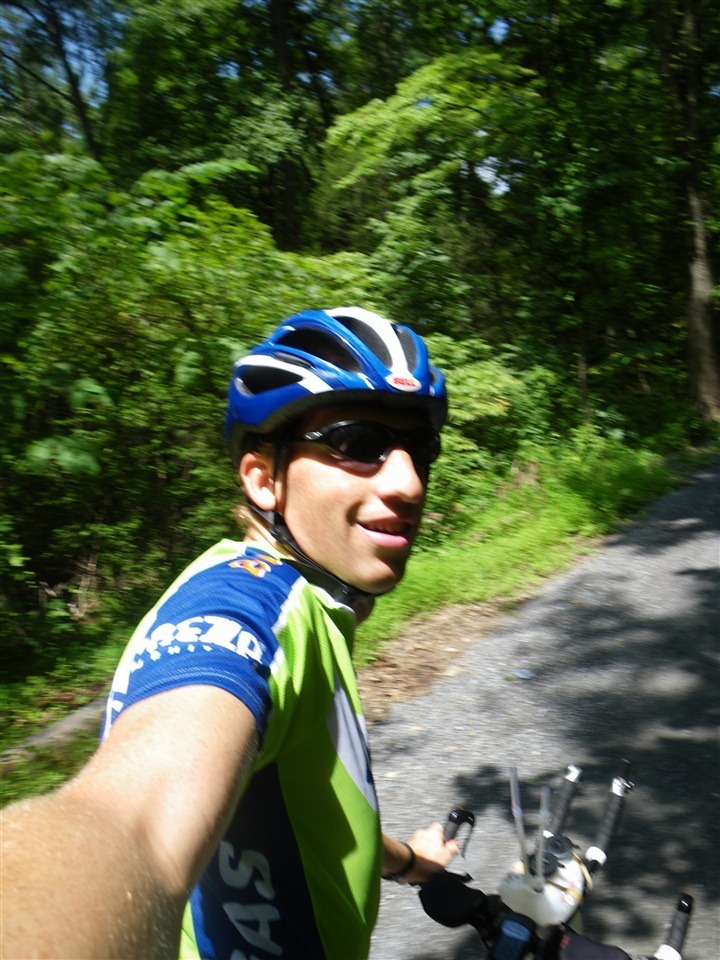 After reaching Skyline (took about 1,200 feet of climbing to get onto it), I did about 20 miles in an out and back section, including one solid climb in upper heart rates.  Quite a bit of fun though.
From there I zipped back down into the valley and did some more mountain biking across the dirt road before finally ending up back at the lake.
We were running a wee bit late, so instead of doing an out and back run, I decided that I'd simply run in the direction of home, and the Girl would pack everything up and come pick me up an hour down the road.
Of course, given that home was some 90+ miles away (and I first had to run in the wrong direction to get on a road in the right direction), it seemed unlikely I'd beat her home.  Nonetheless, I put in a effort.  In that 60 minutes I covered about 8 miles over some rather hilly terrain (some solid couple hundred foot hills), so I was fairly happy with that – and I had to stay in zones (though, my ability to stay in said zones was questionable). 
It should be pointed out that all the folks out there driving around the country roads were super-friendly and always gave me tons of room and even waved.  Nice!
Here's a picture from Google Earth showing all three routes overlaid together.  Red (barely visible in center of picture) is my swim, followed by the blue bike, followed finally by the yellow run (click to expand to get a better view).  All in about 4.5 hours of training, and just a few miles short of a Half-Ironman.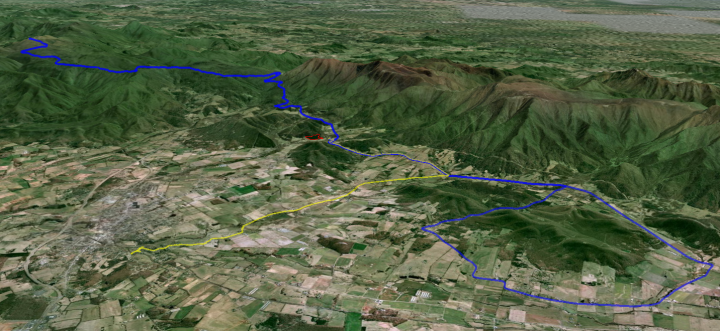 Following the Girl picking me up on the side of the road we bee lined as fast as possible to her sisters soccer game.  Though we were a bit late, the game went into double overtime and then penalty kicks – so we got to see the good stuff anyway…namely them winning.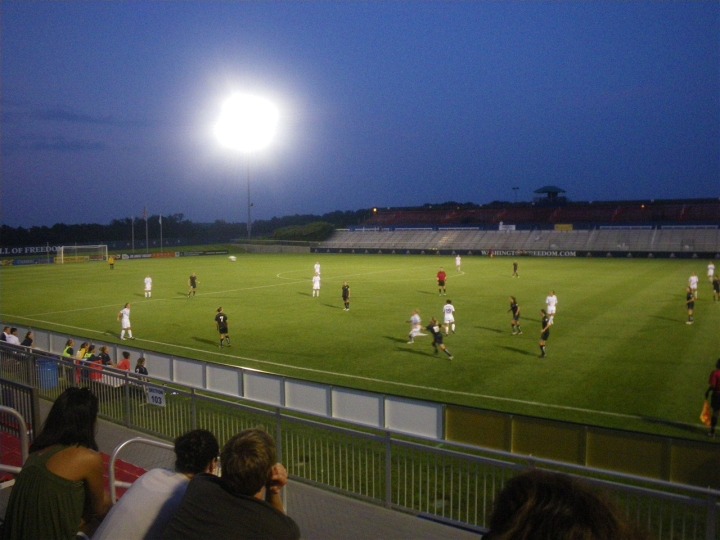 A had a short swim today, only about 3,000 yards – so it was rather relaxing and I've been getting all sorts of things done around the house.  My list of chores is long, but I'm making good progress.  Catch ya later!
—-
Quick side note, I happened to notice at Best Buy this evening that the Garmin Forerunner 305 is on sale this week for only $129.  Which is the cheapest I've ever seen it for (and no rebate required).  Anyway…FYI.