There's really no better place to eat your night-before-the-race-dinner than a restaurant named the 'Marathon Grill'.  With that, begins my (hopefully quick but turned out not so quick) 2008 Philly Marathon Race report.  Since the race was kinda a blur for me, I'm going to explain a bit more behind my pacing/racing and training strategy leading up to it.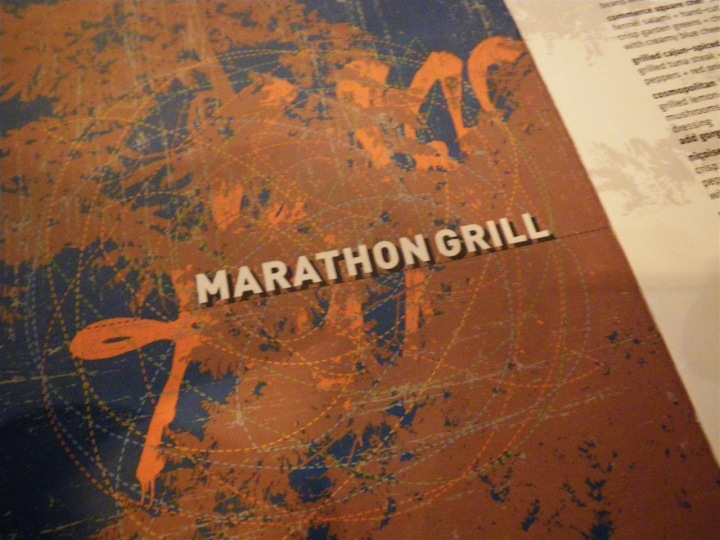 The Philadelphia Marathon comes at the end of a very long year for me.  With my first race of the year being a half-Ironman way back in March, and having essentially a race every month (including three Half-Irons and an Ironman), I was pushing the limits of my desire to train and push hard.  So my coach put together a fairly carefully orchestrated plan for the 90 days between Ironman Canada and the Philly Marathon.  It called for roughly a month of rest immediately after IMC (although, that included the Nation's Tri), and then about 5-6 weeks of build and a two week taper.
I suck at prioritizing goals.  So in the simplest way possible – here were the goals: Sub-3, Qualify for Boston (3:10:59), perhaps go for 2:55:00. It really wasn't until the last two weeks that I believed I could do a sub-3.  Once the taper set in though, my speed to HR ratio really started to work out well.  My paces were getting incredibly fast, and my HR was staying very low for a considerable amount of time.
Anyway…
They say not to change things before a race.  Bah-humbug.  Because of the cold race day temps (25*F), my coach suggested I run with long-running tights.  I've never run in anything other than shorts.  (He convinced me with some numbers that roughly said for every degree temperature drop, it's a 1-2% decrease in muscle performance).

So, 18 hours before the start of the race, I picked up a pair of running tights and hoped for the best.  Also, I tried some gels I'd never tried before.  And I tried a new running belt to hold the gels.
The initial pacing plan for the race was simple.  Dead simple.  I was to maintain a HR of 169BPM, which my coach and I estimated would produce around a 6:45ish pace.  But, over the final few days leading up to the race, that was producing closer to a 6:15-6:25 pace.  So we put a limiter in effect that basically said a HR not to exceed 169 or a 6:35 pace.
With that…it was time to line up.  I started on the front line.  Yes – the front line.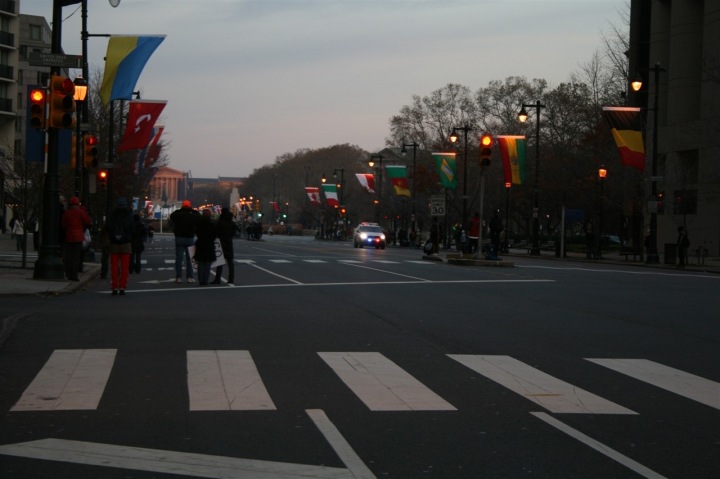 The plan for the first mile was to slowly get into zone.  Sure – I knew people would pass me in that first mile.  Go ahead…I'll see ya around mile 20 (or 2 as it happened in many cases).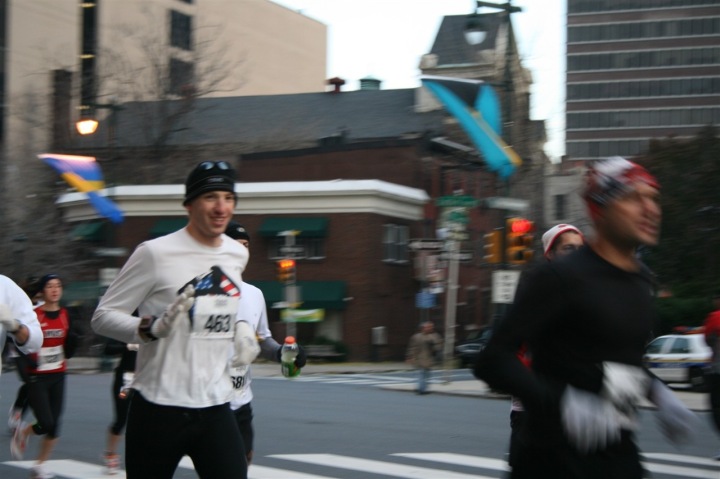 (Running by mile 1)
By the end of the first mile I had settled on a 6:20 pace.  Yes – faster than the limiter.  Buuuuutttt…my HR was absurdly  low.  Low 160's.  So, I made the executive decision to put some time in the bank as long as my HR stayed super-low.
I was feeling fantastic.  I knew it was going to be a good day.  But I paced very carefully.  I let me HR govern everything.  I slowed going up the early hills, and screamed down the others.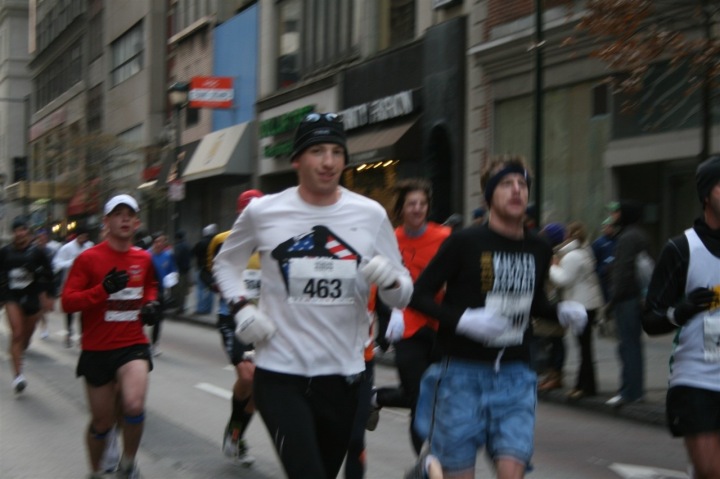 (Swinging by mile 6, above/below – that's me in the white to the left below – the time is 8 seconds faster than my time)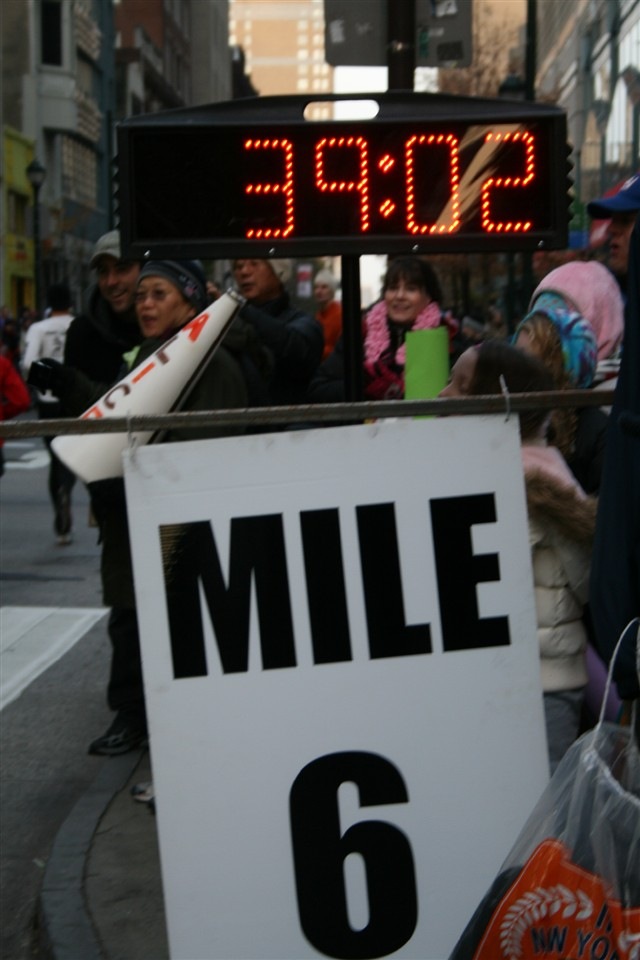 As you can see from the above time, I flew through the 10K mark.  And I kept on chugging.  I plodded up the only major hill at mile 9 by slowing down and just taking my time.  My HR just barely blipped.  In fact – over the course of the entire run (nearly 3 hours), I was only out of zone a total of 7 minutes – of which, the majority was my final push at the end.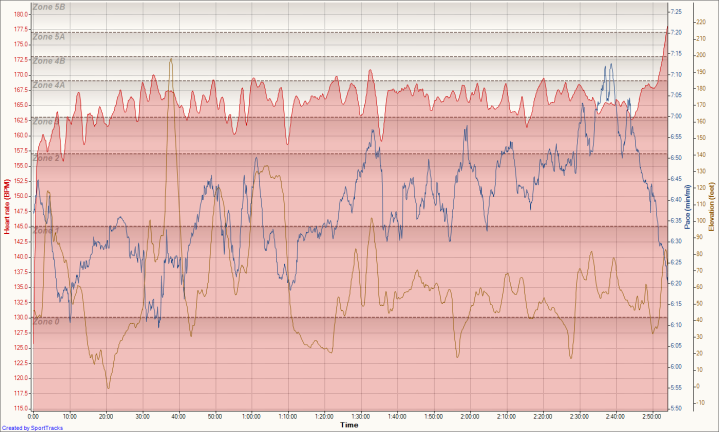 I hit the half-marathon mark in 1:24 – on track for a sub-2:50 marathon.  This really energized me.  Now I knew that not only was a sub-3:00 time plausible, but also a 2:55 time.
Like my pacing plan, my nutrition strategy was super simple:
A few sips of water at every water stop (about every 2 miles)

A gel every 30 mins

Three enduralytes (salt tablets) every hour
Taking in nutrition on a cold-weather run is tough mentally.  You think you're fine…until it's too late.  However I was *really* good though about nailing my nutrition exactly.  Which…gave me the energy to just sail through the race.
Speaking of sailing…around mile 18 or so heading into the wind, one of the Pro-Women came up behind me and said "I'm just gonna draft off ya for a bit, if you don't mind".  Ha!  A top-5-female drafting off me!
The plan for the final 6 miles was to just turn it on and scream back to town (it was an out and back on the second half).  But, I didn't quite have the confidence to really push it.  I think this was the one place where if I had someone pacing me, or someone running with me, I would have picked up the pace.  But…I played it safe.  Sure, my pace slowed a bit – but I was still cooking along.
I never felt tired or fatigued during the race.  It really did feel like a walk in the park – at least compared to Ironman Canada's Marathon.  Sure the last 6 miles I slowed a bit, but my HR stayed about constant and had I had more motivation I really could have pushed it.
Oh – check this out – somehow along the way I started bleeding.  I didn't know it till post race, and it doesn't hurt at all.  But it's pretty bad-ass.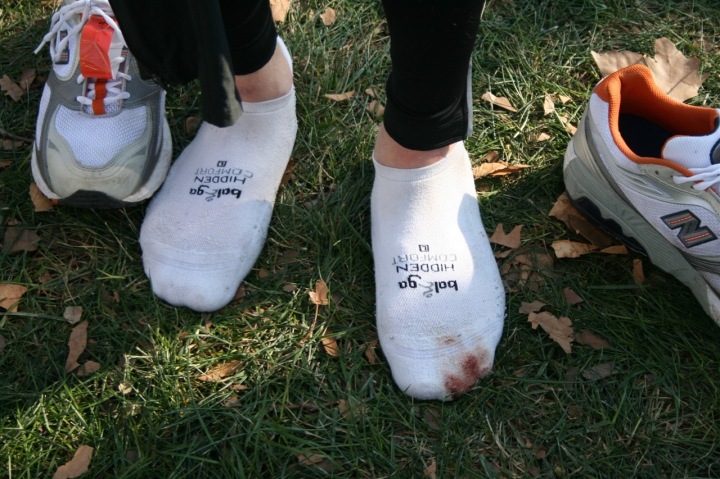 But…back to the race…Over the final few miles, my mind stated to play math games.  Could I indeed hit 2:55?  How far am I anyway?  How long does it take to run .2 miles?  I know how long it will take me to run 3 miles, but what does .2 miles take anyway?
So, as I neared in on mile 24, I picked up the pace and began to push a bit – which you can see in the graph earlier.  My only goal was to keep it below 2:55:00.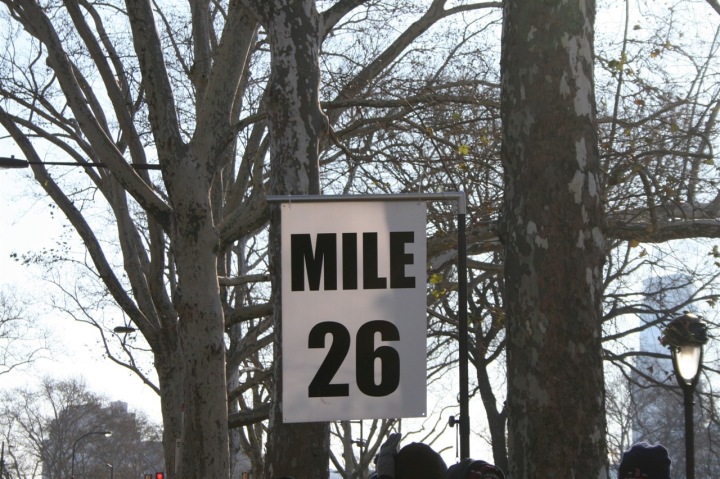 As I hit mile 26 I checked my watch and knew it would be close.  Again – having no idea how long it would take me to run .2 miles, I just let it fly.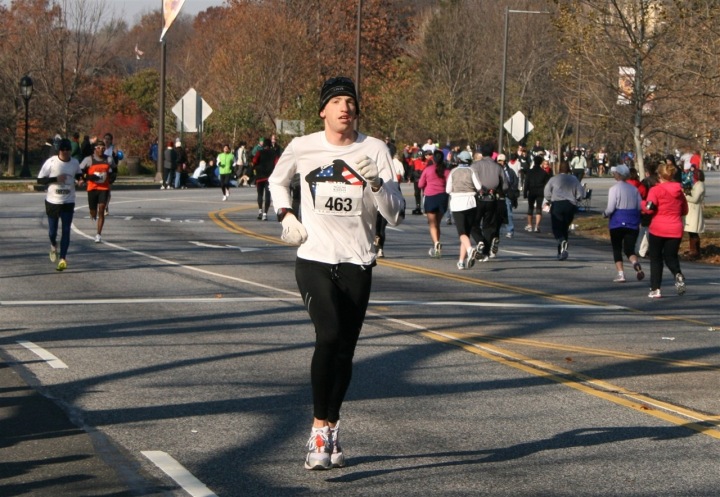 I pushed really hard (which you can also see in pretty graph)– it wasn't until I had the clock and the finish line clearly in sight and attainable under 2:55:00 that I slowed a bit to enjoy it.  One of the positive sides to finishing under three hours – is there is nobody in the finish chute.  I had the whole street – lined with a gazillion spectators cheering me on.  It was awesome!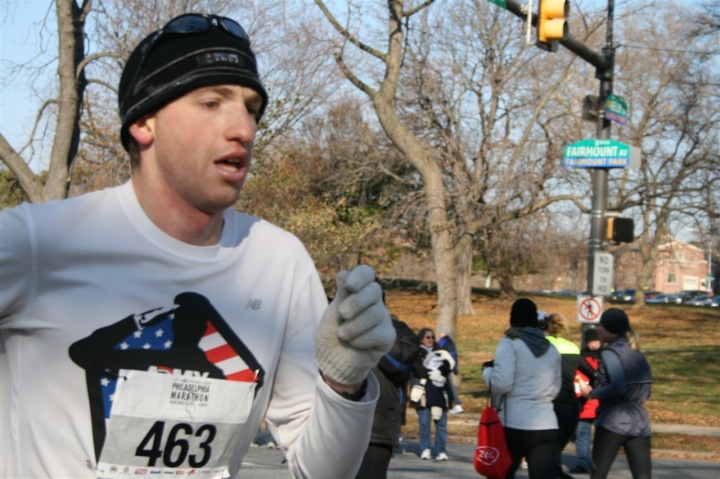 I finished in a final time of 2:54:48 – 12 seconds under the 2:55 goal.  In addition to qualifying for Boston (3:10:59), that also qualified me automatic entry into the New York Marathon based on time (2:55:00).  I was super excited about both of those.  As I mentioned last week, I also cut off nearly 30 minutes off last years time, and almost 90 minutes off my first marathon time 2 years ago.
Here's me running friend/road-trip-companion/blogger Rob – who also qualified for Boston.  Woot!  Road trip part II!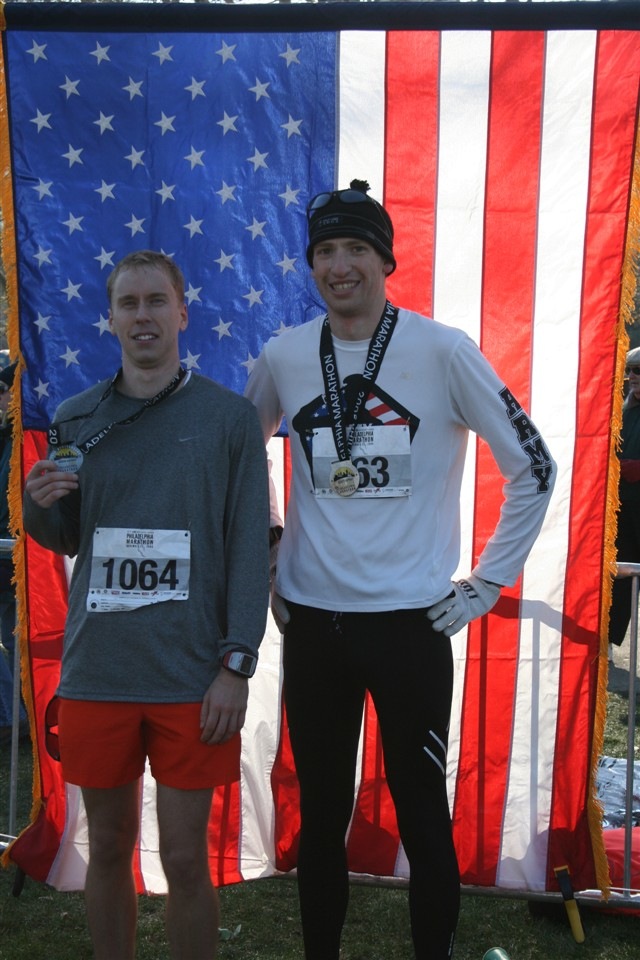 It is Rob who I officially blame for a 'run' up the stairs of the Philly Art Museum.  Rocky-style.  See, the Marathon finishes at the steps of the Art Museum.  As in – like 20 feet away from the base of this famous Rocky landmark.  He thought it would be a 'fun' idea for us to run up it post-marathon.  He had the distinct advantage of finishing 14 minutes after me, and thus his legs hadn't solidified yet into a block of useless flesh.
So with that – I present a video of us running up the stairs.  Clearly I'm the guy who looks like Grandma. (If you're reading this in an RSS reader, just visit the original post, or click here to see the video – trust me, it's worth it.)
Once where you are rewarded with this view of the marathon finish area.  Getting back down however…that hurts like hell.

Oh, and this photo was taken by my photo-friend, near the finish line – with the races official participant shirt on it.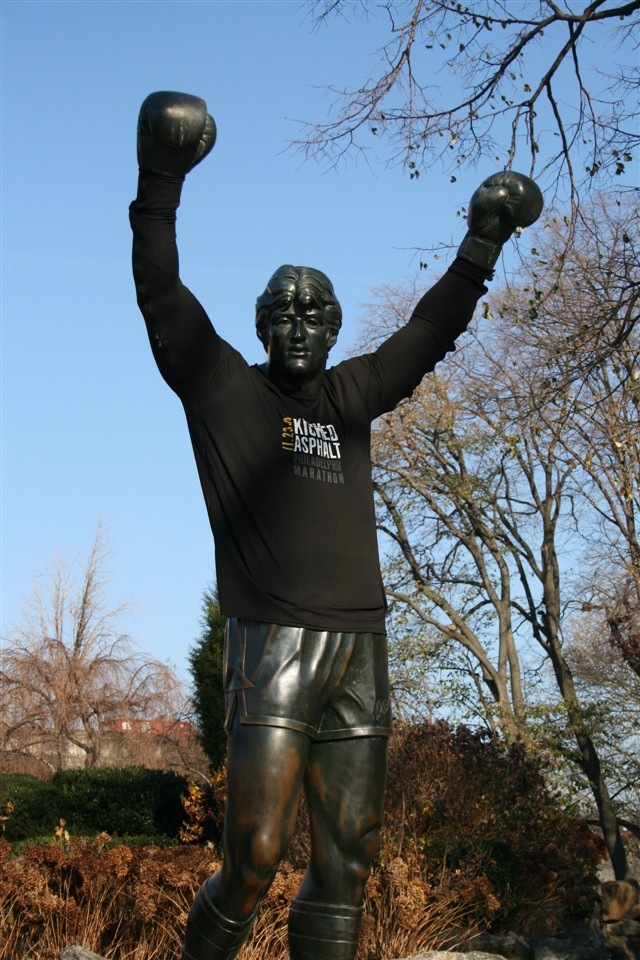 Once done, there was only one thing left to do.  A cheese-steak.  Or two. Nuff said!