I had two different Turkey Trots lined up for Thanksgiving day.  The first was a 5K held in nearby Arlington, VA.  It's in busy times like these that I forget to look at little details like…say…the elevation map.  This was a HILLY little 5K. 
I decided that I would 'throw down' the first Trot, and just casually run the second Trot.  The first trot being a 5K and the second trot a 5-Miler.  Of course, being Turkey Day I had to go in the spirit of the Turkey…dressed as a Turkey.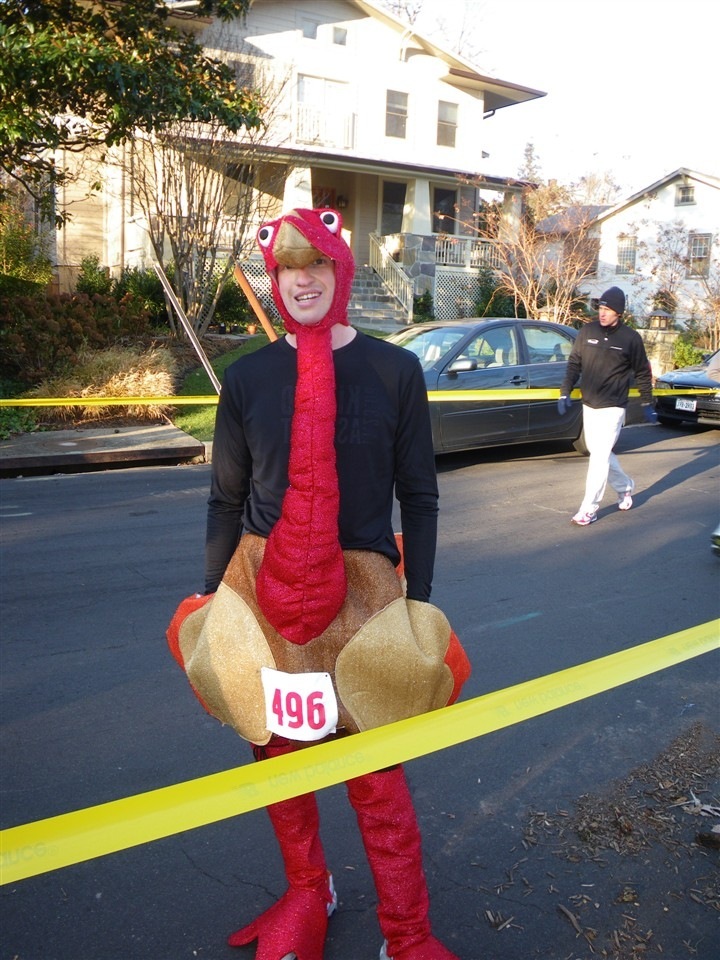 There were I'd guess a little over a 1,000 people there.  I ran like my turkey-life depended on it.  Which, was a bit difficult since I didn't do any of the usual normal pre-race things (ya know…like warmup, eat, drink, etc…).  I just waddled to the start line and ran.
Not too shabby though for running in a costume, four days after a marathon… I finished in 19:35 –or about a 6:18/mile pace.  That was good enough for somewhere between 10-20th place I'd guess.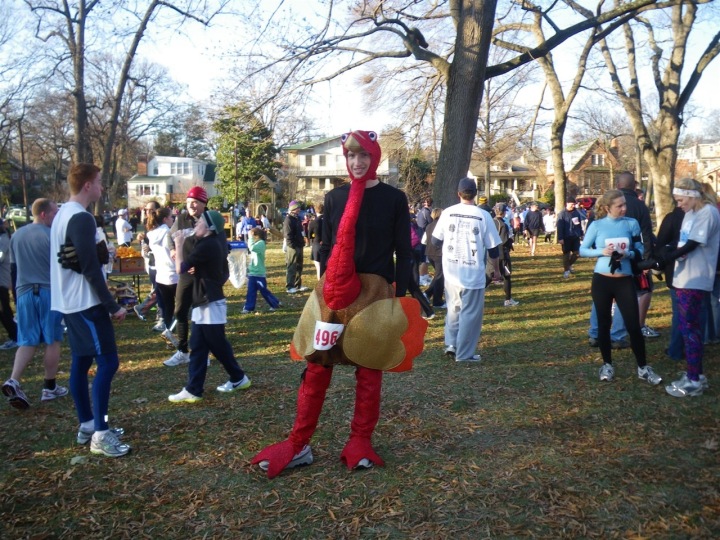 I also won an award for 'Best Costume', which entailed a autographed hockey puck from NHL's Washington Capitols Center Brooks Laich.  And one of the local TV stations was there – so if you happened to see me on TV, could ya post/e-mail which station it was?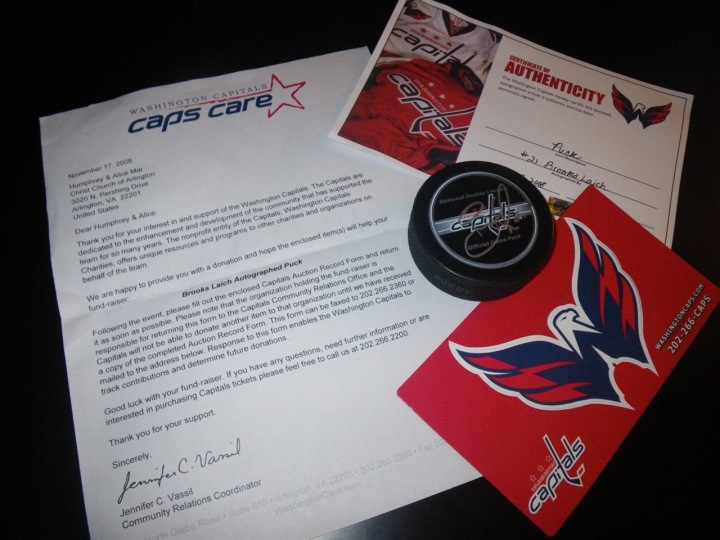 After a super-quick drive home to toss the turkey into the oven, I zipped out to the Alexandria 5M Turkey Trot.  This race seemed quite a bit bigger, not sure how many people – I'd guess 2,000-4,000.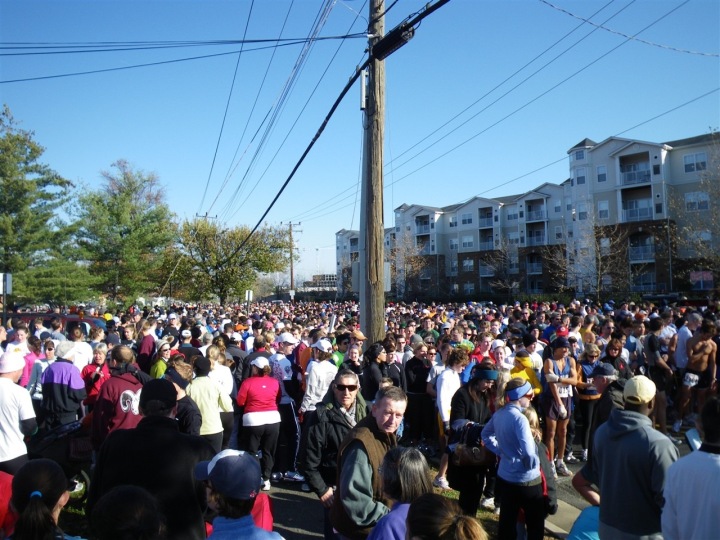 I was of course, still dressed in my costume.  We ran nice and easy while a bunch of chef friends chased me.  At times I felt like the dude in Finding Nemo – "Friend, not food!". Good times!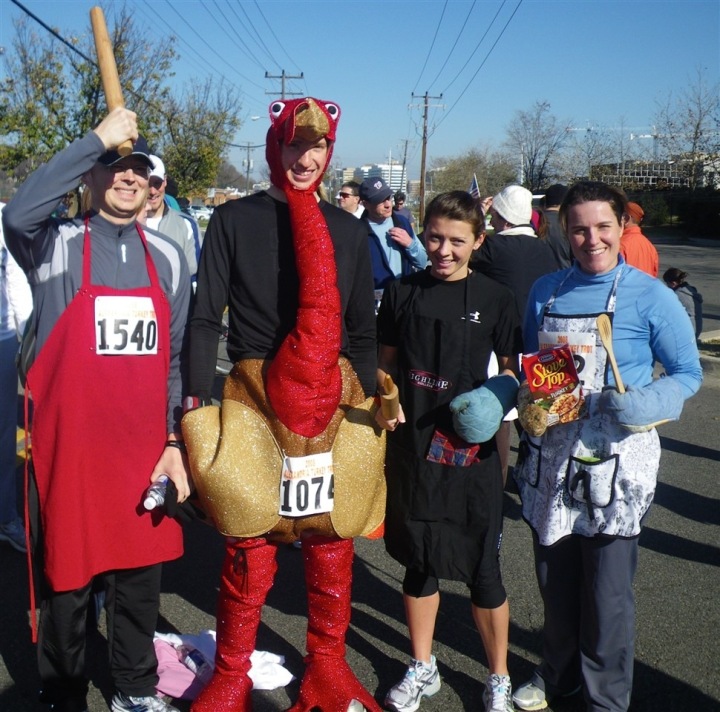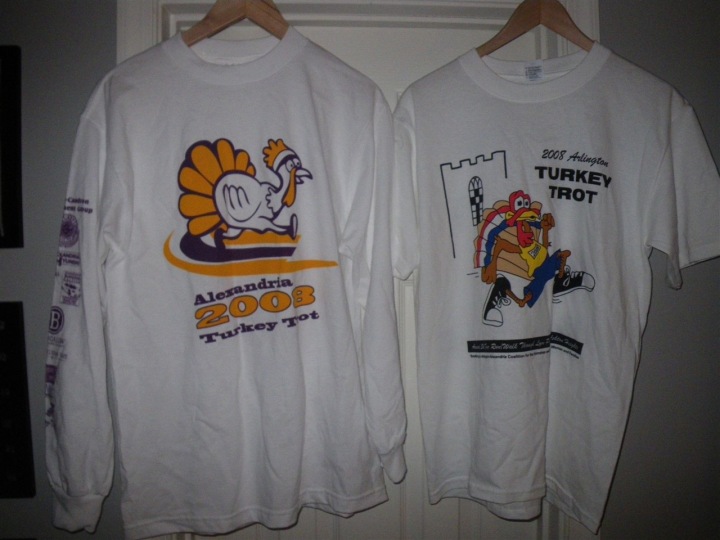 After this, it was time to get my Turkey Dinner in play.  I hosted seven others for Thanksgiving at my place.  I was a cookin' fool.  I cooked virtually all day Wednesday (until 2AM), and then again on Thursday before, between and after the trots.  It was a big menu…but not too hard.
Pictures are easiest from here on out…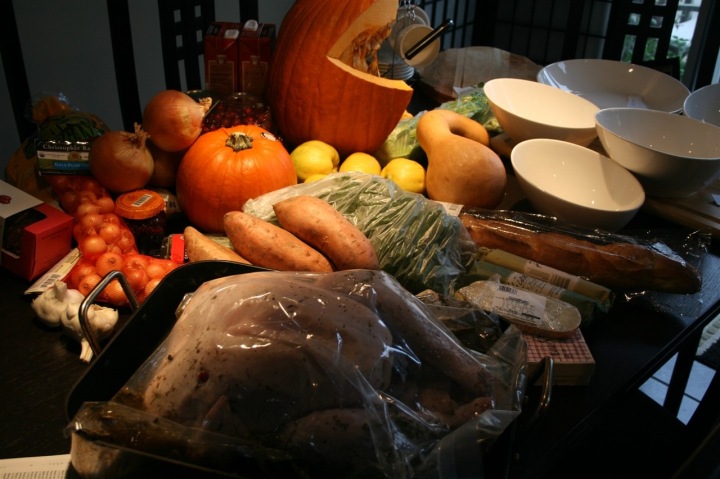 (The day before, my kitchen table covered with ingredients.  The 19 pound turkey just went into brining bag, where it would hang out for about 19 hours)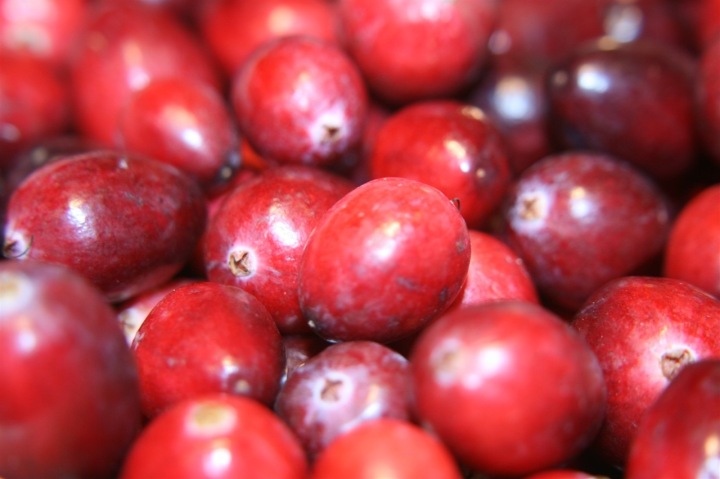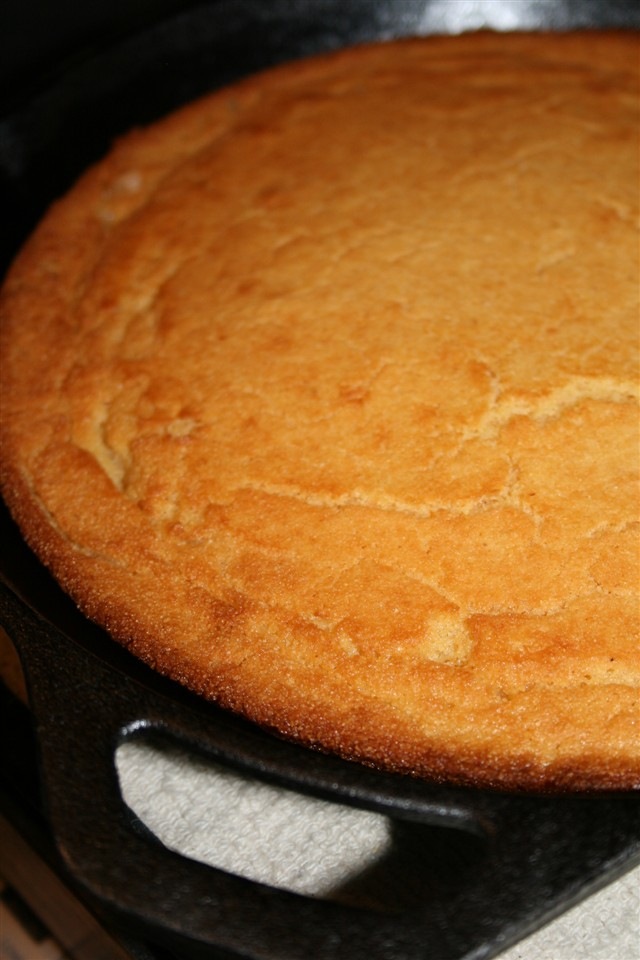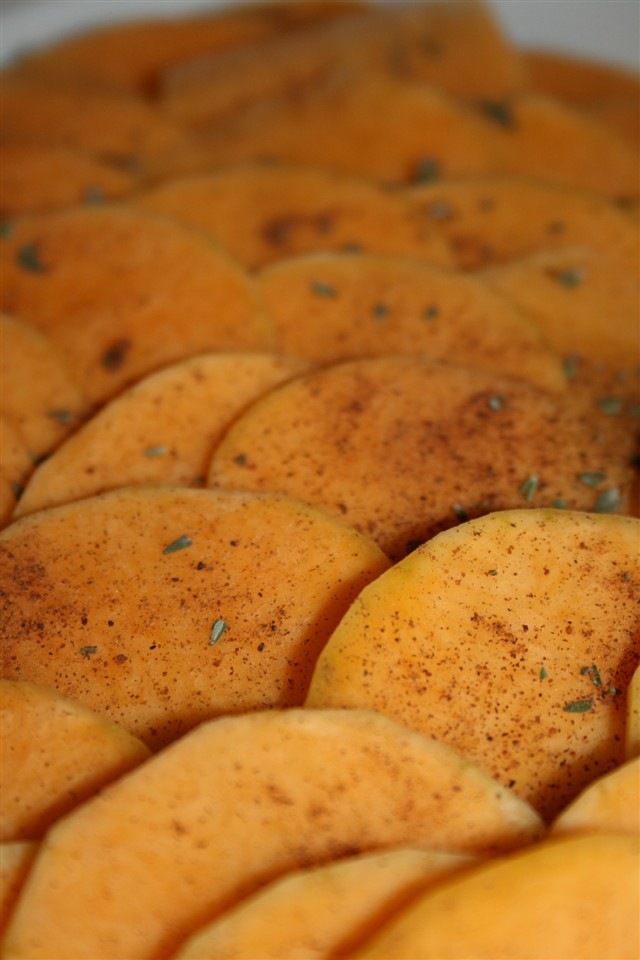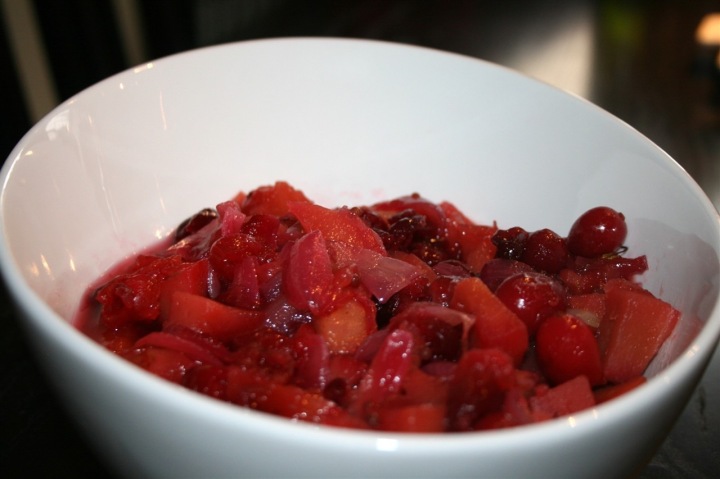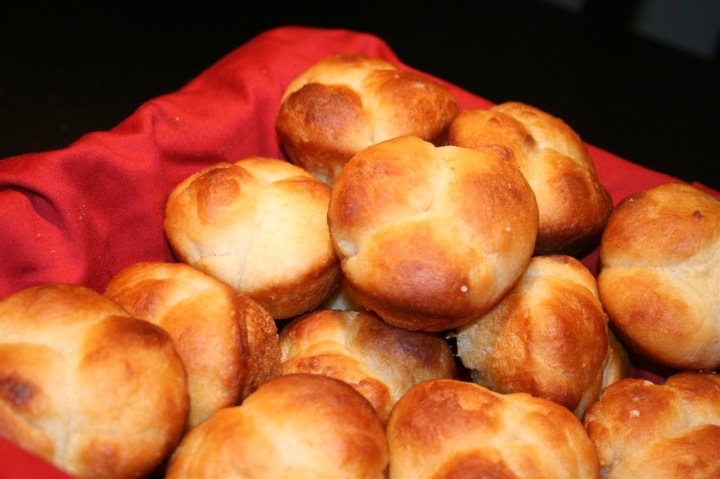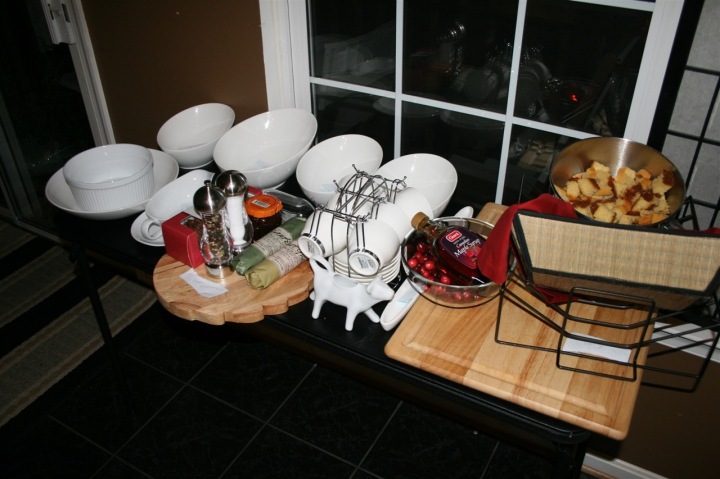 (I setup a side table with serving dishes all pre-labeled with sticky notes, so there wouldn't be any last second surprises)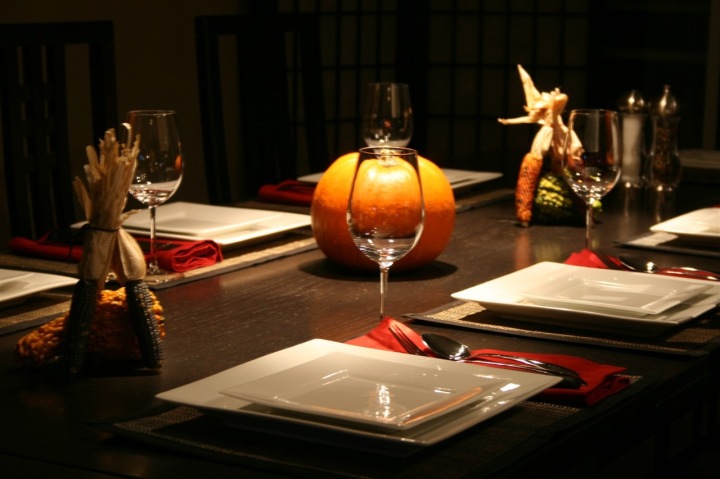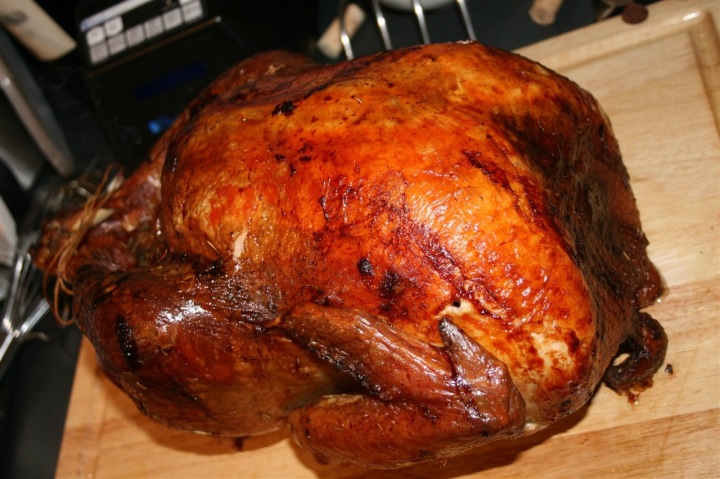 The turkey came out of the oven perfectly.  I was really happy since I'd never done a turkey before, or a Thanksgiving dinner.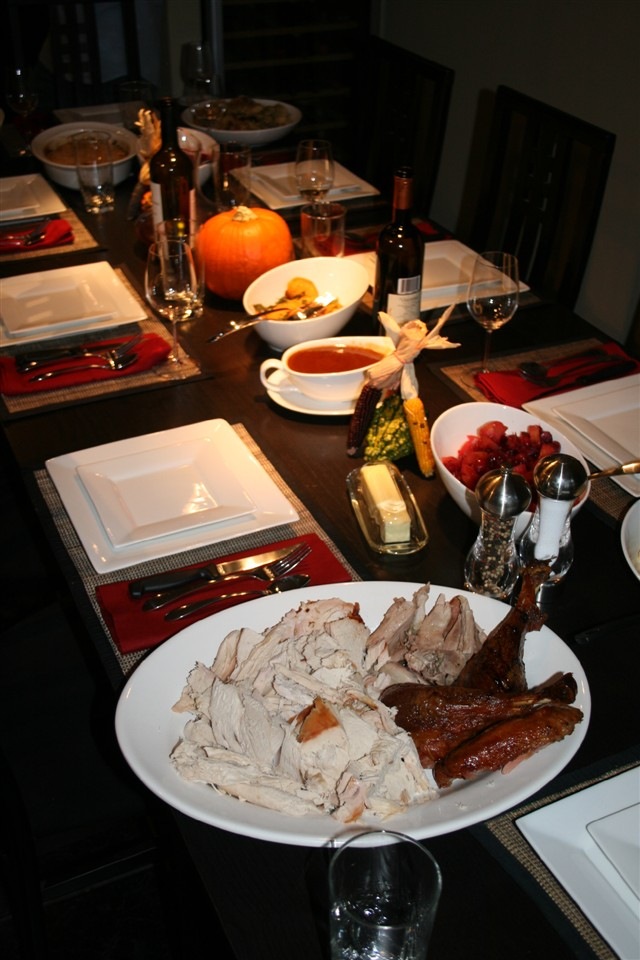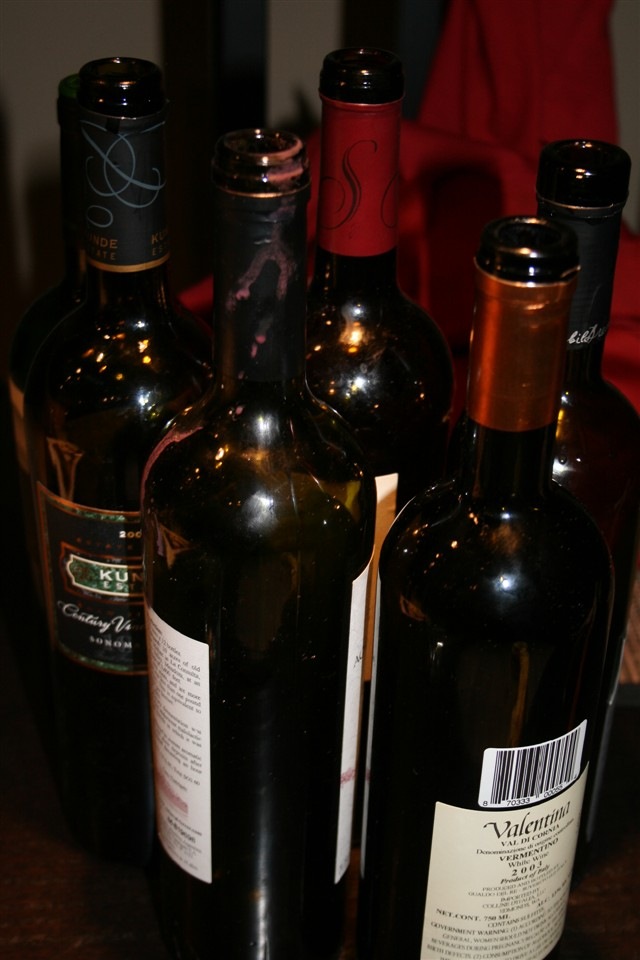 Here was the Thanksgiving Menu.  All in all I did about 20 hours worth of cooking.  But everything came out perfectly, so it made it worth it – plus it was a great time with friends.  I cooked everything myself except the Green Beans and Apple Pie (brought by friends).  The rolls came out awesome, as did the gratin.  I forgot to take photos as most of the food came out, so…you'll just have to use your imagination.
Thanksgiving Dinner

Appetizers:

Red Wine Infused Salami
Pinot Grigio Infused Salami
Adriatic Fig Spread
Cranberry and Hazelnut Crackers
French Baguette
Lightly Salted Pumpkin Seeds

Cheeses Selections:

Pont L'Eveque Marie Harel (France)
Wensleydale with Cranberries (US)
Patacabra Goat (Spain)
Mushroom Double Cream Champignon (Germany)

Main Course:

Herbed Roast Turkey
Creamy Mashed Potatoes
Roasted Butternut Squash Gratin
Cranberry Quince Compote
Roasted Sage Sweet Potatoes
Fresh Cranberry Sauce
Citrus Green Beans
Cornbread Stuffing
Freshly Baked Dinner Rolls
Homemade Turkey Gravy

Dessert:
Homemade Pumpkin Pie
Apple Pie
Pumpkin Macadamia Nut Biscotti
Hope everyone has a great remainder of the holiday weekend!