You may already know the resultant, but let's talk through how it all went down.
Pre-Race:
I was a bit concerned with logistics race morning as a TON of streets were closed and since our bikes were already checked in the day before, it meant we couldn't just ride to the start – we had to walk.  But a friend ended up dropping me off before going to find a parking spot near the White House.  He also took the vast majority of these awesome photos.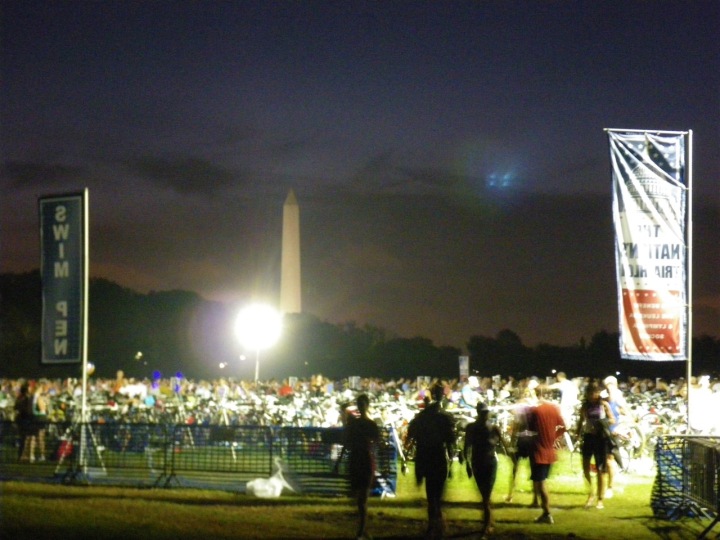 (Yup, that's the Washington Monument back there.  Cool huh?)
Once I arrived I picked up my chip from the chip-ladies.  You picked up your packet the day before in an excessively messy and long process elsewhere in downtown, and then picked up your chip the morning of.  After that I strolled into transition and took an fairly long time putting together my little pile of transition goodness…oh, and I visited my porta potty friend.  Lines were quick…woot!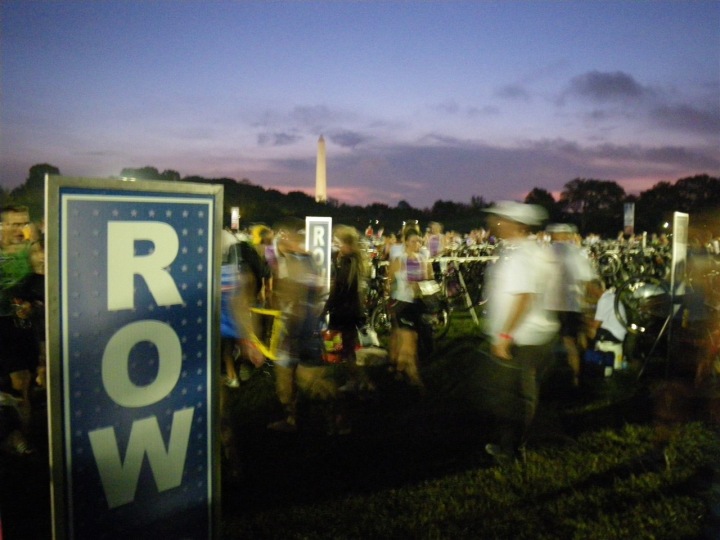 (Every single row in transition was labeled, I was row 11 – made it easy to find your bike among the gazillions of rows)
The Nation's Tri has grown quickly in only three years.  This year over 3,600 people were registered to race – all for an Olympic Distance race.  In addition, it's really grown up to be and have the feel of a world class event.  Without a doubt the signage and 'feel' of the event rivals an Ironman event (although without all the mini-events that surround it).  Although some of the logistics do need to be thought through a bit more.  But doing a tri in downtown DC past all the monuments is pretty cool.  Anyway…back to the race….
The Swim
Soon enough my wave was called at 7:20AM.  There were two waves of M25-29 – about 100 folks each, for a total of 215 guys in the M25-29 wave.  I plunked in the water and quickly spit into my goggles to prevent fogging.
And then I took a quick swim.  Strange – NOBODY else was taking advantage of the four minutes you had to warmup.  But…I know the tricks of the trade – warmup is critically important to getting in a good breathing pattern quickly – even in 77* water.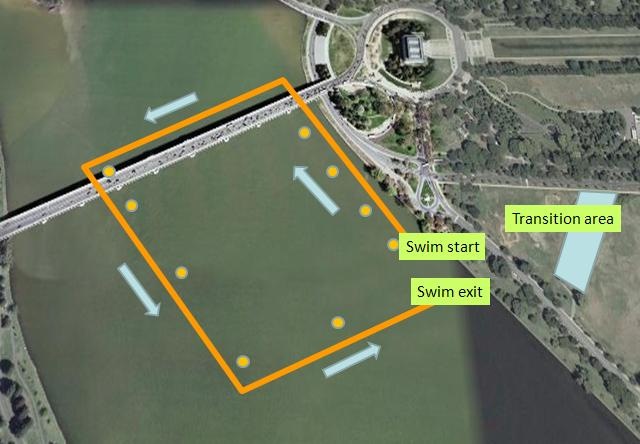 The horn sounded and we were off.  I had briefly watched a few waves go off and noticed they were all swimming through the second pillar of the bridge – so I just targeted that and went to town.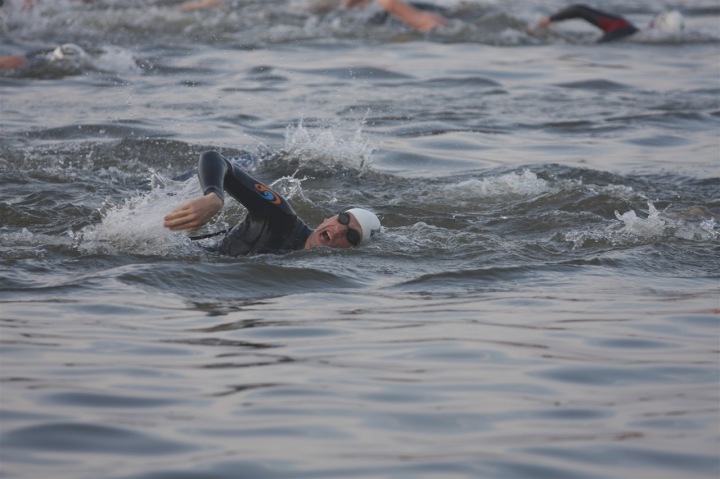 (Just moments after the swim start)
After a few minutes I looked around and noticed that there were virtually no white caps ahead of me.  There were two guys off to either side, and one guy trying to inseminate me occasionally while failing to draft off me.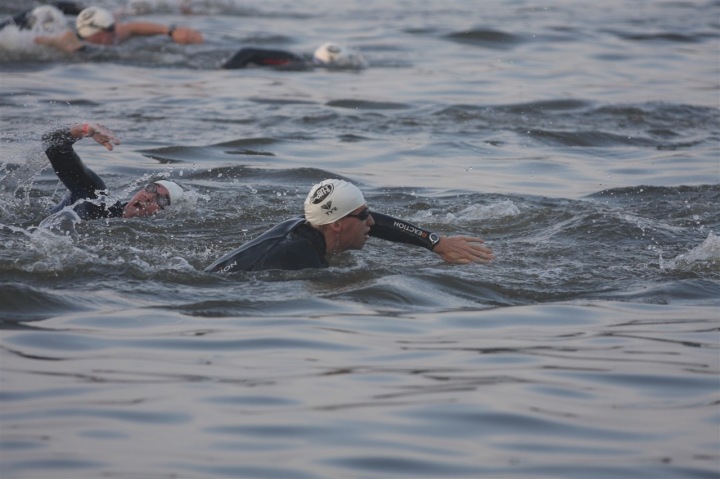 The looking around and finding no-one was the first huge 'holy crap this day is going to go well' moment of the day.  I'm not a particularly great swimmer, so anytime I find myself not near others – I assume it's because I've swam off course.  But this time it was because I was actually in a good rhythm.
The above photo is my favorite photo of the entire day.  How often do you ever get a sighting photo mid-stroke?  Seriously, it rocks.
Anyway, eventually I found the bridge and expected to turn left (because that's what the little map above says would happen).  But nope…we went straight for a while.  A long while actually.  And then turned back.  This is where myself and a few others (ones who swim WAY faster than me) think the course was actually long.
Why do I think it's long?  Because even though I came out of the water 4th within my wave (not my AG) – I still had a time of 27:18 !?!?!  Yeah, very very very off for me – like about 5 mins off.  Whacky.
Anyway, I was happy to be out of the water.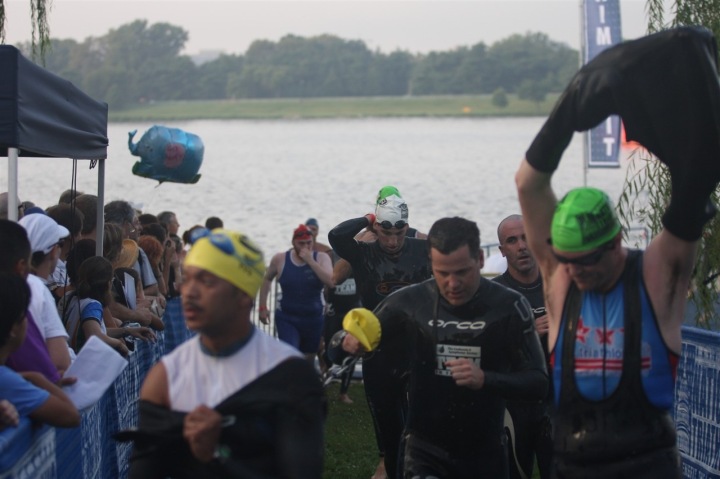 (Me in the white cap in the middle)
My T1 was a bit long.  I had serious problemos getting on my helmet for some reason.  It was like a repeat of last years Kona TV coverage when the leader couldn't get his helmet on.  Very frustrating.  That said, I made it out of transition in exactly 2:00.
The Bike
I was happy to be on the bike.  For no particular reason really.  I was even happier my flying mount with shoes on the bike worked again.  And the road was wide enough I was able to get them strapped in very quickly and get rockin'.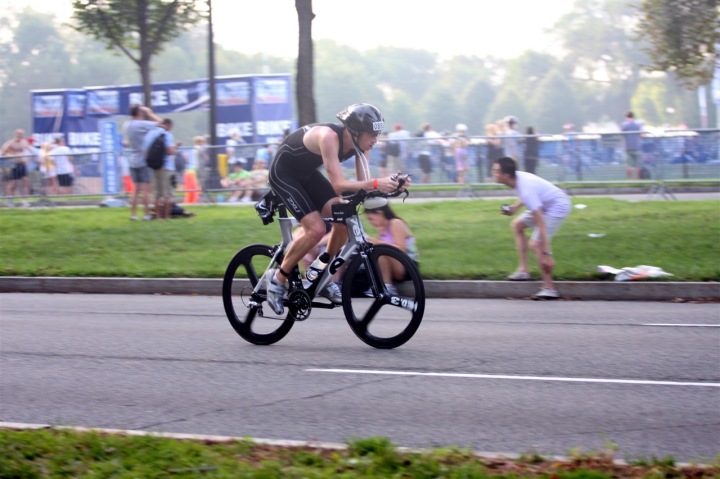 Just up the road a mile or so I saw my first 'known spectator and volunteer' – Sarah!  She shouted my name and I returned a very quick 'Thanks'.  I gave her another wave a few mins later while passing back the other direction.
I quickly got into a good solid pace and heart rate (low Z4) for the first 15 miles…thanks to my new evil toy – the Garmin Edge 705.  For the first time ever, and mostly for fun – I decided to download a workout plan to it.  This would 'beep' at me if I was out of zone.  Except… I didn't actually try this out before hand.  I just assumed it would work.  And I didn't know what the beep would sound like.

(The little evil device on my bike after the race in transition.  I've already written up a post for later this week on how you too can download workout plans to any Garmin device to create evil beeping.)
Well, about 1 minute into the bike I found out what it sounds like.  It sounds like a parakeet being strangled.  The most hideous, loud, screeching, jarring, ear piercing could you can imagine.  Holy crap – make.it.stop.now!  Except, the only way to make it stop was to keep my HR between 157 and 162.  What happens at 163 you ask?  It makes me cry.  Well, that and confuses the hell out of the people I'm passing.  They probably thought that was my audible version of 'On your left!'.
But…it kept me in zone.  And it really kept me cruising.  I never got passed and stayed passed once in the entire bike – by any person in any age group.  It was actually funny, I had one guy pass me – and then seconds later the parakeet sounded that I was slacking off and below zone.  Once I was back in zone, I screamed by and never saw him again.  No question though – without the Edge I would have fallen below or risen above zone more often.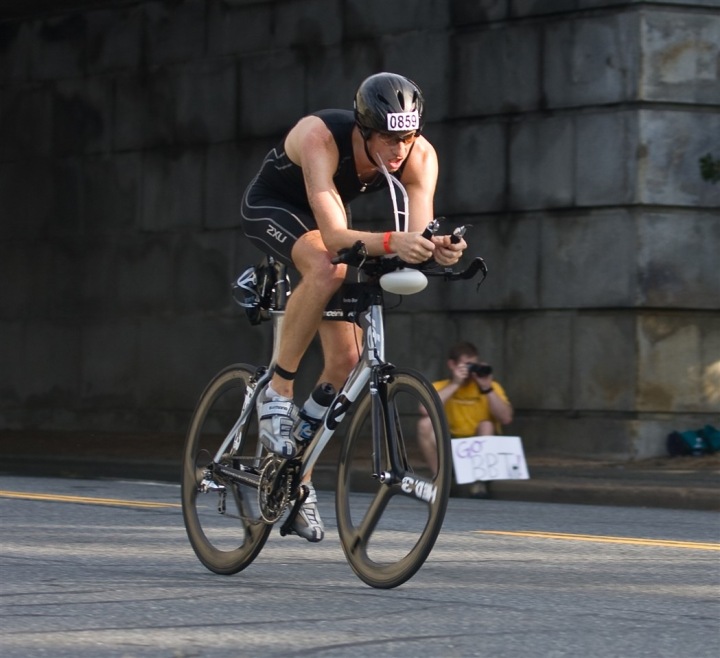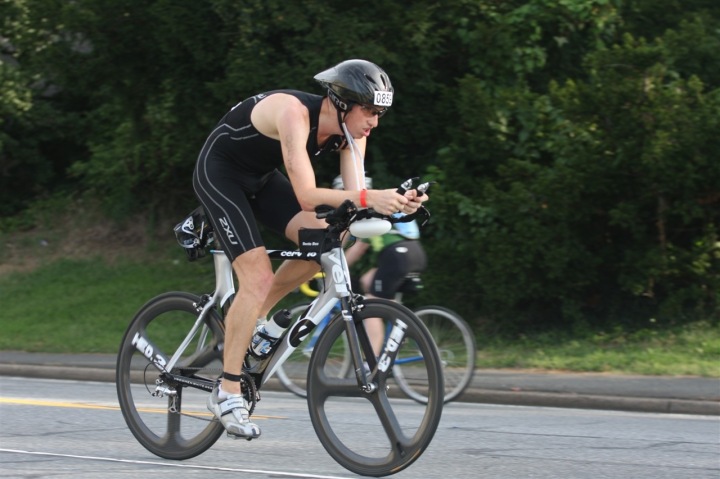 So what do you notice missing from the above photos?  No, not a 6-year old on the front of my bike being t-boned (reference to what happened at IMC2008).  But rather…my bike number.  Apparently the paper doesn't react well to humidity and started coming off.  Not really sure what to do with it, I tried to fix it enroute – but that almost put me into the side of a barrier.  So I just ripped it off and stuck it in my back pocket.  I didn't want to get a penalty for littering, especially since it kinda had my number on it.  In the below photo you can see it stuck in my back tri suit pocket.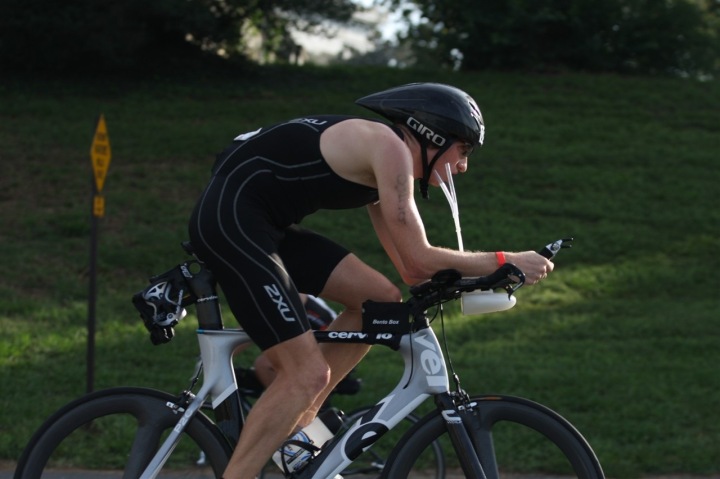 A short while later, I came back into transition.  I was quite happy with my bike time – although I still could have worked harder in the last 9 miles of the bike.  Mr. Parakeet kept reminding me of that as I was often below race plan zone (which had then shifted to upper Z4 – 163-169).
But I did finish up the bike in 1:03:43 – or 23.4MPH.  And unlike last year, this year the mileage on the GPS matched the advertised mileage on the course (last year was short a few miles).
And my T2 time was pretty solid at 1:11 – not too shabby.
The Run
Hmm…the run.  Yes – the run was painful.  I started off at about a 6:20 pace, but just couldn't hold it.  No particular reason really.  I thought there was water stops every mile, but it ended up being about every 1.5 miles.  Keeping cool was my primary priority (did I mention it was scheduled to be mid-90's out with high humidity?).

The one awesome part was at the mile 2-3 water stop at the Haines Point Turnaround, a volunteer there knew my name and since I was basically all in that aide station by myself I got tons of cheers.  So whoever you were – cool!  Unfortunately, I also got distracted giving myself a Dixie cup shower and forgot to grab water to drink.  Doh!
Shortly thereafter my heart rate monitor strap starting to annoy me quite a bit.  So I removed it and stuck it in my back pocket.  You can actually see it in the photo below all coiled up.  Felt much better after that.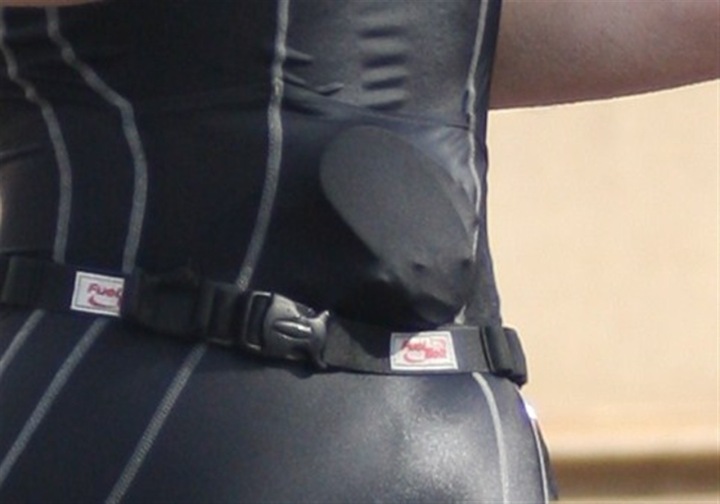 My pace continued to slow a bit until I got back near Jefferson Monument and the Treasury, where I was able to pick it back up some and maintain it.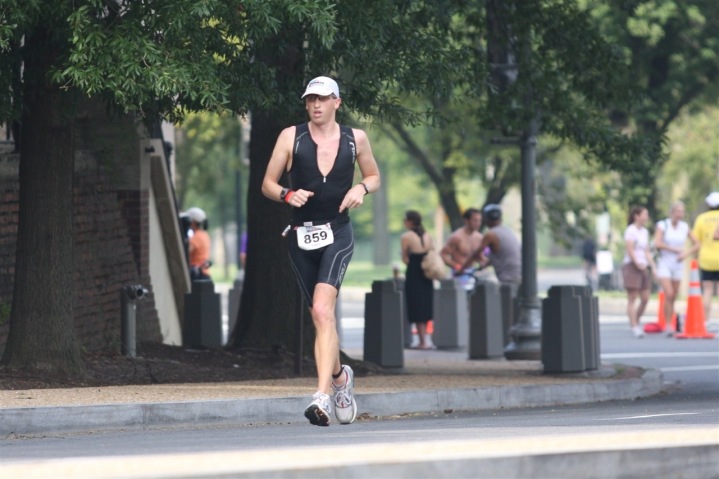 From there it was only about 1-2 miles to go, and all fairly flat.  So  I just held tight and tried to not slow much on pace.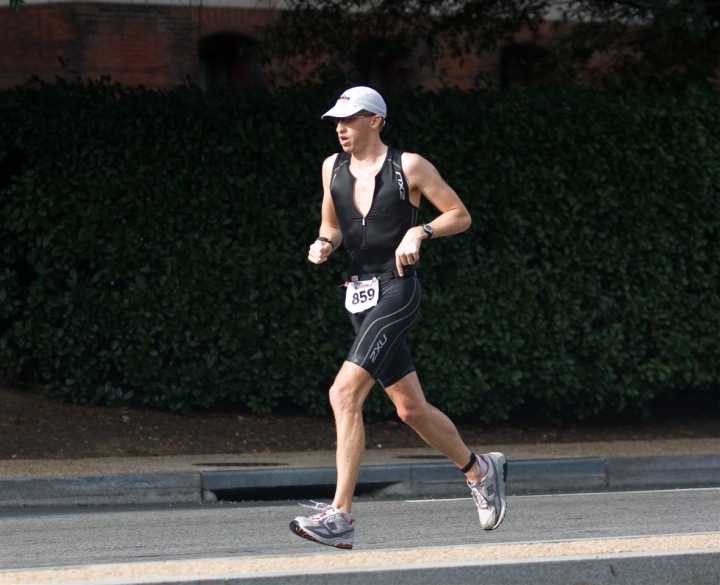 At this point I should probably also mention that only one person ever passed me on the run.  He was 42, and looking strong so I didn't dare try and hold onto him.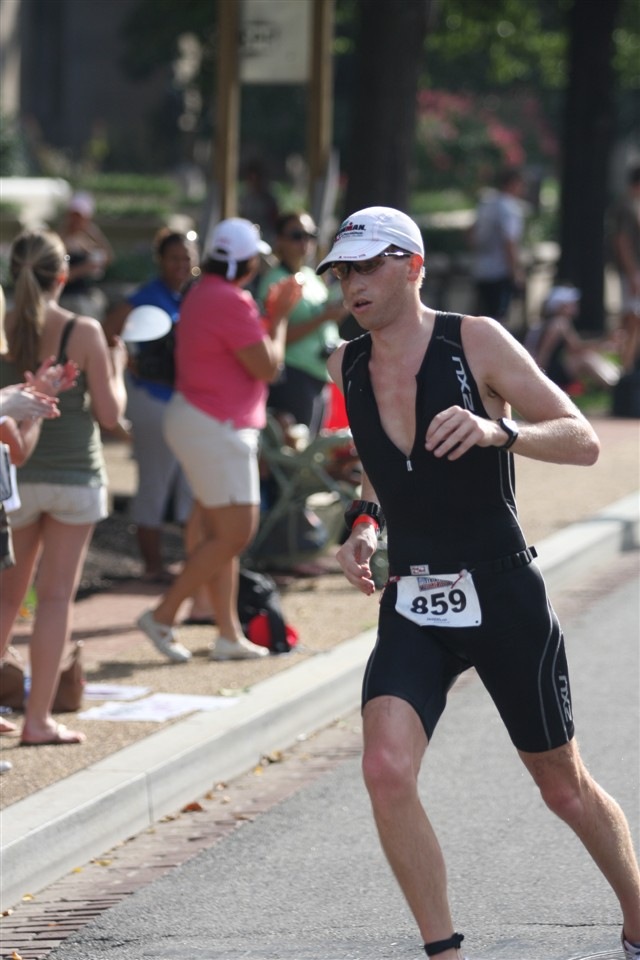 I finally got down near the Capitol and was able to really pickup the pace quite a bit.  Of course, I had lost some time in miles 3-4, so even the newly found sub-6 pace didn't help a ton.
But… I still had some gas left in the tank for a final finishing push.  Remember I said at the beginning that there were TWO waves of M25-29?  That meant I had to race against not just others out there, but also against the clock. 
So I saw an elite female racer ahead of me about a hundred yards and gave it a go.  I effectively doubled her pace.  So…ummm…I obliterated her.  Complete and total domination.  Sorry…my bad.  I gotta have fun for my last tri of the season, right?

(Unfortunately there isn't another frame in this sequence, but I basically doubled the distance back over again)
I finished up the 10K in 41:52 – not my best performance by any stretch.  However, it appears it was pretty rough for everyone, with the unusually hot day and high humidity taking it's toll.
My total time gallivanting around DC was 2:16:02…which brings me to the usual stats:
Swim: 27:18
T1: 2:00
Bike: 1:03:43 (23.4MPH)
T2: 1:11
Run: 41:52 (6:46/mile)
Total: 2:16:02
AG: 3/215
Overall: 30/~2,400ish finishers (said 3,600 registered, but morning of they said about 3,000 racers)
Of course, that little finishing kick above…that kicked up something else too.
Within seconds of the finish things weren't all right in tummy-land.  I could feel it coming quite quickly.  I got out of the finish chute in record transition time.  But couldn't quite make it fast enough out of the finish area.  Three solid cookie tossing's later (you can see some of the leftovers above), I had emptied everything out and was good to go.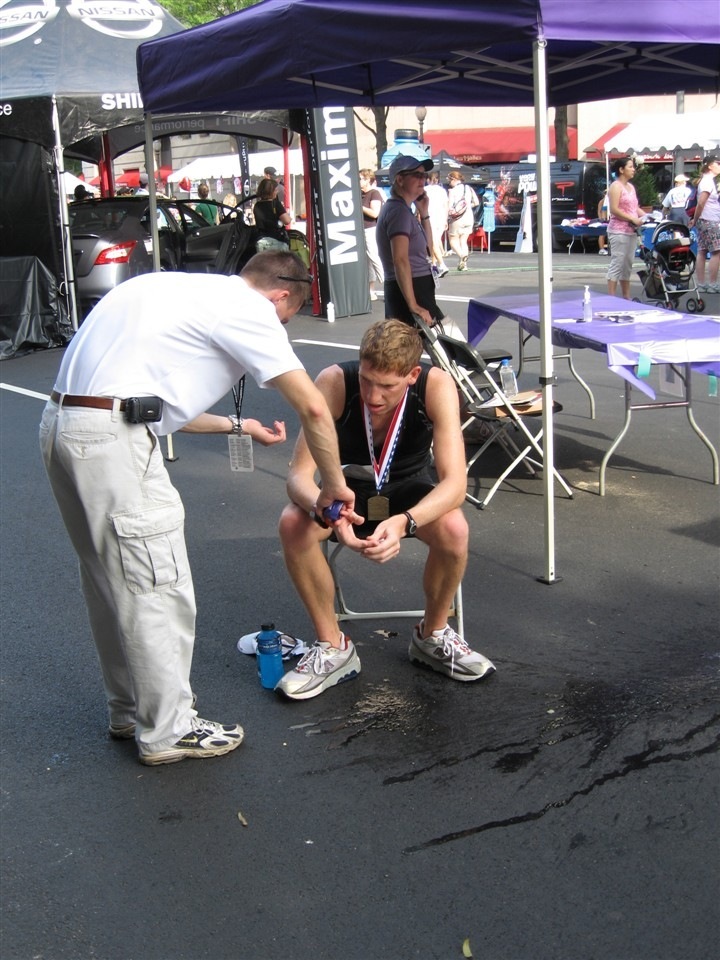 Except…the medical folks weren't so satisfied with my answer.  They took my pulse and asked me all sorts of questions, including "Was this your first triathlon?".  I really wanted to respond with "No…this is actually par for the course, I throw-up about 50% of the time, I was due this race for a cookie tossing session."
The Awards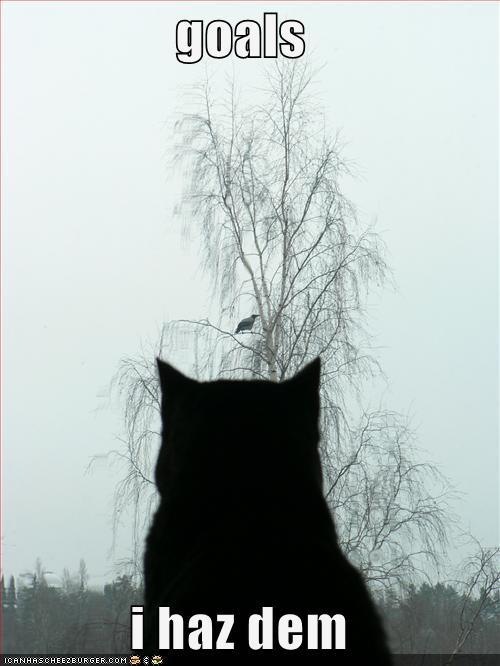 I didn't tell anyone directly – but I had my goals for this race.  I wanted to break Top 5 within my AG.  But as the race date grew near and I found out that the capacity had DOUBLED since last year – I was a little concerned given I had finished 7th last year in my AG.  Add to that I had just finished an Ironman race three weekends prior and really hadn't done any track workouts at all since late July.  Thus my running speed wasn't there yet.
So… when the first result sheet was posted, I was waiting for the other shoe to drop.  You know – the random lost chip person to show up and dethrown me from my 3rd place spot.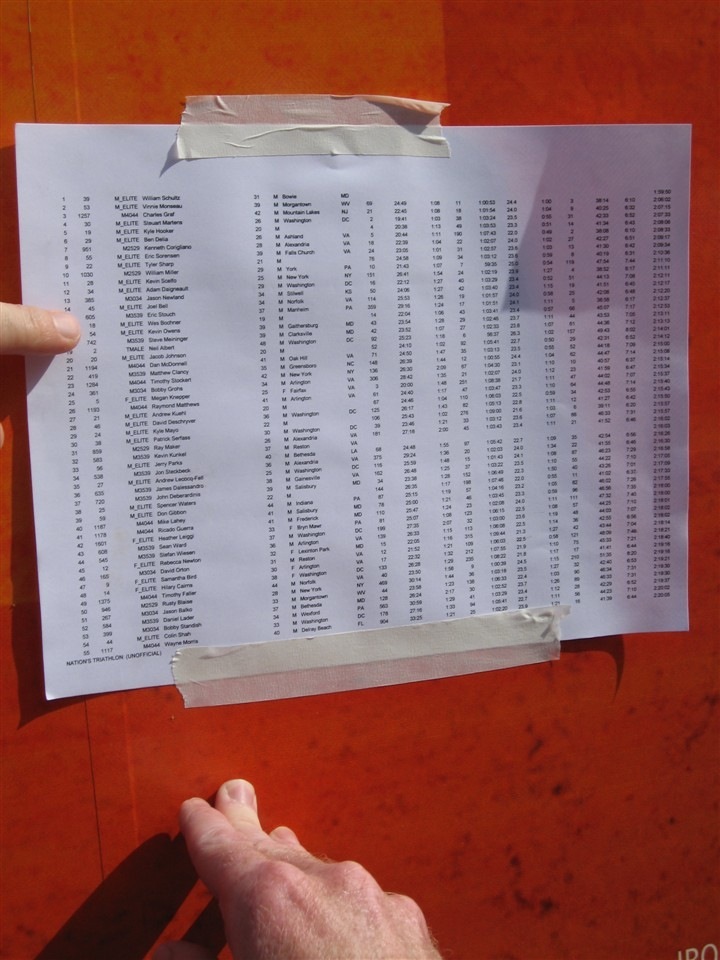 (Note, I'm about an inch below the finger)
But after a whole lot of waiting… they finally started the awards.  And it wasn't until they actually announced my name that I knew it was final.  Sweet!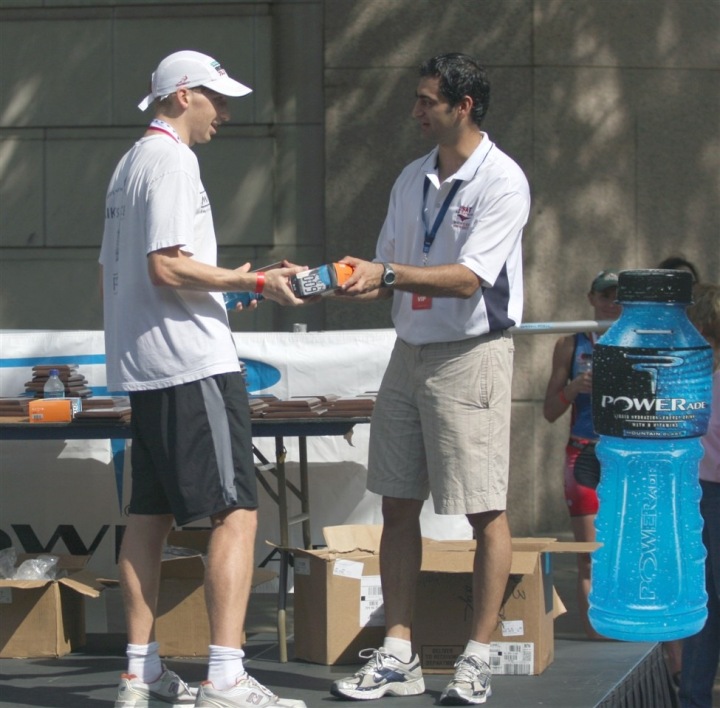 They first handed us a Powerade bottle as we approached the podium, and then gave us our plaque, and then finally gave us a new Timex Watch Ipod Control thing.  Sweet!  I wasn't expecting anything, so even the free Powerade was great, let alone a watch!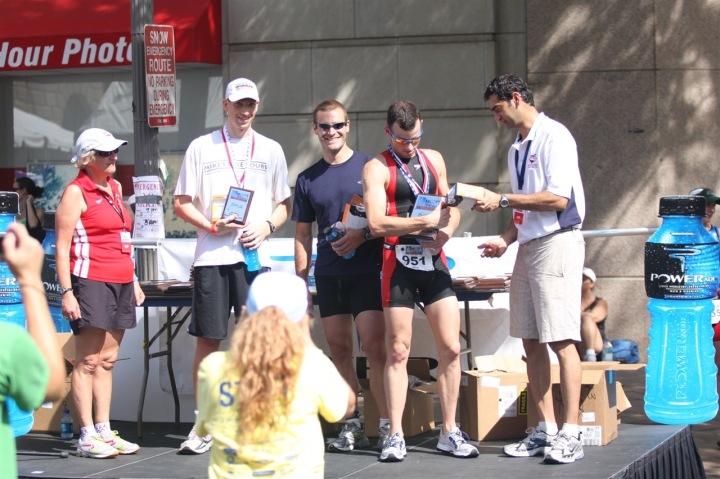 The first place guy is on the right, and he's a pretty cool guy that I've raced against before.  I'm of course on the left.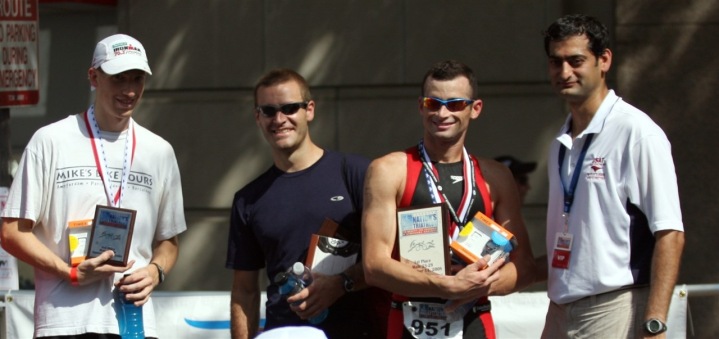 Here's the total collection and my first running/triathlon podium place/award.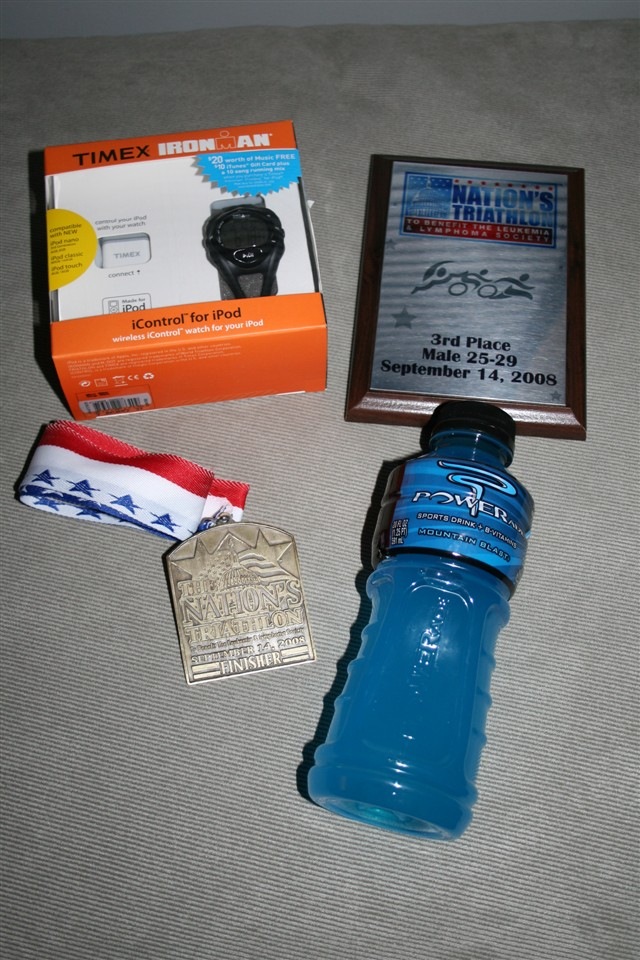 (Timex Watch, Plaque, Finishers Medal, Podium Powerade)
Oh, and I had to pickup my bike afterwards and ride a long ways away to the car.  My transition bag in the morning was already 'beyond normal operating conditions', and add to that misc finishers stuff and we had a serious issue.  But nothing a whole lot of jury-rigging couldn't fix.  Yes, those bags below the yellow bag…they are tied onto the yellow bag.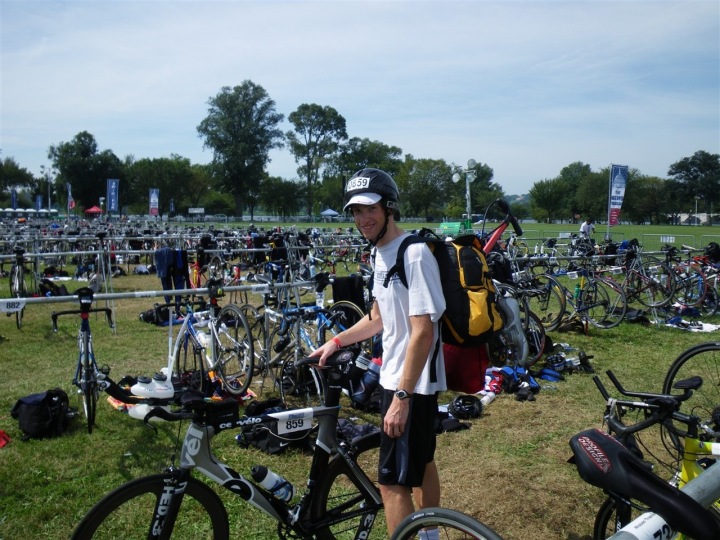 So with that…that's it!  Thanks to everyone who was out there and cheered me on, I know there was a ton of folks who yelled out my name – so if I didn't thank you then, then I'll thank you now.  Thanks!