Boo-yah, that's about all I have to say. Here's the short version: 7th in age group (out of 90), with PR's in every category known to mankind.
7 561 RAINMAKER 25 Alexandria VA 15 26:17 3:20 16 1:05:30 1:05 11 40:12 7 2:16:22
And here's the long version…
For those that don't know, The Nation's Tri is in its second year (well, first if you count that last year's event had the swim canceled). It's an Olympic distance event held exclusively within the DC proper, and this year there were about 1,000 athletes. It's actively supported by DC Mayor Fenty – a very active triathlete himself.
I started the day with a breakfast only consumed by true champions – a Rice Krispie treat, a bottle of Propel and half a bottle of Heed. A quick drive over the river and I found the best parking spot ever in DC. I think I'm just going to leave my car there permanently. That said, got my stuff all laid out in the transition area fairly quickly and headed over to the swim start. My wave (M25-29) didn't start until around 8:30AM, with the elites (including Mayor Fenty) starting at about 8AM. But it was good, I got to actually watch some swimmers, which usually I don't get to do.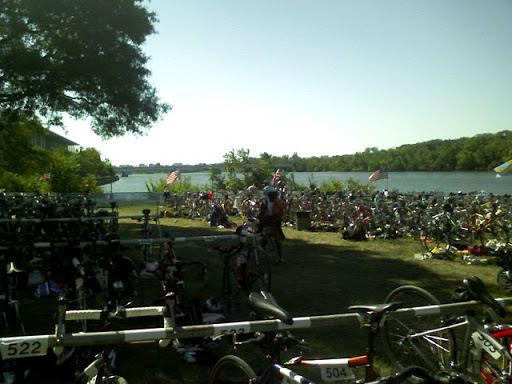 Oh…did I forgot to mention where we were swimming? Yeah…welcome to the Potomac. The "not actually safe enough to swim in" Potomac. They got a special permit from the National Park Service to allow the swim to occur (dependent on all sorts of weird rules and water quality tests). That little bit aside, I jumped on in and prepared for the start. I got up close on the outside front edge of the group for the upriver swim (it was an out and back starting at the bend in the river near Georgetown and heading up to the Key Bridge and then back downstream to roughly the same location).
I got off to a good start, staying about 15 yards off the main line, just out of the fray. I was pushing along fairly strong and feeling really good. Line and sighting were perfect. As I got within about 200 yards of the turnaround, I adjusted course to the buoy to close off the 15 or so yards that I was off center.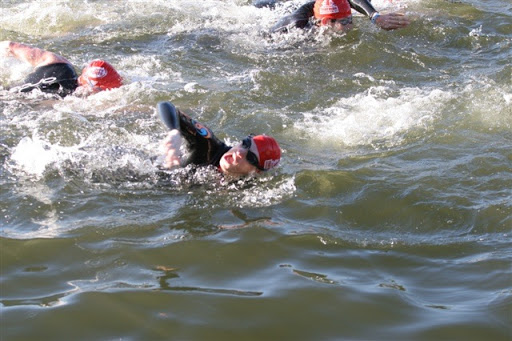 I hit the turnaround buoy and headed back downstream. And there I was blinded. No – I'm not talking casual sun in your eyes blindness, nor fogged goggles blindness, I'm talking fill up the goggles with white whipped cream blindness. We were dead into the sun. I couldn't see crap. I ended up sighting off the shore line to my left and working my way back – but it definitely slowed me down. As did the Kayak check I performed. Dead into the side of the kayaker. Nope, I wasn't off course, I was just perfectly on the buoy line of the out and back course. After laughing and getting around the kayaker, I blindly forged on – dead smack into a buoy. I'm talking plow straight into the side of the buoy type of hit. Direct hit! At least I'm still on course. As I continued on, I noticed the lack of swimmers between me and the shoreline I was sighting off of. And then I thought it was weird people were swimming the opposite direction in my lane all around me. Oh right…that's me apparently in their lane. Check. Move back 5 yards over onto my side of the course. I ran into one more buoy before I got out of the river. And…getting out of said river included climbing up a ladder. The picture below is me exiting the swim up the ladder. Total swim time: 26:17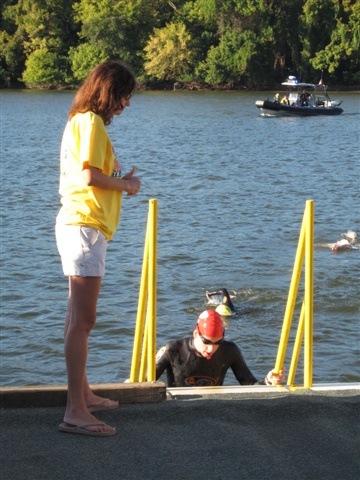 Off through the long transition I went. T1 was pretty much 'blah'. I had done a few differently things to save time this race, but overall I could gain a few more seconds by cleaning up some of my T1.
Onto the bike and I headed out past the Kennedy Center, Lincoln Monument and Roosevelt Memorials on my way towards Haynes Point. I started off a bit slow, just trying to get my bearings all set after the swim. As I got closer to the Haynes Point turnaround, I picked up speed – got it up to about 26-27MPH on the flats. Which was great…until I did the 180 to backtrack Haynes Point and my speed dropped to 17MPH in a brutal head wind. It was doing some serious gusting out there, but then all my experience on that strip of land has involved wind – so I guess I should have expected it. Cruised past Jefferson, the Washington Monument and then aimed for the Capitol. We stopped just short of it to dip under the Mall in a tunnel and then perform a turnaround. The tunnel was cool – with no wind I was cruising. Not too much of note on the way back to start the second lap.
As I came through the 2nd lap area near the start/transition area the crowds were really loud. Surprisingly loud actually. I of course paid them back by kicking it up to 31MPH down the straightaway, I was hauling. This gave me a ton of energy to push it out until the Haynes Point wind wall. I knew that I needed to take advantage of the tail wind as much as possible and screamed out to the turnaround. Once I hit the wind wall I just decided to push as hard as I could through the wind – it was the last tri of the season after all, wanted to leave it all out there. One guy was actively trying to draft off me. That sorta annoyed me, so dropped him like nobody's business. I flew through the rest of the second lap and ended in a time of 1:05 for the bike. The friend taking photos of me, managed to miss me all four times I passed him. So you all get a shot from behind instead.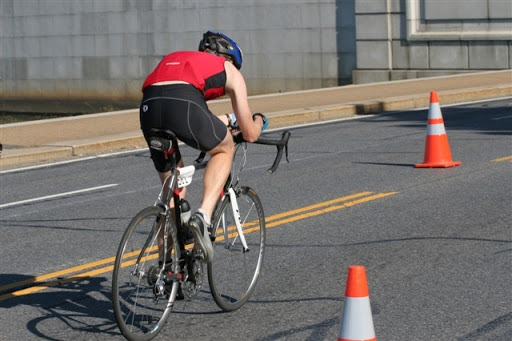 T2 was fairly blah as well, just simply got in and out in 65 seconds. One interesting note is about every other bike rack they had set up big country flags. All I had to do was find South Africa and I was set.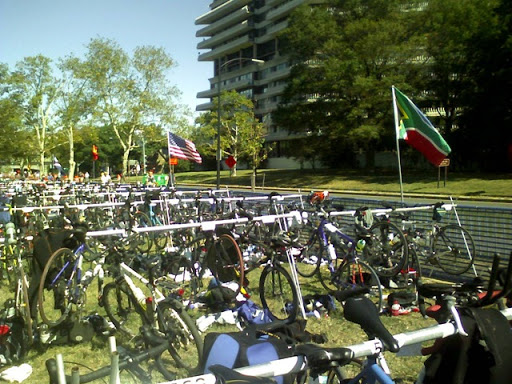 My goal for the run was anything below 7 minutes per mile. Within the first 100 yards I stuck on about a 6:30 pace, and just kept with it. The race was set up so that after a short out and back along an elevated roadway you pretty much made a beeline across town, where the finish was setup with the Capitol building/dome in the backdrop. I liked this type of running course – no out & back, no loop. Just haul butt to the other side of the city. I only got passed by two guys – both Navy, and both pushing sub-6 paces with ease. As I hit the final turnaround near the finish for the last few hundred yards I made it my goal to pick off 10 people before the finish. I stopped counting after 10. One interesting thing is I never once looked at mileage or time on my watch during the run. I glanced at pace to ensure I was tracking – but I had no idea how far I had gone or my elapsed time. The mileage markers were also missing on the course (which I'm actually glad for). Had I paid attention to my time, I might have tried to shave off the remaining 12 seconds on my 10K time of 40:12. Doh.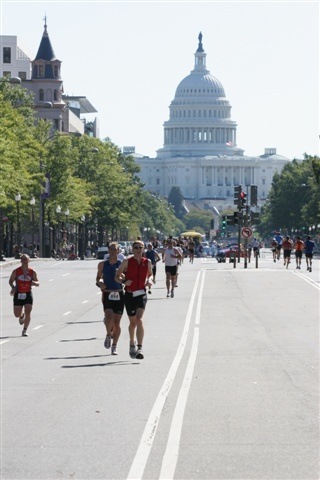 Swim: 26 Minutes
Bike: 1:05 (23MPH)
Run: 40:12 (6:29/mile)
Total time: 2:16:22
I'm pretty darn happy with that time (and place) – it's a savings of 22 minutes over my first Oly about 45 days ago. I'm finding it's more about figuring out what my limits are, so I can keep on pushing them. I think I'm still a bit too timid on the course. Now that I know I can knock out a 40 minute 10K (which I've never done in race or training), I think I could probably have shaved another 90-120 seconds off of that without too much more effort. I should have stepped it up more on the bike for the first 2-4 miles; I lost a few minutes there. But overall I can't ask for a better way to finish the tri season. I had a ton of energy after that the rest of the day. I went for a 4 mile run later on that afternoon, just for the heck of it.
Oh – I HIGHLY recommend this race to anyone, it's a ton of fun on a flat and fast course. The race crew did a great job and were very friendly. Definitely sign up when registration opens new year!
Btw – One interesting note was this video clip regarding the race, where the race director mentioned very actively working to get a full Ironman race brought to DC – which would be pretty cool.