I don't drink a lot, never really have – but I certainly enjoy an occasional beverage.  By 'not a lot', I would say I maybe had four drinks all summer long.  Yes…not a lot.
Last Friday night I went out and over the course of dinner and a short trip to a nearby bar I consumed two glasses of wine and a beer.  For me, that barely registered as a light buzz.  Especially given that dinner started at 8PM and I left the bar at midnight.  So three drinks in four hours.  Plus, over that same four hours I probably drank about two liters of water.  I was WAY up on the water.
I went home and continued drinking a lot of water, etc.. and thought nothing of it.  I got 8 hours of sleep in before waking up and feeling ready to go.  No ill affects, felt just fine and dandy.
Like my previous bricks earlier in the week, Saturday morning's brick was designed as a quick set on the bike followed by a short run.  I hopped on the trainer and began my warm up.
So what did the additional alcohol do to my bike workout?  Check it out:
The Bike
For comparison purposes, I took the same snippet out of both workouts.  This particular snippet was immediately after completing my 10 minute warm-up.  It's the first five minutes of high cadence drills.
The top graph is September 9th (last Tuesday evening).  You can't see a ton from the graph, but look at the white text box (click it to expand).  Here's the key items to keep in mind for that segment:
Sept 9 Avg Power: 234 watts
Sept 9 Avg Heart Rate: 146 bpm
For me, that's smack in the middle of my Z2 for the bike, and the wattage is so-so for that particular chunk at that cadence (Avg 112RPM).  I can sustain a higher wattage for longer at a more normal cadence, but that's beside the point.  In short – all is normal and well.
Now let's look at last Saturday morning after wine the night before.  You can immediately see I try to start off at the higher wattage (by applying load on my trainer), but simply can't sustain it within zone.  So I back off load – a lot.  Note the lines above are nice and smooth, yet below they are all over the place as I continue to try and course correct to stay in zone.

But I'm still above Z2 HR (My Z2 for the bike is 139-149).  In fact, my average HR over the course of five minutes still ends up being higher, while my wattage drops over 25 watts (over 10%!!!).
Sept 13 Avg Power: 209 watts
Sept 13 Avg Heart Rate: 150 bpm
So I've already lost 12% of my bike power and I still haven't even gotten my heart rate back into Z2, from Z3.
I was consistently 20-80 watts LOWER for the same or slightly elevated HR.  Now mind you, I felt just fine – I wasn't on my bike puking or anything.  It's just that if you look at my power output and my HR, they aren't even in the same ballpark – especially given the workout was half as long as the one either two or four days earlier.
Oh…but this fun isn't over yet.  We'll skip past the section where I normally push 340 watts for intervals and could only manage 260 watts within zone (and yet still mostly out of zone).  Instead we'll go to the run, where things really become obvious.
The Run
In order to compare 'like' segments, I've chosen two Z4A areas.  These are fairly quick paces, but I'm still 'showing restraint'. Z4A heart rate zone is 163 to 169.
While the two segments are different in length (Tues is 5 mins, and Saturday is 2 mins), that has no real bearing (actually, it even more so proves my point). Despite what the GPS says, this was a flat section.  Here's September 9th (last Tuesday):

So for this Z4A section the two key averages are:
Sept 9th Pace: 6:28/mile
Sept 9th HR Avg: 168 bpm (upper Z4A)
So all in all, not bad – about where I'd want to be for any given random night AFTER a 45 minute interval ride.
Now let's look at Saturday morning (post-wine), after only a 24 minute relatively easy ride.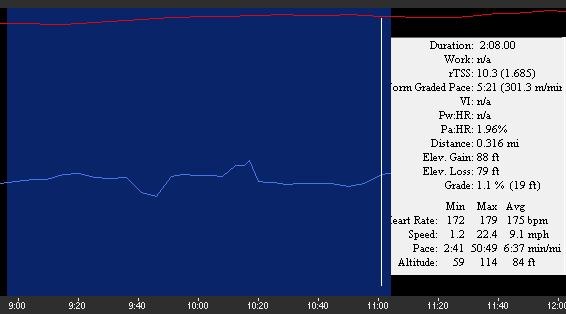 While I 'feel' fine, the technology tells another story.  My HR is now skyrocketing roughly out of control.  And this is only 2 minutes into this set.
Sept 13th Pace: 6:37/mile
Sept 13th HR Avg: 175 bpm (lower Z5A)
That's an enormousness jump from a heart rate perspective – two zones higher.  It normally takes me going sub-6 in order to break above 173ish.  Thus, on the run I've now lost 10 seconds a mile – but that's the least of my problems – my HR is now 7 bpm higher.  So I've not only lost speed, but I've also lost two HR zones.
The Summary
Finally, here's a little table showing the drops (or increases):

At first glance you may say "Oh, what's a 2% drop in race pace", but you've gotta  put in perspective that this is with a 4% INCREASE in HR…which is a lot.  Further, a 12% drop in wattage is a TON, especially considering I increased HR as well.
So what does this mean?  Well, at least for me that drinking just a little bit the night before has a fairly significant effect on my performance – in particular in cycling.  That's not to say that you would see the same effects – because everyone is different.  But interestingly enough – this is inline with what Elite Triathlete Chris Tremonte posted back a few months ago on the subject.
That all said… I did have the best race of the year the next day…sooo…who knows. 😉