Some ideas I manage to conjure up myself…but others are best borrowed.  I was at a friends house for a party a number of weeks ago and noticed that they had dedicated a full kitchen cabinet for water bottles.  It was quite logical when you considered it.  The bottles otherwise would stack up on the counter or just float around the house.
So I borrowed from their idea, refined it a bit – and then implemented it myself.  Behold – the water bottle cabinet: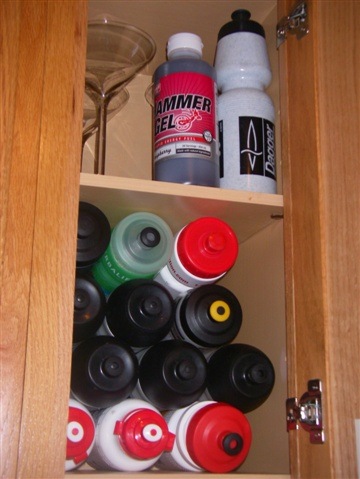 Now this is within my normal kitchen cabinets, it's just that I've cleared out the random dishes/glasses that were on this one shelf, and then stacked all the water bottles in it.  Most of the dishes that were occupying this space and voted off the island were used sparingly – such as creme brulee & soufflé ramekins and tea stuff.  As far as implementation of the bottles, the real key here is stacking them like wine bottles, otherwise it doesn't seem to work as well.  It also makes it easier to remove a specific bottle, compared to if they were vertical.
Now the system approach to utilization of said liquid container is also important.  Water bottles go into service directly from the cabinet via the sink (for filling with water or other liquid) to the transportation device (aka: bike, my hand for running, or gym bag for swim).  They are then consumed that day (or liquid tossed).
Once completed they go right into the sink and eventually the dishwasher.  No sitting around for days on the bike.  No sitting for weeks on the floor near the bike.  No lounging around in the gym or transition bag – just straight off the assembly line and into the cleaning station. This way I mentally know there are always 'fresh' water bottles since I can just look up in the cabinet and see the holy land for water bottles.   Whereas before I might 'save' a partially used water bottle for a day…or week or so…in hopes of finishing it off.  Of course, as we all know, that results in stinky bottles (which then require bleach).
And…if the whole system fails, I can just fall back to Hammer Gel Martinis, given the martini glasses are the shelf above.