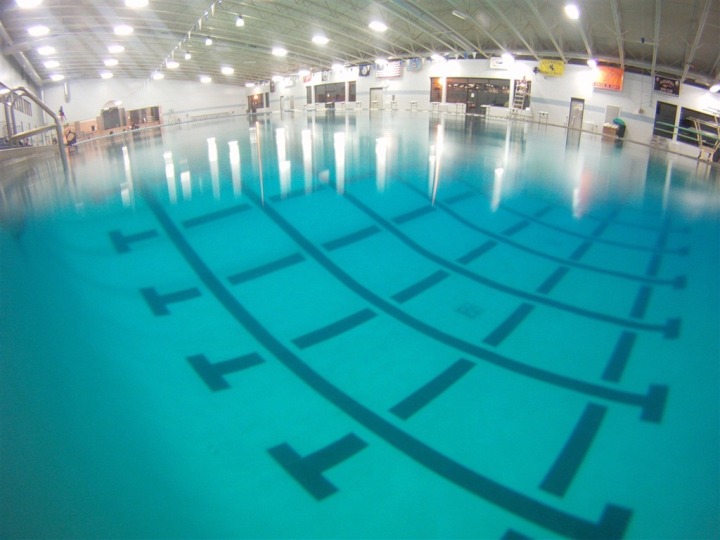 As part of my never ending quest to improve my swim from not-so-great to 'better', I've been recently playing around with the waterproof GoPro HD camera in the pool.  This allows me to record video of my swimming (as well as photos), that I can then review either poolside or later at home.  Additionally, I can then also take this video and send it to my coach for analysis. But, there's a couple tricks I've found along the way to getting a functional setup for pool video.  First up – is where to place the camera and how to place it.  Both are critical to ensuring that you ultimately end up with usable video at the end of the swim. Within the GoPro HD box is a flat piece of hard plastic that the camera case initially comes mounted on.  In normal day to day situations this piece isn't terribly useful – but in pool situations it's the next best thing to sliced bread. Here's the piece I'm talking about with the camera mounted on it (all this comes in the standard box):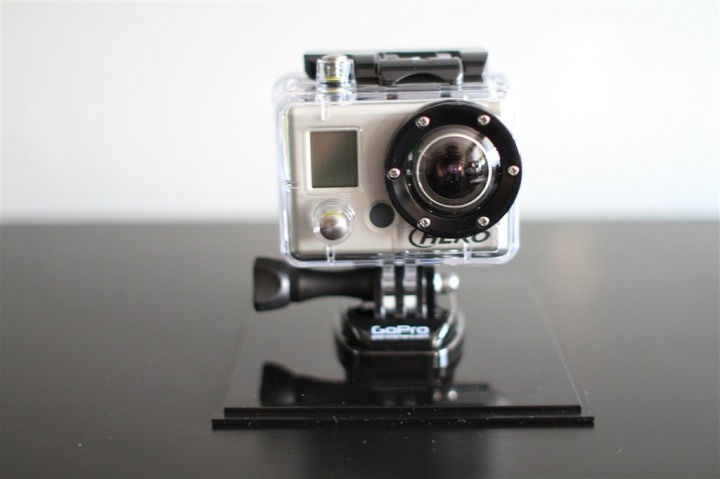 Now, this piece by itself isn't quite heavy enough to stay in an absolute position on the bottom of a pool.  So I added a small sandbag on top of it.  I have these from my diving BCD's, but really anything with a bit of weight will work just fine.  I'm fairly sure you could pickup simple clean weights at Target or Walmart for a couple bucks and it'll work the same way.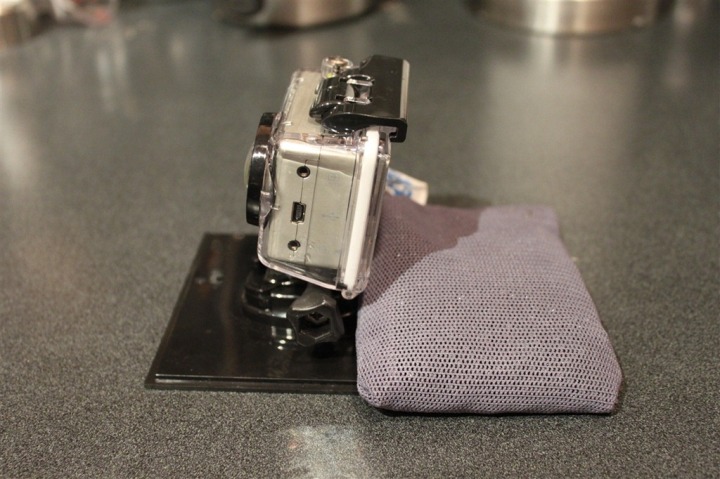 With those two together I'm able to get it to stay put on the bottom of the pool.  I prefer to place it about 10 feet away away from the wall, pointing down the lane at the other wall, the one furthest away.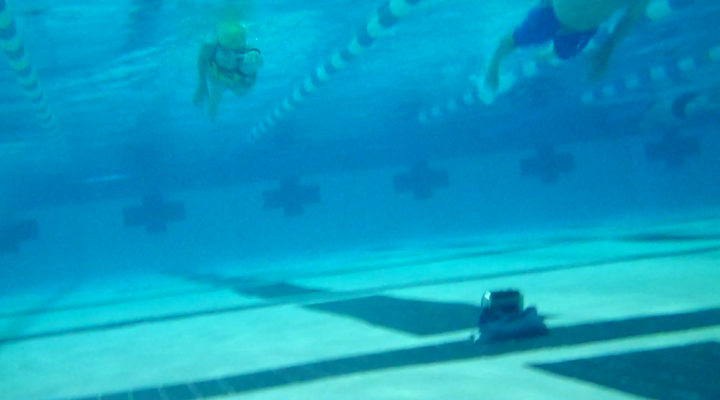 The reason I want it a bit away from the wall is I don't really care to capture any of the wall/flip action.  As a triathlete the wall isn't really the most critical area for me to work on.  If you were a competitive pool swimmer, then you'd probably want to do some different video angles with that in the frame.
Speaking of the frame, on Tuesday I finally got the new LCD Bacpak that I ordered a few weeks ago.  This is a small LCD screen that snaps on the back of the GoPro HD and allows you to actually see what's going on – as well as do quick review of videos.  The box itself for the LCD comes with abunch of snap-on waterproof doors to keep the whole system fully waterproofed.  While the button limitations of the GoPro design mean that you still won't be getting an interface as easy to navigate as your normal camera – it does fit the bill for quick checking of video position while poolside. Also, if you want to review the video after a set, you can easily do that now, versus before without the kit you'd have to wait until you got home.  In my opinion after using the LCD kit, it should really be standard issue on the GoPro unit – it's an entirely different device with it, and for the better.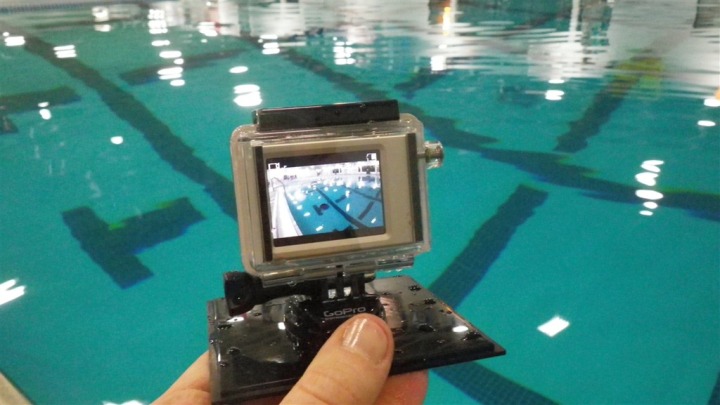 Additionally, the GoPro HD has a interval picture mode which is actually fairly useful if you don't want to deal with a huge video file.  Once you start in this mode it'll take a picture every second (you can customize the length though), which means that before you know it…you'll have a lot of pictures on your hands:

Finally, it's time to look at some of the video and pictures while I'm actually swimming.  I should point out that one thing I learned is that getting the focus right is a tricky ballgame.  I've found that I need to get it to pick a focal point above water and start recording, before going underwater – this seems to make the video a bit clearer.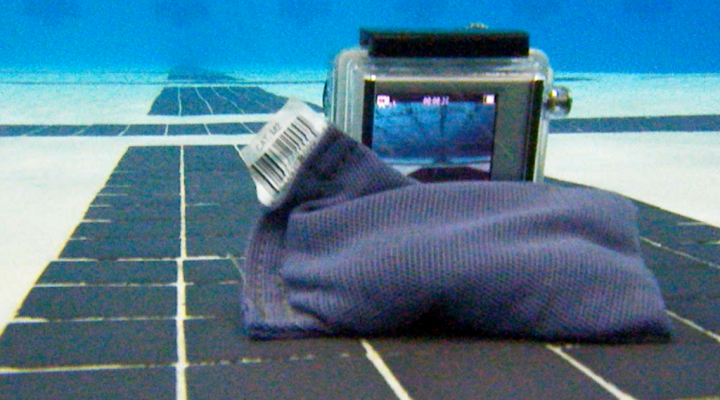 But I also am still not 100% satisfied in all circumstances with the underwater video crispness – I think I've got a bit more work to figure that piece out.  Above water it's great, but it just seems a bit soft underwater. And finally, as for other positions, you can always just place it right on the edge of the pool to watch stroke recovery: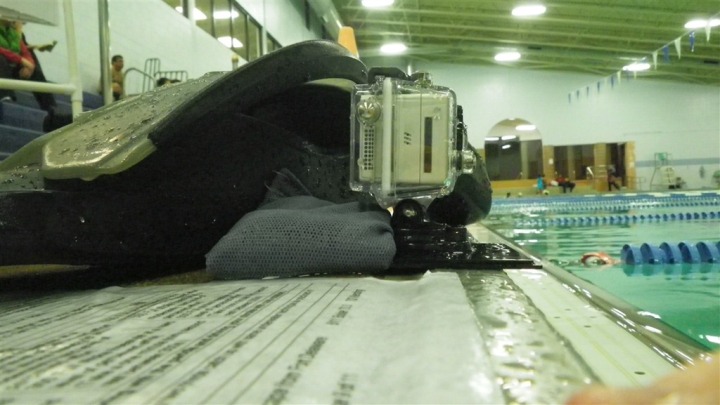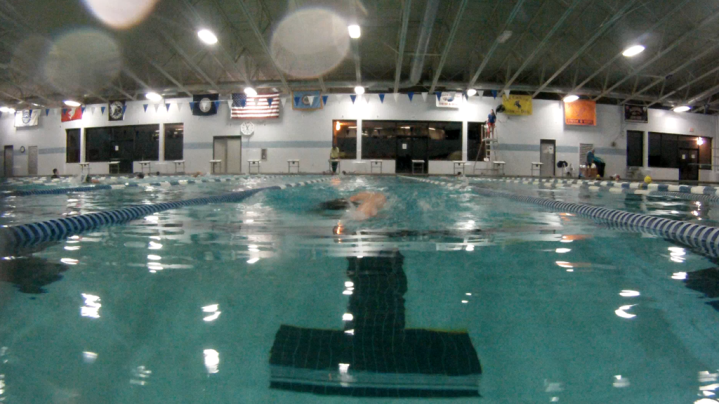 Of course, at the end of the day – you just want to see the video while underwater.  So here's a quick video of The Girl during a recent swim – primarily because her form looks much better than mine.  Like a lot better than mine.
A brief clip with the GoPro HD Hero while lap swimming One of the things I like about the this video setup compared to most sports technology is that this is really 'fire and forget'.  Meaning, from a training standpoint I drop it on the bottom of the pool at the start of my main sets, forget about it, and train as normal.  It simply records me without interfering with my workout or costing me time during it.  I don't have to futz with it or interact in any way.  Start…and stop.  After all, I want my time in the pool to be as quality focused as possible. As always, if you have any questions – feel free to post below, happy to answer them.
(P.S. – I haven't quite decided if I'm going to do a full 'Athletes In Depth Review of the Go-Pro HD', or just do small snippets like this.  There's already plenty of reviews out there for the Go-Pro HD in general, so I'm not sure I'd add much there.  But for endurance athletes the information is a bit slimmer.  Any comments either way is always appreciated.  Also should note that everything here was bought by myself through normal retail channels.)