When I did my first tri earlier this summer it was clear that I didn't do enough open water swimming beforehand. By enough I mean 'more than a few laps' between two docks. Actually to be fair to myself, I did get in two 2500 yard open water workouts in, but they were in fairly shallow water and only at about 400 yards a shot requiring a brief stop at each end (between two points, see below screenshot).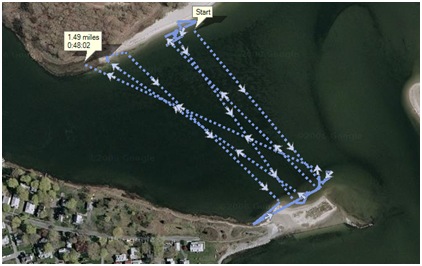 I immediately made it a goal to get in as many open water workouts as I could whenever I traveled away from DC to a place that had open water places to swim. I immediately saw a dramatic improvement in my open water swimming skills within about two workouts.
The only problem for me is that in DC I simply have no open water swimming. None. Zip. Zilch. Zero. The nearest 'available' lake is over an hour's drive south along I-95. Although I could actually consider going about 45 minutes away towards Annapolis and possibly get in some open water there near Sandy Point. But my policy on open water swimming is never do it alone unless I can stand up in the water at all times, and I have no friends that want to partake in such activities.  🙁
Anyone know of any open water places around DC they'd like to share (and share in swimming as a buddy)? I figure it will take a few months until the water gets too cold for even wetsuits. Anything above  low-50's and I'm game!