Tonight was a good night in training land.  I had decided last spring when I first got my road bike that I would just get 'decent' at handling a road bike before I put on aerobars.  I reasoned that if I tried to get used to riding a road bike at the same time as trying out aerobars, I'd likely face plant into the concrete or a car.  Both options being less than desirable.  So my plan was to wait until after my 'A' race in September (70.3) until I got them.
After doing some reading up on different bars it all seemed to come down to personal preference.  Given that I had no idea what I would prefer, I just went to the local Performance shop and picked up two different kinds and figured I'd return one of them.   The first pair that I'm trying is pictured below.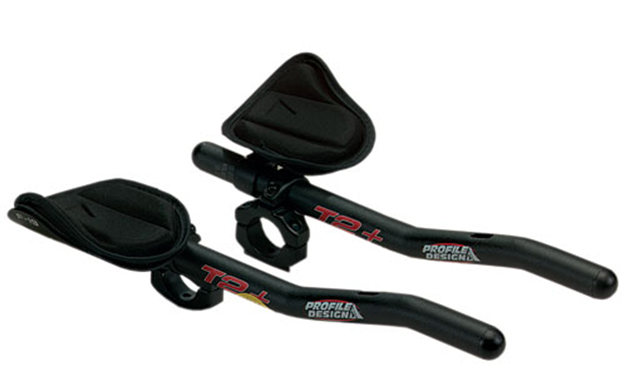 Last night I fit the first set to my bike.  The total install took about 15 minutes, 10 of which was moving other things that were in the way (light, reflector, GPS mount).  I then plopped on the trainer and rode with it a bit while adjusting it until it felt 'right'.  Of course, it's likely that I positioned them in the least efficient manner possible, but they generally are positioned in a manner consistent with what I saw everyone else doing (I adhere to the lemming theory that everyone else is probably right).
At any rate, I went out earlier this evening on a barely rolling, straight, low-traffic bike path and just rode for about an hour.  It was fun, something different.  They seemed good, but I'll have to compare them to the other set on Thursday to determine which ones I like more.  A couple of things I noticed:
My cadence was higher – I believe this is due to the fact that I have no shifters on these aerobars, I'm more likely to stay in a given gear, rather than reach down and shift.  Although towards the end of the ride I got much quicker/better at shifting without nearly crashing.

My speed was a touch higher, but since I had to wait at over 8 minutes worth of intersections, it was hard to tell.  I didn't get far enough out on the path to be able to go nonstop without random roads intersecting

It was more comfortable than being on the drops.  At least that's what my back said.

Your shadow looks way cooler on aerobars.  It was nearing sunset so it made a really cool shadow against the bushes as I would cruise by. 🙂
Ok, ride complete, I rushed (at about 78mph) back around the Beltway back towards Old Town/Home to catch the 7PM start time for a local running group.  I made it with about 20 seconds to spare.  Just to in time to be volunteered to lead a pace group.  It was also my first time with this group.  I had done a weekend 19 miler with them a few weeks back, but hadn't tried any of their Tuesday/Thursday runs.
The group was huge!  Like 25-30 people huge.  But it was pretty cool.  I was volunteered to run at or about a 7:30 pace.  But once we got out about 100 yards it was clear it was basically us (like 3 of us) and everyone else.  So we just ran…. and run we did.  Averaged 6:48/mi for 5.4 miles (a pre-defined course they have).  It was awesome, especially with the cooler weather!
The course went through some really nice streets/hills I never knew existed (despite living like two miles from them).  And the group of folks was pretty cool all around.  It really helps to have other folks out there when doing faster paced runs – it makes the time fly by.  Plus, we went sub-6 for the last mile 🙂
Looking forward to doing their Thursday run as well.  The Tues/Thurs 5-6 mile runs fit perfectly with my schedule, so it works really well.  All in all, a pretty good night.