If you've been around the triathlon block a few times, you probably already know that the official 'Ironman' name and race series is actually a trademarked asset of the World Triathlon Corporation (WTC).  As such, no other races may call themselves 'Ironman'.  For example, if a local race director in DC were to decide to put on a race with a 2.4 mile swim, a 112 mile bike ride and a 26.2 mile run, they couldn't call it 'Ironman Washington DC' – without it being run by/approved by WTC.  Instead, independent races tend to call themselves 'Iron-distance' races (or some variation thereof).  This same concept applies to the 70.3 series as well (Half-Iron).
So, when folks look to go for their first Ironman race, they have to decide whether or not to choose an official 'Ironman' race (commonly referred to as M-DOT, for the Ironman logo), or an independent race of the same distance.  There's often a pretty huge difference between the two, so you'll want to understand the options.
Based on my experience, here's what I've done between the two types:
– 3 Ironman 70.3 races (all M-Dot) – Rhode Island twice, California once
– 2 Half-Iron races (local variants) – Big Kahuna, Wildflower
– 3 Ironman races (all M-Dot) – Canada twice, Florida once
– 1 Iron-distance race (local variant) – Chesapeake Man
Now, the last one- the local Iron-distance race, I did the Aqua-Velo.  But, after I was done with that, I immediately continued on as a training brick and ran a fair distance on the run course – so I have a pretty good grasp of the race (all positive I might add…).
Back in the fall when I did that local Iron-distance race (as part of the aqua-velo), a few people asked me to compare and contrast between M-Dot and Non-Dot (local/independent).  I'm going to span both the 70.3 and 140.6 distances a bit back and forth – just to cover everything.
Pre-Race Activities:
This category depends highly on the race, but in general you're going to see more activities at an M-Dot Race than an independent race.  Virtually all races tend to offer some form of expo, and in general – these expo's suck (M-Dot races and No-Dot races alike).  Sorry, they just do – Marathon Expo's are where it's at for the good stuff…
Most races offer some form of pre-race dinner banquet.  An M-Dot banquet is a pretty big affair with realistically 3,000-5,000 people (athletes + family), whereas a independent banquet can and usually is a big smaller and less extravagant.  The M-Dot banquet is pretty special the first time you've experienced it (they are basically the same year after year).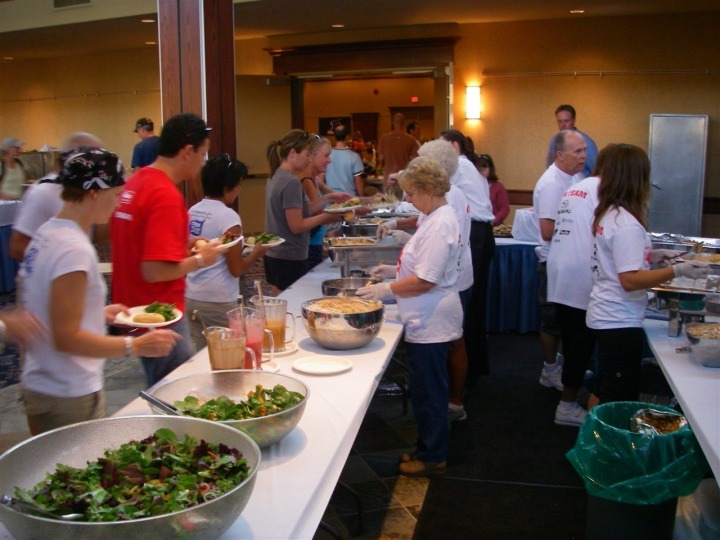 (Ironman Canada Dinner Banquet)
The ancillary differentiators tend to be things like Underwear Runs, fun 1-5K races, and kids races.  While virtually all M-Dot 140.6 races have these, the 70.3 races usually to have a slimmed down version.  But, independent races have similar events.  For example – the Wildflower Triathlon series has a TON of things that are sprinkled throughout the weekend, and also takes the cake on the communal spirit (with thousands of people camping out in the woods).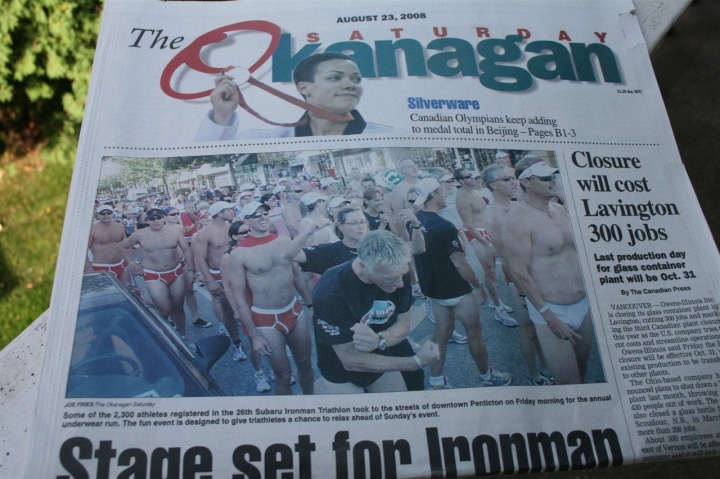 In general though, the lead-up to an M-Dot race is going to be bigger than that of a smaller race – mostly just due to pure numbers.  In the case of Wildflower, the simple quantity of people helps to drive more ancillary pre-race events, whereas in the case of the Chesapeake Man (local 140.6), the smaller number of competitors and more local racers make it less desirable to try and stage big pre-race events.
The Swim:
Ok – let's get this out of the way up front.  There.is.simply.no.comparison…period.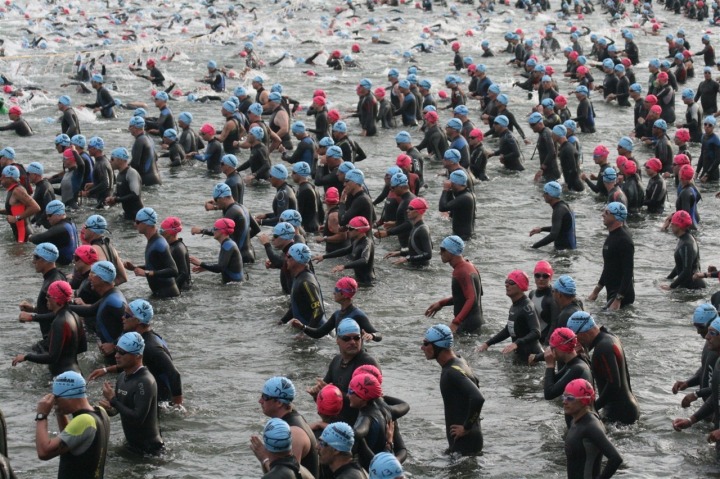 (Start of Ironman Canada 2008, photo taken by my brother)
With that tidbit mentioned – let me explain why.  There's just no way to compare 2,500 folks all going out trampling each other, to a smaller field.  Again, it's purely a numbers game.  In the independent 140.6 race I did, we all started at once – so not terribly different than an M-Dot race (just smaller).  When it comes to half-iron's, virtually all of them use wave starts – including the M-Dot races.  Which means that it doesn't really matter too much.
Depending on the race you'll either have wetsuit strippers or have to self-strip.  All M-Dot 140.6's have wetsuit strippers (people who assist you in instantly taking off your wetsuit), whereas it tends to be a mixed bag at the M-Dot 70.3's (and Non-Dot).  At the Non-Dot 140.6 I did, folks were there to help you remove your wetsuit if you wanted the assistance.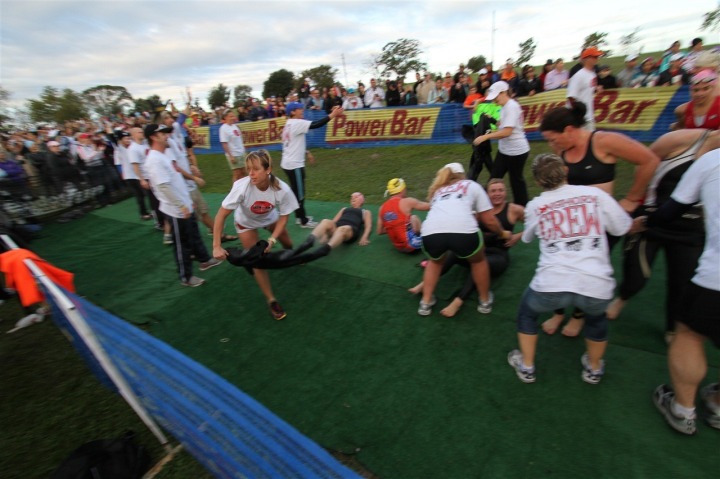 (Wetsuit Strippers at the Longhorn 70.3 in October 2009, from my spectator report)
From a kayak/jetski on-water support standpoint I find almost all races I've done have equal amounts of folks out there.  So that's a wash (no pun intended).
From a fan perspective, it's highly dependent on the course.  For example. Ironman Arizona is in a canal allowing folks to literally walk along and watch you swim, but most races tend to be triangles out in the lake/ocean.  Some races do multiple-loops, and some a single loop.  That tends to be driven mostly by logistics of the body of water.
The Bike:
Once you onto the bike, it's where you start to notice the biggest differences – primarily from a fan-base perspective.  Again, it's simply a discussion of numbers with respect to athletes and more importantly – the friends and families supporting their athletes.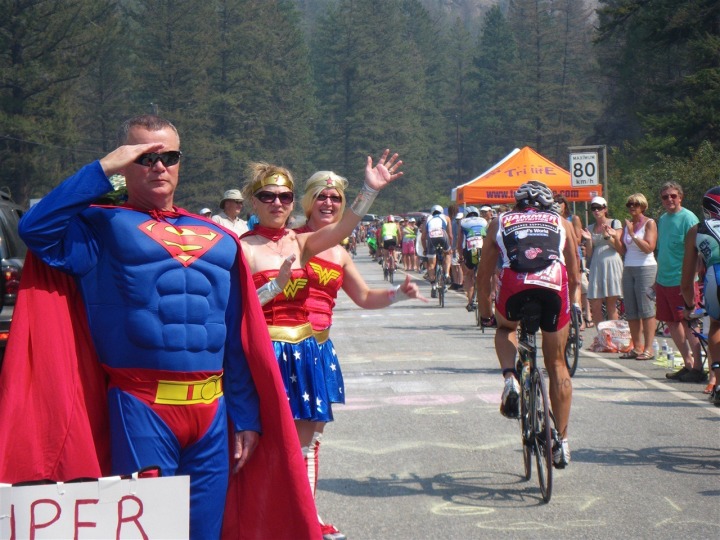 (The final push at Yellow Lake at Ironman Canada 2009, taken by The Girl)
The biggest difference you'll notice is the sheer quantity of spectators on an M-Dot course.  This tends to be because the route is engrained in the local's traditions of seeing racers come by – in some cases for decades.  The branding/marketing associated with an "Ironman" event further assists in driving home that mantra.  In my experience on both 70.3 and 140.6 courses which are Non-Dot, the number of fans out on the bike course tends to be pretty light (though that differs on the run…we'll get to that in a minute).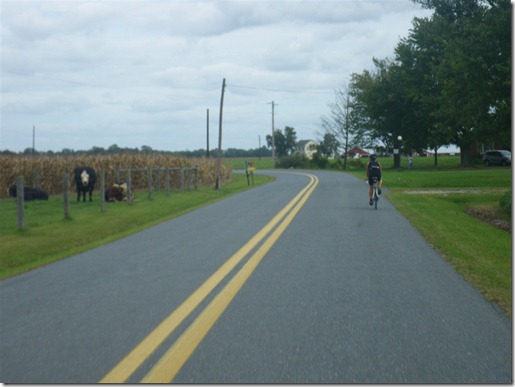 (The bike spectators at Chesapeake Man 2009…cows)
When it comes to on-bike support the key item you'll be looking at will be how often water/aide stops are provided.  In almost all cases, this is every 10 miles.  And in all cases, all events have water, plus usually one sports drink.  The exact drink/flavor varies by event (even within M-Dot races), so I don't depend on it.  It's there if all else fails – but for me I'm taking own nutrition with me on the bike.   The one exception being those items that I can pick-up at a mid-way point (common for all iron-distance events).   I usually stash some extras in there, but don't always use them.
The Run:
The run is where you start to differentiate the races – probably because it may be where you spend the majority of your more painful moments.  Little details tend to matter here.
From an M-Dot standpoint, things are pretty standardized – and pretty deep.  On the liquids side you typically have Water, Coke (flat) and Gatorade (and then repeated again).  On the solids side, it varies a fair bit, but I've seen gels, pretzels, cookies, bananas, oranges, chips, and chicken broth.  (I'll be honest, at this stage in the day, details get a bit fuzzy, so I'm sure there are more things out there that I haven't seen).
On the independent side you generally tend to have many of the same core items (water/Coke/Gatorade), but you generally have a slightly lighter variation on the solid food side (outside of the core items like gel, oranges, pretzels).  But I've found in the Non-Dot races you sometimes get some foods that come completely out of left field – but hit the spot perfectly .  So, in many ways, this can be advantageous.
Let's talk about the volunteers – in both cases, they ROCK!  At deeply established events like Ironman Canada you tend to have the same groups assisting year after year after year.  But, I also found the independent events can be just as much (if not more) fun.  You can't beat the topless girls at Wildflower (sorry, just can't), nor can you beat the enthusiasm of the folks out on the Chesapeake Man course.  These guys were offering me anything they could from their RV's.  To them, it was one big tailgating party, and we were the guests of honor.  If I had wanted one of their hot-dogs or a beer – it was mine without hesitation.
The one difference I will note is the 70.3 races with respect to spacing of aid stations.  In the case of an Ironman and M-Dot races, the aid stations are virtually always every 1.0 miles (+/- maybe a tenth of a mile).  However, in some of the Non-Dot half-iron races, I've seen that vary a bit with respect to aid stations.  Not usually a huge deal – just something to plan for.
The Finish Line:
At the end of the day, what matters to most folks is finally crossing that finish line.  And in that category, it's hard to top the classic M-Dot "You are an Ironman".  You won't hear that anywhere else other than an M-Dot race.  You also aren't likely to see the massive crowds like you would at the end of an Ironman Race.  Remember this video I shot at the end of Ironman Florida last year?
(Ironman Florida 2009 at Midnight from Ray Maker on Vimeo.)
Well, I haven't see anything like that at an independent race (70.3 or otherwise).  But, what you will see is a more down-low reasonable finish area with your friends and family easily accessible.  And, in the case of most independent races – you can even still bring those family and friends (like your kids) across the finish line.  Due to athlete abuse, M-Dot races now ban this practice (and will DQ you). 🙁
From a post-race standpoint you'll generally find the same stuff across M-Dot and Non-Dot races.  Its just that in M-Dot races it tends to be more spread out to simply accommodate the large number of finishers, but generally speaking – it's all still there in both race types.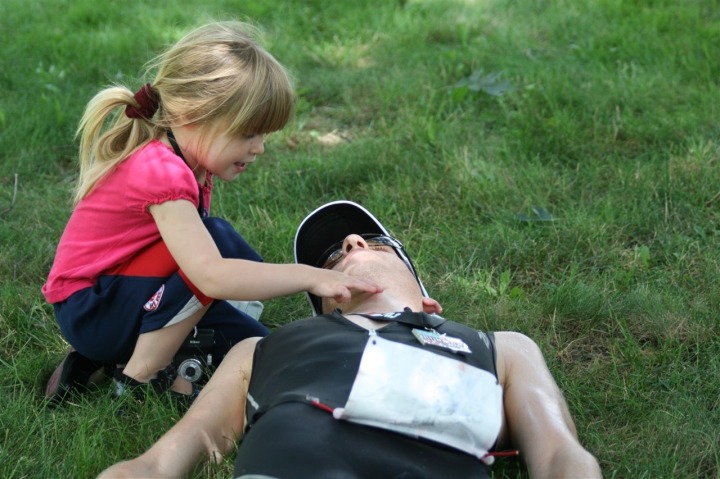 (At Ironman Rhode Island 70.3, with my little cousin Julia checking to see if I'm still alive)
Remember, once you cross the finish line – no matter which race type you've done – you're going to look like the above. 🙂
Summary:
So, you may be asking – which race should I do?
Well…it depends.  (See…that consultant in me coming through…)
If a close friend came up to me and asked the question – and they had never completed the iron-distance before, I'd simply recommend an M-Dot race.  After all, it's the experience that 99% of people aim to have – they want someone at the finish line to announce "Rainmaker, YOU are an IRONMAN".  That's part of what keeps them training through long rides and runs.  Yes there are incredible independent races out there (and much cheaper than an M-Dot race), but in my opinion (and I know people believe the opposite), the experience of the M-Dot race is what you pay for.  You pay for 4-5 days of an experience you'll remember for a lifetime.  Think of it like going to Disneyland for triathletes.
Now…
If you have raced an M-Dot Iron-distance race once, then I think some of the independent options are awesome.  For example, I would LOVE to go race the Silverman course at some point in the future.  I've trained on it, I've heard great things about it, and I think it would really suit my cycling and running strengths.
On the half-iron side, I think it matters a bit less.  My first half-iron was the Big Kahuna Half-Iron in California, an independent race.  It was very well put on, and I'd absolutely go race it again.   I also would LOVE to go back and race Wildflower again (half-iron or even Oly) – in my opinion it's an event that at some point everyone should do – the Woodstock of Triathlon.  By the same token, I've also had great experiences with M-Dot races, like the California 70.3.
So when choosing a race, ask yourself what you want out of it.  Do you want a (typically) smaller local event with a dedicated race team, or do you want the experience that comes a larger M-Dot race?
For me, the answer is…it depends.
But, I'd love to hear from others – what are some of your favorite M-Dot or Non-Dot races?