I've decided that I think the best way to do a 70.3 race is not to race it…but rather to cheer it.  Much more relaxing.  Yet, still a heck of a lot of walking.  Lots and lots of walking to be exact.  I suppose one could take a more 'stationary' approach, but that seemed to defeat the purpose of extensive cheering.
So…race morning Lindsey and I teamed up to have offer complete cheering coverage of certain key athletes (read: The Girl for me, and Pro friend Lauren Harrison for her – plus we both shared duties for any DC tri person, and just about everyone else we could cheer at).
But…first…back to the beginning.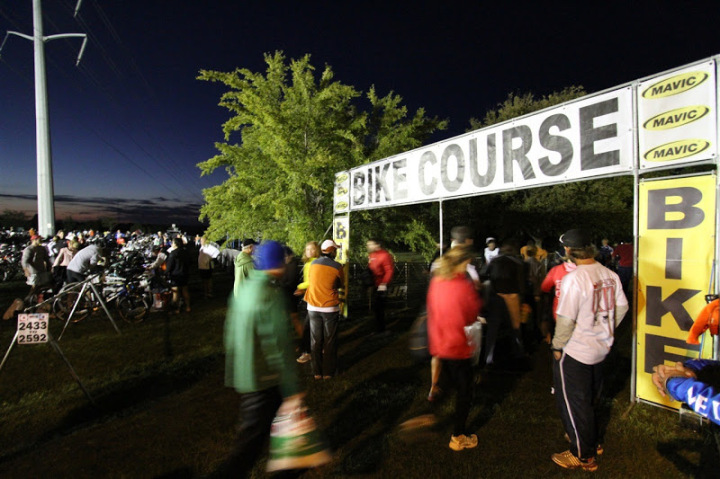 We got there ass-crack early.  It was kinda cool, they had busses shuttle us across from one area of the course to the swim area, which was pretty nice.  It plopped us right near transition – which was Texas-style in size…massive.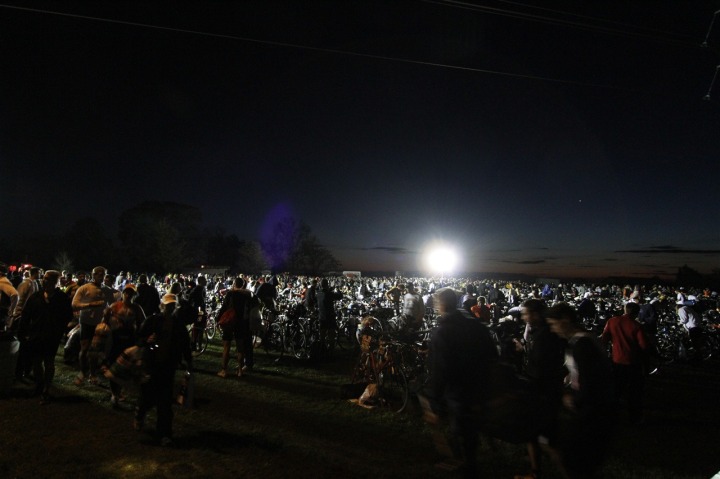 While the Girl was getting ready deep in transition land, I snapped a few pictures of Lindsey getting Lauren all ready as well.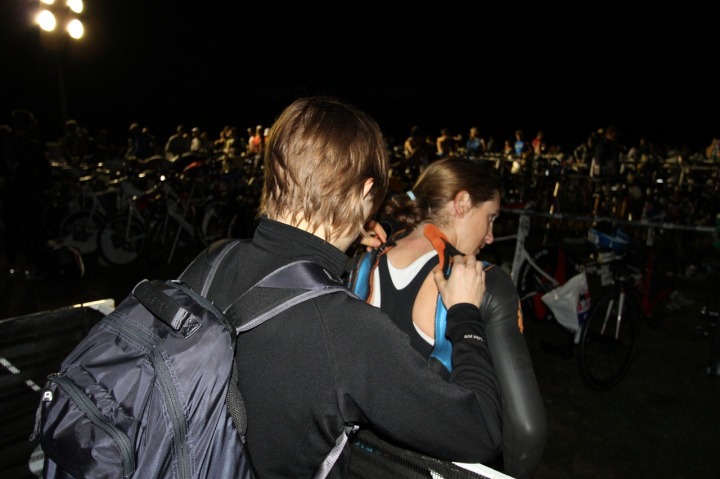 Before we knew it, it was time for the pro's to go off.  Now, the pro's were a bit excited to get going. So while they were supposed to wander out a little bit and wait – they wandered out a LOT instead.  And then when it came time for the countdown, they apparently failed to understand how to count.  Just as a quick tip for you pro's – you go at some point after "1" or "Go", not at "8" or "6".  Just sayin'…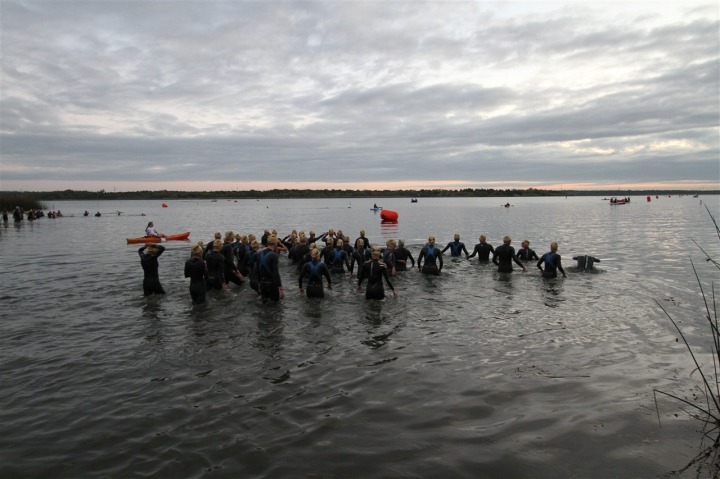 Since the girl had a good 30 minutes until her wave went, I stood around watching some waves go by: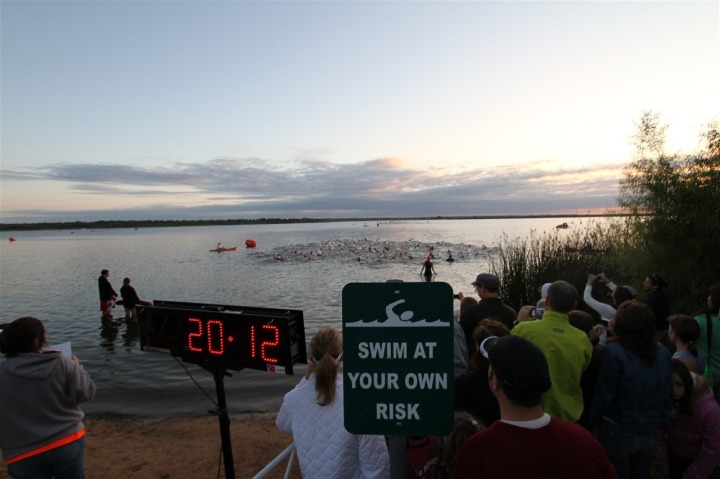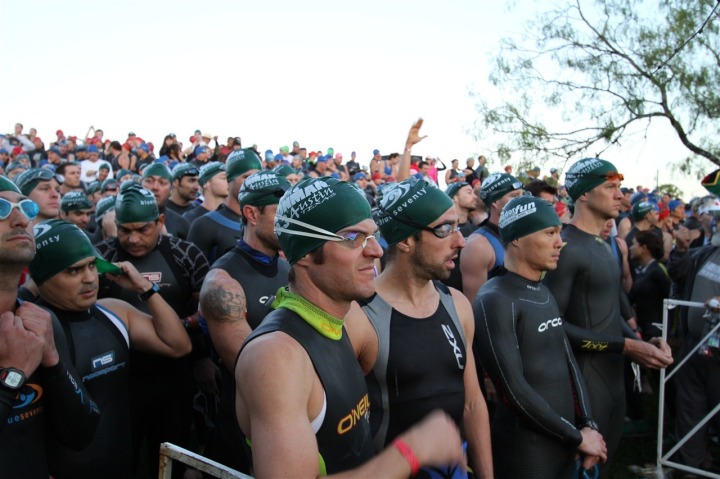 After the girl went off, I moved on to watching Wetsuit strippers take care of business.  The women there in the center was a *MACHINE*.  You have no idea.  Everyone else was teamed up as a twofer, and she was going at it solo – kicking ass and taking no prisoners.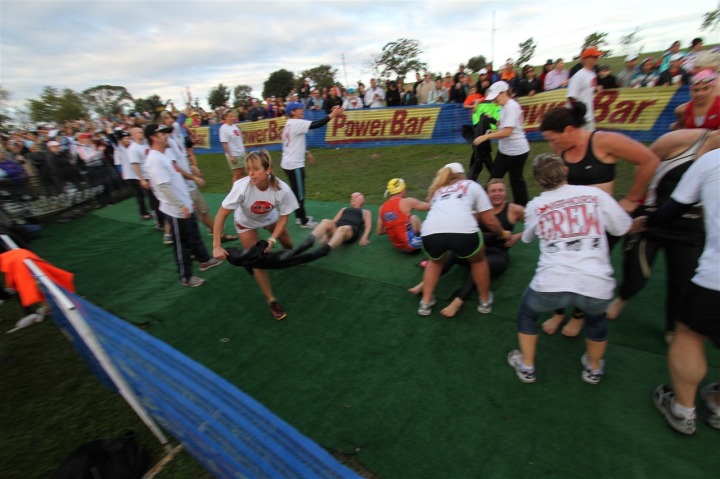 Meanwhile, down at the home front, athletes starting steaming in out of the water.  I actually swam the course on Friday (it was open), and it was pretty nice.  Granted, it's hard to really have a totally complex lake swim given the lack of currents, tides, waves or great white sharks.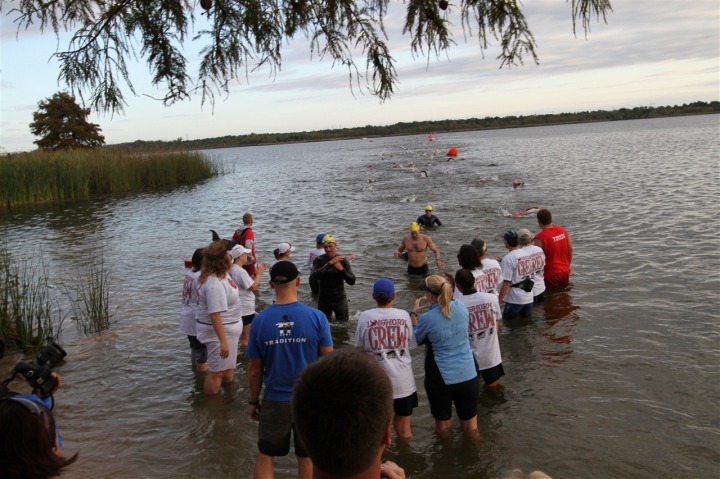 Moving on a short bit later, I present you with transition.  I don't really have many good shots here, so here's just a quick one show the great expanse that is transition: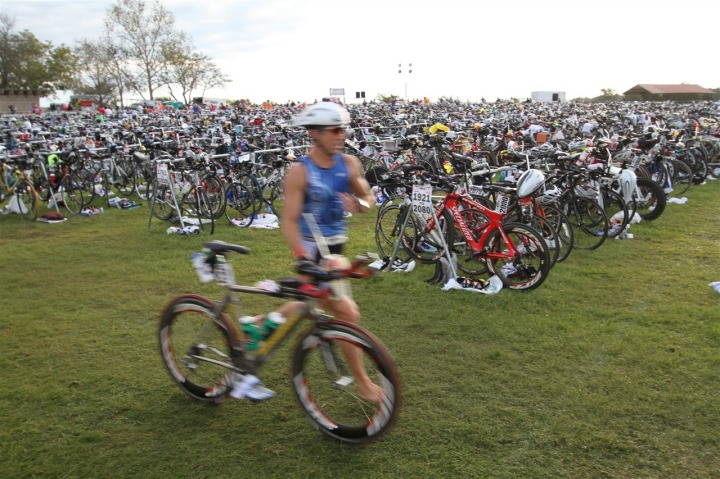 From there the athletes bailed onto their bike for a nice 56 mile loop around Austin.  Regrettably, I managed to forget my longer lens (70-200mm) on the table in the hotel, so I had to get the bike shots using a far wider lens (10-22mm).  Slightly less ideal for this situation.  Nonetheless, I made best with what I had.
I think out of all of them, this one is probably my favorite: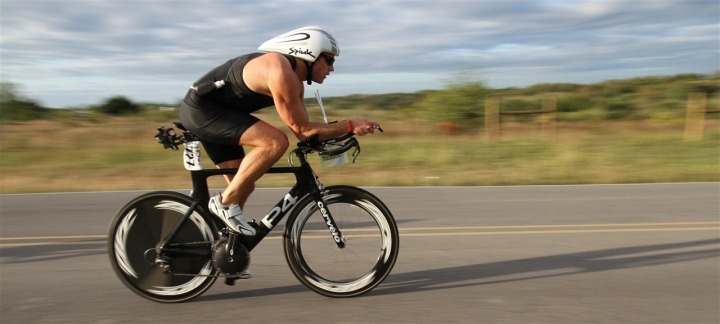 After a few hours, the pro's came back into town, and flew off onto the run – including Lauren: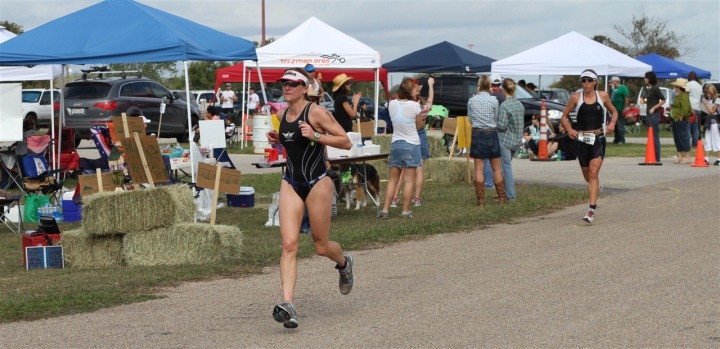 I meanwhile went a bit down the run course where the bike was looping back through in hopes of catching the Girl finishing up the bike.  While I did just barely miss her there, I did catch this guy running it in.  The Girl told me afterwards that he was trying to fix a flat about 1.8 miles from the end of the course.  She yelled at him to simply run it in.  He clearly listened – nice job getting the work done in running it in!
Back on the run course Lindsey and I were busy cheering away at pretty much anyone and everyone.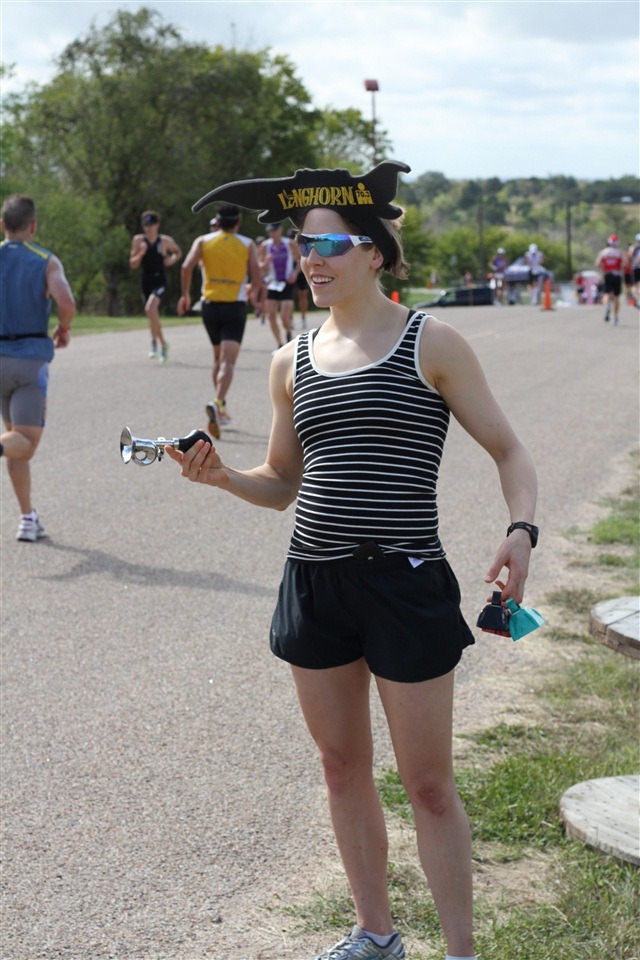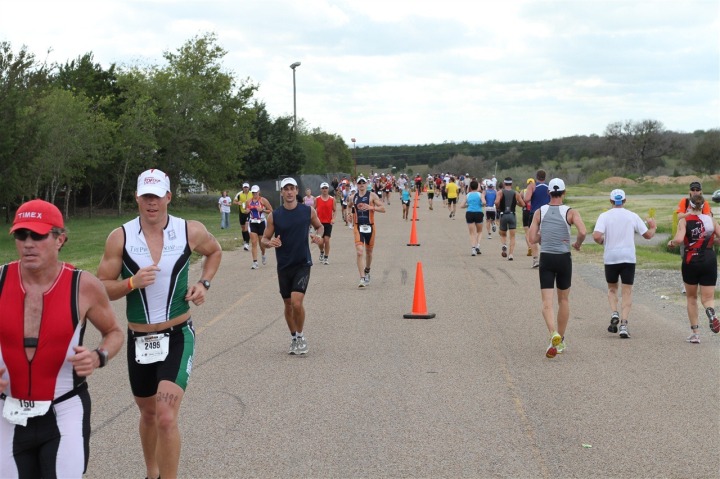 We also cheered on a TON of DC-Tri peeps, as well as basically everyone else we could.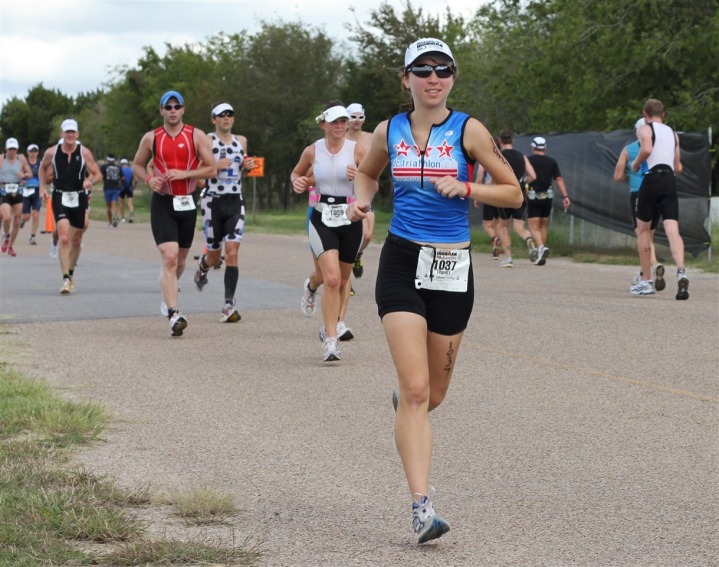 (Above is another Lindsey, also from DC)
I took so many pics of DC Tri folks, you'll just have to click into this gallery to see them all:
Now, when it came time for The Girl's second run loop (out of three) – I had a special custom up my sleeve.  She didn't even know about it.  I originally wanted to bring down my Turkey Costume, but I couldn't get it to fit in my luggage.  So I then went to the costume store down here in hopes they'd have the below Bull Rider dude, but alas they did not have it in stock.  Sad panda.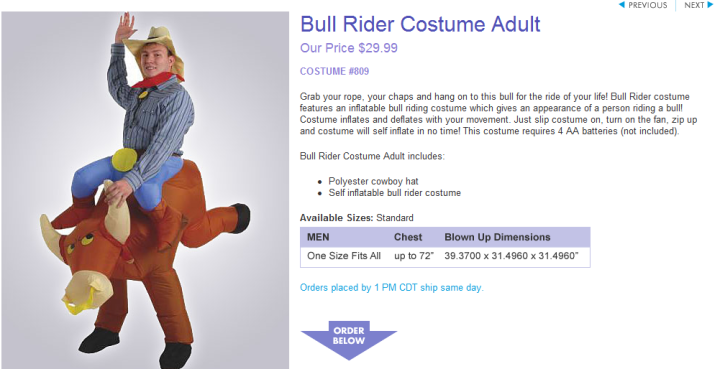 So, I got the next best thing instead: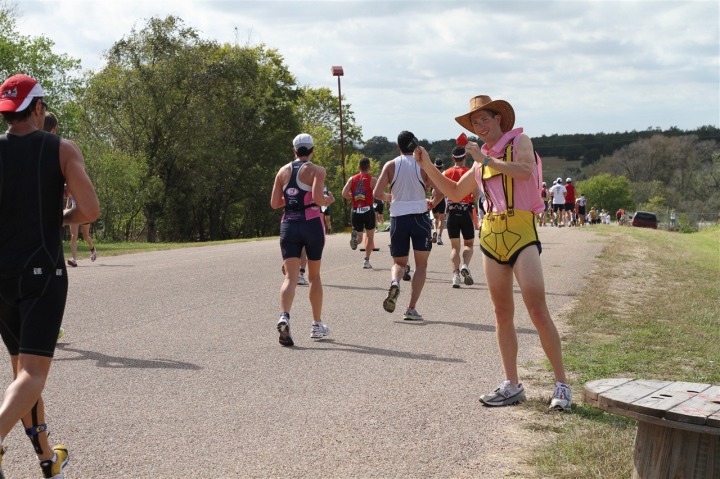 Yes, there's really not much more to say about that.  Other than it caused a lot of people to laugh quite a bit.  Oh, and my (very white) legs are the victim of thousands of miles of bike shorts over the last 6 months of warm weather riding.  I didn't stay in the outfit too long, as I was ringing the crap out of those three cowbells at once, and it was getting tiring.  But for those who saw…you can say thank you later.  Plus, the Girl found it rather humorous…which is all that counts.
While on the way back up the hill towards the finish area, I continued to have more blog reader folks shout out and say hi.  Hello to you too!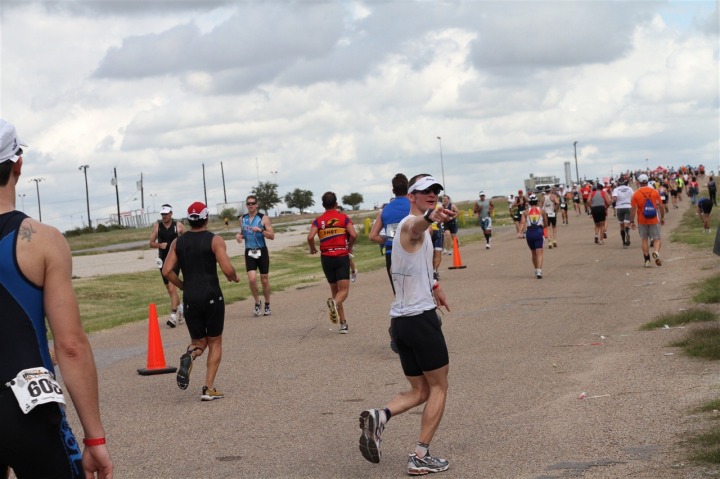 I liked some of the signs they put out on the course (may have to click to see other sign full screen):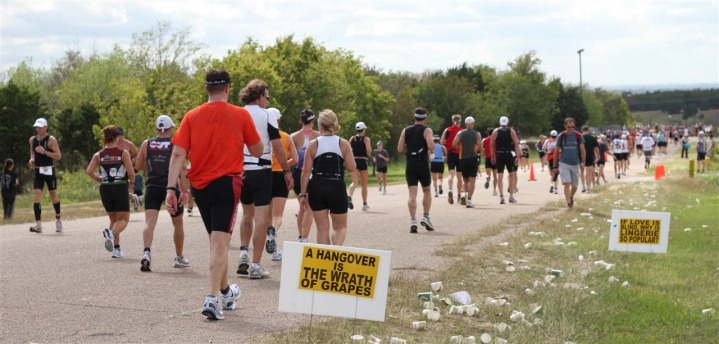 And some of the aid stations were particularly awesome: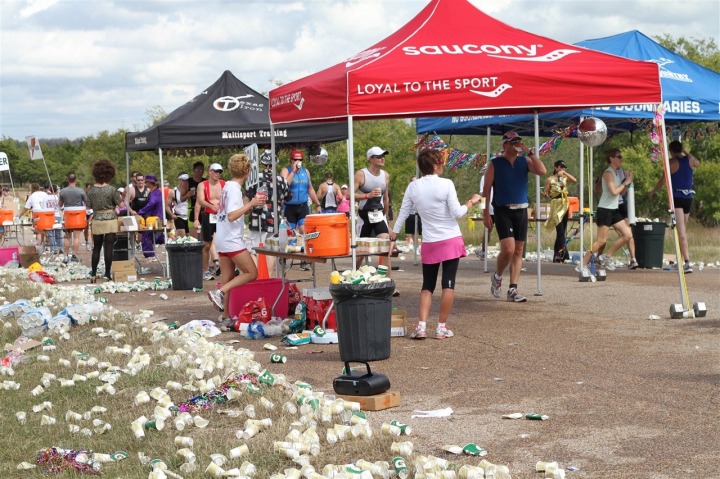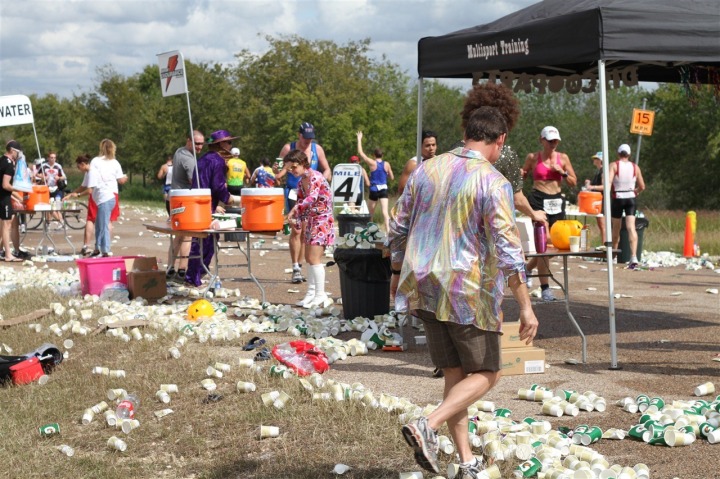 And finally a short bit later, you get to finish.  In the girl's case it would be a kick-ass time of a little over 5 hours, a whopping 40 minutes faster than her IMRI 70.3 time just back this July.  She kicked ass.  You finish inside a rodeo stadium, which aside from the terrible lighting – is pretty neat.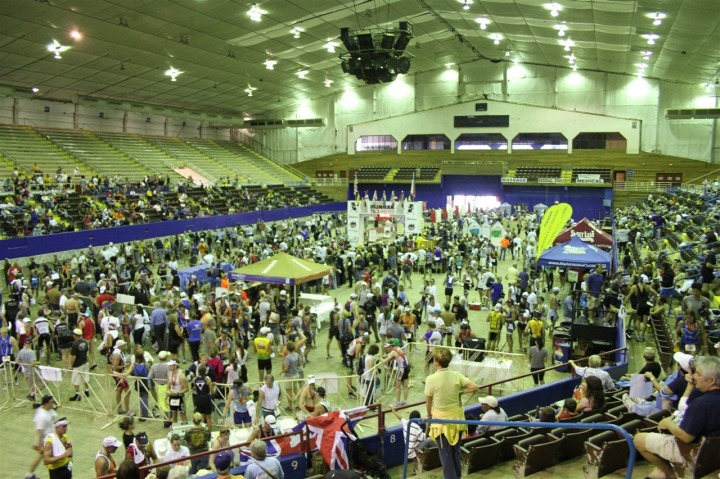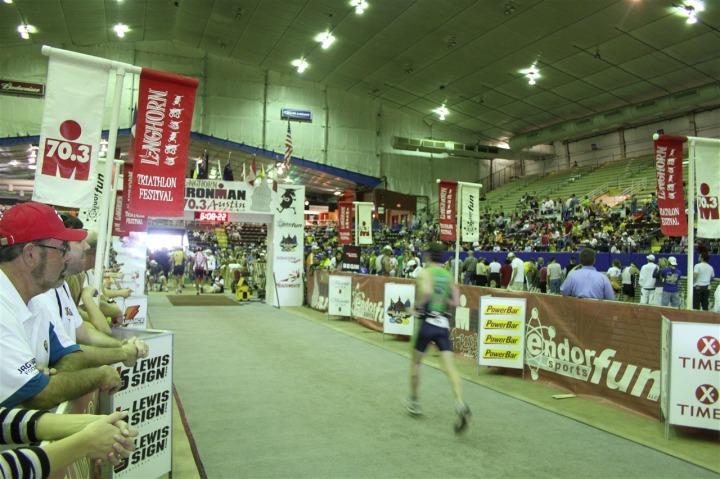 Oh – and on the way out, you can visit the official race mascot – a Longhorn: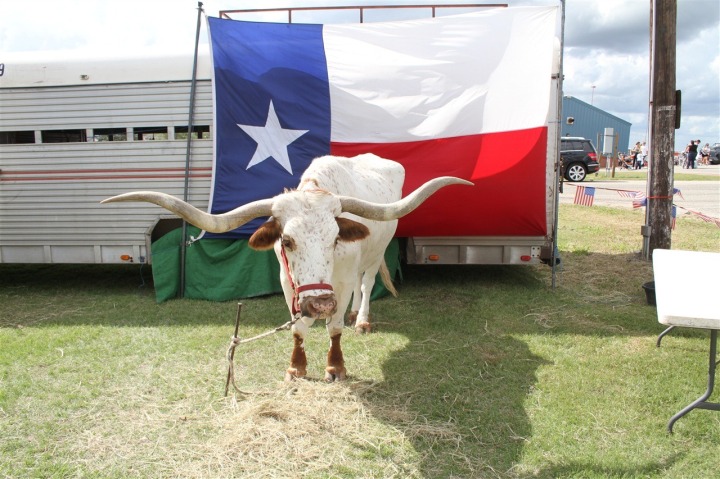 Of course, the girl and I visited it – and she even got photos with her bike in front of it.  Apparently the first time anyone asked to have their bike in the photo.
So with that, that's all I got for Sunday's race.  I'm actually staying down here for work the next few days, so I'll let ya know all about my Austin training exploits here shortly.  Good times!