On Friday while driving along the coast near Monterey I stumbled into preparations for the
Pacific Grove Triathlon
, which looks like an
awesome race
– and is definitely on the radar for inclusion next year. It was setup so that on Saturday you could do an Olympic distance tri, and then on Sunday you could do a sprint race. It was like hitting the double-jackpot. More importantly, the course looked amazing – incredibly scenery along the coast with great roads, crashing waves, barking seals and Great White sharks. Yup…that's right – Great Whites. As I was milling about the registration expo, I noticed quite a few of these signs posted around the swim start area.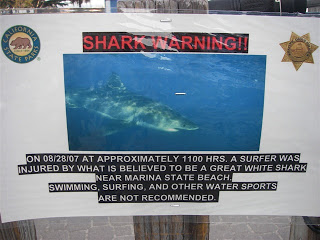 Nice! Not only do they tell you that recently at a nearby beach one of our floating brethren was 'tasted' less than week prior – but they include a picture of an actual great white shark – in full color! Complete with a handy recommendation that you not consider swimming in the area.
For anyone who says "Ahh, that was at a beach a few miles away – all good here!", I remind you that sharks migrate up to 12,000 miles a year.
Actually, having dived in South Africa with Great White sharks (while in a cage, where I took the picture below), as well as dived with over 30 of them in French Polynesia (without a cage) – I can say they are incredible & remarkable animals that you shouldn't be afraid of – generally speaking. However, wearing a dark wetsuit and swimming along on the surface of the known Great White shark infested waters looking remarkably like a seal would not be advisable. Just me though…