Wildflower has a bit of a reputation, both on the course and off. Off the course it's known as the 'woodstock' of triathlon. And on the course it's known for dishing out the pain.
The long course has its renowned huge ascents and descents, along with having the potential to throw out some downright nasty heat and wind. My only hopes where if I had to choose between wind or heat – I'd choose wind. But it also has some lesser well known pain points…but we'll get there.
I didn't know what to expect as far as estimated times go – I just wanted to finish without the assistance of an ambulance (actually, I wanted to finish between 5:10 and 5:30). I'd been feeling under the weather all week with a stuffy nose and sore throat, so I was just going to race smart (well, as smart as you can race when you're sick).
A Symphony of Car Alarms
After 'enjoying' my $9 Target air mattress for some 8 hours, I was awakened to a slowly rising crescendo of car alarms from the nearby day use parking lot as participants started streaming in. It started at around 4:30AM, and by 5:30AM it was at a full forte. Apparently Californians are incapable of pressing the little buttons on the remote correctly. Nothing against Californians – just an observation.
So with that I made myself a breakfast sandwich (turkey, egg, cheese, English muffin), downed some Gatorade and eventually set off to arrive at transition by 7AM. Luckily this just involved a quick 3 minute bike ride down the hill from the campground.

It should be noted that this is a huge transition area. The good news though is that I had a pretty sweet spot. On the first row, down in the left hand side. Easy to get to, and a perfect 'line' through transition during the race.
I then met up briefly with CurlySu, and Greyhound and then stumbled into Bob before bumbling over to the start line for my 8:10AM wave (first non-pro wave).
The swim
After watching the pro's head out (saw co-worker and up and coming Elite friend Chris head out), it was time to spend 5 minutes in the water before my wave started. I quickly got in and swam out to the end of the docks and back – very well aware that the longer I spent in the water adjusting the better.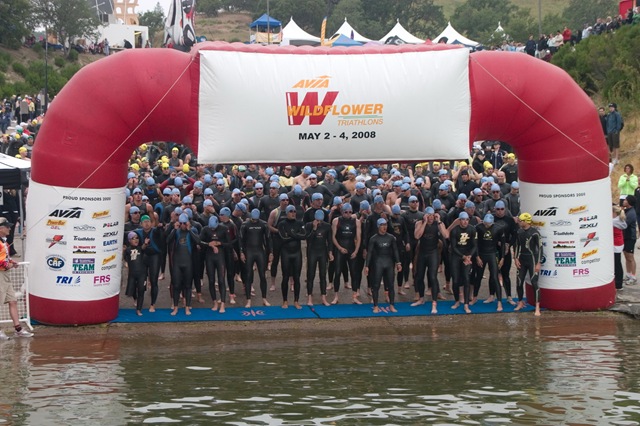 (From the Wildflower site, start of the blue caps – M25-29-WaveA)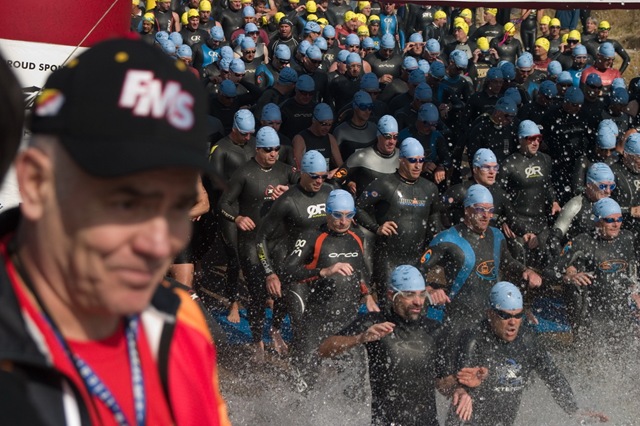 At 8:11AM, the bull horn sounded and off running into the water we went. Without a doubt this was the roughest tri start I've had yet. Granted I was on the leading left edge, so that might have had something to do with it. Got my goggles kicked off once – but no biggie.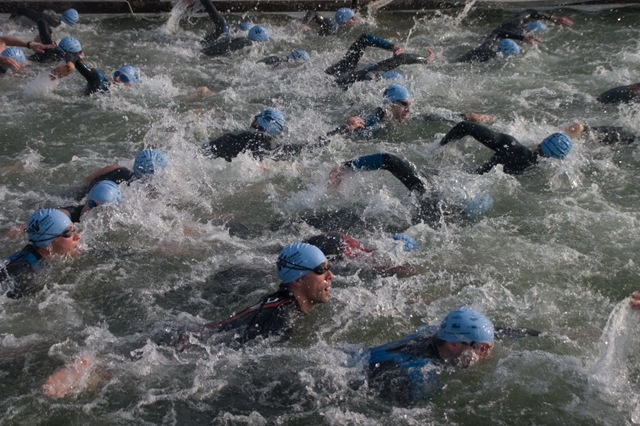 (From the Wildflower site, I'm upper right corner, top guy)
After about 200 yards and the first dogleg turn things smoothed out quite a bit. I just cruised along, occasionally drafting by accident (it's of course allowed on the swim, I just suck at it). But as we came around the turnaround point I started getting the hang of it and drafted for a couple minutes off some folks. It provided a nice break.
From there it was straight in to the boat ramp. I managed to actually PR the swim with 31:05. Not bad. I can easily zap some more time off of that if I didn't take the scenic route here and there.
Up into transition I changed my strategy a bit. Because there is a massive hill a mile into the bike, I wanted to have everything 'streamlined' as quickly as possible coming out of T1. Normally I'd spend the first few miles getting situated (with sunglasses, gels, gloves, etc… all taped to my bike). But I knew I wouldn't have much time to work with, and the first mile was fairly technical anyway. So I spent the extra 20-30 seconds in transition to get everything ready to go so that when I left transition I was rockin'.
Swim: 31:40
T1: 03:00
The Bike
The bike course at Wildflower is one of the more fabled HIM courses out there. Anytime a course has a section on the official map labeled "Nasty Grade", you know you're in for a fun day. Here's the course profile. Mr. Nasty is hanging out there around mile 41.5.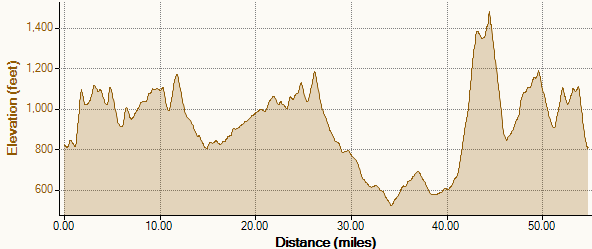 Onto the bike I got settled pretty quickly – given I only had a mile before the first 300 foot 10% grade climb. I downed some water, buttoned the hatches and then found my easiest gear and spun up the hill (err…cliff). As part of my day-long strategy to race smart, I just cruised up. I stayed in control and didn't attack it. There's no point in killing my legs at mile one. After that, you stroll past some campgrounds and out of the park into the yonder. Mostly rolling hills until about mile 13. Oddly I didn't even notice between 13 and 25 that we were going uphill. The downhill at 26 or so was nice though. After that you should cruise along past farms and wineries.
The wind was a bit prevalent around mile 20ish, but honestly it wasn't bad at all. It was enough to make some American flags along the course stand at attention, but not enough to cause me to swear at the wind. I was swearing at having a road bike without aero wheels though. Only two people in road bikes passed me, everyone else that passed me was with a tri bike and aero wheels. I need a new bike. P2C where are you?
I kept on top of the hydration and gels. Just stuck with a simple Gatorade and water as my two sources of liquid. I'm in a bit of a nutrition revamp cause what I had before wasn't working. This mostly worked.
As you get close to mile 40 all you can think about is the 'Nasty Grade'. Everyone had made it out to be hell on earth. Quite honestly…it wasn't bad at all. WAY overrated. Or maybe I just had fun with it. I simply sat up, tossed my bike into the easiest gear and spun all the way up. Nobody passed me, and I passed people. Some people were trying to attack it all the way up and failing miserably. You're going 6MPH up it, the difference between 6MPH and 8MPH up the hill is huge in terms of effort – and you still have 13-14 miles left – with some solid hills mixed in. Save your energy.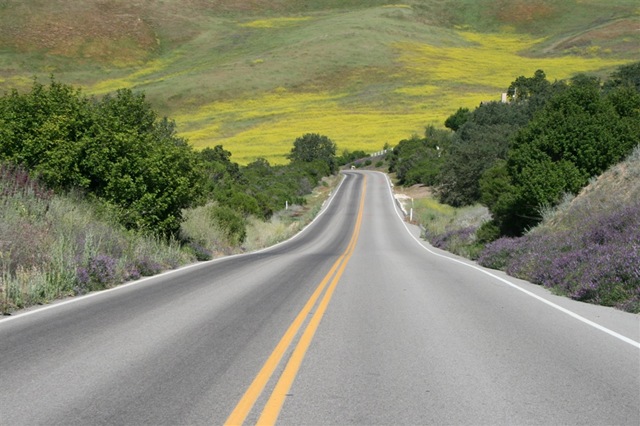 After that, it was down the backside. During the race briefing they stressed to ride within your abilities coming down the 6% grade (pictured in part below). Cause really – you can easily kill yourself if you don't. Seriously.
I got up to 42MPH coming down it. And I got passed by someone going at least 10+MPH faster than me (even the medics and firefighters at the bottom were shaking their heads at him, as he did it in the rough section). If you haven't ever ridden your bike 40MPH before, now is NOT the time to try. (Minor note that makes me feel good, because 50MPH failed at taking a wee off his bike, I re-passed him during his liquid releasing)
Following that, it was up and down a few more hills before re-entering the park through the main gates. This is when you 'find' all of the crowds sitting on the edge of their campsites cheering. You then descend down another screaming hill into transition.
My transition was 'so-so'. I had some issues putting on a pair of socks (I did the whole backwards rollup thing, just wasn't happening for some reason). I also had forgotten my GPS wrist strap, so had to carry the Forerunner for the 13.1 mile scenic jaunt.
Total Bike Time: 3:01:15
T2: 02:19
The [god forsaken] Run
Leaving transition and the festival area I started off at a pretty good run pace like usual. Sub-7 for the first mile along the rolling lakeside drive. The second and third miles started some more solid rolling action (100 foot hills), slowing things down into the low 7's. Also included bits and pieces of dirt trail. Before we get into the run too far – here's the run course profile: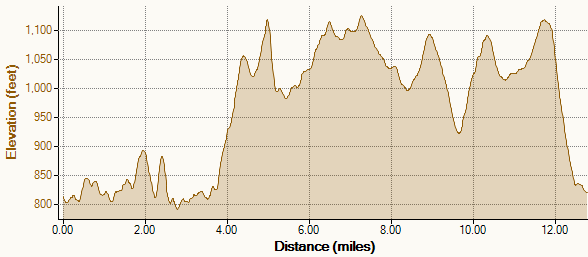 Had I contemplated looking at the run profile BEFORE I started running, I might have come up with a different post-bike strategy (like…sunning myself at the side of the lake). It should also be noted that the vast majority of the course is on trails, not road. The only advice I had received regarding the run was from Chris (elite dude) to "Don't get too down on yourself between miles 3 and 5, cause it's pretty hilly, but after that' it's fine".
Which…was mostly correct. Except the hilly part. To me 'hilly' describes something I can generally run up or down at roughly the same pace.
No, this was just freakin nuts.
It was like going up an embankment. Especially at about the 4 mile marker. It didn't matter what pace I was running at, it was effectively the same as walking. So I (and the couple of others around me) took the walking option. Seriously, I was walking up faster than some guys were trying to run. But this allowed my HR to return back to upper Z3. After I got to the top of the hill I continued about my business running along. I put this into the category of 'smart racing'. I could kill my legs and body trying to run up something and really get nothing out of it. Or I could just walk the short embankment and give my body a rest. There was one more similar hill about a mile later that I did the same for, for 20-30 seconds.
(About that title)
Now would be as good a time as any to explain my title. One of the things that Wildflower is known for is that just about all of the aide stations are staffed by Cal Poly students. In particular a certain aide station here has said female Cal Poly students topless (or various other states of undress). This is deemed the "motivational aide station". This had been around mile 3-4 historically, but apparently switched to around mile 9 recently. So I was MORE than looking forward to some motivation around mile 3. None to be found. I figured that mile 9 was also very viable considering it was also back in the woods – away from the crowds.
So, bumbling along I went and approached mile 9. As I turned a corner I saw some chicas sitting up on the side in bikinis, along with some very enthusiastic looking signs. "Great!", I thought, I have found the holy land. I saw the aide station down the hill in a small clearing in the woods. From a distance I saw tall slender young bodies, clearly wearing nothing but a tiny swimsuit bottom. Awesome! Could it get any better? But as I got closer I noticed that those tall slender bodies didn't appear to have any chest. In fact, they all had kinda short hair cuts too. Hmm…this isn't looking good at all. As I finally got close enough to 'inspect', I found that it was just a big sausage fest of swim-team dudes in speedo's, and a few token bikini chicks hanging out. Damn you guys swim team! I needed motivation! (To be fair, they did totally drown me in water – like 8 cups worth all at once, so that was solid).
(Back to the race)
After that it was back up onto the road and down a long ass hill. This is where mentally I fell apart a bit. Going down this hill for a good 3/4ths of a mile you know you have to come back up. You can see the faces of the folks struggling going back up it. No amount of motivational help by more bikini chicks at the bottom was going to change that. So that's where I made a bit of an interesting tactical choice. I walked back up the hill and regained my composure. In walking back up, three people passed me (they weren't going much faster than me though, and they sounded like they were going to die).
I got to the top of the hill in pretty decent time. And then I set off to nail the last 2ish miles. In saving me energy up the hill, I was able crank the pace back down to a 7:50 mile 11-12, and a 6:50 12-13.1. And subsequently pass back all three folks who had passed me. Part of the racing smart strategy. Although I think I could have probably run half of the hill and shaved off another minute or two. Live and learn.
I had the whole 200 yard finish chute to myself, kinda neat. Name announced at all.
Total time: 5:22:17, 30/179 (M25-29). Not bad.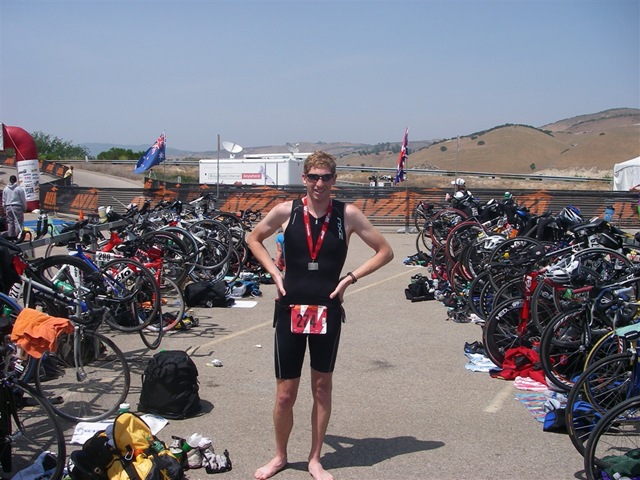 (For the record, I think this photo makes me look fatter than I am. Yes, I know I'm not fat, but this photo isn't flattering)
(Secondary for the record, the "W" on the bibs that we had, all I can think of the ENTIRE race whenever I saw EVERY SINGLE person – is the Whataburger Logo)
All in all a decent day. I'm satisfied with it. I think I could have shaved off a few minutes here and there – but overall I think I raced it well given my abilities – and the conditions (it was kinda hot). I would say that for next year I'll do some trail running prior to the event. I never run trails (I think roughly once per year), so getting the hang of it is kinda tricky. I think my nutrition may have fallen a bit off the boat during the run. Gotta fix that too.
Post-Race
(Ok, I'll keep this short, because this already way long-ass, I'll update this later with my usual detailed 'attached' list of good/bad things during the day).
I went up to my little tent and changed, and then walked the hundred yards back to mile 12 (the top of the last hill) where I watched racers for a few hours. I saw both Nelson and CurlySu cruise on by (speaking of which, Nelson – ping me, I have high res photos of you that actually came out good, but no e-mail address), as well as a gazillion other racers. It was nice to just hang out in the shade and watch the race.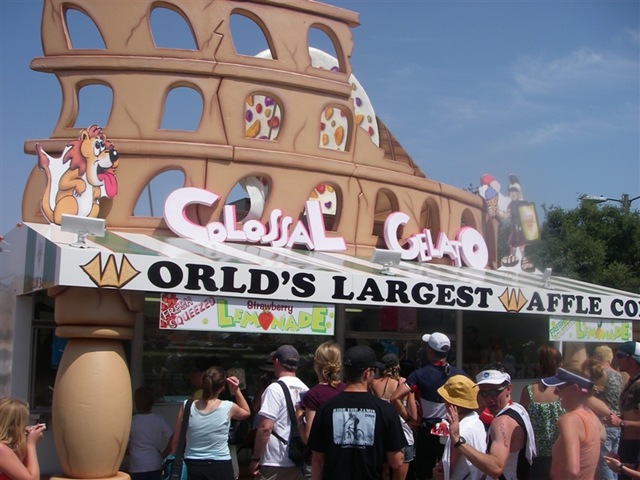 Post race myself and others enjoyed a huge-ass ice cream cone from this place (located within 20 yards of the finish line). I have a photo of Curly with roughly the same amount of ice cream on her and her bike, as in the cone. But… I'll let her post it.
Following all that we took the lazy way back up the hill to the campgrounds (da bus). Much smarter idea than the 300+ feet of elevation gain.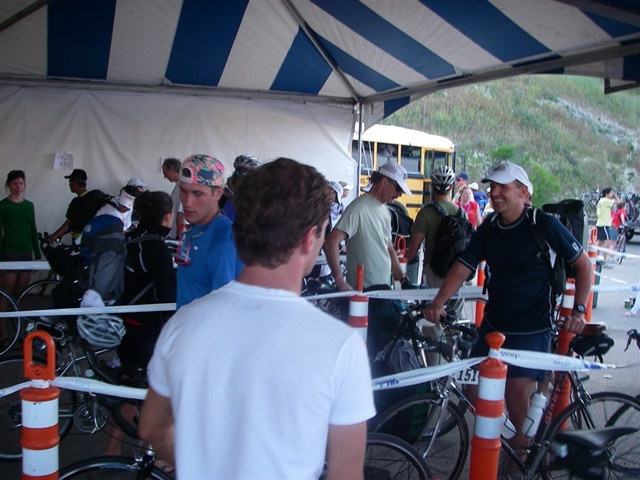 Finally, later on I drove down into town and had dinner with Greyhound, Taconite Boy and CurlySu. We all did pathetic jobs in our ability to eat our food. Each of us barely making a dent in our meals. Granted, they were huge. Here's what all of us except Greyhound ordered (mac and cheese). He ordered an incredible looking burger roughly the size of a melon.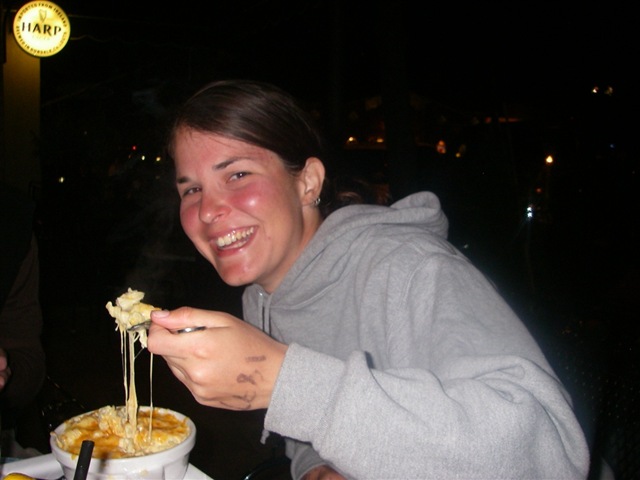 And with that, my weekend was over. Well, except having to pack up the disaster area that was my car/campsite. See below for what it looked like this morning. Yes, this all had to fit into one bike case and one suitcase (plus two small backpacks). Yes, the car's seats are covered in crap to pack as well. And…Yes I came incredibly close to missing my flight.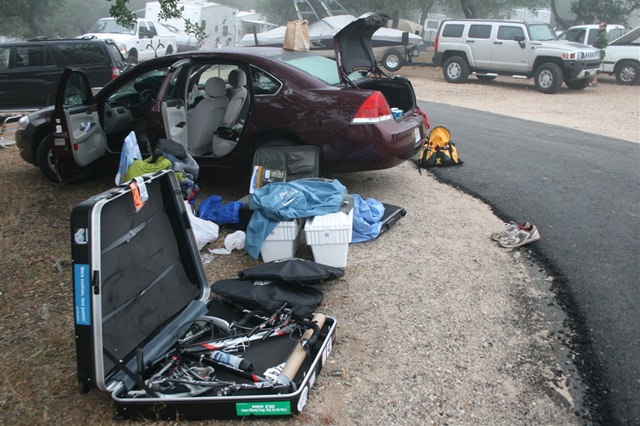 Oh, and I 'retired' a pair of shoes – 513 miles on them. They smelled like hell after getting soaked and dirty yesterday. I had done a few washing machines worth of cleanings since Oceanside, but they needed to be 'dealt with'. Good bye dear shoes!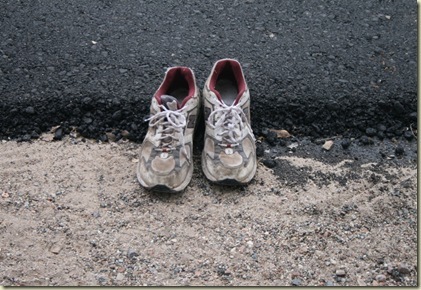 (RIP: Dec 17th, 2007 – May 4th, 2008, formerly known as shoe #1 in the two shoe rotation)
[Btw, minor update, the race posted over full res 500 photos onto a Flickr site, pretty cool, I'm in the blue cap wave]