Last summer and fall I was having the mother of all issues with flat tires.  I was flatting about once every 10 days.  Seriously.  ONCE every 10 days, sometimes more.  The good news is I got damn good at changing a flat.  The bad news is that I got damn sick of changing flat tires (tubes, technically).
A cycling friend of mine was putting in a bit order for tires through his team.  So I had him order me some new ones for the winter.  They only cost $10-20 with the discount, so heck – anything was better than whatever stock stuff was on my bike.
Since December when I put them on, I've logged about 1,700-1,900 miles on my bike (I haven't got around to fully putting all my trainer rides in the log).  About 50-75% of that mileage has been outdoors.  As in outdoors in the crappy, cold, winter weather.  Through the snow and ice, through the gravel, occasional accidental off-roading (with a road bike), and just general riding.
However – after all that, I have yet to have a SINGLE flat tire all winter long.  Not a single one, it be awesome!  While I do take a slight hit on the increased resistance/drag of this particular tire over my previous 'racing ones', I more than make up for it with not having to change flats all the time.
I don't know where to buy these things, or even anything about them other than what's on their page.  All I know is that they make me happy.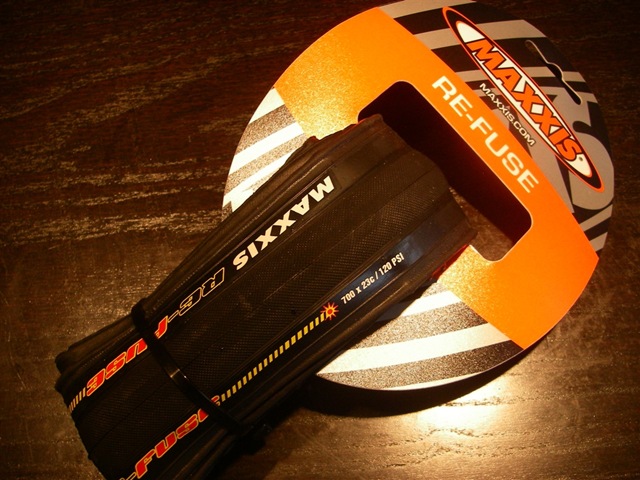 They're billed as an all-weather tire, made by Maxxis.  The digits on the UPC say: "Re-Fuse TB86336000  700x23C – 60 TPI – Black"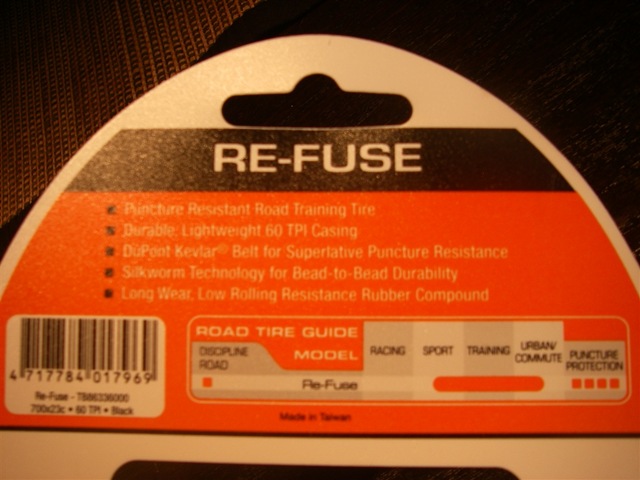 Here's the information that's on the back of them.  Not ideal for racing.  But that's fine at the moment – they don't flat.  So that's all I'm caring about.