The last few weeks my bike rack locks have been rather temperamental.  Not quite sure why, as I've been using them most of the winter for weekend rides out of the city.  But while I was fidgeting with them last week (and having problems getting one to lock), I was thinking back to a little 'episode' last year where I (and a friend), learned the importance of the lock mechanism during a driving situation.
Just so we're all on the same page, here's the bike lock device I'm referring to (below).  There's a piece that flips over and then ya stick a key in it and turn it to lock it.  Up is locked, down is unlocked.  Super-simple.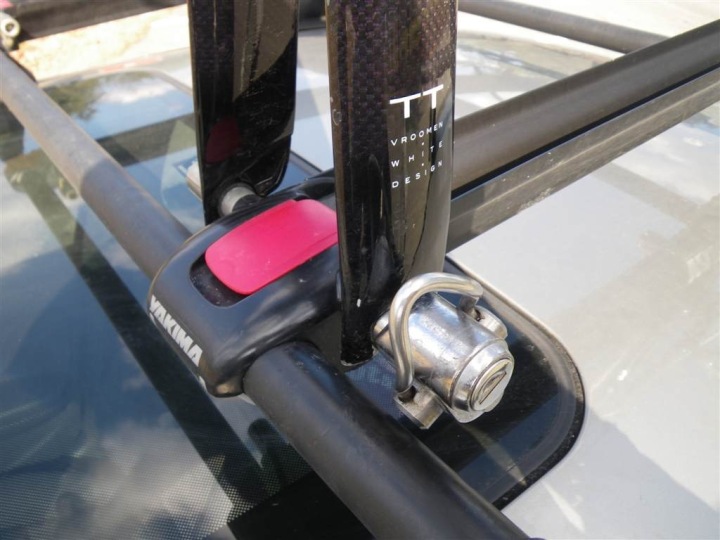 Now, technically if you don't lock it, the bike still stays in place.  It's not like it's willy-nilly or anything.
Now…turn back the clock to last years Nation's Tri.  A friend who came up to watch/photograph had just dropped me off a few hundred yards from the transition area.  We had tossed one of my mountain bikes up on the racks so he could easily get around to take photos (one of the secrets of taking photos at any tri/running event – a mountain bike).  Due to some key-ring issues and trying to explain which key on my massive key ring was the right key, we (or maybe I, but entirely besides the point), decided that we'd simply unlock it then.  Given he was just driving around the nearby streets of DC trying to find a parking spot, he didn't have to worry about anyone stealing the bike while he was driving.
So I go to cross the street and he starts to drive away.  Given we were unloading in an area most certainly not a loading zone, the acceleration applied may have been more than usual.
Well, high school physics taught me that everything has an equal and opposite reaction.  And it turns out – that applies to bikes and bike racks too.
Here's my Paint re-enactment of what happened next.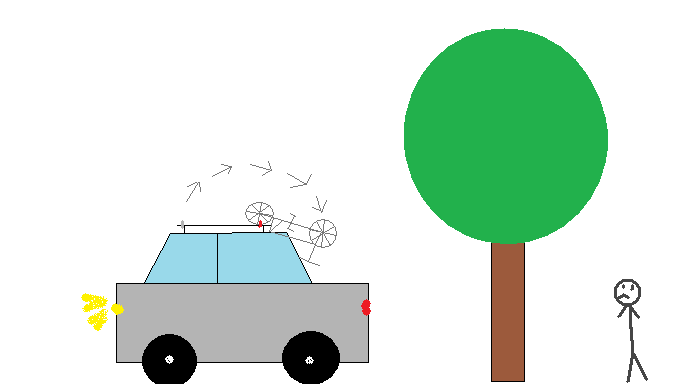 The important point here is that while the bike cart wheeled backwards over the roof of the car and the handlebars graced into the rear windshield/window, the little red clip at the end of the bike rack stood up and did it's duty.  It kept the bike from fully departing the moving vehicle.
Meanwhile, not too far away – I stood there kinda watching this whole fiasco with my head slightly cocked.  I certainly wasn't going to go and intervene.  As that would then associate me to the unfolding circus act, which would in turn make any 'cool triathlete factor' I possessed…vanish.  After all, I am standing there with an expensive tri bike, an aero helmet and everything else that made me look the part.  A 10+ year old mountain bike flailing backwards off my car was not part of that role.
Naturally… I just walked away.
However, like the bike to the car – the lesson learned still stuck.
Aside from the front lock noted above, it turns out the back doohicky (below) is also pretty critical to the whole operation.  99% of the time it juts sits there and looks pretty and really has no purpose.  But…during that 1% of the time where the front doohicky isn't cooperating (read: wasn't actually used per the manual), then the back doohicky now has the all important role of keeping your prized bike  (or not so prized as it may be) attached to your vehicle.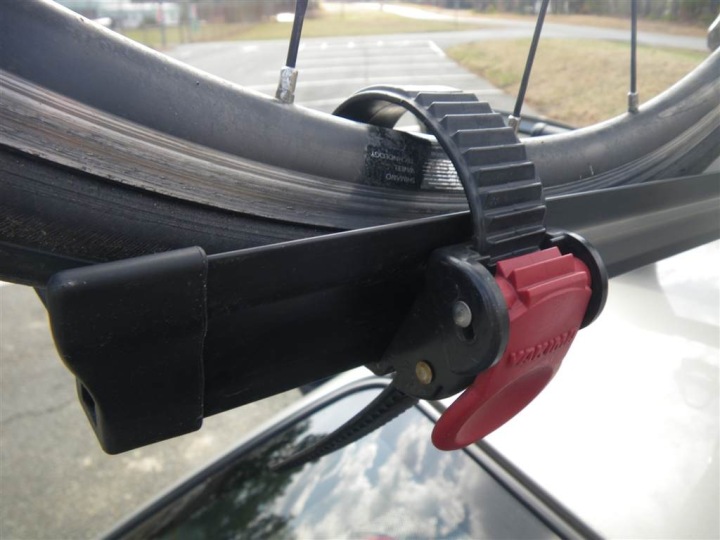 So…in summary…everything (or doohicky) has a purpose or reason.  The front doohicky to lock it is there to keep it from jiggling loose (and casually pretending to secure your bike from thieves), and the back doohicky is there in case the front doohicky fails.  Just sayin'… – like NBC's slogan – 'The more you know'…