So perhaps you were like me – afraid of the little cylinder.  Perhaps you thought it would just simply explode on you, or that when you went to use it you'd end up putting more CO2 into the the sky than into your tube.  Or perhaps you've just been perfectly content with pumping up your tube while sitting on the side of the road cursing whatever it was that just flatted you.
Whatever the reason is, it's time to get over that fear of CO2 and start making your life much easier.
The parts:
First up, let's talk about the pieces.  A 'proper' CO2 setup has two pieces – the inflator (aka nozzle) and the cartridge.  Here's the inflators: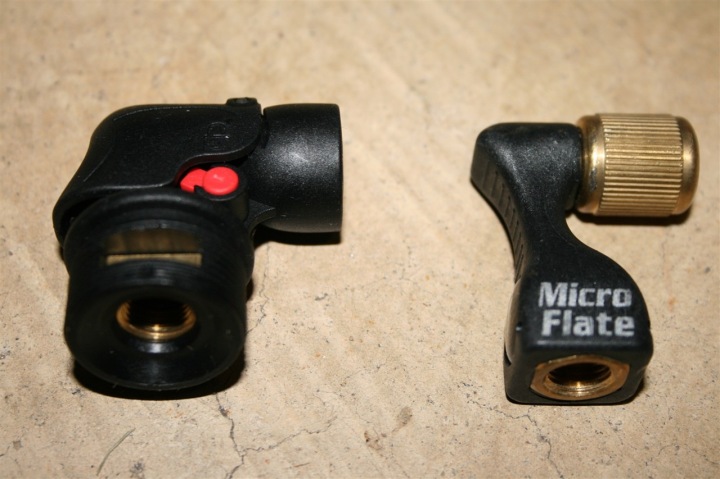 (With flow control lever on left, without on right)
Inflators come in two basic flavors.  Those without flow control (ability to stop the pressure) and those with flow control.  Obviously the pro to flow control is that you can stop/start it once you pop the seal on the cartridge.  The con is they cost a bit more (although, as of this writing the flow control ones are on sale for less than those without).  If you don't have flow control – it's sorta a one-shot deal.  You either do it right all at once the first time, or you're down and out a cartridge.  Hint: Buy the one with the flow control.  (Though technically you can control the non-flow control type by carefully tightening and un-tightening the cartridge from the inflator, seems a bit tricky and a bit risky)
Cartridges come in different sizes – 12g, 16g or 25g.  The smaller ones are designed for filling tires up to about 90 PSI.  The larger ones are designed for filling tires up to 120+ PSI.  This corresponds to lower pressure tubes such as clinchers (typically 90-120PSI) and tubular's (140-170 PSI) such as race wheels.
There are also two different types of cartridges – threaded and non threaded.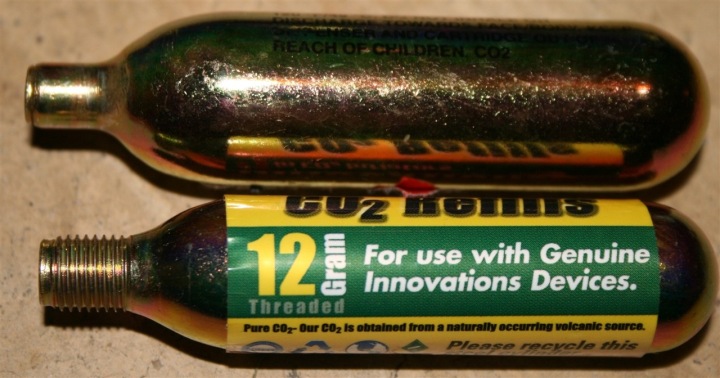 (Non-threaded on top, threaded on bottom)
What's the difference?  Well, simplicity (and a patent).  The threaded ones you have a lower likelihood of screwing up, so I just use those.  They only cost a few cents more.  Make sure that if you buy a inflator and cartridges not in a little kit that you buy matching ones (threaded with threaded, and/or non-threaded with non-threaded).
Last but not least – think about how you want to carry the cartridges.  If you have a seat bag, make sure you have room in there.  If you have a tail system on your tri-bike you may be able to fashion something creative or purchase something.  I actually use the bag that came with the little kit and found it fits PERFECTLY into my Hydrotail.  From there, I just created a little zip-tie loop that connects to my Velcro straps for my extra tube.  Works awesome!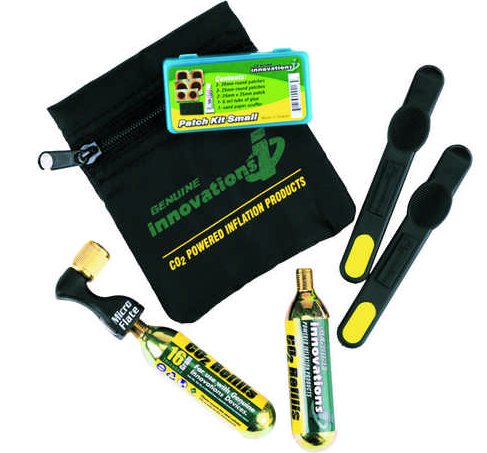 (Note: If you get this kit like I have, toss the tire levers, they are garbage and will actually bend on their first use)
(Above: Side view of little bag inside Hydrotail, contains two tire levers, two cartridges, one valve/nozzle, and a bike wrench set.  Below: Same thing view from above seat)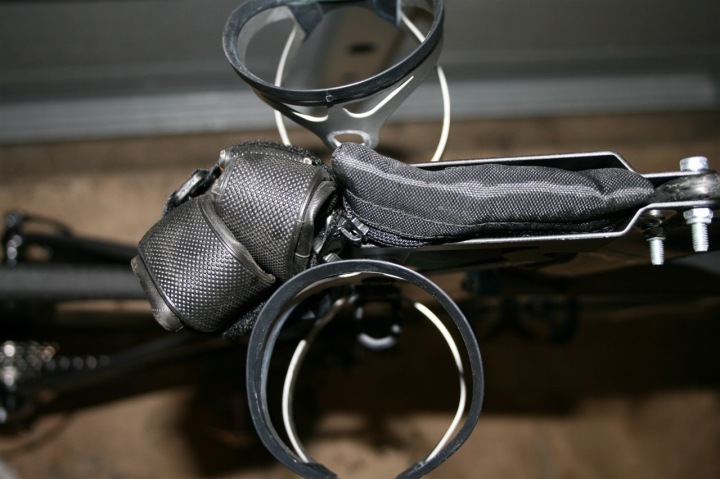 Ok, easy so far?  Good.  Now let's get onto the action.
Putting the pressure on
Ok, so after you've deflated your tire (after wandering through the roadside gravel while distracted in a race by that 'nice…something' that just passed you from the M/F 20-29 age group) – it's time to get air back into the tube.
The first part is no different than your normal tube changing procedure:
Release any remaining air out of bad tube (or tubular)

Check the tube and/or tire to figure out if something is embedded.  Nothing worse than flatting a mile down the road again because a piece of glass is stuck in the tire.

Get the new tube with a touch of air in it* situated below the tire and onto the rim.
*Ok, now comes the change from usual.  At this junction we need to get a bit of air into the tire to form it onto the rim.  There are two ways to accomplish this.  The right way…and the wrong way.  Let's start with the wrong way.
[The right way] – If you have an inflator that has flow control, then put just a tiny bit of air into it – a split second at most.  Just enough to create a circular form.
However, if you didn't buy a flow control unit – then using that nifty thing otherwise known as your mouth and tongue – press the top of the valve stem and blow a bit of air into it.  It's really not that hard.  Seriously – try it.  Go now into your pile of dead or new tubes and try it.  You'll note it inflates near instantly enough to form a tube like object.
[The wrong way] – Taking one of your two cartridges and holding it onto the tube valve for a few seconds and then yanking it off the valve while the cartridge releases the remainder of the gas into the air.  This is the wrong way because now you've just wasted a cartridge and didn't get any air into the tube with the first cartridge now requiring you to use your second cartridge.  Murphy's law dictates that should you do this, you'll likely flat again exactly 500 yards down the road …and be 55 miles from your car…without any further way to inflate.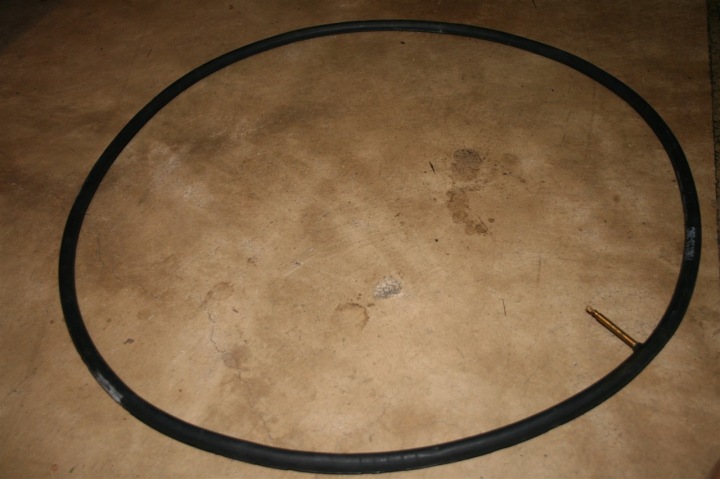 (Yes, I blew this one up using just my mouth with tongue depressing the valve, it just takes a few seconds)
So – we've got things to the point where the tube is inside the tire, and the tire and tube are roughly on the rim.  Now, let's get it all 'cleaned up' and ensure there aren't any edges sticking out or other funkiness.  Clean lines all the way around, no bumps or unevenness.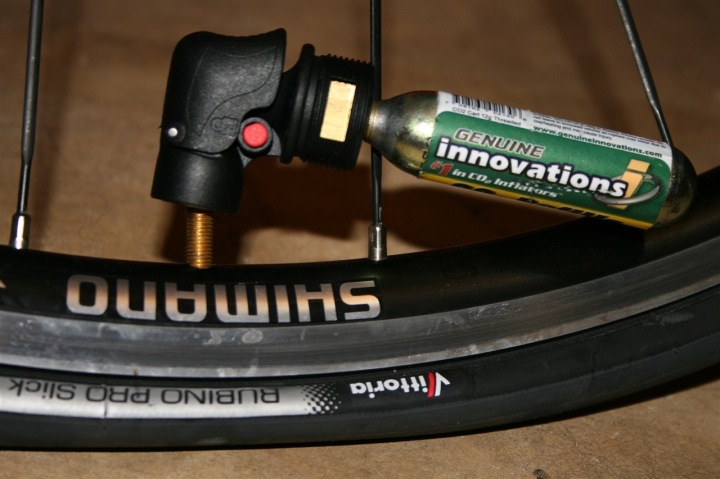 Blast off
Now that everything is ready for launch, let's first do a Hail Mary.  With that out of the way – it's time to hope for the best.
First step: If you don't have a control valve – then take the inflator and attach it to your tube's valve first.  DO NOT attach it to the cartridge first (unless you have a control valve).  You can certainly do this, but this increases the likelihood of premature ejection of your little friends valuable contents (just sayin'….).
Second Step: With the nozzle on the tube valve and ready to add air, it's time to screw in the cartridge.  It should screw in easily at first, and then come to a slight halt.  It's at this juncture that you will break the seal on the cartridge and release the CO2 into the wheel.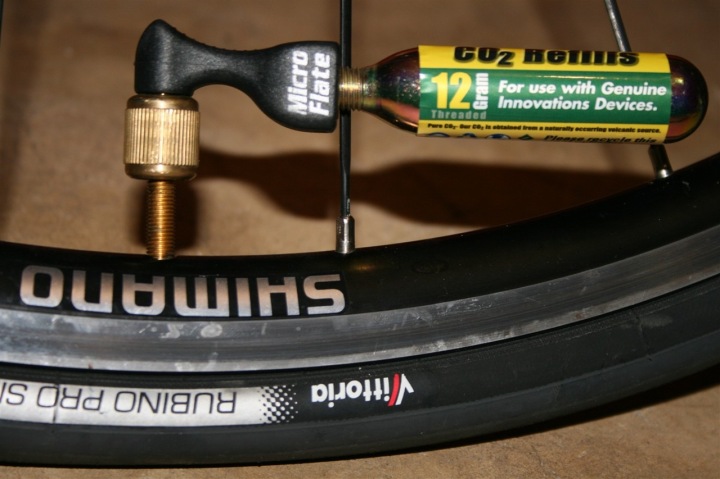 Once you do this – it will inflate your tire in about 1.5 seconds.  It's quick.  Very quick.
Depending on if you have a higher pressure tire (such as a race wheel), you may need to do one more cartridge to get to full pressure.  Remember that riding a low pressure wheel will likely only get you a flat again – so be sure to really get as much pressure as you can without exceeding the limits of the tube/tire.
With everything complete – inspect the tire.  Make sure everything is still 'clean' – good even lines all the way around.  You don't want to flat a few yards down the road because of an uneven tire.
Pack up your little roadside work zone – cartridges, tubes, Dunkin Doughnuts leftovers, etc… and take it with you.  Don't be the cyclist who leaves their junk lying around.  Plus, if you do leave stuff behind it will get you a well deserved penalty on the race course.
Wrap up
So there ya go – that's all there is to it.  I know I made it sound really long, but in reality it's very quick.  When you do it for real it will only take about 2-5 minutes tops end to end – even less if you really practice it.  Here's the 10 step version for you:
Undo old tire

Check old tire for intrusion

Blow small amount of air into tube to form tire

Get new tire situated on rim and under wheel

Validate clean lines

Attach inflator nozzle to tube valve

Attach cartridge to nozzle and tighten to pop seal

Tire inflates…use another cartridge if on high psi wheels

Check tire for 'clean lines' and no bumps

Clean up mess …finish ride.
But WAIT!!!!!
Now – one last REALLY IMPORTANT STEP!  When you get home, you MUST deflate your tire out and refill it with regular air (just using a simple stand pump).  CO2 as a gas quickly dissipates through the rubber and you'll lose about half of your PSI by the next day.  Here's a post that explains it all really well in scientific terms.  Just trust me on this – I learned this first hand as well. 😉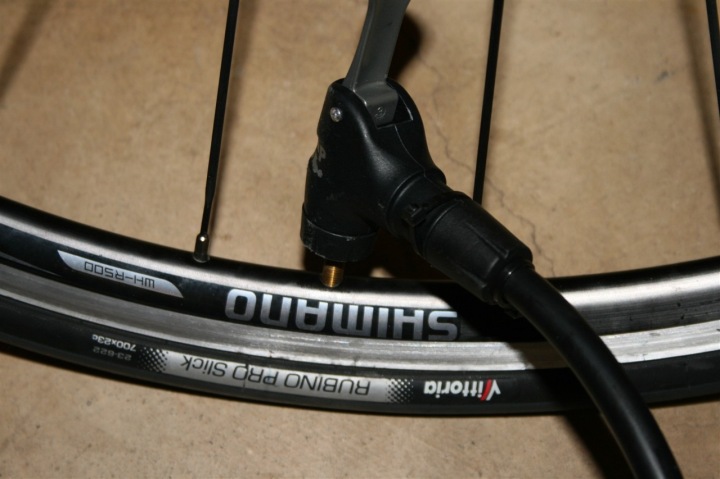 That's it – there ya go!  Now go buy yourself a little CO2 kit and save yourself the hassle of a pump on the frame.