One of the biggest benefits of having a coach is when he or she can look back at months of data and finds a way to assist you in getting better. In my case, it was almost a year's worth of data stored on Training Peaks. After my last Skyline ride, Coach Alan noticed that on some of the steeper climbs later in the day my cadence was dropping quite a bit while I attempted to maintain a heart rate in zone 2. He then went back and looked at a number of previous rides, including the majors climbs in Ironman Canada (and in particular, the last major climb up Yellow Lake). Below (last year's IMC ride), around the 4:25ish marker on that later climb, you can see the drop in cadence:

The solution: A compact crank. A compact crank is essentially a crank that has a smaller circumference which in turns allows you to spin it faster (super-simple-boiled down version). It's kinda like a triple ring, except without all the downsides of a triple (weight, aesthetics, shifting cleanliness) . This makes it most well suited for hilly/mountainous courses – like what the first portion of my season contains. Here's a quick article that goes into depth on it all. Gordo Bryn (big name in the triathlon world), also recently started recommending folks look at compact cranks on the Ironman Canada course. So why not? I'm always game for trying something new.
So Coach Alan ordered it online for me, and even installed it for me while I was away in Africa/Europe over the past week. The model I was identical with respect to the brand that was stock on my bike previously (Cervelo P2C)
Here's the old one and the new one next to each other. The old one is in my hands (off the bike, to the right), you can see the size difference.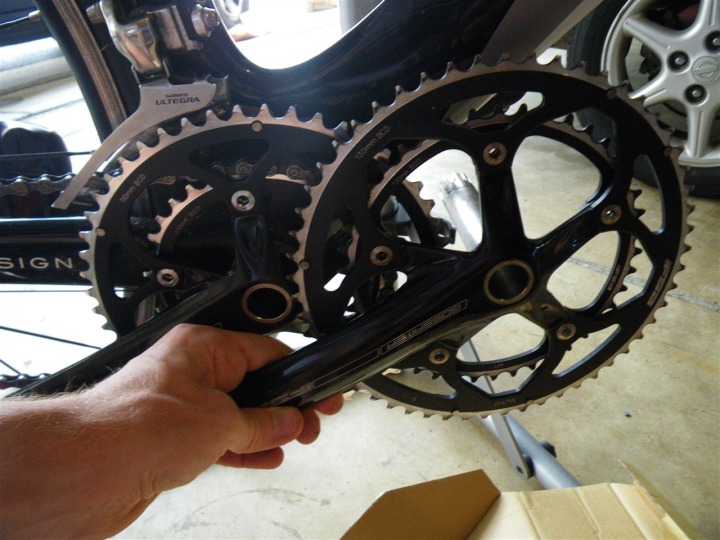 Below, the compact crank is on top, old one below.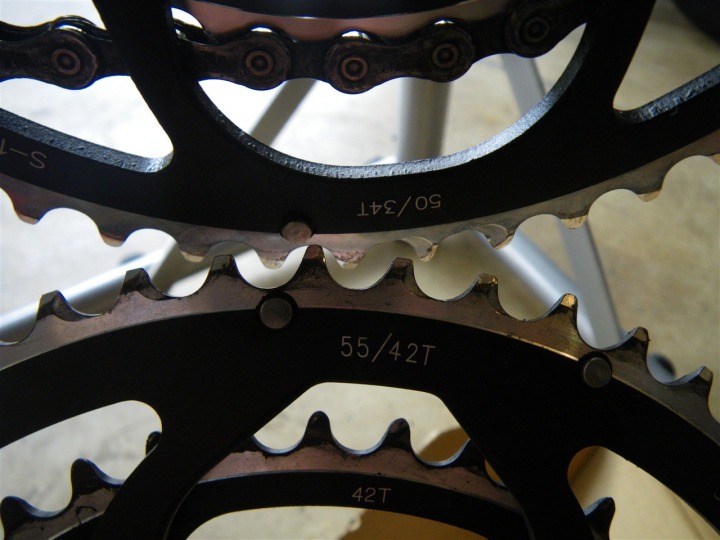 So fast forward to Saturday morning, and I find myself again up on Skyline drive for another bout of fun. This time it's 70 miles of climbing – though aside from the compact crank, there also some other changes in the workout itself.
All of that though first first hinged on my ability to get my bike off my car. For some weird-ass-reason the lock wouldn't unlock. It took over 30 minutes of tinkering it before it finally came lose. Well, that and a good bunch of sunscreen squirted in there, in hopes it would act like WD40 (which it did).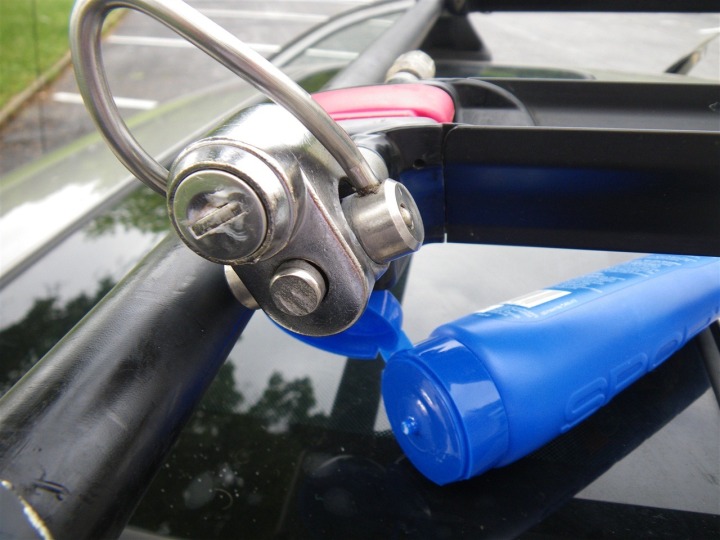 After extraction was successfully completed, I was off into the fog (along with the girl, who I'd given a slight head start). It was nice there yesterday in that the car-crowds were low, while the biking crowds were plentiful.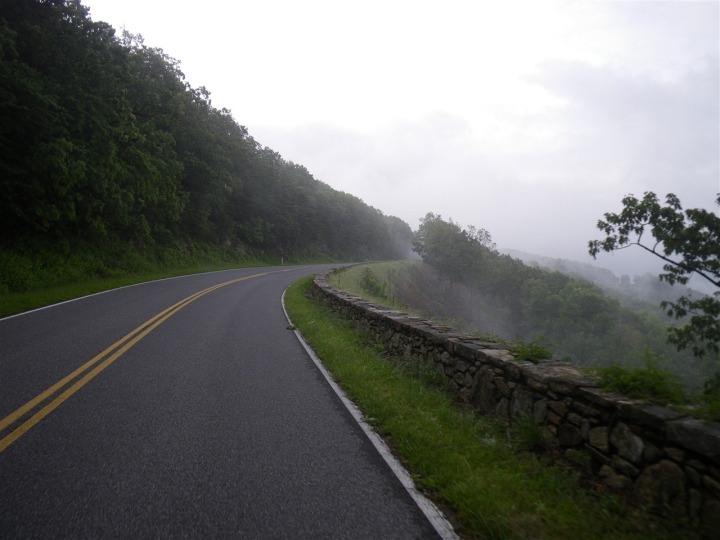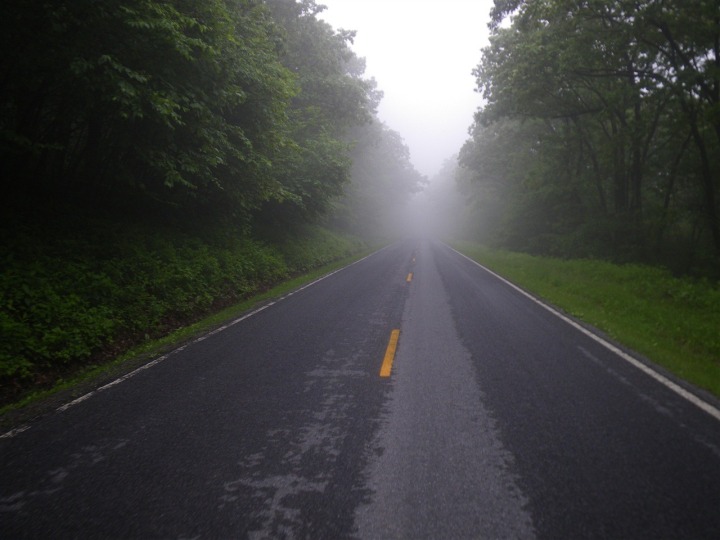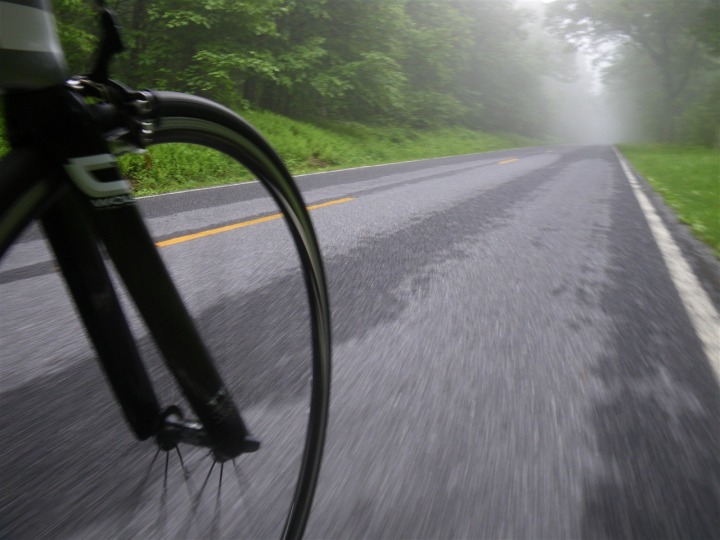 After a while another rather precarious thing occurred. While doing a quick descent on smooth terrain one of my back water bottle holders snapped. As a resultant, the bottle instantly became inverted. Which in turn sent it spiraling to it's death on the concrete below, snapping it's neck (top).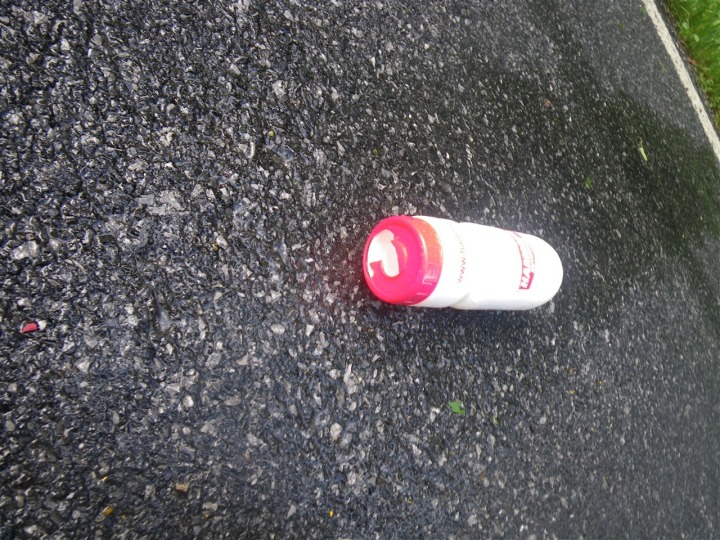 Of course, I brought it back home with me. Leave no man behind!
So how were the compact cranks fairing with the first few hours of climbing? Well…pretty damn well. Here's the first two points I usually measure at on my rides, comparing against my last Skyline ride two weeks prior.
| | | | |
| --- | --- | --- | --- |
| Section | Two Weeks ago | This week | Savings |
| Visitor center to Elkwallow | 1:19:30 | 1:14:30 | 5:00 |
| Visitor center to Tunnel | 1:45:20 | 1:40:14 | 5:06 |
So, in this case we see about a 5 minute savings through the first portion, and a tiny bit extra on the next portion. So that's a massive savings on the first piece, but why only a smaller savings on the next piece? Well, mostly cause it's flats – where compacts aren't going to save you much (if any). Here's the profile up until that point, with the two dots being each of the two points above: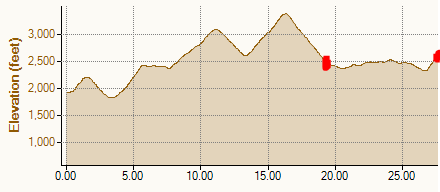 Cadence-wise, here's what that picture looked like – both weeks were equal in low Zone 2:
| | | | |
| --- | --- | --- | --- |
| Section | Two Weeks ago | This week | Savings |
| Start to Elkwallow | 88 | 93 | + 5 RPM |
| Start to Tunnel | 90 | 94 | + 4 RPM |
Again, you see the same pattern of savings – a huge jump in RPM. And again comparatively on the flats where I maintain a higher cadence anyway, the savings is smaller (but still there). This is also why going compact for something like Ironman Florida wouldn't make much sense (super-flat course).
Anyway, onto the rest of the ride. The sun eventually came out (that's my awesome new jersey I picked up in Rome last week, Team Liquigas):
Once I reached the turnaround point the real fun began. Actually first, at the turnaround point I met up with two other athletes that Coach Alan coaches (out of a very small group he coaches overall), given we're on much the same training schedules for the same races, we see each other a bit. We ended up riding nearby each other for a bit. We'd be about the same on descents and flats, but climbs were all mine. Along the flats we were keeping solid spacing to avoid drafting – no point in drafting in training for non-draft legal races, as you only cheat yourself.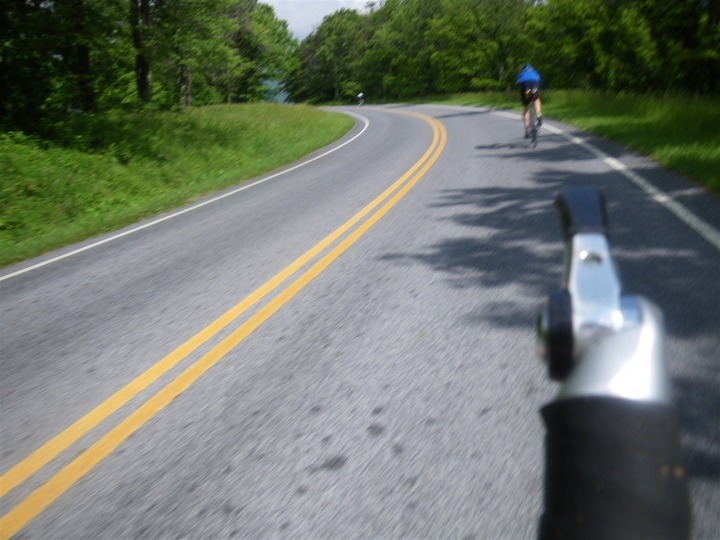 Then came the fun parts. Previously I only rode Skyline all in Zone 2, but the coach wanted to add a bit of Z3 low-cadence action in there to build muscular endurance. So on the way back for one section, I went about 20-ish minutes on a nice long 3 mile climb all in Z3 between 50-60RPM.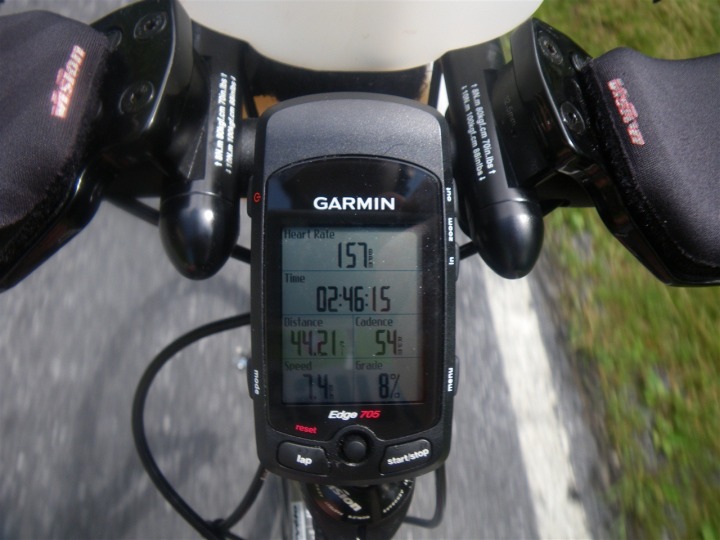 It's QUITE a change from my normal 90+ RPM cadence, that's for sure! But it felt good in a sadistic kinda way. The legs were gettin' a bit of burn there. You can see it below on the graph, the drop in cadence around 2/3rds the way through:

After that climb was complete I had about two miles to recovery before the next and final bit of fun began. Now I got to go Z4A for about 12 miles (including a number of miles of climbing). So essentially, it was like a time-trial of sorts…in the mountains. Awesome! His goal here was to condition my body to going hard even though it was tired (towards the end). Essentially, going hard longer (how else would you do it?). I had a blast though on it.
Before I knew it, I was done. My overall time was incredibly fast compared to last time. While I went 6 miles longer (three miles of which were 7% climbs), my time was only 15 minutes longer. Which means I saved a crap-ton of time (technical term).
Enough time to warrant stopping for ice cream.
Which begs the question – what exactly are "Wet Nuts"? Just wondering.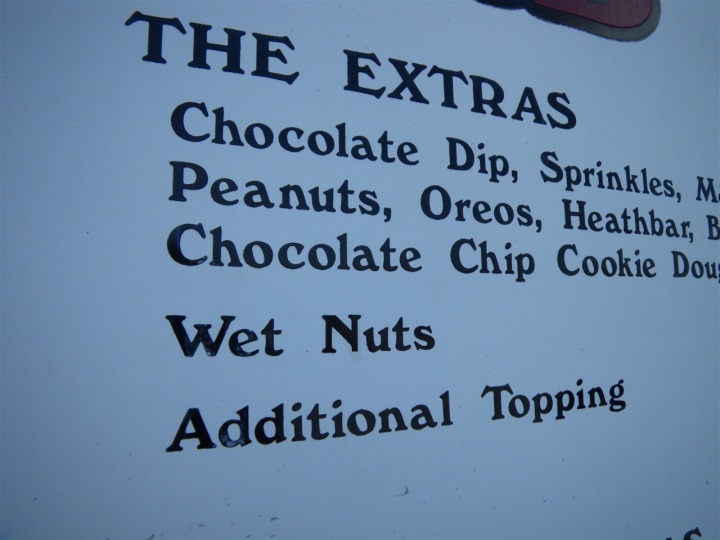 Today (Sunday), was pretty easy and laid back. Just a nice 4,000ish yard swim to knock out along with some weight room action, and a time trial like usual at the end.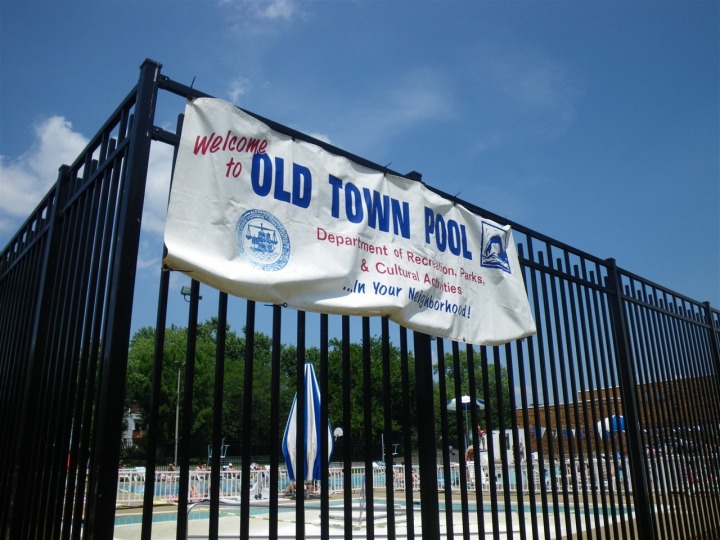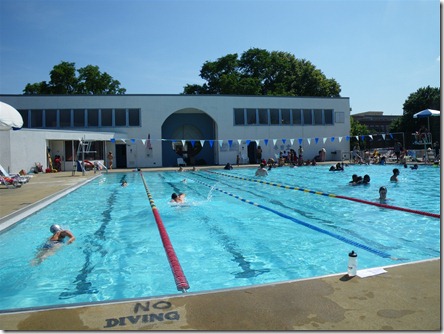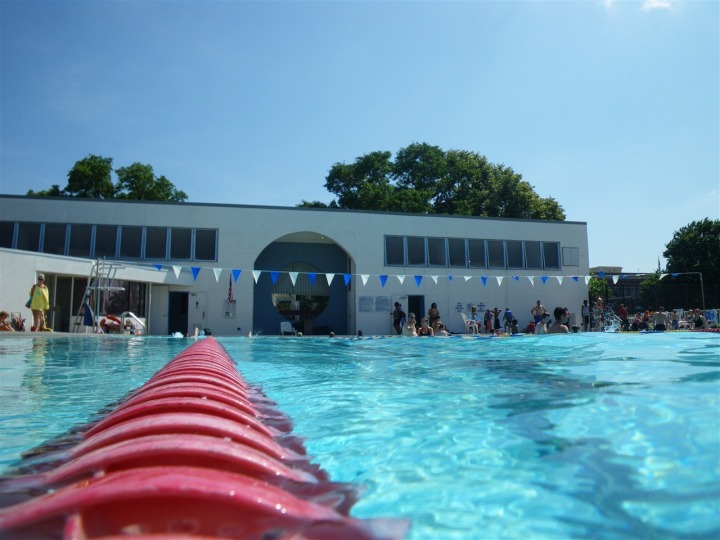 That's it for the weekend! Got a nice long 20-miler (run) tomorrow evening, which should be totally awesome in the upper-80's during the forecasted thunderstorms. See ya!