Sunday morning started early…but I was at least able to enjoy a breakfast before going as my ride to the next airport was slightly late.
Because Sunday my place of work was closed for the weekend and Monday was a National Holiday in Kenya (the country I just briefly passed through), I effectively had two free days in East Africa. So, the only logical thing to do was to escape into the Serengeti (staying in Nairobi city is not logical). Which explains why I'm now across the border in Tanzania and cruising along at 60+MPH on a small country road that connects the town of Kili to the town of Arusha. From Arusha I'll jump in a small aircraft and fly off into the wild blue sky.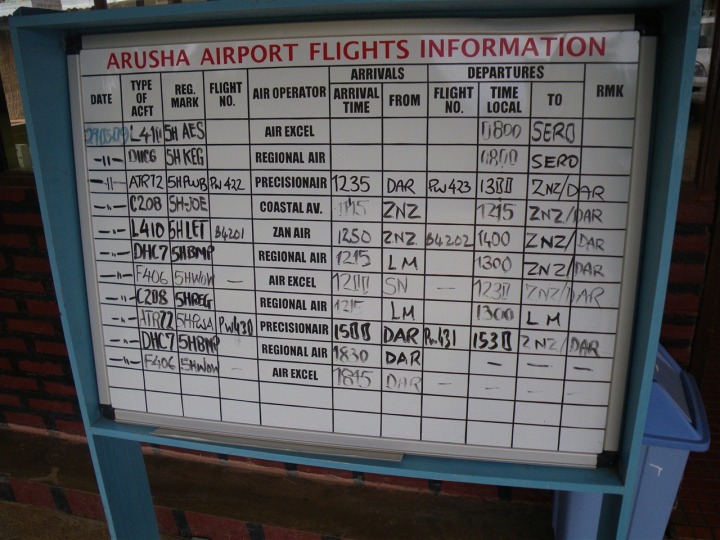 My driver gets me to Arusha airfield about 45 minutes later, and within a few minutes I've walked out to the aircraft. No security or anything special here, just get on and off we go, me and another person.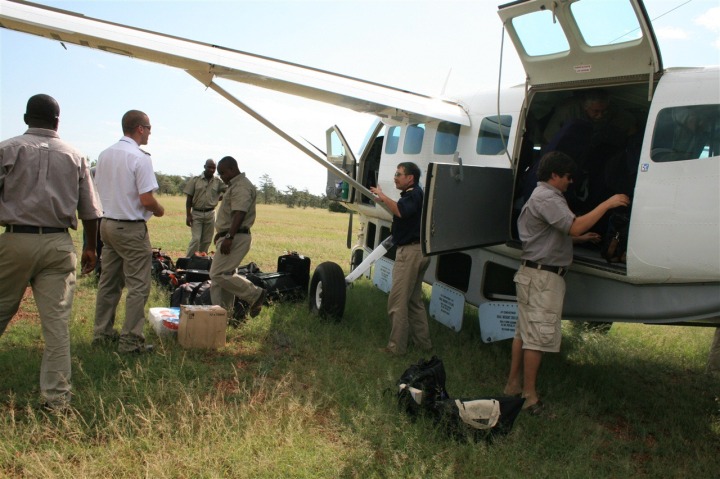 Our flight will make a few stops along the way – as is customary in the African bush. You briefly touch down in one field and then pickup/dropoff someone before heading to the next. Along the way you see the varied landscape of Africa, and all sorts of interesting things below you, as most of the flights are done relatively low. Here's a herd of Elephants from above…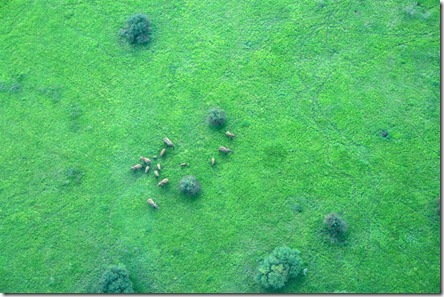 Soon I arrive at my camp's nearest airstrip (grass) and there's a few vehicles ready to take me onto camp.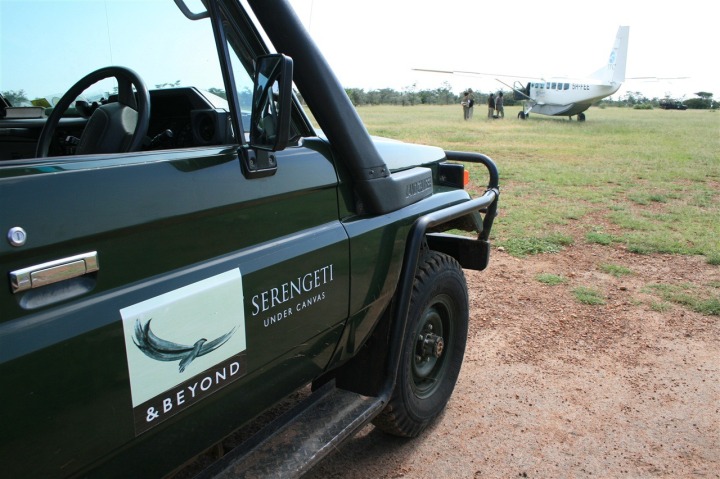 My primary reason for choosing this particular camp was to get as close to the migration as possible. The 'migration' is a continual annual event where about 2 million wildebeest, half a million zebra, and a few hundred thousand other creatures slowly complete a circle following the rains (and thus food) in this region (Kenya and Tanzania). You've undoubtedly seen a Discovery Channel show where animals try and make a crossing over a river with waiting crocs in the water. Well, this is the place. And here's the crocs: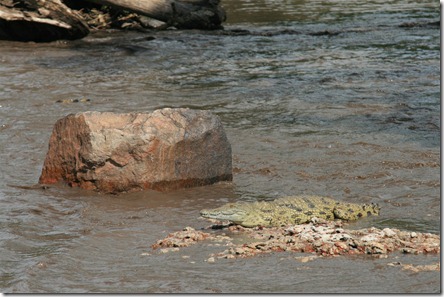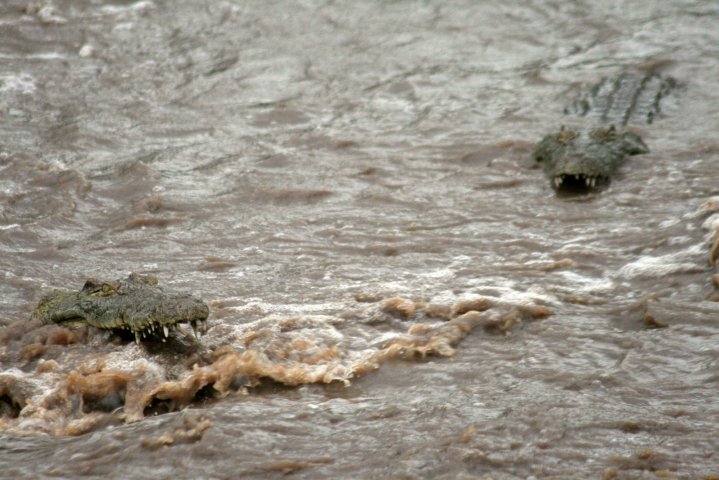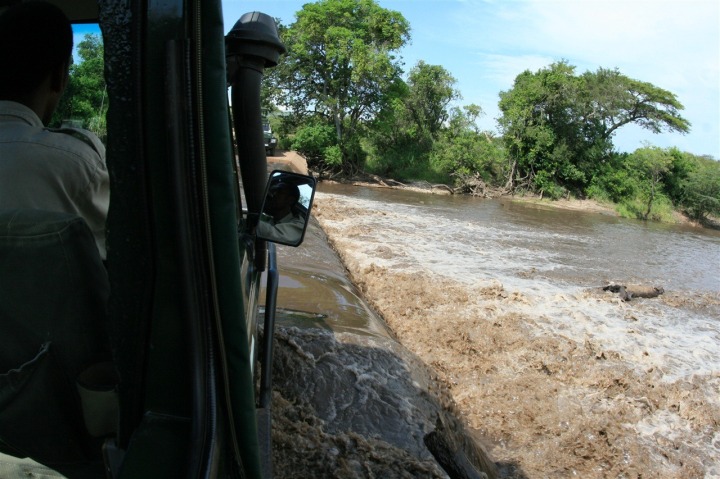 We had to make the crossing first. Later that day one of the vehicles would actually go over the edge (in front of the crocs). Luckily the guide (no guests) was able to make it out of the vehicle and onto it without ending up in the waiting crocs mouths.
Due to time constraints we set off immediately south from the airport about 100 kilometers (60ish miles). While this may not sound like a lot, on back and bumpy bush 'roads', this took nearly 3 hours. This area was where the migration herd was last spotted. The day before the herd numbered about 250,000 animals. It changes from day to day though depending on the rains, with factions breaking off and wandering a bit. Along the way down, here's what I saw:
Baboons (above) are always up for causing some trouble. Thankfully when faced with a Land Rover showdown, they scare and run away easily.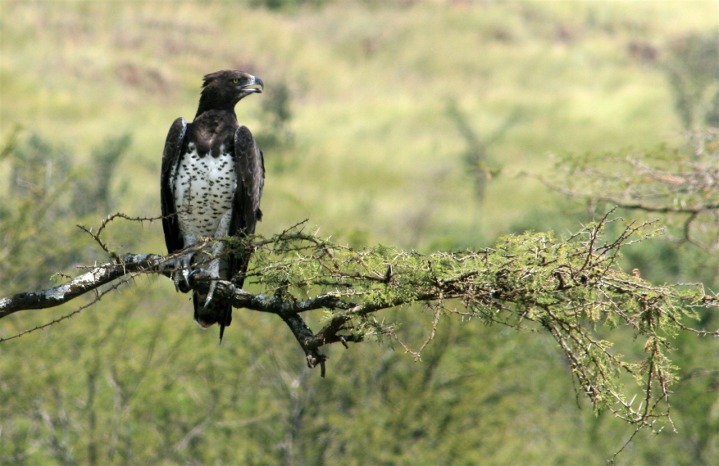 A few seconds later this eagle took off and swopped right over the car. Unfortunately the background is the same color, otherwise the picture would have been spectacular.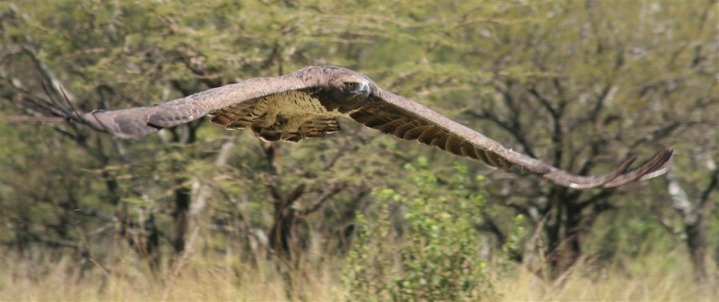 A small elephant family (herd). You can see the baby being protected behind the mother from us.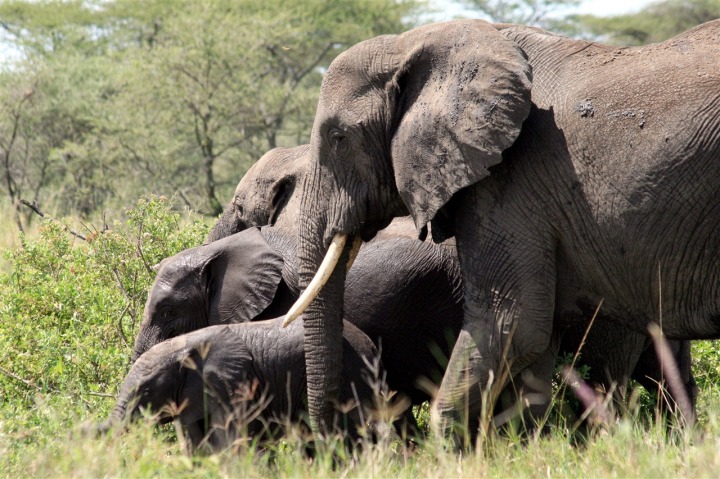 This lion below was hunting some nearby Zebra, but I think she got sick of us watching him…and went back to sleep.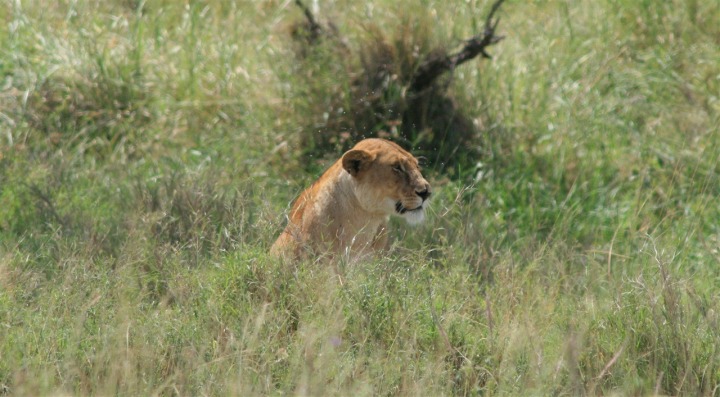 Meanwhile her friend decided to make an appearance and look all pretty for the camera.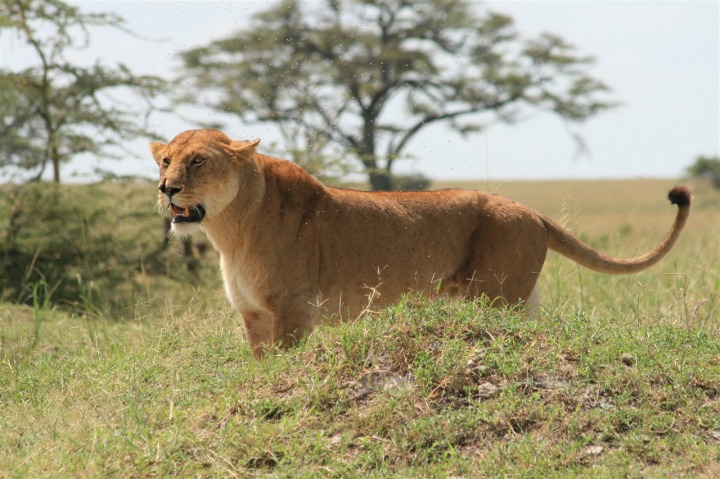 About the same time two other lions – a mother (front), and a younger cub (back) poked out of the bushes as well. Pretty cool. Tons of lions this time around.
Finally, we arrived at one of the most accessible herds for us given the time constraints. While we would have loved to go further south, we had a long trek back requiring us to be in camp by 6:30PM by park rules. So, the herd I saw was a bit smaller at perhaps 8,000 to 10,000 animals. It's a bit hard to capture on camera, because it's EVERYWHERE as far as you can see. Of course, nowhere near what it'd be at 2 Million Wildebeest, but you can't exactly predict nature. This year for example, the rains have completely thrown off the normal patterns, which the animals some 4-5 weeks 'behind schedule' for where they normally are (which should have been in the crocs mouths next to my camp). Some herd pics below:
From there we started to make the slow migration back to camp, but of course there was plenty to see along the way. Starting with a lion hanging out in a tree, kicking back and relaxing.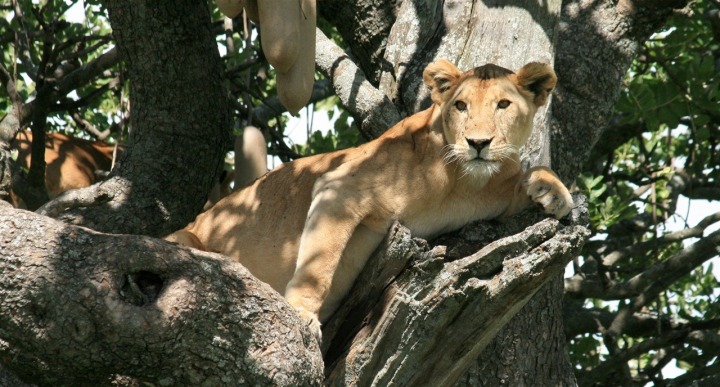 Then a trio of Zebras was looking for a photo op.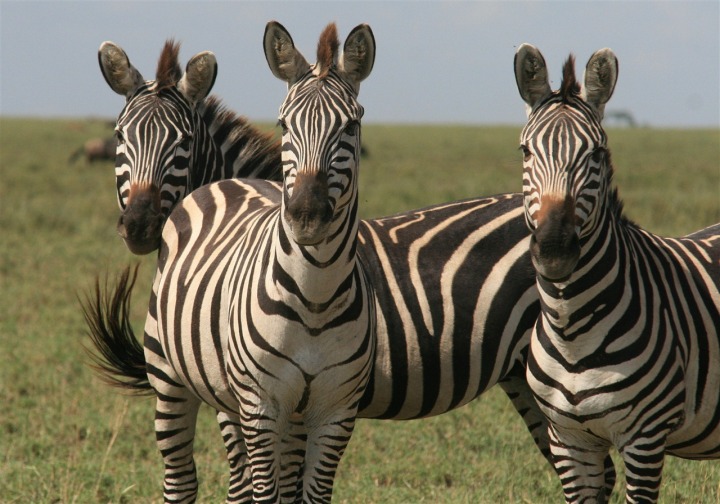 Unlike the Zebras, this Leopard was playing hard to get up in the trees, pushing the limits of my lenses.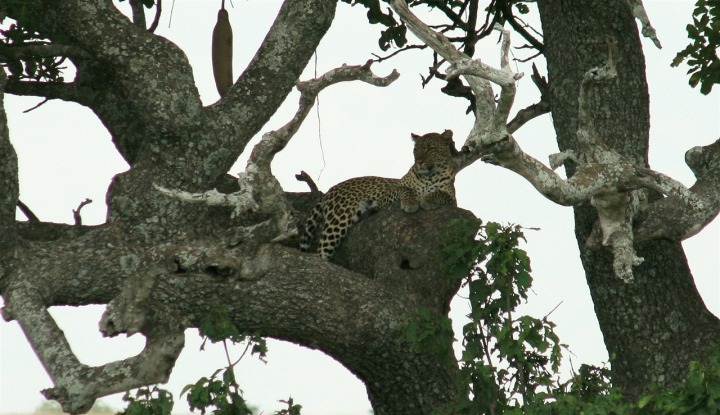 Speaking of lenses, someone asked the other day what I use, here's a rundown:
Canon Digital Rebel XTI with a 70-200mm (Sigma), 75-300mm IS (Canon), Fisheye (Sigma) and 50mm (Canon), as well as the stock 18-55mm (Canon).
Since I had the whole vehicle to myself (minus my guide/drive), the lenses just sat hanging out on the seat next to me, allowing for quick and easy swapping.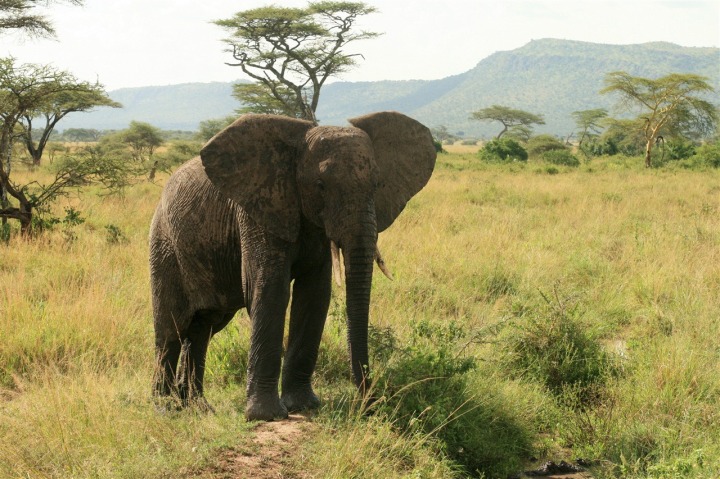 We stumbled on some more elephants again: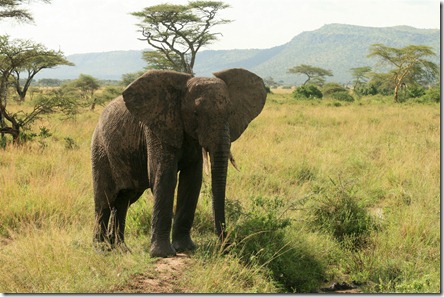 Which proved to be pretty hilarious. This one below actually walked up to the front of us, then picked up a bunch of mud from that little stream, and then proceeded to spray us with his trunk. If you expand the picture you can see the spray everywhere.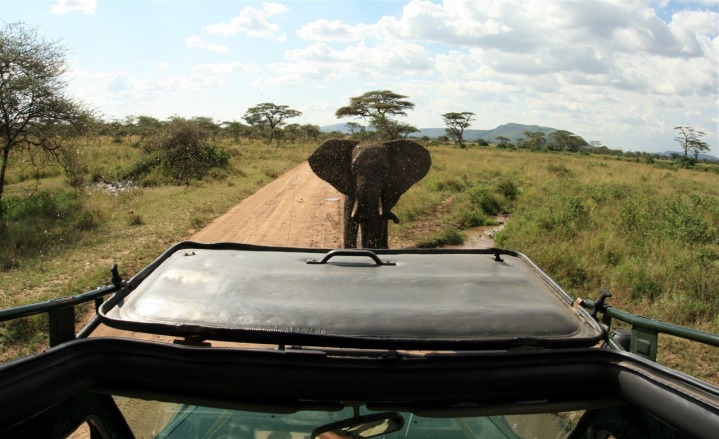 Of course, no Safari would be complete without Mr. Giraffe: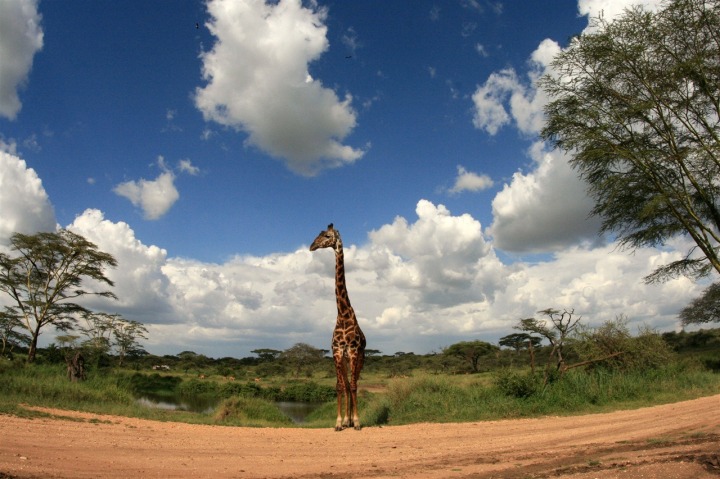 As you can see from the pics, the landscape in the Serengeti changes rapidly, sometimes vast open plains, other times dense bush. However, the open plains look the coolest. 🙂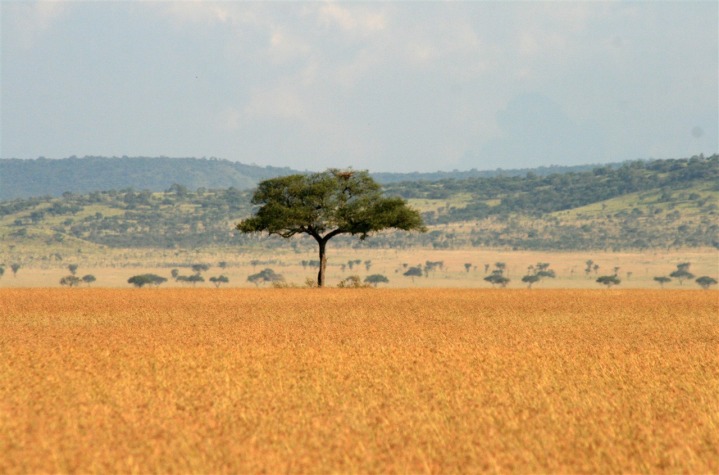 As we neared camp, the sun started to set and produce some incredible pictures. When people think of the Serengeti, they think of a sunset like this. I got really lucky in that my driver was more than willing to stop and setup the vehicle for the perfect shot.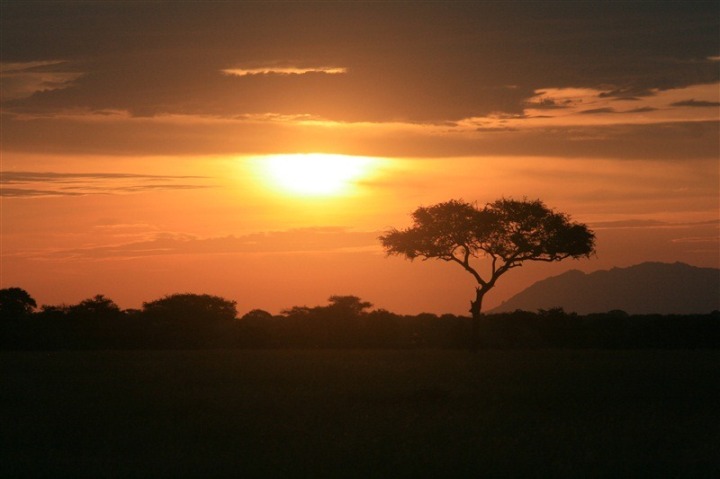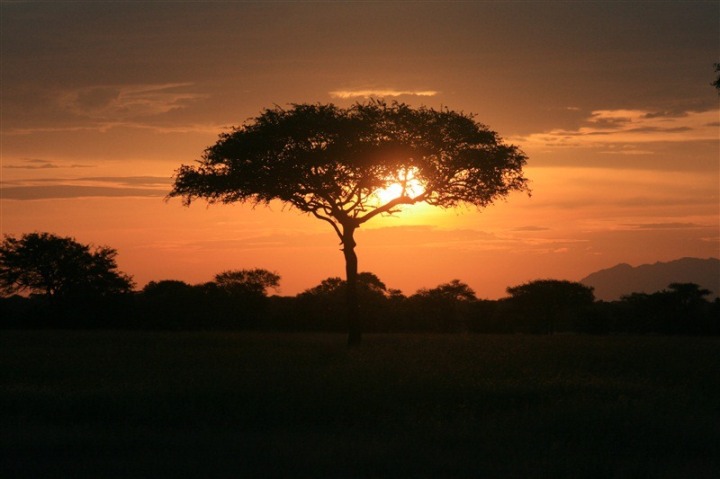 Finally, we got back to camp. Here's my little tent: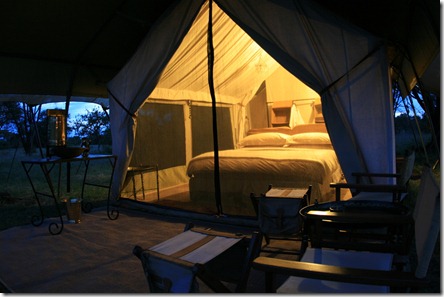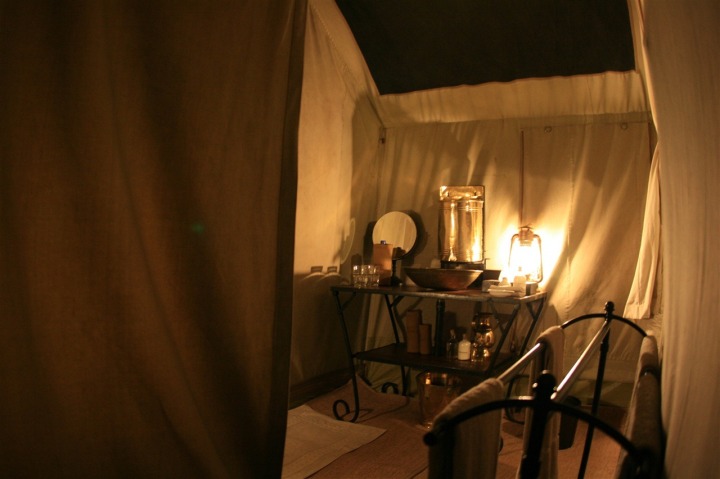 After dinner I quickly fell asleep and got a FULL 8 HOURS of sleep. Holy crap that was awesome. It would turn out to be the only time on the trip I got more than 4.75 hours, with my average being about 4 hours.
Sunrise arrived soon enough and my 'butler' (seriously, I don't know what to do with a butler, but I apparently got one and he was all over me like white on rice) had setup breakfast for me outside the tent. The attention to detail at the camp (Serengeti under Canvas) was pretty astounding. For example, notice the spoons are all facing the same direction. Little tiny details. I'd highly recommend this particular camp (and their parent company). Oh, btw, this camp is unique – unlike every other camp in the entire region, this one actually moves and follows the migration – virtually ensuring you'll be close by. Back to food pics though…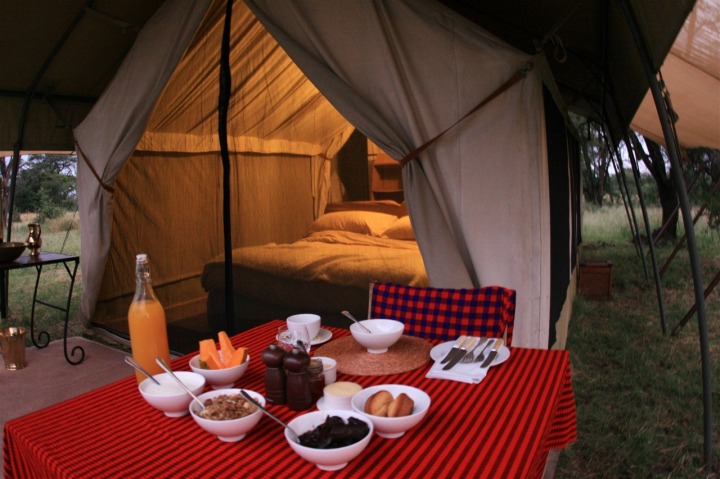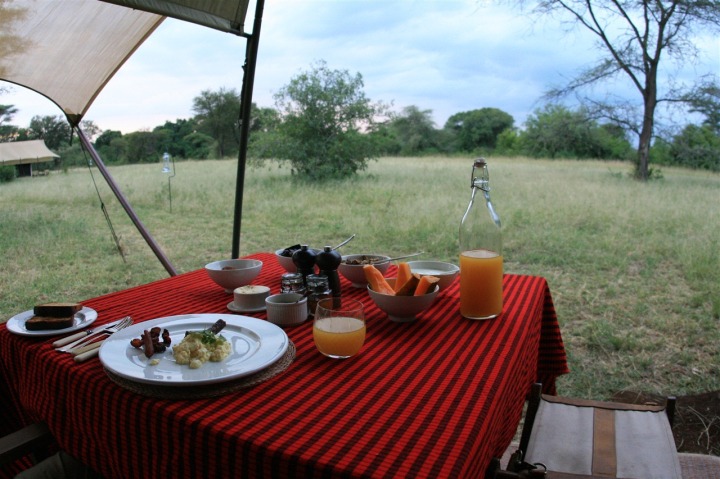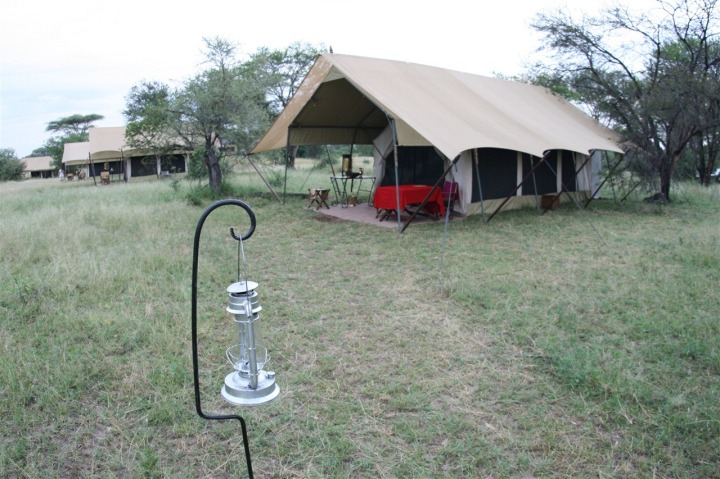 The breakfast was great, and soon I was off again for an early morning drive.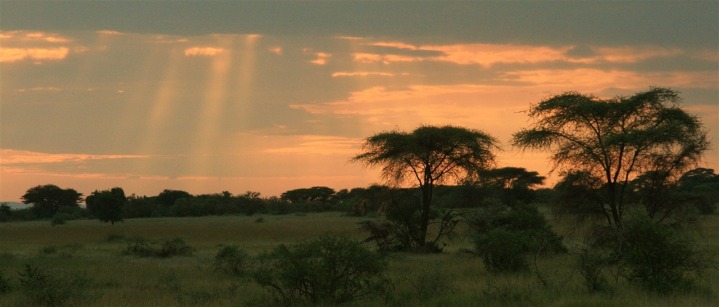 Off in the distance a hot air balloon slowly drifted over the grassland. Meanwhile an Ostrich dealt with two annoying little carnivores nearer to us.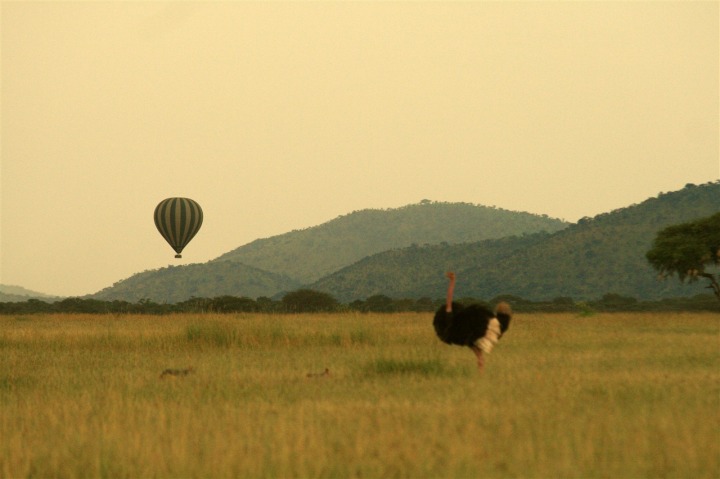 Soon though it started to rain, even the birds were grounded.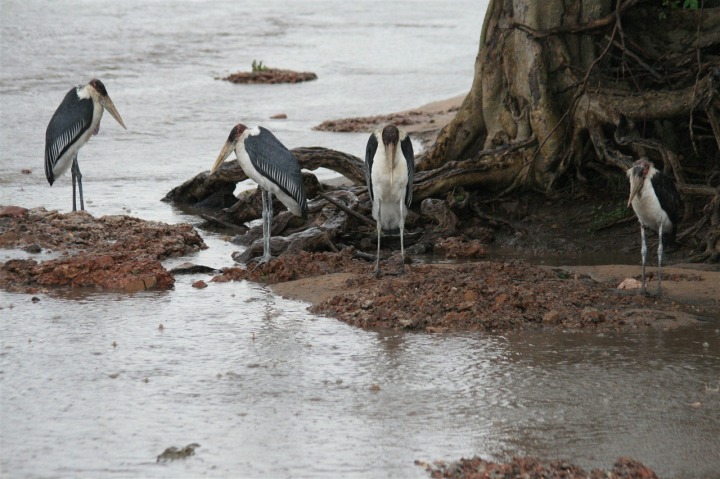 I don't know what this lone wildebeest was up to, but he better find some friends fast…otherwise he'll be dinner (or breakfast as it was). The graininess in the picture is actually the rain.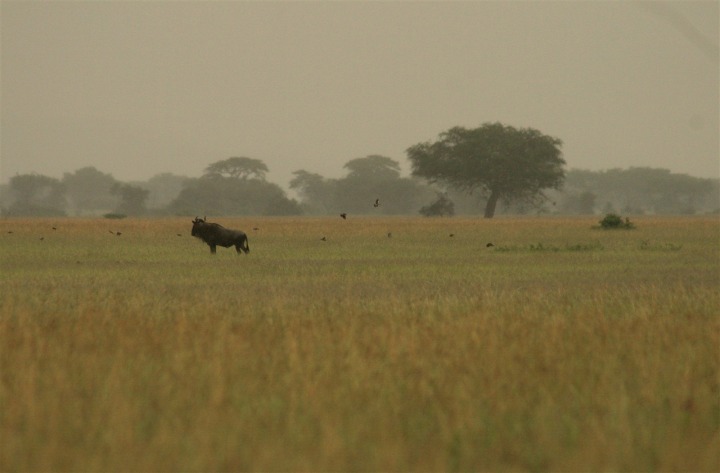 I got to spend a fair bit of time watching Mr. Wildebeast above, because we got stuck right nearby him. The rush of water turned the roads into mud pits, and turned us into a much more static vehicle.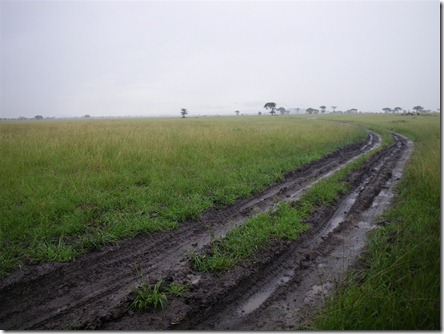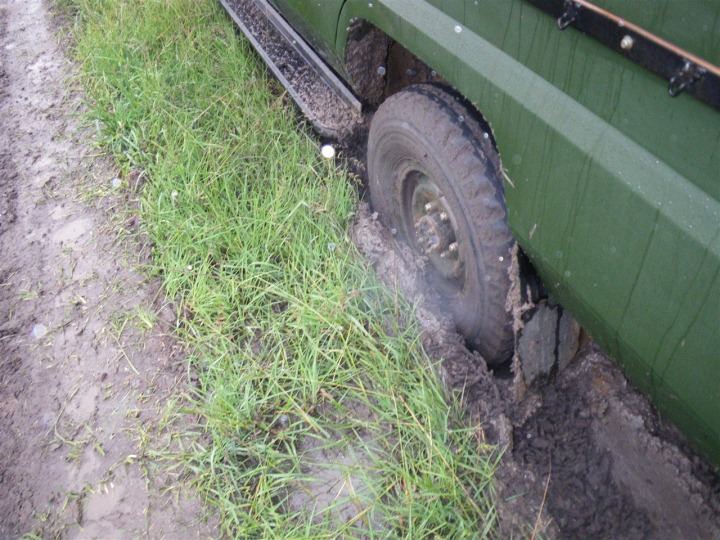 Here's another vehicle from camp (nearby) coming to pull us out of the mud. Our guide is getting laughed at from the other guides here, while he waits out in the rain. Though, because of the rains getting stuck is somewhat common – so what comes around goes around.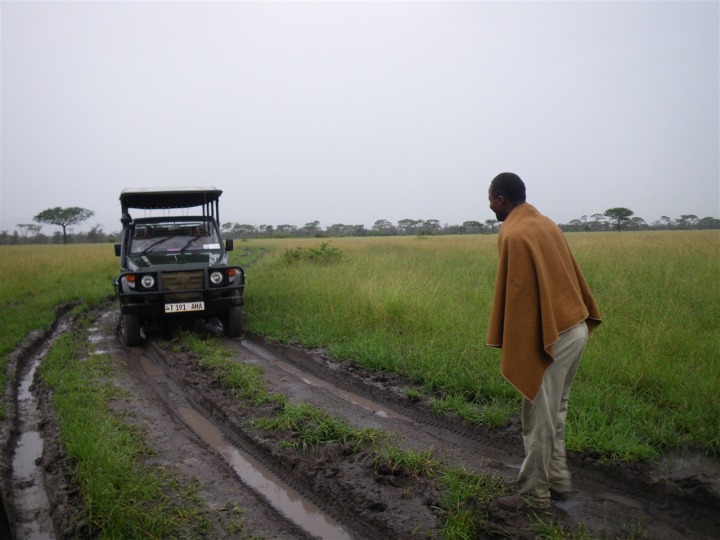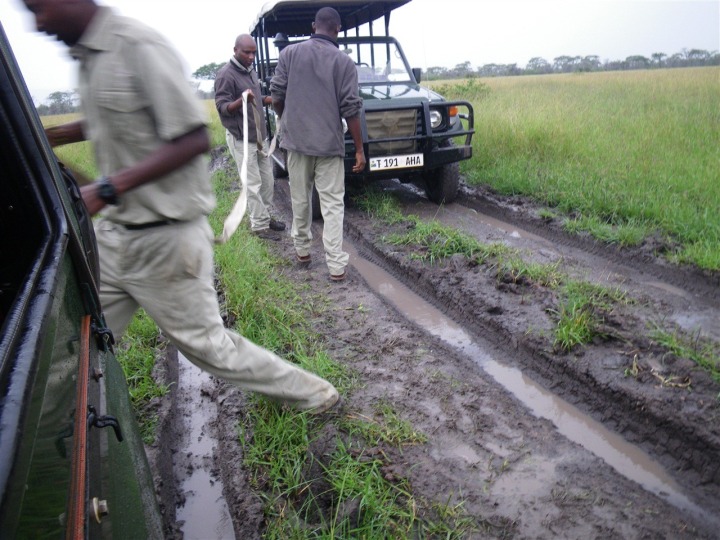 Soon we were on our way, and shortly thereafter on the way to the airstrip. My stay a the camp was almost exactly 24 hours, limited by the reality that I had to get back to work in Nairobi.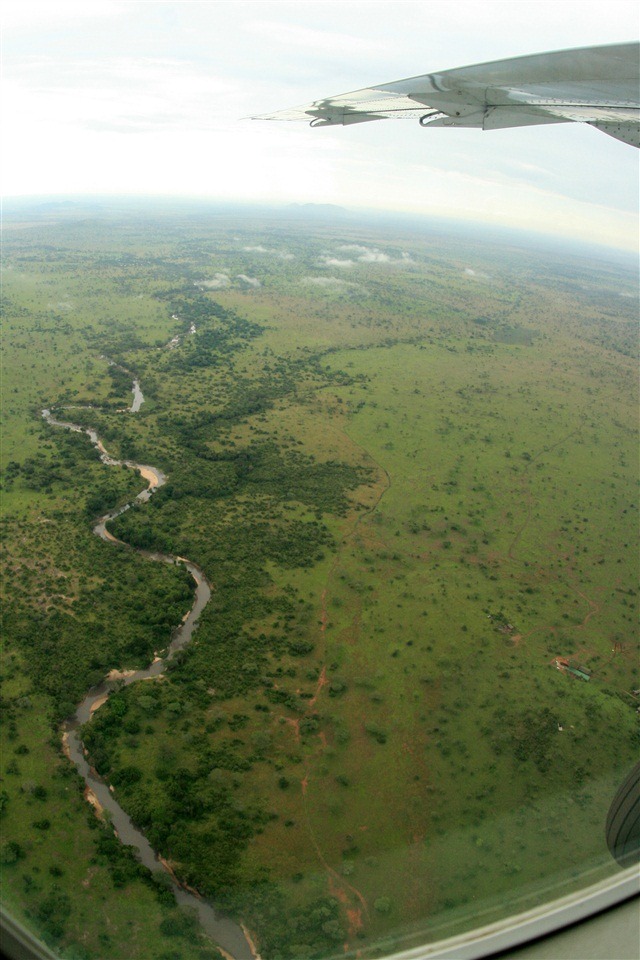 So I hopped around the Tanzanian bush for about 4 hours on what can only amount to as a massive safari milkrun, I think I stopped over 5 times. But at least it's rather enjoyable, I got to see all sorts of cool stuff and swoop in over camps and animals.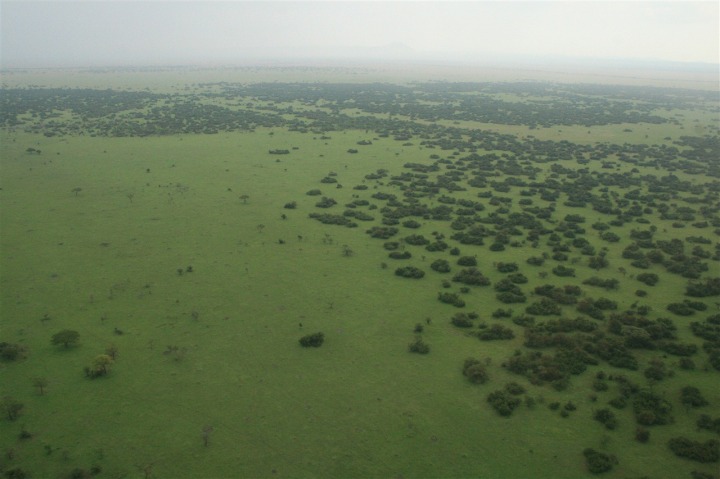 Eventually I ended up in Kilimanjaro Airport before making the final hop back to Nairobi for work early Tuesday morning.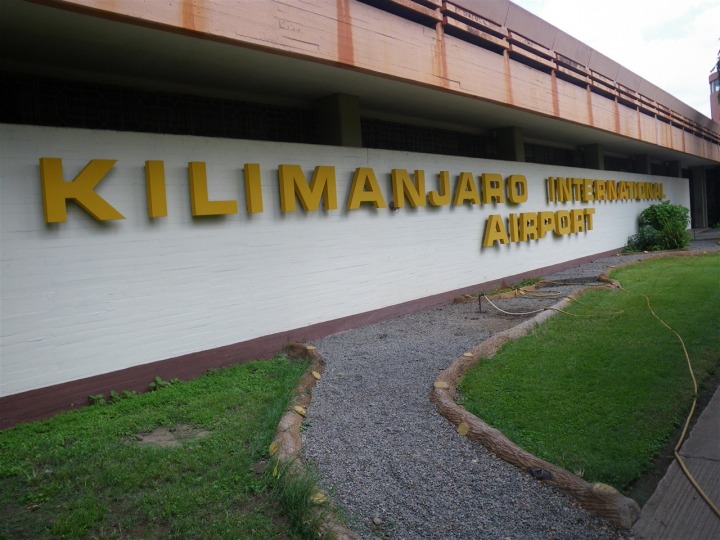 Which…is where we'll leave this little story for now (Monday Afternoon). I promise you though, the next posts are shorter, albeit hopefully equally as entertaining.
(Side note, if ya want to see a bunch of Safari pics from my much longer Safari trip to Kenya, check out the links in this post)
(Secondary side note: Slightly delayed posting due to lack of Internet in the bush)