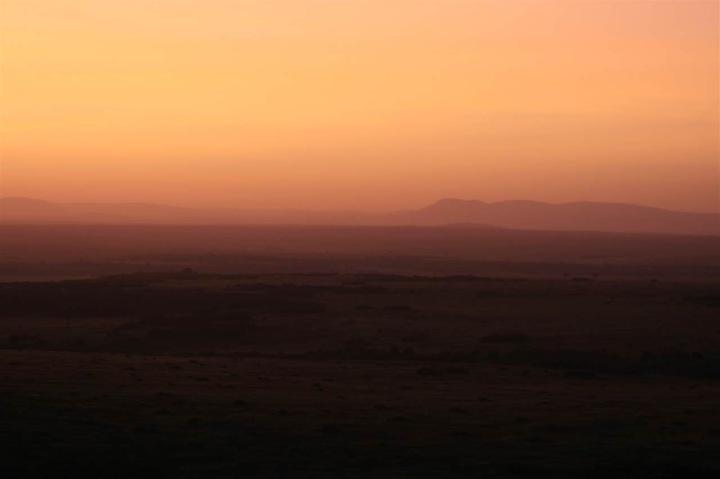 Our last day of the trip, after two weeks and a lot of miles, we were ready to wander on home.
But first we had the morning game drive.  I wouldn't call it out, but since we saw the very rare black rhino (only 6 exist in the entire Masai National Park), I figured I'd post a picture.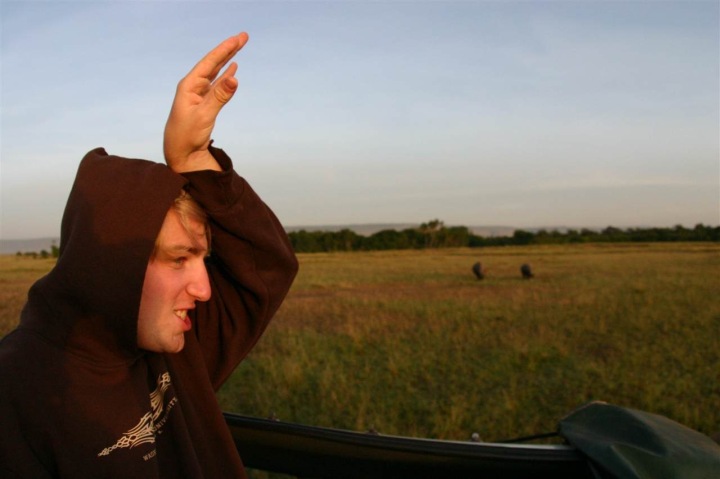 Oh, no – not above, that's my brother and his impersonation.  Below…that be the Rhino.  Well, actually two black rhinos – a mom and her baby.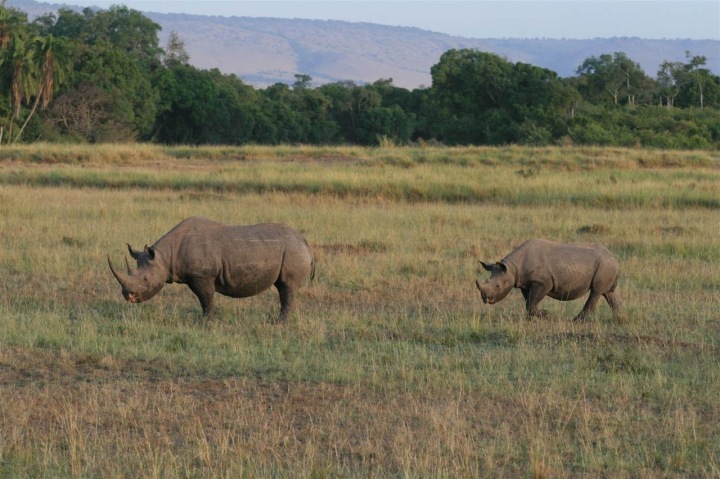 Oh, and we saw more lions.  At one point they came a wee bit close for comfort.  One gave my brother a look that very clearly said "You are my breakfast appetizer".  I was meanwhile trying to figure out how best to exist the vehicle when the lion came on in.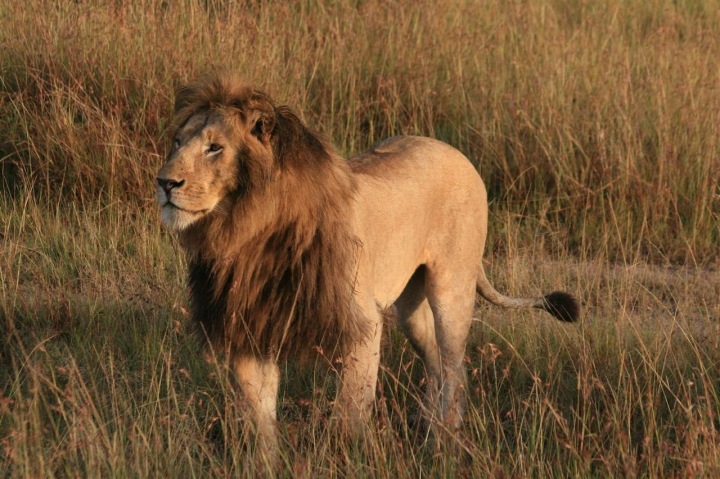 Oh…and his lion impersonation.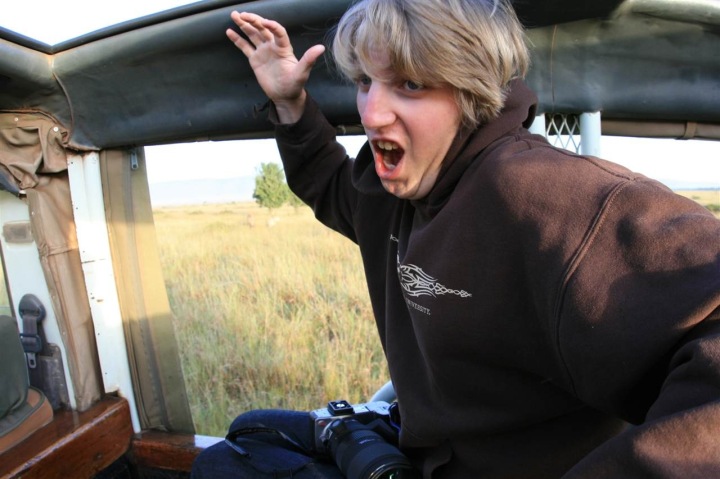 After about 12 total game drives, we were done.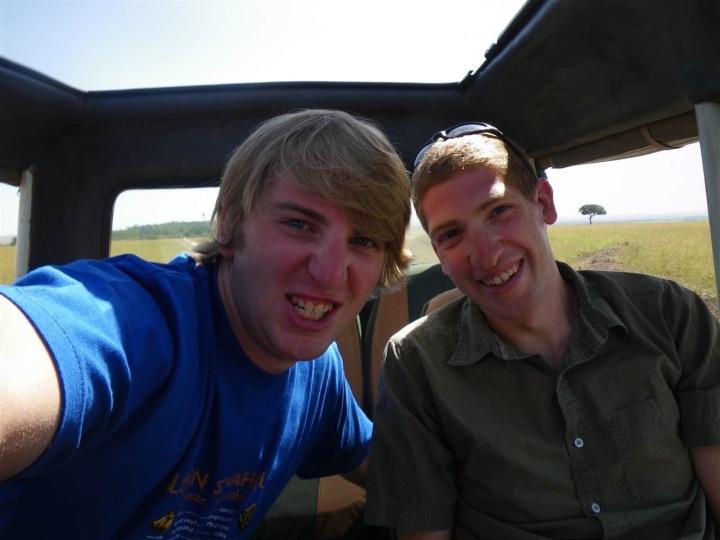 So we signed the guest logbook and headed on out.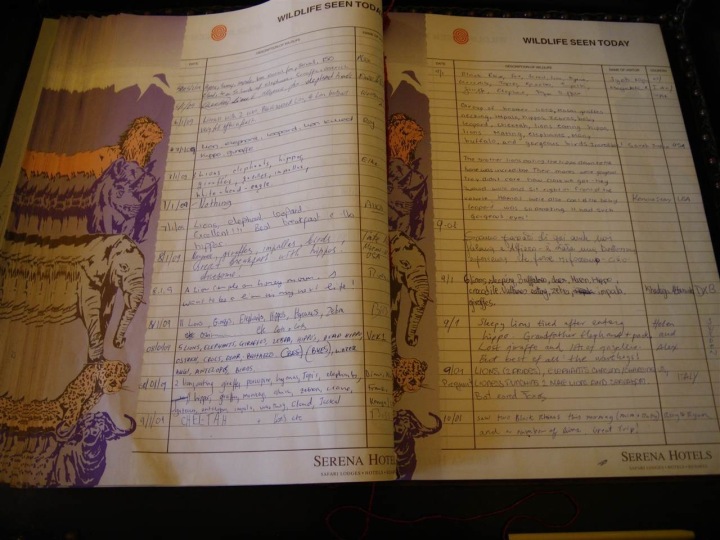 Of course, the cheapest way out was simply to hitchhike our way across Africa, through the Middle East and back to DC.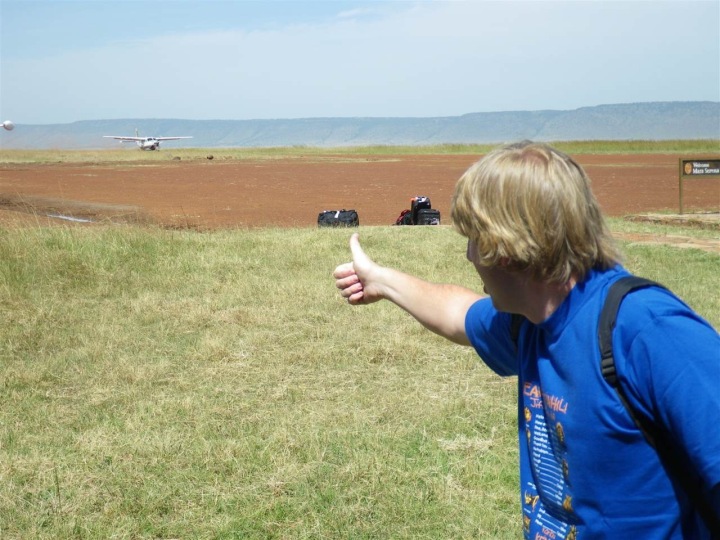 His first attempt was a fail.  It wasn't our plane.  But the second attempt did net some results.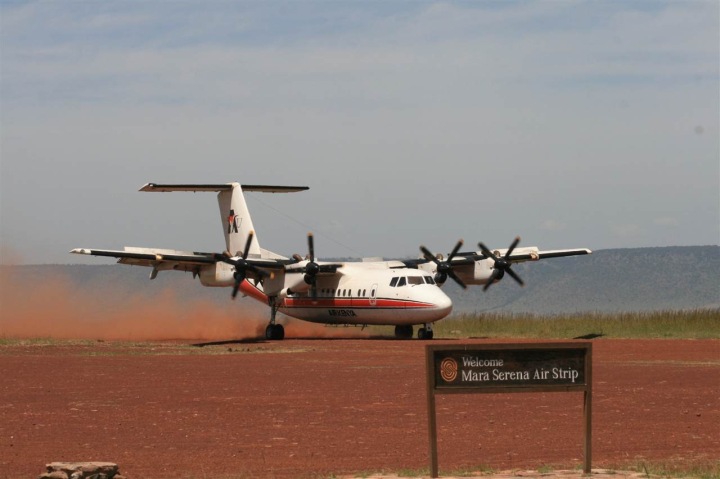 Upon landing in Nairobi we had a few hours to kill and decided to go to the legendry Carnivore restaurant.  Done in the style of a Brazilian steakhouse (like Fogo de Chao)where dudes come around with big ole' chunks of meat on swords, it offers a unique African twist on things.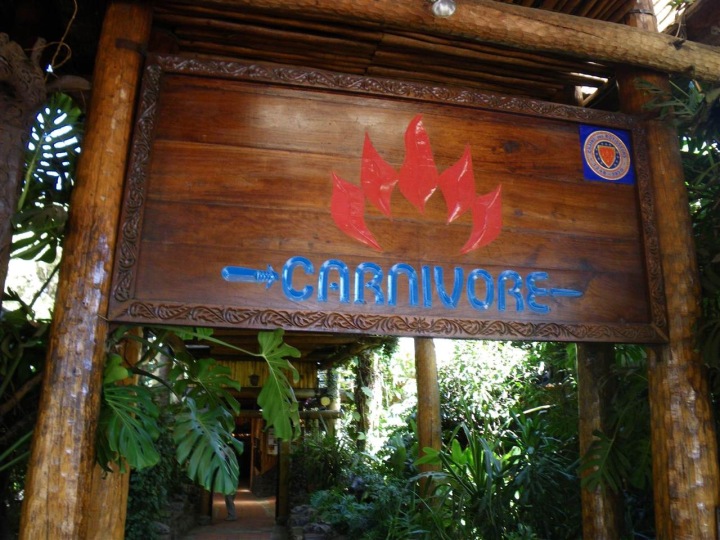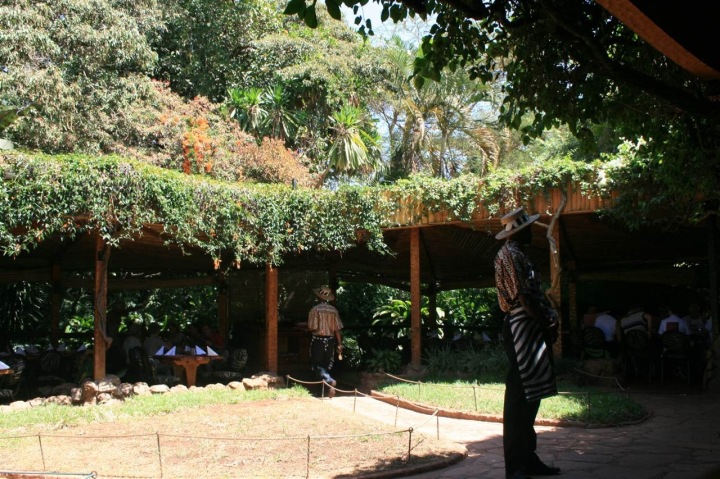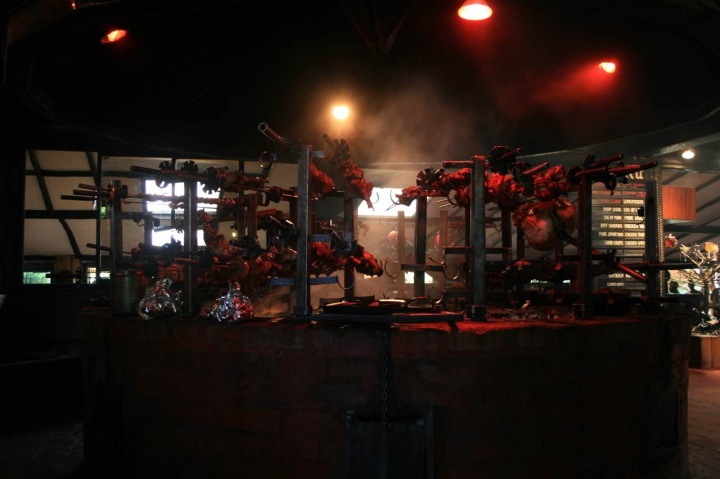 So how unique?  Well, just check out the menu – in particular those under the section of 'exotic meats'.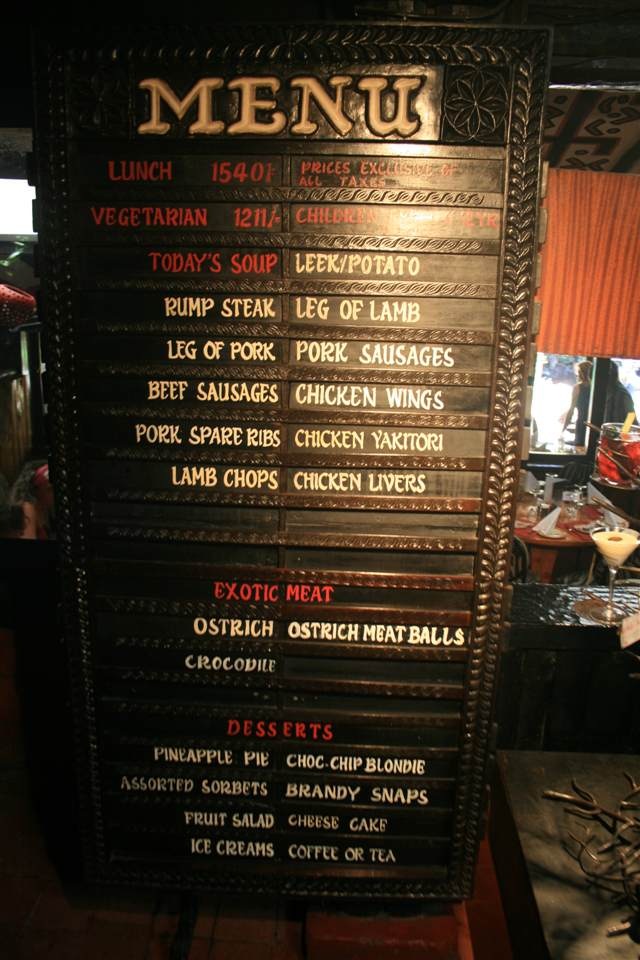 Here's the guy serving my brother a nice big chunk of red meat.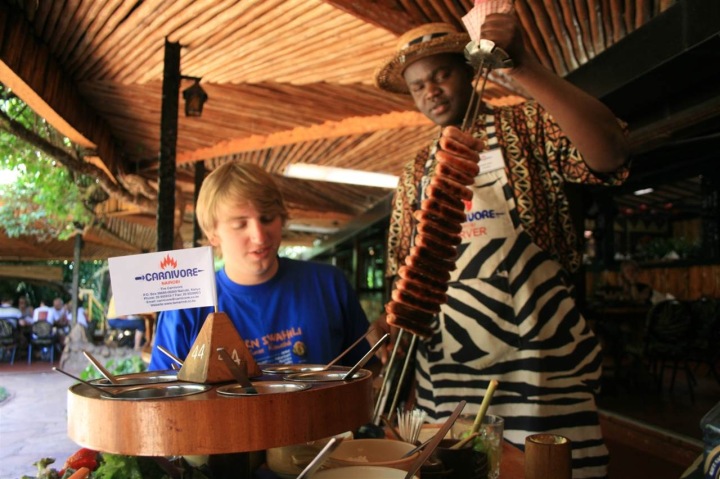 And here he's serving me crocodile!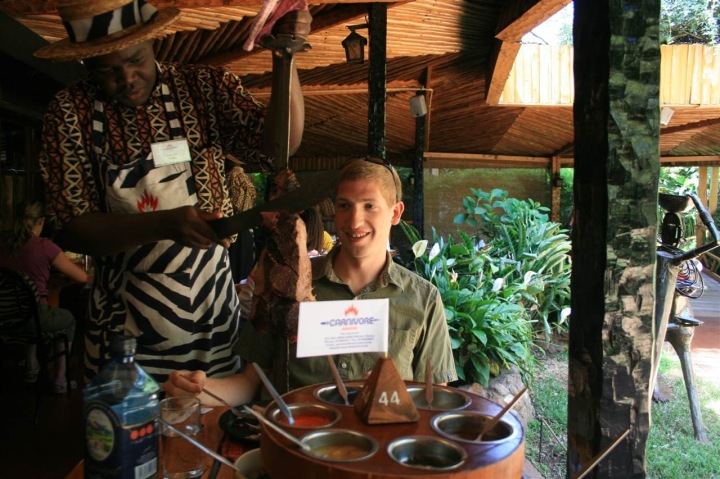 So what does crocodile taste and look like?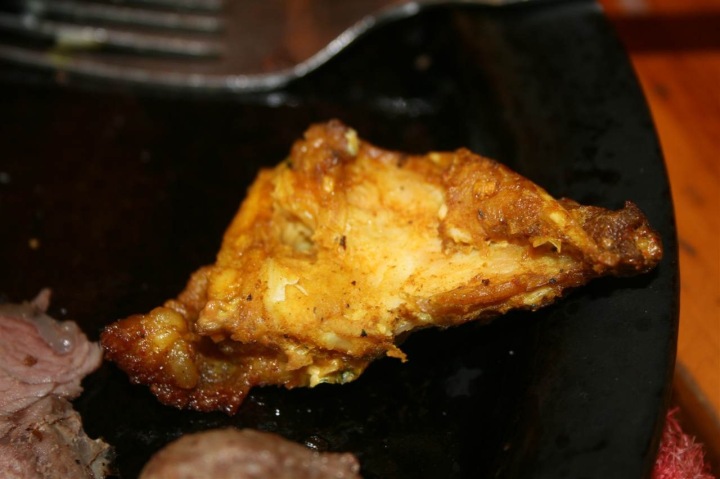 Well…chicken.
But the best was the ostrich balls.  No seriously…ostrich meat balls.  They were quite juicy and really perfectly seasoned.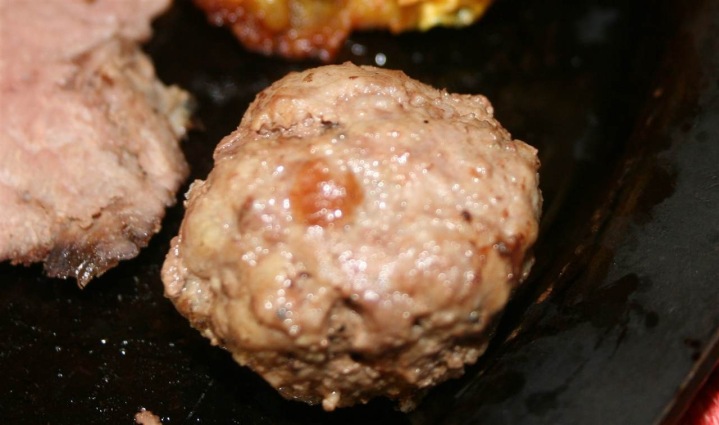 After that it was time to begin the journey of a thousand (or 9,000 as it be) miles home.
Our first leg from Mara Serena (middle of nowhere) to Nairobi was now complete (1 hour).
Our second leg: Nairobi to Dubai (5 hours)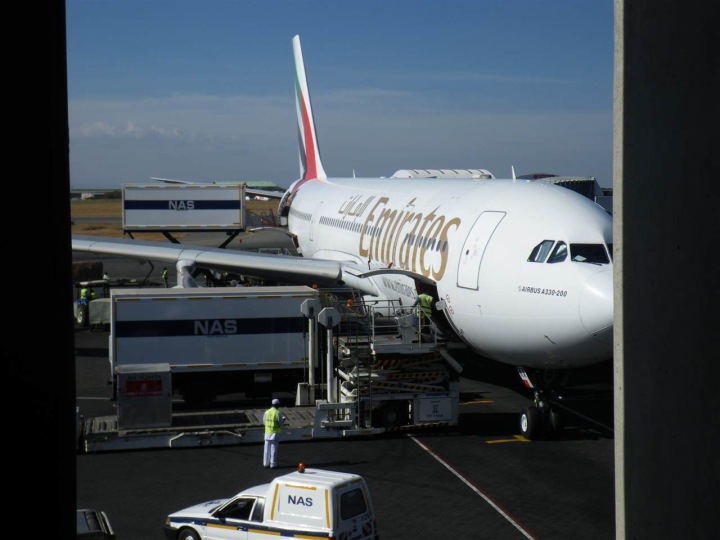 And our and final third leg: Dubai to Washington Dulles nonstop (15 hours)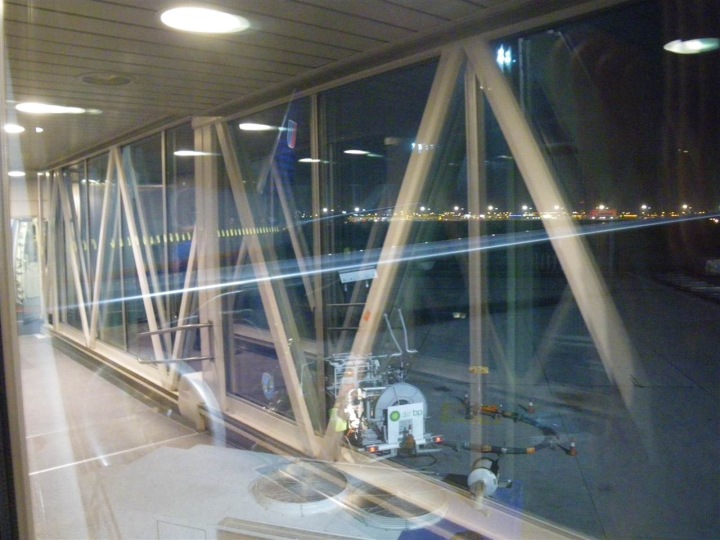 Here's the route we took, kinda interesting.  As recorded by Mr. Forerunner 305 (it took some creative charging to get it to last the 26 hour journey home).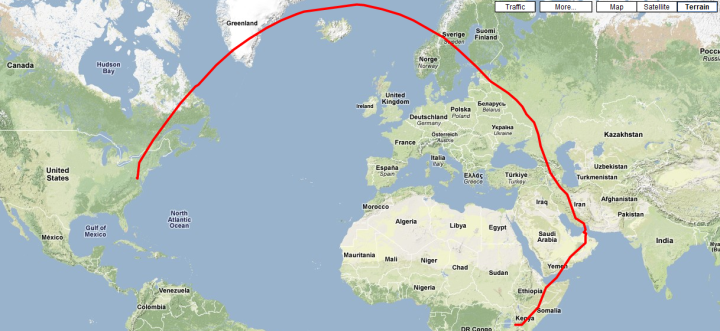 And with that…I'm home. 🙂
Overall on the trip we flew over 21,805 miles and took 11,175 photos (taking up an astounding 58GB – yikes!).  For those curious, both my brother and I had essentially the same photo setup:
Me: Canon Digital Rebel XTi (400D) with a stock Canon 18-55mm lens, a Canon 75-300mm IS lens and then a smaller Optio W60 point and shoot digital camera

Him: Canon Digital Rebel (300D) with a Tamron 18-55mm lens, a Canon 70-300mm lens, and then also a smaller Optio W20 point and shoot digital camera

We both shared a Sigma 70-200 lens and a Sigma Fisheye lens.
If you're ever considering a trip to Africa and like to take photos, you'll need a lens that goes in the 200-300m range.  Anything shorter (less range) and you'll likely be disappointed with the results.
As for my super-quick overall thoughts on the trip:
Dubai: While I've been there before, I still had a blast and enjoyed.  Dubai's a great place for an intro course to the Middle East, and can fit a lot in as little as 2-3 days.  It's also an easy place to stopover and transit with.

Egypt: Umm…yeah.  Here's my advice – make you're stay to Cairo as short as possible.  It's very easy to do the Pyramids and all the city stuff in one jam-packed day.  Then get the heck out of Cairo and explore the rest of the country.  The rest of the country was quite enjoyable.  Oh, and avoid Egypt Air like the plague and fly other national carriers (Emirates, British Airways, etc…)

Kenya: This being my second trip to Kenya I continued to be amazed with the country.  Every.single.person we met was incredibly friendly.  They didn't just want your money – they actually wanted to talk, and chat, and understand what life was like outside of Kenya.  I'd highly recommend going to the Masai region of Kenya, as well as another location within the country.  This allows you to see different animals, environments and cultures.
So with that, I'm done.  Here's a list of all the posts I made about the trip.  One big-ass trip diary of sorts:
Dubai:

Dubai Day 1: Sighting off camels…while swimming

Dubai Day 2: Relaxing? Umm…maybe.

Dubai Day 3: Skiing in the desert- Prepared two ways

Dubai Day 4: Sand Dunes, Soccer and Suits

Egypt:

Egypt Day 1: Perfecting telling people off

Egypt Day 2: The long road ahead

Egypt Day 4: Planes, no trains, and some messy automobiles

Kenya:

Kenya Day 1: 'Smile…you're in Kenya!'

Kenya Day 2: Lions, Leopards and lots of land