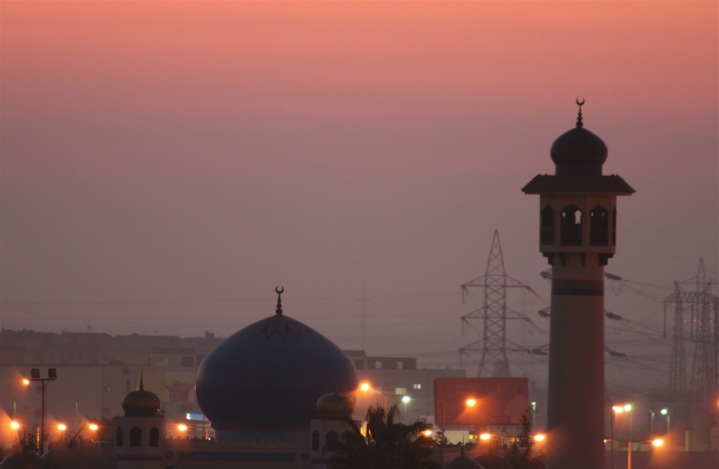 (Waking up to sunrise in Giza)
When most people start off on a long drive, they tend to bring useful accessories such as maps, directions and perhaps even a little GPS navigation system.  We however…decided against all of those.  We had no map, we had no functional directions (technically we had directions – but given everything was in Arabic, they weren't exactly helpful).  And while we also technically had two GPS systems, neither was capable of direction-based navigation – and instead they just stood by recording the whole adventure or transmitting it live.
We decided we'd drive across the country to Taba, which is at the top of the Red Sea on the border between Israel and Jordan.  From there we'd drive down the coast to Sharm El Sheikh (Sharm for short), a resort city known for its diving.
At around 7:30AM we set out from the hotel…and within about 4 minutes we were lost.  The directions didn't cover what to do when there was no road signs.  Nor signs about upcoming cities, upcoming roads, or even the current roads.
So we switched to a navigational medium that's as old as the Pyramids itself…navigating by the sun.  Since it was just after sunrise and we wanted to go east, we pointed the car towards the sun and headed east.  What?  You think I'm kidding.  Nope, I'm serious – that's how we navigated across Cairo.  As you can see…sometimes it worked out, sometimes not so much.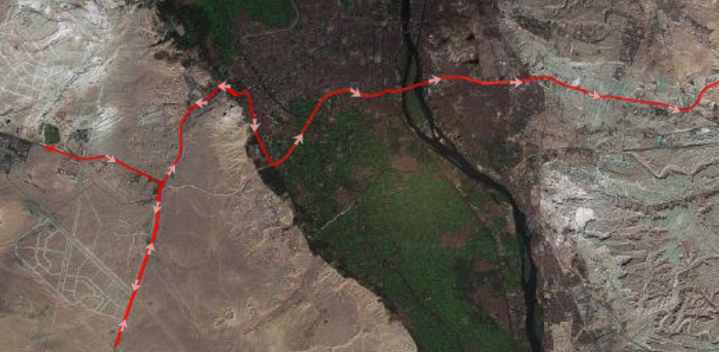 Eventually we bumped into a highway (without any directional signs either) and asked a few police officers.  After they expressed confusion at us driving all the way to Taba, we decided on a closer goal – Suez.  As in the Suez canal.  It was only an hour away, and surely they could get us there.  Without any English spoken we managed to hop from cop-stop to cop-stop getting hand directions (there are cops every few blocks/miles).
Eventually we found a sign pointing towards Suez and we knew we were on the right track.  See, the only directions I did have basically said – 'Go to Suez, then continue onto Taba'.
Getting to Suez was quick.  Then again…everything is quick at 150KMH.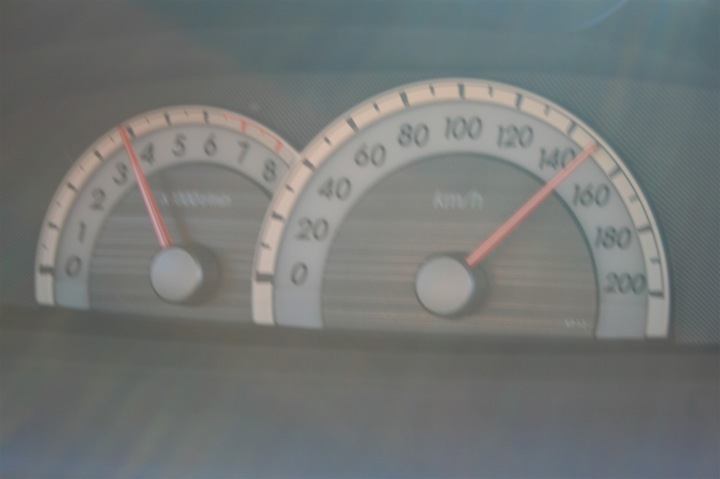 Upon arriving into Suez we had one minor little problem.  We thought we'd just be able to drive straight through town, over the canal and eastward into the sun.
Apparently not.
It took many…many…many cop-stops to get this one sorted out.  As you might see from the below driving.  The end resultant actually involved a tunnel which goes below the canal.  So we never saw the canal, but did get to drive under it.  At that stage in the game we were counting our lucky chickens that we just figured out how to get to the other side of the canal.  Going on a photo-safari to find the canal itself looked like an opportunity to get further lost (or shot by the military people guarding it).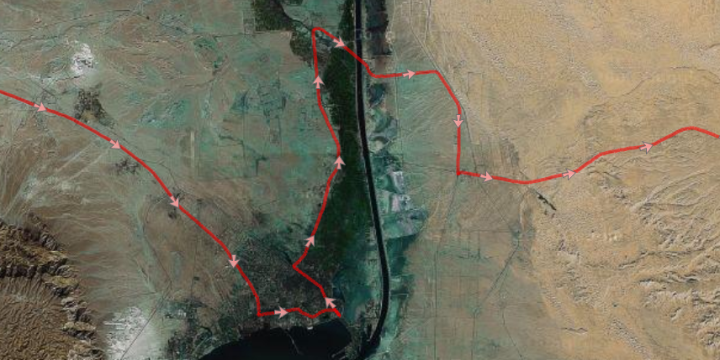 After Suez, there's a whole lotta nothing.  About 3-4 hours of nothing to be precise.  Vast desserts, high altitude plateaus, mountains, sand..more desert. Here's what nothing looks like: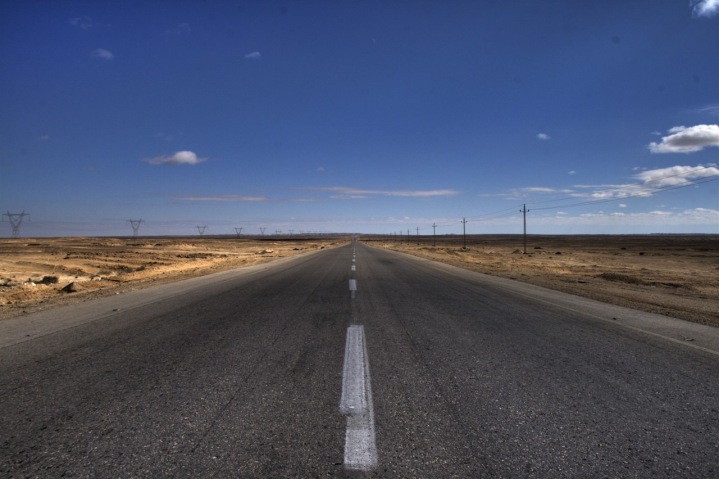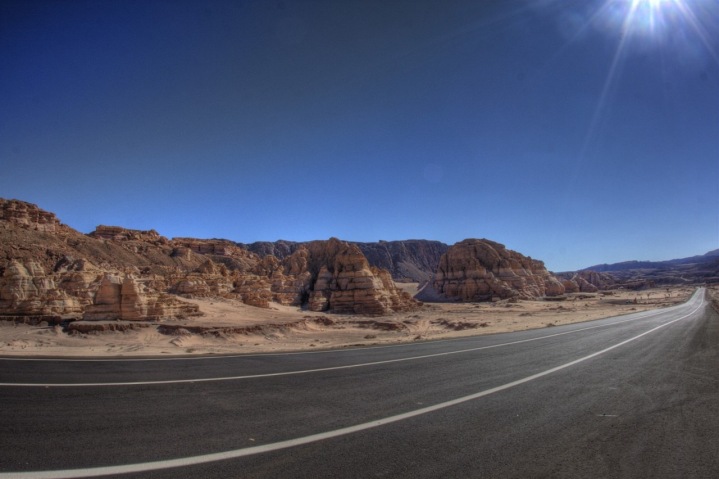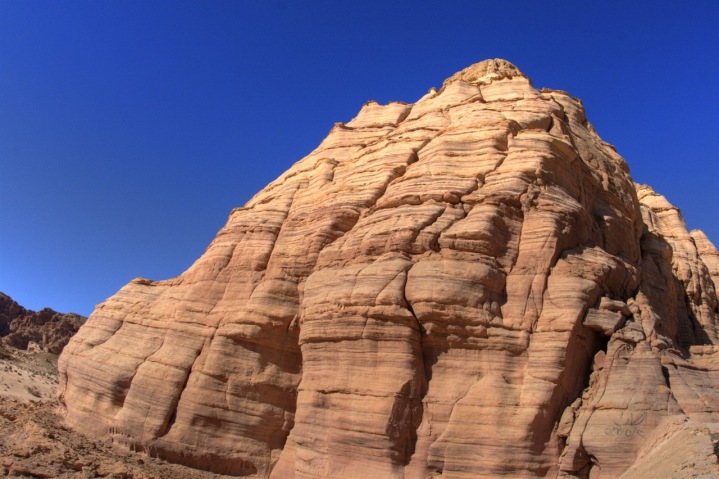 Eventually we hit the Red Sea, well, technically the Gulf of Aqaba.  In the process we came as close rather close to Israel.  About a mile from the border.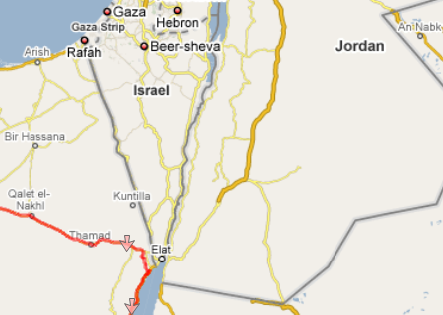 Given the current situation we decided to avoid a crossing to just get a stamp in our passports.  Further complicating matters is that Israeli stamps can be rather problematic for entry into other Middle Eastern countries (you'll get denied entry, although you can instead get stamped on a blank sheet of paper).  Of note is that Jordan is also just across the water, a few dozen miles away.  The pictures below have Jordan in the background.
However, the Red Sea was a welcome sight.  After miles and miles of desert, it was nice to see some blue.  And very pretty blue at that.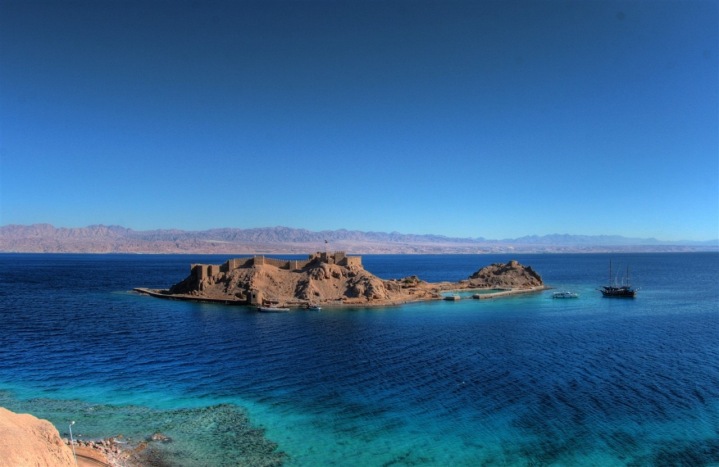 Above is Pharaoh's Island, just a mile from the border from Israel.  And below are some Mosques, in the background is the country of Jordan.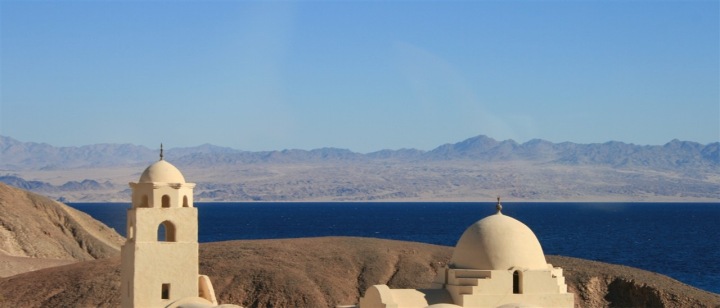 Despite our excitement to see the water, it turns out it wasn't going to last.  The road quickly turned back inland and we were into the mountainous deserts again, paralleling the strait.
There were a number of interesting semi-random sights along the way though, including: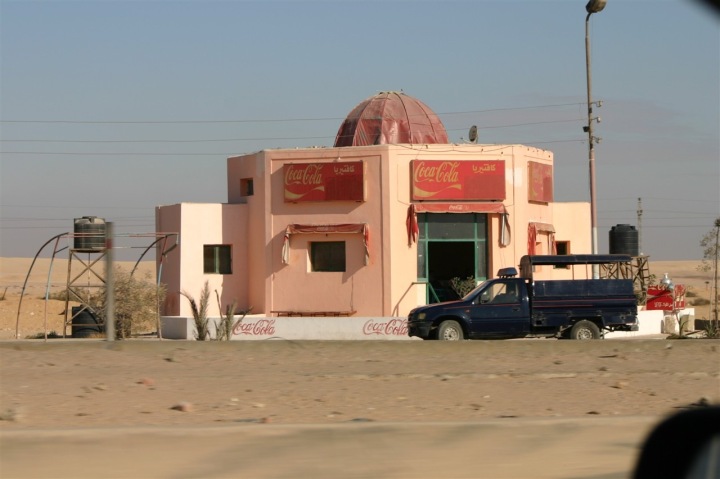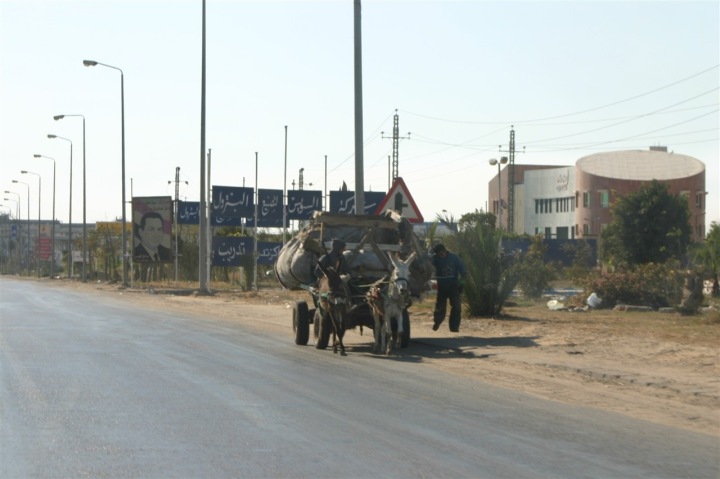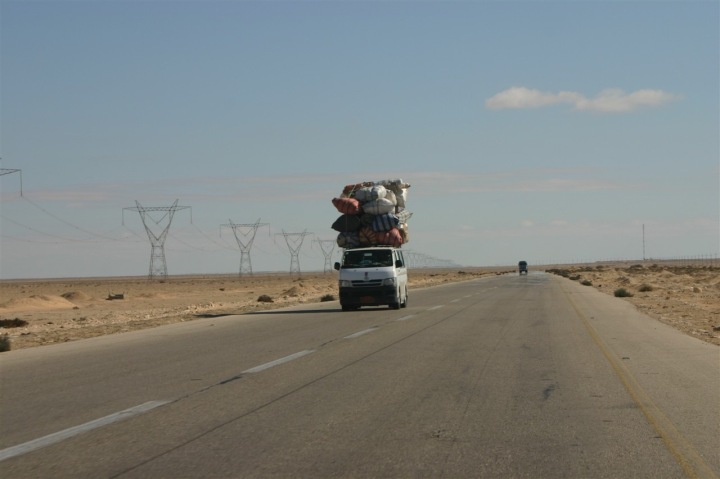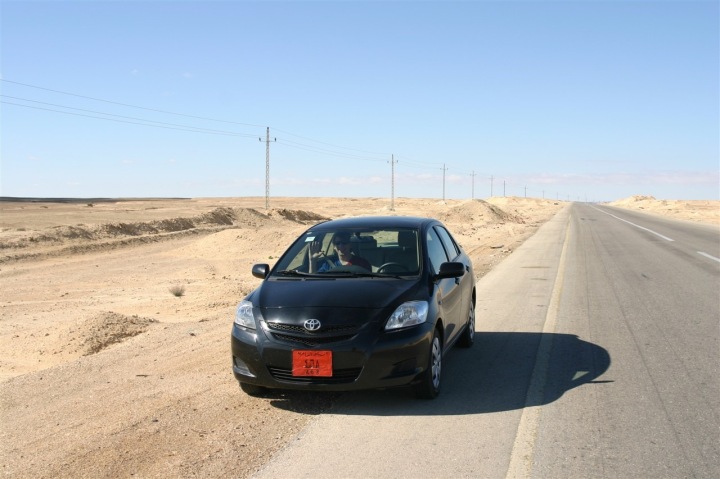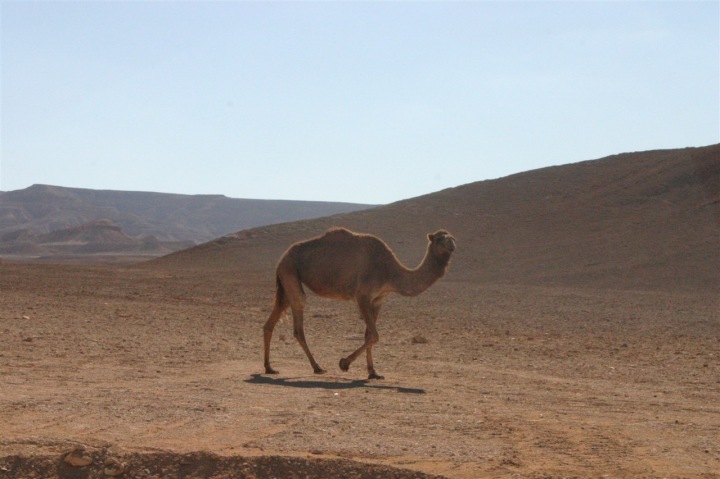 We think this was a small pack of wild camels.  We found them dozens of miles from the nearest building or humans.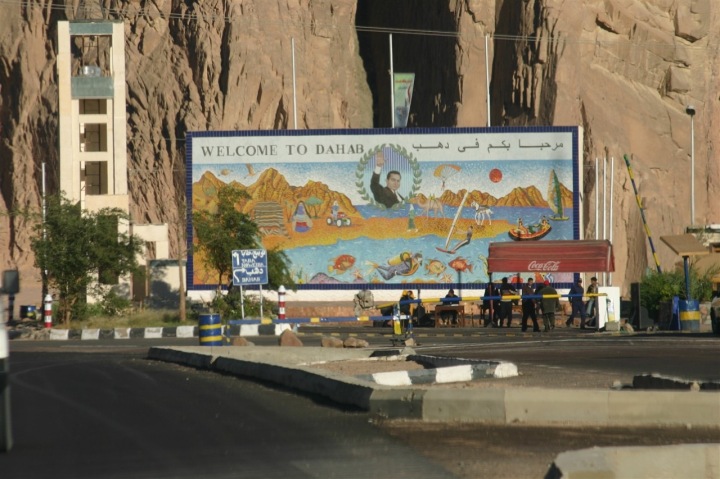 One thing I forgot to mention earlier was how many military checkpoints we went through.  We think at least a dozen, maybe more.  There were spread out all over the country.  Some were fairly fancy – like the one pictures above near the Red Sea.
However some were almost movie-link in their appearance.  One in particular that was very memorable was way up in the desert at about 2,000 feet in elevation.  With nothing for miles around there was a blockade in the road with machine gun mounts stationed on all approaching sides, troops standing at a simple pull-gate and extensive barbed wire fencing. It's exactly what you'd see in some episode of "The Unit".
However, rolling up was always fairly interesting.  We'd have to have our passports and our Egyptian Vehicle permit on hand.  The vehicle permit was a small card exactly like a drivers license with a fancy hologram on it.  We'd roll down the windows and then hand them over once stopped at the dude(s) with the big machine gun.
See, in many ways it was reverse racial profiling – at least compared to the US.  They saw us and were basically like "Umm…white dudes don't care about attacking us…see ya".  Especially when they'd look at our passports.  Which was also fodder for most of the troops.  They'd look at it, laugh to their military friends in a surprised wow sorta fashion and say 'Look…Americonos!'.  Apparently they don't find many of us up in there parts.
We never received any trouble (well, minus one gate guard that was confused with our lack of International Drivers License…but that's a different story…).  And all were extremely friendly and helpful – very much unlike what we saw in Cairo.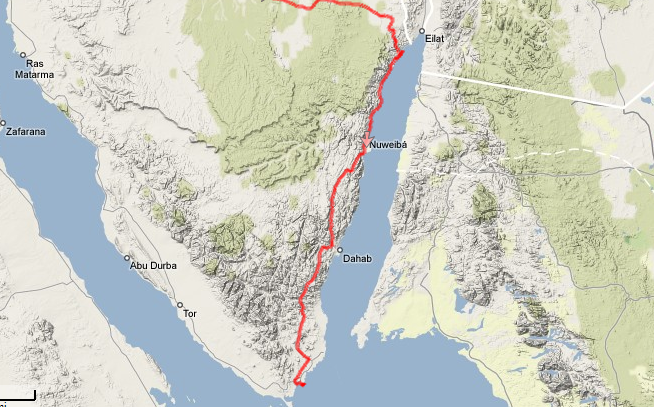 Anyway…after a long road, we finally descended down into the seaside town of Sharm El Sheikh, a very popular resort town on the tip of the Sinai peninsula.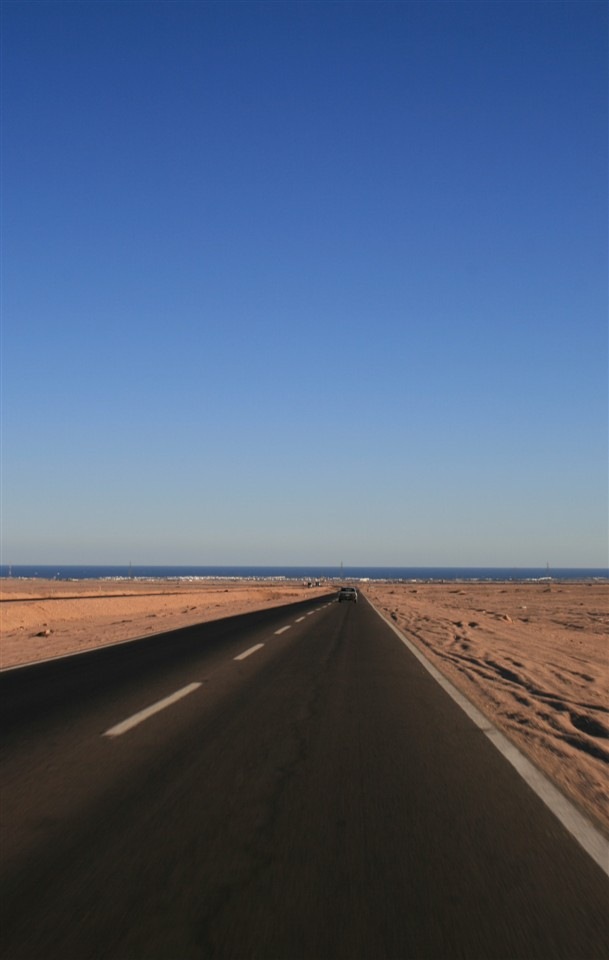 Our total drive was 445 miles long and took just a few seconds shy of 9 hours.  The mountains were unlike anything I'd ever seen before, and the desert was quite amazing.  While it was a long drive, it went by fairly quickly.  Plus, we got to see a number of pieces of the world you'd never see if you just took a flight here.  I'd recommend it…driving that is – just once would probably be enough though. 😉