Those who read my blog semi-regularly will know that I'm a huge fan of skiing.  I've been known to go a bit out of my way (say a few thousand miles) to get some skiing in.  So it wouldn't be totally inaccurate to say that a large driving force being a stop in Dubai on this trip – was to ski.  Ski in Dubai you say?  Yup…ski.
Somewhere along the way during Dubai's 'Let's build anything we can' adolescent phase, they decided to build an indoor ski area.  Now indoor ski areas aren't actually entirely new – Japan for example has a few.  But creating one in the desert where the temps slide into the 120°F range is a whole different ball of wax.
However, that was apparently no blocker – and thus Ski Dubai was born.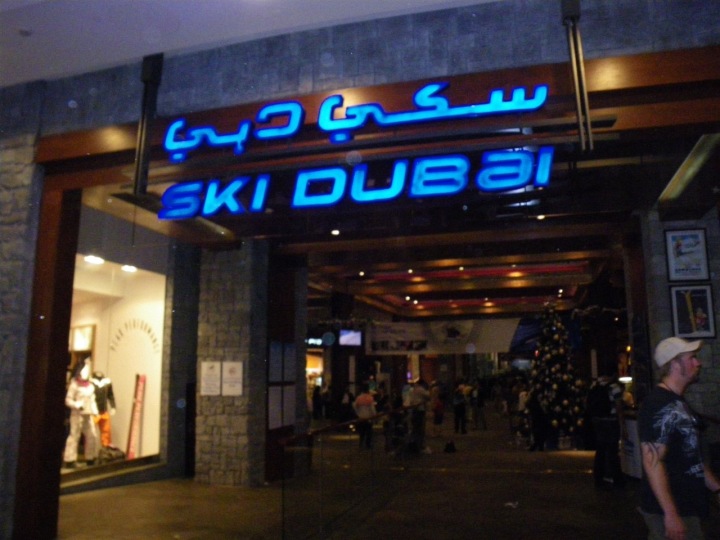 Attached to one of the largest malls in the world (Emirates Mall), you simply finish shopping and walk right past the equipment counter on the way to the slopes.  All the equipment you could need (boots, coat, pants, etc…) is included in your ticket price.  The only thing you have to buy is a hat/gloves (which are cheap) – however I had some flimsy ones I tossed into my bag before I left.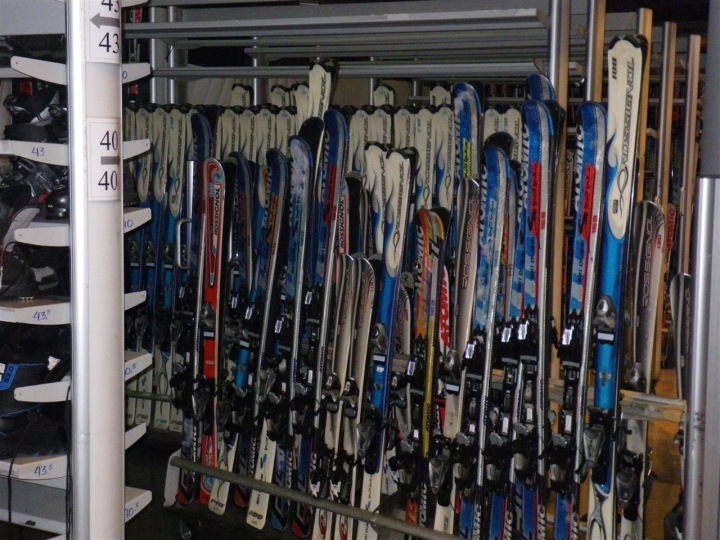 Once you're inside the snow area it's like a massive tilted super-long gym.  It's maybe 100 yards wide, and perhaps a quarter-mile long (I could look up the actual measurements…but I'm lazy).
To get to the top you can either take a poma lift (kinda like a T-Bar) or take the chairlift.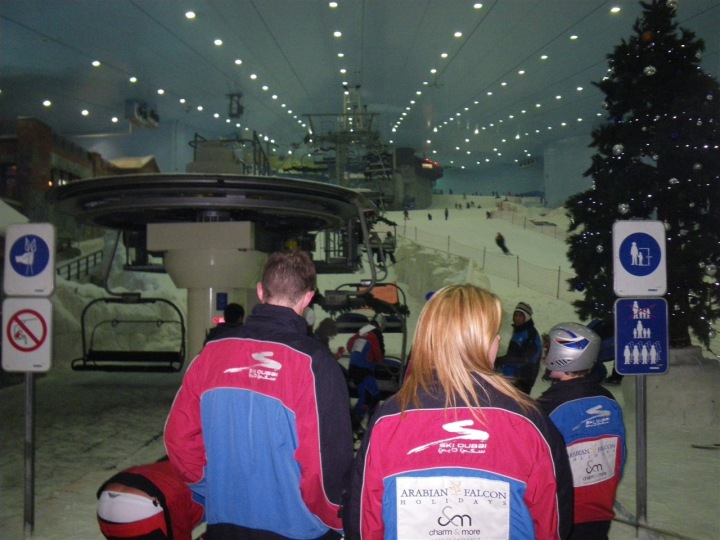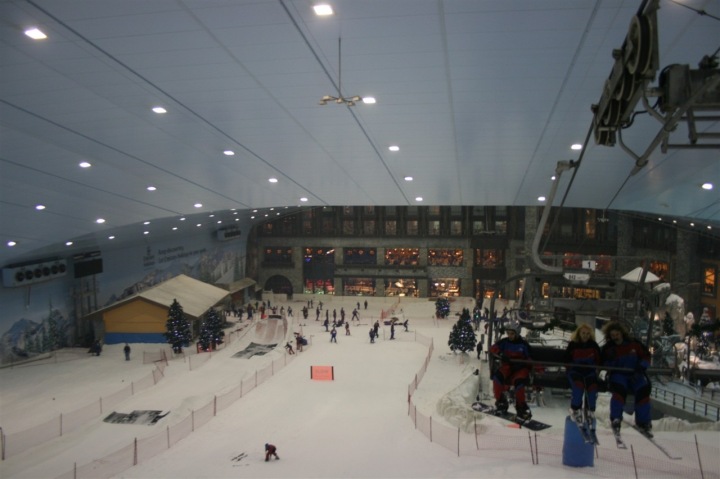 Eventually (about 5-7 mins later), you arrive at the top.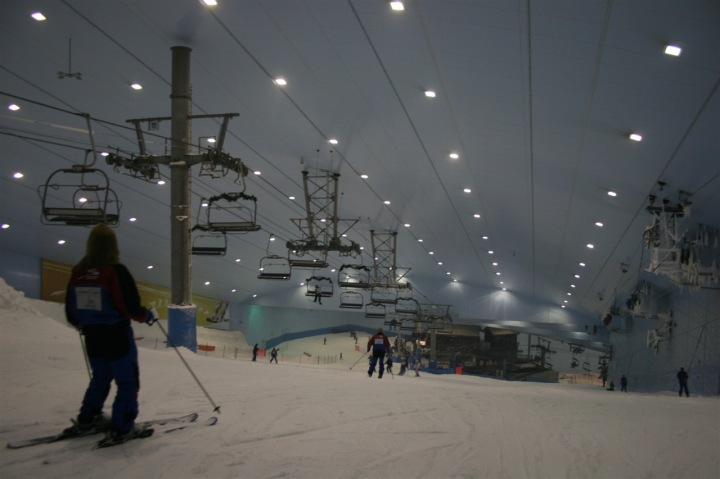 It's at this point that you simply ski on down (my little self-shot skiing video for those using RSS readers):
Of course, because Dubai is all about extravagance – it would seem the only appropriate thing to do would be to ski down in a suit.  No…not a snow suit – but a James Bondesque suit.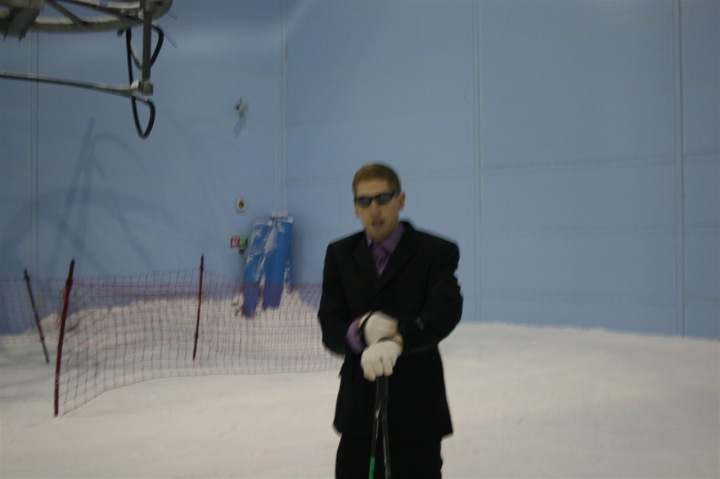 Wait just a second here you may be wondering.  Why do I have a suit (and a purple shirt)? And why am I skiing in it?
Well, my brother and I found out that for our upcoming dinner visit to the Burj Al Arab super-duper-fancy hotel, we'd need more classy wares.  So we went to the souk (market) and picked up some cheap suits ($50!).  We decided that we wanted to get our money's worth from the suits.
The locals thought it was hilarious.  Both someone who can ski well – and ski in a suit!  Even better was taking photos with my brother and I changing positions skiing backwards down the hill while the other skied down forwards (in a suit).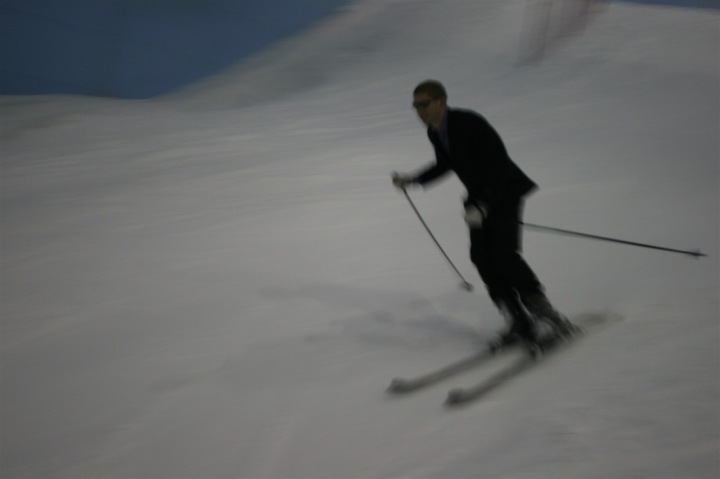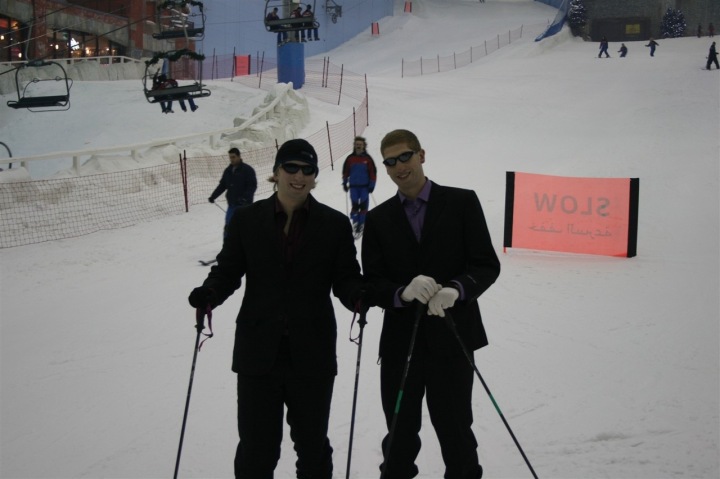 So with snow skiing out of the way – there was clearly only one medium to master…the sand.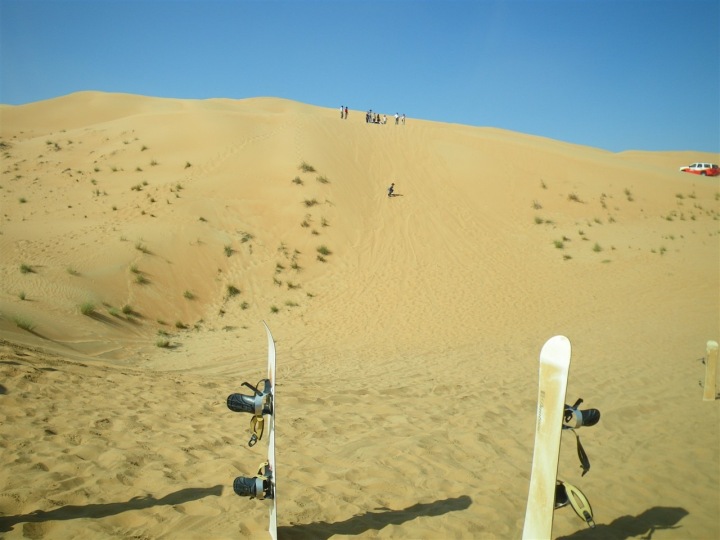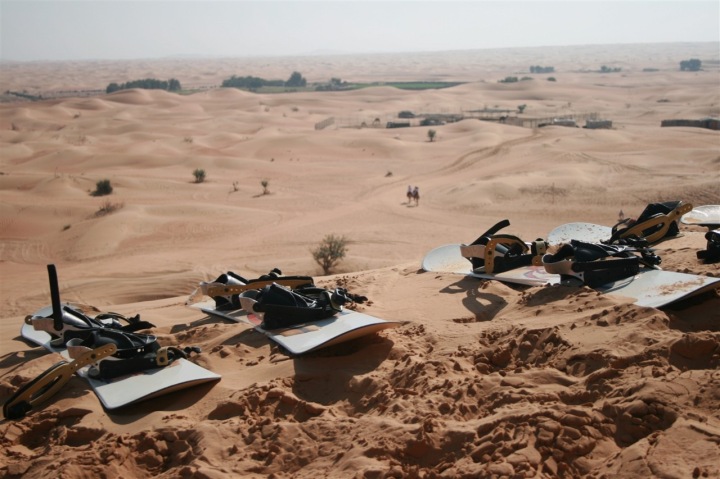 First ya strap on a board (snowboards, they don't do skis apparently for amateurs).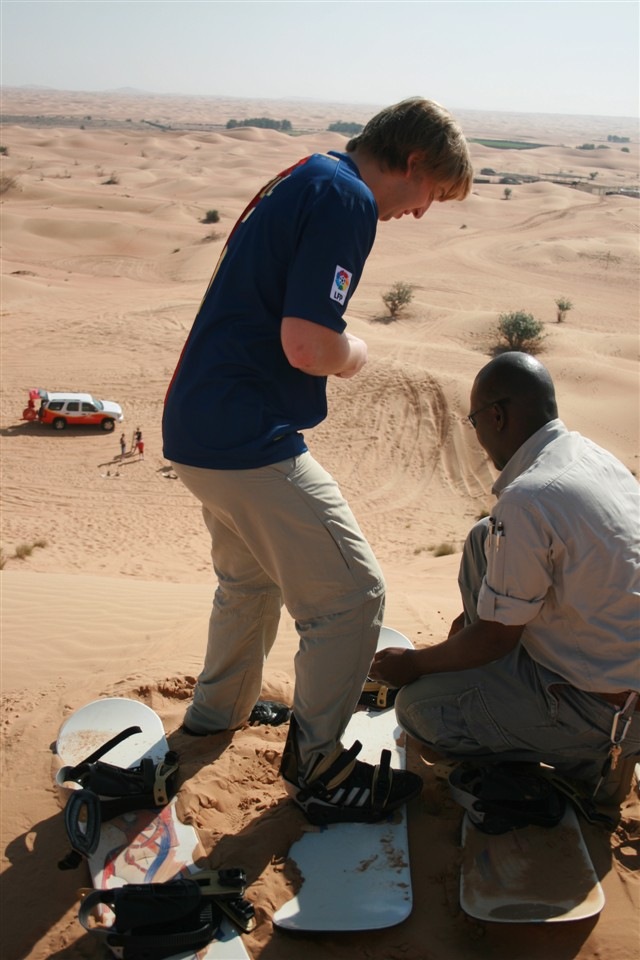 Then you shuffle yourself to the edge, and down ya go.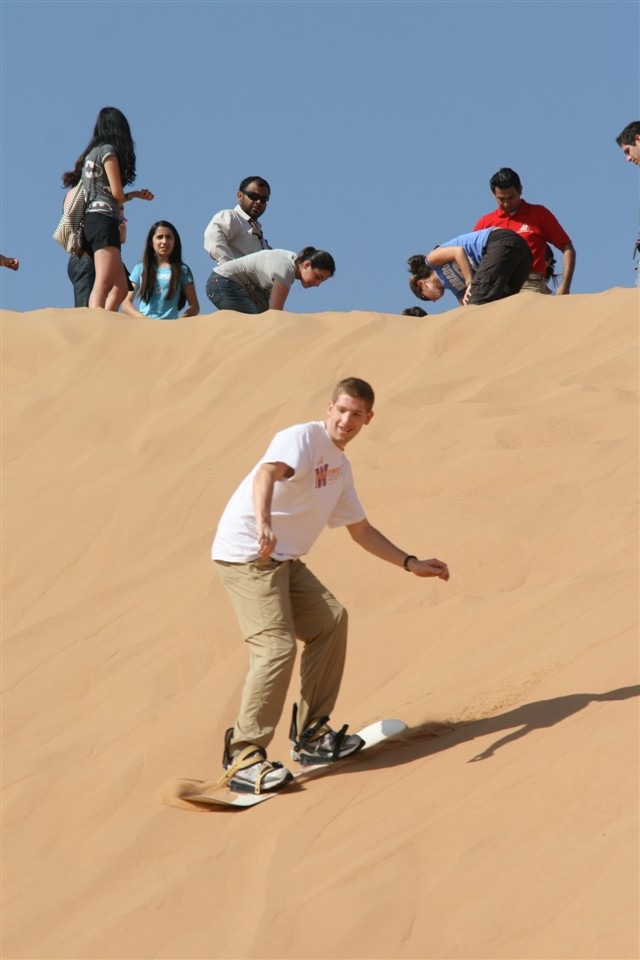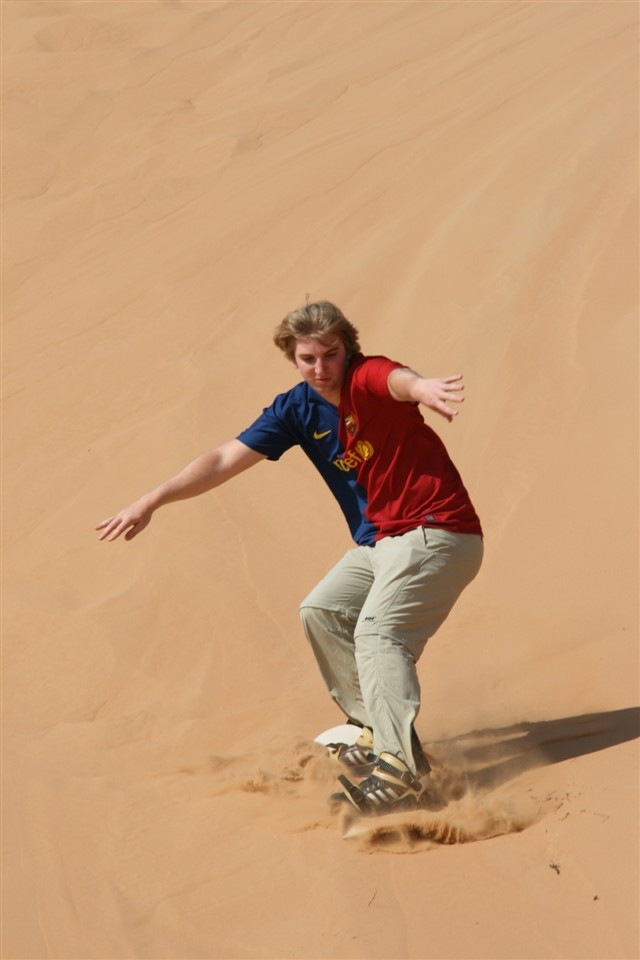 Sometimes you have 'some' control (read: no control).  Other times you have less control (read: still no control).  Sometimes you go fairly slow (the sand is super-thick).  Other times you scream down the dune.  The below example is a case of flying.  I nearly took out this guy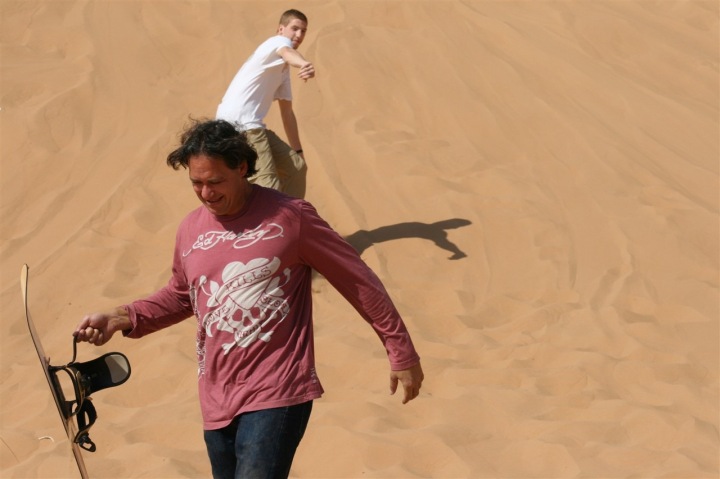 Statistically speaking, about half the time your run ends in a spectacular crash, like the below sequence I captured of my brother (click the image to show a higher-res version)
And at the end of the day…you have lots and lots and lots of super-fine sand everywhere…yes…e.v.e.r.y.w.h.e.r.e. No matter how many times I've emptied my shoes out from yesterday.  I'm still finding sand in them.  I don't know where it comes from.  Must be the sandman.