Very little in life goes according to plan at 4:30AM.  The fact of the matter is that nothing should be happening at 4:30AM, so when you try and apply complex international relations at that hour in the morning…things invariably go a bit wrong.
Anybody who's travelled with me knows I tend to fly a bit by the seat of my pants.  That's just my style.  Very little fazes me while travelling.  But this morning…well…that was about as close to trip-fail as I want to get.
It all started out around 5AM when we left the hotel to go to the airport in Sharm (that's the Red Sea city we were staying a few nights at).  In theory it would be a 15-20 minute drive.  Of course, given I still hadn't secured a map, it was plausible it would be a considerably longer drive.
Thankfully the drive only had a few navigational errors and we found the airport by 5:20AM.
After going through a security checkpoint we noted the lack of informational signs as to where to return the rental car (Avis).  In fact, we really couldn't find any rental car information booths at all.  The airport was void of them.
Given we had picked up the car on the other side of the country from a dude who responded to every question with "No worries", we decided to implement that slogan a bit.
After some digging through paperwork it turned out that the Avis office was actually back in town.  Of course, it didn't open for another 4 hours – not entirely functional for our 7AM flight.  It was at this point that I had my first 'oh crap' moment.  Oh, btw – the place in Sharm had no idea we even existed or were dropping off a car to them.
By complete stroke of luck, I noticed a van from the dive company we had used the day before.  After some solid bribing, I managed to get the guy to take my keys in an envelope back to the dive shop.  The actual letting Avis know would be dealt with later…it was time to catch a flight.
Suffice to say, Egypt Air is quickly rivaling Alitalia for it's inability to run an airline efficiently.  One tip I learned a long time ago is that if you're travelling on 3rd world airlines oftentimes the business class/first class fare is just a few dollars more.  This has a pretty important advantage of being able to bypass the usually chaotic lines that occur at most 3rd world airports.  That said, despite the extra $40 I paid for the biz seats, we weren't getting checked in.  Not until I applied some HTFU to the situation did we get checked in (a mere 20 minutes before the flight departed).  That got things on the move.
And finally…we boarded.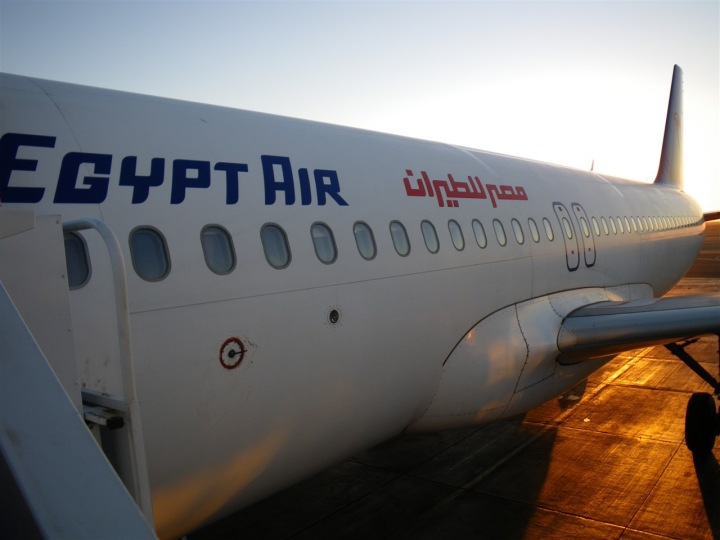 The 35 minute flight took us back over much of the same type of terrain that we drove over the first time.
Eventually we descended into the smog-filled city of Cairo.  That photo's seriously what it looked like this morning.  Perhaps a mile or two visibility.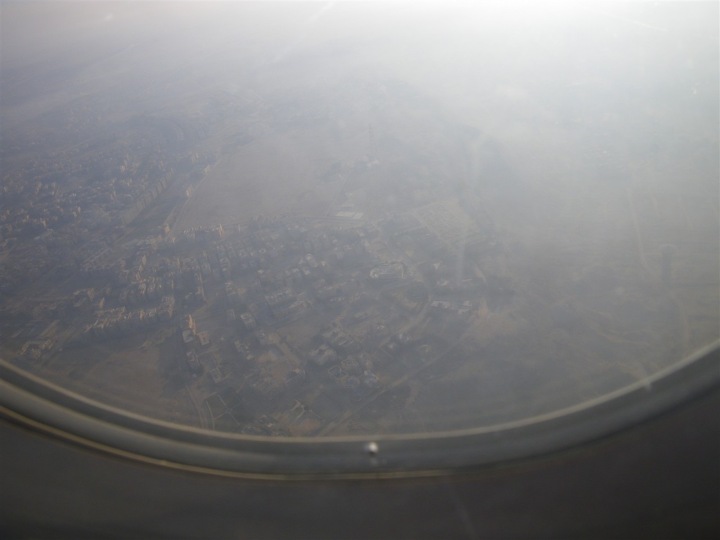 Of course, arriving into Cairo only meant two things.  Well…actually, it meant a crapload of things:
I had to figure out the rental car 'mess' I left back in Sharm

I had to figure out where to store our bags for the day

I had to figure out how to get into the city/wander around/etc…
Just to clarify what the mess regarding the rental car looked like, I present the following diagram: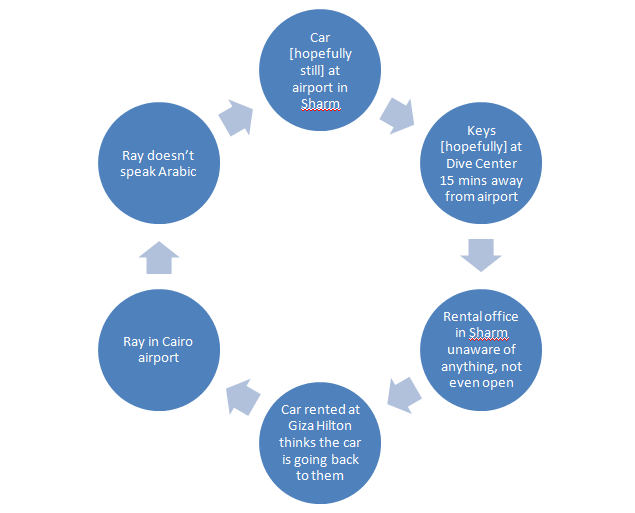 Turns out there was no Avis office at the Cairo International Airport either (despite the website saying there was), so I couldn't go to them to un-mess the situation.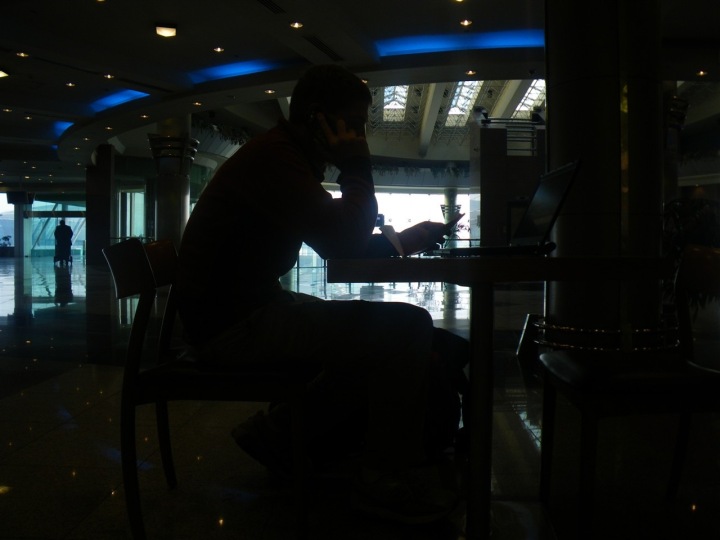 However, in what would become a shining moment of the trip I somehow managed to sweet talk my way with the Avis office in Sharm to go to the dive center, pick up the keys, go to the airport, get the car, drive the car back to their office…and not put a wanted posted out for me.  Thank god for the internet and a cell phone that works internationally (I hadn't tried it yet in this country).
Anyway…here's how the rest of the day went down.  There was no luggage office at the Cairo airport – despite everything I read saying there was.  We instead decided to hire a little car guide for the day (only a $100) to drive us around Cairo and show us the sights.  Which actually worked out pretty well.
Here's what we saw:
The Egyptian Museum was pretty cool, saw tons of stuff.  King Tut's mask and case.  And a million other mummy cases.  Turns out that mummy cases aren't too uncommon.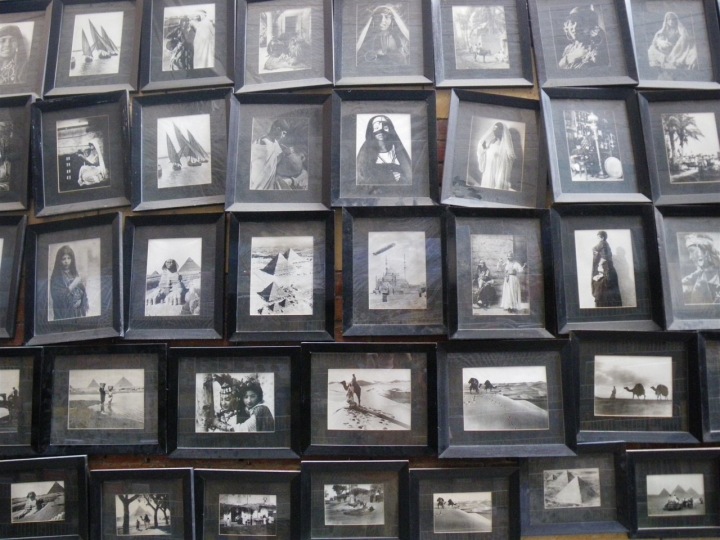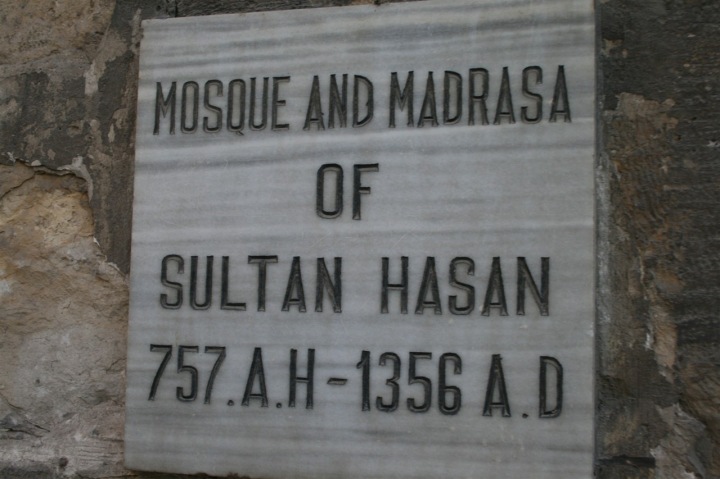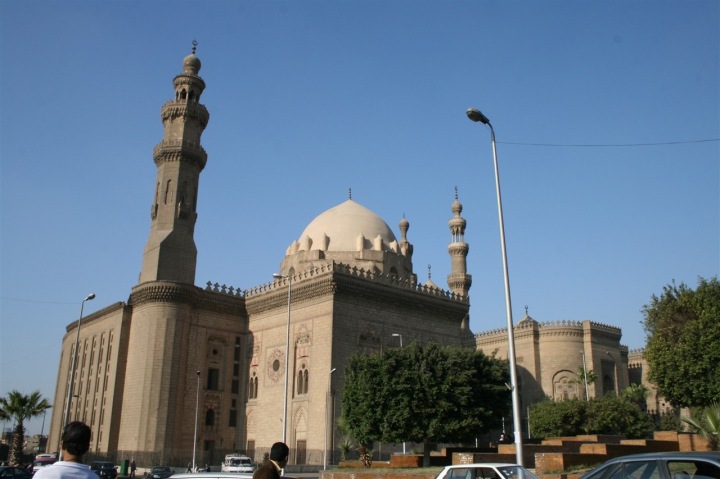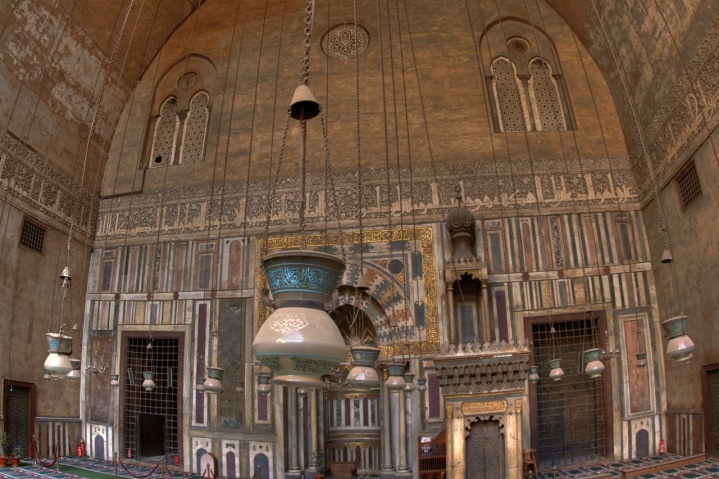 We went to a number of enormous mosques, this one was huge, with the door for people being that tiny little thing down in the left hand corner.
After lots of mosque and church sightings and the museum's, we went to the Market, a unbelievably long street (maybe a mile) filled with shops.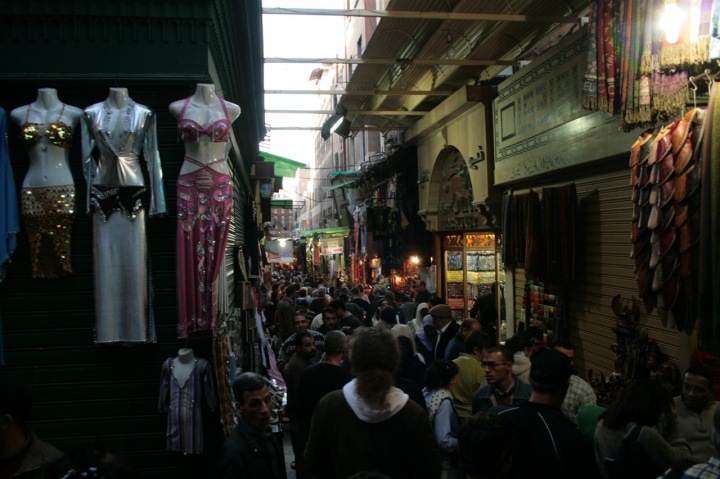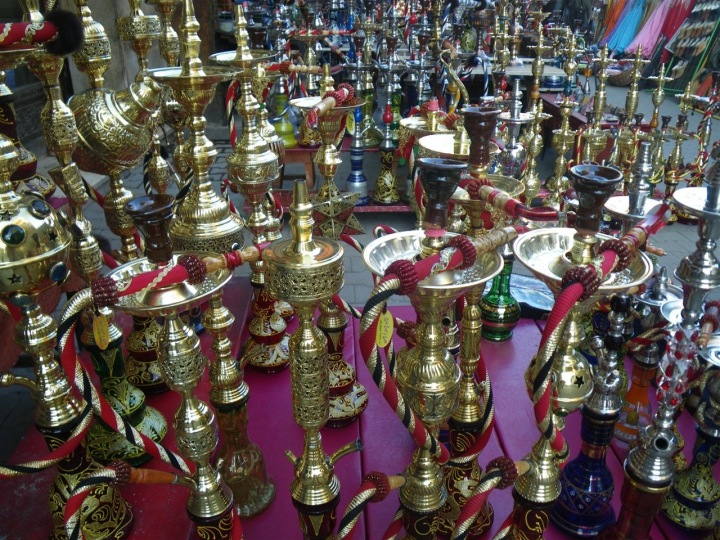 And finally…sunset over Cairo.  At this point we headed off to the airport to catch our redeye flight to Nairobi (which as of this writing leaves in about 62 minutes).  I have no idea what the internet will be like there (if at all), but the little Spot Tracker should keep on ticking, every 10 mins…