We're going to keep this one quick – just photos.  The day is our last full day in Kenya before making our way back Saturday towards the US (with first stops in Nairobi, Dubai, and then eventually DC – and then further to Seattle for my brother).
So here's the day, mostly in pictures. Sunrise at around 6:45AM, still fairly chilly though – about 55-60*F.
Followed shortly thereafter by a visit from a Hungry Hungry Hippo: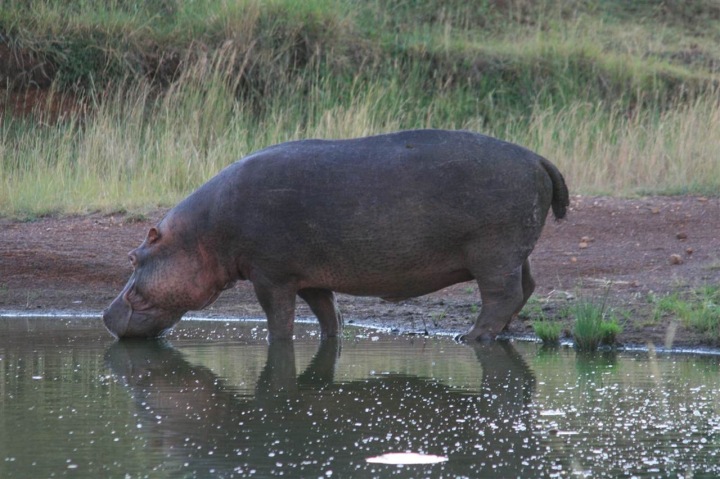 After leaving Mr. Hippo we saw our hyena friends again, this time he had a chunk of the still available hippo carcass from a few days back.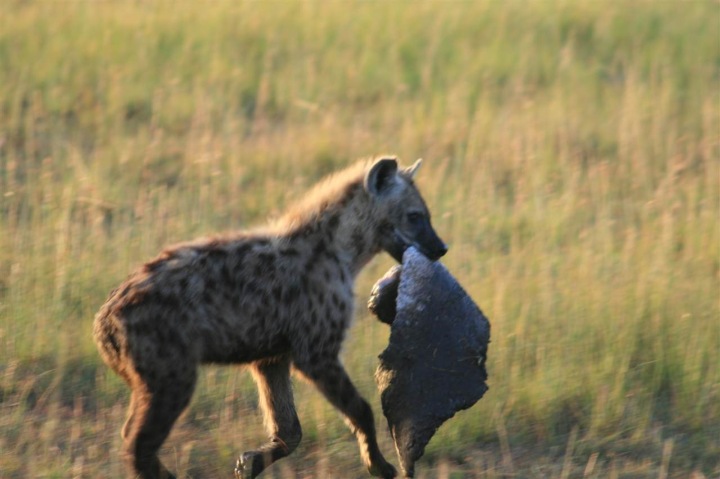 We then headed down to the river to see what the crocs were up to.  Clearly the hippo's were also eyeing the situation, given that have a rocky relationship.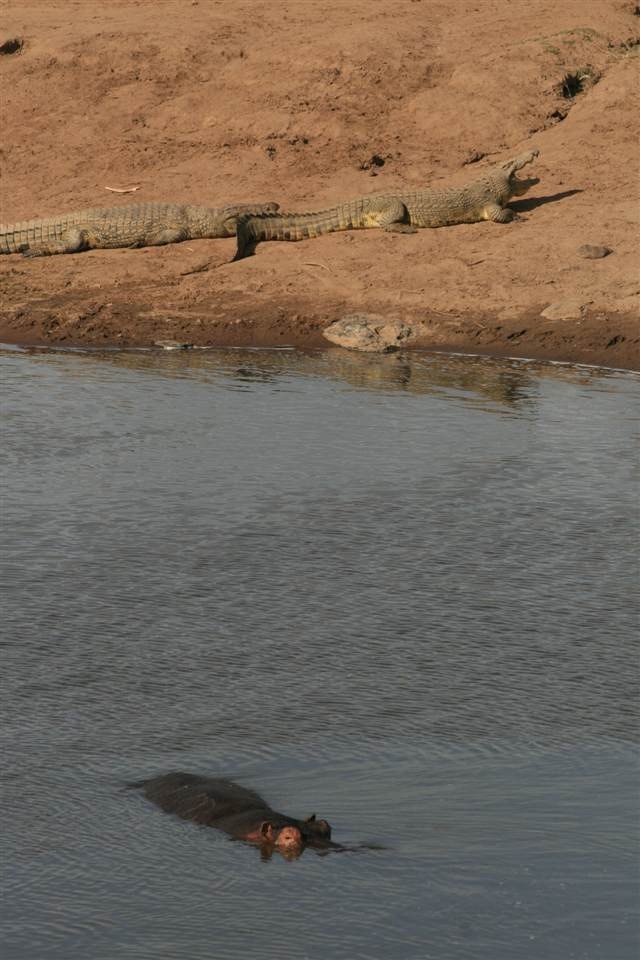 Oh, and back are my brothers animal impersonations, I've got the complete lineup of African animal impersonations for tomorrow.  But in the meantime, below is his imitation of the croc.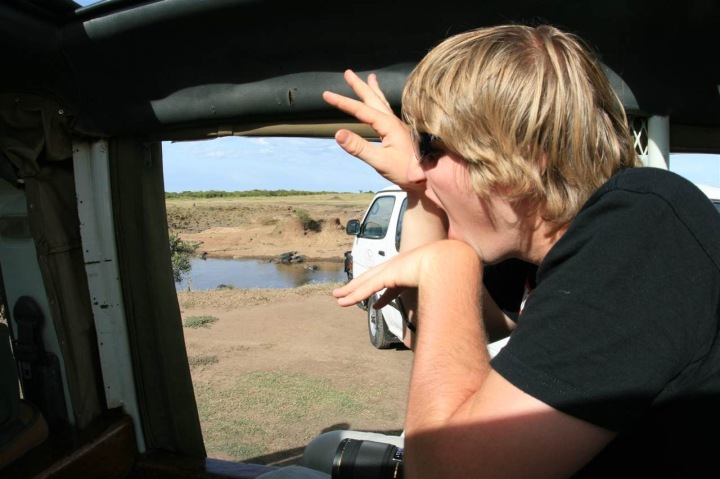 Beyond us, giraffes dotted the landscape.  Like a massive giraffe caucus going on (click for the full size image).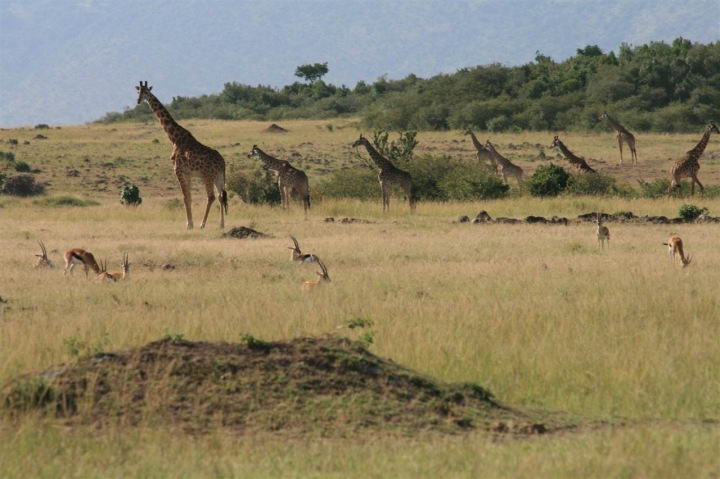 This morning was mostly spent looking (unsuccessfully) for cheetah.  Over the course of the few hours we spent wandering aimlessly, the usual morning hot-air balloon floated by.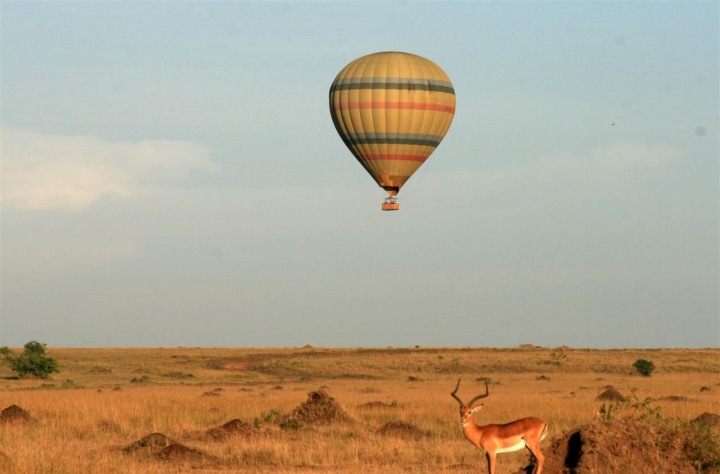 Along the way we also saw some more giraffe, buffalo, zebra, and a mom/baby elephant as part of a larger pack.
This giraffe was seeking the only shade it could find.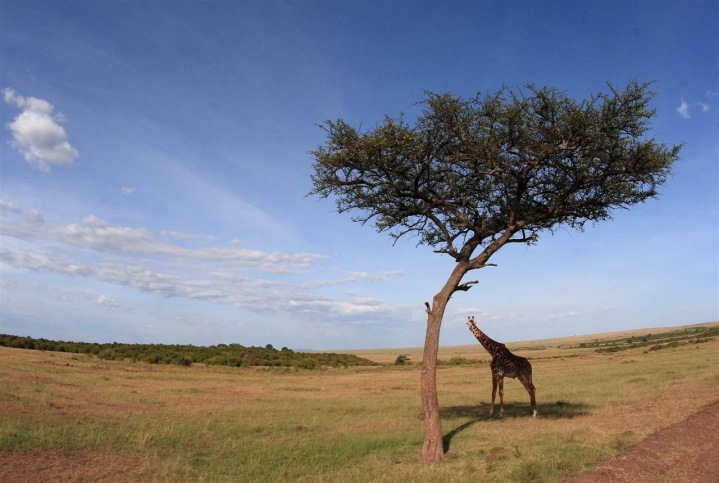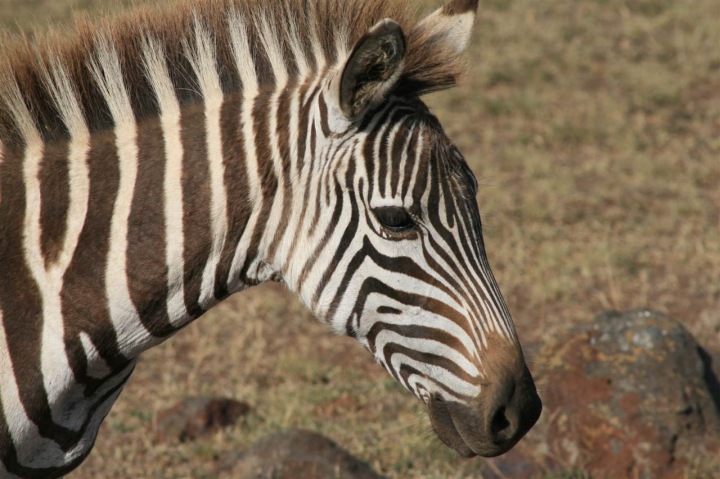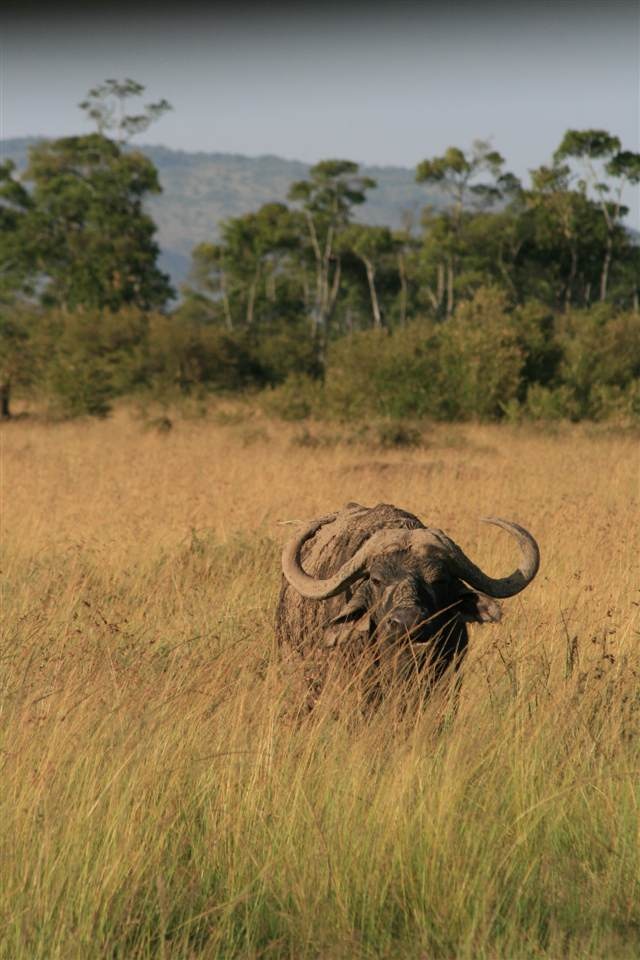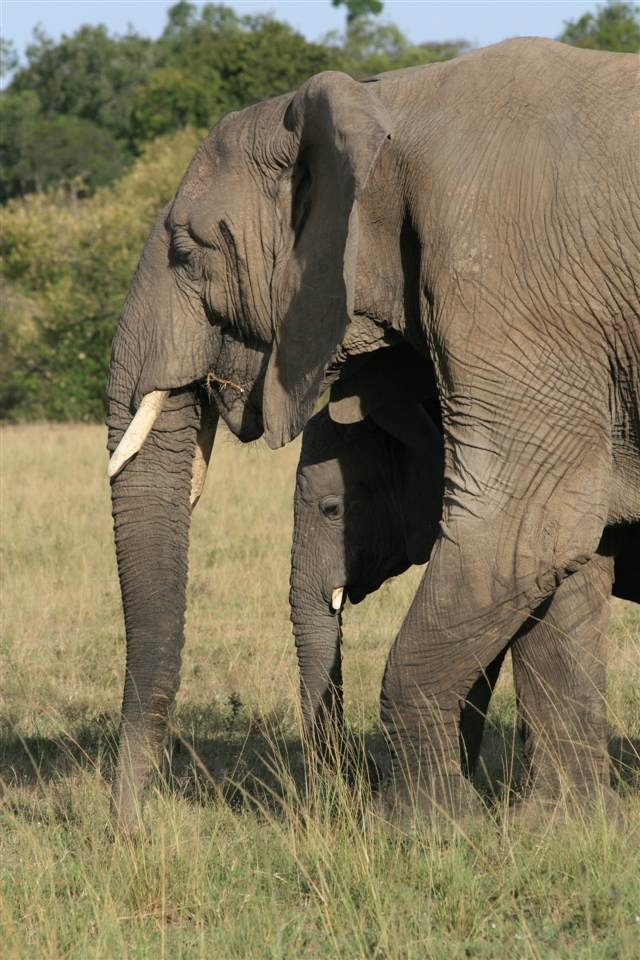 We also happened upon a number of lions.  One was asleep – apparently worked out too hard eating.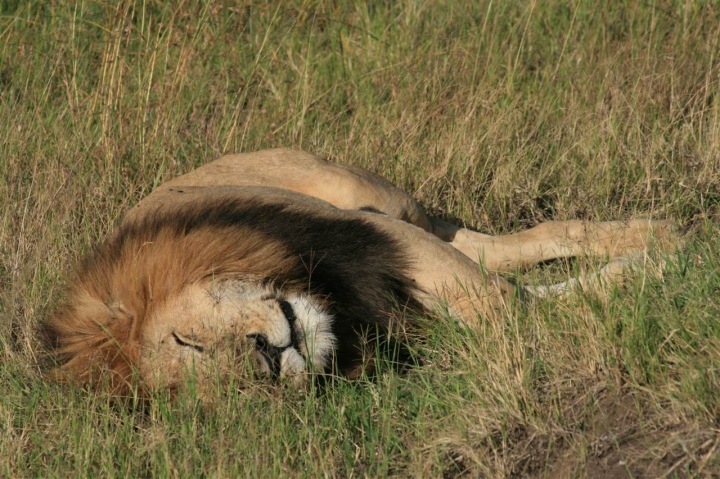 The other just woke up, and was yawning.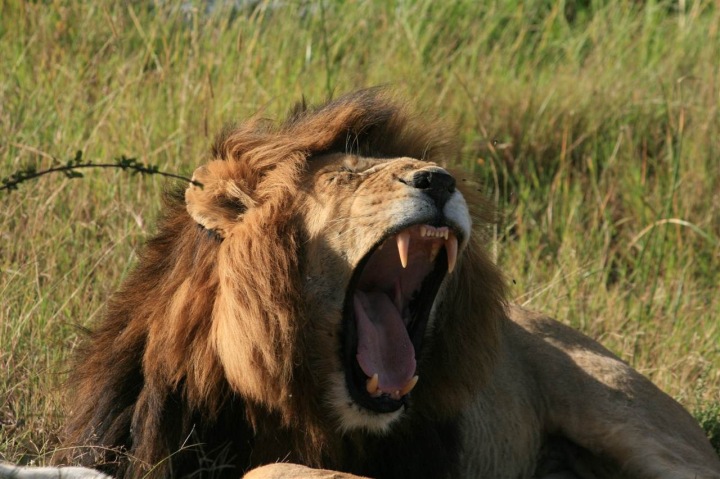 And another was lurking in the bushes.  Speaking of which, did you know that Simba translated means 'lion' in Swahili?  Yeah…the Disney team thought real hard about that name. 😉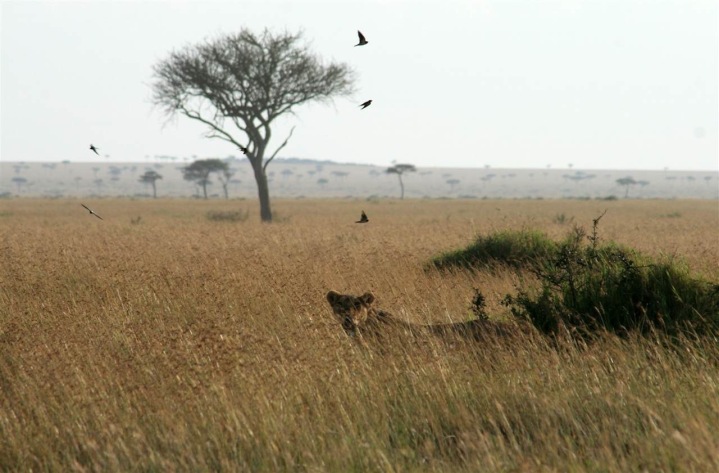 The vultures were happy that the lions were gone though.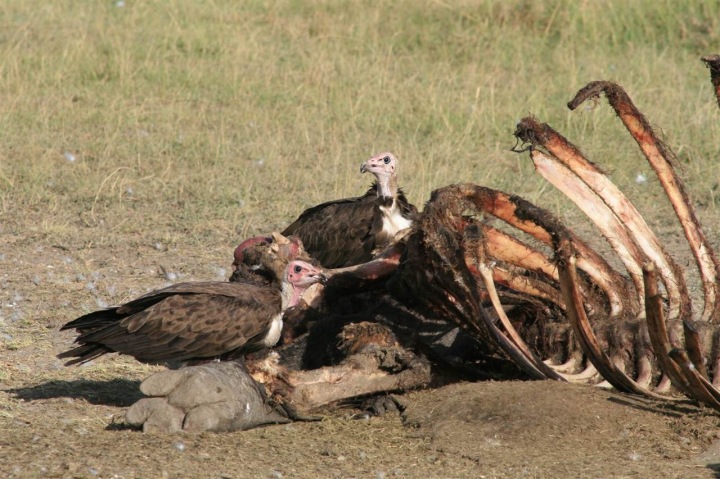 Speaking of which, I promised I'd post a bunch of the hippo-feast the other day, so here's a link to an album containing the semi-gruesome pictures.  Just how life is on the plains.  Oh, and I assure you – the smell is much…much worse.
After the morning drive, we took a couple shot from the hotel overlooking the plains.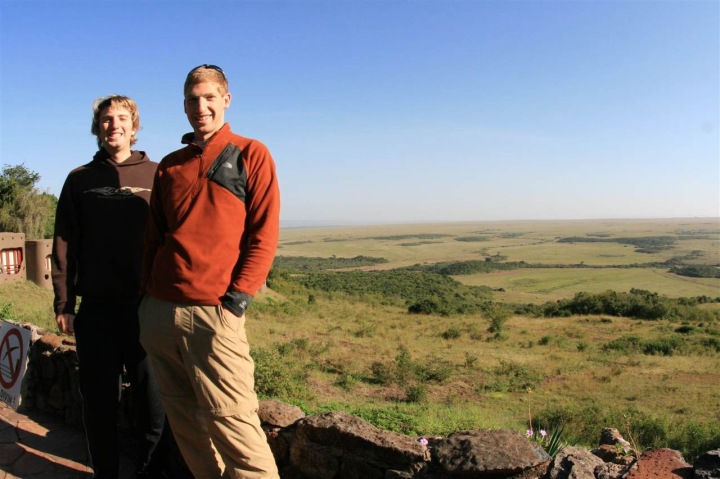 And here's sunset on the grassland, with an ostrich bumbling its way along.