Last week before my flight back to the US, I swung briefly through a Kenyan mega mart of sorts on the way to the airport.  My coworkers wanted to pick up some coffee (nearby regions are known for it) at penny on the dollar prices, so I used the time to wander into the bikes section.  I had seen quite a few folks around both Kenya and Tanzania using bikes during my brief stay there.
In Tanzania (and Kenya, rest of Africa) for example it is a very common way to get clean water to villages.  Much of the time elsewhere in Africa (as I've seen both in Kenya and Tanzania previously), you'll see women walking many many miles each day each way just to get a jug of clean water.  The extremely lucky ones however have a bike.  I saw one individual with three massive water jugs on his bike, probably 15-20 gallons in total, very impressive compared to the small little bottles I bring on a ride.  This dude below though was still fighting it through traffic and hills with his water – and he was sporting the bright pink shirt to top it off: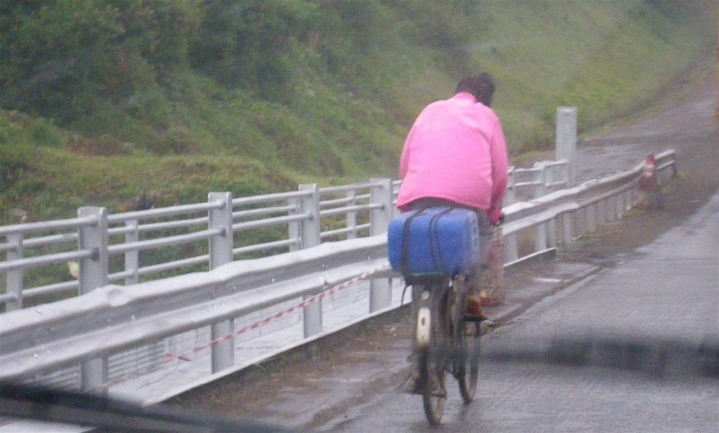 Anyway, back to the mega mart…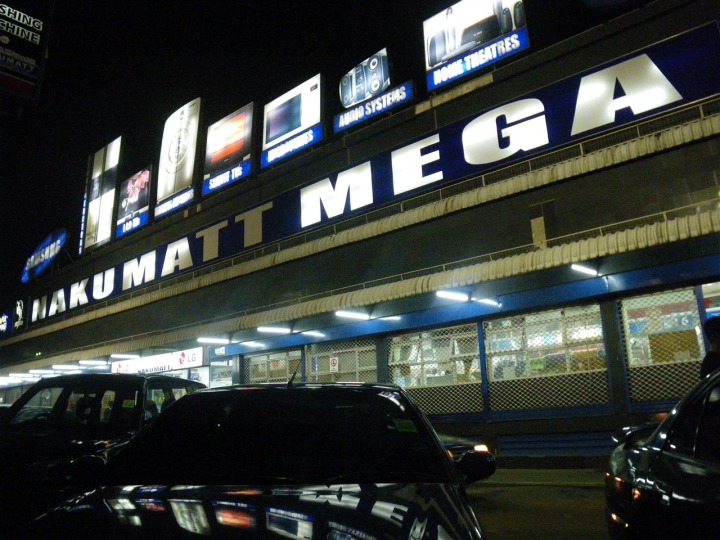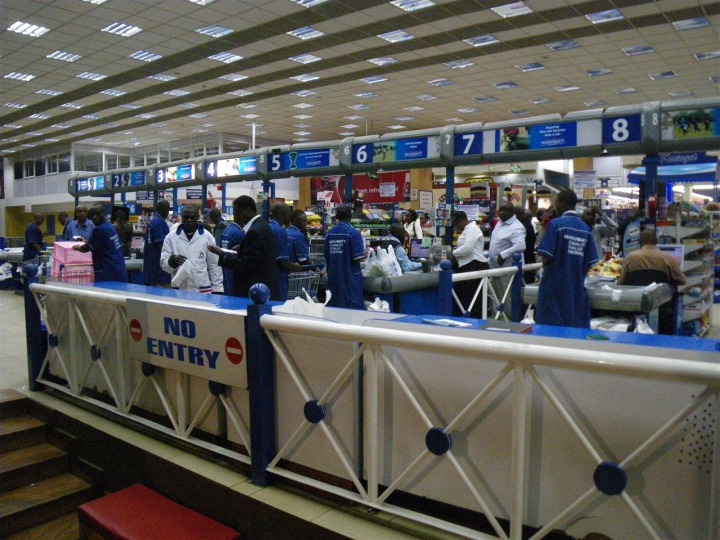 It didn't take long to find the bikes, they were upstairs in the sports section.  They had both a clear section of 'commuter' bikes, as well as kids bikes.  Not too much in the middle, and really no racing bikes.  Not that I was expecting to find a Felt with aerobars there…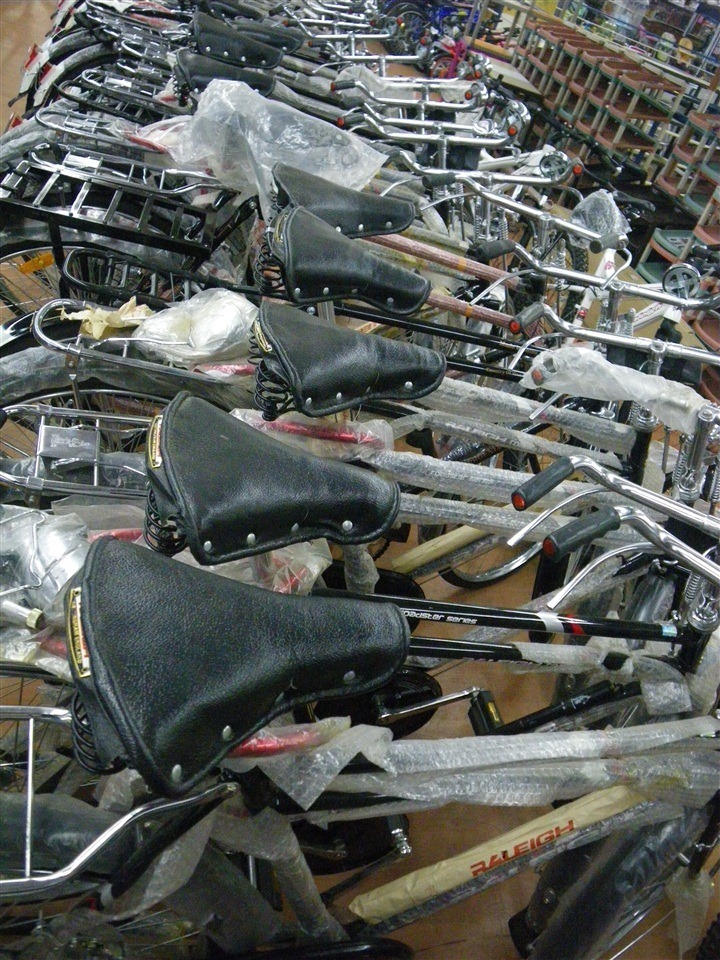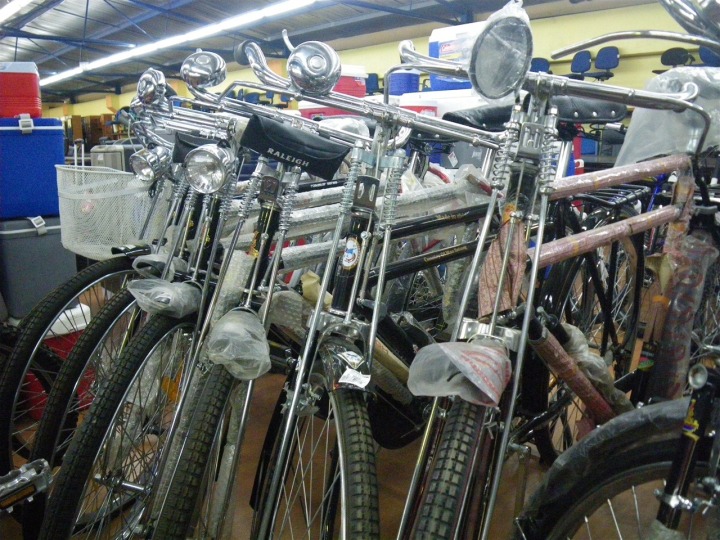 The very first thing you'll notice about many of the bikes there is they they have dual top-tubes, you can see them in the picture below (and above).  Those two top tubes are indeed the same bike, and you can see the next bike (wrapped in plastic), behind it – also with dual-top-tubes.  In the first picture above you'll also notice the very nice back rack for putting water jugs or bags (or perhaps a Gazelle for dinner).  Finally, you'll also notice both front and back fenders to keep the mud off of ya.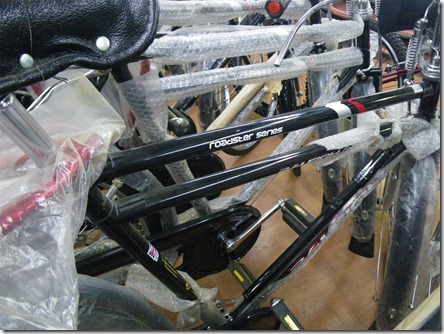 Next thing you'll see is the kick-ass massive front headlight.  This thing could illuminate a football field if required.  Which…makes sense, because as I was warned by some coworkers who live/work there, Nairobi drivers (car) won't hesitate to overtake a sidewalk and simply run you over (a little different out of the city and definitely different in Tanzania).  As such, anything you can do to at least make them think before running you over is ideal.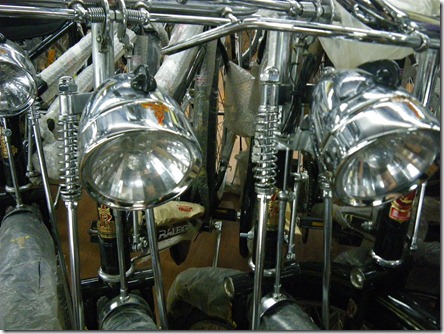 Of course, no front light would be complete without a corresponding back taillight.  And this thing is straight out of the Jetsons.  It's awesome.  It's also not some rinky-dink little light like we'd get here in the states to clip on our seat post.  Nope, this bad boy ain't goin' nowhere.  You can chuck this bike/light at a semi truck and it's just gonna bounce off.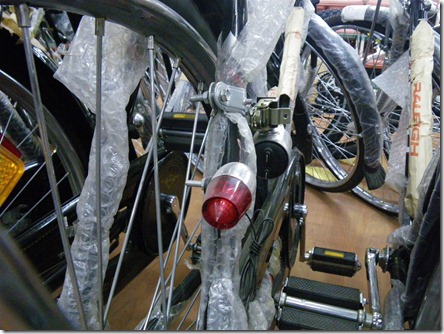 Of course, in general you want to avoid encounters with semi-trucks.  Therefore, they include a pretty badass ding-ding creator.  Roughly the size of a Frisbee on your handlebars, but people in the next country will hear ya coming.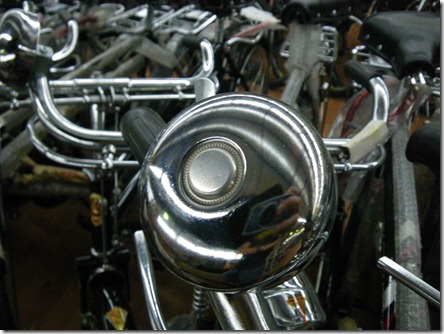 Now the roads in Kenya aren't exactly the smoothest.  Sure the new Nairobi-Mombasa highway is pretty nice and all, but everything else?  A bit rougher.  So, you'll want a serious bike seat to keep everything from feeling the bumps.  And this one has shocks.  Yeah baby!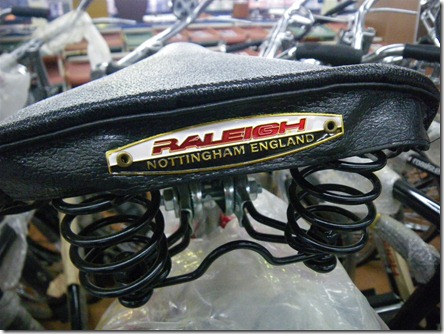 Last but not least, when you stop and park you must have a good way to keep your bike from touching the ground.  As that would be totally uncool to let it mingle with the dirt.  Now traditionally a kickstand is on one side of the bike and therefore the bike leans slightly.  But the problem there is that makes it much more unstable for loading jugs of water (or squirming Gazelle).  Theses bikes have gone a step further and created a full out kickstand that actually lifts the whole back wheel off the ground and clicks into place.  Pretty sweet, ehh?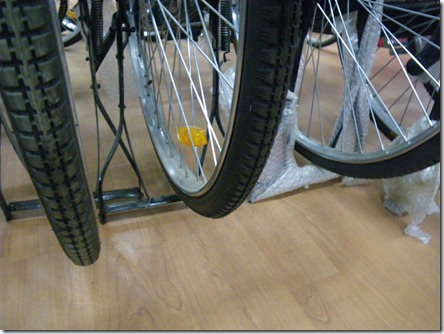 Of course, all of these luxuries comes at a price.  Let's recap what you get:
– Back storage rack
– Front light
– Rear light
– Sweet kickstand
– Massive seat with shocks
– Front and back fenders
– The mother of all bells
– And finally – a damn sweet bike with a dual top tube.
So how much will all this cost you?  Well, $5,995 Kenyan Shillings.  Which is…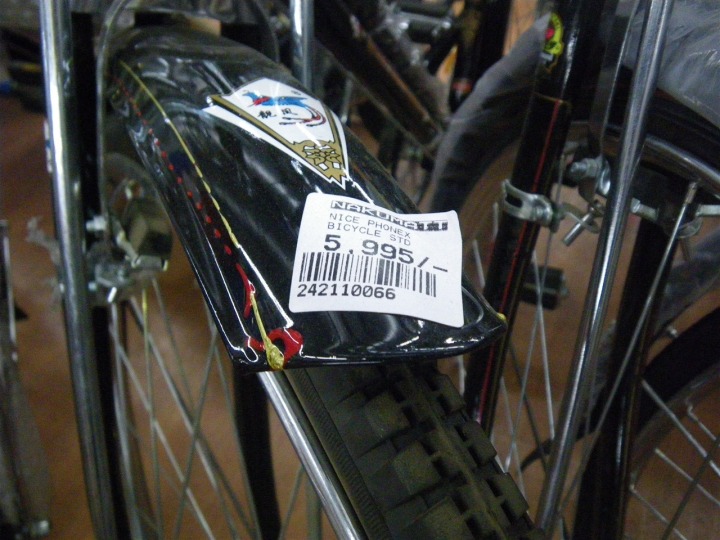 …approximately $75US.
Yes, seriously.
So, naturally I began wondering if I could get one home.  I found the nearby sports section dude and asked whether or not they had one that wasn't unboxed yet (as you probably realize, bike retailers around the world receive the bikes unassembled in boxes, and then assemble them onsite).  He did some poking, but unfortunately none of these bikes were still in boxes in the back stockroom anywhere.  Had I come in earlier in the stay, I might have had better luck.
Given I only had a short time before my flight took off I wouldn't have had enough time to fully disassemble the bike and get it into a box.  So…no bike this last time.  But next time I'm in town…trust me, a Kenyan bike will be brought home!