Up until now the majority of my weekday brick workouts have been done at home.  I'd be on my trainer for the bike portion, and then just simply run outside for the run piece.  Quick, and efficient. 
However, there are some disadvantages to that setup.  First, my run's would invariably include some little hills which would make it harder to determine what my actual pace was on that day at a specific heart rate.  Further, being indoors (with a fan), actually made the ride easier…easier than say, being out in 85*F weather with no fan.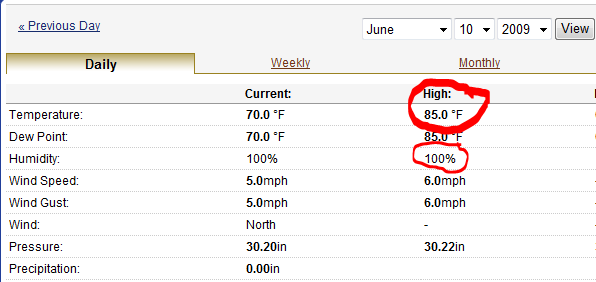 Which…brings us to this evening.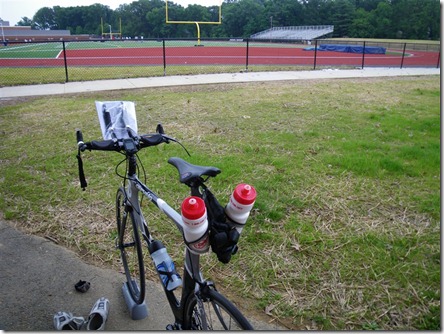 The best of both worlds, a brick workout combined with a track workout.  Allowing for cleaner heart rate pacing on the run, and also apparently giving me some very solid heat and humidity acclimation.  You don't realize how hot and humid it is outside during a normal workout as you're moving somewhere and getting the cooling effect.  Not.so.much.today.
So with that, I began Coach Alan's little prescription of fun for the day.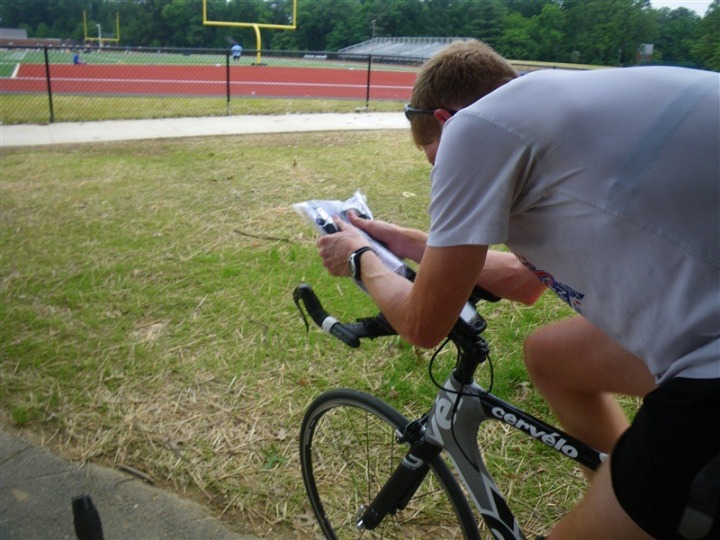 I had placed my workout in a plastic sheet protector, and then just slid it down my aerobars.  That kept it both dry from my pouring sweat, but also held it on my bike – a rubber band helps to secure it in place.  And had the thunderclouds above decided to dump…then it would have at least kept that piece of the setup dry.
The workout was essentially a 10 minute warm up, followed by a brief higher cadence portion up to 125RPM, and then went into 5 minute chunks each of higher zone stuff ending in Z4B.  Good times.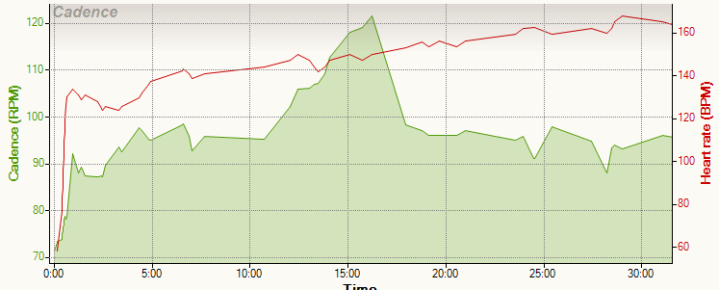 After just 32 minutes, I had completed watering the ground with sweat and it was time to move on.
The nice part about doing the brick at the track is that you certainly don't have to go far to start running.  A few moments later I tossed my water bottle to the side near the start line and began the good times.
Oh…btw, notice those little shiny looking things near my water bottle: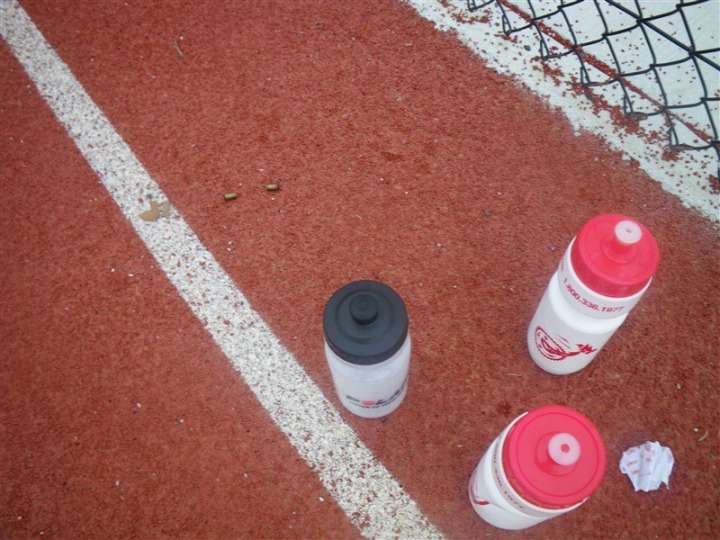 Uhh…yeah, they'd be bullet casings.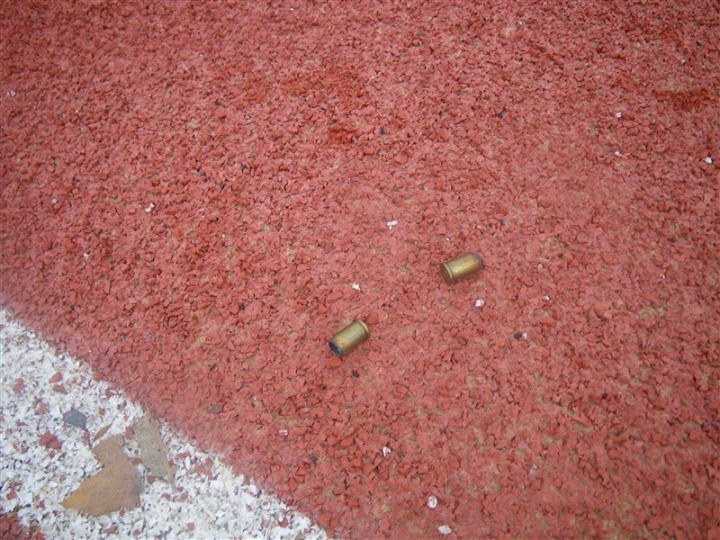 Cute.
Moving along…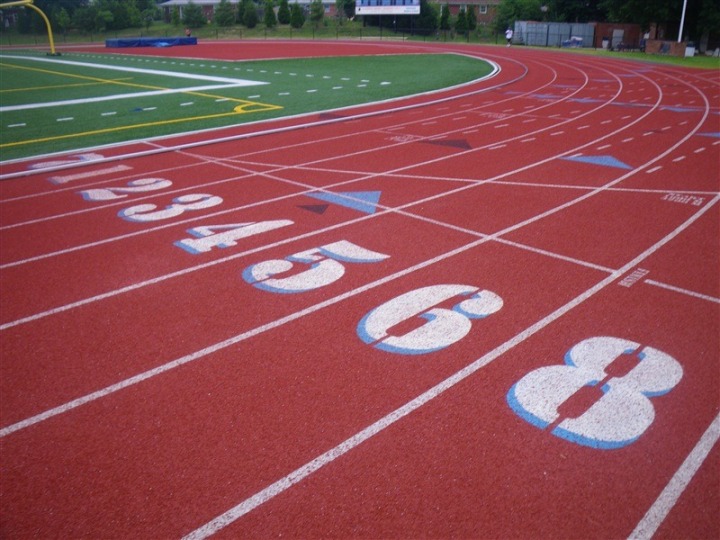 The workout was fairly straight forward, with sets building where the HR got progressively harder and harder, yet because of fatigue the overall pacing stayed roughly constant throughout the workout.  My overall pacing was a bit slower for today, but that's all cool as it's the final build week in a three week set.

It's funny that even for a theoretically 'level' track, you can actually see about a 8 or so foot altitude change on each lap.  There's a brief jogging easy lap at about the 20 minute marker before the next major sets.  And each yellow line indicates a new set.  The 3600M set was one of the more 'enjoyable' ones (2.25 miles).
However, as always, nothing sucks as much as the 200's at the end.  Normally the 32 second 200's wouldn't have been bad given the relatively tame previous few sets, but I really had to go to the bathroom badly – and not the kind where you can easily pull off the side of the track.  So doing a bunch of all out give it all you've got sprints…umm, you have to be careful.
Anyway.. soon enough I had 7.25 miles in the bank and was good to go.  Well, that and I was completely socked.  Check out my shirt which I hung up briefly, it's actually made a puddle below on the ground.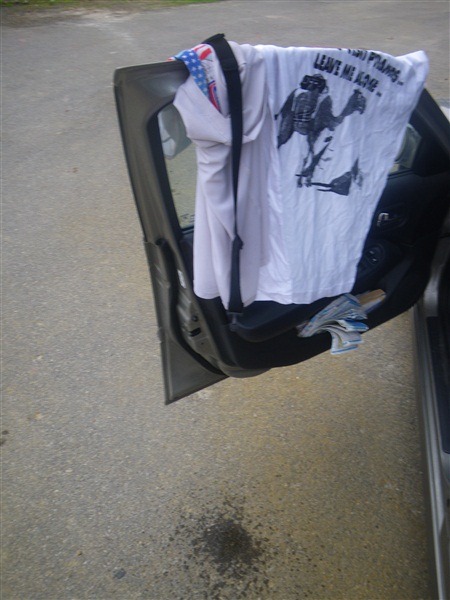 So with that, I leave you with a picture of our bikes, under a tree…