At some point last summer while preparing for one of my long rides (typically 7-9 hours) I realized that I was packing more water bottles in the car than I preferred to have rolling around.  And while re-using plastic bags from the grocery store was valid solution, I found that over time they would roll out of the bag or leak in for one reason or another.  And of course the leaky ones were always the ones with some sort of non-water liquid in them – the kinda of liquid that was sticky and messy.
Typically my routine is to fill and prepare all the bottles the night before – and then leave them in the fridge.  My bike has the following water positions: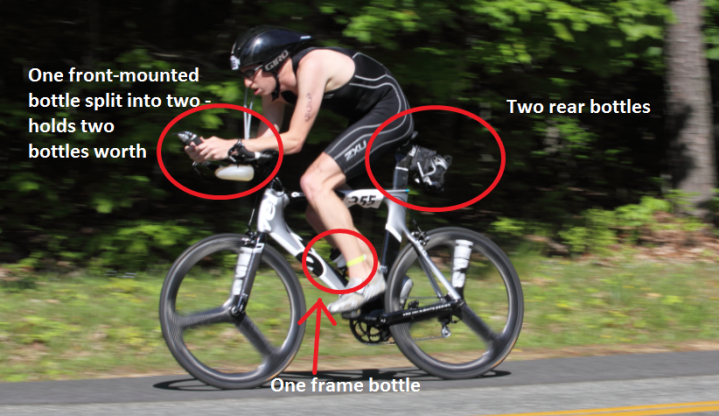 Thus, on a long ride where I'm going unassisted, I'm going to have to carry at a minimum all of my sports drink, plus at least a 'starter kit' of water.
A typical ride is the following:
1) Front aero hydration system: One chamber water (1 bottle worth), one chamber sports drink (1 bottle worth)

2) Cage mount: One bottle of water

3) Rear mount: Two bottles of sports drink
This enables me to refill the cage bottle at various water stops/bathrooms with just plain water, and then slowly dwindle down the sports drink.  In a race situation I'd minimize this as appropriate to the length of the race – but I'd MUCH rather carry the extra weight than have nothing due to an issue (i.e. a bottle pops off/lost, water not available, etc…)
Thus in total I have:
A) Water Only: 2 bottles

B) Sports Drink: 3 bottles

C) Total bottles-worth on bike to start: 5 bottles.
Finally, I'd also have at least one bottle of water post-ride in the car (I'd place it outside before leaving, so it wasn't 150*F when I returned), plus a bottle to drink right before the start of the ride, plus a bottle of some sort of breakfast drink (OJ).  So, now we're up to at least 8 bottles floating around the fridge, and then eventually the car.
So I realized what I needed was a way to keep the bottles both upright – but also a way to keep them organized in the fridge.  And then a way to transport them to/from the car (both the filled and the empties).
Then it dawned on me.  I needed a system like all of the sports teams have for carrying lots of bottles out to the field for practice.  Brilliant!  Reusable, and easy to clean also.
So I started searching eBay for "Water Bottle Carrier", and here was one of my first options: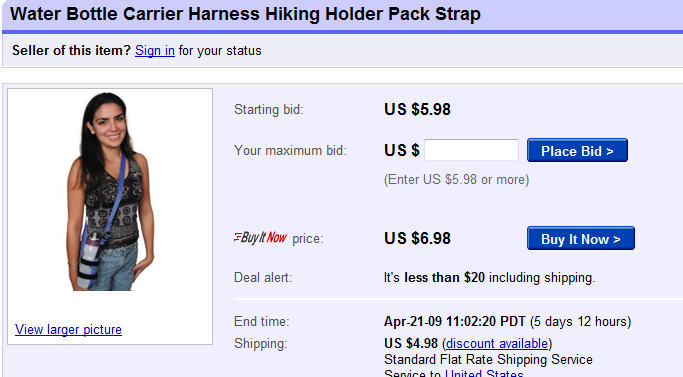 Umm..not exactly what I wanted.  The picture also begs the question – does the girl come with it?  It's not clear in the description.  At least the below one makes it clear only the bottle is included – however, the one with the women above is a better deal at a dollar cheaper (and apparently including the women).  Though, maybe they're charging you extra for the 'Butterfly Lovers'  design.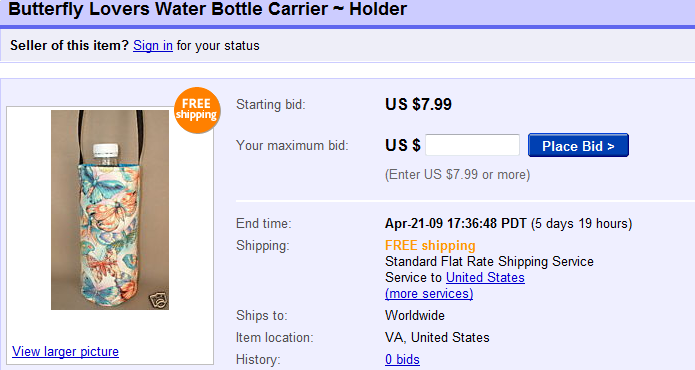 Anyway, continuing through the list I found some items on the right track: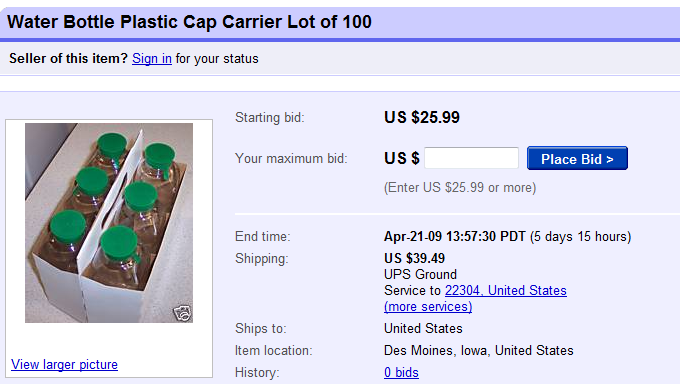 At least the above result understood what I wanted.  And at $25 for a lot of 100 of them – it was a pretty good deal.  But it was made out of cardboard – which would be a waste of paper over time, and also wouldn't hold up well to liquid spills.
So I searched on, and found this option: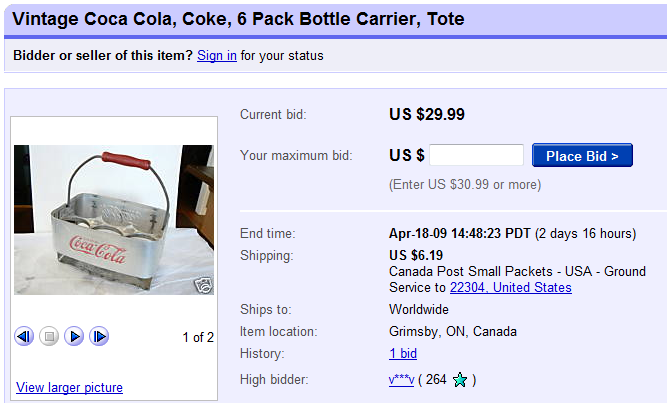 Sweet!  Now that thing is stylish!  But upon further reflection I'm concerned that a typical water bottle is wider than an old school soda bottle.  So… I move on.
Next up was this collapsible water bottle set.  Now this shows some serious promise.  But, my concern would be that if it's collapsible, it might also be flimsy and looks like it might be lopsided if I only had a few bottles in it.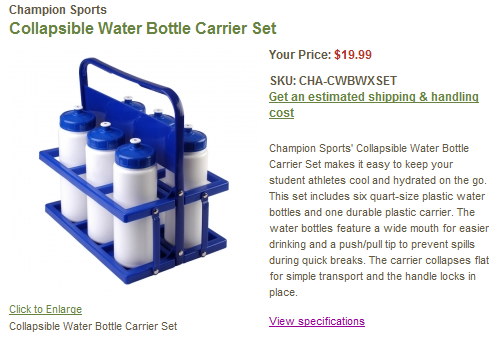 Finally, I found this product – a heavy duty plastic water bottle carrier.  Bingo!  A quick check on Amazon and with free shipping at the time and only $20 – I had found my match!  So I clicked 'Buy it now' and was off and cooking.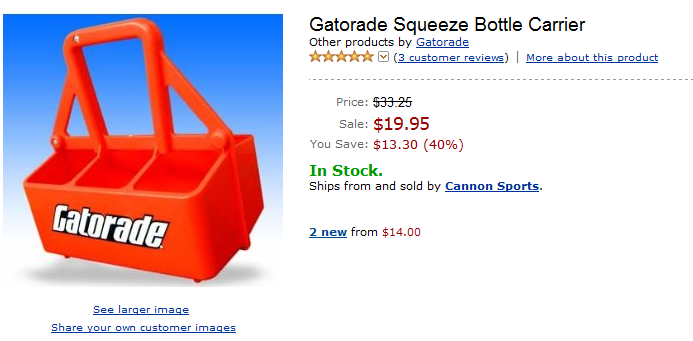 A few short days later they arrived at my pad, and I decided it needed the ultimate test.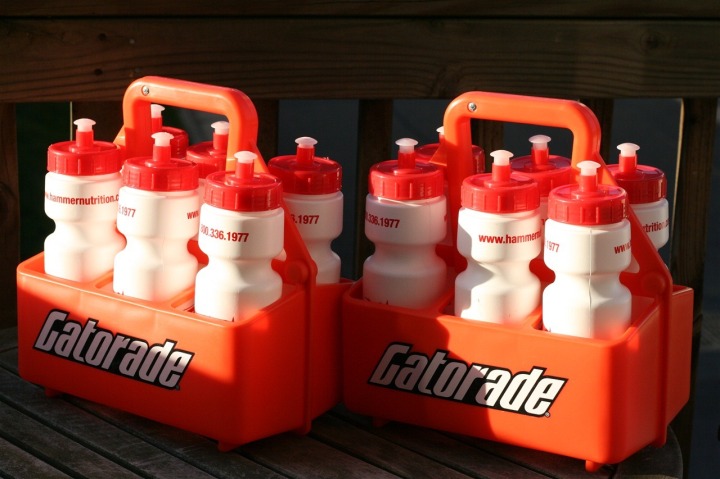 No…not loading it up with 25 bottles that I got back at the Kinetic race…though, that would be fun.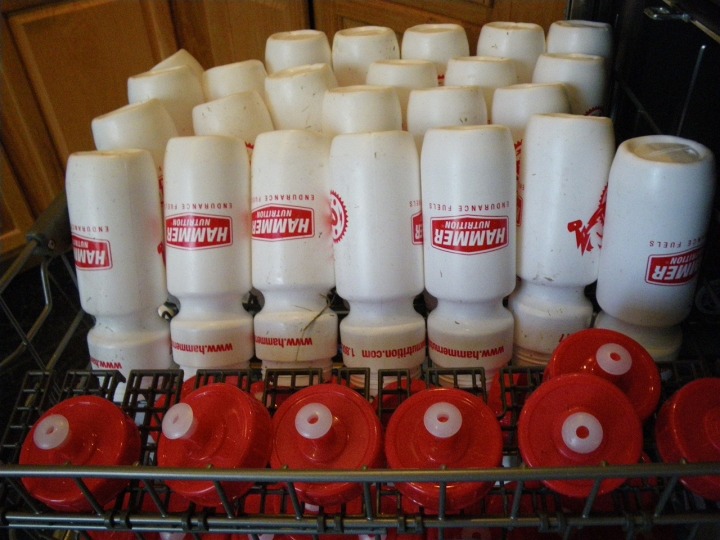 But rather just loading it up with two peoples worth of bottles for the Saturday long ride. 
Good news – they all fit!  Well..sorta, there might have been some extra bottleage.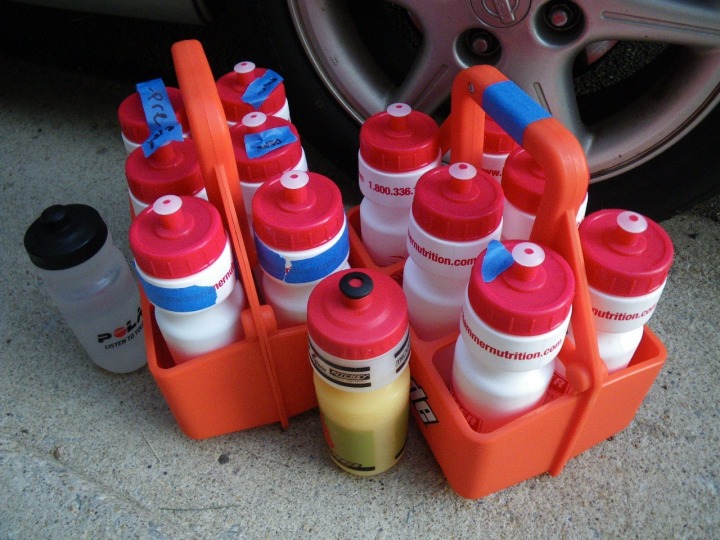 And even better, it keeps them 'in line' in the backseat during transport to the mountains.  No kids rolling around making a mess.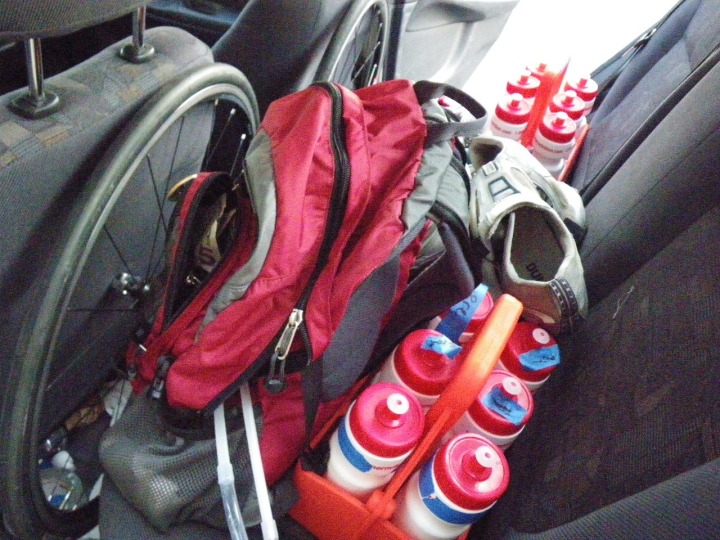 So with that, I'm ready for mass liquid transport!